Personalization and hyper-personalization are one of the trends of 2019. Another reason to care about it is that on average personalized emails drive 18x higher revenue than non-personalized ones.
There are many ways of personalizing email marketing campaigns. We'll show the most effective ones.
Email personalization best practices
Personalization in emails is a complex thing. Shortly speaking, it includes all the data a subscriber shared with you: name, gender, age, country of living, and preferences.
Though, being aware of the best time to send emails is related to both advanced personalization and hyper-personalization.
So, here we go!
1. Personalized subject lines
Stats: personalized subject lines increase the open rate by 26%.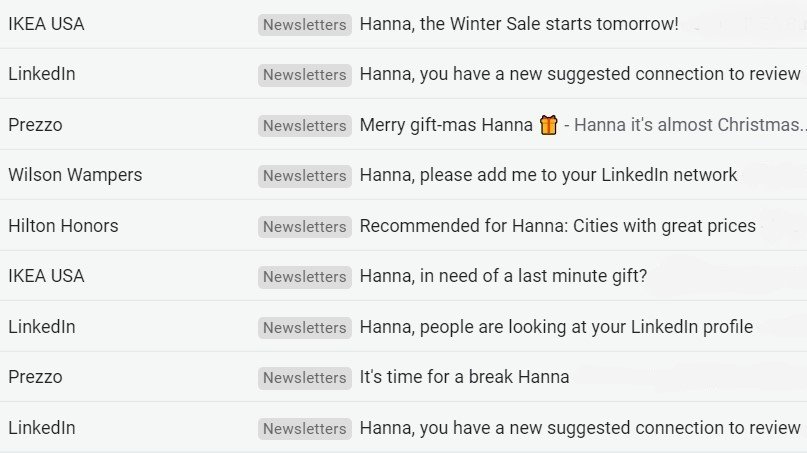 Oh yes, personalization is a much more complex thing than just addressing customers by names. Yet, at this very step, we just need to get them to open our emails.
Tools to do it with: your ESP.
2. Personalized email copy
Stats: personalized offer drives 14% more profit than a non-personalized one.
Here, you can:
select which part of the email body to personalize;
use all your rich imagination to make emails vivid and unique.
Personalized welcome emails
In order to personalize welcome emails, you need to request registrant's name when he or she is filling out the form.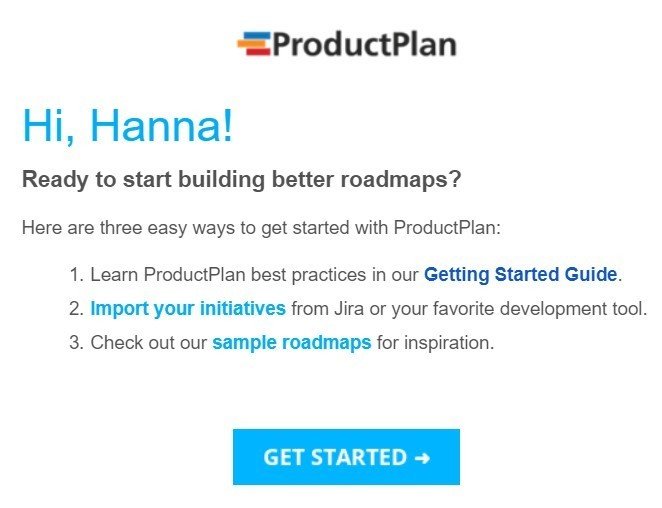 Tools to do it with: Stripo editor and your ESP.
Personalized promo emails
Stats: brands that personalize promo emails report that it makes click rate 27% higher.
In fact, personalized promo email is more than just addressing customers by name. You need to consider his or her preferences, age, geographical location, and gender to make the offer interesting to a customer.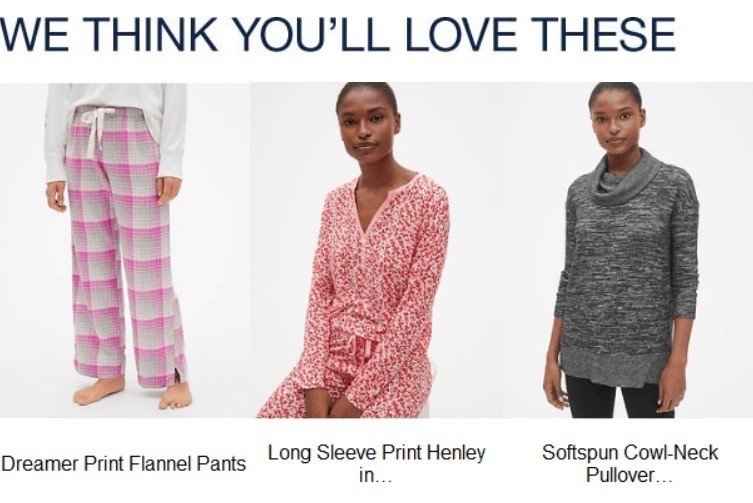 (Email personalization example by Gap)
I love this one because Gap collected all the necessary information about me to make the offer relevant. And it was very polite to say "We think you might like", they don't even insist.
Though, addressing people by name won't hurt, too. Not only did Hubspot make a compilation of the blog posts that fit my interests, but also used by name. Thank you, guys!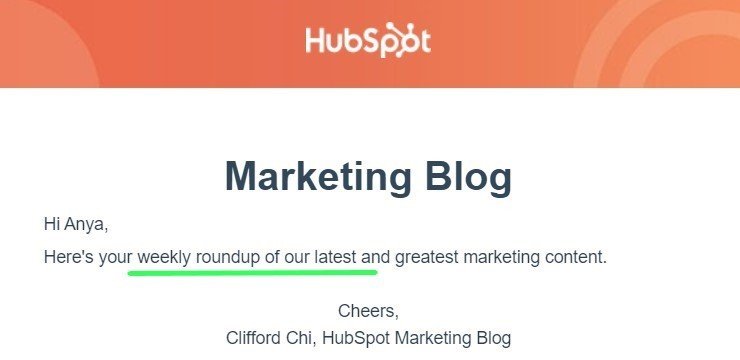 Tools to do it with: use the Stripo editor to add merge tags in emails, and your ESP for advanced segmentation.
Personalized trigger emails
A triggered email contains a lot of personal information, be it an abandoned cart, an order confirmation or an event reminder one.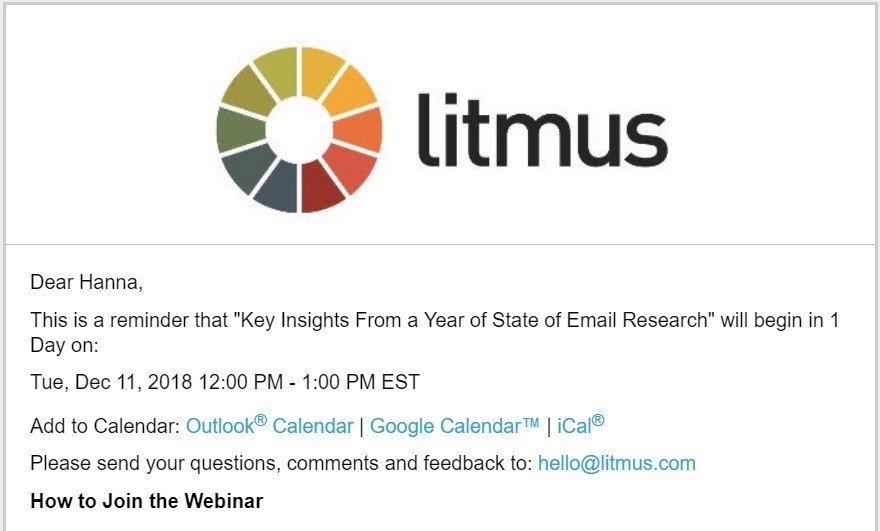 At the Digital Summit 2018 in Chicago, all prominent speakers agreed on one thing — email marketing is the best channel for winning inactive customers back.
In retention emails, you specify the customer's name, the items of his or her last purchase/the service he or she recently used, etc. This is an integral part of personalization.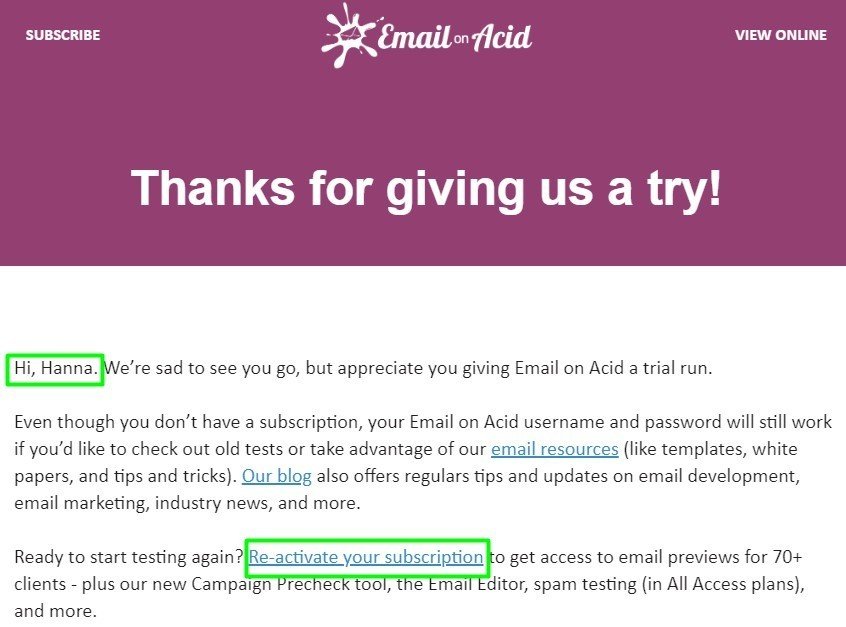 Tools to do it with: use Stripo for merge tags (addressing customers by name, etc.), and your ESP for purchase history.
How to personalize copy in emails with Stripo
When adding any text in your HTML email template, right above the template, you will see the Merge tags button. Click on it, then pick the ESP you are going to export the email to, then select what kind of personal information you need to add:
first name;
last name;
full name;
email address;
date of birth;
forward to a friend, etc.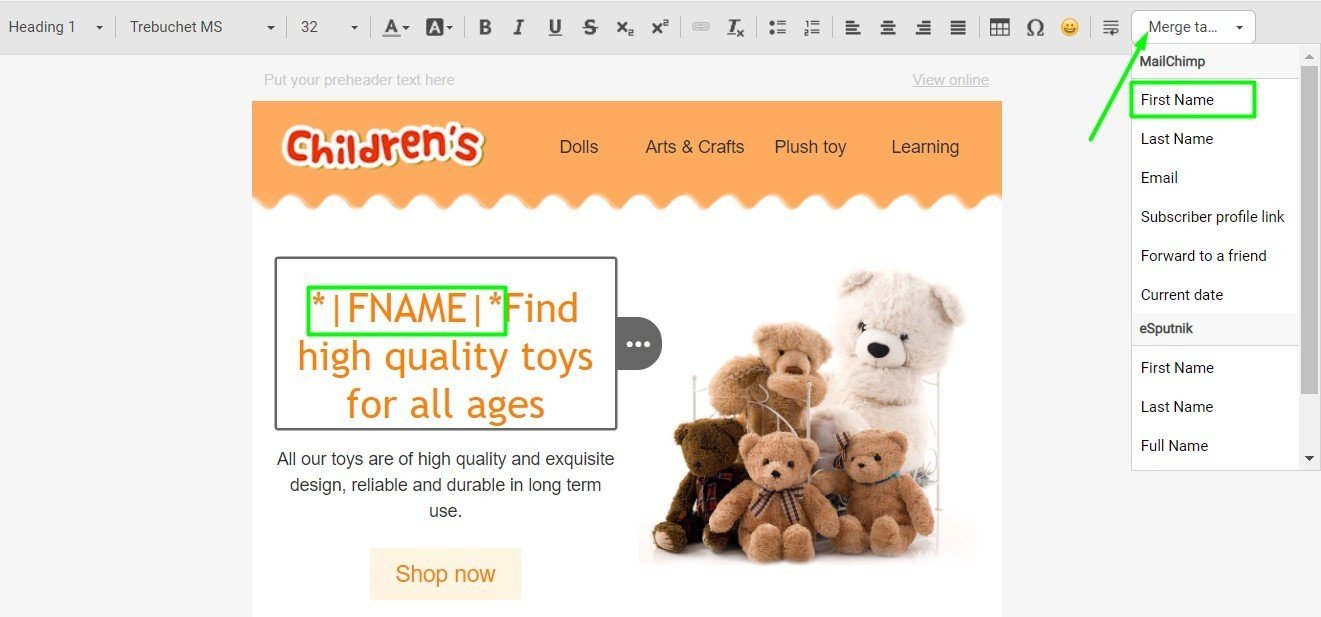 3. Personalized call-to-action buttons
Stats: no tests done yet as happens seldom. Nevertheless, well-designed CTA buttons increase clicks by 28%.
Sounds pretty weird and very interesting. And honestly speaking, I've seen this just once. But I suppose recipients found it attractive as I've seen it was discussed on a few forums.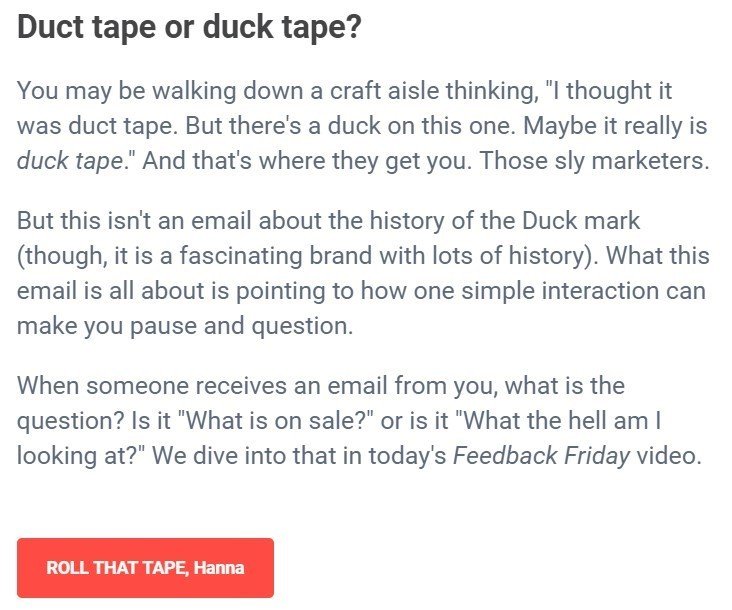 (Email personalization example by ReallyGoodEmails)
Tools to do it with: if you want to make this button the distinguishing feature of your email campaign, make sure your ESP supports it.
4. Personalized images
Stats: the click-through rate increases by 29%. Impressive.
When would you do it? When tired of the typical "Congratulations on ***" emails. Try out personalized ecards. Nifty images, for example, provide you with the embed code, you insert it in your email template and entertain recipients with sophisticated and what is very important with unique emails.
Some companies use them to congratulate subscribers on holidays. But Really Good Emails use them quite often to spice up their newsletters. In my opinion, this is one of the greatest email personalization examples: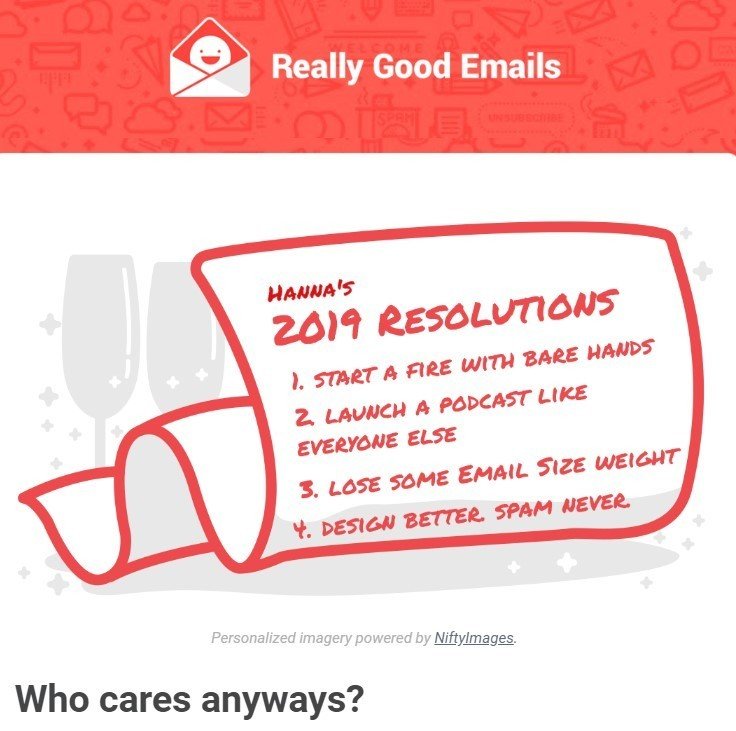 Tools to do it with: NiftyImages. They provide you with the embed code which you can add in your HTML template.
Another good way to personalize imagery in emails is: adding localized images in newsletters when running a chain of offline stores. For instance, recipients who live in LA will receive a promo email with photos taken in the LA stores. New Yorkers will get photos of cafes/stores taken in New York.
Tools to create it with:
by using the Stripo API, you can create 20 emails within 18 seconds. Our system will fill the emails with appropriate photos and offers;
also, you can create the basic email, save it to your personal content library, duplicate it and add necessary photos to the email copy. Thus, all your customers will receive only relevant emails.
5. Personalizing videos
Stats: personalized videos in email marketing generate 5x more conversions.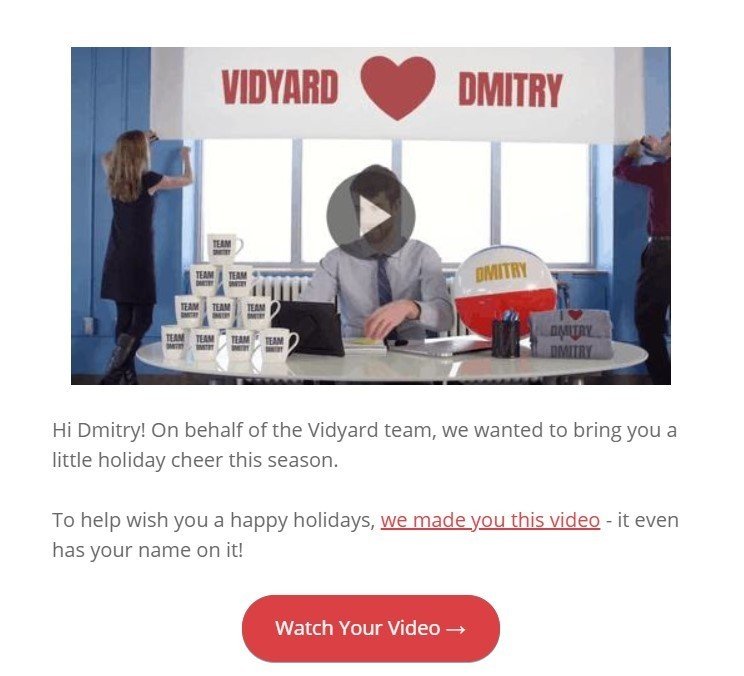 Video in email per se helps build stronger relations with customers and present our products better. According to numerous studies, recipients are 65% more likely to buy from us after watching a video about a particular product.
Then why would you use personalized videos in emails? To congratulate your customers on special occasions, to make a review of a year. It also makes recipients feel special and increases virality, that leads to brand awareness.
Tools to do it with: Vidyard. They provide you with the embed code which you can add in your HTML template.
Email hyper-personalization best practices
Hyper-personalization in emails includes all the data you collected about a customer without his or her knowledge. If you record customer's purchase history online and offline, track online behavior, track stores/cafes visited offline then you can say you hyper-personalize your emails.
1. Weekly and annual reports
Tracking customer's behavior is time-consuming, but it's worth it.
Last year, Grammarly started making its weekly reports on users' activity, mistakes, etc. Now, all you heard about at any digital or email marketing event in 2018 was Grammarly and its reports. Due to this arduous yet so useful feature, Grammarly went viral — every email marketer is familiar with this tool.
As their user, I must say I like to know how productive or inactive I was during a particular period. It motivates me to work harder.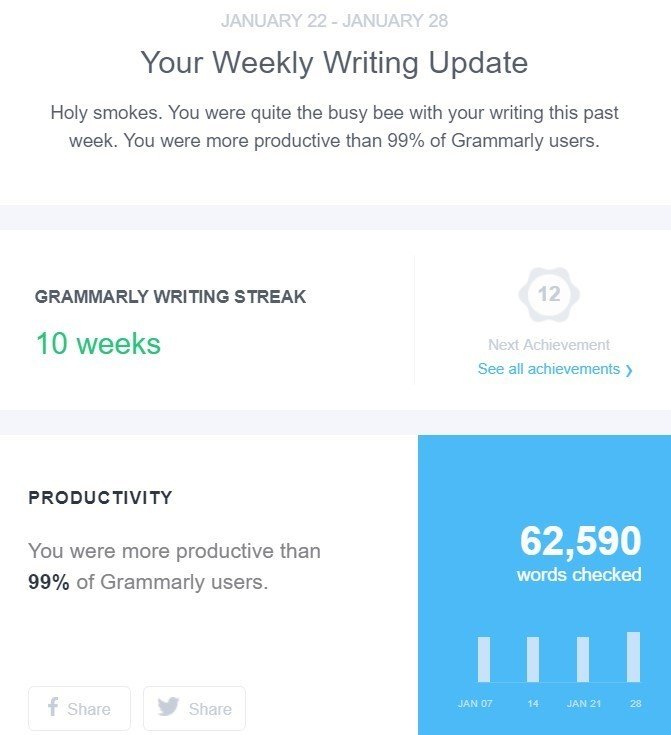 If you please, you can also remind your users what pages on your website they visited, what articles and tools they loved the most — just to refresh their memory.
Personally, I loved the annual report by Appcues where they showed me what posts I read and "liked".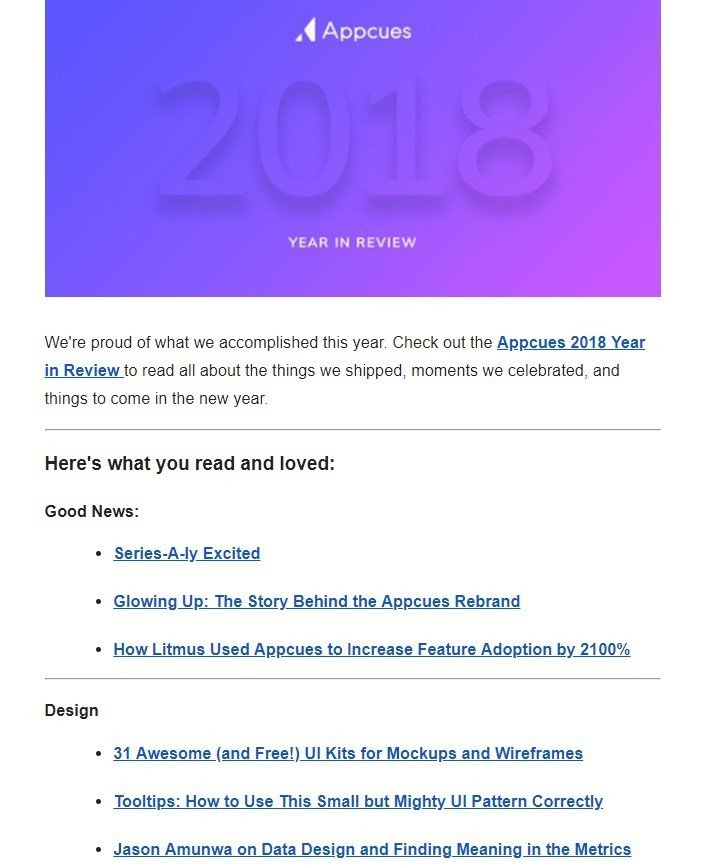 Tools to do it with: your ESP/CRM and internal analytical tool to collect info.
2. Personal offer based on purchase history
In my opinion, this is the top-level example of hyper-personalization. Unfortunately, only some brands do it.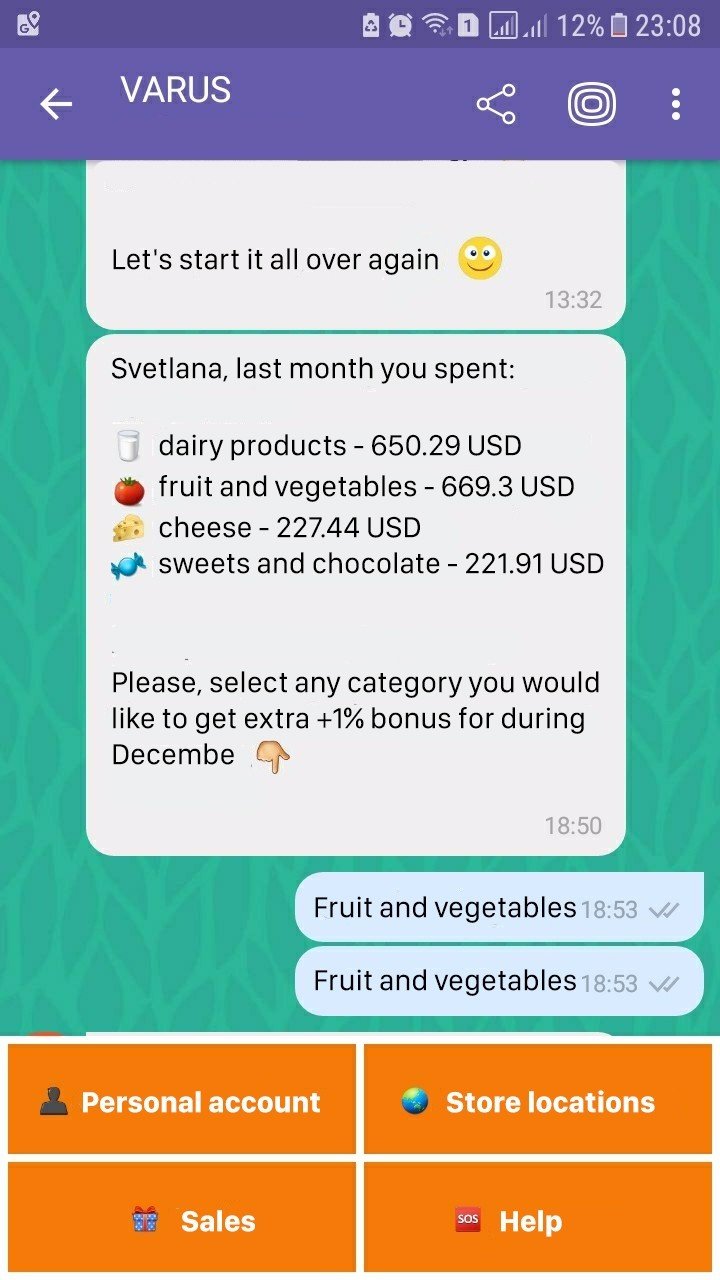 I was impressed by this personalized offer.
Tools to do it with: CRM and internal analytical tool to collect info.
3. Reactivating customers
The best way to reactivate customers is to remind them what you've been through, their purchase history, the feedback on your products, their results, etc.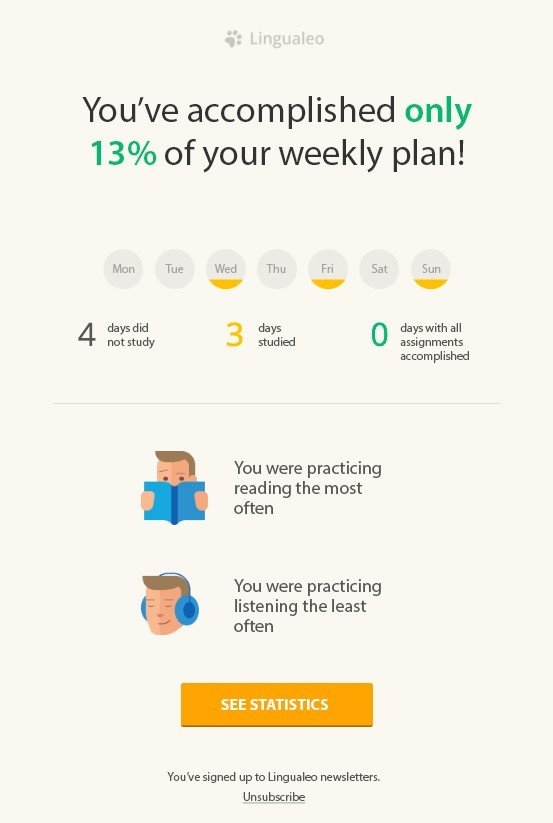 Tools to do it with: your CRM and internal analytical tool to collect and process data.
4. Hyper-personalized subject lines
Addressing recipients by name in subject lines works good, indeed. But you can also hyper-personalize them, where you indicate that this email was created for this certain person.
Your Weekly Progress Report — by Grammarly;
You've Accomplished 24% of Your Weekly Plan! Work Harder This Week! — by Lingualeo;
Good Job! You've Accomplished 96% of Your Weekly Plan! — by Lingualeo.
Sharing some statistics in subject line proves that the email is hyper-personalized and contains some personal data.
Tools to do it with: your ESP.
5. Real-time data recommendations
Personal recommendations are based on customers' preferences, while the real-time data ones — on their activity on your website and offline — are examples of hyper-personalization.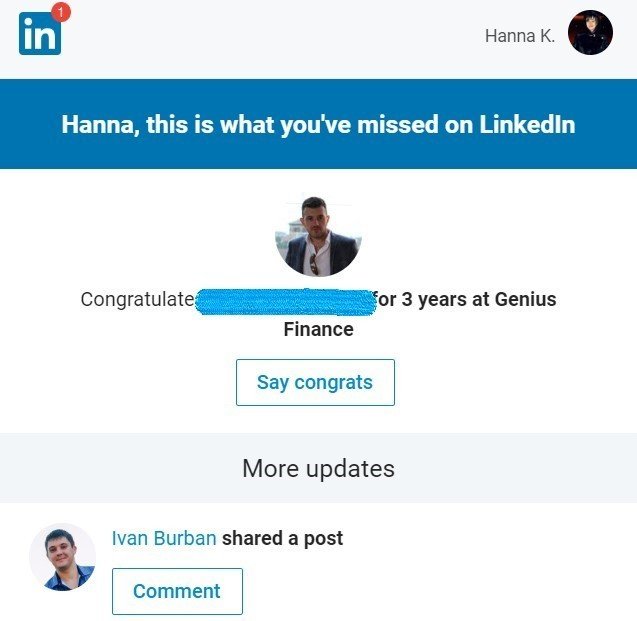 We normally receive such notifications from Facebook, Twitter, and LinkedIn.
Sending your customers a compilation of sights to see in your town, when knowing they will arrive there on a particular date — is personalization. While sending them weather report when your satellite has spotted them in a new town, is hyper-personalization.
Say, you cross the border between two European countries, and your cell phone service provider sends an email and a text with info on new tariffs, weather report and locations of the nearest gas filling stations – this is an example of hyper-personalization.
Tools to do it with: analytical applications, like OWOX, and your CRM.
A trick from Stripo to make your emails more productive
In order to make your emails more effective, make sure to use all channels:
Email, Viber/WhatsApp, mobile/web push notifications and even calls.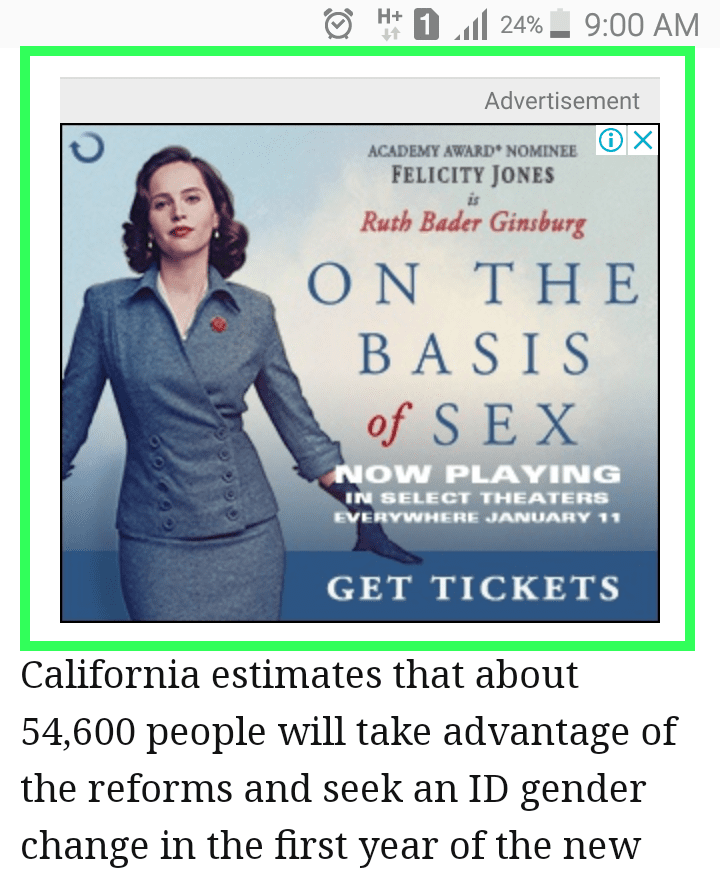 You sent a promo email/email with a special offer to your client. When it is open, but there is no activity on his or her account, send a message to his messenger to make sure the customer reads the message.
A customer clicked "details" on iron in your promo email or on your website, send him or her an email with a manual on how to choose the right iron. Then give him or her a call where you "accidentally" inform this person that he or she can buy iron on sale.
Worth mentioning
Now that we know all the best personalization and hyper-personalization practices, I just want to remind you that email design, email copy also matters.
Also, remember to specify sender name. Because 68% of Americans say their decision whether to open email or not is based on the sender name alone. So don't underestimate this step.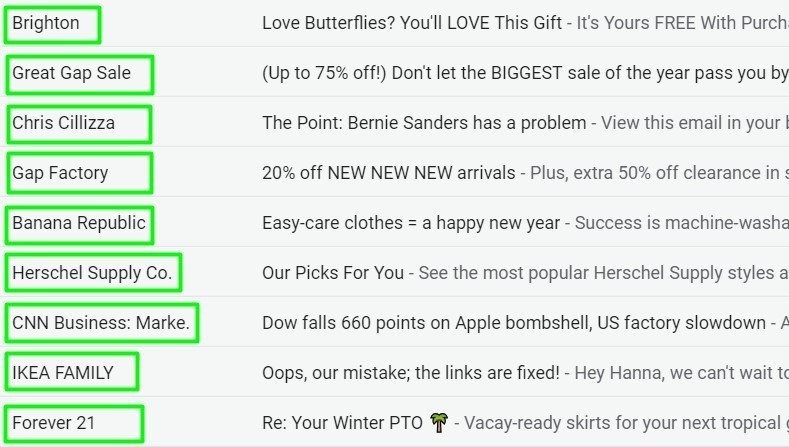 As for me, I open all emails in my Inbox. But the time when I do it depends on the sender name, indeed.
Of course, there are companies like Chubbies who keep changing their names for special occasions or holidays, but they do it for fun and it has become their unique feature.

Tools to create it with: very easy to implement it with your ESP. You set it just once and all your email campaigns go with this name.
One more necessary element of emails that is related to personalization but is not a part of it, is a personalized signature. It does not improve CTOR, yet it makes your emails be perceived as trustworthy ones as recipients know the person who is responsible for the newsletter.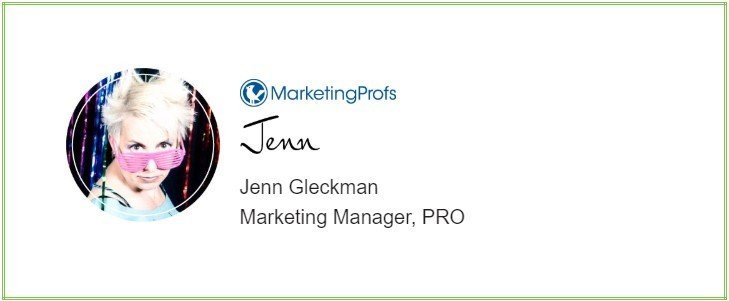 Techniques to get data for personalizing emails
We will describe them here in a nutshell.
1) Registration form
Normally, companies ask for information of this kind in the registration form. But if you are afraid to scare subscribers away by asking too much private information, just ask their first name and email address. That'll do for the first campaign.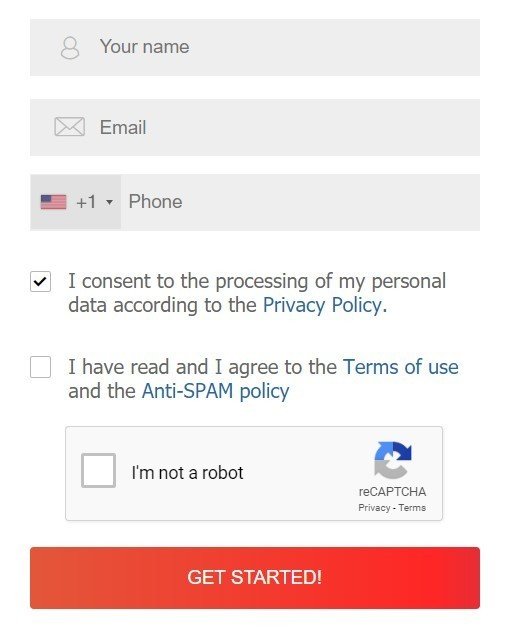 (The registration form by eSputnik)
Ikea, for example, suggests that we fill out a long form on their website right after the registration to make newsletters more relevant.
They ask marital status, age, a number of kids, how old they are and even salary.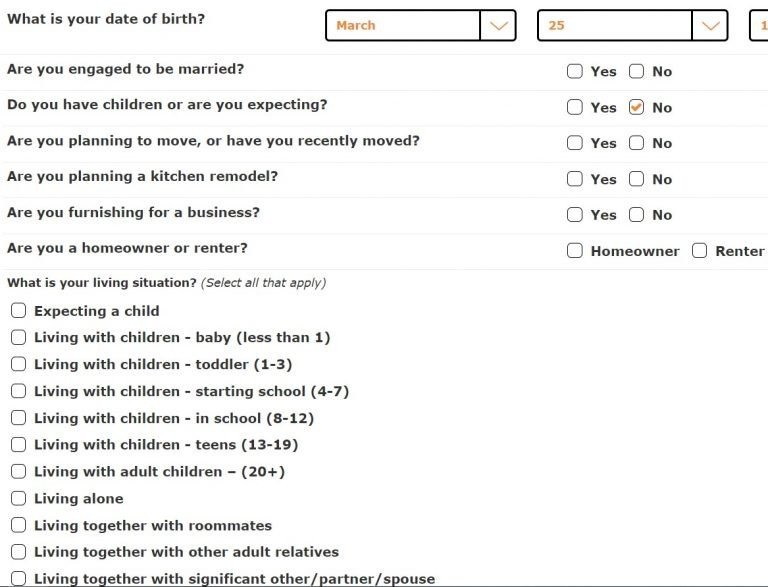 (The form for filling out the information on preferences by Ikea)
2) Via email
Maybelline, just like many famous brands, proposes its recipients to set their preferences in the 3rd or the 5th email. By this time, subscribers get used to the company's style and frequency.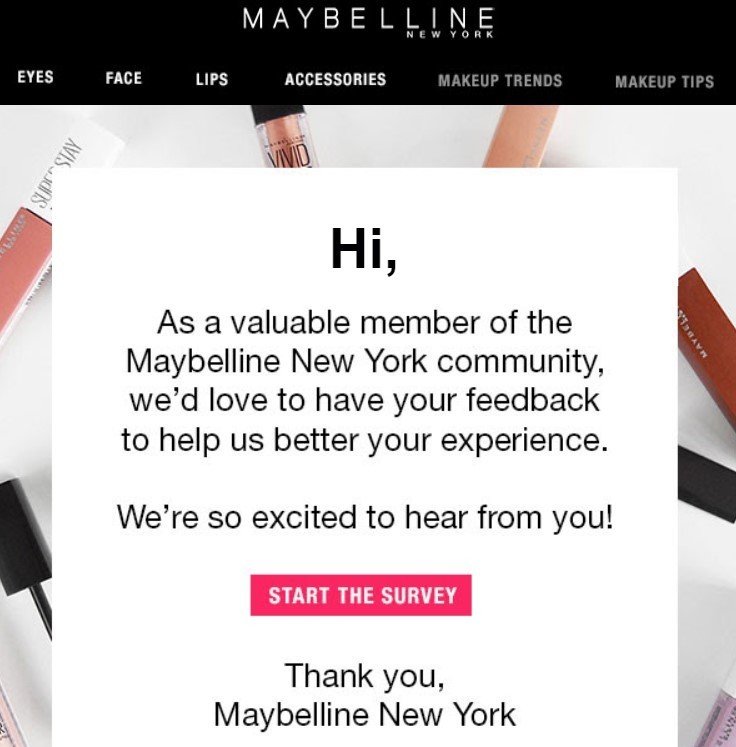 3) Google Form
Sometimes, registration forms with information about our preferences are not enough to make the offer personalized. And Google Form is a way out.
General Assembly (GA), the company that provides various educational courses, for instance, suggested that the system finds the right course for customers once they click the "Get matched" button.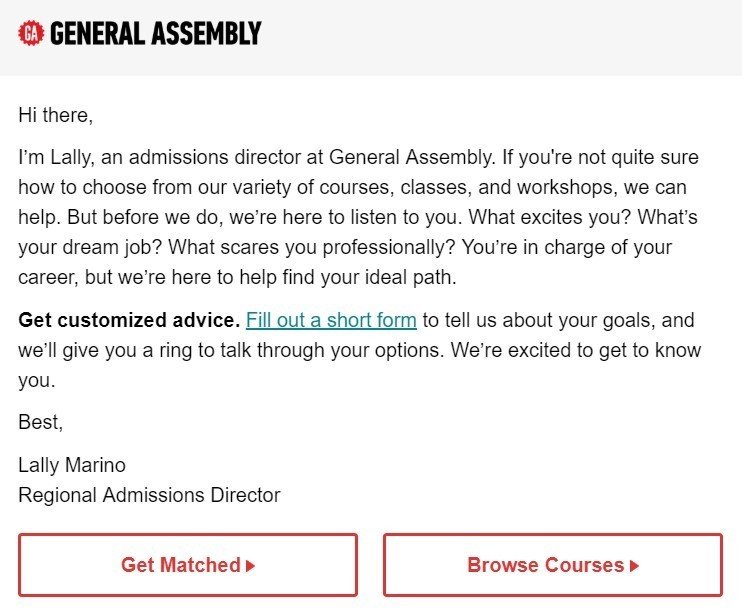 4) Offline questionnaire
Once a customer makes a purchase in one of your offline stores, ask him or her to fill out a short form — let it be just a name, date of birth to offer a special discount on this day and email address. To get more data, use emails.
Final thoughts
Personalization and hyper-personalization drive conversions, engage recipients, build stronger relations with them, improve brand awareness by increasing virality, etc.
Here is a summary of our tips on how to personalize email:
Weekly and annual reports.
Personal offer based on purchase history.
Hyper-personalized subject lines.
Real-time data recommendations.
Personalized images and videos.
I hope that by implementing the aforementioned tips for personalizing emails, you'll help your customers feel closer to you and this will increase your ROI. Use any of our 300 email templates as the base for your future email campaigns.
If you have any questions, please feel free to contact us via Facebook or email.
I sincerely wish you the best of luck!
Was this article helpful?
Thanks for your feedback!