Table of contents
How to create the best welcome email for SaaS businesses
10 appealing SaaS welcome email examples
Final thoughts
1.
How to create the best welcome email for SaaS businesses
A welcome email is like a first date. Further relations depend on the first impression: If you make a mistake, there's no way the second meeting is going to happen. Same with the SaaS businesses, if you win customers' trust with the first welcome email, you'll get a loyal audience, and as a pleasant bonus, — increase sales.
In this article, we'll take a look at what makes the best welcome emails for SaaS businesses and analyze 10 examples of such emails to create your own unique, memorable, and effective one.
How to create the best welcome email for SaaS businesses
Welcome emails do not swirl around the standard text "Hello, welcome". Aside from simply showing good manners, these messages should remind customers what they've signed up for and what products or services they can get.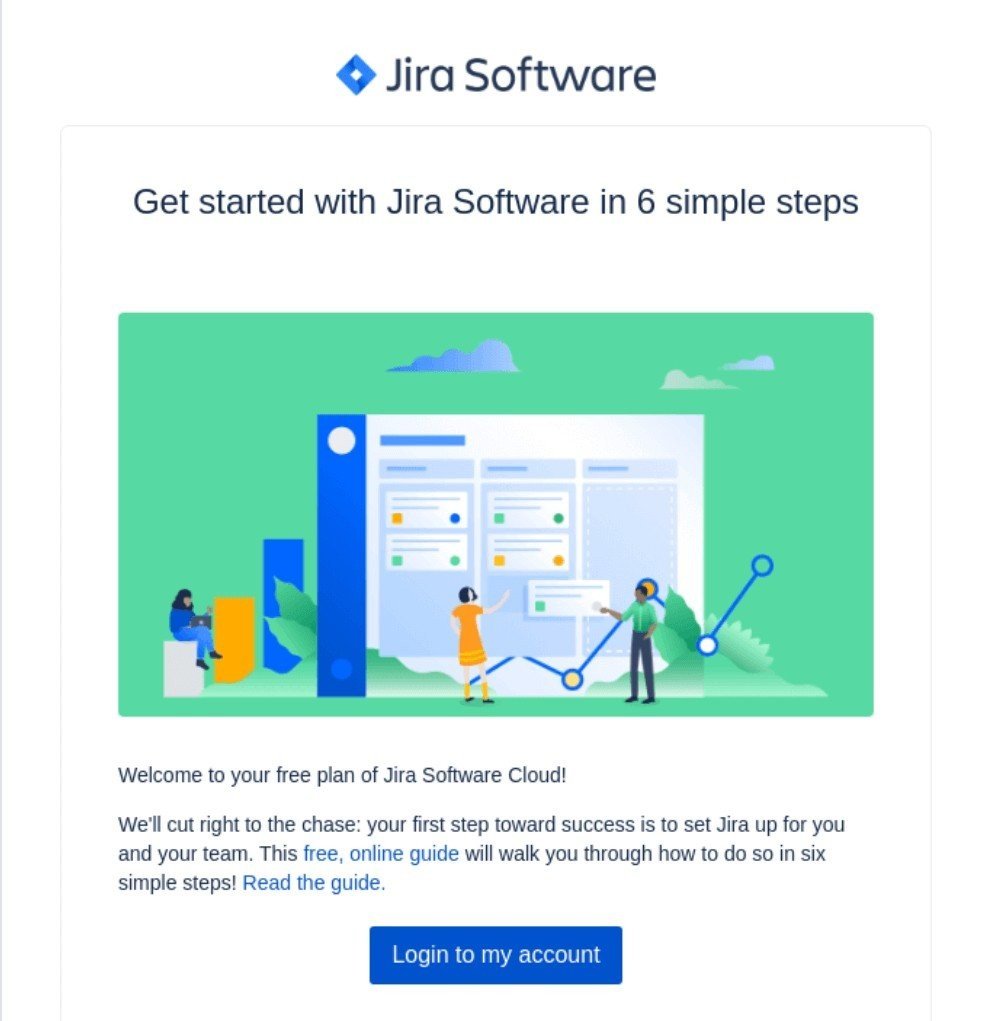 (Source: Email from Jira Software)
Here are some simple tips on how to make SaaS welcome email effective and neat:
an email with an attractive image is more likely to interest users than loads of text. Therefore, in addition to listing your advantages and main features, provide a visual component: a short instruction, the possible result that the user will receive when using your service;

(Source: Email from Mailchimp)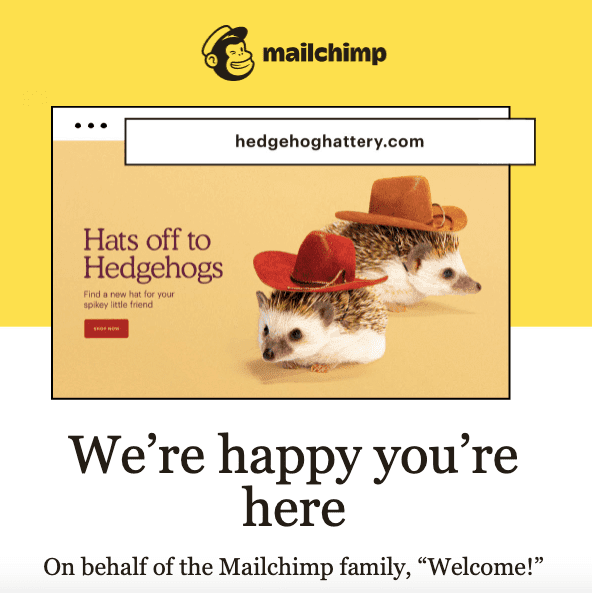 a video can spice up an email, make it speak for you. This can be a how-to video or a greeting from the company team. Either way, video is a cool interaction format;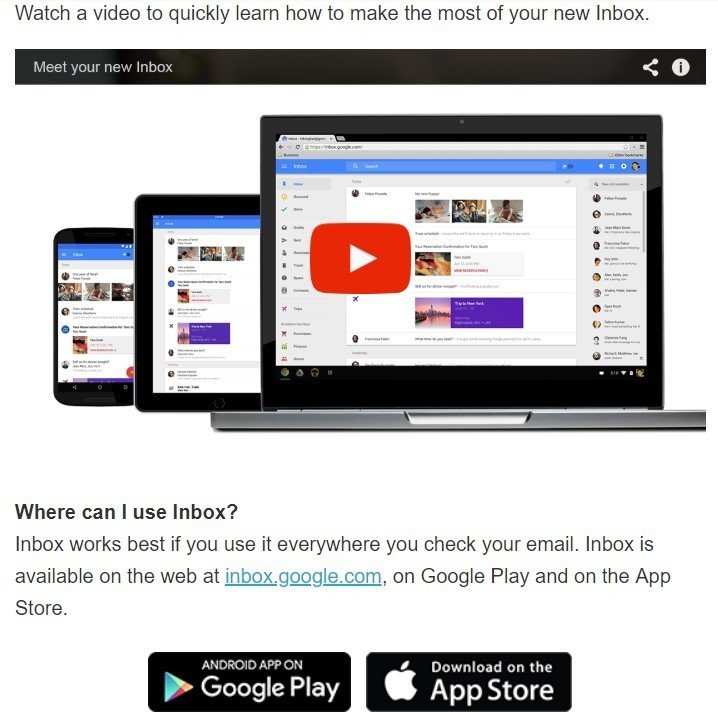 (Source: Email from Gmail)
with the email, CTA gives the opportunity to act right from it. It can be a link or a familiar "Buy" or "Go to site" button. Just don't overdo it — it is better if there is one CTA, but appealing one rather than 3 dull and almost invisible or irritating;

for some, it's better to check their inbox on a desktop while others prefer a smartphone or tablet. The welcome email should be optimized for any device;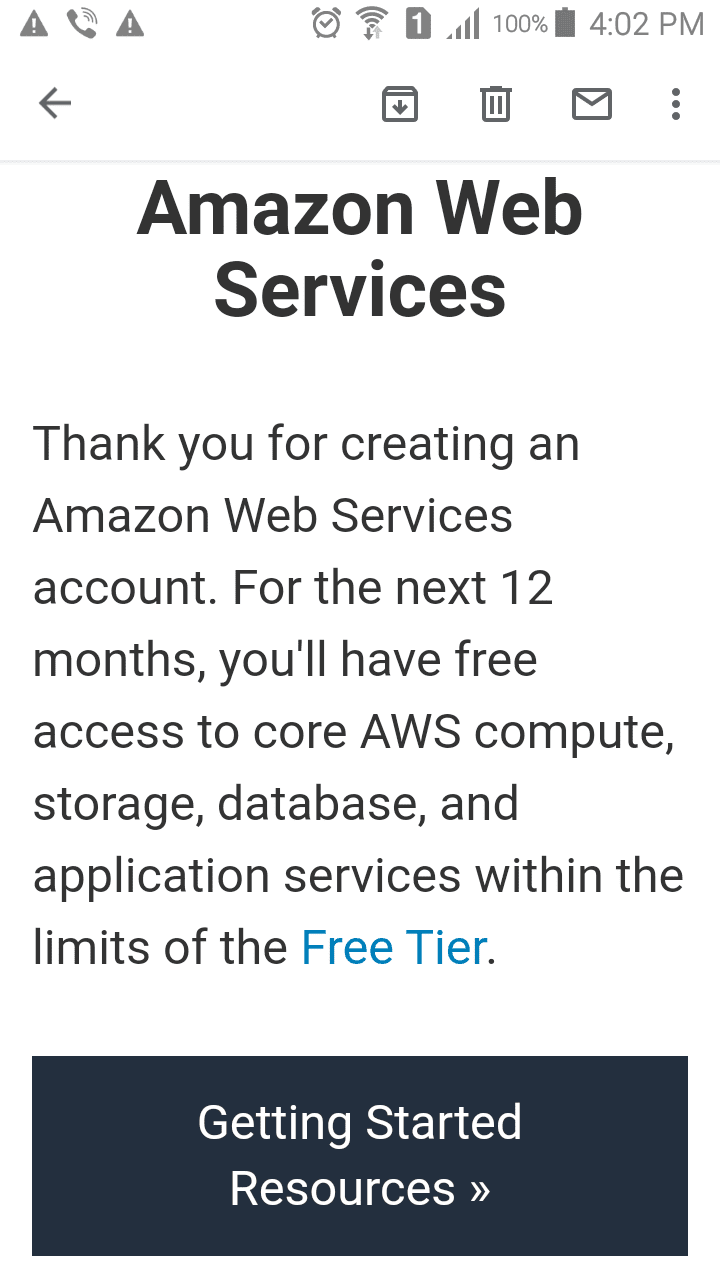 (Source: Email from Amazon Web Services)
every client has a legal right to unsubscribe from the SaaS mailing list for any reason. Make it noticeable;

(Source: Email from Skyscanner)
Such emails are known for their brevity and usefulness. No matter how short or long the text is. Instead of talking let's take a look at different examples slightly below.
Important to note: Double opt-in, or how to avoid fines
Responsible companies, before sending a welcome email, ask users to confirm their email addresses. It is called Double Opt-In. It is based on the fact that the client must confirm/verify the email directly from the email.
Why use double opt-in?
Bots or non-existing email addresses will not get to your mailing list.

It is required by legislation. In European countries, for instance, fines for misuse of personal data or for unsolicited promotional emails can reach € 20 million, or 4% of a business's annual income.
(Source: Email from Stripo)
You can either send a regular verification email, or the AMP one where users see right away that their email address has been confirmed.
Order an interactive verification email from Stripo
Order
10 appealing SaaS welcome email examples
We have already figured out what makes a welcome email engaging and interesting for recipients. Now let's see how these details work in practice. We have prepared 10 examples of high-quality welcome emails for SaaS businesses in order to thoroughly survey them.
Example 1. Wix
Wix endeavors to prepare only interesting and useful information for its users. To get to know and understand well what customers expect from them, Wix invites users to fill out a short questionnaire right on the site.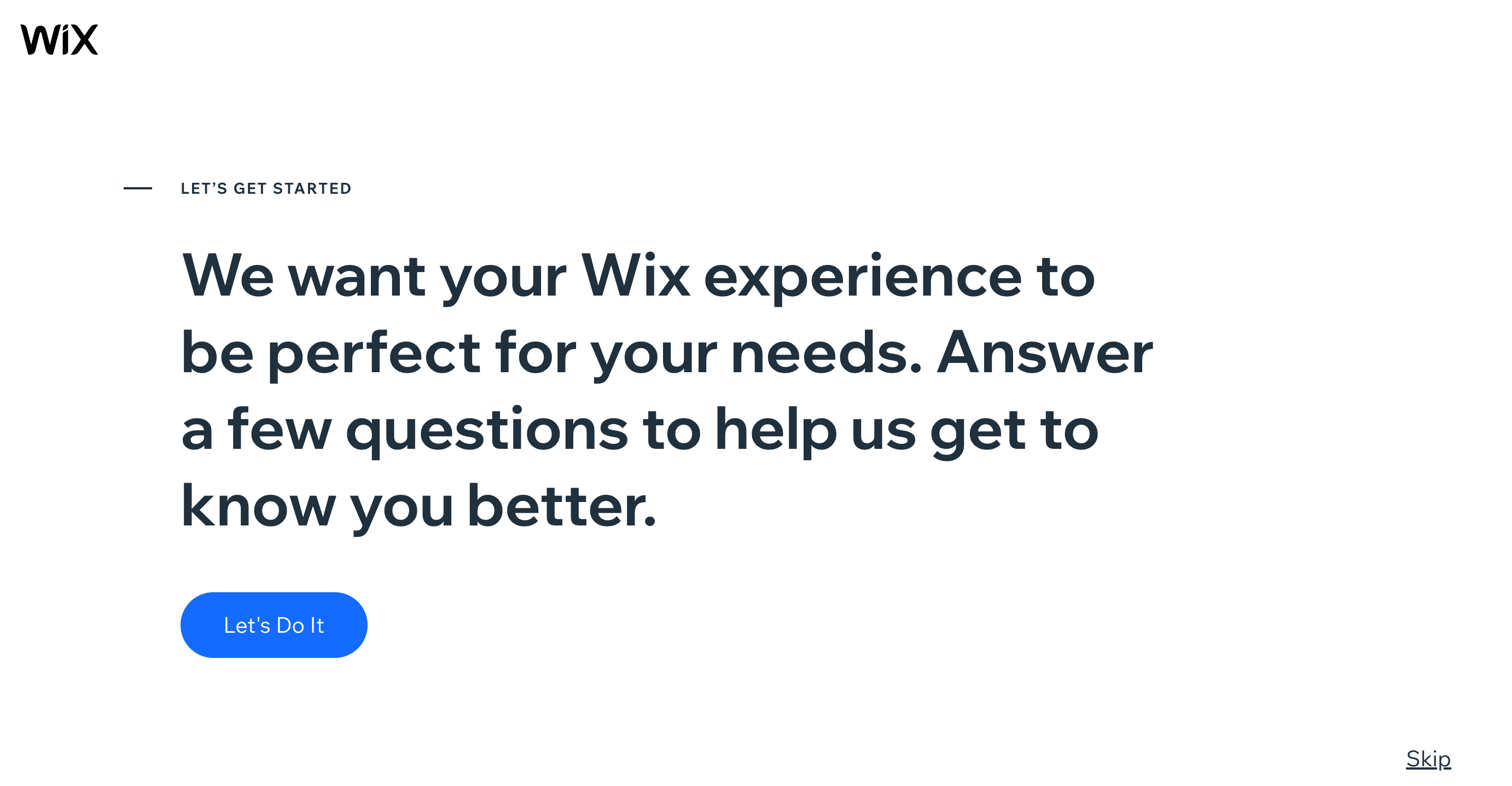 And only after users have answered the questions, they will receive a welcome email. Thus, not only does Wix talk about itself but also wants to know more about its customers to personalize offers.
This email is concise and functional. The company goes straight to the point. Here, dear subscribers, you'll find the big blue button. Like they're saying: "Start designing your site right now". And nothing more.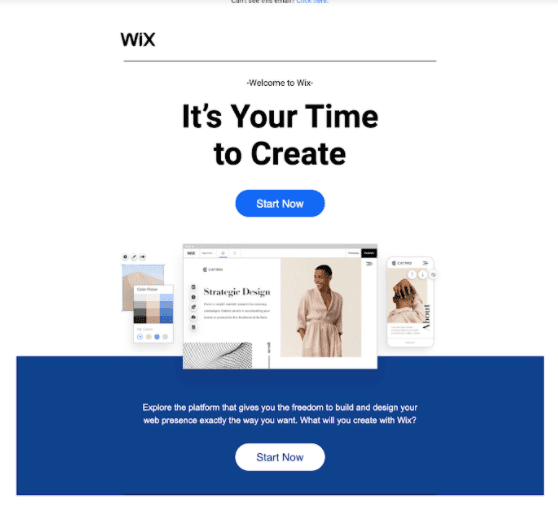 (Source: Email from Wix)
Example 2. Gusto
Gusto's welcome email fulfills its mission — it actually greets new users. The newsletter is designed to introduce us to the company's team, not photoshopped models, but real employees. This invariably inspires confidence in the client. And also an important Double opt-in is carried out.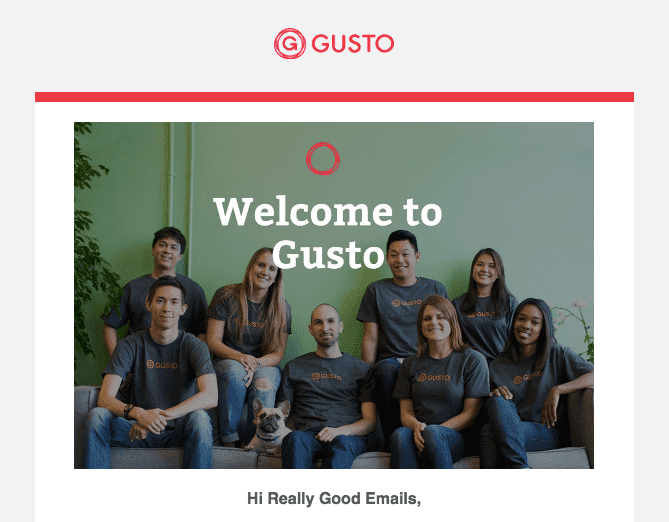 (Source: Really Good Emails)
Example 3. Stripo
Here Stripo thanks for choosing the service and lists the main features of the pricing plan. Users immediately see all the options and the limits, which can be extended for an additional payment.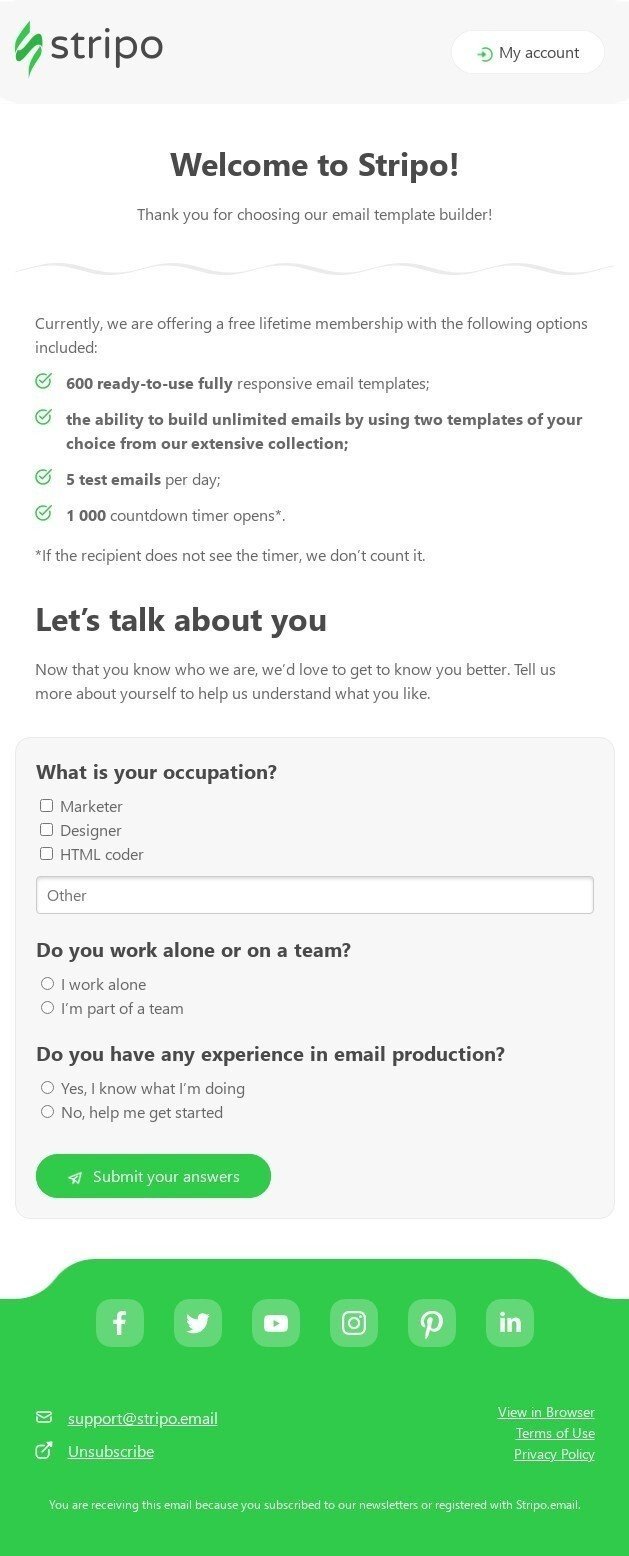 (Source: Email from Stripo)
Stripo also asks users to share some information about them in this SaaS welcome email.
This helps us generate emails with more relevant content.
Example 4. Crello
Crello's message is a nice example of SaaS onboarding welcome email. The company offers instructions on how to use the main features of the service. Recipients can find a tutorial on editing text or visual elements, and creating infographics — as video instructions.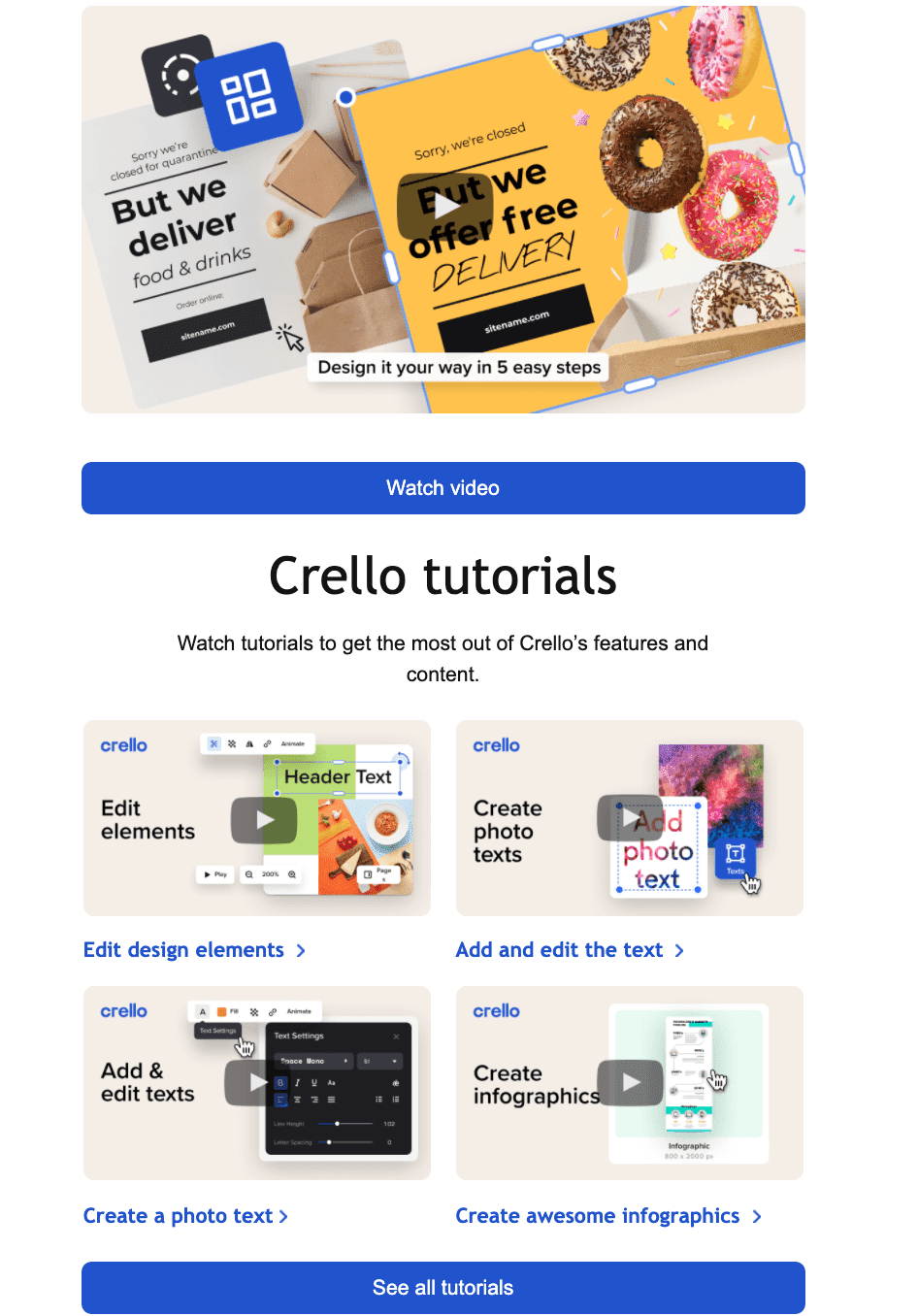 (Source: Email from Crello)
Example 5. Asana
Not only is the Asana app happy to have new friends-users, as shown by their well-chosen image, but also the service informs about what awaits customers during the 30-day trial period. Asana gives advice on how to get the most out of the app to plan, track, and manage your work.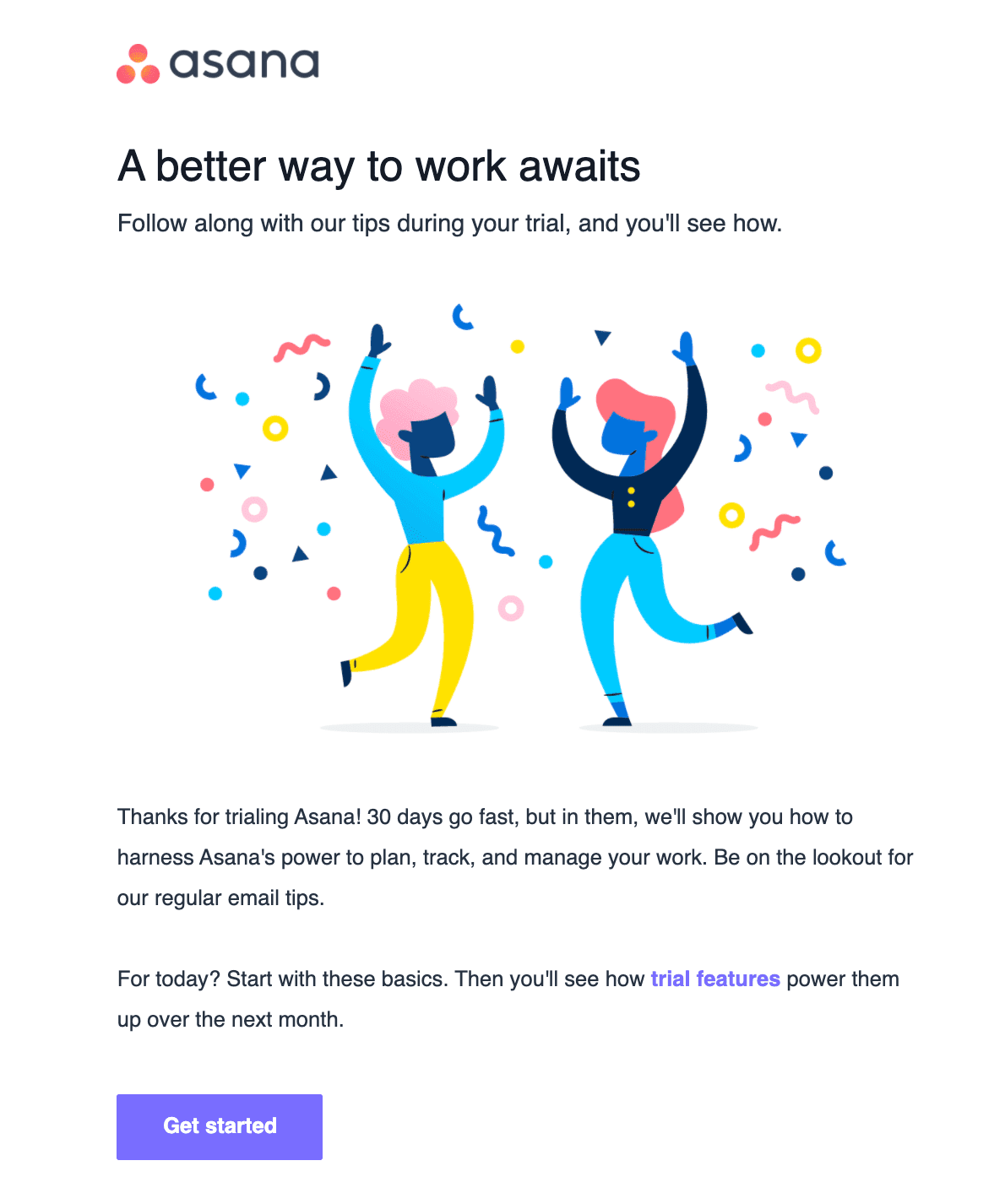 (Source: Email from Asana)
Example 6. Netflix
The purpose of this example is not only to welcome and talk about the benefits of a subscription. Being one of the best welcome emails for SaaS, Netflix has gotten users' ducks in a row: here is the price, and the subscription period, and billing information. They really thought it through.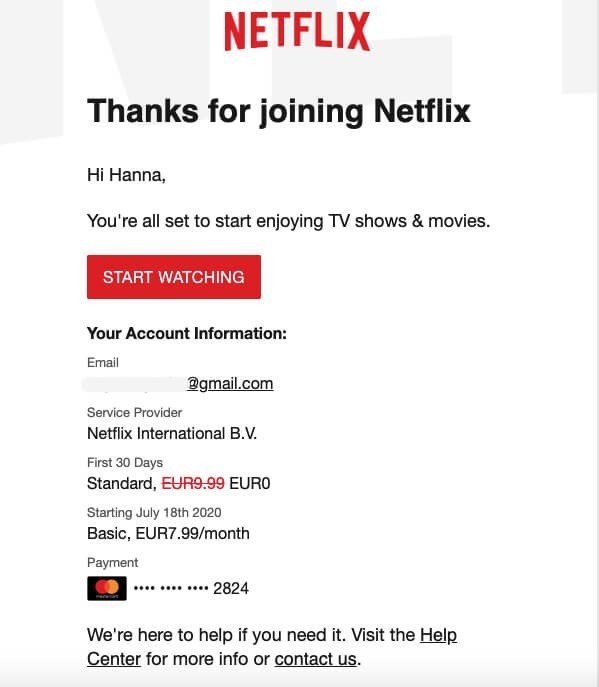 (Source: Email from Netflix)
Example 7. Skyscanner
The purpose of the Skyscanner email is to motivate recipients to use the app. To do this, the message has details on what opportunities are opened to the user after login: by structured points and with visual elements.
And so we don't change our minds, Skyscanner reminds us why it's worth choosing their app.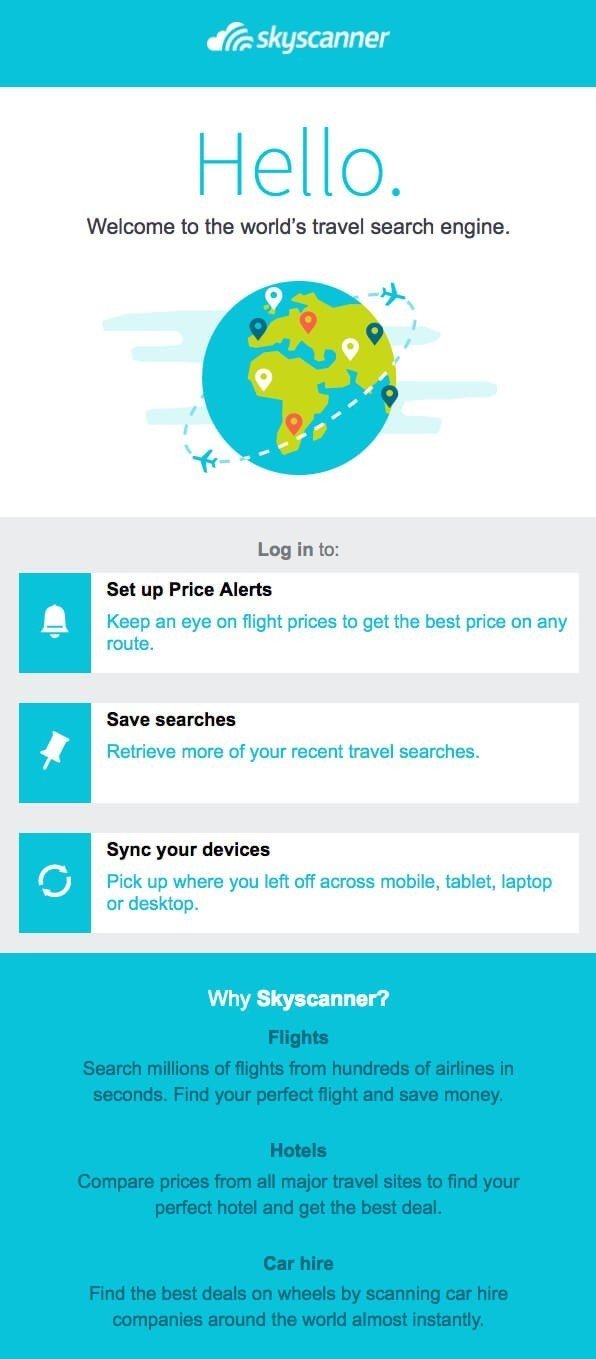 (Source: Really Good Emails)
Example 8. Sony Playstation
Although we have included an email from Playstation in this list of SaaS welcome email examples, they do not send one per se. In its first email, the service will ask to verify the email address in order to start using all the features. They also put a notable button for automatic confirmation and immediate redirection to the user's account.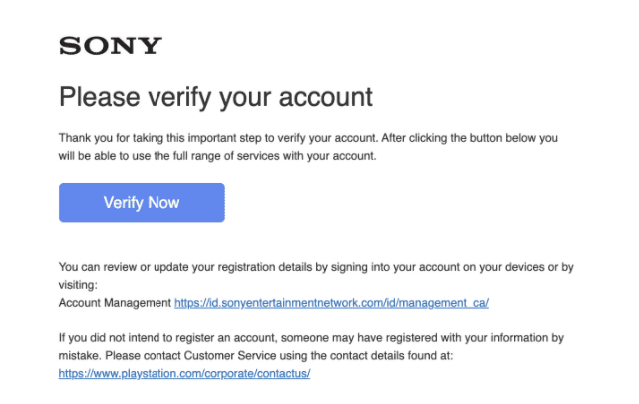 (Source: Email from Sony)
Example 9. Slack
This welcome email for new SaaS business customers also shows popular tips to get started. Besides reducing the number of questions to their support team, such an organized message makes customers' lives much easier. A win-win option for both sides.
Add brand's colors, minimalistic icons, and noticeable CTA, — voila, the welcome email is ready to be sent.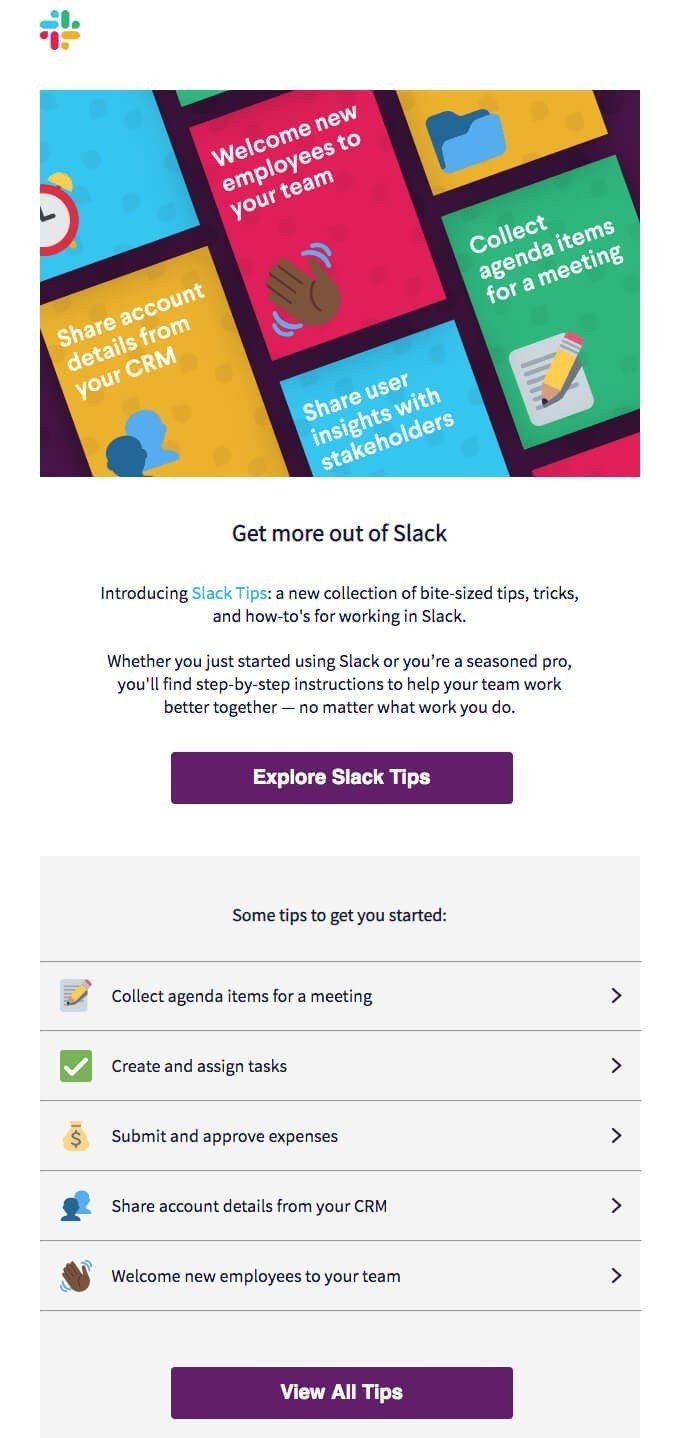 (Source: Really Good Emails)
Example 10. Email on Acid
Email on Acid's message has two purposes. The first is to trigger the user to buy the unlimited version of the app. For this, they promise a free trial period, a standard scheme.
The second task is to educate. To do this, Email on Acid provides links to popular blog posts.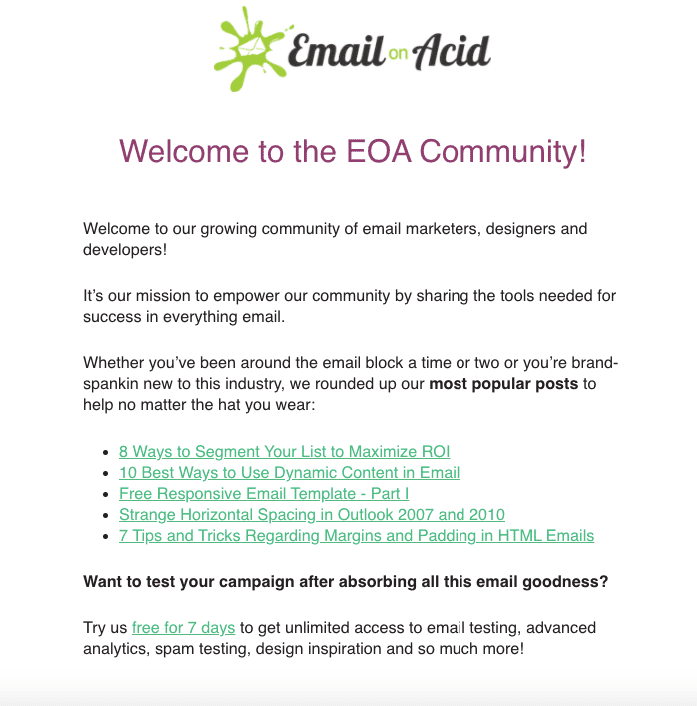 (Source: Email on Acid)
Final thoughts
B2B saas welcome email does more than just building a positive image for a brand. Their task is to convey the value of a product or service to the clients, to awaken their motivation and the desire to contact you and buy a product. A successful email can gain the trust and loyalty of the user, which ultimately increases the profit.
Use Stripo to create inspiring welcome emails that rival the examples in this article. Creation of banners, animated CTAs, email games from scratch or using saas welcome email template with adaptation for different devices, and export to different mail services — all in one platform.
Was this article helpful ?
Thanks for your feedback!