26 December 2020
10 Types of Emails for SaaS Businesses with Examples
While I was preparing this article, I decided to analyze what other smart people write in their articles about email marketing for SaaS. And what I read mostly was "Way too many competitors on the market. You need to bend over backward to succeed", "You need to think strategically every day till the end of your life", "Diversify or die".
Sounds quite depressing, right?
I don't like depressing articles. Why not help our readers and save you from reading pessimistic sentences? Especially when I'm writing this article in the atmosphere of New Year and Christmas. So here my story begins...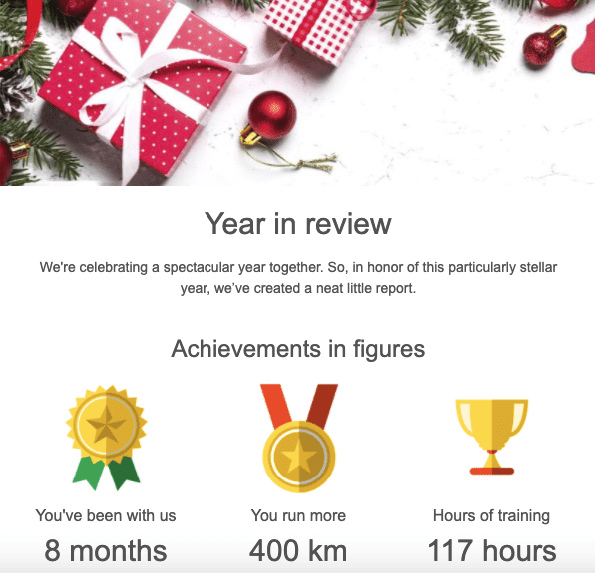 … Once upon a time, there lived a SaaS business. It was a generous fella — every person could get a free 30 day trial of their friendship just by signing up and sharing his/her email address.
And every time the days of trial passed, little SaaS business was left all alone without any friends as no one prolonged their friendship.
This story might have been sad but little SaaS business understood one thing -- when you want to make lots of new friends and build strong relationships with them, there should be a dialog between two sides.
There are different channels through which you can build a dialogue with your customers, but for SaaS businesses one of the most crucial is email.
"Narrator, what types of emails for SaaS can you recommend?"
Well, my dear readers, I can't answer this question with only one sentence. Not just that my editor would fire me, but mostly because I want to help every fella to see in detail the advantages of the SaaS email types.
Let's begin our journey into the world of email marketing for SaaS products.
1. Account verification email
In a land far far away, some people have some troubles with self-education, self-management, team building, and other various dilemmas. One day they see the ad about a SaaS fella, who looks like he can help with the listed above troubles. And these people decide to make sure this product can become their backup.
By clicking on "Sign up" your future users expect you to continue the dialogue they've started.
If there's a need to verify the account, let them know about it. A short email with the standard structure of information would fulfill this job.

2. Welcome email
Now, it's time to show your niceness and manners — welcome the users, let them know that you're not going to leave them along with your product, and you want to become friends or, more officially, their assistant.
Please note that you would need more than just kind words — an open rate decreases with every email you send. So try to add some useful information like an introduction to your product, or some advice on how to set it up correctly, or where to find instructions to your first welcome email. Be very thoughtful when preparing this email — among all the types of SaaS marketing emails this one can change the whole future of your relationship with users, whether they become your clients later or not.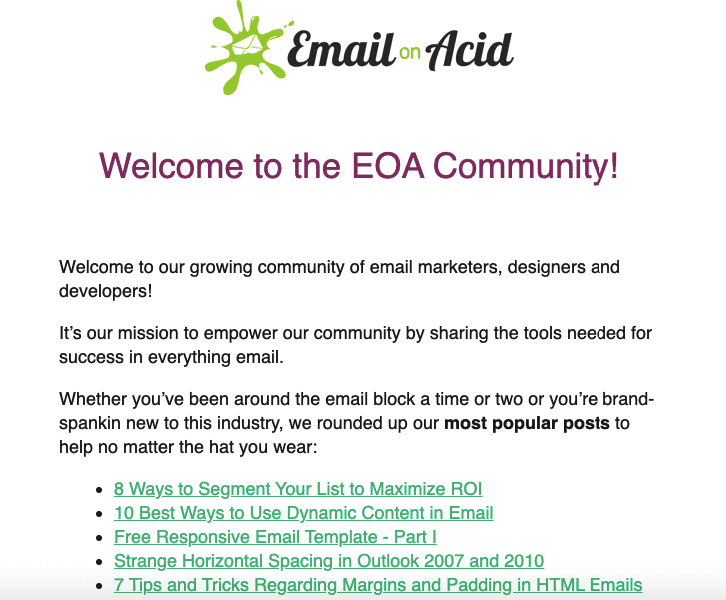 (Source: Email from Email on Acid)
For more information on how to build a proper welcome email for SaaS businesses, please refer to our blog post.
3. Milestone/Review email
Sometimes in emails of this type, companies review the way clients used their tool.
Here you can show gratitude to the relations you've built along with users or share some nice news.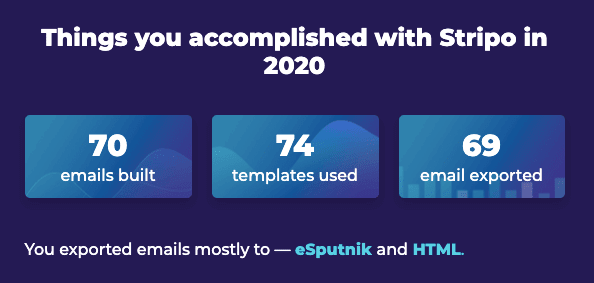 (Source: Email from Stripo)
4. A trial ending reminder
We're all busy people and sometimes your users can forget that the trial is not endless. Gently remind them that in a couple of days they'll need to decide whether to purchase the product and stay with you or leave. And one more reminder on the very last day of trial — just to ensure that they got the message.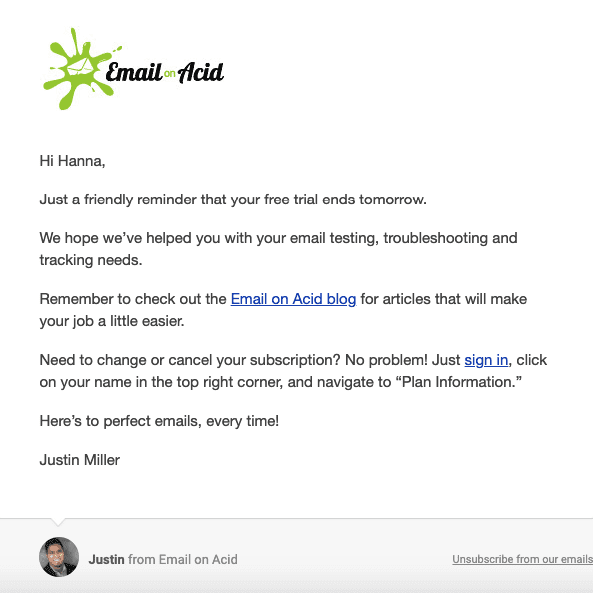 (Source: Email from Email on Acid)
5. Retention/reactivation email
Remember, in the welcome email bullet I told you to prepare that email the most thoroughly and thoughtfully? Well, I kind of lied. You need to do the same serious kind of work with the retention email too. Among all types of emails to SaaS business, this one can generate you a major profit. Mostly because users get this email when they hesitate whether to pay you money on a regular basis or cancel the subscription.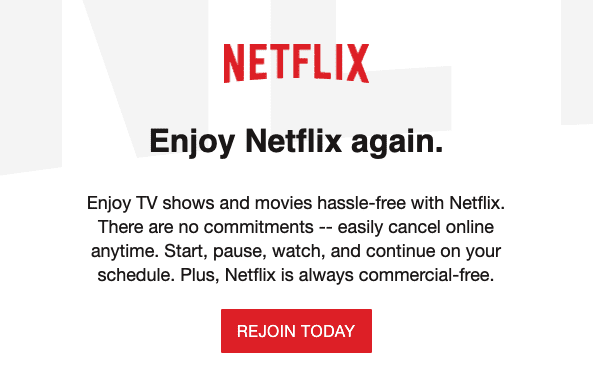 (Source: Email from Netflix)
6. Digest email
Educate users, help them grow and prosper along with you. Whenever you have new blog posts, expert articles, or interviews just notify your subscribers about them. Also, you can share useful material from other sources, for example, your partners' blog, the ones you trust.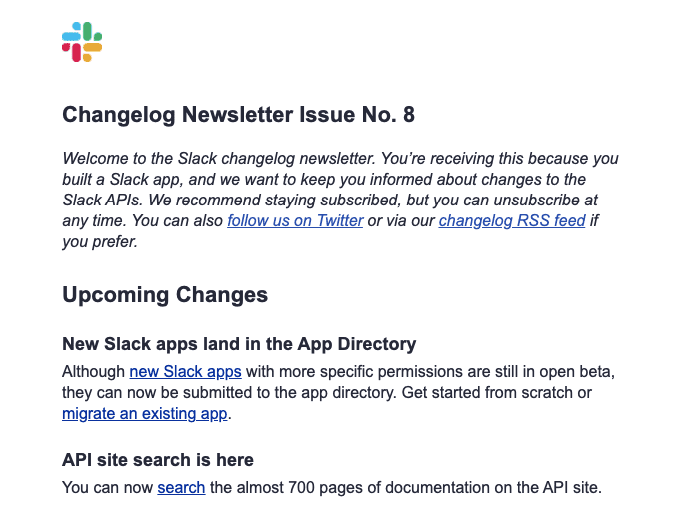 (Source: Email from Slack)
7. Referral program email
Don't underestimate the power of your users :) Facebook and Linkedin had a big boost at their start exactly due to the referral strategy. Ask clients to recommend your product to their friends, to tell about it on their social media profiles, and give some bonuses for their efforts.
You can also show, for example, the progress inside the friends' group so each of them has more motivation, or let the existing users somehow help the new ones fully experience your product.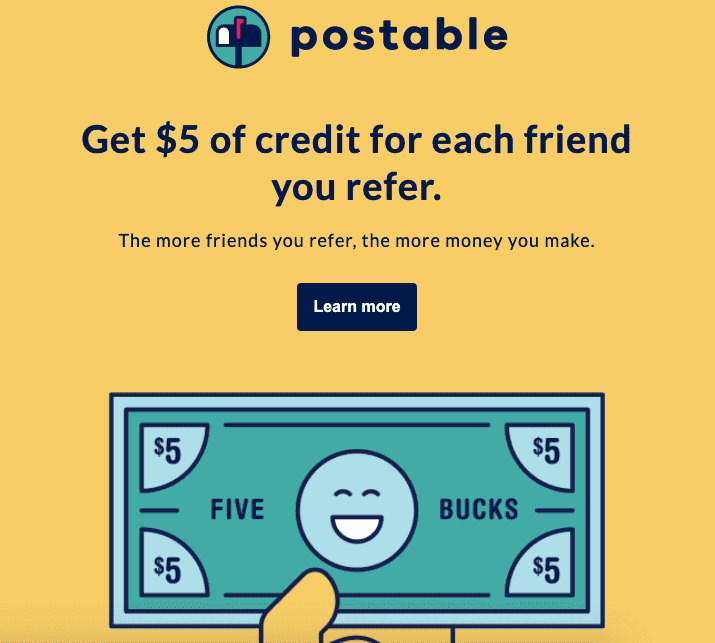 (Source: Really Good Emails)
8. Product updates/Announcement of new features
Yes, this type of emails is also really important. Otherwise, how can users learn what a great and progressive product they're using? :) Or how can they be prepared for a new interface or features or whatever else. But not only do you need to inform them about updates but also educate them on why the updates are so important and how to use them. And don't forget to keep it short — leave all details for the website page.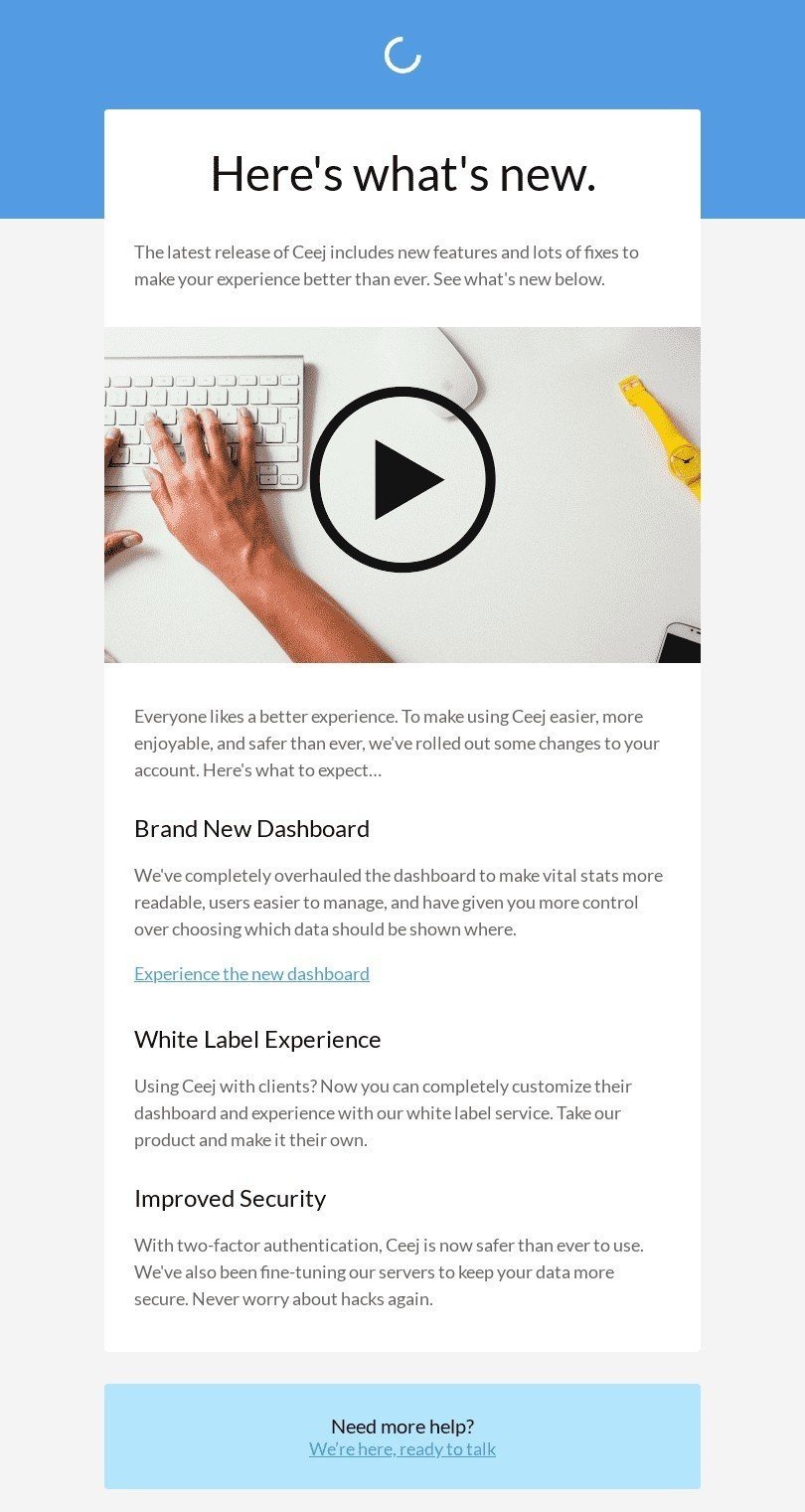 9. Discount email
The next one among types of emails for saas products is more about generosity. When you have users who're truly interested in your product but have an itsy-bitsy uncertainty, you might try to present a little surprise like a discount or special offer that might motivate them to make the final step and purchase the product.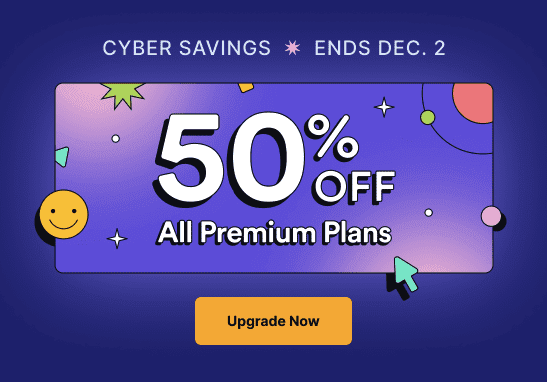 (Source: Email from Grammarly)
10. Survey email
You can use this type of email for different purposes: to learn why someone decided to leave, whether the users enjoy your product or they want some changes and to gather feedback on any relevant matter. You can ask questions like "Was the price an issue to purchase the pro version?", "Is the product hard to use?", "Did you enjoy the trials mode", etc.
And try to make the process of answering the questions more fun — let your users share the answers right in the email. Yup, it's easy to implement this idea.
You can use the ready-made template below.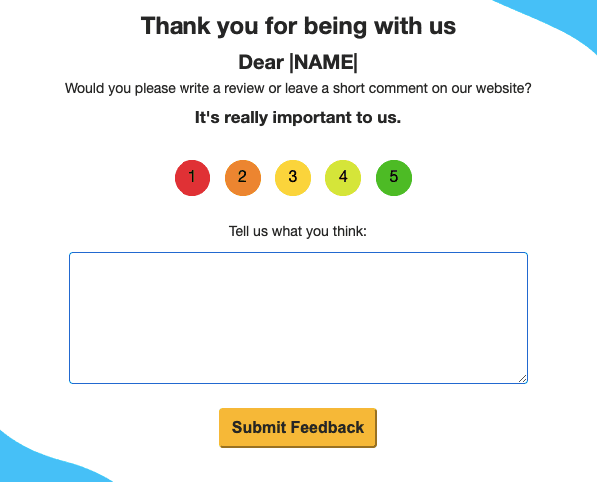 Or you can make one from scratch following simple instructions from our step-by-step guide.
If you are interested to learn more about survey emails, check our article on 10 Best Practices to Create Survey Invitation Emails. We have some great tips there.
"Narrator, can you please also show SaaS email examples?"
Of course, my distinguished reader, to internalize the mentioned above information, I've prepared a few examples which I really enjoy. Plus they've shown its effectiveness, but who cares about it (joking).
1. Try to intrigue from the beginning and use humor
Your storyteller loves such copy and loves relevant humor, it's not a secret (take a look at the previous paragraph). And Really Good Emails know how to make out of a simple, not-designed email something and are full of intrigue, like what kinds of emails are their users going to get after an "official" subscription. Yes, you can make a standard confirmation email as most market players do but instead maybe try to use this idea :)
A piece of advice: if you're not sure whether your users would understand jokes but you're sure about your sense of humor, try to test it in, for example, a couple of Facebook or Twitter posts to see their reaction. Remember, 99% of people like to smile and laugh a bit even during serious business meetings. Jokes just should be relevant and not offensive.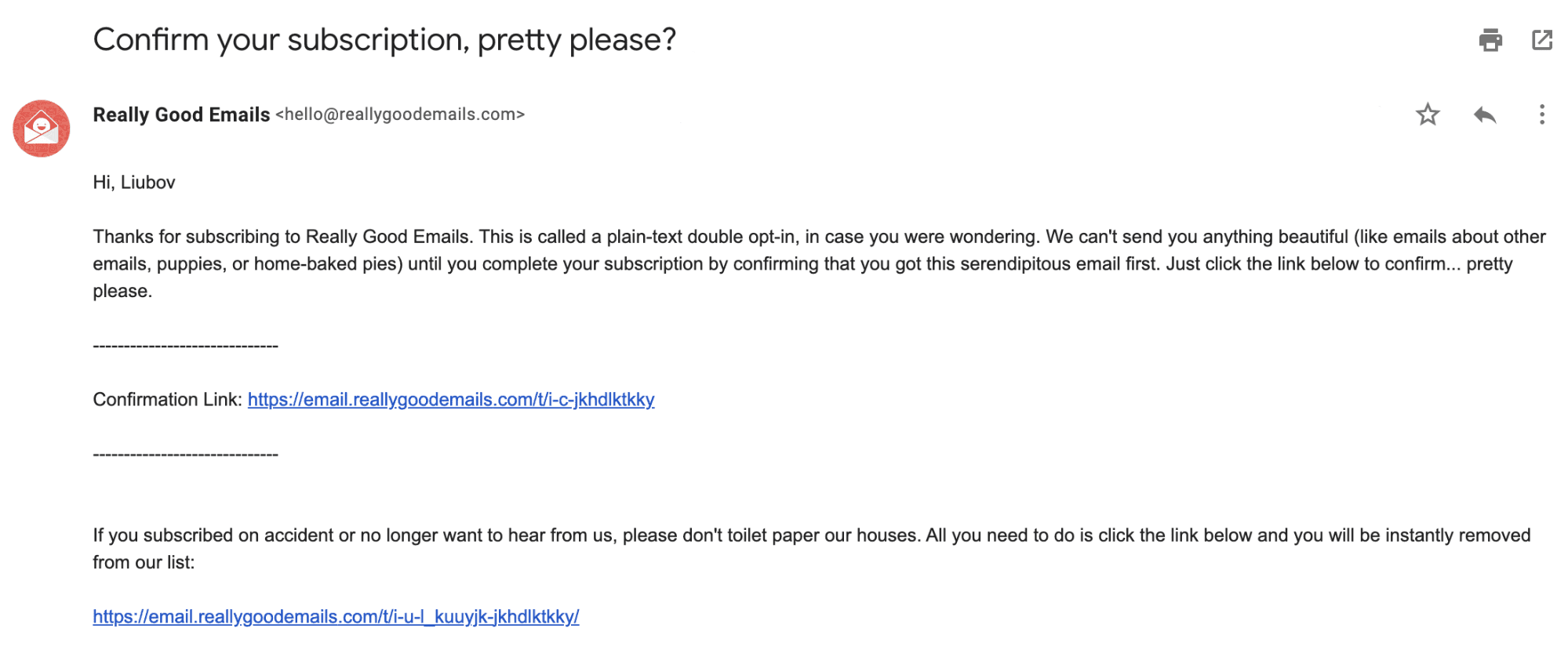 (Source: Email from Really Good Emails)
2. Focus on the benefits of staying with you
It's never a bad decision to show your advantages. In this type of SaaS email examples, you can see a direct link between the benefits of the product and personal user's results.
Think: if you just yell from every email "Hey, you! We're the best! Why? Cause our relatives say that. So purchase our product.", would your users listen to you? Or it's better to showcase how your customers become a better person, a better professional, a better sportsman every time they use your app.
Let it be a simple branded design, a standard font, and meaningful words or understandable statistics.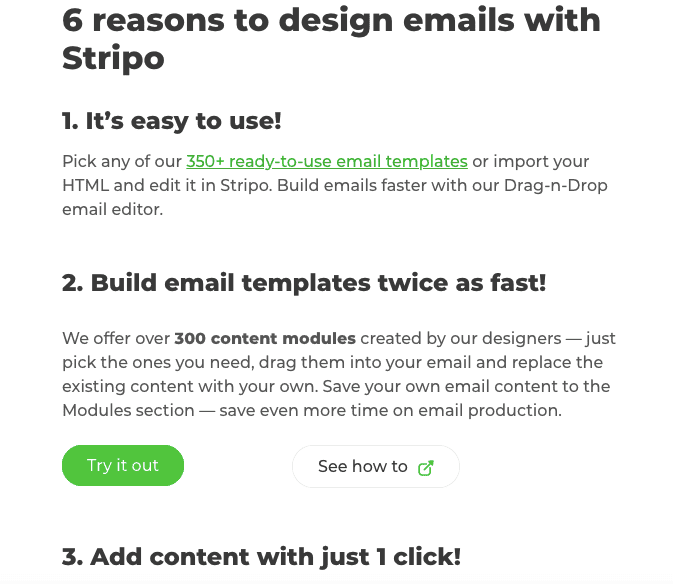 (Source: Email from Stripo)
3. Think of yourself as pretty and useful and don't hide it
Despite what I said in the previous bullet (focus on customers), sometimes it's good to be selfish. Even my shrink says so. It's not about telling lies but showing what you're really worth. You have important and great features? Show them, spread the word about them in newsletters or special campaigns, and let your customers decide which ones are they really going to use. You just accomplished your business goals or fully updated your interface? Let your users give you credits. They might not fully like the updates as you're kinda pulling them outside their comfort zone but soon they'd be grateful. Make "an email show" with infographics, interactive elements while presenting your pretty product. It's not time to be shy.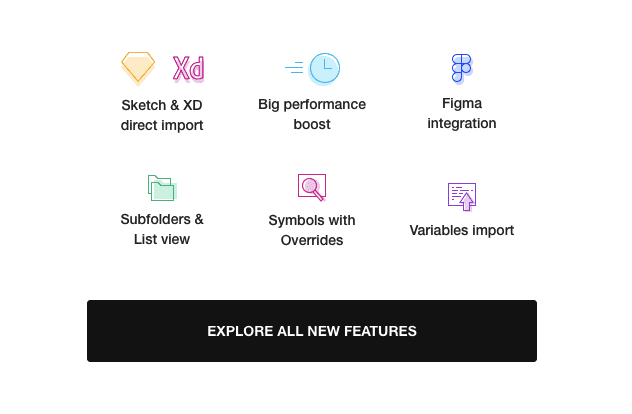 (Source: Really Good Emails)
4. Don't forget about onboarding
You might think that your product is the most precious and the most simple-in-use app in the world. You can easily navigate through it with your eyes closed. But it's not the same for your users when they first meet it. They might not understand how to use all features at full capacity, how to get the benefits, and even how to set it up correctly.
While writing a manual to your app, you can make it as long, as it's needed. But when it comes to email, it can't be long — subscribers simply won't scroll through it. That's why you need to use direct links or buttons with hidden links that lead your users to the necessary piece of information about the product on your blog. Thus the email will be useful, informative, and short.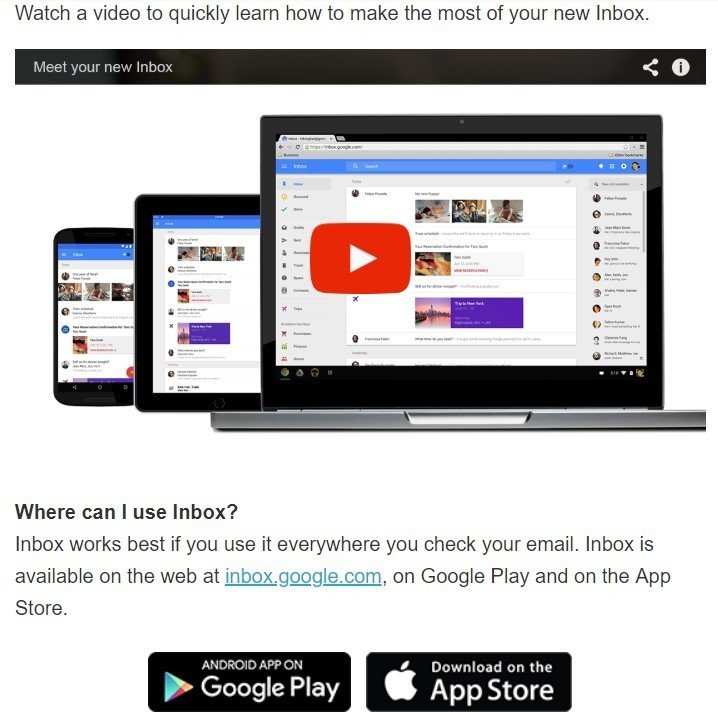 (Source: Email from Gmail)
You may also, like Gmail, add videos to your emails. Stripo allows both adding links to your videos on Youtube, and embedding videos in emails so users can watch your tutorials directly in their inbox.
5. Say goodbye when you have to
Though it's sad to admit, sometimes users decide to leave the little SaaS fella for different reasons. For such cases, you need to have a neat and sincere email where you unobtrusively show how you're going to miss your user. Without begging to stay, desperate words in Bridget Jones style. Just keep in line with brand design, inform that you've fulfilled the request, and try to hint in one sentence at what your user is losing.
(Source: Email from Netflix)
Final thoughts
The moral of this tale is clear. Being a lonely SaaS mate is not the best solution. To make a life-long friendship with your users you need to communicate with them as with real friends — neither rare but nor often, not just talking about yourself but showing some gratitude to them. And try to make the communication as fun and useful as possible via different types of emails for SaaS. Remember — your fella Stripo — is always here to help you with fun email campaigns.