15 April 2020
Best Practices to Build Mother's Day Emails
No matter what kind of products or services you sell via email marketing but when it comes to such a warm and love-filled holiday as Mother's Day we all want the same — to create an email in line with such holiday. But how to design it?
No worries, get a peek at email examples from our article for inspiration. In addition, we have prepared 12 Mother's Day emails design tips that you can definitely use when designing an email.
And for your convenience, we have a set of free Mother's Day email templates ready for editing. Just take a look at this example: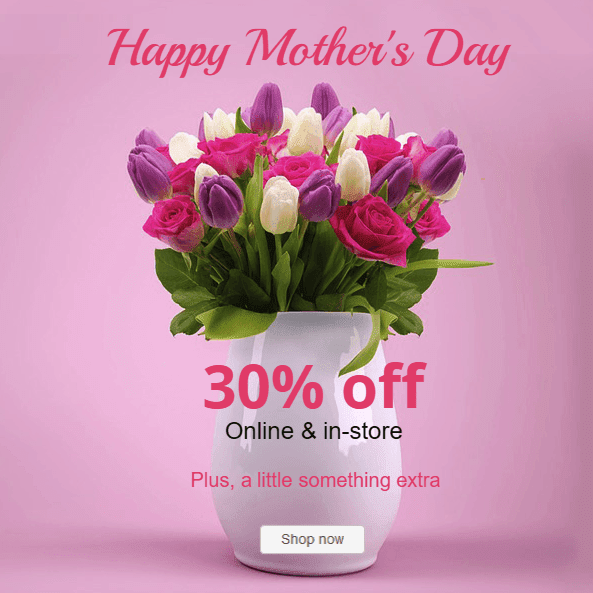 Simply customize text, add company colors, logo and photos of your products, choose vivid CTA, include discounts — with our editor, you can create a beautiful and clear email for your Mother's Day campaign.
Create a perfect Mother's day email design
It would be perfect if Mother's Day emails could transmit as much love and care as the child puts in a gift to his/her mother. Imagine this: a son or daughter booked a table in the best restaurant in the city that his/her mother had wanted to visit for so long, planned a nice walk or made a slideshow with their family photos. And in such a warm atmosphere a child gives an incredible gift, that makes mom's eyes sparkle.
Yes, your product may be presented as this gift. So how about making the holiday preparation as convenient as possible for your client? You are unlikely to call the restaurant to reserve a table for your recipients, but you can definitely create a convenient and beautiful email with the options for a gift.
What service can help you create it? Stripo, of course.
And to help you understand how this email should look, we have prepared some tips and ideas. Find the appropriate ones for your goals.
12 Mother's Day email design best practices
Each of these practices can be used as a practical base for further work — adjust them as you require. In fact, we've also showcased how you can customize these Mother's Day email ideas with Stripo. Just keep reading.
1. Share your own story.
No need to search for photo stock pics of random mothers and copy/paste boring texts. Recall your own memories, show your love to mom and strengthen relations with clients.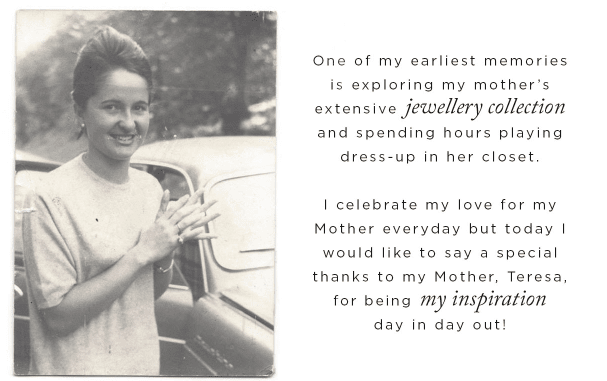 (Source: Newsletter email from Monica Vinader)
See? The storytelling will be a great solution for your Mother's Day email.
2. Remind that the holiday is a couple of days away.
Yes, we all are humans and we tend to forget special dates. Don't hesitate and remind your clients to prepare a nice gift while the discount is valid.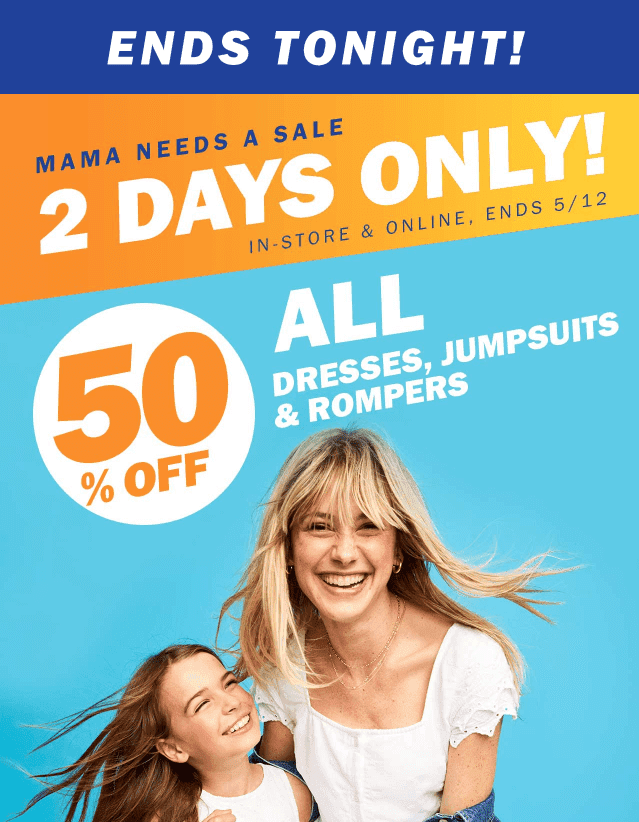 (Source: Newsletter email from Old Navy)
Thus, your clients will preserve their nerves and budget in a holiday rush.
How about to spice up this design idea with a countdown timer? Just take a look at how incredibly easy you can add a totally customized countdown timer in your Mother's Day email with Stripo.
3. Be a solution for those who still have not decided on the present yet.
Point out the opportunity to buy a gift card. Yes, some mothers actually prefer to get something without saying a word about it. Though they might first cover their thoughts with the words "Oh my God, how long I was waiting for such a universal rag for the floor!" Moms are such moms.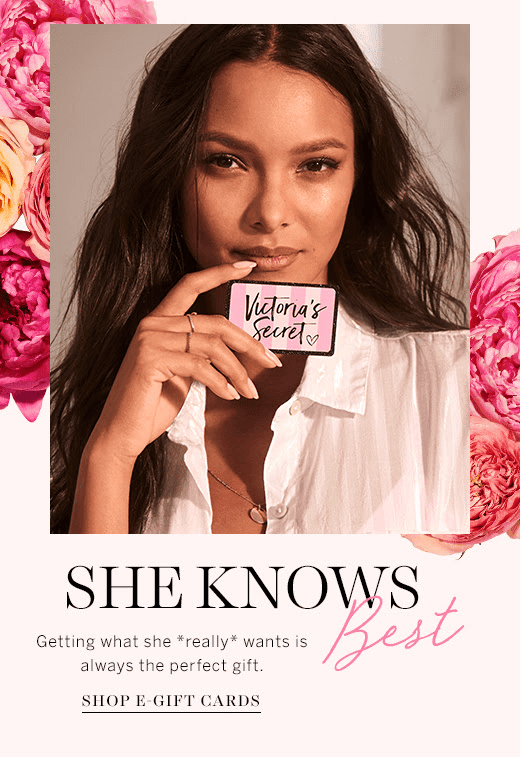 (Source: Newsletter email from Victoria's Secret)
4. Make sure the discount is on the first screen of your email.
Choosing between two gifts, the customer is more likely to pick the one with an attractive discount. This is not about greed, it is about the harsh life of an adult.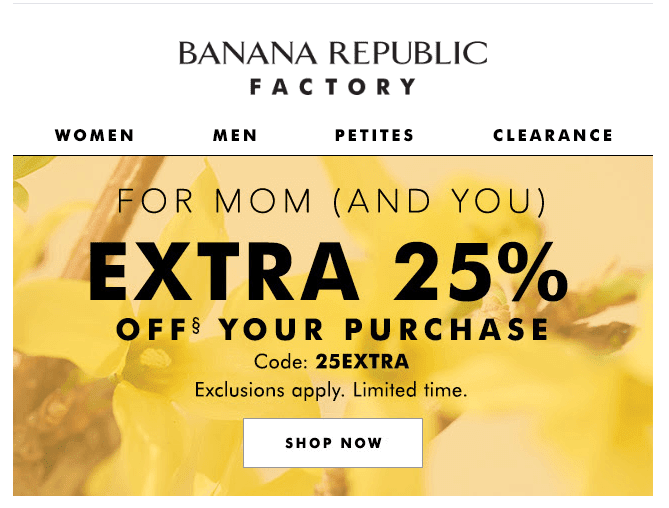 (Source: Newsletter email from Banana Republic)
You can use well-designed coupons, or highlighted text, just help your customer to stick with email and choose the needed gift.
And why use an external design program? With Stripo editor you can create a banner with information on sale for any taste while preparing an email. We've prepared a step-by-step instruction on how to build one. Actually only four steps divide you from a perfect banner:
find the banner block on the left Content menu and pull it in your email;

pick out the required background image;

include your text about sale anywhere on the image;

edit this text's font type, size, color, etc.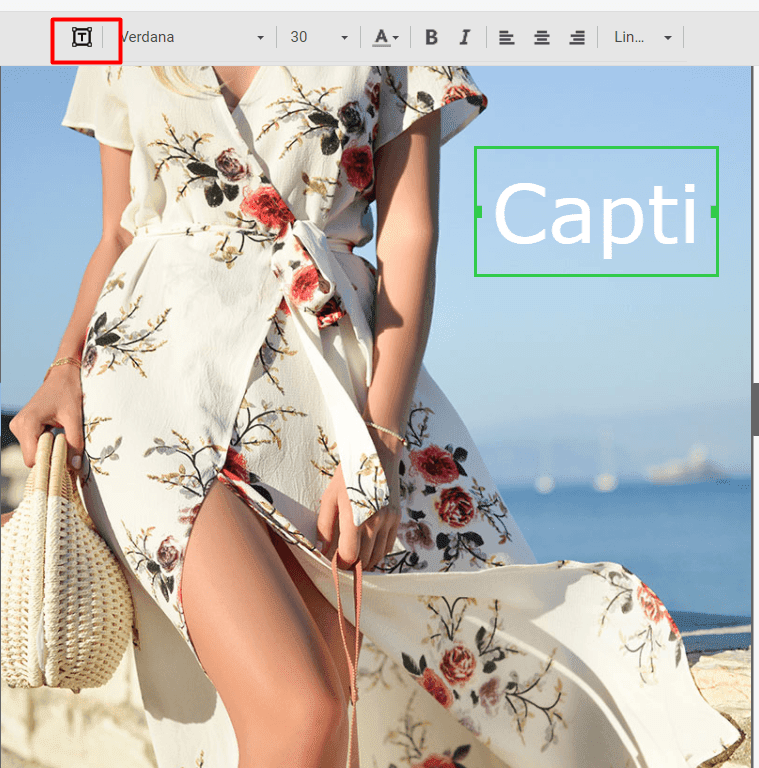 That's it. Pretty simple, isn't it?
If you wish, you can make the banner more interesting by adding some blocks like frames, photo collages, videos, buttons, transparent additional image, or AMP-carousel.
5. Show how to make a present more personal.
When I was a child, I tried to make my mommy happy with home-made postcards. You should've seen her sparkling eyes and a gaze that evaluated the implications of my preparation: glue was everywhere, part of the applique was stuck in the expensive sofa, scraps spread throughout the hall.
Fortunately, in your Mother's Day emails, you can show how your customers can personalize any gift in just a few steps. And no furniture will suffer.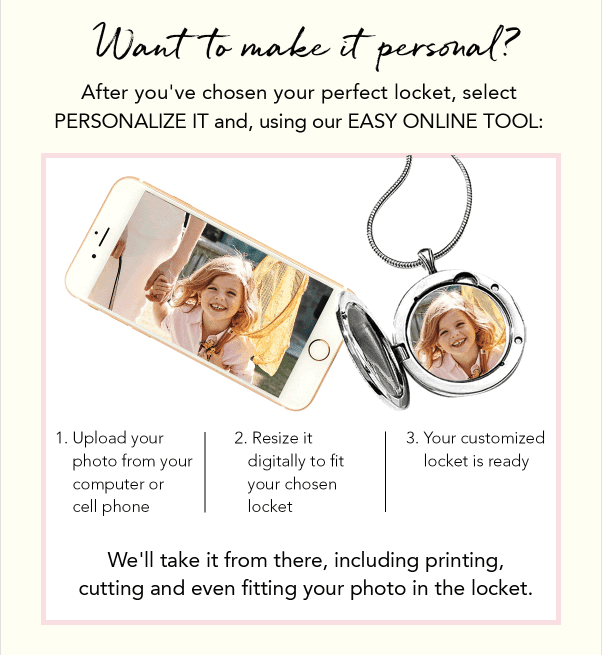 (Source: Newsletter email from Brighton)
6. Present a full set as a gift.
Most of us live in a hectic rhythm, forgetting to get a well-prepared gift for our mothers beforehand. Does this mean that we don't love our parents anymore? Nope, we all have just grown up.
Help your customers express love with total looks in your emails so they shouldn't scroll dozens of pages looking for a perfect match by themselves. Plus, a noticeable banner with a sale announcement — that's a combo of best practices of Mother's Day emails.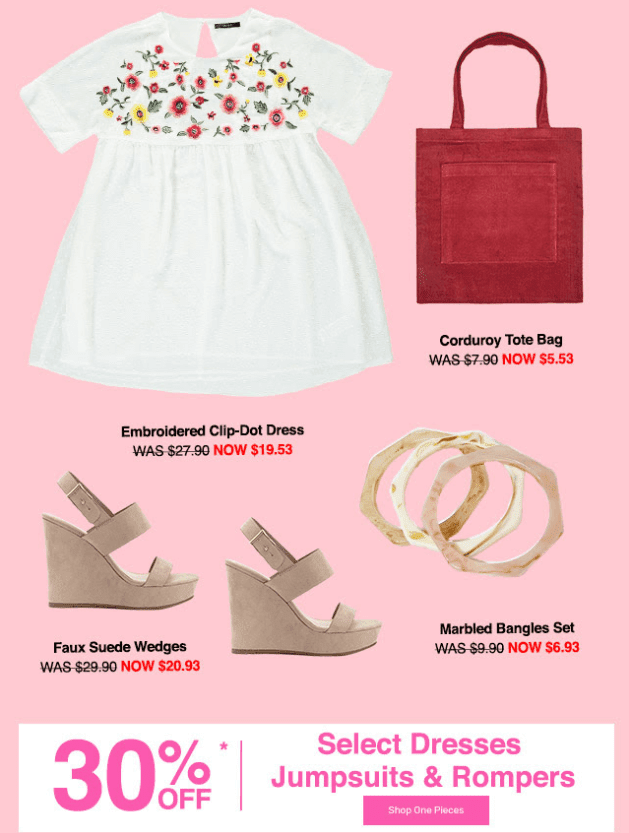 (Source: Newsletter email from Forever 21)
7. Don't forget about meaningful GIFs.
One of the coolest tips for Mother's Day emails is an animated image. Let's face it, GIFs attract and make recipients want to examine in detail what is written and depicted there.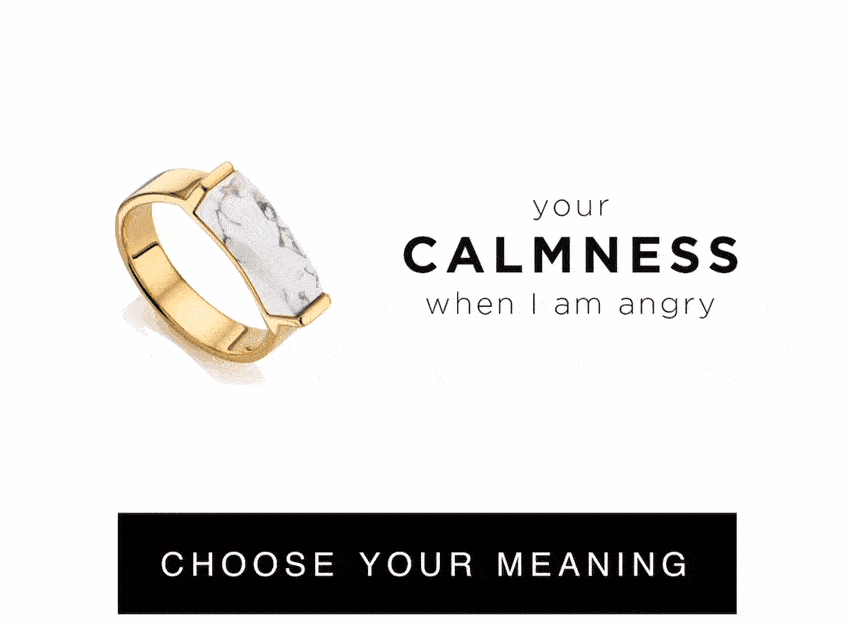 (Source: Newsletter email from Monica Vinader)
Instead of overloading your emails with several images that slow loading time, the gif will help combine the images to tell a story. Present a variety of goods for your customers to choose the best one for their beloved persons.
8. Make your emails personal and emotional.
Remember not to use photo stock pictures of families? That's right, same rule. Use your real customer's pics. Bring as much of real love, devotion, care and holiday atmosphere as possible. Just take a look at this example for Mother's Day email inspirations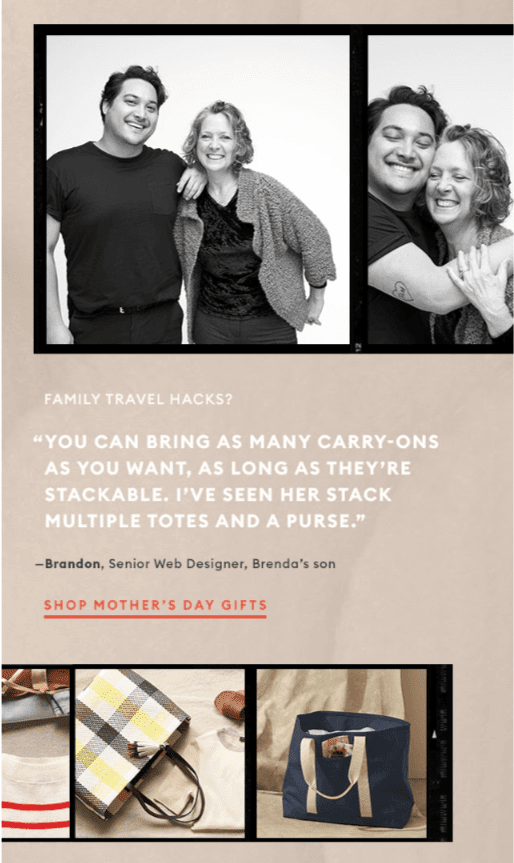 (Source: Newsletter email from Banana Republic)
You still have time to chit-chat with your clients via email, right? Then take advantage of it. Conduct a friendly survey and showcase how your customers and their moms use your products.
9. Let your customers buy in one click
Make it easy for your recipients to choose a present and purchase it in one click right from the email. For example, you can place the most popular products or more personalized collection to match your customer's preference, if you have this information.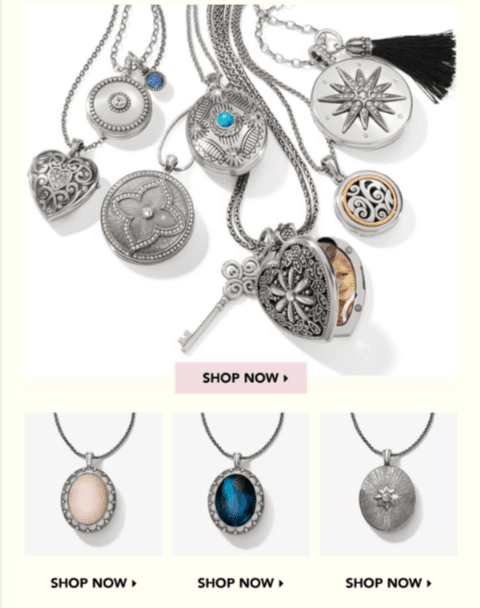 (Source: Newsletter email from Brighton)
10. Don't forget about latecomers.
If you have an offline store make sure to point out the possibility for your customers to select a gift in it if he or she has forgotten to order it online in time. Imagine how grateful they'll be.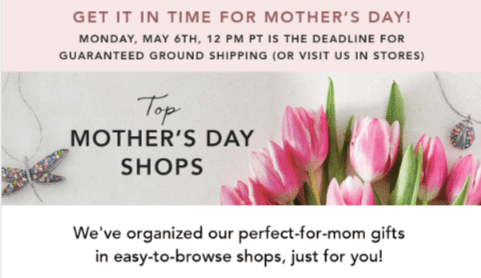 (Source: Newsletter email from Brighton)
11. Help your customers estimate the budget on a gift
Add all the important information and show the price so that your customers can estimate the budget on a gift even before they go to the website. Remember — be a great assist for your customers during the holiday clutter and they'll come back to you in calm time.

This is actually one of the blocks from our template that you can start editing right away. All you need to do is change the product's information and your email is good to go.
12. Use attractive Mother's Day email subject lines
A few things to remember: make your subject lines short but capacious, appealing with discounts and proposals, and of course full of love and care. Here's our list of 15 great examples to get inspired with ideas for your emails.
A meaningful gift for Mother's Day... — Monica Vinader.

Our Top Mother's Day Gift Shops — Brighton.

Our Mother's Day Gift Guide + EXTRA 25% OFF — Still need a Mother's Day gift? — Banana Republic.

Mother's Day is ONE week away! — Victoria's Secret.

What to Wear: MOTHER'S DAY — Forever 21.

NEW LOCKETS For Mother's Day — Brighton.

Our Mother's Day gift guide to fuel your Mom's wanderlust — Banana Republic.

20% off all jewelry | Our treat to you this Mother's Day — Monica Vinader.

Iconic Gifts for Mother's Day — Brighton.

You can still get it by Mother's Day! — Gap Factory.

? Happy Mother's Day! ? Here's 25% off to use on something special. — Banana Republic.

Last-Minute Gifts for Mother's Day — Brighton.

Wishing you all a Happy Mother's Day — Monica Vinader.
Try your best to make your email subject lines for Mother's Day noticeable.
5 Mother's Day email examples
Now let's take a closer look at how some companies used Mother's Day emails design ideas which we've mentioned above.
1. Monica Vinader and meaningful jewelry.
That's a great example of how to turn seemingly ordinary beautiful jewelry into something meaningful.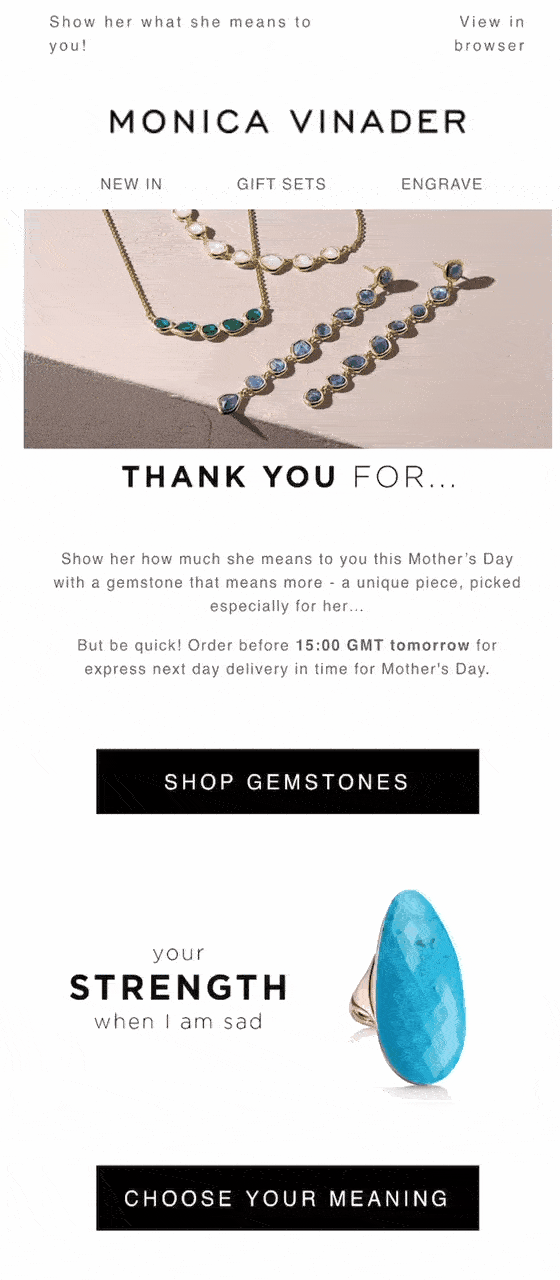 (Source: Newsletter email from Monica Vinader)
Monica Vinader showed how you can choose a gemstone that can suit your mother and show what she means to you.
2. Brighton and personalized gifts.
The first thing we see is the variety of goods: pendants, rings, bracelets, photo frames. And right under it, the opportunity to prepare a special gift using an important photo for mom is described. Everything is clear and understandable.

(Source: Newsletter email from Brighton)
3. FOREVER 21 and total look.
Here Forever 21 used two ideas described in our article: the discount is shown immediately upon opening the email and total look for the client's convenience, mentioning the price for each item.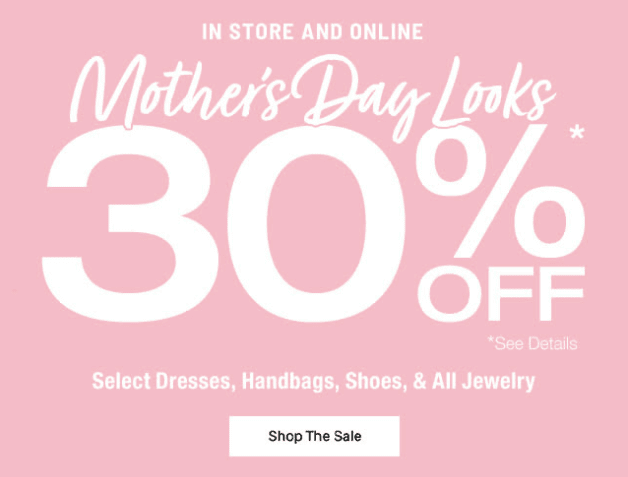 (Source: Newsletter email from Forever 21)
Click — and the whole look is packed and sent to the buyer.
4. Victoria's Secret and a variety of goods.
Victoria secret compactly showed the choice of goods for a gift, ranging from underwear to home slippers.

(Source: Newsletter email from Victoria's Secret)
In this way, they indicated that you can find a gift for every taste and purpose.
5. Monica Vinader and personal story.
Yes, in this email she decided to tell her story related to her mother. Given also such vintage photos of her mom, Monica smoothly immerses the recipient into the holiday atmosphere.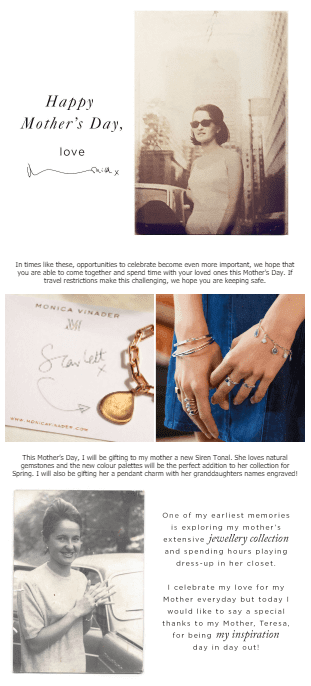 (Source: Newsletter email from Monica Vinader)
I think many girls have similar memories: fashion shows in mother's skirts and shoes, sneakily trying on beads and enjoying those Parisian perfumes. Why not use the same move in your email?
Taking into account the importance of photos in such emails, try to edit your images with Stripo using this short instruction:
upload your image;

on the settings panel, pick the "Edit image" option;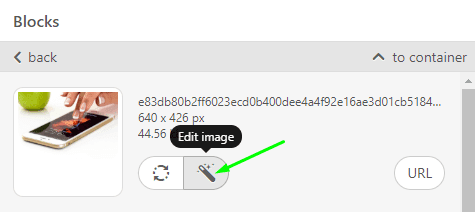 automatically you'll get access to the Pixie editor;

start adding the required filters, text or stickers over your image, resize and crop the photo, etc.;

click "Save" in the Pixie editor.
Final thoughts
Become a trustworthy assistant for your customers and help them make their mothers smile. As we've mentioned in our best practices for Mother's Day email, your customers will definitely be grateful if you reduce their holiday stress.
Thus, the important things to remember:
don't be afraid to share your story;

place the necessary information about the product;

create clear and user-friendly emails;

make the coupons and discounts noticeable.