For the lucky ones, moms remain one of the most important people in our lives.
Yet, we rarely thank all the mothers for love and care they have given us. The relevant festive email greatly supports the perfect Mother's Day gift.
Mother's Day is a perfect reason to tell moms how ardently we love them and how much we appreciate everything they have done and keep doing for us. This holiday is filled with love and tenderness. Hence, the most effective Mother's Day email templates are not the ones with the most generous offer but the most touching and emotional ones.
Yep, we need to appeal to customers' emotions within the email marketing campaign. We don't do it only to convince customers to shop with us but also to remind and help them to pick the best Mother's Day gift beforehand.
Mother's Day email design
All our Mother's Day newsletter templates are designed in pastel colors. They are sensual and sweet but with a clear call to action. However, you can also contribute a piece of your soul to the happy Mother's day email marketing campaign.
1. Building banners for Mother's Day email marketing campaign
For the banners, we selected the most sensual photos to grab recipients' attention and put a smile on their faces. Over these images, you are free to put in your generous seasonal offer. You can wrap this offer in one of the 40+ banner fonts to fit the email design.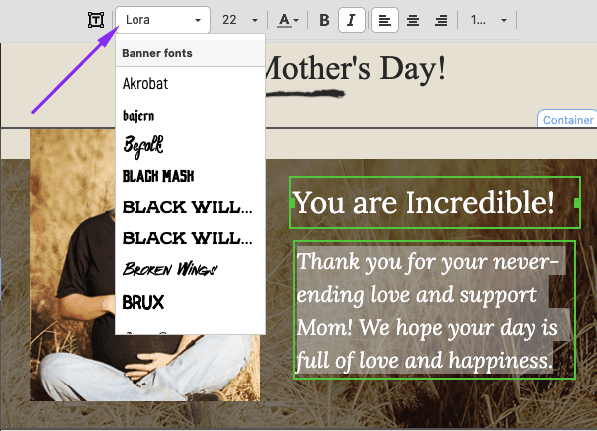 It will not go unnoticed.
Design colorful, heartfelt banners for Happy Mother's day email.
Join Stripo
2. Adding videos to Mother's Day email templates
Easy to do with Stripo!
In this video, you can appraise your users with a funny story from childhood and tell them about your evenings with mom. It can be anything you like. Just be sincere in this video to make it a great Mother's Day gift!
For a manual on how to add and embed videos in emails with Stripo, please refer to our "Videos" blog post.
3. Setting backgrounds for your Mother's Day emai
Some companies use photos of beautiful flowers or colleagues with their moms as a background for Mother's Day emails. It looks adorable and brings back up our childish memories.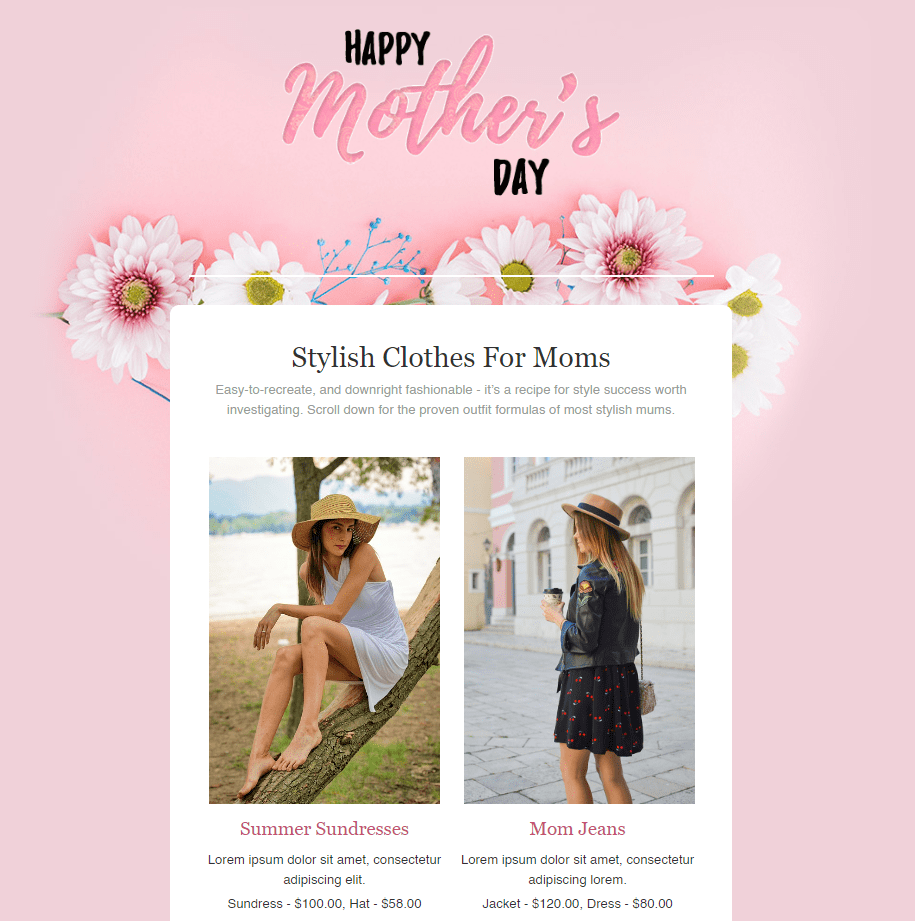 Use our Mother's Day email marketing template with heartfelt backgrounds to create the best Mother's Day gift!
Pick It Up
Alternatively, watch our short video to learn how to set backgrounds for your appealing Mother's Day email marketing campaign on your own:
entire emails;

stripes/rows;

containers;

structures.
Decorate your templates for Mother's Day emails with festive banners
Get Started
The best tips to delight your subscribers on Mother's Day
Remind your customers the holiday is coming
Honestly, I don't like urging people. But when it comes to holidays like Mother's Day, I think you will do them a favor by reminding them that the holiday is so close. It will also increase engagement in your Mother's Day marketing campaigns and encourage urgency for last-minute shoppers.
Add a countdown timer to your free Mother's Day newsletter templates.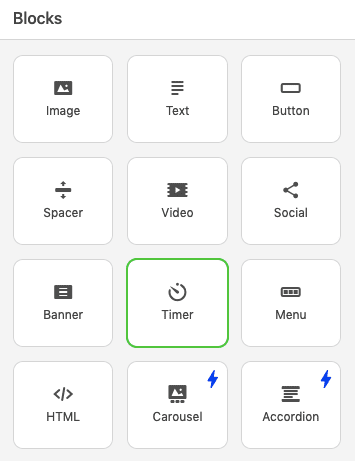 With timers, you let users know how much time they have left till Mother's Day!
Get Started
Be sincere during your Mother's Day email marketing campaign
The best Mother's Day email ideas are always sincere. People can notice whether you are telling the truth or not. So consider your mother figure and what emotions you associate with her, and incorporate them into your Mother's Day email template. Share some of the experiences you are grateful for with the most important person in your life.
Remember that these emails are for Mother's Day special messages, so they should not be used as a sales pitch immediately. Thus, before putting your Mother's Day gift sets into action, use heartfelt storytelling and mention, for example, useful tips for Happy Mother's Day wishes.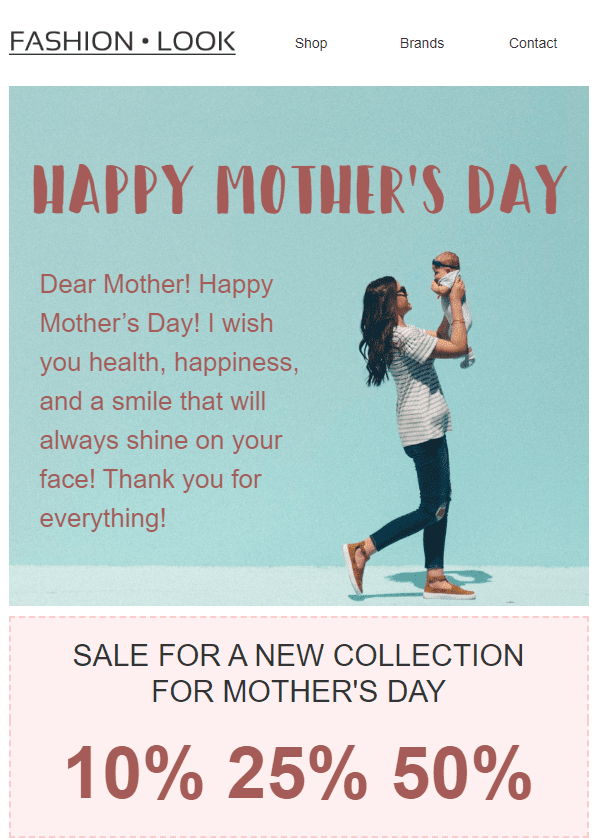 Surprise subscribers with special offers for a Mother's Day email
We all enjoy holidays because they provide special deals, and Mother's Day is no exception! So, analyze the market, consider mothers' needs, and create the best email campaign possible. Such promotions should be both relevant and generous to your customers.
Create a separate section in your Mother's Day email campaigns to help your clients buy gifts easily.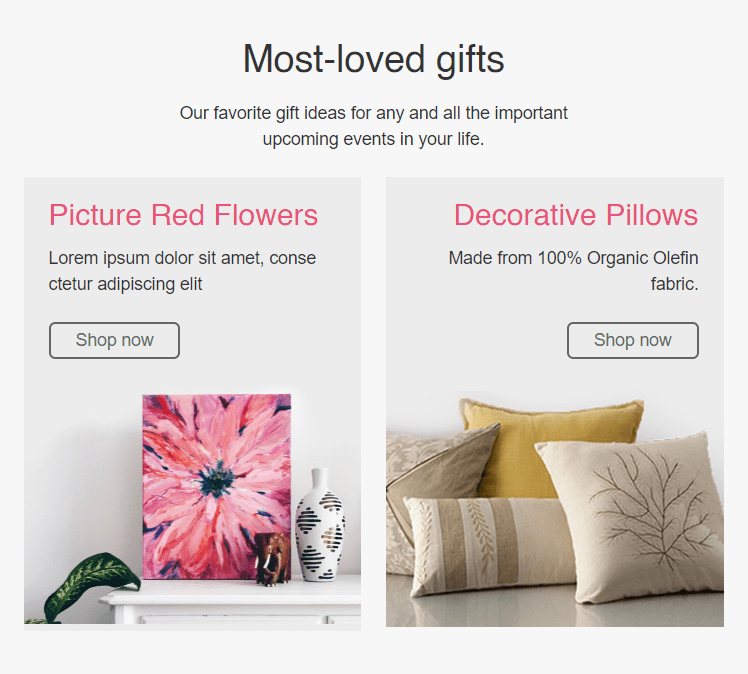 Evoke emotions with the perfect Mother's Day gift
What makes us like or dislike certain things? Emotions! Make emotions work for you on the threshold of Mother's Day.
Mother figures are commonly associated with our childhood. So why not recall the good old days with childhood-related content? Upload an old postcard you gave to your mother in the past, or create a contest for the most touching drawings from the little ones, complete it with prizes, and use it for your Mother's Day email marketing campaign.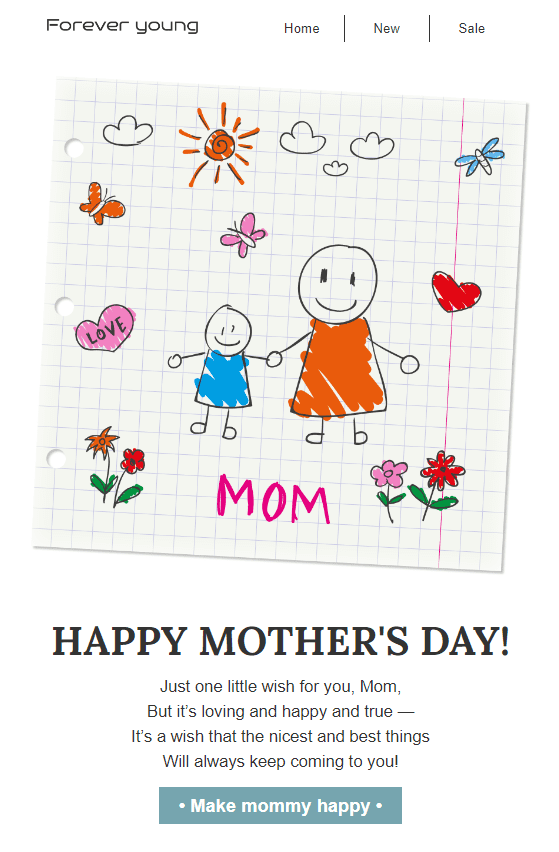 To personalize your email and appeal to your client's emotions, you can also include congratulations from your team for a Happy Mother's Day.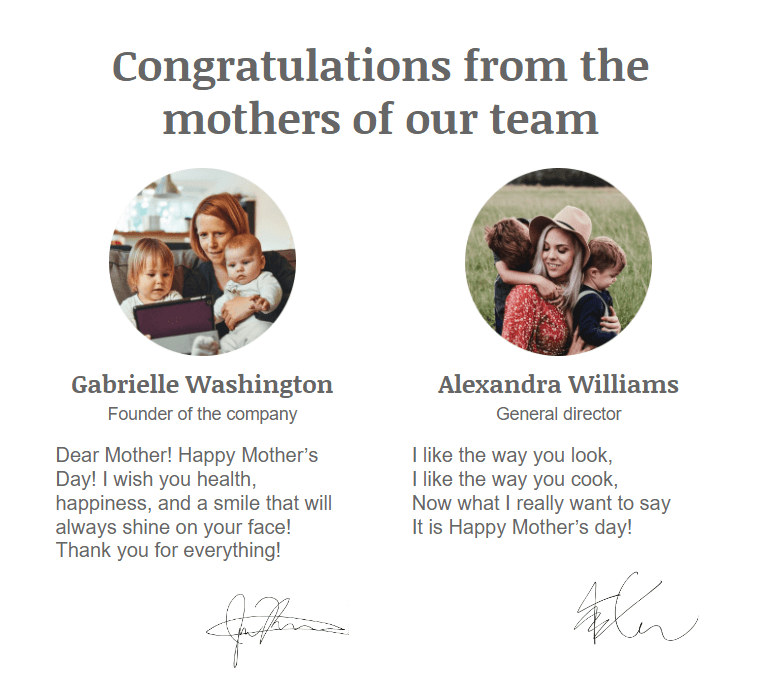 Benefit from the customer reviews
To create the best Mother's Day emails, appeal directly to your client's experience. To use these reviews later in your Mother's Day email marketing campaign, ask your users to share some stories from their childhood and what mother figures mean to them.
This way, your Mother's Day email with user-generated content will appear genuine, true, and heartwarming. Furthermore, your customers will feel involved in creating the marketing campaign. And feeling like you're a part of something big and nice is always a treat, especially on such a bright holiday.
Make your Mother's Day subject lines brief and catchy
Finding a business that doesn't have Mother's Day specials in May is challenging. As a result, customers' inboxes will be flooded with email subject lines containing words such as coupons, sale, free, off, gift, and other similar phrases. That makes sense because your customers will expect you to offer special deals as part of your Mother's Day email marketing campaign. In contrast, a little creativity can help your emails stand out in the overcrowded inbox of your target audience.
As always, your email subject line shall remain brief and understandable, but try to add some Mother's Day special vibes into such marketing campaigns, for example, "Surprise Your Mom With A New Balm!", "Mother's Day gift guide for all ages," "Celebrate Mother's Day with a holiday stay," "Gift idea for your mommy," "Pre-order for the perfect gift," "Make your Mom happy and save 30%," etc.
Speed up Mother's Day email production with Stripo's modular email architecture
You can use any of our Mothers' Day email templates. In that case, all you'll have to do to send out an elegant, sophisticated email is replace details in the examples of goods in our product content modules, put your value offer over the banner image, add your logo and contact info (or dragging these elements from your personal module library) — and your email is ready to go!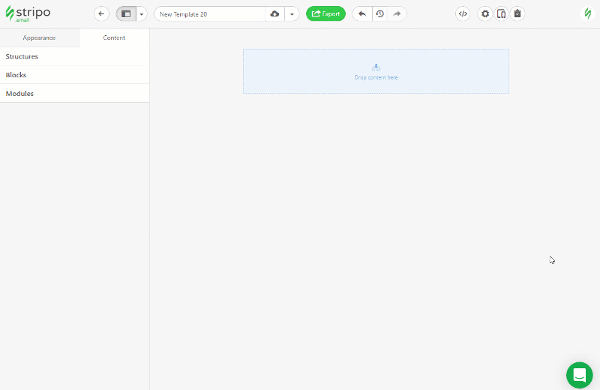 Save time with our Mothers' Day email templates
Join Stripo
Wrapping up
You do not need to worry about how your email renders on mobiles, as all our templates are fully responsive.
Our Mother's Day campaign templates will significantly reduce email production time. Take advantage of it — it will save you time to call your mom on this day or spend time with your kids. Consider our Mother's Day email examples and help yourself shop for Mother's Day gifts ;).
Find more ideas on how to enliven your Mother's Day email templates in our "Best Practices to Build Mother's Day Emails" blog post.
Join over 1 000 000 users
Start with free email template builder — upgrade anytime