27 May
Father's Day: 33 Catchy Email Subject Lines and Email Examples
According to NRF, in the United States alone on Father's Day, people spent upwards of $16 billion in 2019.
You will need to run a heartfelt email marketing campaign if you want to get a share of this pie. By using Father's Day email templates you can create a proper campaign in under 10 minutes: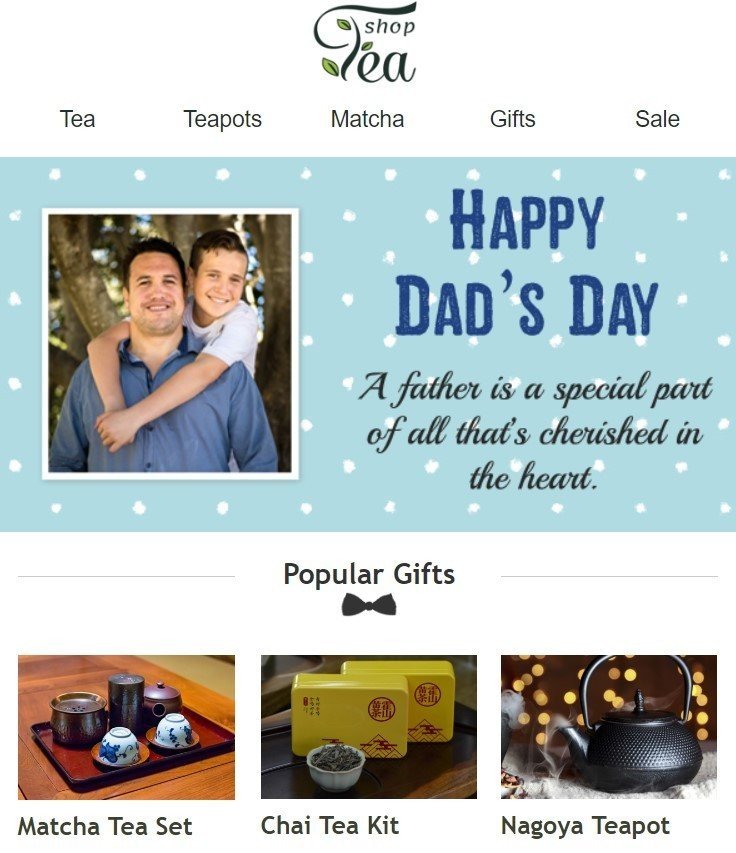 We hope that great Father's Day email subject lines and best email examples given below will get you inspired and help you build your most powerful campaign ever.
Ways of writing catchy Father's Day email subject lines
This is a relatively small holiday compared to others, but this is the time when people show their appreciation for dads. So a father day email marketing campaign that takes advantage of this should do well.
Way 1. Adding some emotion to your father's day email subject lines
Emails with subject lines that show love and respect for fathers are bound to be opened:
Dad, I am flying to see you! And flying with you is 50% cheaper. — Austrian Airlines.

Like Father, Like Son — The Tie Bar.

Don't forget your dad this Father's Day — Divine Choco.

What your dad really wants this year — Groupon.

Thank you, dad! — Patagonia.

Let's celebrate the heroes in our lives this Father's Day — Dove.

Show your appreciation this Father's Day — Burst.

Never a dull moment with dad — HARRY'S.

The Chronicle—Four Fathers — Taylor Stitch.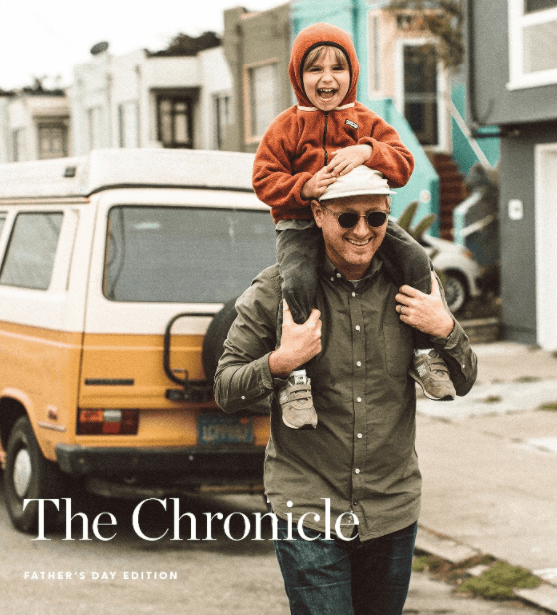 (Source: Email-Competitors)
Way 2. Giving a helping hand
Not only do we need to remind our users about the upcoming holiday, but also help them choose the best present ever in no time.
However, please do not just say "Shop with us", "We give you a 20% discount". Give recipients a clue of what presents you suggest they buy for fathers.
Don't forget to get Dad something amazing! — Gaelsong.

Shop Great Gifts for Dad — Dooney & Bourke.

Great Father's Day gift ideas — Kitson Couture.

Awesome Father's Day gifts for the Rad Dad in your life — WIRED.

Don't Worry, We Know What Dad Wants — DTLR.

Free P&P | Perfect for Father's Day — Hiho Silver Jewellery.

Still, need a gift for Dad? We've got the answers — RalphLauren.com.

DEADLINE: Father's Day printed cards — International Rescue Committee.

Perfect Gifts For Father's Day - Complimentary Personalisation for a Limited Time — Aspinal of London.

Father's Day Rescue Gifts are here! — International Rescue Committee.

Treat your Father to something delicious this weekend! — Baking Bites.

High-tech fathers deserve smart tech gifts! — CentralComputers.com.

The Father of All Father's Day Feasts — Shoney's.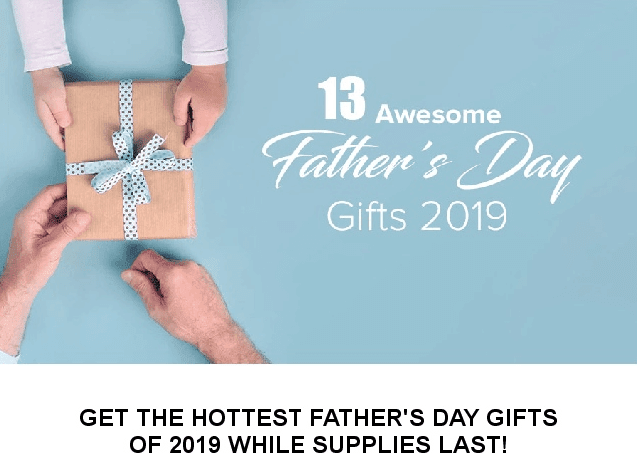 (Source: Email-Competitors)
Way 3. Getting into the holiday spirit
These ones play around the festive aspect of the season. Yes, we know it isn't like the regular festive season, but people are starting to make a bigger deal of it. Help them celebrate with some Father's Day ideas:
Fun & Inspiring Quotes About Dads ? — Parade.

The best dad jokes EVER ❤️ — Country Living.

What's better than a dad joke? A dad book! — Penguin Random House.

Here are the World's Greatest Father's Day Ideas! — Freeosk.

3 Simple Ways to Celebrate Father's Day — Guideposts.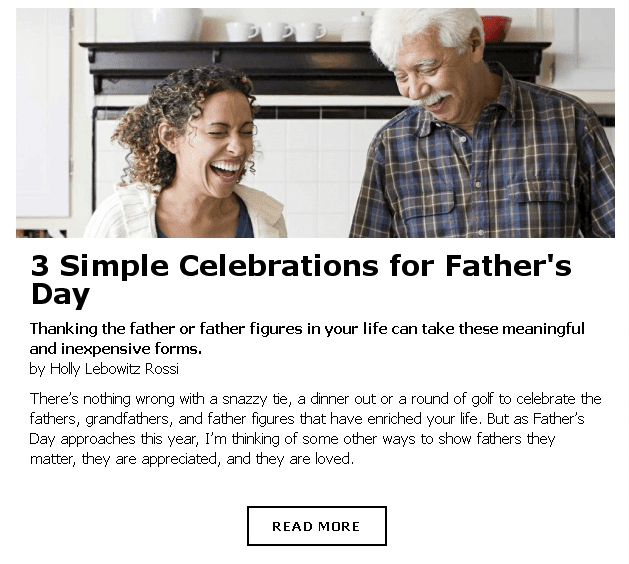 (Source: Email-Competitors)

Way 4. Helping "kids" get presents in time
Why is there always a last-minute rush at Christmas, or the day before Valentine's Day? Because most people realize at the last minute that they need to get something, and they need to get it fast:
Get it in time for Father's Day! — Gap Factory.

Father's Day is SOON—See Our Gift Picks for Dad! — Athleta.

It's almost his day. Get ready. — Sonos.

⚡ FLASH SALE STARTS NOW + FATHER'S DAY GIFT GUIDE ? — Banana Republic.

You know it's almost Father's Day, right? — Dollar Shave Club.

1 day left for dad's special gift — HARRY'S.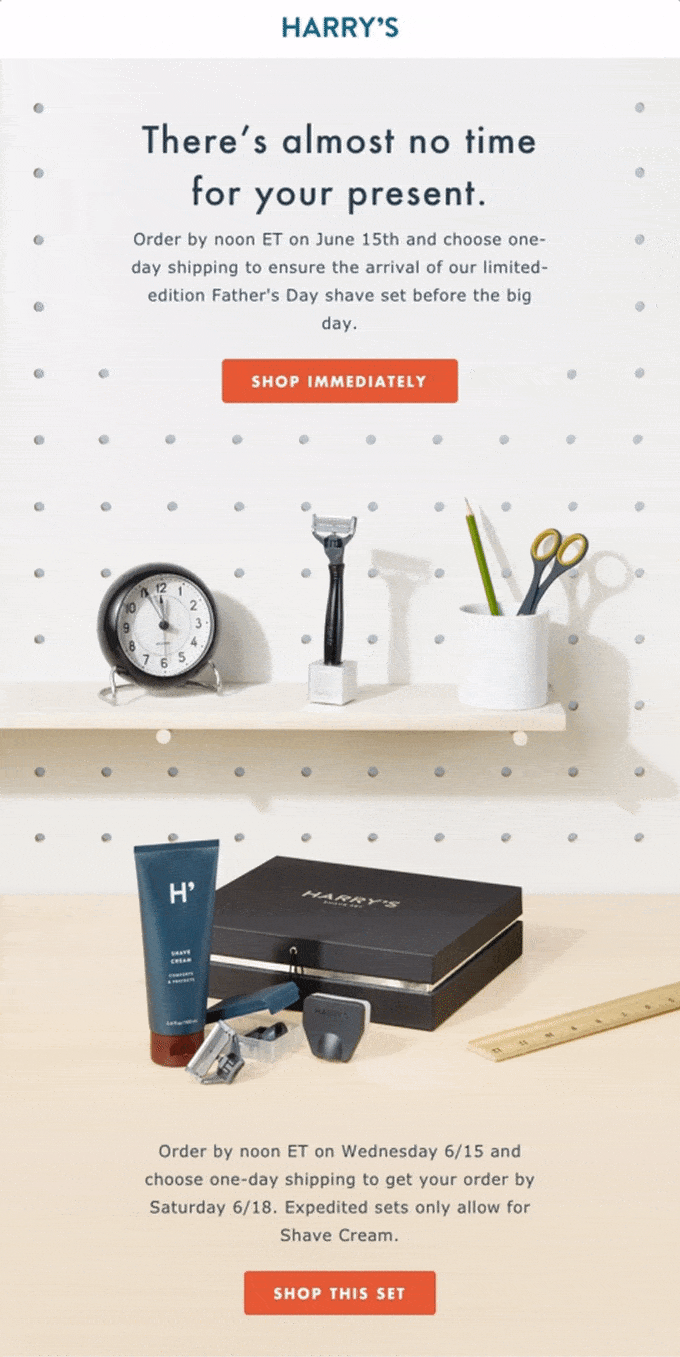 (Source: Really Good Emails)
Please be advised that you can set your Father's Day subject lines and even add emojis right in Stripo editor.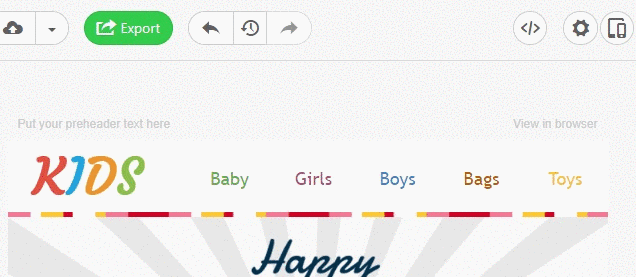 Father's Day email examples
Now that we have the subject lines taken care of, what do we put in the email itself? Some companies take this opportunity to promote their products outright. But that might not work. Then what? Try...
1. Spreading emotions — HARRY'S
Everything we have in our lives, we owe to our parents. Those lucky of us had a great childhood due to these people. We all cherish and celebrate moms for care, support and delicious dinners. While fathers stuck in our memories as someone we had a lot of fun with. They taught us to play basketball, baseball, ride a bicycle, and gave hundreds of tips on how to build relations with boys/girls.
Then why not get really creative and design an emotional Father's Day newsletter for your customers?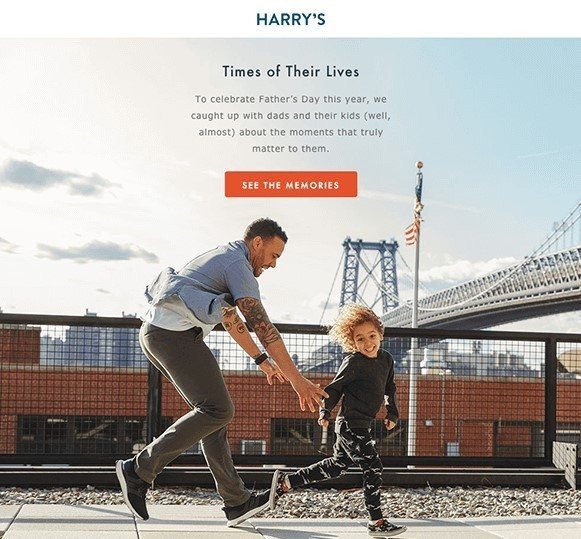 (Source: Really Good Emails)
In this promo, HARRY'S reminds us of the sweetest memories from our childhood. This Father's Day email brought me memories of those happy holidays I had with my family, of my father doing his best to make me smile and laugh.
Of course, such photos make us want to get the best present for our dads.
2. Sharing ideas — Red Tricycle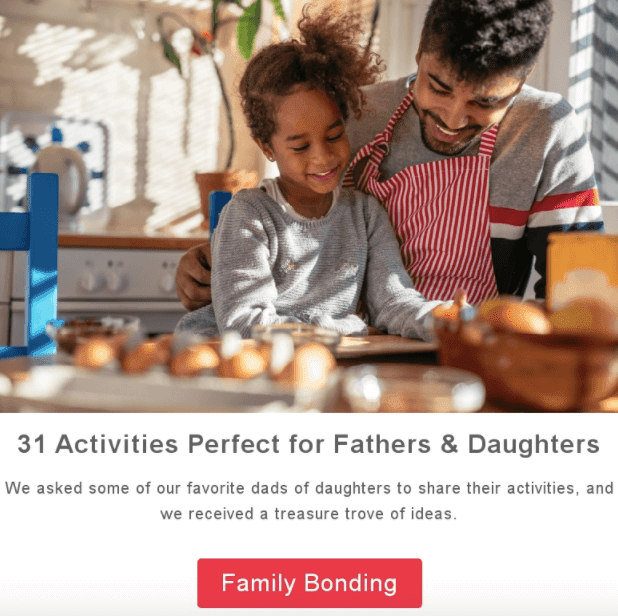 (Source: Email-Competitors)
You're not selling anything? Not a problem. You still can be a part of the holiday preparations. Share your ideas on how kids (not only daughters) can celebrate this day with fathers.
Maybe now it's our turn to make dads smile ?
3. Being useful — Freeosk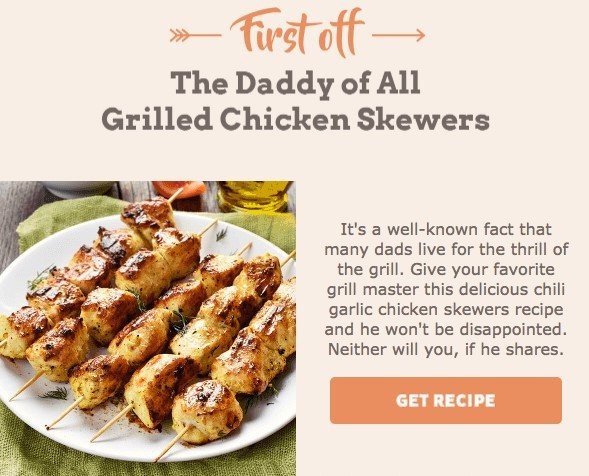 What useful things can you do for your clients? For instance, instead of just selling your products, you could share some useful information.
It is a really simple example and won't involve too much work.
If you are a hosting company, for example, you could run a special promo landing page valid on Father's Day that has more useful for customers' information. You may create one easily with this websitebuilder.org.
4. Announcing sale in an appropriate manner — Stripo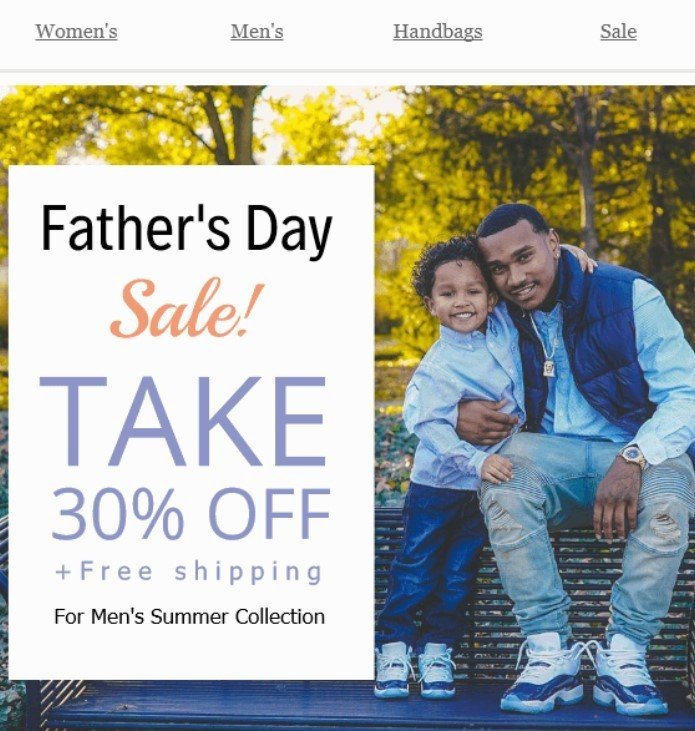 Of course, in Father's day newsletter emails, we promote our products. We offer sales. But we still do with the vibe of this holiday in mind.
5. Spreading the holiday spirit — Country Living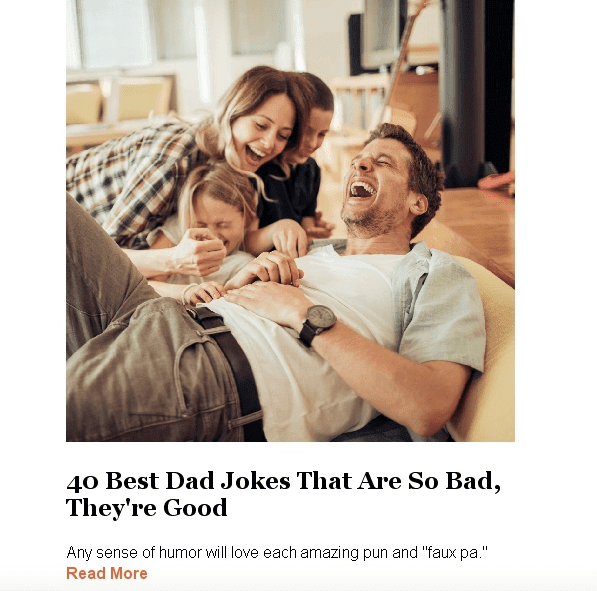 Can you imagine a Father's day without old dad jokes? However, most of these jokes are forgotten.
Remind your customers about the fun times they had with their fathers.
One thing to do before you start your Father's Day email campaign
Many of us know Chubbies for their unique style, unique design, and a very interesting manner of communicating with customers.
I knew them as a brand that brings lots of fun. But their email dedicated to the aforementioned holiday really touched my heart — they asked all those for whom Mother and Father's Days are a sensitive subject to opt-out of dedicated newsletters.

(Source: Email from Chubbies)
Indeed, why not let users skip these emails if they, for some reason, are not going to celebrate this wonderful, yet very delicate holiday?
Final thoughts
To build a perfect, powerful, interesting, and effective Father's Day email campaign, ask yourself — if your email would convince you to get a present for your dad, or would it convince you to go visit him on this day. And if the answer is "Yes", then your email is ready to rock!
Design professional email campaigns in no time by using our Father's Day Newsletter templates
This blog post has been co-written by Hanna Kuznietsova and Karthik Reddy, the Community manager at Websitebuilder.org.uk.