30 May 2018
20 Catchy Father's Day Email Subject Lines and Marketing Ideas
According to Statista, in the United States on Father's Day, people spent upwards of $15 billion in 2017.
You might run a marketing campaign if you want to get a share of this pie, as according to Statista, there are around 248.7 million email users in the United States. By using designed email templates you can create a proper campaign within less than 10 minutes:
But how do you make sure that you reach potential customers?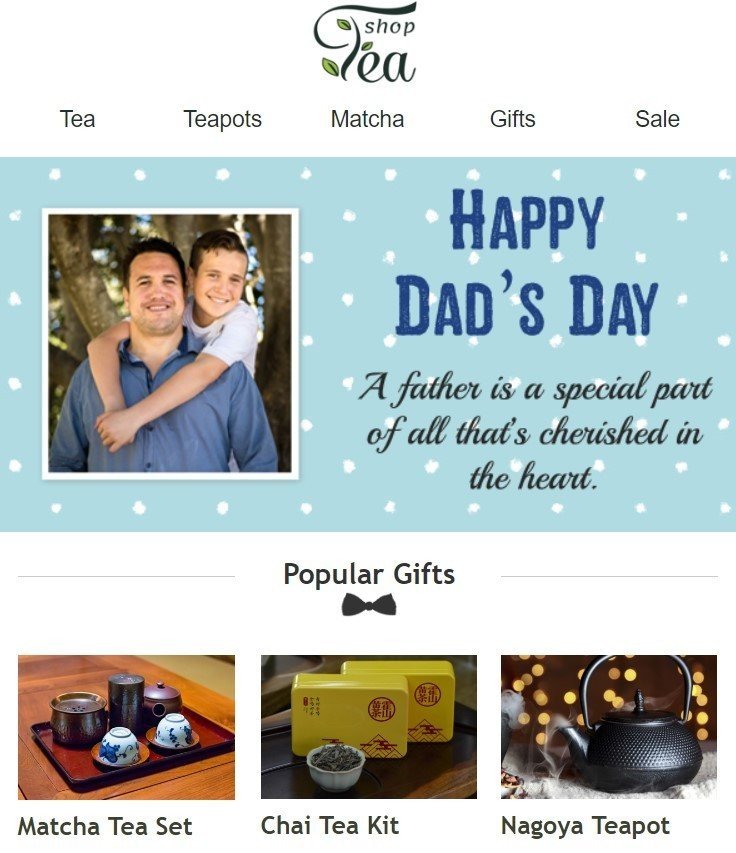 We will look at some great Father's Day email subject lines. We will also go over some Father's Day email marketing ideas.
Choose the right target for your father's day email subject lines
Start out by thinking of who will be buying the gifts from you and why. This is a relatively small holiday compared to the others, but it is a time for people to show appreciation for their dads. So, by extension, a father day email marketing campaign that takes advantage of this should do well.
Thus, the following ideas could work well here:
Thank you, Dad;
Do something great for your dad this Father's Day;
For the man who is always there for you – Gifts for your father;
For a fantastic father;
Treat your dad in style.
Add some emotion to your father's day email subject lines
What other emotions might you bring into the equation? If you can evoke that feeling of love or respect, Father's Day email success rate is bound to be higher:
Don't forget your dad this Father's Day;
What your dad really wants this year;
Gentlemen only — doesn't your father deserve the best?
For the best daddy in the universe;
Get your father a gift he'll love.
Poke a little light fun with your father's day email subject lines
Here you need to tread a somewhat fine line — you want to poke fun at some of the more traditional gifts if they are not what you sell, or have some fun in general. However, you don't want the person to feel crappy about past gifts:
Soap on a rope? Get dad something dope;
Knock dad's socks off with something new;
Game on – Ultra-cool Gift Level Engaged;
Christmas is coming, but Father's Day will be here first – Dads remember;
Dad's eyes only (Mom said it was okay).
Get into the holiday spirit
These ones play around the festive aspect of the season. Yes, we know it isn't like the regular festive season, but people are starting to make a bigger deal of it. Help them celebrate with some Father's Day email inspiration:
Celebrate good dads, come on, let's celebrate!
Pop in and get something special for your pop;
Has your dad been a good boy?
It's daddy's turn now;
Fun gifts for daddy.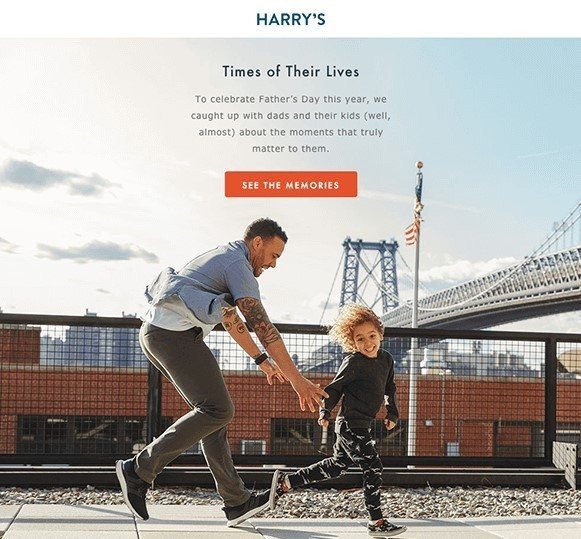 Introduce a scarcity mentality
Why is there always a last minute rush at Christmas, or the day before Valentine's Day? Because most people realize at the last minute that they need to get something, and they need to get it fast. And, because they realize that time is short, they are also willing to pay more.
It may seem counterintuitive, but limiting the number of items that you sell for the day will actually make people want to buy it more. People will place a higher value on items that are scarce.
It is not a trick that you can use all the time, but it is one that could be very effective for holidays like this:
Only two weeks before Father's Day;
It's the final countdown;
The clock is ticking — time to get your dad the perfect gift;
You are almost out of time to secure this limited edition gift;
Don't lose out on this deal for your dad.
Father's Day email examples
Now that we have the subject lines taken care of, what do we put in the email itself? Some companies take this opportunity to punt their products outright. But that might not work. Why not use some marketing instead?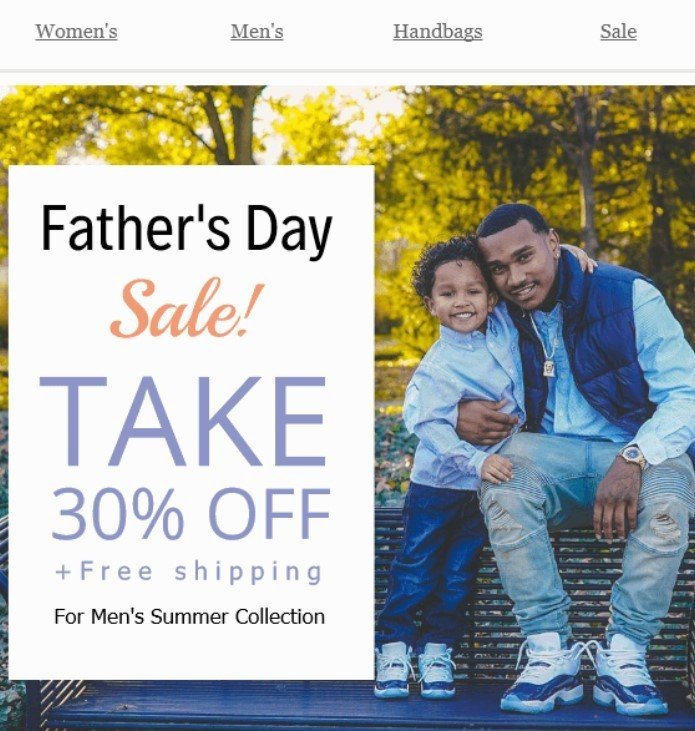 What can you do for your client that is useful for him or her and that will make him or her want to help you? Instead of just selling your products, could you add some useful information as well?
Like, how about clever ideas for wrapping different gifts, for example. It is a really simple example and won't involve too much work, but it is something nice that you are doing for your client. You can even use it to softshell your products, like wrapping a bottle of wine that you sell.
It has to be subtle so that the person feels obligated to you. Maybe you can partner up with another store and arrange a once-off discount for your clients there.
Alternatively, if you prefer, give clients some kind of a great deal.
If you are a hosting company, for example, you could run a special promo landing page only valid on Father's Day. You may create one easily with this websitebuilder.org.
If it is a really useful offer or really useful information, people will share it with their own inner circle, and you will get a lot of publicity that way.
Get creative and emotional
Everything we have in our lives, we owe to our parents. Some lucky of us had great childhood due to these people. We all cherish and celebrate moms for care, support and delicious dinners. While fathers stuck in our memories as someone we had a lot of fun with. They taught us to play basketball, baseball, ride a bicycle, and gave hundreds of tips on how to build relations with boys/girls.
Then why not get really creative and design an emotional Father's Day newsletter for your customers? It could have information in it like:
great bbq recipes customers should make for dads;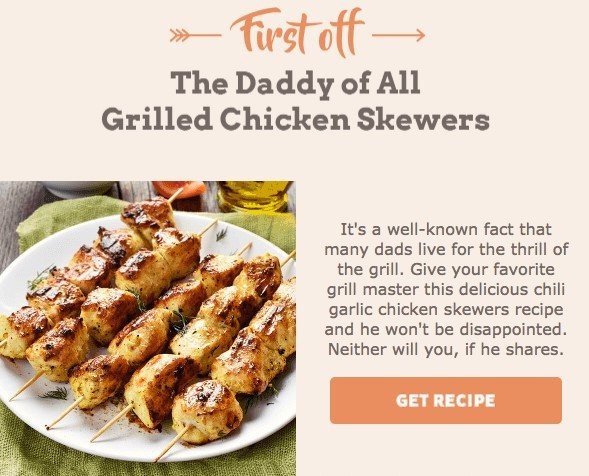 tons of dad jokes we heard in our childhood;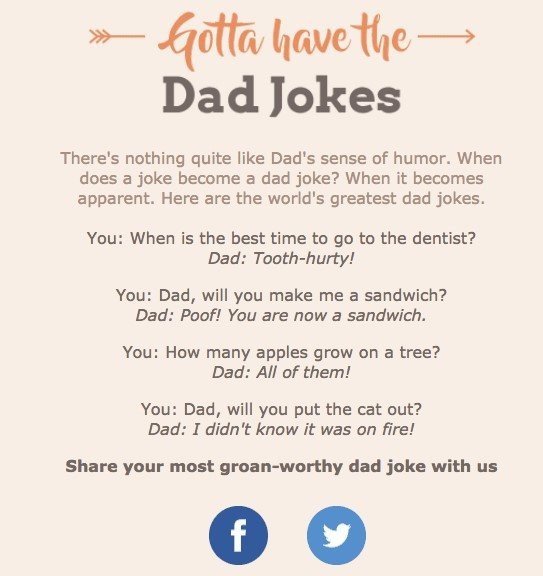 things to remember, like first camping;
and maybe a Do It Yourself project (DIY) or two, as well.
You can wrap these things up in sweet photos of children having time with fathers. This way you remind them of those precious moments, and then many more people would love to buy gifts from you.
Or you may be kind of an example for your clients — insert a photo of you and your father's / you and your son's together now. Add some sweet inscription.
There is a lot you can do to make your overall email campaign a success in this area. But the main trick is honest and call for sincere emotions.
We hope that our ideas will be of a great use for you, and wish you really successful Father's Day email marketing campaign.
Materials for the article have been provided by Karthik Reddy, Community manager at Websitebuilder.org.uk, who is the author of India's top travel blog. Karthik's aim is to inspire people to travel around the globe and share experiences with others.