Boosting Engagement with Chatbots and Email Marketing
31 August 2021

Table of contents
Chatbots and customer engagement
How does email marketing complement chatbots?
Final thoughts
1.
Chatbots and customer engagement
You must have heard that different marketing strategies help uplift your business and increase a consumer's interest in your brand. This hypothesis makes sense in today's digital. Combining the two forces of digital marketing will boost your sales and encourage consumer engagement. The following article talks about the integration of chatbots and email marketing to achieve desired customer engagement.
You cannot deny the importance of email marketing in the digital era. It is one of the most powerful ways of marketing your brand. It helps you reach out to your audience, comprising different segments. You can personalize your marketing campaigns with the help of email marketing. You reach out to your several customers in the blink of an eye. When combined with chatbots, you can personalize your messages and marketing efforts. Did you know 33% of online users prefer chatbots for online bookings, query handling, and reservations?
Chatbots and customer engagement
What is a chatbot? In simple terms, a chatbot is a computer program capable of communicating with people. It not only talks to them but answers their questions but also guides them through predefined or customized answers. Conventional or traditional bots are the ones that have predefined answers for customer questions. Modern versions of chatbots include the ones that use a modern approach and provide customized solutions. Many companies are trying to include chatbots in their digital ecosystem for lead generation and customer engagement.
Want to know more about chatbots? Here it is: Chatbots are like personal shoppers or shopping assistants. They will direct you to the desired outcome of your specific query. You will land on the corresponding web page through their assistance. How cool is that? This is a rapidly growing marketing because chatbots can:
address and close requests and queries;

collect customer data based on previous purchases and requests;

collect leads and offer the most suitable product/service;

collect feedback and provide necessary updates;

efficiently engage with customers and leads through customized messages;

automate follow-up on leads and nurture them along the decision-making process.
The biggest flex of a chatbot is the organic process through which it carries out all the operations. It is often hard to distinguish between actual human responses or chatbot-generated solutions.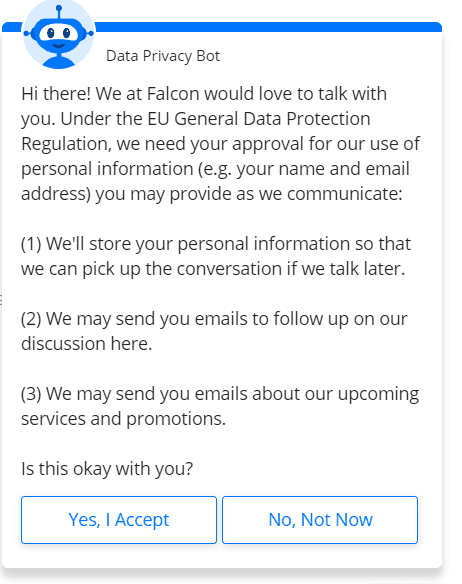 (Source: Falcon.io)
How does email marketing complement chatbots?
The purpose of chatbots and email marketing is to handle customer queries efficiently and nurture leads at the same time. When both work simultaneously towards the same plan, the outcome is amplified and generates more productivity and efficiency. Some of the benefits of chatbot and email marketing generate when combined are:
companies engage with customers on a deeper and more conversational level;

chatbots answer emails, provide instant answers, and assist the customer journey;

drive potential customers into making a purchase;

capability to operate 24/7 without delays and glitches.
This is a Welcome email from Pocket, sent right after a user registered with their website: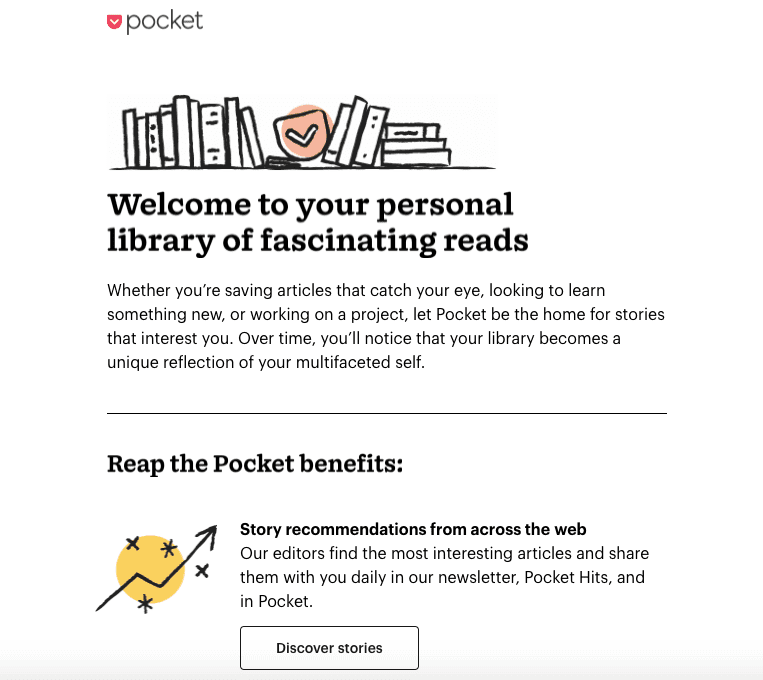 (Source: Email from Pocket)
Email marketing automation
The marketing automation process encourages leads with one on one emails over a period of time:
it strengthens the bond with the potential customers;

one of the most pressing concerns of the businesses is "abandoned carts." You send an abandoned cart email and work on the recovery process and ensure that the customer makes the final purchase;

chatbots positively impact online businesses. eCommerce revenue is likely to experience a boost of 7-25% by using chatbots for abandoned carts reminders;

reminds the customers of incomplete actions and purchases, like abandoned carts.
Improved customer support
Did you know that chatbots, along with email marketing, can improve customer support? It is quite possible that most customers on your landing page or your website are not familiar with your products or services. But your customer support team does not work 24/7. 95% of consumers are inclined towards chatbots handling their customer support tasks as they believe it will benefit more.
To help such customers and guide them throughout the process, or on every step of their journey, you can integrate the marketing efforts of chatbots and email marketing. To answer the queries and resolve customer problems, you can integrate chatbots on your website. They can take valuable information in terms of customer email IDs so that you can send them emails whenever needed.
(Source: MobileMonkey)
Once you have access to their email IDs, you can send valuable information their way, any technical assistance they require, or any product update. Please remember about CanSPAM and GDPR compliances.
Access to valuable customer data
Your audience is the most significant source of information and value to your business. It is imperative to send them personalized emails based on their liking and preferences to boost conversion and engagement. And how do you manage to access their preferences and likes? Yes, you are right; you do it through customer data. Customers offer you significant input through their email ids, their comments, questions, and their footprint on your website. It tells you a lot about their likes and dislikes, what they search for the most, what they despise, and how they react to specific offerings.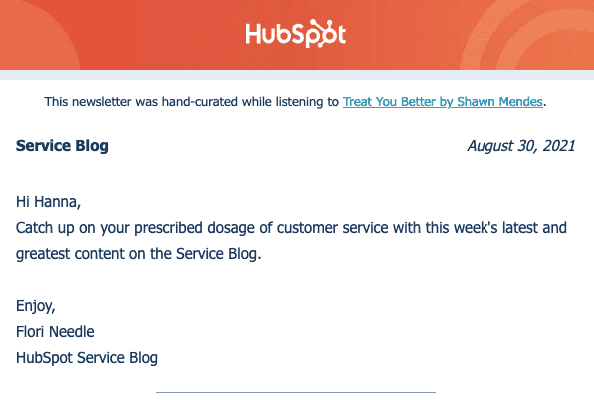 (Source: Email from HubSpot)
Customer information guides you into creating the content that your customer will prefer and engage with. So how does this data reach you? How do you manage to get hold of this data? Through chatbots and dashboards, you gather a great range of information on your users — their email addresses, names, and contact information — to your benefit. Customers themselves allow you access into their space, so use it wisely. Chatbots may also collect website visitor information 24/7. 55% of online brands and companies tend to generate high-quality leads when they use chatbots.
You can collect that information about your target audience through chatbots and then use it for email marketing to boost customer engagement.
Using that valuable customer information, you can draft personalized emails to send your target audience. In this way, you can achieve a good engagement rate from your collective marketing efforts through chatbots dedicated to collecting information for you. You can use email addresses to send incentives, rewards, special offers, discounts, and updates to your audience and generate leads through email marketing.
You can train and teach your chatbot to ask for customer feedback, their email IDs for future updates.
The most significant benefit you can derive from the chatbot and email marketing is providing a user experience that nurtures leads and evokes interest in the consumer. Conversational marketing enables a whole different level of experience that the customer will remember. And customers relate more to something when they experience it themselves and have a positive memory of that experience.
According to a survey, almost 55% of people like to use chatbots because they want a quick response to their queries.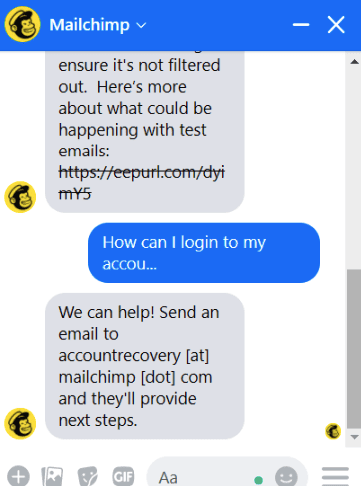 (Source: Mailchimp)
Segmented contact lists for promo emails
With the help of information that chatbots collect, you can segment your email list into different categories. Segment your audience into different groups according to their gender, age, purchase history, likes and dislikes, and shopping behavior. Segmented email lists help you send out personalized emails to different segments. Personalized emails hold more significance in the eyes of the customers. They are more likely to draw attention to something they can relate to instead of a generic email.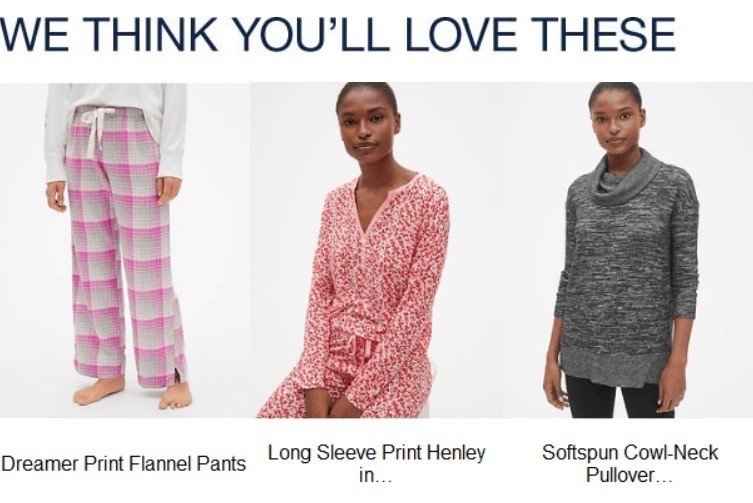 (Source: Email from Gap)
Chatbots and email marketing go hand in hand to boost engagement. Chatbots are the receivers or collectors of email lists, and email marketing is the result through which you see the fruit of most of your marketing efforts.
It increases the effectiveness of your emails and forms a more lasting impression. Email marketing benefits significantly from personalized email lists as you can create multiple campaigns with the assistance of information provided by chatbots.
Send alerts and reminders through chatbots
A lesser-known but efficient way of boosting engagement through chatbot and email marketing integration is sending reminders and alerts to people. You can boost engagement by prompting people to read your emails and notifications. Chatbots will send reminders while you craft stunning emails for people. Thus you can create perfect harmony when you integrate chatbots with email marketing.
You can also send reminders to people who have not opened their email yet and have not read their messages. Some advanced chatbots come with the ability to send push notifications to people with low email opening rates. It not only improves open and click-through rates but also boosts customer engagement.
Final thoughts
Two is better than one. So to sum it up, the combined effect of chatbots and email marketing can make wonders for digital marketing platforms. They help you boost engagement and build a strong bond with your customer too. One provides the avenue to connect with the audience and keeps them informed while engaging you through email marketing efforts.
It is important to carve your marketing strategy based on the customer data collected through chatbots. Chatbots are a great medium to interact with your customers. You can improve the customer journey, assist them through chatbots, and later use that knowledge and data to benefit through email marketing.
Was this article helpful ?
Thanks for your feedback!