18 December 2020
How to Drive Sales with Email Coupons?
Sometimes it feels like email marketing is overflowing with different tricks. And yes, not all of them work. Internet marketers and small business owners know many tips on how to increase open rates, increase clicks, and reduce unsubscribe rates. But what about increasing sales?
One way to do this is by using e-coupons. Thanks to these "not some useless pieces of paper", you also can increase sales, let customers actively shop, and recommend you to their friends. In this article, I will show you some good examples and email coupons best practices.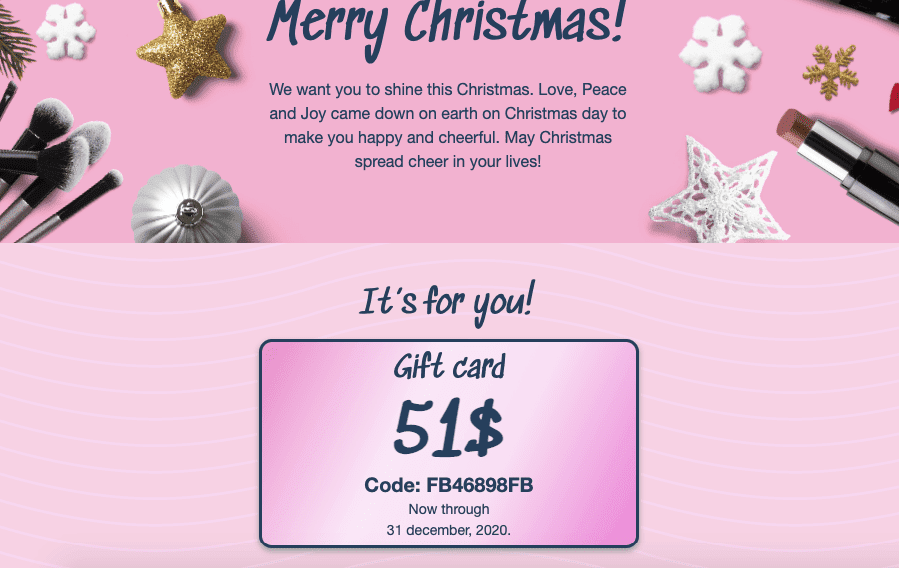 What are email marketing coupons?
A coupon is a certificate that guarantees receiving a discount or a gift. They can be distributed through the website of your company or partner company, in social media networks, or via email. Ecoupons are very convenient for customers as they can just download them to their smartphones and simply use them while buying stuff. No need to look for where to print and waste paper.
Email coupons best practices
Why are ecoupons so beneficial for businesses and customers?
Firstly, the company thus informs its clients about the new menu, services, promotions, offers, and many more. In turn, the customers, using the electronic coupon, get a discount for themselves.
For an ecoupon to become a real marketing tool, means it must be properly executed.
How to do it?
1. Add bright backgrounds
Always the king among email marketing coupons best practices — appealing background color.
Use a bright, colorful background so that the client will immediately notice the coupon and won't pass by. The picture shows a bright blue background, on which we see a profitable offer of 60 bucks in white text. The background attracts interest, and the text is clear and readable. By using the color of your brand in the background of the coupon, you also may increase your brand awareness.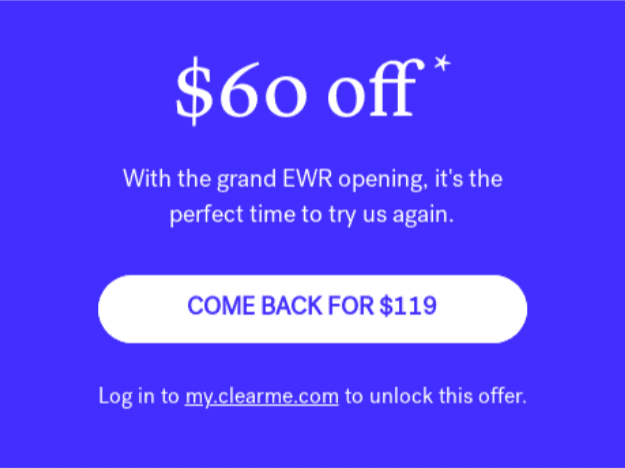 (Source: Really Good Emails)
2. Get the most out of the Gmail Promo tabs
Given that 30% of our users prefer Gmail over other email clients, why not annotate our sales and share the coupons with customers even before they open the email? With the Annotation option, you let them know what's waiting for them inside.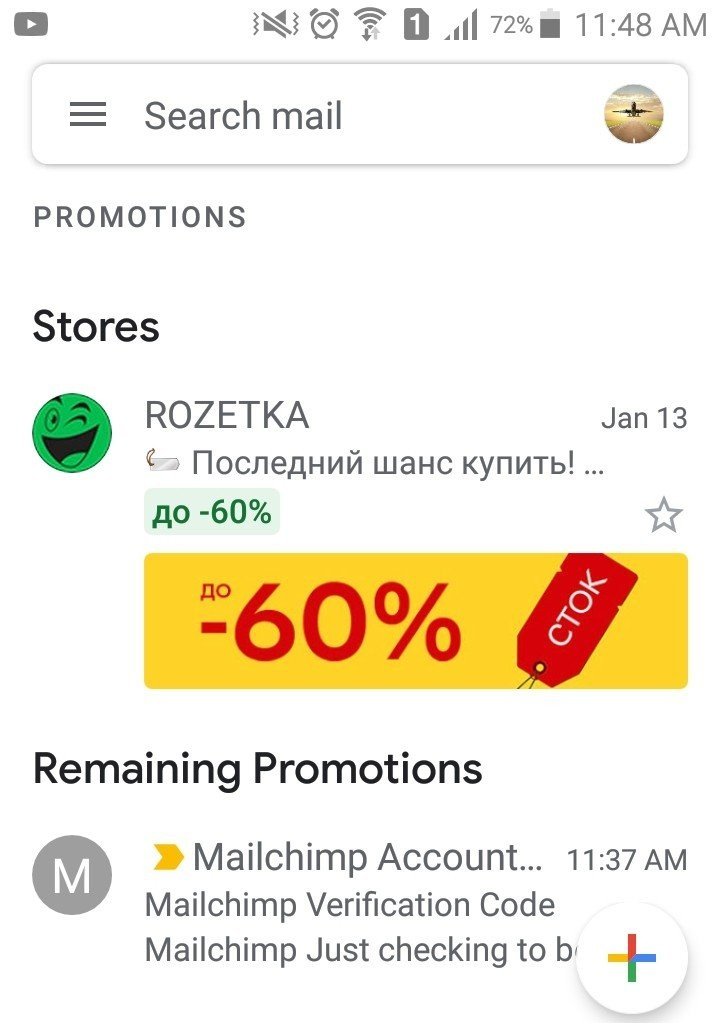 (Source: Email from Rozetka)
Stripo makes building annotations for your coupon emails as easy as 1-2-3.
3. Apply large fonts on white background
If you want to convey one thought to the client without further ado, feel free to use a large print on a white background. Highlight the necessary words and expressions in large and bold type, clearly formulating the message. Then the client will know exactly what to do.
(Source: Really Good Emails)
4. Add a stylish countdown timer
Looking for unusual advice on driving sales with email coupons? First, customize your coupon in your brand colors by adding a themed picture. Let it be the picture that reflects the essence of the coupon — thus, it will visually reflect your thoughts and the client will perceive it faster. If your sales have time limits, then set a countdown time until the end of the sale. This contributes to the understanding of the client that he has little time left and needs to hurry to use the coupon.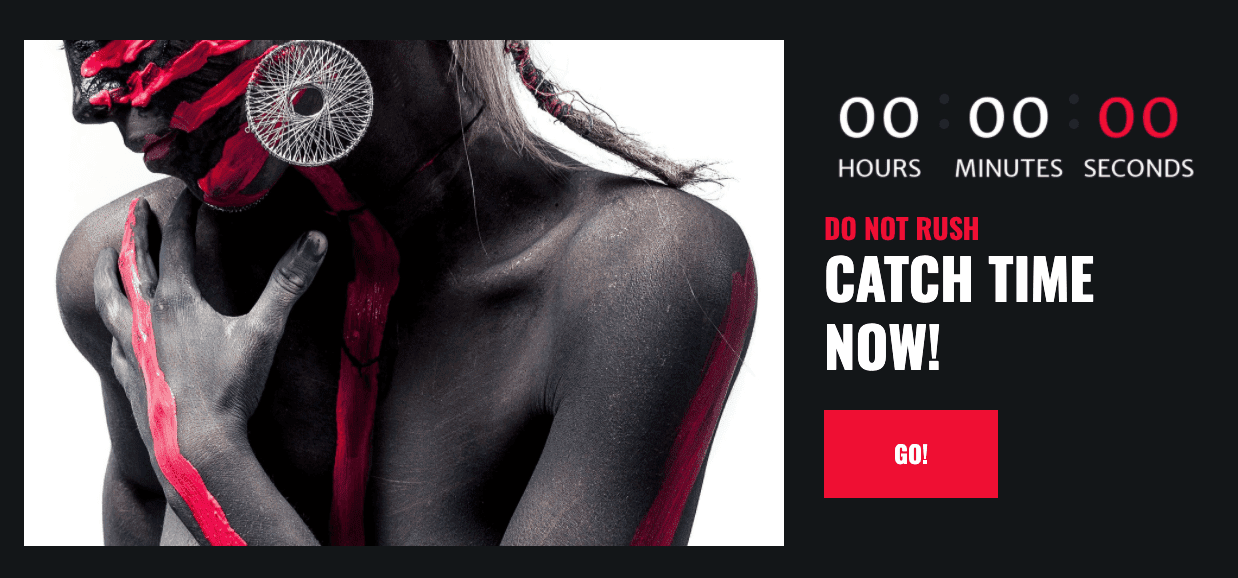 With Stripo builder it's really easy to add a countdown along with the coupon. Follow the instructions in the video and you're good to go.
5. Add notes on how to use the code
Be sure to indicate the rules which the customers need to follow in order to get the discount with the coupon, like using the coupon or the terms of its validity. Otherwise, you'll get some negativity from subscribers who would feel betrayed.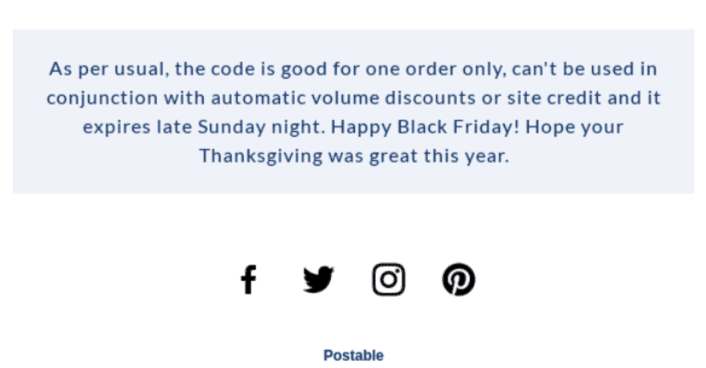 (Source: Really Good Emails)
6. Utilize gamification for users' inner children
Make not just a coupon, but an interactive one. Let the customer feel like a child, light it up, and see the impact.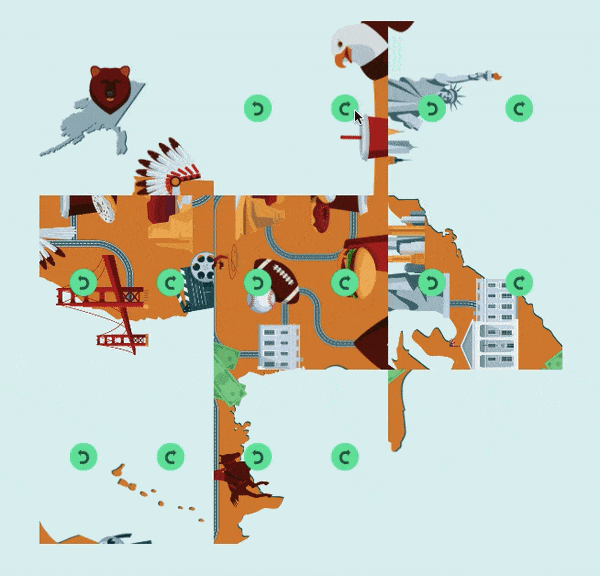 In our "Building Mazes" blog post, we show in a detail how to build a similar puzzle for your emails in under an hour.
Get inspired by these email coupons examples to make the perfect one
It is not easy to make a profit just by making a discount on groceries. These 15 awesome examples of email coupons design will help you grab everyone's attention!
1. Atmosphere of the New Year
What are the color associations with the New Year and the Christmas tree? That's right, the green one — it sets the right mood and the text is immediately understandable. If you want to get a discount for the New Year, enter the promo code. Add some pics of joyful children and family photos (try to use the pics from real customers) and you'll get good results.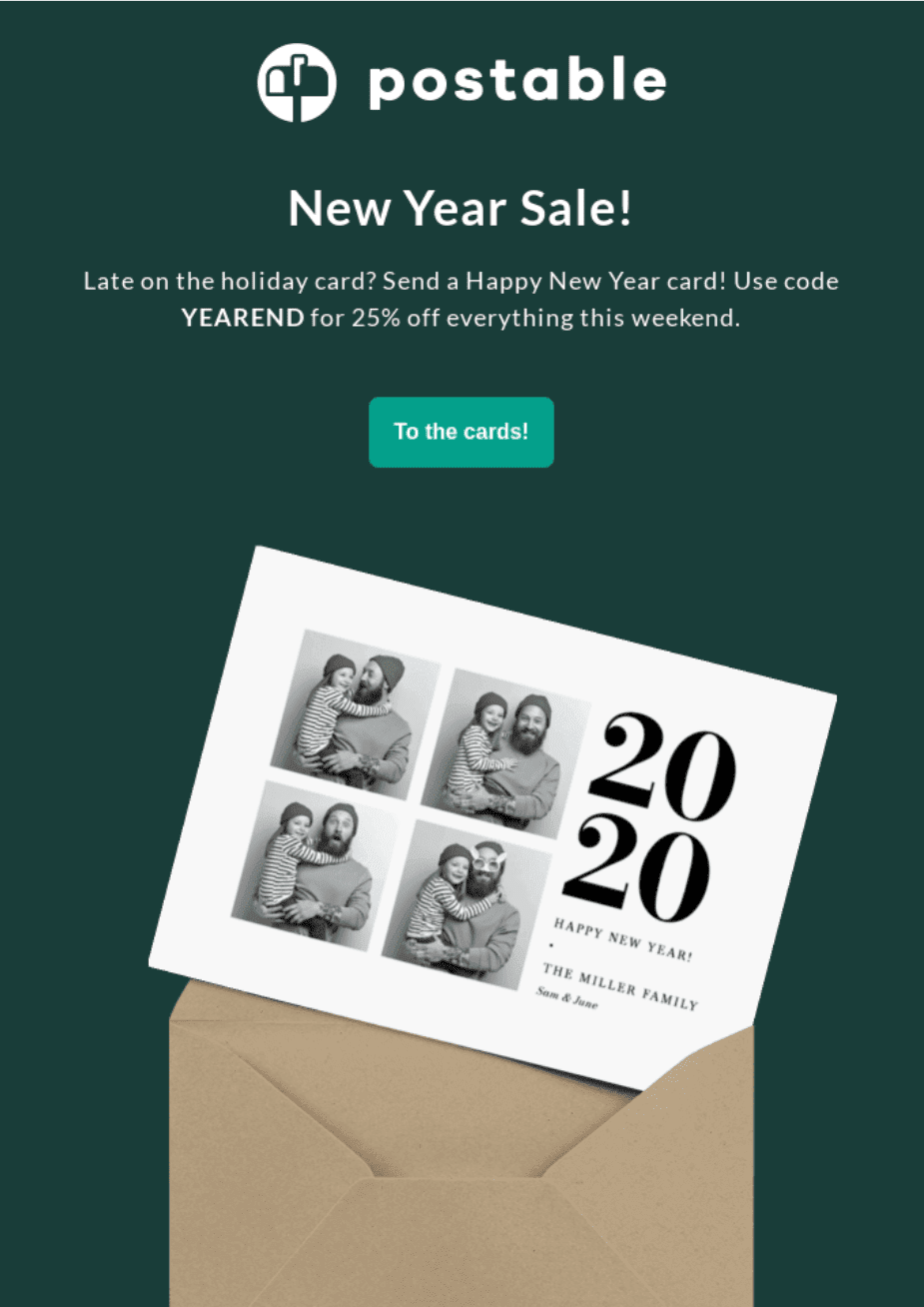 (Source: Really Good Emails)
2. An image of air traveling
One of my favorite among email coupons examples. The picture itself and the clear numbers indicate that there is a $60 discount on air travel. You looked at it and immediately understood what it was about, do you agree? The harmony of colors makes you look at this coupon for a long time without getting annoyed. Ah, that breathtaking view when you see clouds, colorful fields from the plane's window... Wait, where was I? Oh, right, that's a neat example of ecoupon.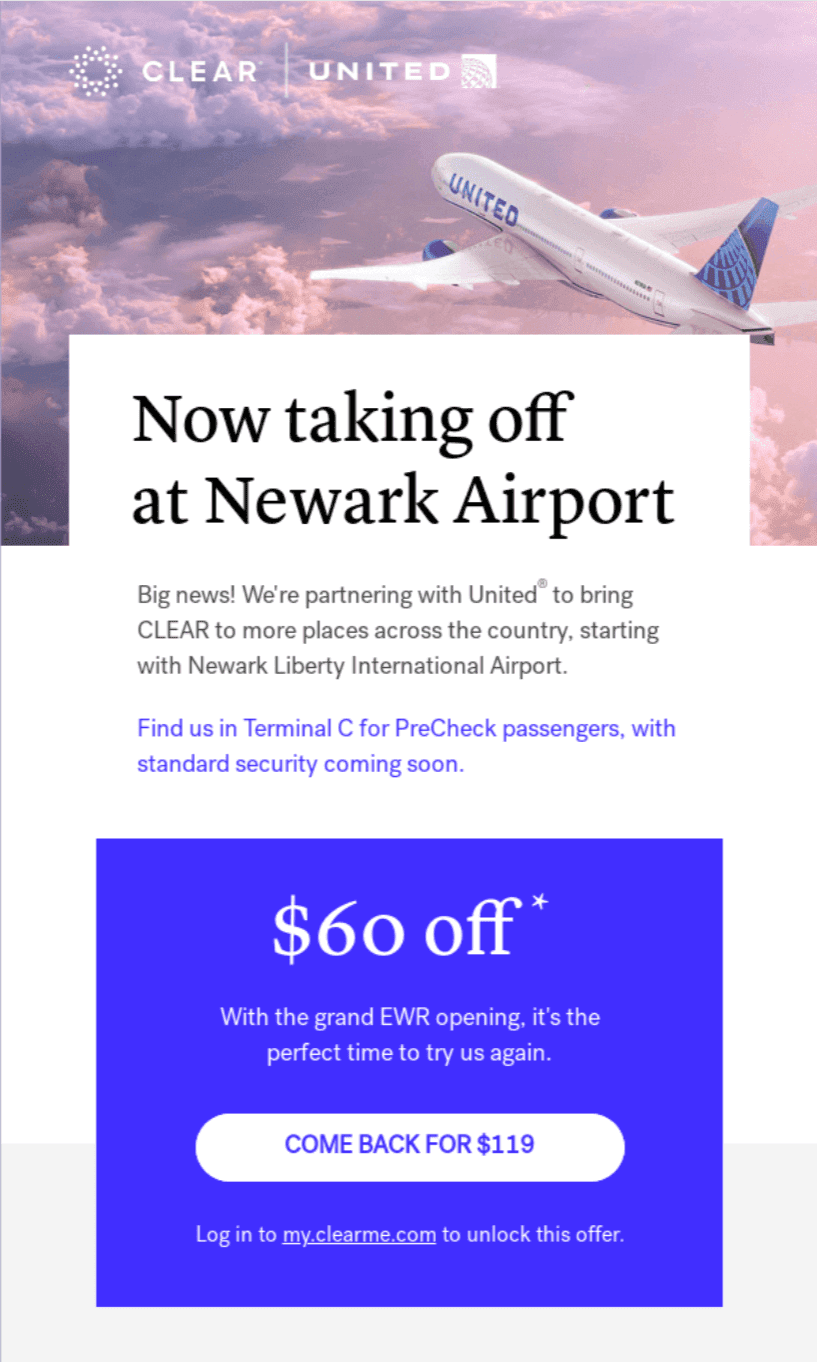 (Source: Really Good Emails)
3. Color associated with the brand
Uplers combined energetic colors: yellow and black. In their email coupon campaigns, the company is giving customers a discount of $100. By the way, in bold and large font, remember?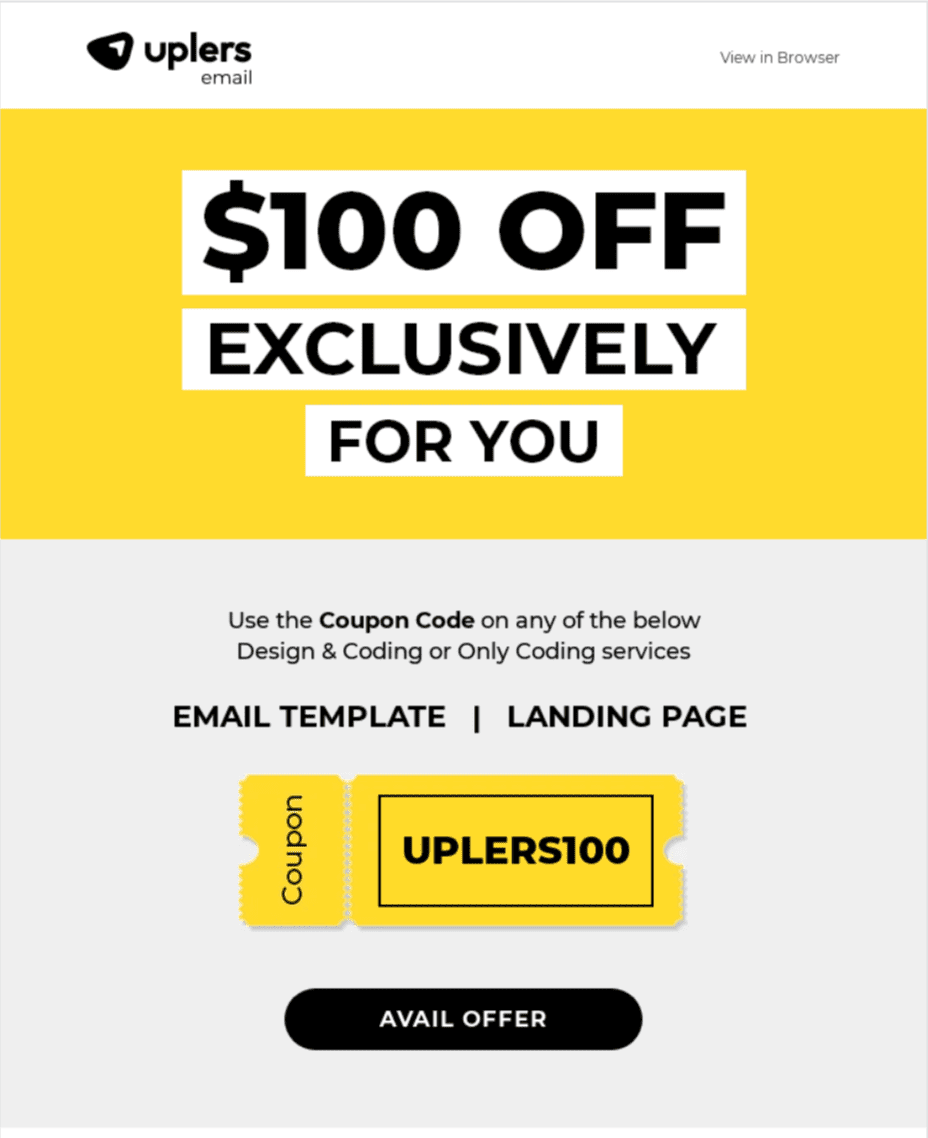 (Source: Really Good Emails)
4. Smoothing coupon
The Northern Lights are always calming and relaxing. Calm took advantage of this. With this coupon for half the price, the customers can meditate and be happy that they got some great deal. The colors of the brand and the visually lower price always attract those who want to save money, meaning everyone :)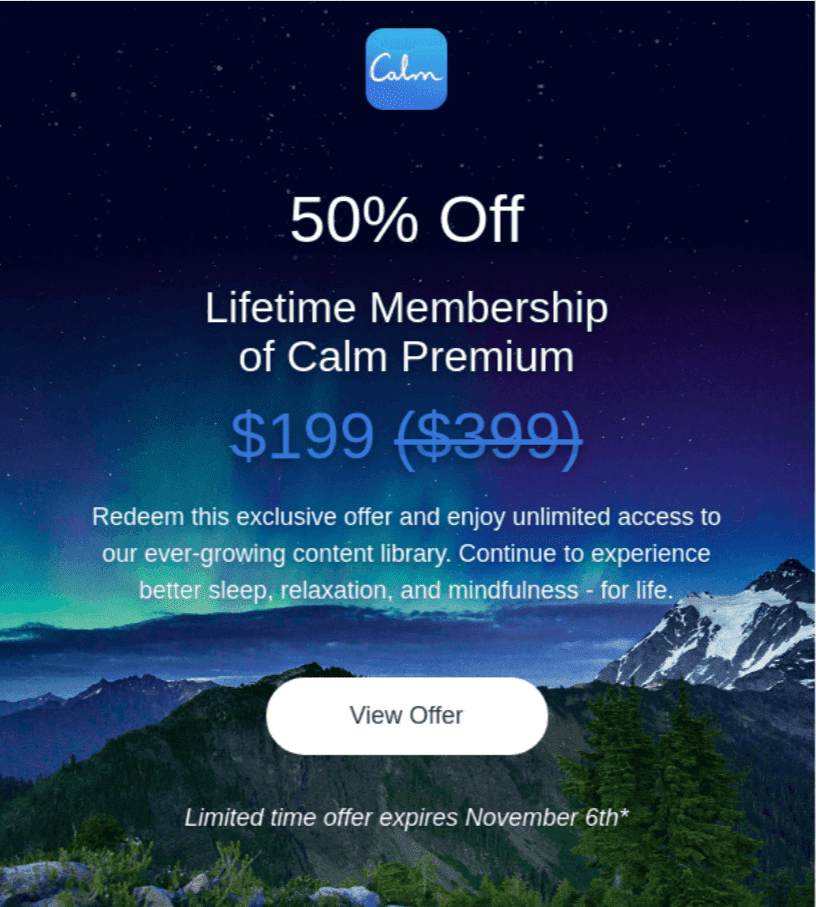 (Source: Really Good Emails)
5. Bright and juicy offer
Here's an example of how drool flows from one picture. Even without reading the text below, it is immediately clear what the picture on the right and the callout on the left convey. The promo code is valid only today, which means that the time is limited.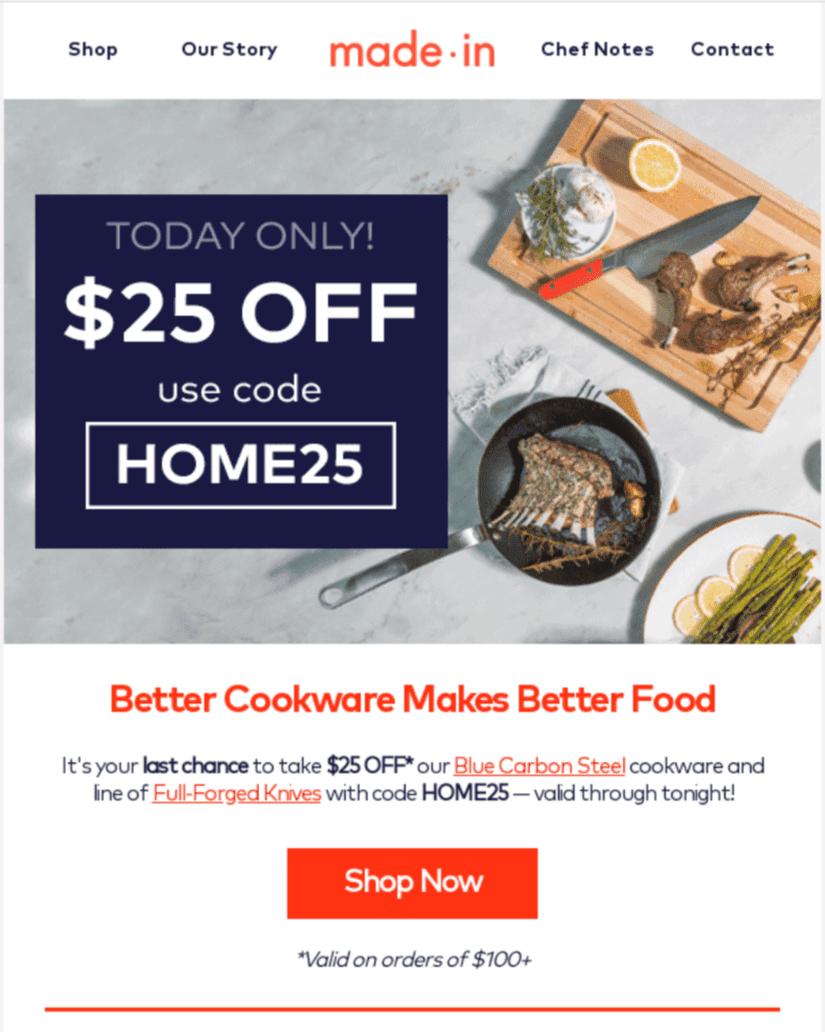 (Source: Really Good Emails)
6. Neat coffee discount
This coupon fully conveys its atmosphere. Nothing more, just a picture of coffee and a discount on the first order. A large font to indicate the main idea of the coupon and below a few words about why this particular coffee.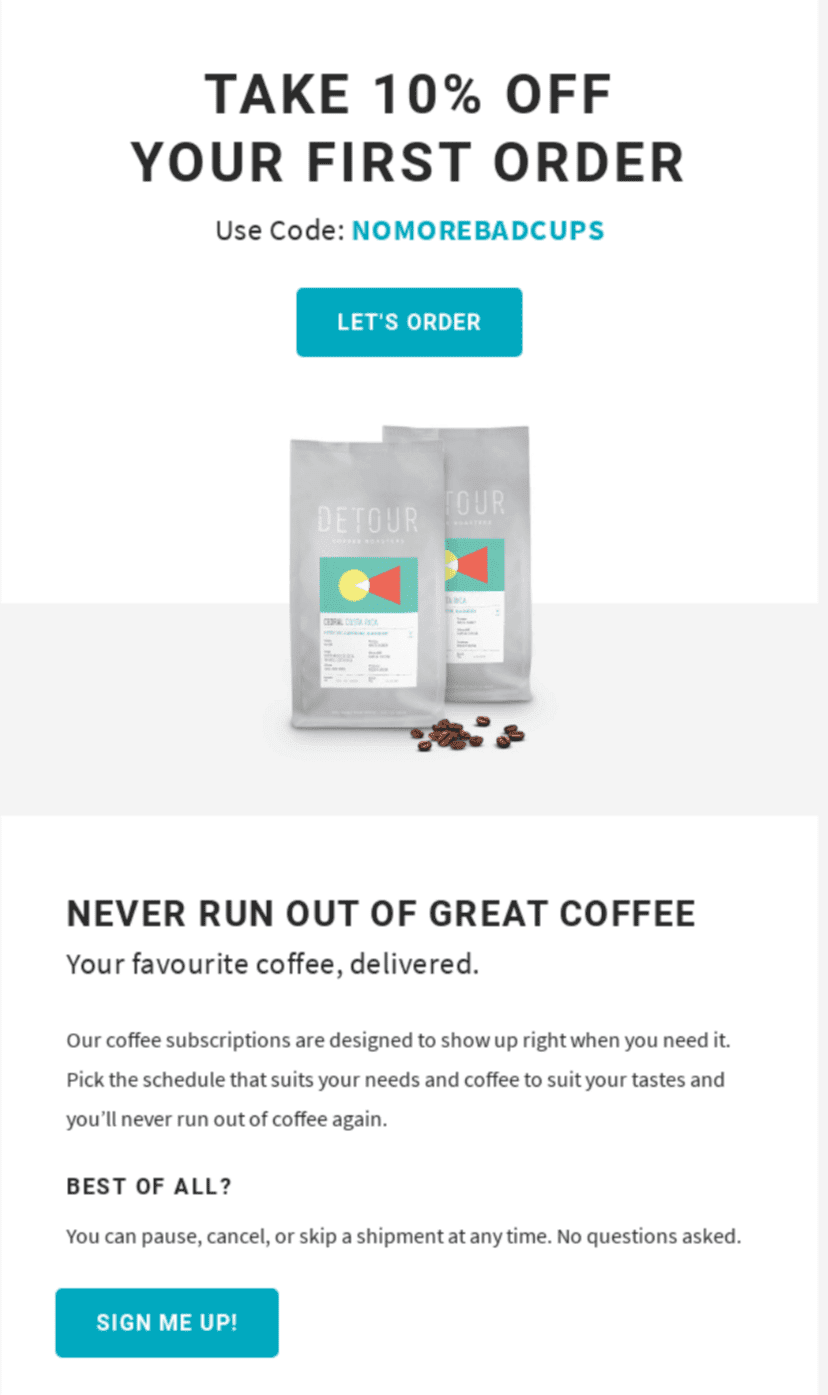 (Source: Really Good Emails)
7. Engagement with customers
How about discounts on healthy snacks for parents who are concerned about their child's health? Nice text color, picture-visual, and bonuses! Visually, this picture seems to move, thanks to these illustrative additions. So the coupon encourages action even more.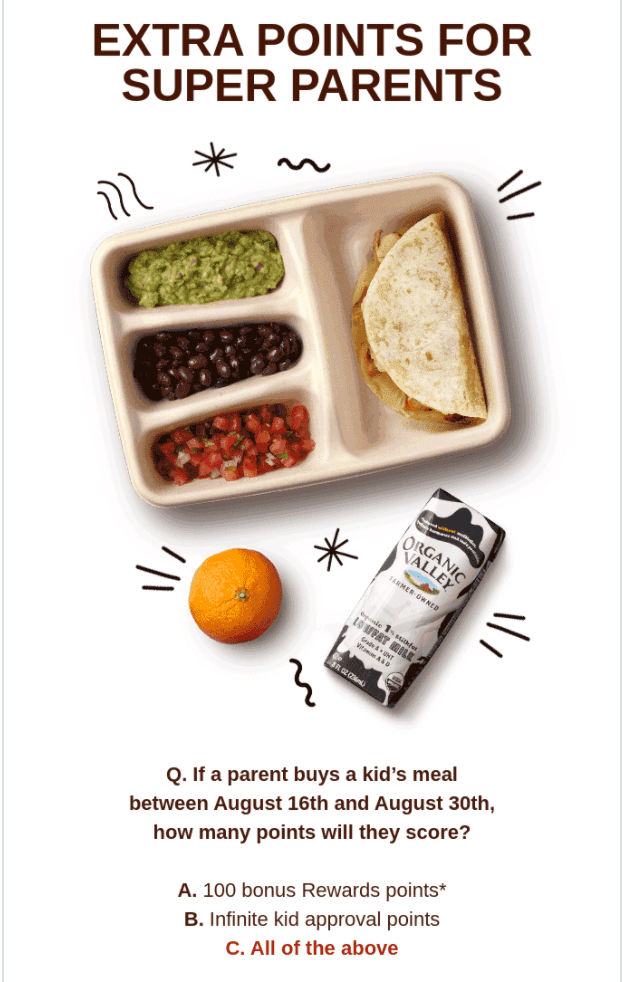 (Source: Really Good Emails)
8. Crystal blue CLEAR offer
Another example of email coupons to drive sales. Blue is the color of purity and cleanliness. Do you agree? Visual and nice colors — that's what CLEAR is taking on this coupon. Tidy and happy people in the picture — this once again shows the person how he might look if he uses the coupon. The subconscious mind works wonders! :)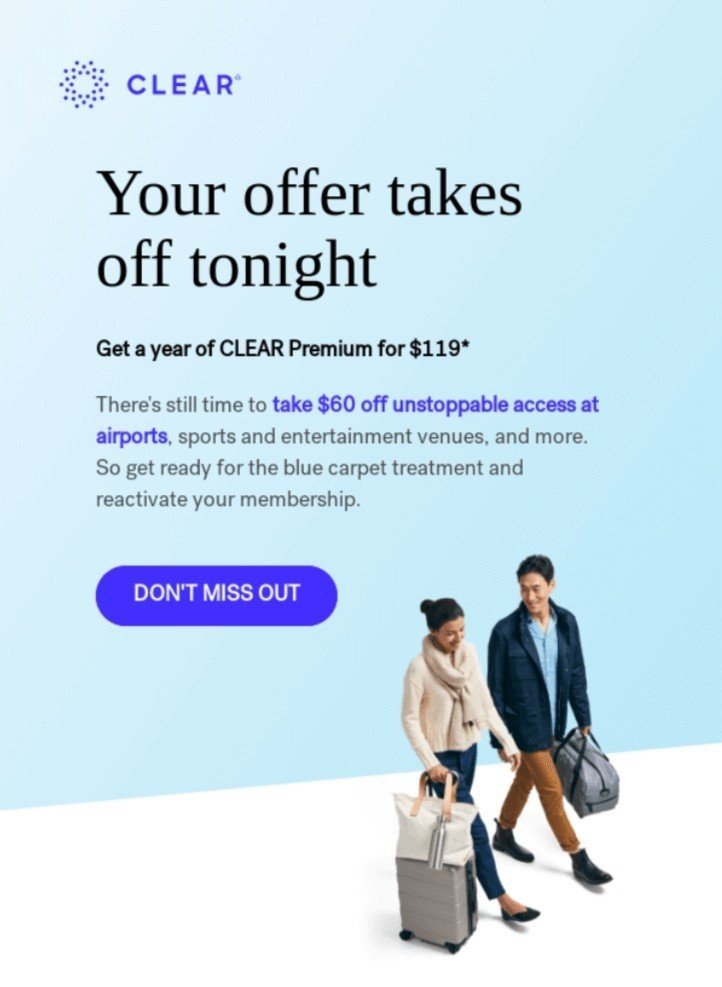 (Source: Really Good Emails)
9. Presentation of menu novelties
It happens when a new dish has appeared in an institution this season. Then, using the coupon, you can tell about it and at the same time invite you to a free lunch using a special promotional code. Delicious picture and good news. And also bold print and harmonious color combination.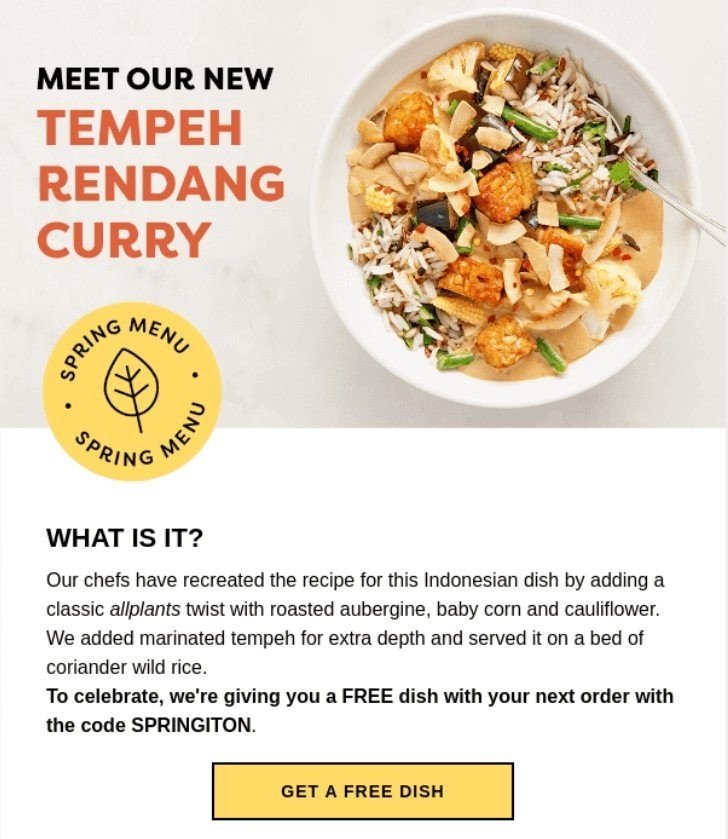 (Source: Really Good Emails)
10. Rewards for loyal customers
You can make a coupon bright and at the same time minimal. For example, this coupon indicates that you have received a chipotle "reward" — free dish.
Red color always speaks of a discount, a bonus, and immediately catches the eye. The main idea is highlighted in large type and the addition is a little smaller.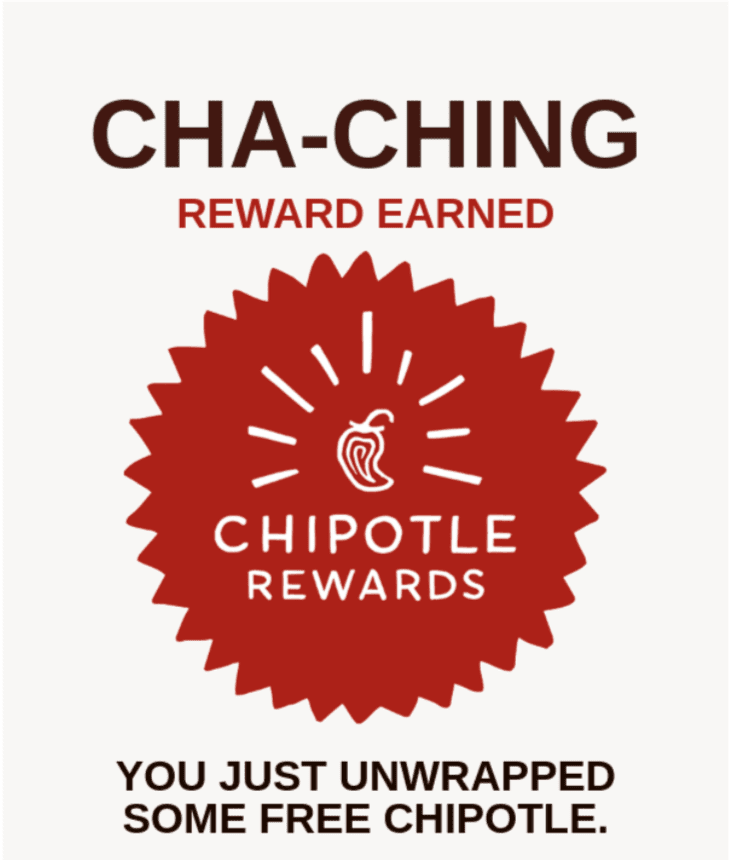 (Source: Really Good Emails)
11. Examples for Black Friday and Cyber Monday
On such a day, we always expect discounts, but which ones? 25% for all weekends and all cards here's a coupon from Postable. Black is immediately associated with Black Friday. And the main idea is highlighted in large print — DISCOOOOOUNT.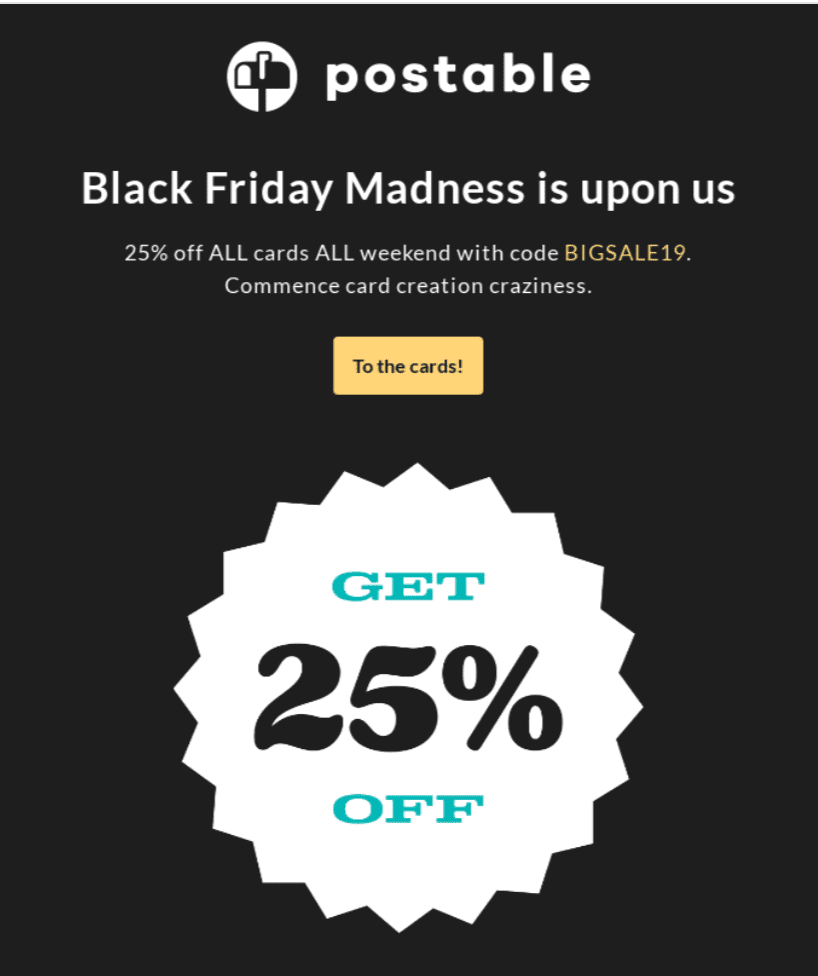 (Source: Really Good Emails)
12. Variety of discounts for Christmas
It immediately becomes clear that discounts await you. Conditions are prescribed on a funny banner.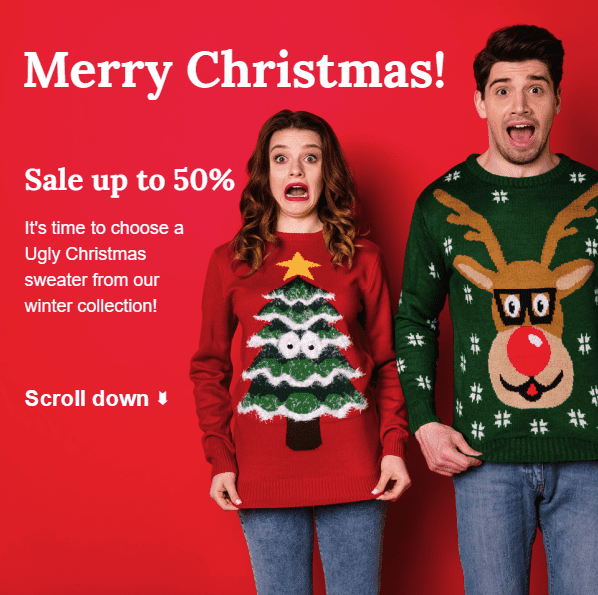 13. Brand bonding through photos
Book discounts are loved by readers and those who are friends with readers (I mean, a book is the best present, right?). This coupon is bright, with original phrases lined with books: original feelings, big money. The text stands out and is immediately clear: buying 3 books, you get a 40% discount. Below there are conditions in small print and a button to select your favorite books - that's great.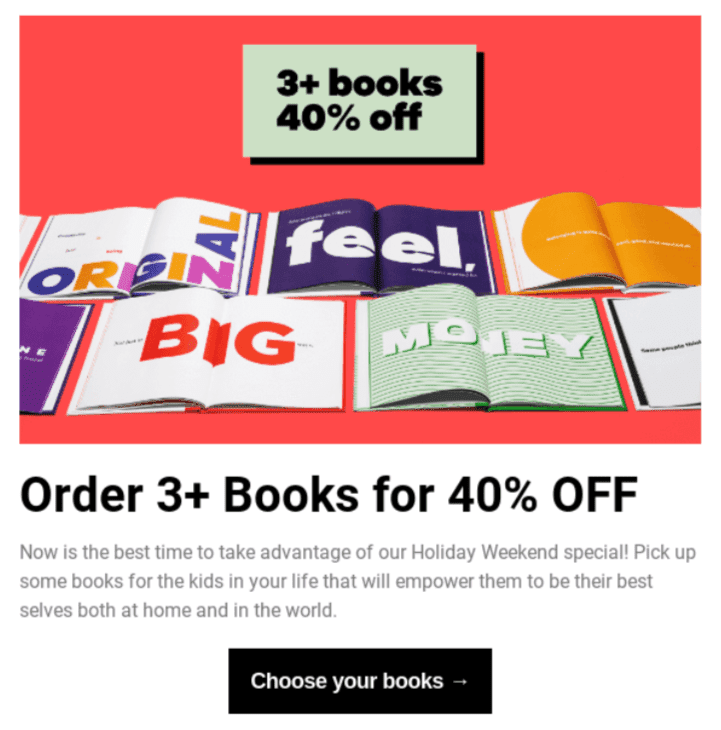 (Source: Really Good Emails)
14. Simple score and more
Who doesn't like to win? So use this example of an email campaign with email coupons.
Give euphoria to your subscribers — they won bucks for their next shopping day. Attractive and pleasant campaign? Sure! There is nothing superfluous on the coupon to distract attention. What lovely news for the clients.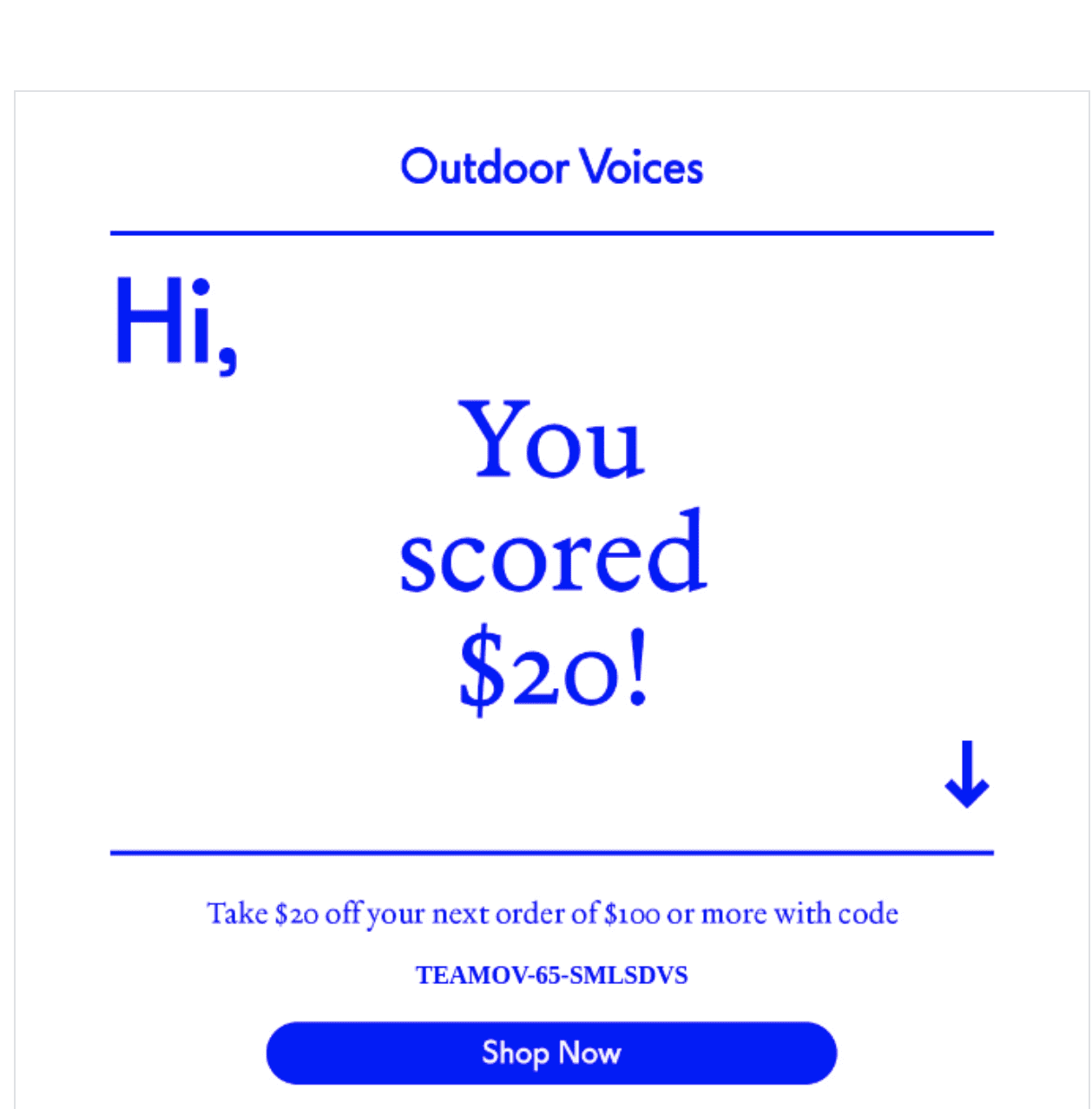 (Source: Really Good Emails)
15. Coupon for Mother's Day
Sometimes it is possible not to play on the pictures of interactivity of the coupon, but to grab attention with the text and plain background. Everlane offers a free 2 days of transportation, provided you order today for Mother's Day.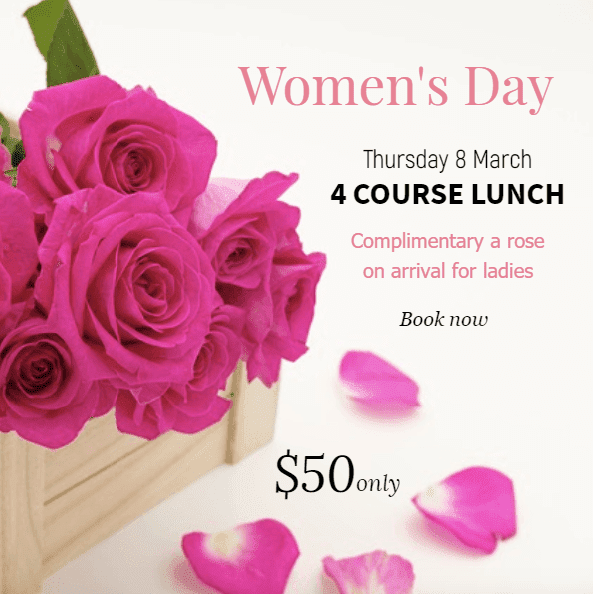 Final thoughts
Don't be afraid to give a try for one (or even more) of these best practices for email marketing coupons. Analyze your niche, try to understand what colors it has, what colors of your brand, product, emotions. Be bold — create happy news for your customers with ecoupons, making their life easier and brighter! And remember, Stripo is always here to help you create the email coupon campaign.