If you are selling any product or service, you have definitely had a time in your experience when you needed to offer some discounts for customers. Well-designed campaigns attract new clients, increase the loyalty of existing ones and grow business profits. Lots of brands provide discounts because it can help them to sell off-season stuff, raise profits, and improve customer satisfaction at the same time. For sure, everyone loves discounts, but sometimes it does not work your way. We are here to help you with plenty of discount newsletter templates which will draw attention even of uninterested ones.
Stripo's features to use in Discount email templates
Here are a few useful features which will help you to make your discount email template perfect:
1. Build the "Follow us on Social Media" email module in 1 click
Thinking forward, this is actually one of the best things you should implement on a discount HTML email template. Why? First, to expand the community and increase the loyalty of your audience. It will be useful for your future sales, as people will be following you and buy something sooner or later. By the way, if your emails are good enough, people will more likely subscribe to your social media. That's why we, at Stripo, created this option. All you have to do is to design these buttons once and add the necessary links — after that simply drag the "Social" content block into the template and that's it!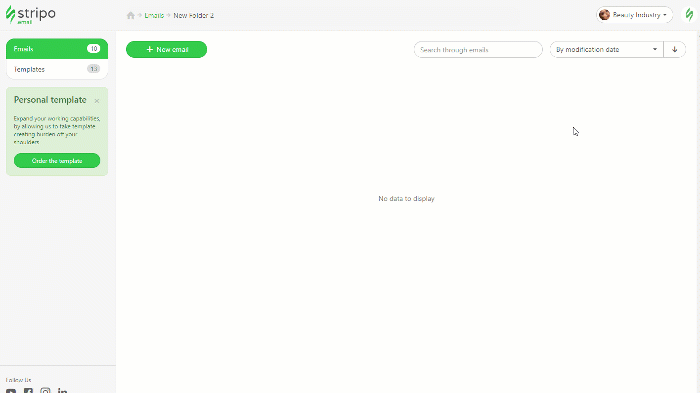 2. Edit your Photo Content
Emails almost always need pictures, but sometimes they are not ready to be shown. It may need to be resized or you might want to add filters, stickers and so on. And you wouldn't like to use several other tools to do all this with later uploading to an email. Therefore, we decided to add an opportunity for you to edit it.
It's easy to find — just click a button with a wand on it and do whatever is needed to make your image better. Don't forget to click "Save" when you're done!
3. Generate Email Annotations (works with Gmail)
A customer needs only a few-second glance to decide whether they will be opening your email or not. Proper annotations seem to be crucial in such situations.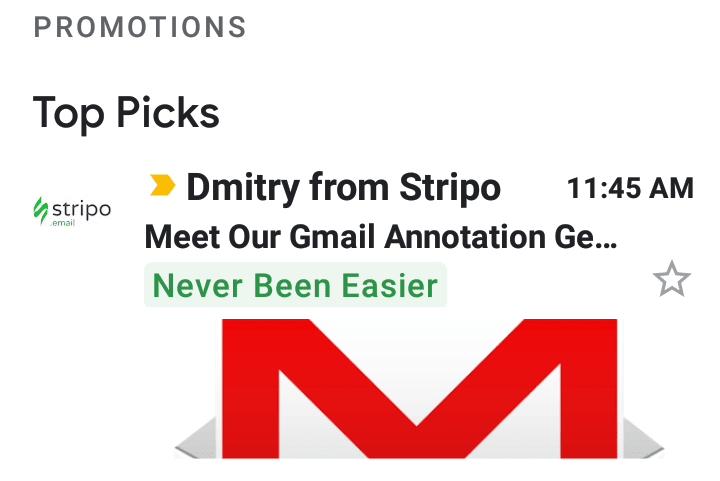 Our generator allows you to put all the essential information right in the preview area to catch your customer's eye immediately. You can mention the amount of the discount, the duration of sale and even the promocode there, so it will be seen before opening the email. However, it works on mobile devices only.
4. Undo and Redo Buttons
Sometimes you apply a thing you don't like at the end of the day. And sometimes you think that it actually was much better than what you did later. People tend to be indecisive and change their thoughts and ideas every now and then. We are in the same boat, so one of the first features we created was this one. With its help you are allowed to cancel your previous action or get it back anytime.
5. Rollover effect
When you sell something, you need to show all its advantages and make sure it's not too much at the same time. You want to show different sides of the product, show all the important details in discount responsive email templates and prevent your inbox from clarifying questions. And the rollover effect is perfect for such needs.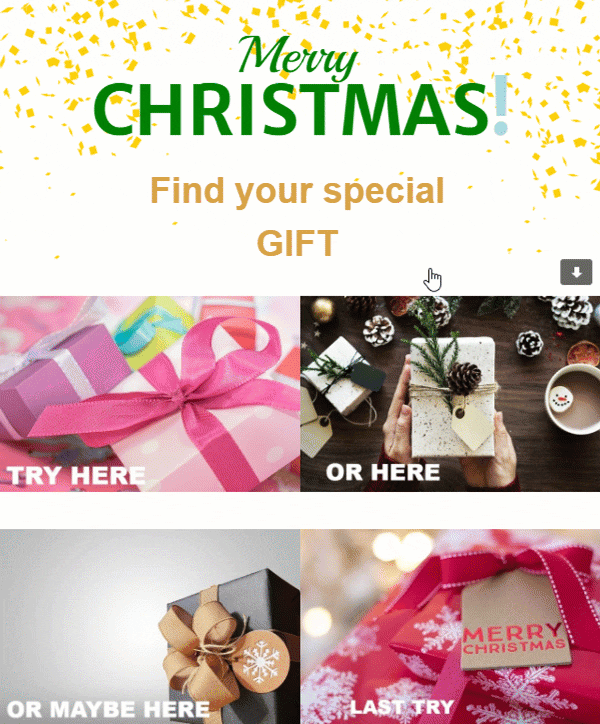 This is how it works: upload your first image, click the "Rollover effect button", then upload all the other files. You need to check if all of the images are of the same size to avoid their distortion. Voila, that's it!
Discount HTML email templates
This is a template for Black Friday, the best time for sales. There are some big and eye-catching photos with detailed descriptions, links for the catalog and promo codes which unobtrusively make your clients follow them and at least have a brief look at the offer.
However, the bad thing about the season of mass discounts is that customers can easily lose your store in the ocean of other sellers and tempting offers. So you need to invite them to follow your pages to keep their attention. In this template the block of social media is quite big, so readers will less likely miss it.
Remember that you have to create this block just once and use the same one for every letter.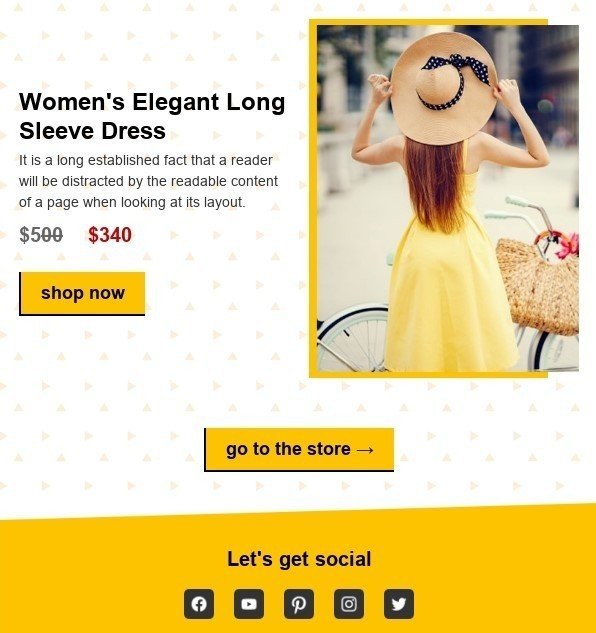 Customers always want to save their money and choose the most profitable offer. They constantly look for brands which provide better discounts, and they will definitely find someone who is willing to decrease the price, especially during the holiday season. So why don't you make their life easier and provide yourself a loyal client?
In this discount email template design you may suggest three different ideas and let customers choose what suits them better. You know, if they are making a huge purchase of lots of stuff, they will be grateful for a 25% discount. But if they are buying the same gifts for their younger siblings or children, they might like to choose 1+1=3.
People value when you not only think about your profit, but also care about their time. And they will definitely come back if they feel important to you.
To sum up
Every brand offers discounts now and then, you're not going to be an exception. But you can easily create exceptional emails that are attractive, draw customers' attention and remain memorable.
We provide dozens of templates for different tastes, most of which you may use for free and customize according to your style. You can even get some ideas for your sales from our templates, there are plenty of them! And we know from the experience of our users that the number of your happy customers will only increase.