18 June 2021
Last Chance Emails: Content Ideas and Examples
Is your audience in no hurry to purchase a product or view a service? Then last chance email newsletter is a great opportunity to remind clients of your proposal and speed up decision-making. To get your client interested in an email content from the first second, follow one rule — use less text and add more useful information. More details and examples in today's article.
5 strategies for last chance email content
1. Use a banner with a discount
Try to help your recipient immediately understand what the mail, is about and what benefits it brings. To do this, create attractive banners with a visually noticeable indication of the discount.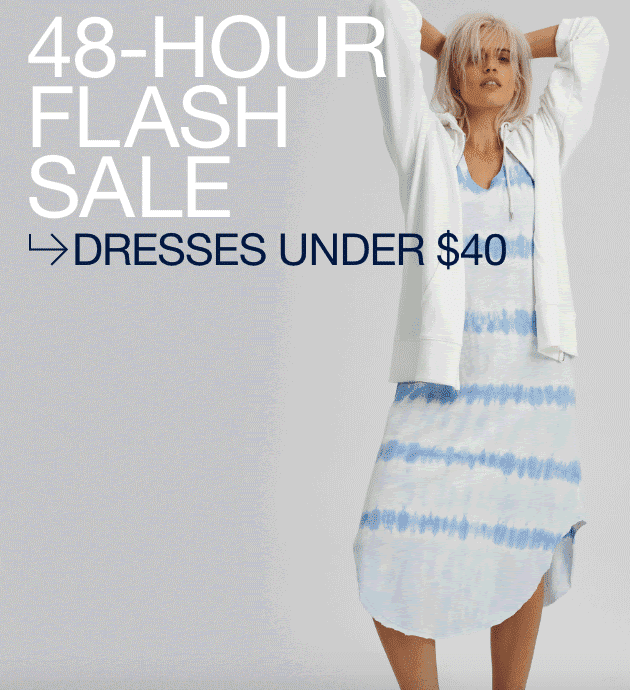 (Source: Email from Gap)
2. Add a countdown timer in your last chance emails
With the help of a timer, you can visually show the user how much time is left until the sale or promotion ends. Thus, users will understand that with every minute their chance to buy a product at a low price fades away.
(Source: Email from Banana Republic)
With Stripo, you can add a timer to your email, customize its color, font, and background color, and use many other last chance email design tips.
To do this, select the basic block "Timer" and simply drag it into the body of the email. Then set the sale/coupon expiration date and time and the timer is ready.
All steps are shown in detail in our short video.
3. Notify the client that the edition is limited
If your item is limited, please include this information in the last chance email subject line. Don't hesitate to inform your audience about it, because this method will definitely help speed up the decision-making process. Describe again all the advantages of the offer and try to clearly convey the idea that by purchasing your service or product, a person will get something useful.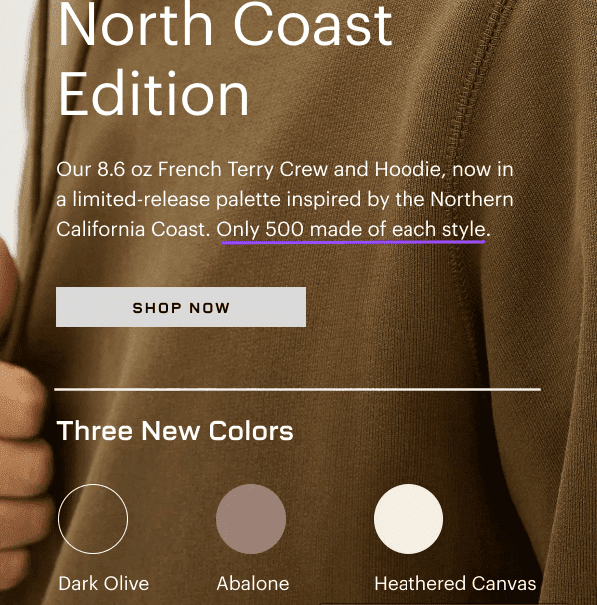 (Source: Really Good Emails)
Tip: Use real-time content that can entice recipients to buy a limited product. With its help, information on the number of goods is updated even after sending an email. For example, instead of sending out emails like "100 hoodies left", "Hurry up, 70 hoodies left" and so on, recipients will see the real amount of the remaining goods in the same email every day. You can create such updated content using Stripo. The process is described in detail in our how-to blog post.
4. Share generous opportunities
Let the client understand that such an offer cannot be made every day and that it simply cannot be missed.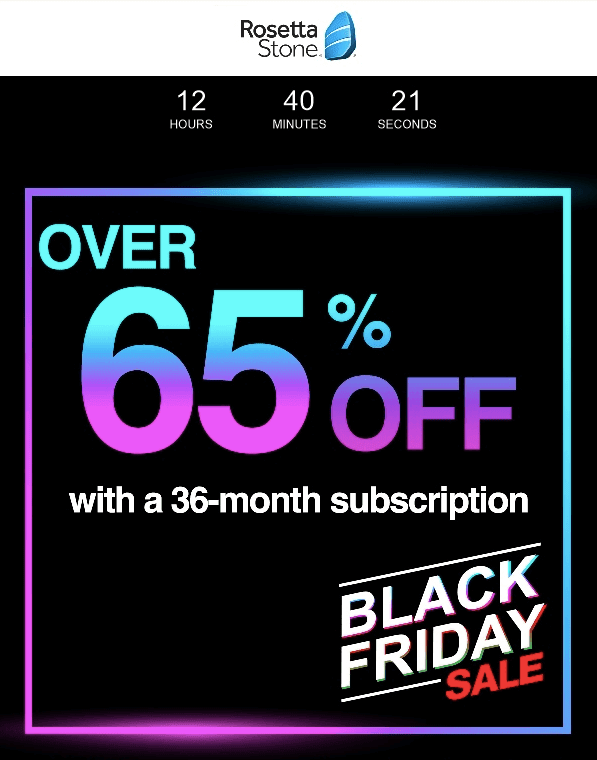 (Source: Email from Rosetta Stone)
5. Carry out promotions on holidays
New Year, Christmas, company or client's birthday, and any other holidays can be a great reason to announce a discount. Create an attention-grabbing banner, limit the action of such an offer to a holiday period and emphasize that such an opportunity comes, for example, only once a year and lasts exactly until the holiday.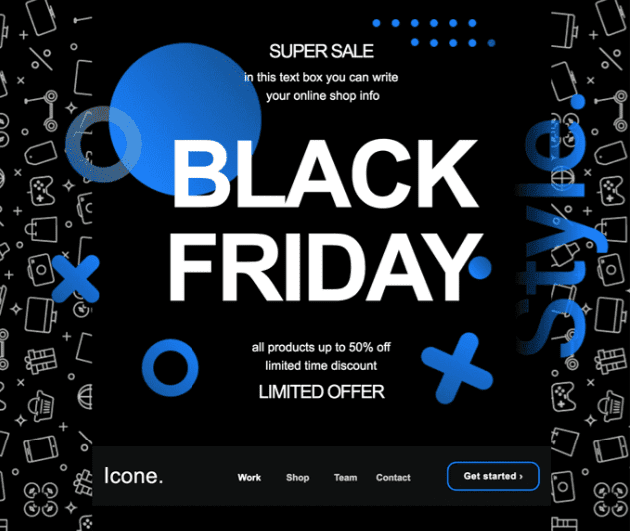 (Source: Stripo email template)
Use one of these strategies or combine them in different email campaigns to make your email as effective as possible.
10 last chance email examples
Below we'll show you some great examples that use these strategies.
Choose which option you like best, and feel free to recreate it in the Stripo builder. Or find a similar last chance email template from our collection, customize it for your brand and use it in the next campaign.
1. Discounts for everyone — Chewy
Remember in the very first strategy we described the importance of the discount message? Now we have a vivid example of how you can nicely design a banner. Online retailer Chewy announced a 30% discount on US-made pet products. Make your pets happy more often, because they are part of the family!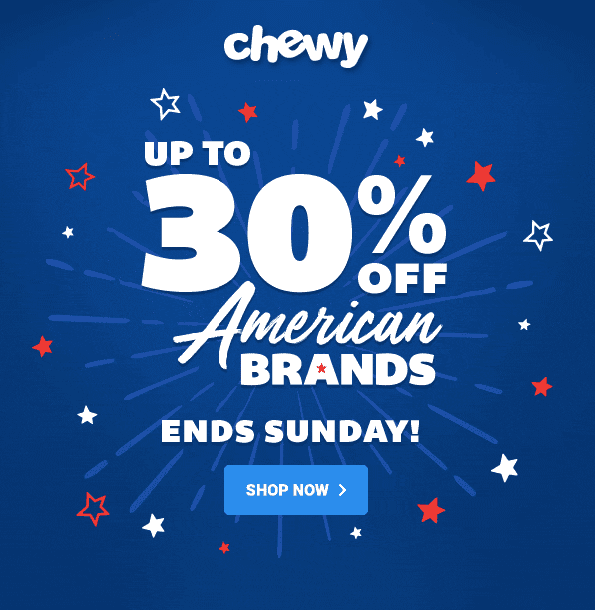 (Source: Really Good Emails)
2. 80% —Rugs.com
This is how the carpet selling company demonstrated to the audience the low price for all products. In addition to such a pleasant surprise, the brand promised to give the customer free shipping. Well, isn't that cool?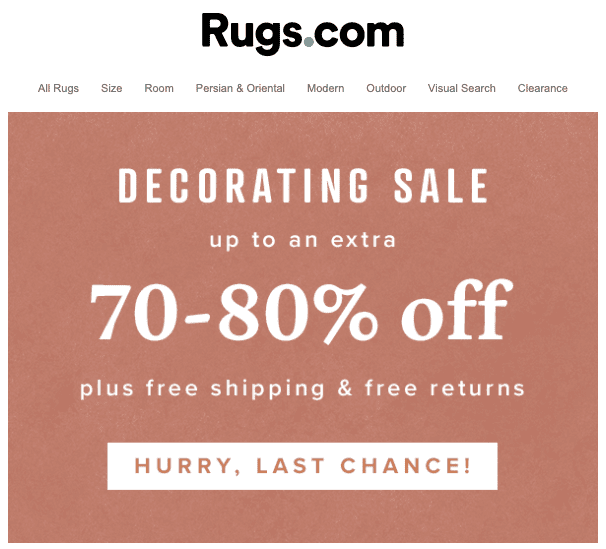 (Source: Really Good Emails)
3. The holiday is the time for gifts — Chubbies
The holiday sales are one of the most pleasant things, right? This is what most of us are waiting for the whole year and for some, it is even a crucial part of the festive atmosphere and mood. A good example from Chubbies of how to provide a discount and time it for a holiday. During the holidays, people usually spend a lot of money and are happy to get any opportunity to save some. And do not forget to remind and point out once again when the sale will expire.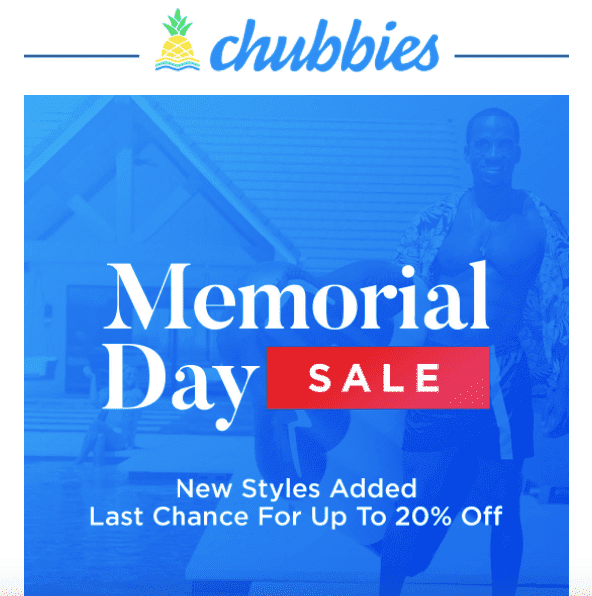 (Source: Email from Chubbies)
4. Hurry up to buy — Bellroy
Products made of genuine leather from the Australian brand "Bellroy" will be a useful and nice gift for your loved ones. And when the collection is limited, it becomes doubly pleasant! Show clients it is real luck to get a wallet or a bag for an appealing price.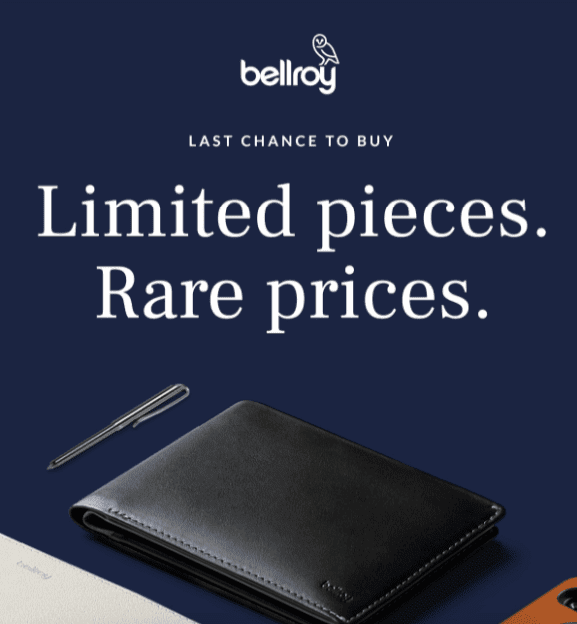 (Source: Really Good Emails)
5. Hot offer — D'Artagnan
What is so interesting about this last chance email example? It arrived in the inbox on the final day of the sale, so there isn't much time to think. It's important to take action right away. After all, an 20% discount is almost like bought for a song! The main thing is to emphasize that such an opportunity will not appear soon and this is the last chance to take advantage of this discount.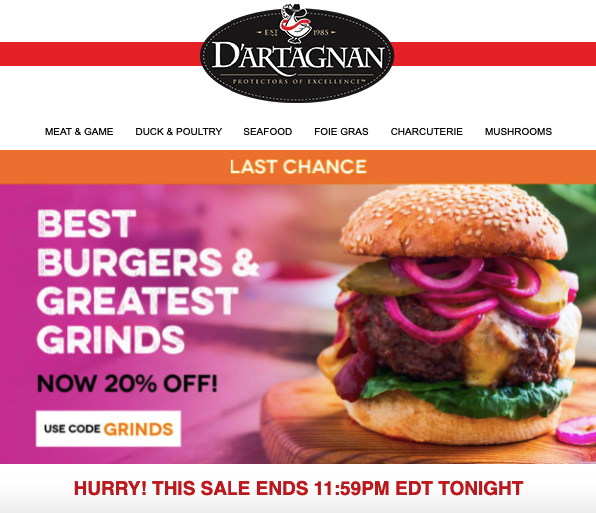 (Source: Email from D'Artagnan)
6. Grab attention — Taco Bell
Bright elements are always striking! The design and layout in this email are very apt, the food and drinks are well illustrated. The user immediately sees the promo code, and the end date of the promotion, the CTA button, and tasty food that causes hunger and desire to use the promo code as soon as possible.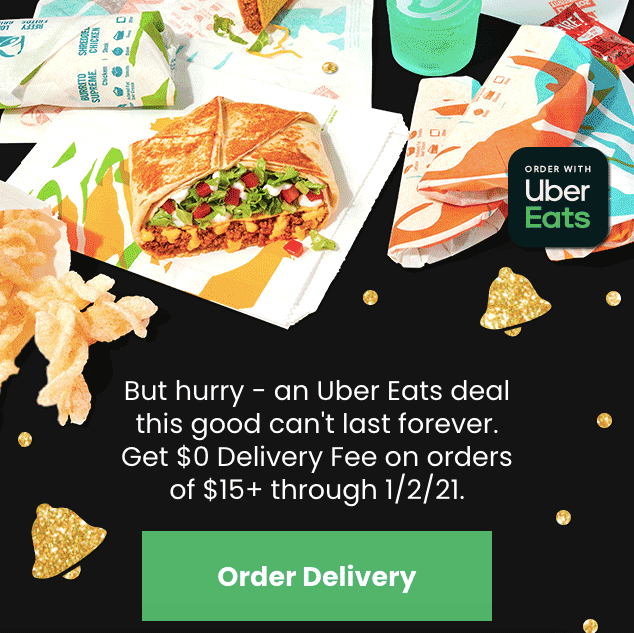 (Source: Really Good Emails)
7. Time is ticking — Stripo
When there is literally one day left until the end of Black Friday, you can no longer think. Recipients see how much time is left until the end of the action, and this forces them to make a decision as soon as possible.
8. Nothing more — June
Sometimes you don't need to come up with sophisticated emails, puzzle over some kind of interactive element. It is enough to clearly highlight the amount of the discount and use brand colors and a readable font. It still can be effective.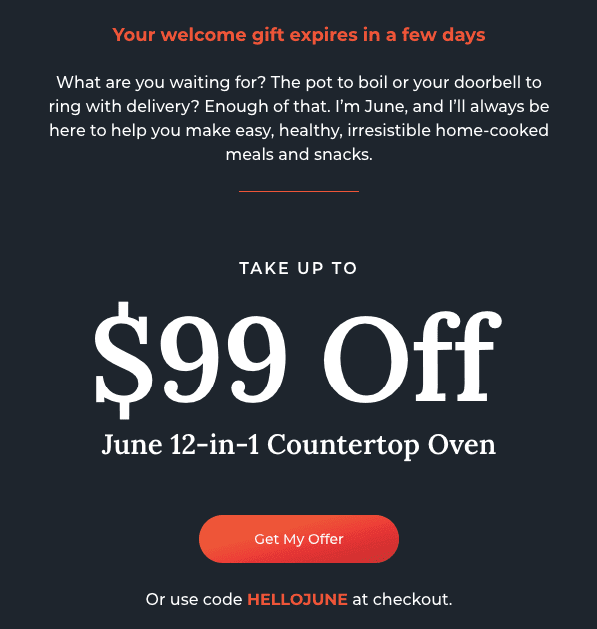 (Source: Really Good Emails)
9. Only once a year — Stripo
How nice it is for the recipient to feel valued. When a company knows its client's birthday and gives something on that day, it increases trust and builds a stronger relationship. But the business does not end with one email of congratulations. If the recipient did not use the gift, it is better to remind after some time that the discount/coupon has a validity period and it is worth hurrying to use it.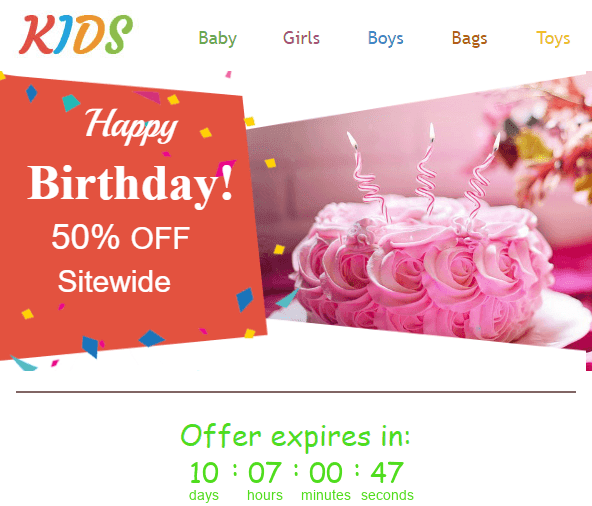 (Source: Stripo email template)
10. No time to wait — AutoAnything
It is very rare to buy accessories for your vehicle at such a discount. So the AutoAnything company informed customers about the possibility of getting a discount when placing an order and emphasized the end date and CTA.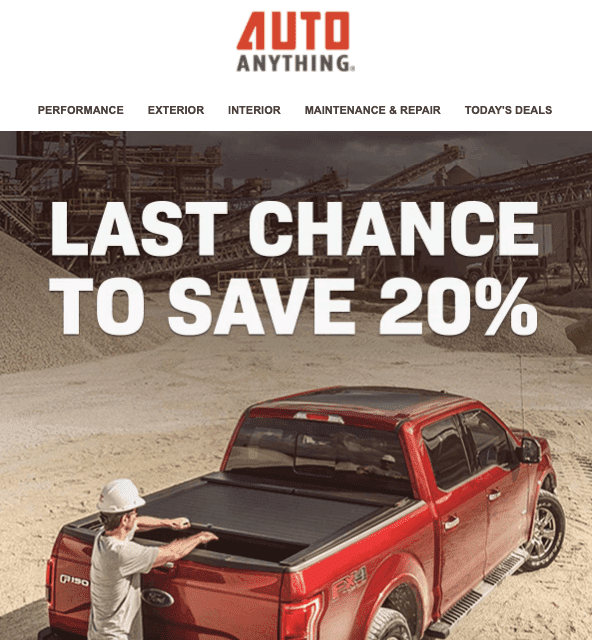 (Source: Really Good Emails)
Final Thoughts
Remember, design is an important part of your last chance email newsletter. Thanks to the wide functionality and simple interface of the Stripo platform, you can choose your favorite design in the gallery and customize it. Or create from scratch a personal one that will help you stand out and attract the attention of the audience. And if you want to create an unusual, interactive email with gamification, we also can help with that. Use our templates, experiment yourself with the builder or write to our design team — Stripo will help make your emails memorable and effective.