On November 25th, all famous brands sell their collections at a significant discount. The "madness," called Black Friday, begins.
With the winter holiday shopping season, Black Friday is one of the favorite times for customers. Meanwhile, that's a great challenge for marketing managers. Every company aims to win in the race for people's attention and interest. So, the Black Friday strategy needs to be thoughtful and data-driven.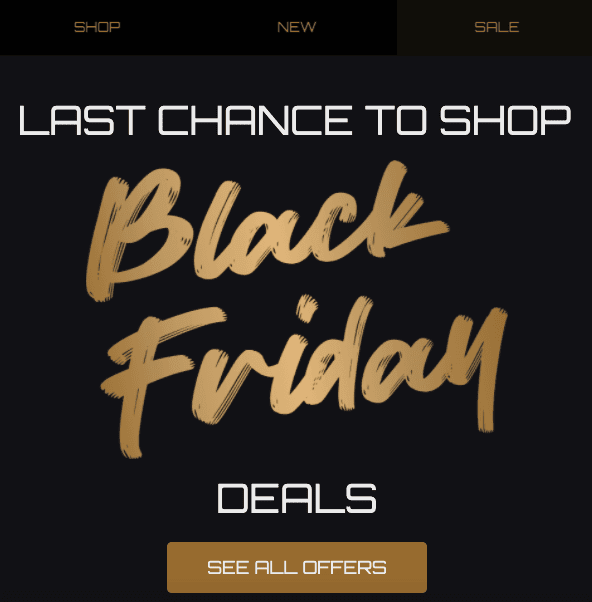 How to prepare for a Black Friday email campaign?
analyze your audience and the season's most relevant goods and services;
pay attention to your communication strategy, synchronization of marketing channels, CRM, and analytical software;
Black Friday sales cause twice or more traffic on your website. So, you should test the technical side of the online shopping process.
This article will show several examples of Black Friday emails and our best templates. It will be helpful for online stores, eCommerce websites, and other businesses. Let's start! You will read about 14 tips for your marketing campaigns and best practices for the Black Friday sale.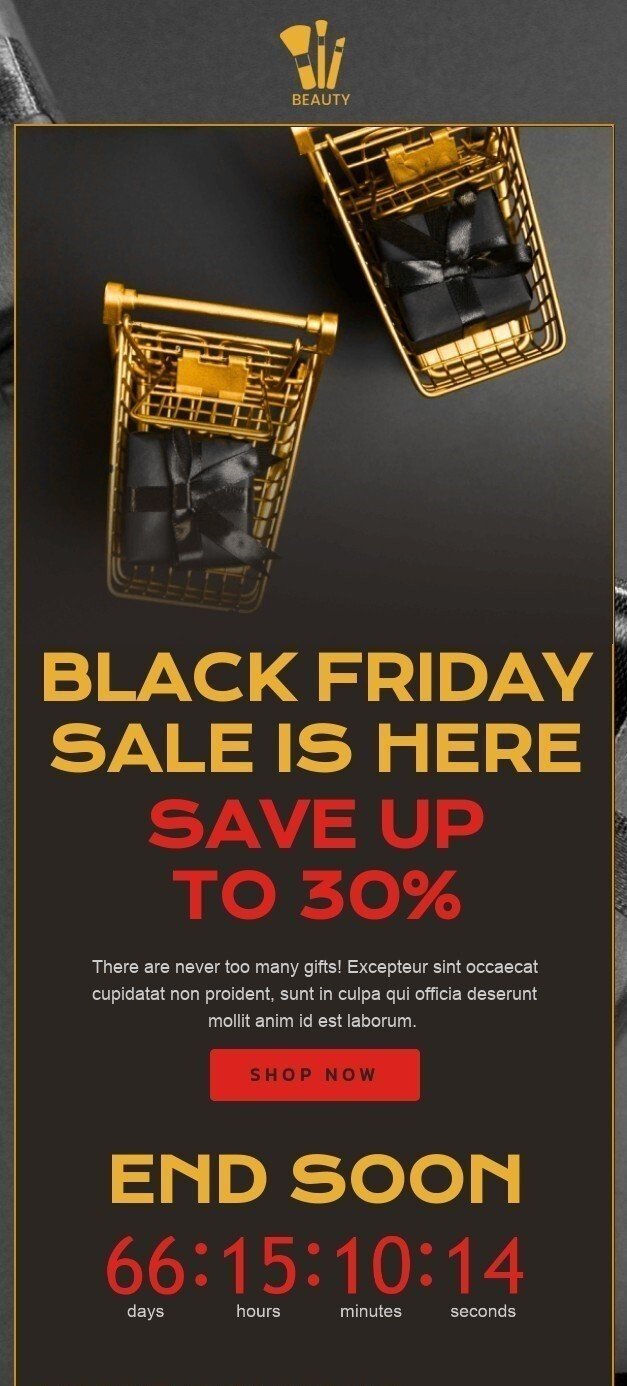 Don't miss the template for an ideal Black Friday marketing campaign
Use this template
14 tips for the Black Friday email marketing campaigns
I think most email subscribers wait impatiently for newsletters on this day — because of all those discounts and presents :) That is why it is to use it to the fullest. We've prepared 14 tips for your assistance.
1. Black Friday email with a creative gift guide
Everyone sometimes has no idea what to give for a holiday to a partner, a friend, or a colleague. So, an email with a gift guide will be helpful in this situation. People like checklists, guides, and catalogs because they solve common problems. Be sure to mention this in your Black Friday subject line because gift guides have a 48% higher conversion rate than average promo emails.
It's also a good idea to sort your gifts by price or other criteria (gender, age, interests, and so on).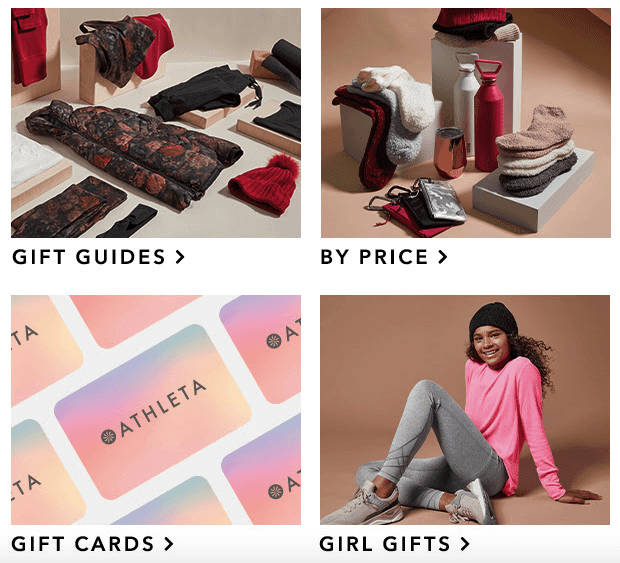 (Source: Email from Athleta)
Before the holiday, try to collect information on your contacts (their interests; analyze their favorite products) to make relevant lists with Black Friday offers.
2. Remember about segmentation
One of the main rules of email marketing is to segment your audience and send personalized emails. The Black Friday sale doesn't differ in this case. Your marketing messages should be relevant to the people that receive them. So, avoiding mixing audiences with different values and interests is important.
The most important segmentation type is dividing subscribers according to their behavior. It would help if you had good website analytics to know what category of products is interesting for each user. Analyze user's clicks, savings, shares, and other actions, to make segments for the Black Friday email campaign.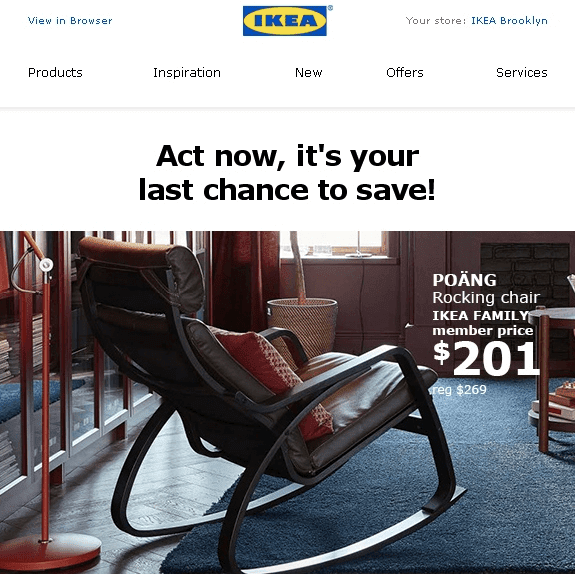 (Source: Email from Ikea)
Learn more about creating an effective abandoned cart email.
3. Send a sequence of Black Friday emails
Using several marketing messages instead of one touchpoint with your client usually leads to better results. You can send a series of Black Friday emails to your subscribers. That doesn't mean senseless spam but a well-thought-through series of holiday emails.
Use the Black Friday email template to start your holiday campaign right away.
4. Tell subscribers about the sale in advance
If you announce discounts beforehand, your subscribers will have enough time to plan their finances. Some people like emotional purchases, while others prefer to plan even holiday shopping; the second category will be grateful for your marketing message.
Your first newsletter may include general information. Then, the second email will inform subscribers of the exact dates when a sale starts and ends.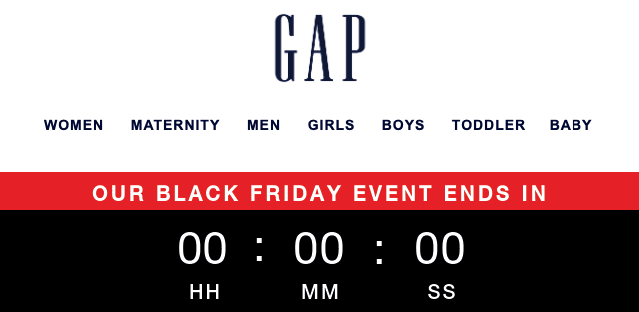 (Source: Email from Gap)
The third email will notify customers that your holiday sale is coming to its end. Add a timer to your Black Friday emails to build FOMO.
Wondering how to add a timer to the Black Friday email template with Stripo? Watch our short video for a manual.
The sequence of emails with Black Friday promotions helps you meet two goals:
you'll inform your clients about the sales;
you'll constantly remind them about your brand.
5. Black Friday sales for loyal customers
Black Friday email campaigns usually include such an important thing as pre-sale. You can arrange it for loyal customers.
If they see your Black Friday deals before your competitors send out theirs, or if they know such deals are available to them only, they will more likely purchase in your online store.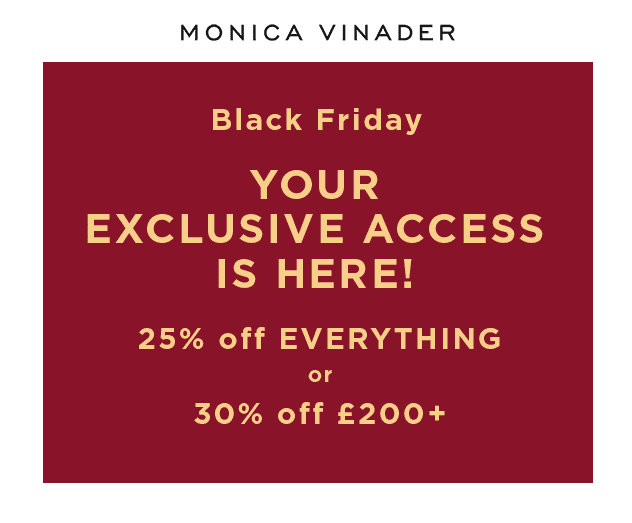 (Source: Email from Monica Vinader)
6. Offer free shipping during the Black Friday weekend
Lots of eCommerce websites and online stores offer free shipping on Black Friday day. Customers love it! So, why don't you offer free shipping for the whole weekend? Sounds like a great idea to add it to your Black Friday sales strategy.
The Black Friday period is the time when people spend lots of money. Even those who don't have a tight budget will be grateful for free shipping during these five days.
This simple trick can improve conversion and drive sales. But make sure that the notification is quite noticeable in your Black Friday email.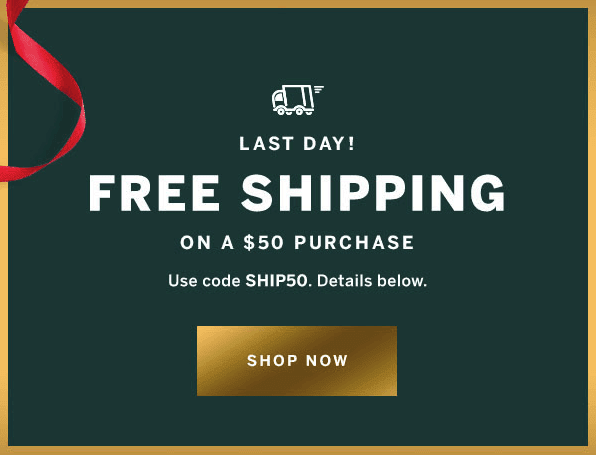 (Source: Email from Victoria's Secret)
7. Pay attention to the design of the Black Friday email campaign
The holiday season is the period when people get hundreds of promotional emails. Therefore, you need to make something special. Standard Black Friday emails may include perfect deals, but yours should be the most catchy and interesting for clients.
Email subscribers' attention is something we all fight for. So, marketing managers make a great effort to make their emails stylish and easy to read; the clear message and call-to-action button are very important.
Also, to cut time on creating Black Friday emails, you can use free templates — customize them according to your brand style, and enjoy the perfect results.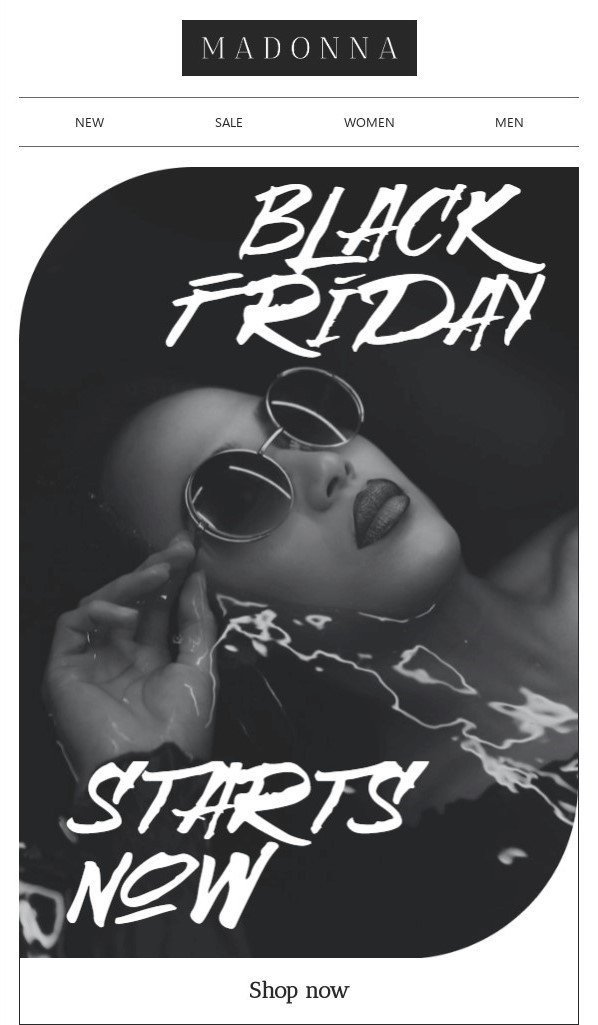 Make your Black Friday marketing campaigns unforgettable by implementing unusual, bold ideas.
8. Build a contact list for promoting your Black Friday deals
As we've discussed, you need to offer discounts and use a personalized approach to your audience to run successful Black Friday email campaigns. How do you find those contacts?
Some eCommerce businesses also provide extra discounts to new customers in the subscription form. It's also an effective Black Friday email marketing strategy.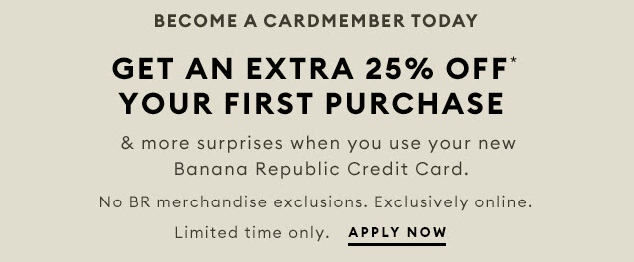 (Source: Email from the Banana Republic)
This may be a good start to the long-term relations between your brand and new subscribers.
9. Promote your offer across social media
People are looking for Black Friday shopping opportunities not only in their inboxes.
Combining several communication channels is one of the most effective ways to drive sales during the holiday season.
For more information on the combination of email marketing and social media channels, go to our blog post.
You might also like
Email Marketing with Your Social Media: 7 Ways to Integrate Them

10. Offer gift cards during the holiday season
The holiday season is full of interesting offers. To stand out from the crowd, you can provide your subscribers with proper Black Friday gift cards.
Make a stylish design for the cards and announce them in your awesome Black Friday email.
11. Black Friday and Cyber Monday sales together
On November 28th, we have another special day, Cyber Monday. But too many emails with discounts may look messy and confusing for your email subscribers. So, you can combine the Cyber Monday email marketing campaigns with Black Friday sales. Look at the example below.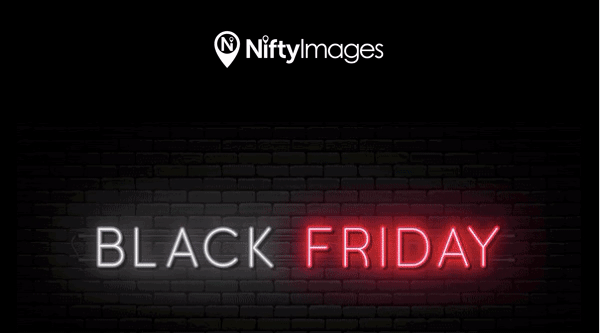 (Source: Email from Nifty Images)
12. Introduce new products in Black Friday email campaigns
The holiday season is a good time to present new products. Many eCommerce stores use this opportunity. Thus, they prepare two surprises for the customers: a new collection and pleasant discounts.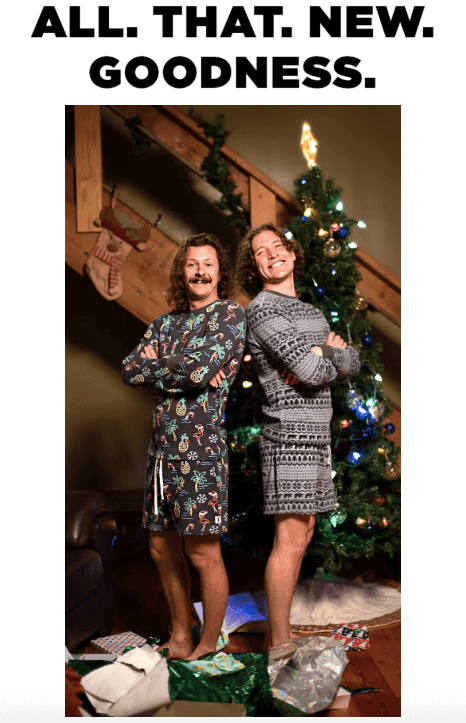 (Source: Email from Chubbies)
No matter how much clients love your current assortment, they will like to see something new in your Black Friday emails.
13. Remind customers that winter holidays are coming soon
Remind your subscribers that Christmas is coming. If they buy presents now — they won't have to worry and look for last-minute gifts in December. Include this simple point in your Black Friday email strategy and see the difference.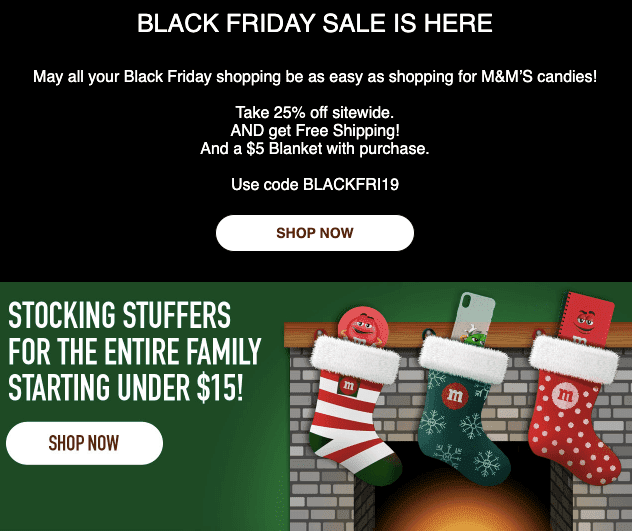 (Source: Email from M&M's)
14. Choose the best time to send Black Friday emails
Several main things define if your Black Friday email campaign will succeed. They are the subject line, clear call to action button, value offer, and, of course, the appropriate send time.
When should you send Black Friday emails? We can't give one answer to this question that works for all businesses. But you sure have to start way before the 5-day weekend so people have time to prepare for the Black Friday sale.
Remember that Tinuiti states that 30% of Americans purchase in October or early. So, you can start your Black Friday campaigns even at the beginning of Fall.
Black Friday email design tools to make successful newsletters
Examples of email designs are a great source of inspiration and how to create successful emails. However, in addition to inspiration, you must have Black Friday email design tools in your arsenal to bring your ideas to life. It's time to talk about them.
Impactful subject lines
Subject lines are what greet the recipient and what should motivate them to open the email. That's why you should always have examples of subject lines from well-known brands on hand. Having studied the experience of others, you can easily create your own subject line that will bring you high Open Rates on Black Friday. We compiled several examples of powerful Black Friday subject lines.
Herschel Supply Co. — Black Friday Starts Today.
Monica Vinader — Black Friday | Up to 50% off | 24 hours only! ⏰.
Scuderia Ferrari Online Store — The special Black Friday weekend has arrived.
F21 Exclusives — Up to 80% OFF. Early Access Black Friday.
Adidas — Get a jump on Black Friday.
Maybelline New York — Our Guide To The Best Black Friday (Makeup) Finds!
Photobucket — We couldn't wait — Black Friday starts NOW.
Build Assign — HOURS LEFT ❄ 25% OFF ❄ Black Friday Ends Soon!
Rosetta Stone — Save more | OVER 65% off.
West Ham United — Black Friday Best Sellers.
Chubbies — Black Friday is CANCELED.
Adidas — Don't miss out... You can still save after Black Friday (go cyber).
Ghirardelli Chocolate Company — Black Friday Savings - Ending at Midnight.
Gap — You're looking at our LAST Black Friday email 'til next year!
D'Artagnan — It's Black Fri-Yay! Shop Now.
For more ideas and examples in our "Black Friday Subject Lines: 80+ Inspiring Examples" blog post.
High-quality email design
A beautiful email that pleases the recipient's eye is the result of putting together many different elements. One incorrectly selected element can ruin the whole picture. When creating your Black Friday email from scratch, you should consider the following:
High-quality images. Consumers love to see images of products that will be available for purchase during Black Friday. Be sure to add eye-catching visuals to keep them intrigued.
Holiday colors. Black Friday emails often combine black and yellow color palettes. Additionally, it's worth remembering that after Black Friday, Christmas is just around the corner, so it's a good idea to add more festive colors to create stunning holiday emails.
Intuitive design. When creating an email for Black Friday, don't forget about readability and intuitiveness. The recipient's eyes should flow smoothly through your email from top to bottom, and there should be no questions about where to click to buy the advertised product or subscribe to the newsletter.
Fonts. Selecting email fonts is an important process, as the wrong font can ruin all your design efforts. The best fonts for emails are Arial, Helvetica, Verdana, and a few more, which you can learn about by reading our ultimate analysis of the best fonts for emails.

(Source: Really Good Emails)
Pre-built templates
Ready-made email templates are a great way to create an email quickly and efficiently. This approach is suitable for marketers who do not have separate email designers who can design a layout from scratch, or who have tight deadlines and do not have time to work on the design for a long time.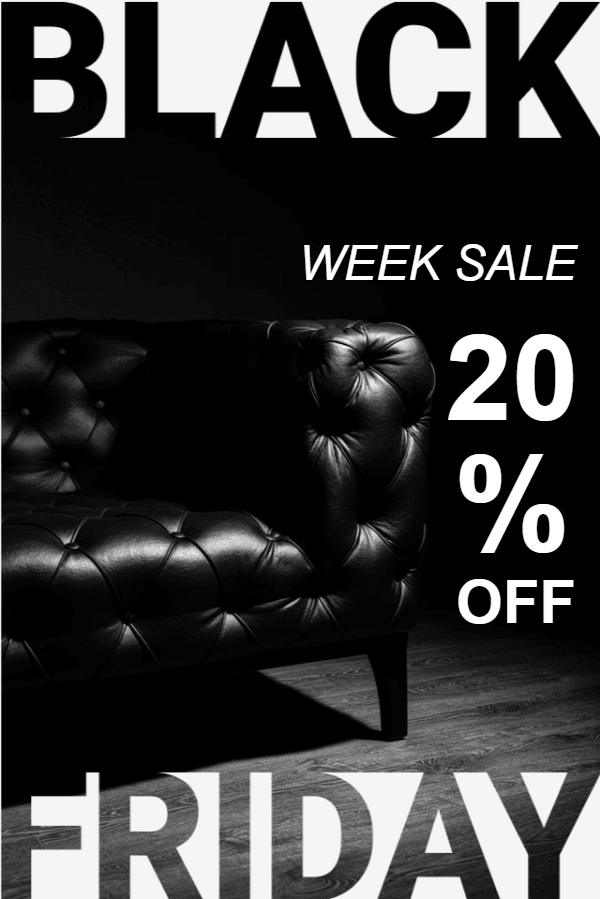 For example, Stripo has a whole pack of different email templates for Black Friday, so you're sure to find one that suits you.
Stunning email copy
The text of the email is also incredibly important since its main goal is to encourage the recipient to take one action or another. Speaking of Black Friday emails, there is often not a lot of text in them since most of them are taken up by catchy product photos and large CTA buttons.
In most cases, the following will be sufficient:
Example 1
Subject: Crazy discounts up to 80% await you!
Discounts up to 80% percent
Black Friday Sale Ends Monday 11:59 PM
Shop now [CTA button]
Example 2
Subject: Make Black Friday memorable with these discounts
Don't miss this opportunity to make Black Friday memorable. Crazy discounts and Free Shipping are waiting for you.
But the more you buy, the more you save.
Shop now [CTA button]
Offer ends Monday 11:59PM EST
Example 3
Subject: Big discounts await only on Black Friday!
These products have been affected by Black Friday. Hurry before everything is sold out!
50% off all items until Monday 11:59PM EST
Shop now [CTA button]
Impactful and noticeable CTAs
CTA buttons are the last weapon in your arsenal that helps you achieve your mailing goals. Therefore, they must be impactful and noticeable. The recipient should not look for them but should notice them immediately as soon as they open the email. To do this, you need to correctly combine the color of the button with the background, the font, its color, and size.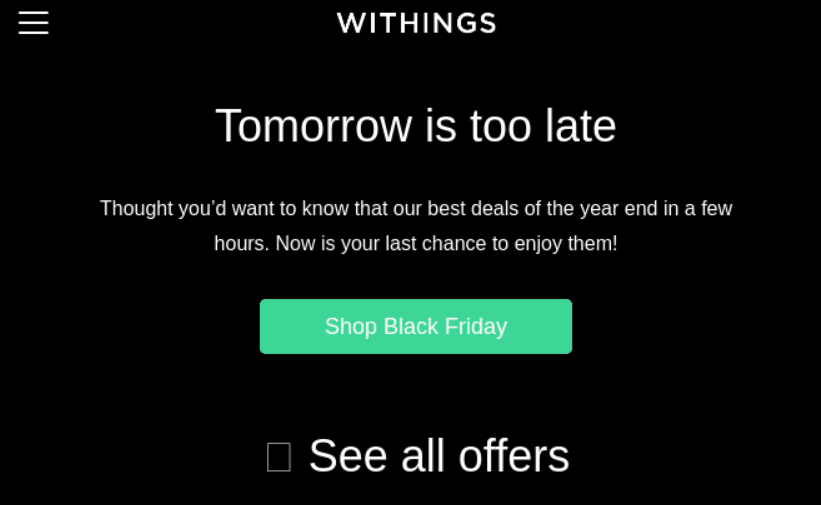 (Source: Email from Withings)
We've created a separate guide on how to create impactful CTA buttons that will entice your users to click on them.
You might also like
Email Call to Action Best Practices

GIF animations
GIF animation is a design tool that will allow you to fill your emails with bright colors and make the right accents. In our example, the GIF animation serves as an emphasis on what discounts recipients can expect when they click on the CTA button. When creating GIF animations, you are limited only by your imagination.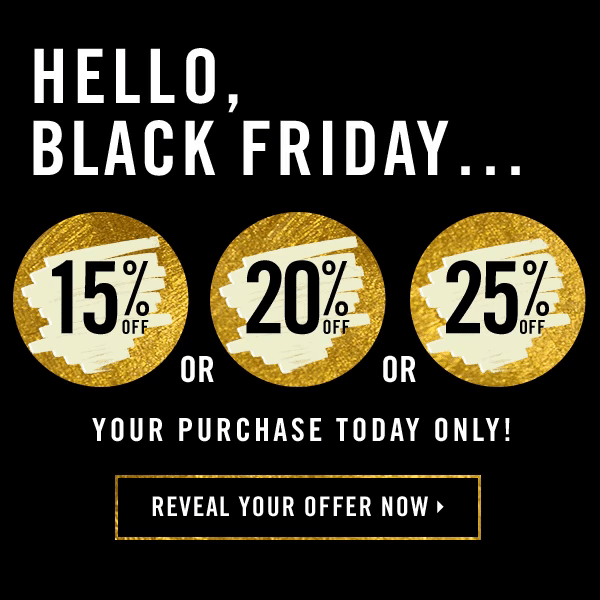 (Source: Email from Forever21)
Interactive elements
Interactive elements allow you to increase the engagement of emails, as recipients linger longer on reading the email to play with various carousels, drop-down lists, and other elements. Such elements are made using AMP and often require some technical knowledge, but it's worth a try because interactive elements increase the user response rate by 833%.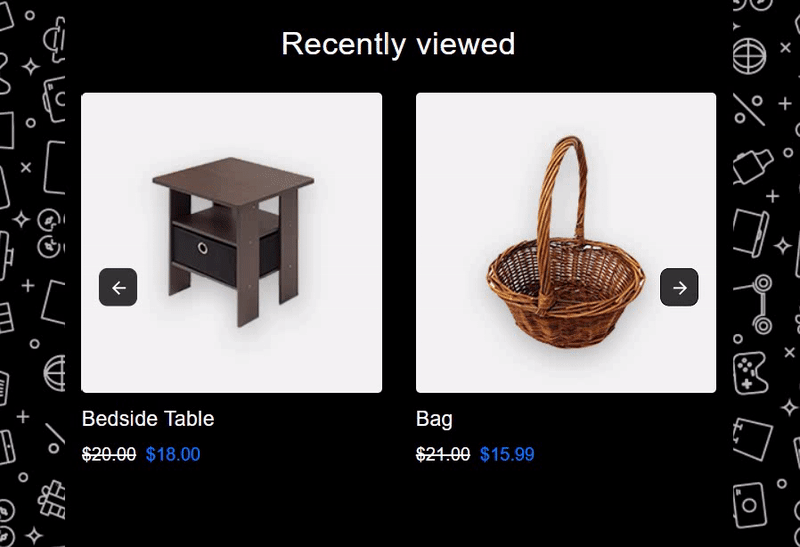 Social media buttons
If you want to boost the effectiveness of your Black Friday email marketing, you can integrate it with other channels for better results. Recipients will share your email on their social networks and word of mouth will work. More and more people will learn about your generous discounts and sales will increase significantly. It's always better to attract not one, but two or more people from one email.
Countdown timers
Countdown timers create an effect of urgency and limit the time of indecisive buyers. You emphasize that the promotion will end soon, and recipients may miss out on great benefits. Adding a countdown timer, on average, increased a business' revenue by as much as 9%.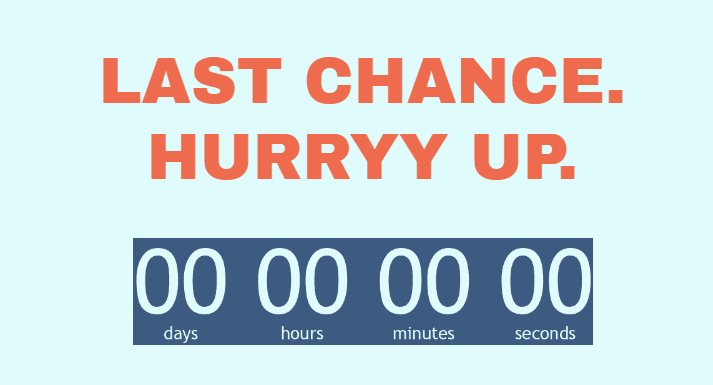 Black Friday email examples and best practices
Looking for the Black Friday email examples? Let's check them together!
Example 1. A-la gamification in Black Friday email campaigns
The "Mystery final sale" looks engaging to the customers. The animated banner is the best feature of this Black Friday email created by Loft. Seems like it invites subscribers to go to the website saying, "Wanna know how huge your discount will be? — Visit us!"
The intrigue improves the conversion rate for sure. Because curiosity makes people click and get the details. So, think about how you can transform your Black Friday email campaign into an engaging game.
(Source: Pinterest)
Don't know how to utilize roulettes in emails? Just upload a GIF.
Example 2. Happy faces in the Black Friday email
Marketers make the same mistake when preparing Black Friday emails: they show only products and prices. But people are more likely to react to other people.
Look at the Old Navy newsletter, decorated with bright colors and happy faces. The brand image becomes more friendly with this simple detail.
(Source: Email from Old Navy)
Example 3. Black Friday sale in minimalistic style
The key element of this Black Friday email is the simple yet stylish banner with no distracting elements. You see it, you go shopping right away.
The fact that the sale ends soon makes subscribers click faster.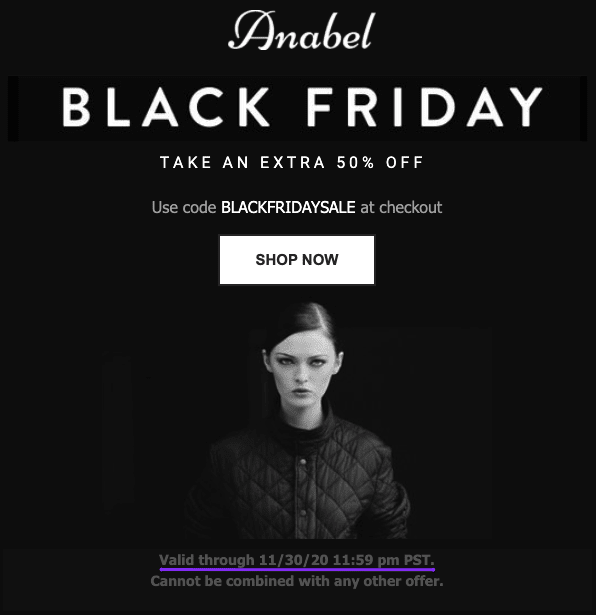 Pick this template to use in the future
Use it
Example 4. Early access to discounts
This Black Friday email has a lovely design. But it isn't the most important thing. Then what is? The brand offers exclusive early access to loyal customers way before other clients. In this way, they show the benefits of being a brand advocate.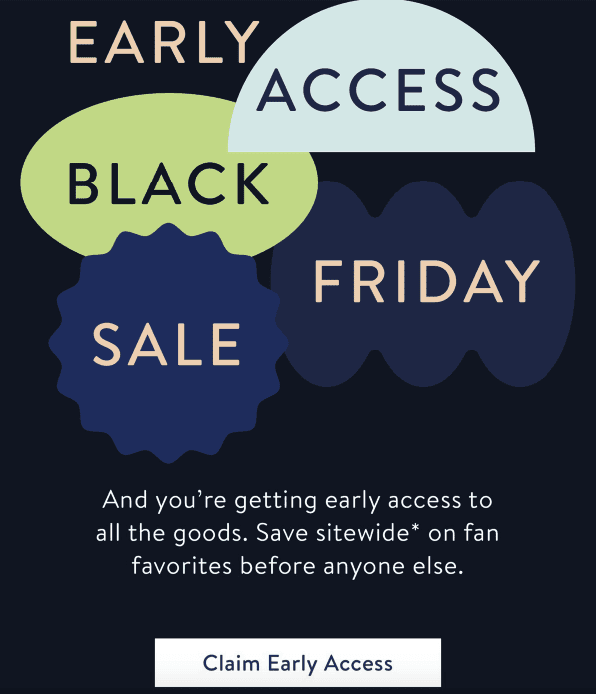 (Source: Email from Brooklinen)
Example 5. Gamification in Black Friday emails
Gamification and various interactive elements are a great way to make Black Friday emails memorable and engaging. The Omnicore company thought the same thing together with its partner, the famous omnichannel player in Ukrainian fashion retail.
In order to increase the number of registrations on the website, they created a special email newsletter in honor of Black Friday, where one of the main elements was a game of "Couples." Recipients had to find matching pairs of clothing and their brands until all pairs were found.
This email campaign was extremely successful, helping to increase website registrations by 17%.
Example 6. Product launches in Black Friday emails
Like other global brands, the famous clothing brand Represent cannot stay away from Black Friday. However, traditional discounts aren't the only way to make Black Friday truly exciting. That's why Represent organized the launch of a new product on Black Friday.
To get customers interested in the new product, Represent sent out a teaser email with a flashy countdown timer to encourage urgency and excitement. After the new product went on sale, customers received an email reminding them that they could also use their loyalty points. All this together resulted in an increase in average clicks of more than 3 times the industry average.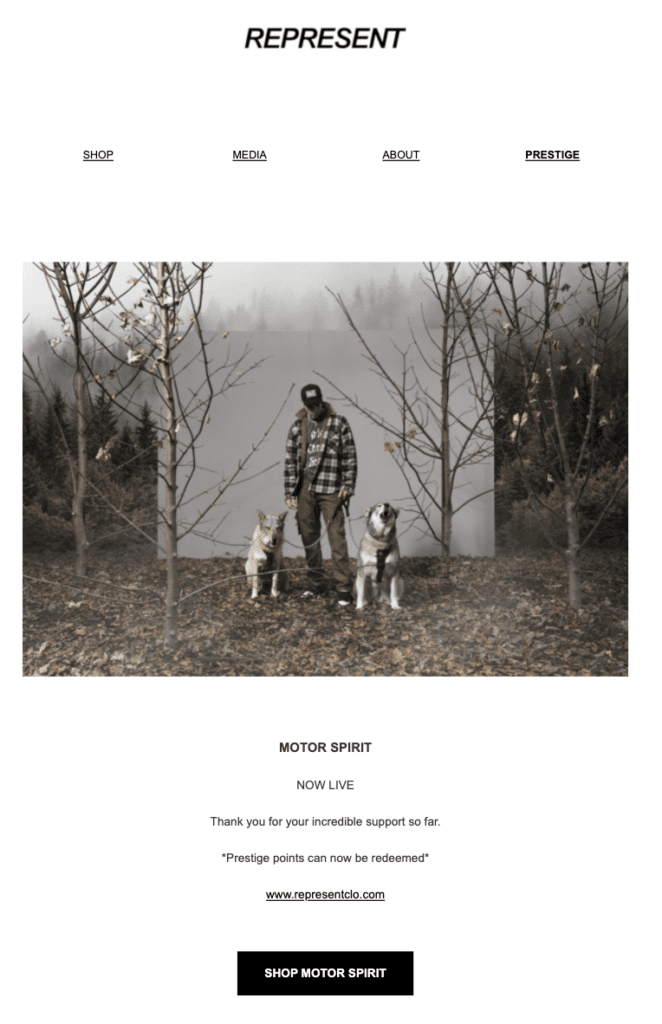 (Source: Klaviyo)
Mistakes to avoid in Black Friday marketing campaigns
If you want to make Black Friday campaign a brilliant case in your portfolio, don't repeat these simple mistakes. Let's take a look at them:
use low prices as a magic bullet;
doing everything at the last minute;
ignoring customers' preferences (not using customer data);
building over "creative" emails;
reaching out wrong segments;
running boring emails marketing campaigns;
skipping Cyber Monday sale;
long-lasting Black Friday marketing campaigns.
Final thoughts
We hope you will avoid these mistakes and create an exceptional Black Friday email marketing campaign.
When building one, please remember to:
create a series of Black Friday emails;
pay close attention to subject lines;
include free shipping and other perks;
create a minimalistic yet catchy design that fits your brand identity;
use both emails and social media to promote your offer;
announce sales before the start of the Holiday season;
segment your audience;
add a countdown timer to build urgency;
offer something more than just discounts, make a surprise.
Don't postpone the preparation of the Black Friday marketing strategy. Think in advance about all technical and marketing nuances to be ready for the hottest advertising season at the end of the year.
We are always here to help you with creating a successful email promo. Stripo provides a fair amount of ready-to-use Black Friday email templates for any business.
Ready to start your Black Friday email campaigns? With Stripo tools, you can do it way faster! Good luck!
Was this article helpful?
Thanks for your feedback!