01 November 2018
Black Friday & Cyber Monday Email Marketing Campaigns
In 2018, Black Friday along with the beginning of the generous sales season starts on November, 23. This means that the time when every marketer wants to break his/her last year's personal record in sales and the time when the subscribers want to buy products at incredibly low prices, is coming. The closer it is to November, the more difficult yet the more interesting the hunting prospects game gets.
9 Tips and tricks for effective Black Friday and Cyber Monday Email Marketing Campaigns
Don't freak out! By following our tips and tricks, you will make your Black Friday Emails more effective. You'll improve email design, content and the subject lines.
1. Collect contact base for this particular newsletter
Collect contact base for this particular email campaign. For instance, add one more subscription form to the website, which is dedicated to Black Friday and Cyber Monday only.
This is the subscription form created by email marketers at Kasta to enable users to join the newsletter contact base prior to Black Friday: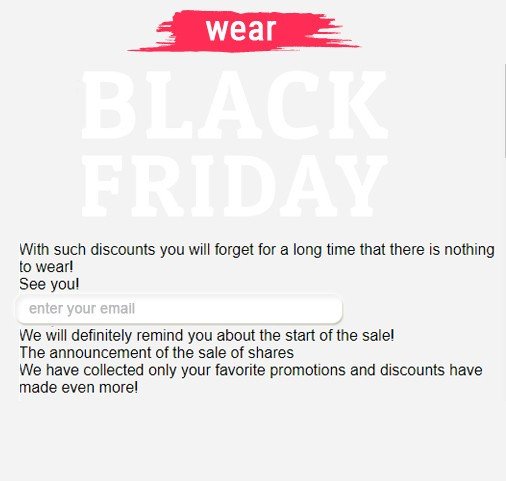 As you can see, there's no discount needed here — the news about the sale goes as bonus itself. Try this method, and probably, due to Black Friday, your relations with new customers will have a lucky start and customers will keep coming to you to get something interesting.
2. Make your value offer unique
Thoroughly think over what exactly you can offer to subscribers in newsletters.
There are a few options:
generous discounts on specific product items;
average discounts on all product items;
small discounts on the new collection, etc.
In this email, BAUBLEBAR took to the second option, offering a 30% discount on all products. But when it came to the Black Friday email design, this brand decided to break all the standards — instead of using black colors, they applied the golden one. By sticking to this trick, it outstood among competitors and also reminded its customers that Christmas and New Year were coming soon.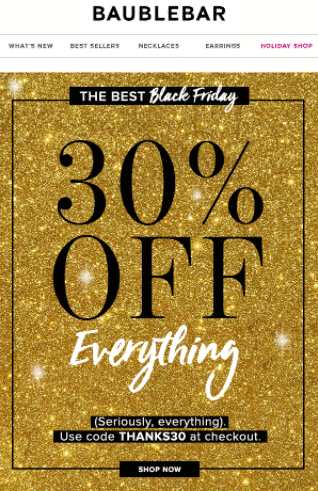 Take care not only about your emails, but about the website, as well. For instance, a landing page may reflect the email's design.
3. Start your campaign beforehand
Start preparing subscribers to Black Friday in October, after Halloween or even sooner. Create a sequence that consists of 4-5 emails.
Take a look at the example of email-calendar with the newsletters' date marked:
For example, the sequence can include:
Black Friday announcement;
happy hours and presale;
Black Friday itself;
last chance to buy stuff at reduced prices during the weekend;
Cyber Monday.
A well-planned sequence is likely to increase sales. In this case, both types of subscribers, skylarks who wait for the sale to start, and owls, who try to get the last available items, will have an opportunity to buy from you.
A great sample of the Black Friday email sequences is the sale announcement email by ARTICLE. They assured the recipients they had never made that generous offers. At the same time, they ignored the traditional Black Friday email design — when the email is covered with sales and discounts, but this did not worsen the email. Quite the opposite — the email looks fresh and attractive. It gives the recipients a break from the "Black Friday" emails.
When planning the sequence, try to implement your own tricks that will distinguish you from other brands, because customers are tired of typical SALEs and DISCOUNTs. Besides, this is what the vast majority of companies would draw our attention to.
But remember to make generous offers, anyway. Otherwise, you lose your chances to be chosen among others.
4. Pay close attention to the subject lines
Be serious when choosing a Black Friday email subject line, as this is the key factor that determines whether a subscriber would like to see the details of your Black Friday and Cyber Monday offer. Some companies prefer avoiding using these words in subject lines to stand in our Inboxes. It is totally at your discretion whether to stick to their tactic or not. But it's essential to stick to the rules mentioned hereinafter:
make the subject line concise. The subject line should not be long (less than 40 characters), otherwise, the chances are your main idea will be clipped by email clients;
urge recipients. Remind them to hurry up as the sale is not endless. Use phrases like "Now", "Today", "Two days left", "Last chance" — they evoke the desire to act. Consequently, your customers make decisions faster;
use the words that increase OR. Those can be:
- "Free shipping";
- "Value offer";
don't be aggressive. Don't overuse the exclamation marks — as they can chase the recipients away. Instead, try to appeal to emotions in other ways. For instance, use the Phrasee Pheelings service that estimates your copy and subject lines by means of AI.
The analysis' results are given as a diagram with 5 points that show how likely customers are to act after reading the subject line, how direct and friendly it is.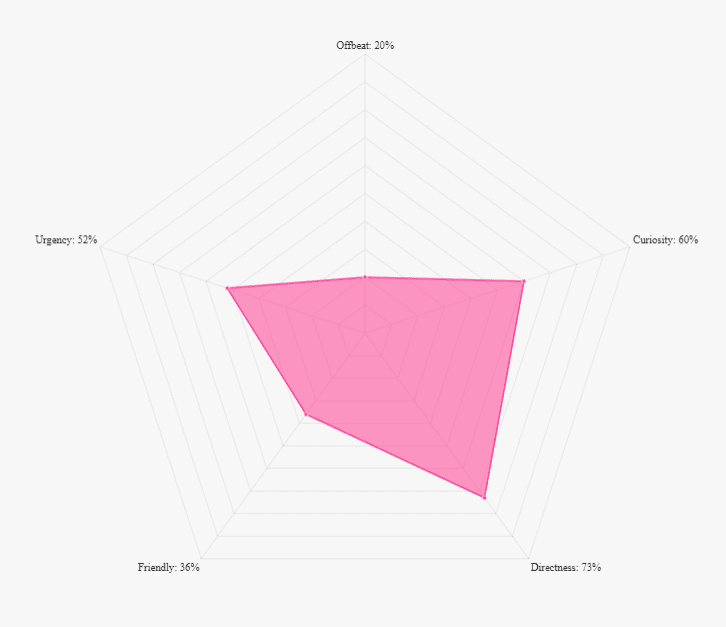 This way, you are able to predict customers' perception of your Cyber Monday subject line. Probably, you'd like to change it after seeing the tool's results.
According to this service investigations, the effectiveness of newsletters significantly improve. Thus, the Domino's OR increased by 57%.
Newsletters by other email marketers, who are probably your competitors, could be a good source of inspiration, too.
Get inspired by the examples of the last year's newsletters. But remember to adapt the subject lines to your brand uniqueness.
5. Provide customers with real-time discounts
Let subscribers keep an eye on the start of sales in real time, for example, by using countdown timers in emails. Make sure to insert a real countdown timer, but not just an animated image. The timer you implement with Stripo shows "zeros" when the sale is over, or it can even show an image "Boohoo, the sale is over" (you upload your own images — write anything you like on it).
The other idea is to notify the customers about the start of the sale with this timer. The most attentive ones can be the first to buy from you.
This interactive element is utterly required in our situation.
ZAGG, in its Black Friday email newsletter, used this trick to persuade subscribers to get more active.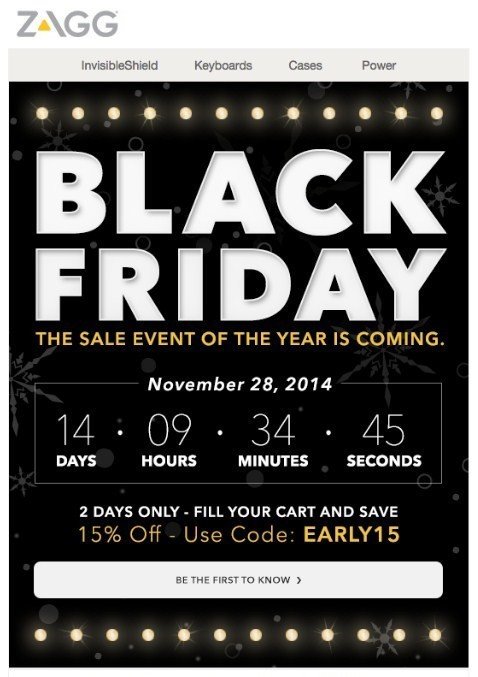 But remember: the less time left, the better your offer works. Long-lasting sales hardly motivate to act, and some subscribers may even forget your generous offers.
There are a few services for customers, like blackfriday.com and theblackfriday.com.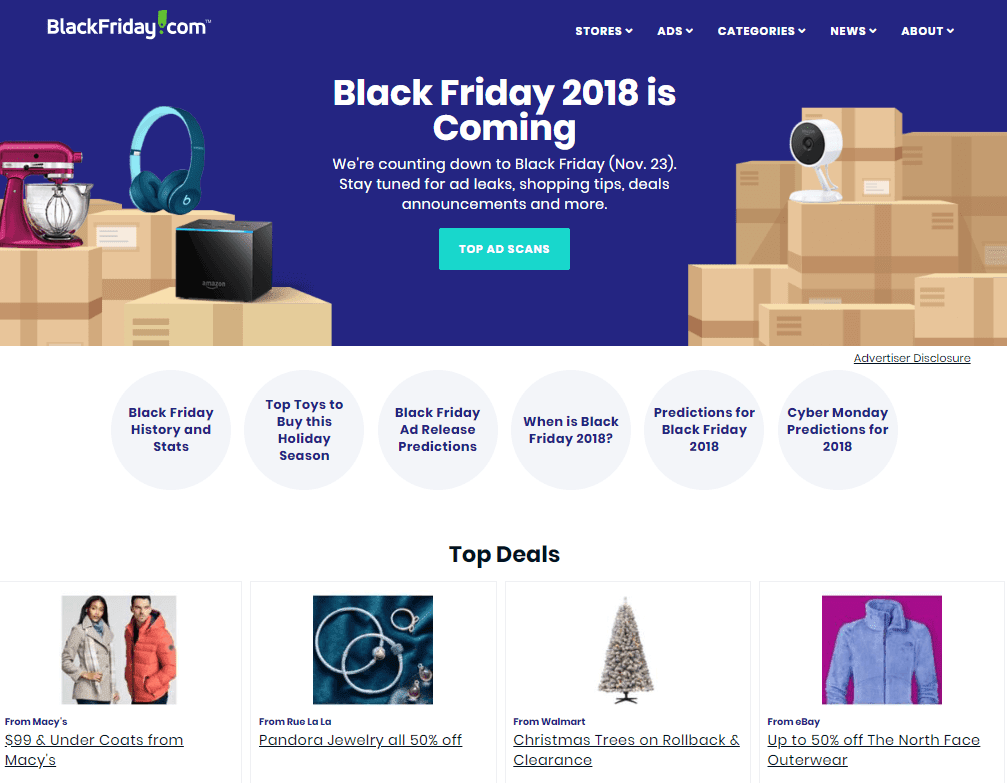 A countdown timer serves as the base for the website's landing page and notifies customers about the start of sales in various shops. It's quite convenient, as all info on sales is gathered in one place.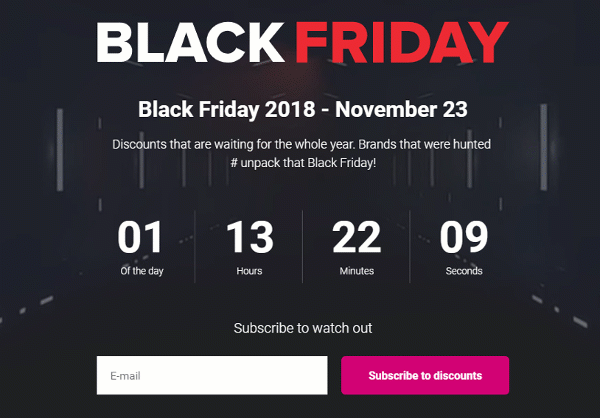 This is how Kasta designed its subscription confirmation page. The timer counts days till the start of "hunting" for the most popular brands.
6. Add a kind old call to action
You definitely should add CTA buttons in emails. Design the button the way it gets notable and evoking enough to click-through to get to your website sooner.
The call-to-action in this email is simple, yet effective. It says, "Start shopping".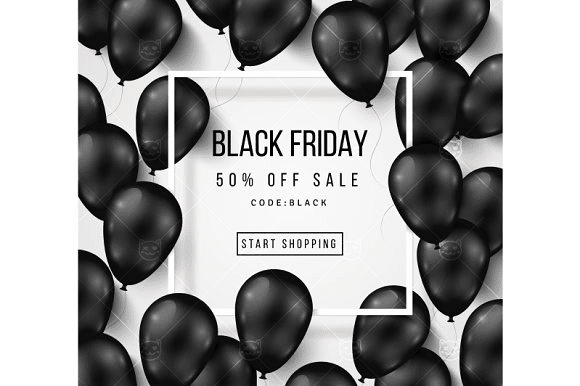 There's no superfluous element in this email. Despite the contrast monochromatic color scheme, the banner does not look overwhelmed. And the discounts evoke the desire to take this opportunity to shop at reduced prices before the items go away like balloons.
7. And responsive web design, once again
I won't surprise you if I say that the vast majority of users check their inboxes on smartphones and tablets; which is why we are to make email reading as convenient as possible. Heavy images are not displayed at the low download speed of the mobile internet. An addition, a clipped, non-responsive text will upset the recipient who checks his/her email on his/her way to work even more.
This email was so not meant to be read by smartphone users for non-responsive banner text.
In our editor, you can make any element responsive just in one click.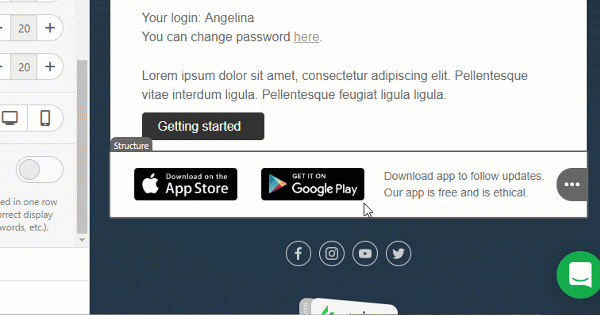 8. Use various channels
Do not forget to use many communication channels. Those can be push-notification, texts (SMS) and Viber (Whatsapp) messenger. Perhaps, some subscribers do not check their inboxes every day. Consequently, we need to take care about it to reach out to the readers by all possible means.
9. Long live Cyber Monday!
What day is it? This is the name for sales held on Monday that follows the Black Friday weekend. It got this name because mostly office workers shop online this day.
This year, Cyber Monday is celebrated on November, 26. This is a good chance for those who did not make it to buy the desired products at reduced prices during the sale season. Many brands successfully use this opportunity to sell the remaining items.
With this email, ban.do pleased its subscribers twice by combining two holidays in one single unbelievable offer: 20% off on all items + free shipping is prolonged till Cyber Monday.
Examples of the best Black Friday & Cyber Monday email marketing campaigns
Searching for the Cyber Monday or the Black Friday email examples? Search no more than our compilation.
Example 1. Black Friday sale
The best feature of this email by Loft is the animated banner. Seems like it invites recipients to go to the website, "Wanna know how huge your discount will be? — Visit us!"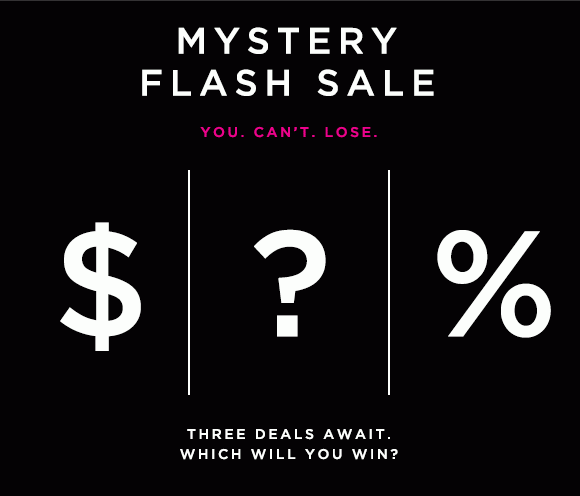 Example 2. Black Friday sale
Old Navy decorated its newsletter with bright colors, pleased readers with a wide range of discounts both in online and offline stores.
Example 3. Black Friday sale
This Black Friday email is made in contrast colors, includes the banner with various products. These products are likely to be on sale, but the email does not say a word about this. The chances are this trick heats up readers' interest. It's essential to provide customers with huge discounts to justify their expectations.
Example 4. Black Friday sale
The key element of this email is the plain yet stylish banner that displays products that are on sale.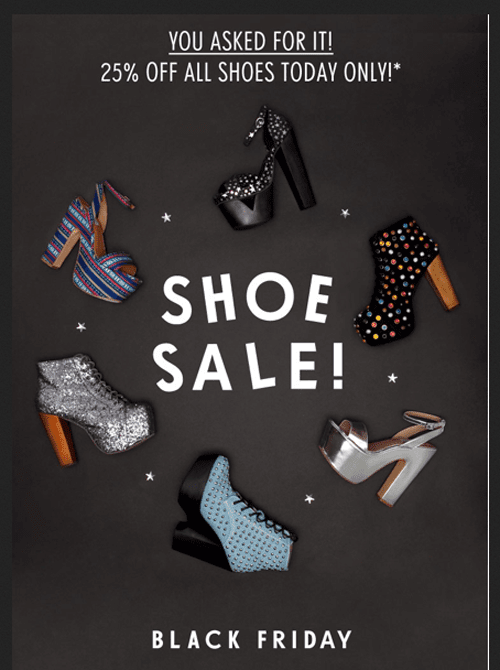 The discount size urges the customers to make their minds as the sale ends up that day.
Example 5. Cyber Monday Sale
This Cyber Monday email design attracts with its pithiness and simplicity. The beauty of the email is in its GIF animation that attracts our attention to the key details.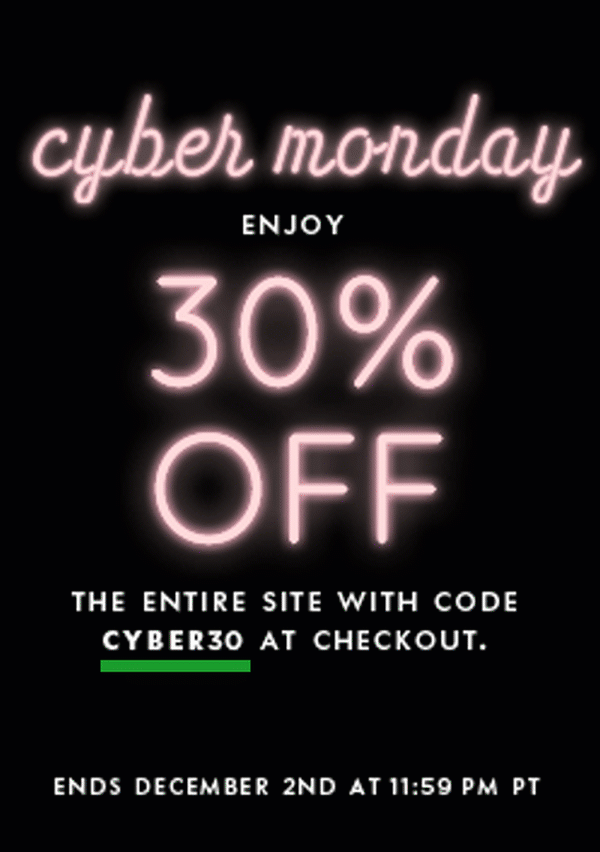 Remember to highlight a promo code in emails as subscribers may forget to copy it prior to going to your website.
Example 6. Cyber Monday Sale
This Cyber Monday email is awesome. The company listed the categories of products which are on sale. See the desired item — hurry up to click "Shop Cyber Monday".
All details on shipping are indicated right in the header.
Example 7. Cyber Monday Sale
Who said that discounts on gadgets only are welcome on this day? Who said this holiday is for office workers only? There's a possibility, that women, no matter if they work or not, did not make it to shop during the Black Friday season. Make them happier — reduce prices on cosmetics.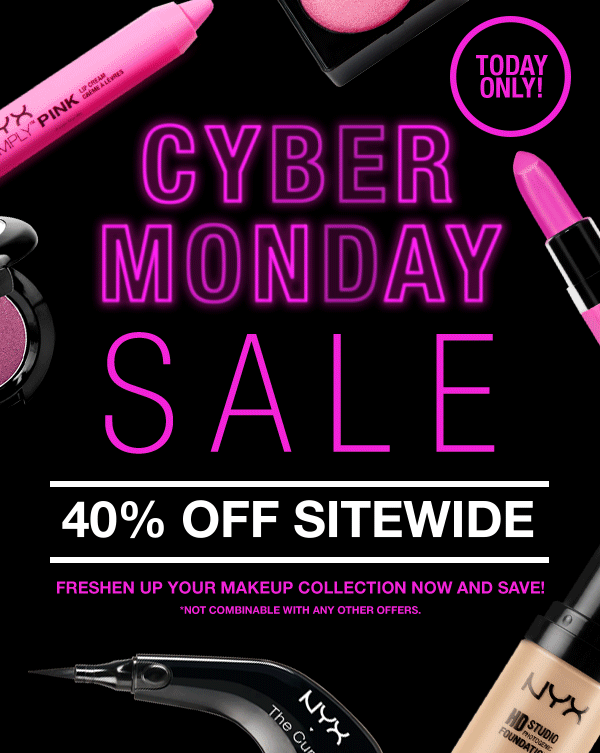 Example 8. Black Friday and Cyber Monday sale
You do not have time to create two separate thematic email marketing campaigns? The solution is as simple as that — combine the two events in one email.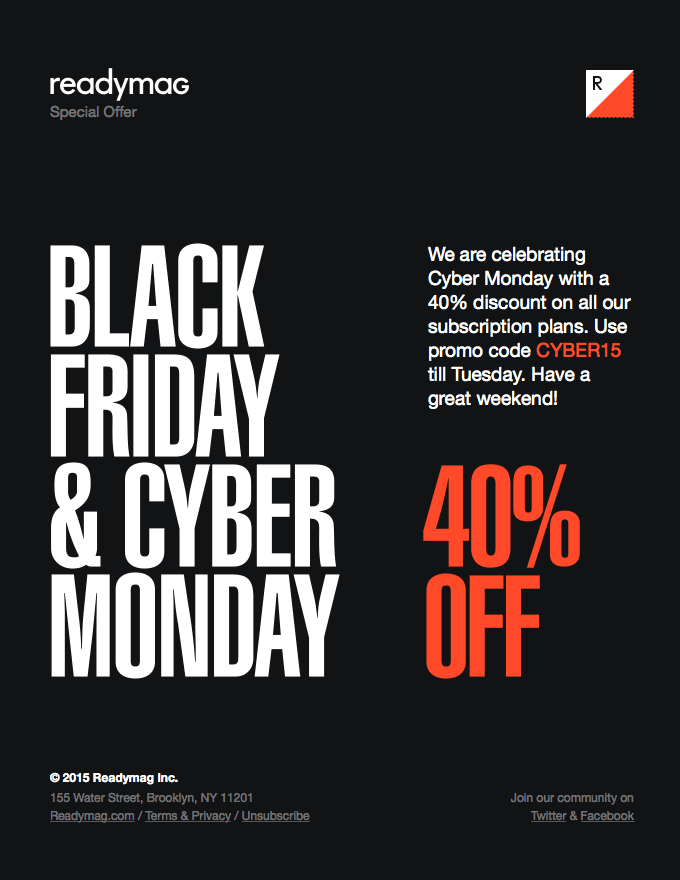 Summary
I hope the aforementioned tips and tricks will help you stand out amongst a bunch of emails, will help make a positive impact on open and click-through-open rates.
To send out hilarious Black Friday newsletters, you may either:
​​​​Order a template from TemplateMonster which is the huge Marketplace with a variety of templates and assets for your Website. They provide free 24/7 technical support. On November 19 – November 29, they offer a 50% discount on all products. No coupon code required;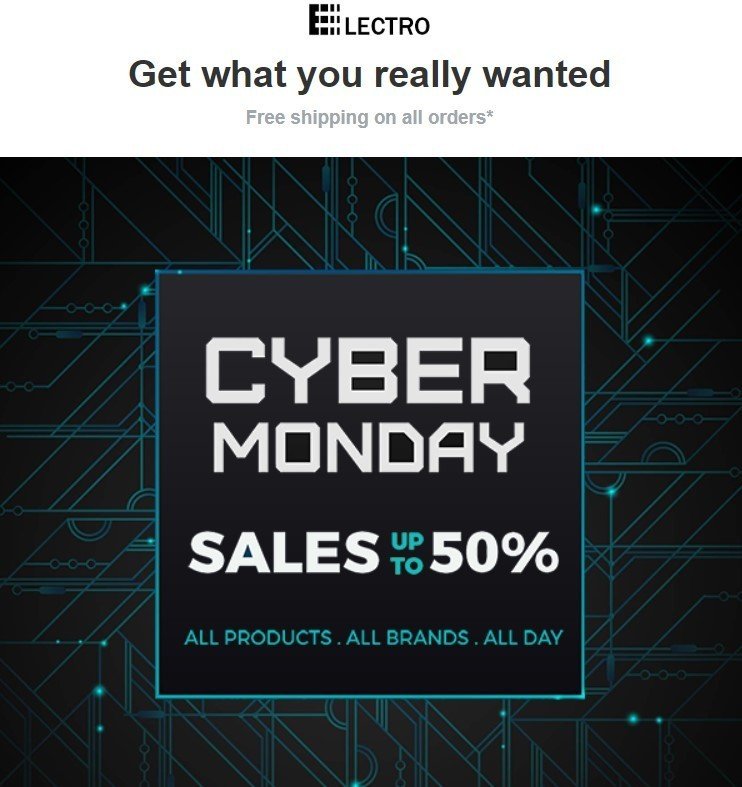 May you have effective campaigns!