11 August
Problems email marketers face when running email campaigns in different languages
Any entrepreneur strives to expand the audience because the prosperity of the entire business depends on it. One of the surest ways to grow is to enter international markets.
However, such a move comes with many common challenges: running email marketing campaigns for foreign audiences. In this article, we will take a closer look at the main challenges you can face when launching a multilingual email marketing campaign and try to solve them.
Benefits of multilingual email marketing campaigns
Before we talk about what difficulties you can expect when working with multilingual emails, it is worth mentioning why you should pay attention to this marketing area.
According to surveys, 70% of consumers consider it important for businesses to support their native language. And this applies not only to emails but to all possible ways businesses interact with customers. It is difficult to go against such significant figures.
Do not forget that when you enter a new foreign market, you get an incredible influx of new customers and audiences. Just look at the countries with millions of Internet users to understand what a big piece of the pie you are missing.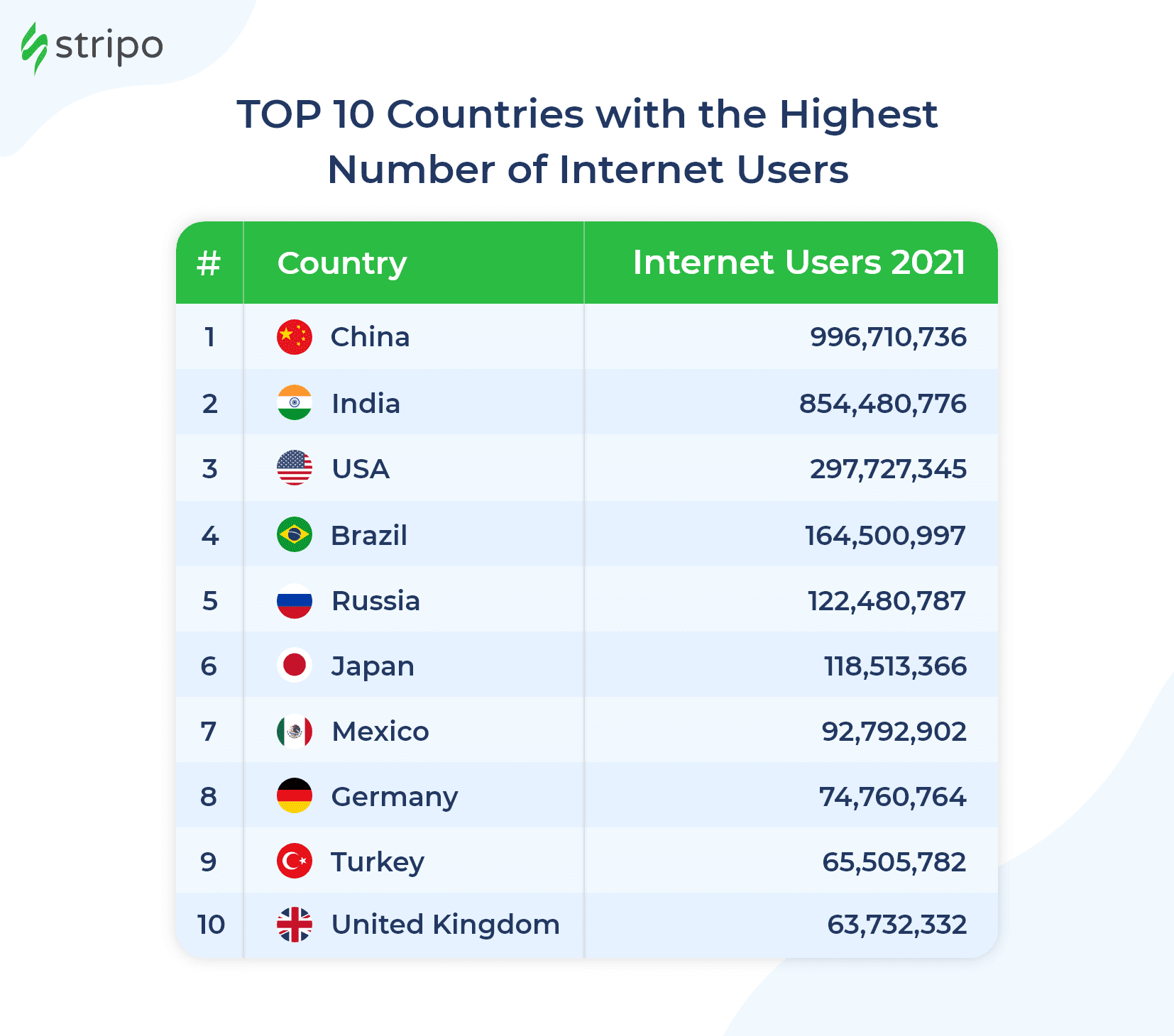 (Source: Statista)
Besides that, by putting your email marketing campaigns on multilingual rails, you will get:
great customer trust since they see your emails in their native language;

more personalized approach to potential customers;

high open rate;

an accelerated sales process for your products;

an advantage over competitors;

space for creative ideas thanks to new cultures and audience habits.
As you can see, the list of benefits is quite large, and it's worth a little sweat for them. Our dedicated article lets you learn more about all the benefits of multilingual email campaigns.
Main challenges of running email campaigns in multiple languages
Conducting email marketing campaigns is entirely associated with a large number of challenges. And their number does not decrease if you need to run several campaigns in different languages. We will talk about the most fundamental challenges associated with this process. It is not certain that you will meet all of them along the way, but you will definitely be ready for them after reading this section.
Time costs
Creating first-class emails from scratch takes a lot of time. And now add to this process translation into various languages; the more of them, the more time you need. Usually, the complete localization process looks like this:
create the necessary emails for the campaign in the main language;

translate all emails into required languages;

substitute the necessary translations in the corresponding blocks of emails;

check all alt texts;

long and hard work with wording, since in the main language, the product description may be 2 lines, while in the localized version, there can be three. As a result, you need to edit the design or rephrase the translation;

export of all emails to the necessary mailing tools (each is a joke, you need to create a different campaign for each, and so on);

check all emails' links to ensure they lead to the correct language versions of the website.
Proper responsibilities distribution and clockwork processes are unlikely to become a noticeable problem, but you should still prepare because localization will take time.
Audience segmentation
Maintaining several markets is always associated with the segmentation of the audience that you will work with. And the rules that work with your main market audience won't always work with foreign audiences.
As a result, you need to do segmentation to help establish a consistent process for crafting email campaigns for each market. Remember, for successful language segmentation, you can do the following:
track which language version your website audience uses. An excellent assistant will be Google third-party cookies;

conduct a survey of the audience about what language they speak, what language version of the website they use, and what language they would like to see the newsletters in their inboxes.
After that, you must separate your primary audience and foreign ones since, roughly speaking, these will be completely different worlds. For convenient maintenance and to avoid production chaos, we advise you to use various tools that best suit your requirements.
Time zones
We highlighted the difference between time zones separately, as this greatly affects the conduct of foreign language email campaigns. Entering a foreign market does not mean that you will work with abstract users who simply speak a different language. You will be interacting with a completely new region, in a different time zone, with a different email marketing culture, which greatly influences the whole approach to your email marketing campaigns.
You can't send out a localized email simultaneously as the original. While in your home country, all customers are already awake and checking email, in another country, people may be still asleep.
The only way out of this situation is to carefully study the time zones and the good time for sending emails depending on the regions. For example, the best time to send to the Asia-Pacific region is 6 pm, while in the US and Canada, it is best to send an email at 4 am.
Expenses
Running international marketing campaigns is always an additional expense for your business. And the more languages ​​you want to cover, the bigger the final figure will be.
In addition, the workload on your marketers will greatly increase, resulting in additional working hours. Whether you manage to do less work or hire an additional person for a fee to meet the schedule - the choice is yours. You will also need to invest in translation tools, translators, proofreaders, etc.
Don't forget that you must push the idea before launching it. Show your CEO the number of potential users that launching an email marketing campaign in another country will bring. Show potential email campaign success metrics, and don't forget about the final profit that will pay off the expenses. Only a clear understanding that all email marketing efforts will not go in vain should give the green light to your venture. Also, once you complete your first foreign email campaign, be prepared to report to your CEO or boss that all spending was worthwhile.
Different open rates in different regions
Another challenge you should prepare for is that the performance of your multilingual email marketing campaigns may not match the main metrics in your home country. Although the difference is unlikely to be significant, you will still notice it.
This is because different regions have different email response rates due to many characteristics of the success of email marketing campaigns. For example, the open rate in the US fluctuates around 21%, while in the Middle East, this figure will be 12%.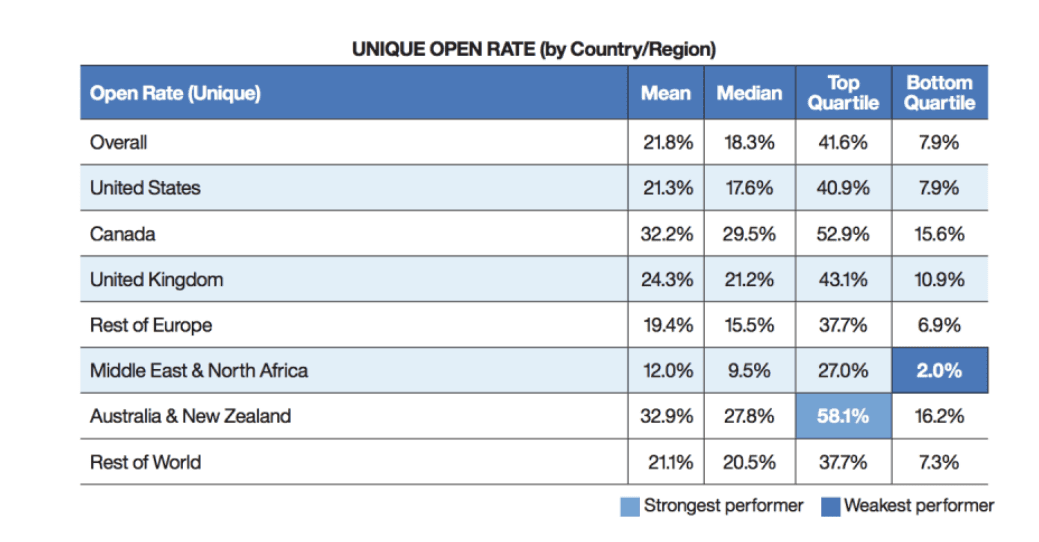 (Source: Toppan Digital Language)
The difference in metrics can be related to the different popularity of certain industries, the culture of email communication, the impact of different approaches to creating emails, and so on. In this aspect, there will be no clear rules on staying at the peak of all key metrics since the differences between regions can be large, and there are many variables in the equation. The only thing we can recommend is:
create conscious and relevant to the user subject lines to increase your open rate;

make a compelling offer by providing a clear message and call-to-action to increase click-through-rate;

don't neglect personalization to lower the unsubscribe rate;

cleanse an inactive audience.
And experiment. Experiment a lot. What doesn't work in one region will work in another. Through trial and error, you will find the ideal email marketing strategy for conducting email marketing campaigns in a particular region.
Things you should consider before sending multilingual emails
Let's imagine that you are as ready as possible for the above email marketing challenges, and your multilingual email newsletter is set and done. However, don't be too quick to hit the Send button. There are a few very important things you need to consider and double-check before your target audiences see your marketing emails in their inboxes. We have prepared a special checklist to help you start your foreign email marketing campaign without mistakes.
check in advance the segments. Namely, the language of the segment and the language of your newsletter must be the same;

check the link in emails. All links in your email must lead to the same web page language version as the language of your email;

use different UTM tags for multilanguage emails so that you can track target actions depending on the newsletter;

check the sender name and the email from which you are sending if you use different senders for different language versions;

pay close attention to alt texts in images;

text on the buttons may take more or less space, depending on the language. Perhaps the CTAs will need to be customized for different languages.
These tips will help you ensure that the high standards of your primary language emails also apply to multilingual emails.
Wrapping up
Entering a foreign market is always an exciting event for any business. However, this excitement should not distract you from the realities of working for a foreign audience. Multilingual email marketing is no less tricky than an email campaign for your native language. We hope that our article will help you prepare for creating multilingual newsletters, and we wish you successful foreign campaigns.
And if you're just thinking about creating multilingual emails, the Stripo email design platform will help you craft first-class emails that will be the basis of your email marketing strategy.