Table of contents
Why is it important to maintain list hygiene?
When is it necessary to do the email list cleaning?
What can I check with an email cleaning service?
Email list cleaning tools
1. NeverBounce
2. ZeroBounce
3. XVerify
4. BriteVerify
5. Verifalia
6. Hunter's Email Verifier
7. Pabbly
8. Snovio
9. Email Marker
10. VerifyBee
What should you do before cleaning the email database?
Final thoughts
1.
Why is it important to maintain list hygiene?
You may think that the bigger your database is, the better. However, it doesn't always work that way in marketing. Inactive subscribers or invalid email addresses influence email deliverability and make you waste money and time.
Email list cleaning means updating the addresses of your email subscribers to filter out active subscribers. It may also be helpful in order to re-engage inactive subscribers.
In this article, you will learn more about email list cleaning. We will also help you to consider various email list cleaning tools. Let's get straight to the point.
Why is it important to maintain list hygiene?
If you keep the list of your email subscribers updated, here are the benefits you will get:
You will have a better sender reputation.

It follows from the previous point that your deliverability will increase as well.

Your domain won't appear on blacklists.

You will not only make fewer efforts but also reduce the expenses for your email campaigns.

Save your mailings from lost leads.
When is it necessary to do the email list cleaning?
You should consider doing list cleaning if:
Twice a year to remove inactive contacts.
After every email campaign that you send — you need to remove those subscribers who got on the black list or unsubscribed from you.
You didn't use double opt-in registration — new subscribers have to confirm their email address by clicking a link in the inbox.

You collect the contact information manually, which means there might be plenty of typos, other mistakes, or duplicate email addresses.
If you send emails to lots of outdated email addresses in your contact list, your email provider can block your email campaigns. But don't start worrying: all you need is to check the contacts via email verification services (also available for bulk addresses) and use email cleaning services to remove spam email addresses. It will also prevent you from cases when the email bounces.
Scroll down to get to know more about different services which provide email list cleaning and choose your favorite.
What can I check with an email cleaning service?
Here are a few common functions of email list cleaning services that might be of use for you to detect the following:
Disposable emails. You certainly have them on your list if you did not use double opt-in.

Duplicate emails in your database.

The email status. You will get to know if this email address is still valid and active, or if its owner has abandoned it.

Detect so-called spam traps. Blacklist providers use such addresses to reveal malicious senders for their databases.

Establish the SMTP connection with the email server of a recipient to see if the email account really exists.
There are also many other advantages of using an email list cleaning service. Even at this point you probably realize why email marketers do love it and how a clean email list may save you from plenty of troubles.
Email list cleaning tools
Its name says it all. NeverBounce is considered to be one of the most popular email verification services which were initially created as an internal tool for a marketing agency.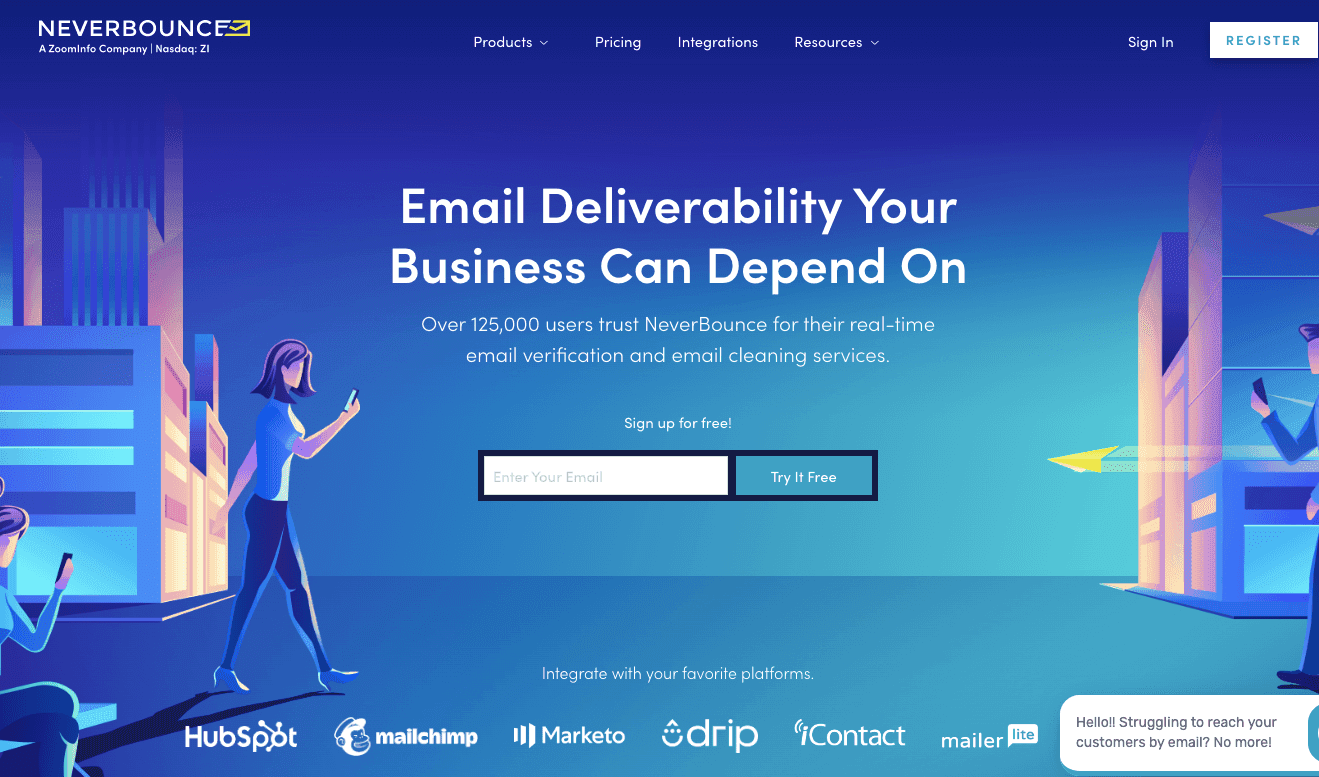 Key features:
you can do bulk email verification;

the scan takes about 2-10 minutes for 10,000 emails;

verify only one address if needed in real-time;

do the real-time email verification;

get the segmented report on your validation process;

this email list cleaning tool also lets you know about addresses that are likely to be risky, but only you will decide whether to keep such contacts or remove them from your email lists;

choose where you want to view the verification results. NeverBounce allows you to connect the tool to your marketing platform or see the conclusion on the web panel.
Pricing
"The more you verify, the lower your cost", — says the website. For instance, you will pay $ 0,008 per email if you have up to 10,000 subscribers. If your email lists consist of about 1,000,000 recipients, they will charge you $ 0,003 per email.
This email list cleaning service promises to help you drive up your open rates and ROI with 98% accuracy and offers pretty decent conditions.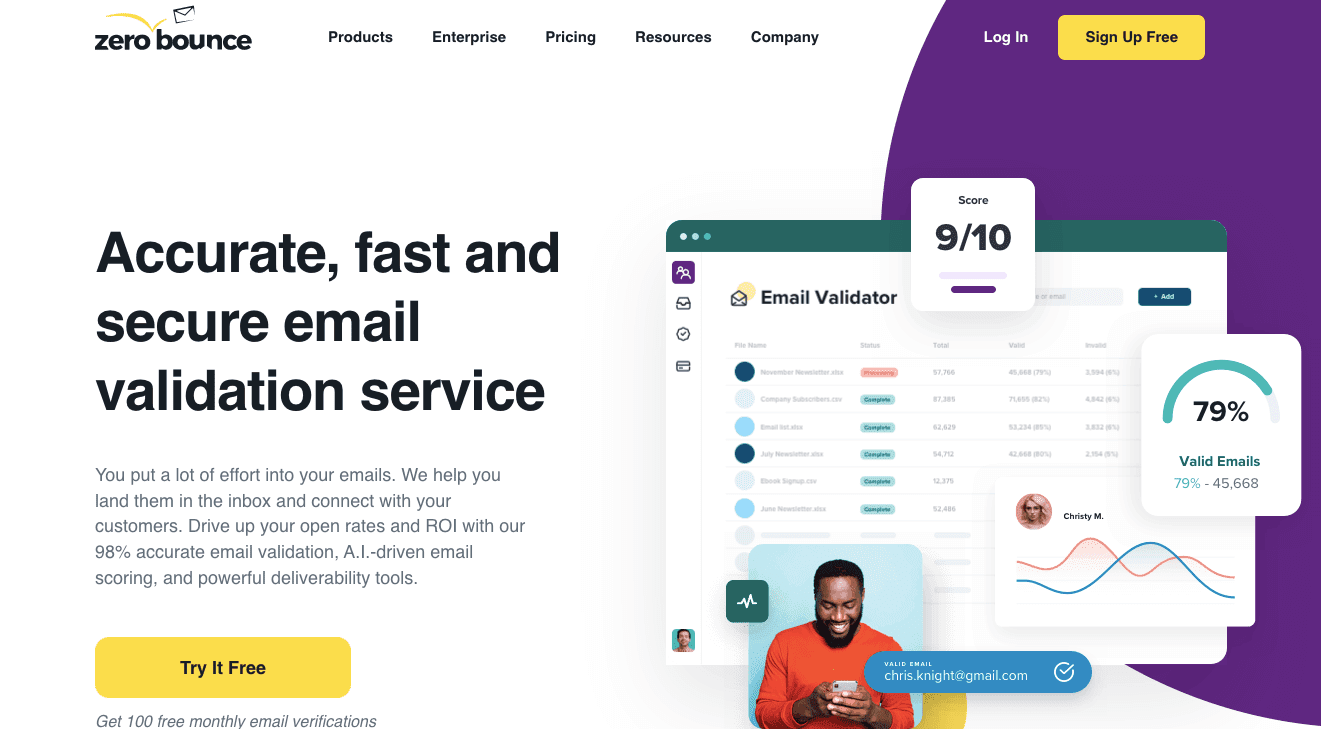 Key features:
it provides you with the ability to check any email right on their website to show you the speed and accuracy of the service;

you may do bulk validation with the service as well as verify emails in real-time. Integrate API to the signup forms and filter out invalid subscribers;

let their A.I. check if this or that email address is active or not. It offers you a quality score after analyzing all your contacts. The most engaged subscribers get the highest score;

test the deliverability of your email marketing campaigns before sending them out. You can check up to 20 addresses to see how it works with different providers. You will get to know if the messages go to spam folders;

monitor if you have been added to a blacklist. This feature is available for any type of ZeroBounce subscription;

the email list cleaning service automatically cleans up spam traps and subscribers who you often receive spam complaints from;

ZeroBounce allows you to extract data from social networks.
Pricing
The pricing policy is quite flexible. You can pay monthly or choose a "Pay-As-You-Go" option. If there are less than 100 emails in your database, you may use this email list cleaning service for free. If you have a certain amount of emails to check, use the calculator on the website and get to know the price. The more addresses you check, the less you pay.
ZeroBounce invites you to get started for free. Visit their website in order to dig into details and figure out the price for your campaign.
XVerify offers their help with eliminating hard bounces, reducing the number of spam complaints, and minimizing fraud.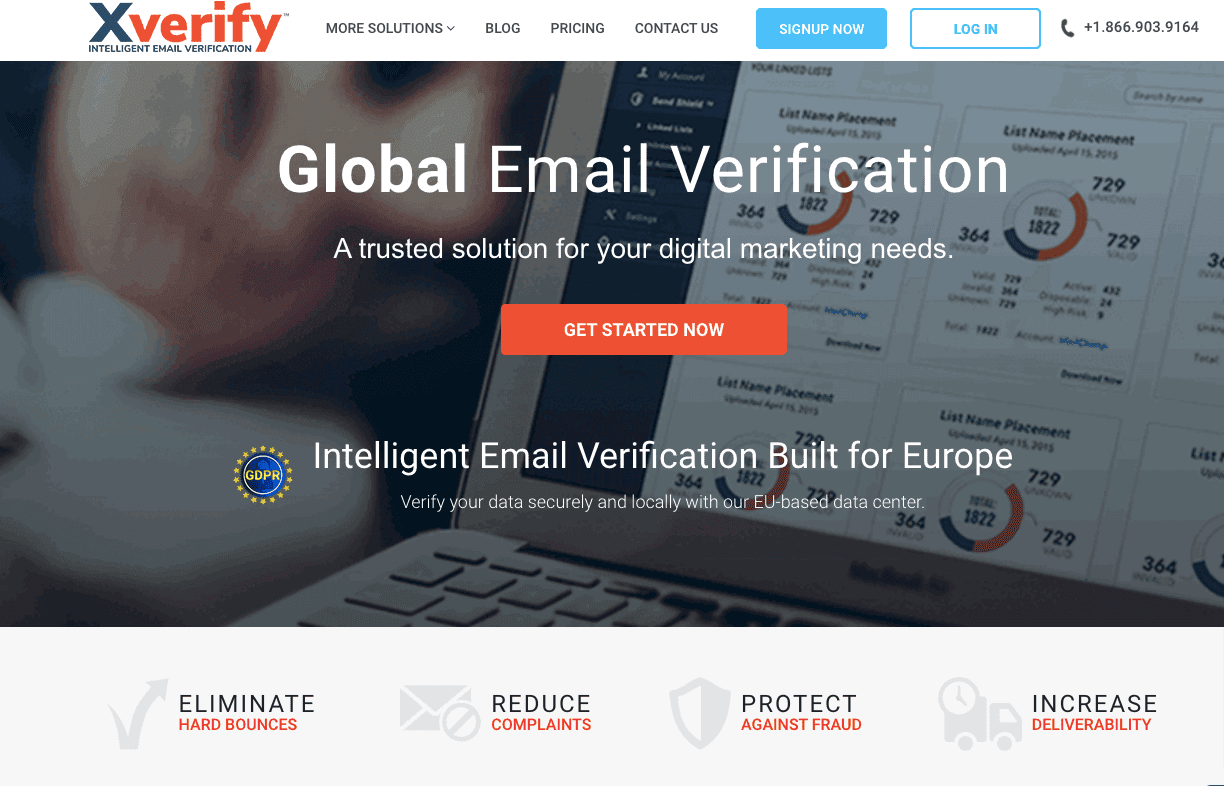 Key features:
use drag and drop uploader for huge databases;

take advantage of their 24-hour tech support;

they alert users about any mistakes or typos they have made while entering an email address;

the email verification service is optimized for mobile devices and saves your email lists from invalid addresses;

emails are being checked in relation to online scammers.
Pricing
The big advantage of this email verification service is that they don't set any minimum requirements as many others do.
There is also a calculator with a user-friendly interface on their website. You may set the desired currency and a quantity to see how much it will cost. And you can signup right there, too.
BriteVerify claims to be the first email verification service that was developed to help its clients to maintain a database of valid emails, improve their sender reputation and build more effective communication.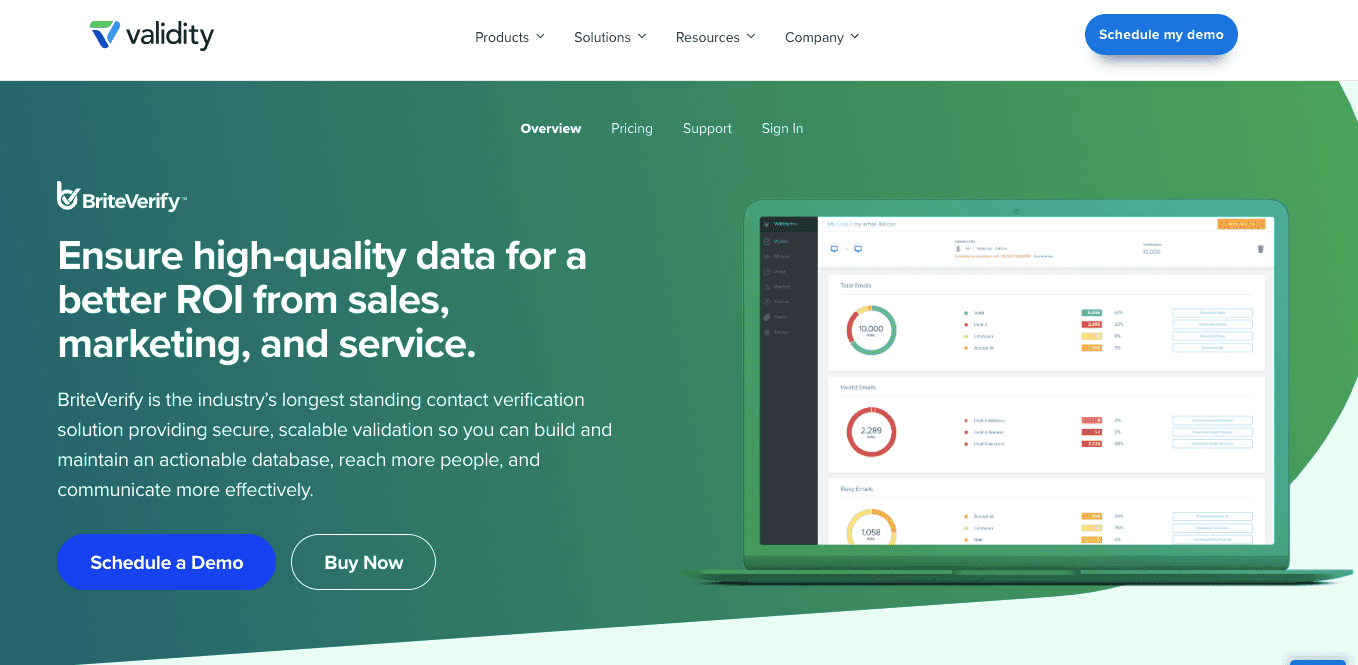 Key features:
validate the information in real-time, do the bulk email verification, and check phone numbers and mailing addresses;

secure list validation to identify the status of each address on your list before you send a campaign;

band together with platforms you already use to save time and continue working out of the systems your teams appreciate;

spend a little time on the email verification: BriteVerify verifies 4,000 addresses per minute on average.
Pricing
This email verification service prefers Pay-As-You-Go pricing. However, if you're interested in a long-term collaboration, you may contact them to learn about the subscription packages.
This email list cleaning service checks databases at three different levels which you may choose to determine the depth of email verification. Verifalia checks syntax errors, and mailbox availability, it also detects spam traps and disposable emails, and so forth.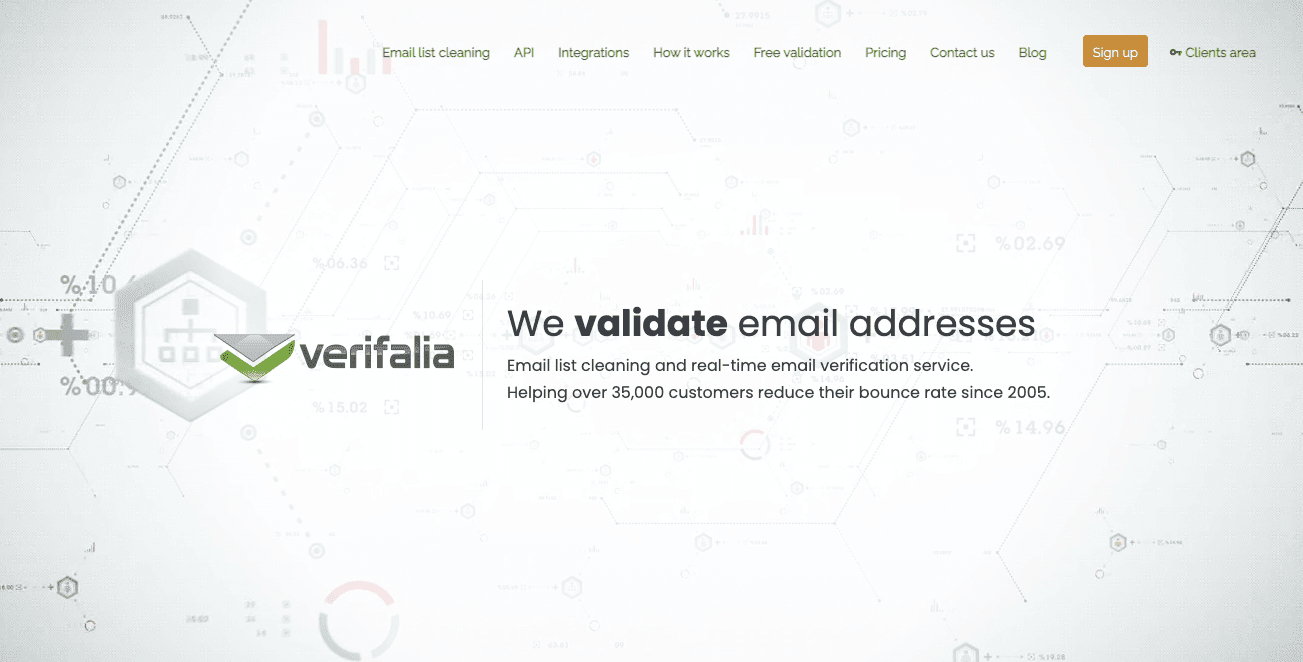 Key features:
they care about data security a lot, that's why all the uploads, the website, and the clients' area are secured by HTTPS/TLS connections. All data can be deleted immediately upon request or automatically due to your preferences;

Verifalia does a mailbox confirmation without sending any messages to the contacts of your database;

it can verify even the international contacts written in, for instance, Arabic or Cyrillic;

the email list cleaning service easily identifies duplicate emails and you won't pay twice for checking the same address;

multiple users can have access to the service and share the main account's credits.
Pricing
"Our pricing is flexible because we know that your business isn't static", — says their website. They offer you a wide variety of options starting from free monthly subscriptions to individual ones.
Hunter is one of the simplest email list cleaning services. It's a fast and accurate email checker with the most common functions.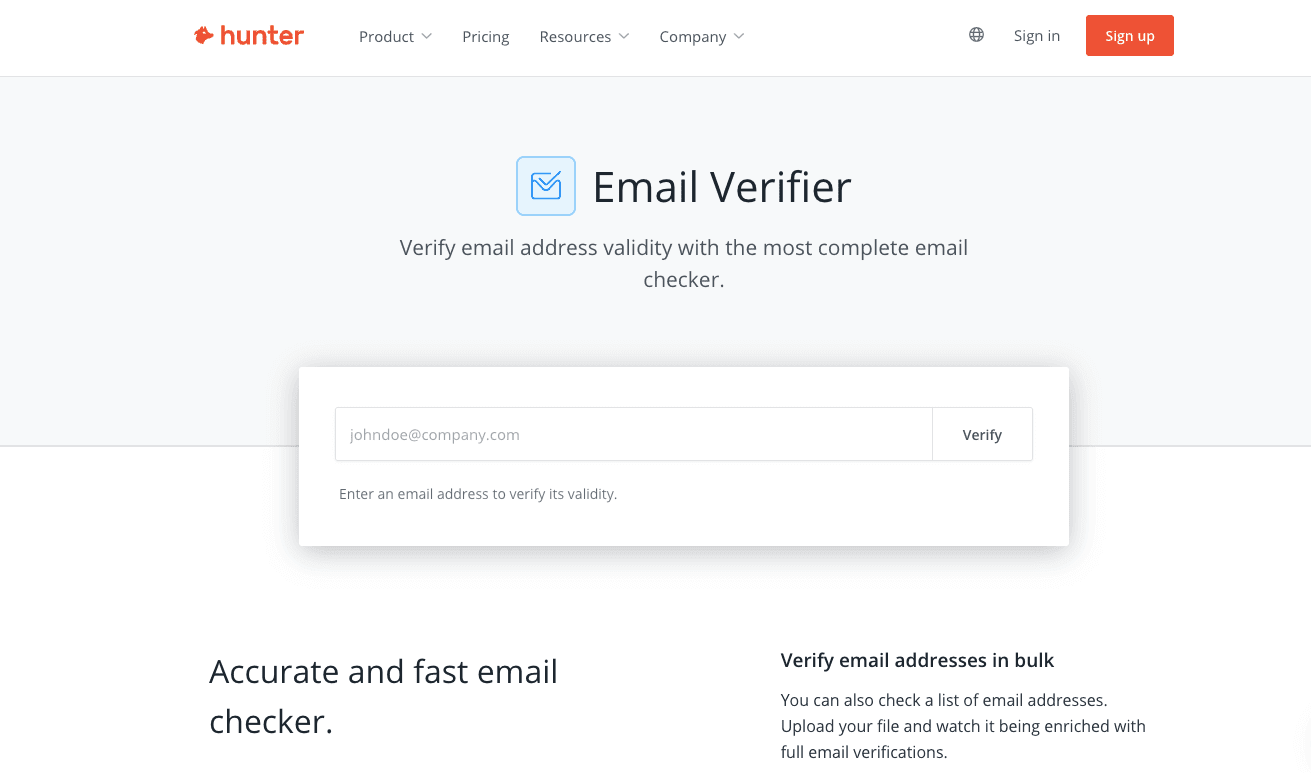 Key features:
you can either check a single email or the entire email list;

the service provides you with the ability to check email format, MX records, SMTP server response, and so forth;

you may easily add your database from Google Sheets to the service;

hunter doesn't send any unwanted emails to your contacts while doing list cleaning;

verify email addresses through an API call.
Pricing
There is a wide variety of payment options for you to choose from. You may decide between monthly and yearly subscriptions, different plans which will suit your purposes, or buy an enterprise plan.
A subscription includes unlimited users who share common quotas.
Pabbly does the email list cleaning at a slow speed. However, it allows them to provide the most accurate results. They take 24 hours minimum to bring the verification results to you and guarantee to decrease the number of false positives, catch-all, and unknown email addresses.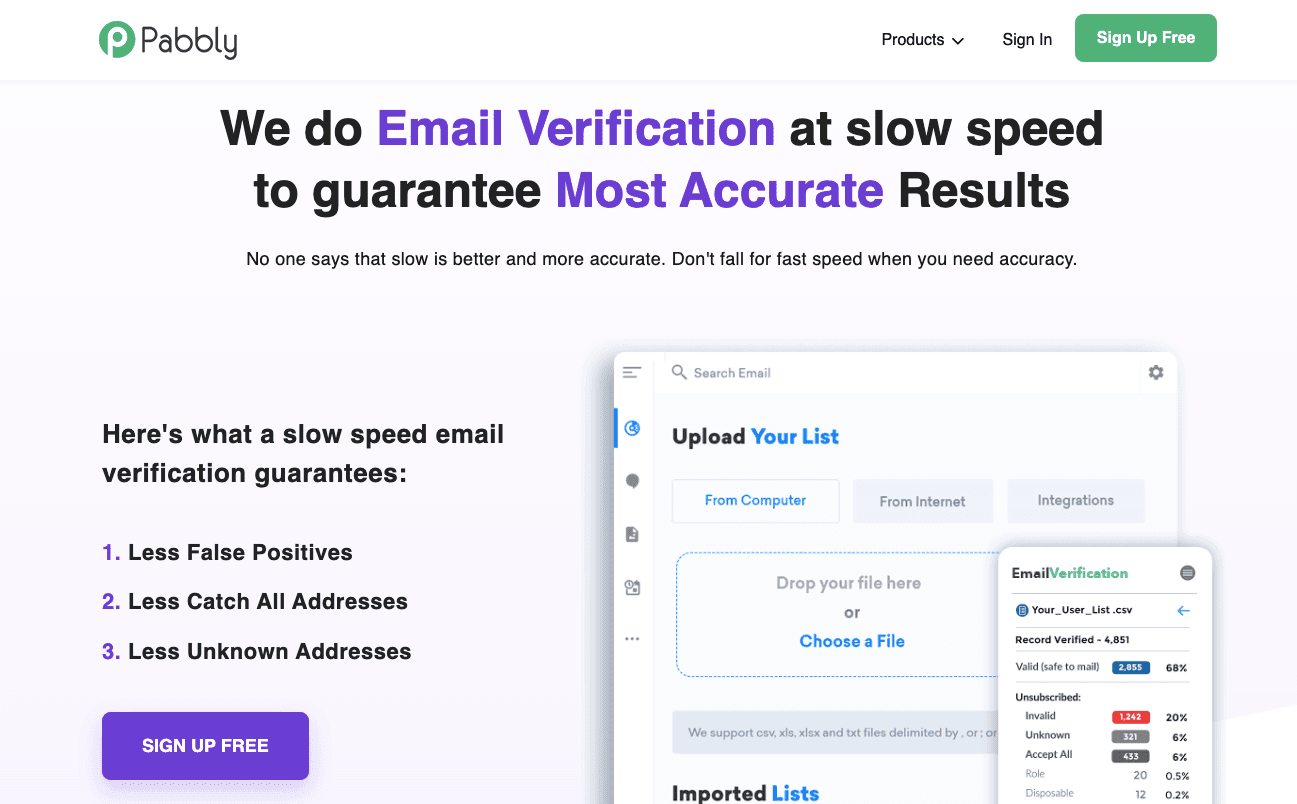 Key features:
the email list cleaning service automatically removes email addresses that are duplicated, have syntax errors, contain inactive domains, or match their database of complaints;

Pabbly scans your email list against high-risk keywords to prevent you from sending mailings to fake emails and save your sender's reputation;

they claim to have the latest anti-greylisting technology to save your marketing emails from ending up in a spam folder. A greylist is a feature used to filter out the mailings and identify suspected spam.
Pricing
Pabbly says they charge 1/3 of what other similar services charge while offering you twice the accuracy.
You may easily calculate the one-time pricing on their website if you need to check from 1000 to 10 million email addresses. If your database consists of more, contact them individually.
Snovio is a service that helps you to increase the inbox placement rates and click-through rate to maximize the deliverability of your mailings.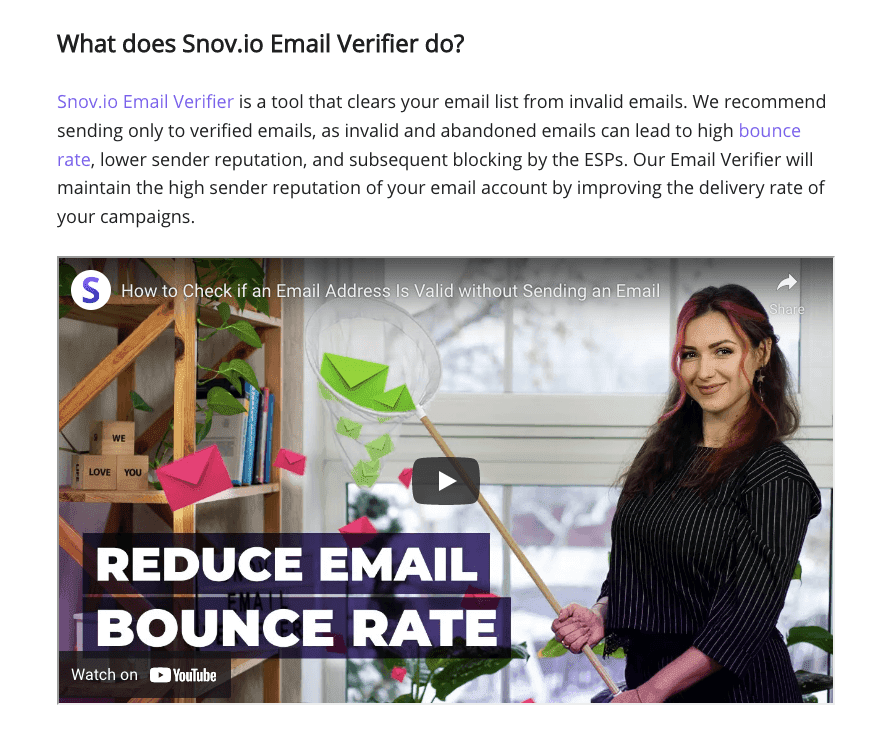 Key features
The service uses a 7-tier verification process to check email addresses; it includes:
checking syntax errors in order to see if there are no mistakes in spelling, the order of the symbols is not broken and all the symbols used are allowed;

verifying if a domain actually exists;

finding out if the emails are custom business or ordinary ones;

monitoring the capability of an email server to accept all the email addresses.
Pricing
Snovio provides you with an option to use the service for free, you can use 50 free credits monthly. This subscription plan can be used as long as it's needed.
An email verification costs 0,5 credits. In the case of checking a single email, they charge for valid email addresses only. If you upload a database for verification, you will have to pay for both valid and invalid emails.
The email list cleaning service ensures you won't send messages to fake emails to protect your reputation, increase the click-through rate, and save money while using it.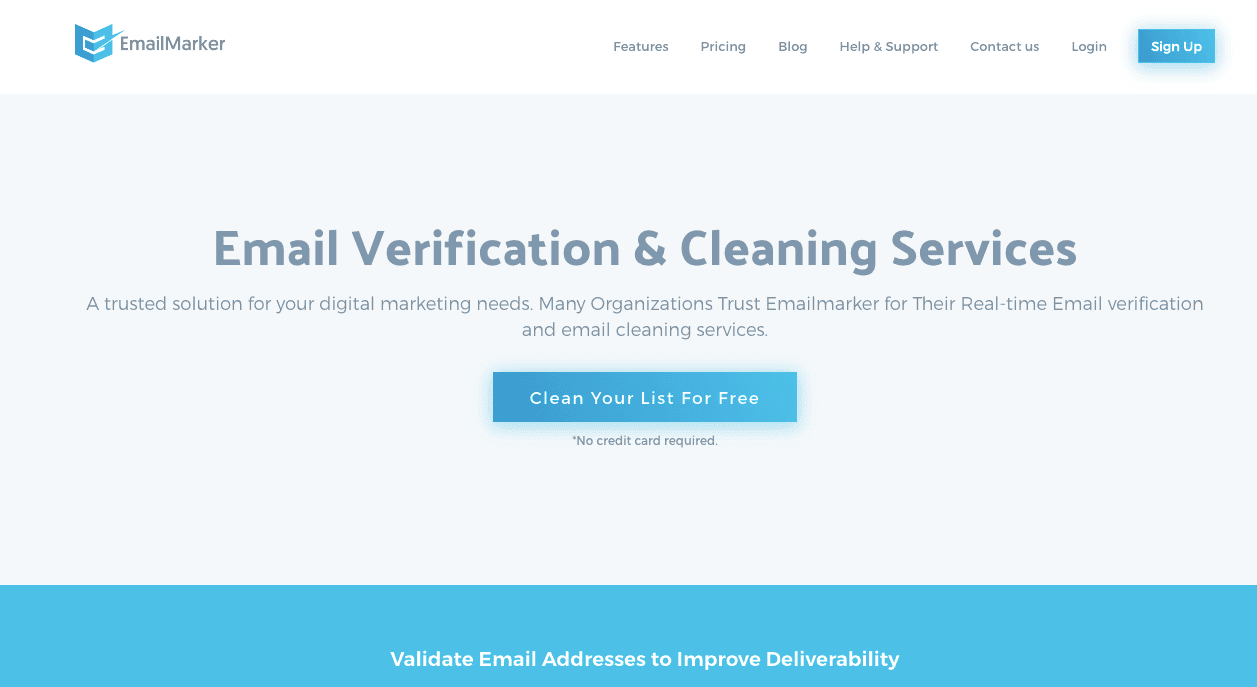 Key features:
identify and merge duplications to improve the quality of data;

check the syntax in order to lower the number of invalid emails;

verify if there are no invalid, inactive, or parked domains;

do the spam trap control;

see if your email marketing emails will deliver or bounce.
Pricing
You can do the verification of up to 150 emails free of charge. With further addresses, the price varies from $ 3 for 1000 to $ 999 for 2 million contacts.
VerifyBee provides you with plenty of services in one place. You can validate both email addresses and phone numbers, use the Chrome extension, integrate with other services and there's more for the affordable price.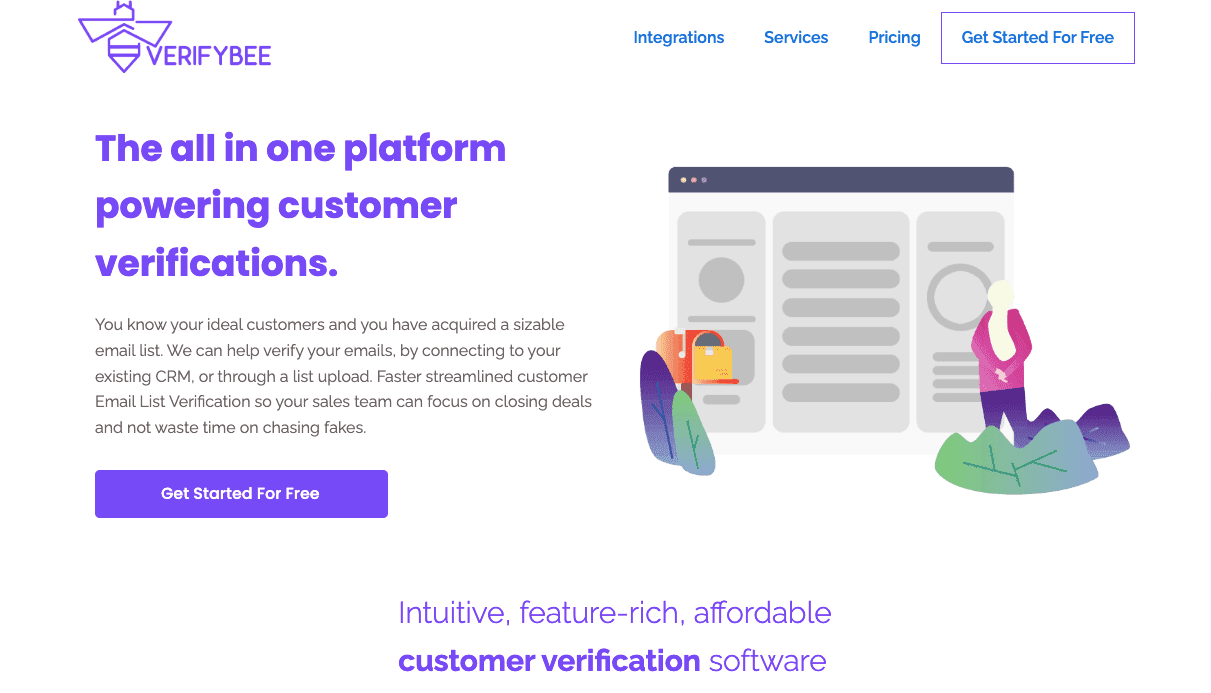 Key features:
it's an advanced platform with a user-friendly interface and lots of helpful features;

you can integrate VerifyBee with the services like Mailchimp, Platformly, or Google Sheets and their number is increasing;

they guarantee you that 98% of your mailings will reach their targets;

the service provides you 24/7 support in case you have any questions or doubts.
Pricing
VerifyBee offers you 100 free email credits which you receive after the registration. Apart from it, they have a variety of pricing plans you may choose from.
You can also compare its pricing to some other verification services such as NeverBounce or ZeroBounce right on the website.
What should you do before cleaning the email database?
There are two simple steps you need to take before you clean your email list and remove all inactive subscribers:
1. Send a test email campaign
Before you delete all the data of your disengaged subscribers, it's critical to try and re-engage inactive subscribers to see if you can bring their attention back to your mailings.
In the first email you may mention that, for example, a customer hasn't opened your mailings for a long time and ask if they are still interested to hear from you. The template should be simple, including only a few lines of text and Yes/No buttons.
In the second email, you may tell the subscriber they have been inactive for a while and you had to remove them from your contact list. But if they like, they can re-subscribe at any time.
Give them this opportunity right in the email.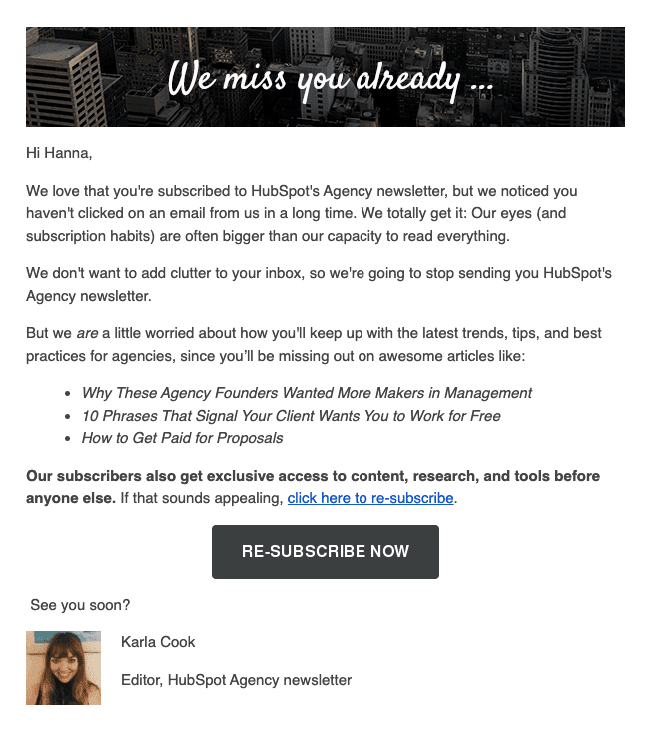 (Source: Email from HubSpot)
2. Check for soft and hard bounces
If an email bounces, it doesn't always mean that the email address is incorrect. Sometimes there might be a few temporary issues on email servers, but the contact information is still valid. Such cases are called soft bounces. Usually, email service providers repeat sending it several times until the message finally gets through.
Another type of bounced email indicates that something's wrong with the email address. It might be written with a typo or not exist anymore. Hard bounces also may take place if the recipient's email server blocks you as a sender.
In case of hard bounces, if you cannot contact a person any other way, you should just remove their contact as part of the cleaning process.
Final thoughts
As you may see, maintaining the hygiene of your database is essential for email marketing. However, thanks to various email list cleaning services, you don't have to do any extra marketing efforts.
We would like to share a final piece of advice for you:
Use double opt-in registration to check the emails immediately and single opt-out unsubscription to let unengaged subscribers go.

Check if you can still re-engage your audience with a test email campaign before removing inactive emails from your database.

Verify the email addresses in real-time while your website visitors are filling out the registration form.

Check your database with one of the email list cleaning services on a regular basis to maintain your sender reputation and make sure you won't miss any leads.

Have a look at your email marketing statistics to see if there are any patterns. The most important metrics are the number of unsubscribes, opening and click-through rates, and spam complaints.
Thank you for choosing us to update your knowledge about email list cleaning and email marketing overall. We do believe that our research will help you improve the results of your campaigns and increase the conversion rate. Feel free to choose any of the above-mentioned practices or services and you will immediately see the results.
Was this article helpful ?
Thanks for your feedback!