02 September 2019
Email List Cleaning: Top 6 Services
Working with the contact database is one of the core duties of an email marketer. It is important not only to constantly take care of the growth of the base, but also of its relevance. In other words, you need to clean email list once in a while, because a fair amount of invalid emails in your base means that you waste money, time and, most likely, it also hurts the deliverability of your newsletter emails.
Why is it important to maintain list hygiene?
Sending newsletters to a smaller contact list with no irrelevant email addresses will bring at least the following benefits:
Reducing expenses for email campaigns.
Higher Deliverability.
Your domain won't hit blacklists.
Good sender reputation.
When is it necessary to check and scrub email list?
when you've been collecting your contact base for several years but has never sent a newsletter to it;
when, for some reason, you "forgot" to use double opt-in registration — this is an email with a request to "confirm" subscription that you send to a new user after he or she entered his or her email address in the registration form on your website;
when you collected the base manually — in this case, typos are inevitable.
Email service providers can completely block your email campaigns in case of a large number of invalid email addresses in your contact list.
Email verification and cleaning services come to the rescue. Email verification and cleaning service is a tool that checks whether an email address is real. It also minimizes bounce rates by protecting your organization's domain from being marked as spam and from getting to blacklists.
In this article, we have listed 6 services that, in our opinion, are optimal for verifying any email database.
What can I check with email validators?
Email list cleaning services common functions that help you detect:
the presence of a disposable email in your database — temporary email addresses are often used for registration on sites and no one reads the emails sent to them;
email status — whether this email address is still used or has been abandoned long ago;
spam traps — these email addresses are used by email clients and blacklist providers to detect malicious senders;
duplicate entries in the database;
corporate and business addresses — normally, they give the highest number of spam complaints and show the highest unsubscribe rate;
email addresses that do not belong to certain domains — it is detected by verifying the mail exchanger (MX) record — if a domain does not have an entry, then it cannot accept email;
SMTP connection with the recipient's server — indicates whether his email account actually exists.
This list is much longer, in fact. It shows how many troubles you can avoid if you clean up emails that are invalid before sending a new campaign over to your contacts.
Let's survey how email list cleaning services differ.
This is one of the most popular email verification platforms that has been developed as an internal tool for a marketing agency.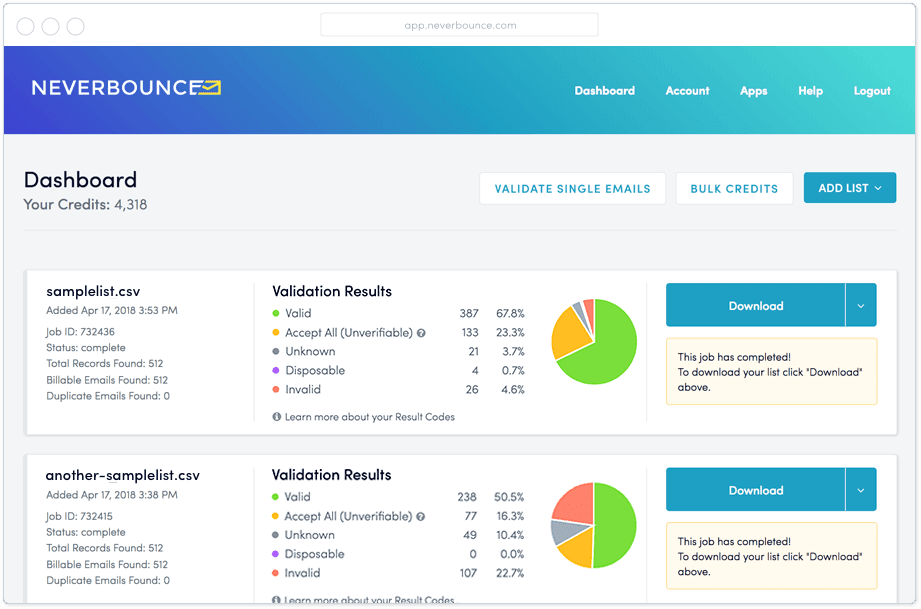 Key features:
checking email addresses in real-time — each address is checked during processing, without the use of archive data. NeverBounce automatically removes duplicate entries for free, which only some services do, and excludes high risk or potentially dangerous addresses from your list;
the ability to verify just one address — when a visitor to a site fills in their data in the registration forms, the system immediately checks the validity of the address;
Javascript Widget — the service offers ready-made API wrappers to facilitate the integration process;
when the email validation process is finished, you get a segmented report that you can download and modify in Excel or any other similar program. The report also contains email addresses with a high degree of risk — you can either leave them in your list or remove as per the service recommendations;
you can either view the results of the verification on the web panel or connect the tool to your marketing platform. As an addition to automated checks, databases could be checked upon your request and can be checked by team members.
The scan speed is approximately 10,000 emails per 2-10 minutes, and a list of 100, 000 will take up to 45 minutes.
Prices
The price depends on the number of email addresses in your database: checking a list of up to 10,000 subscribers will cost $ 0.008 per email, the more email addresses, the lower the price.

There are also 1,000 free API checks per month.
This service can check addresses with 98% accuracy at an average price.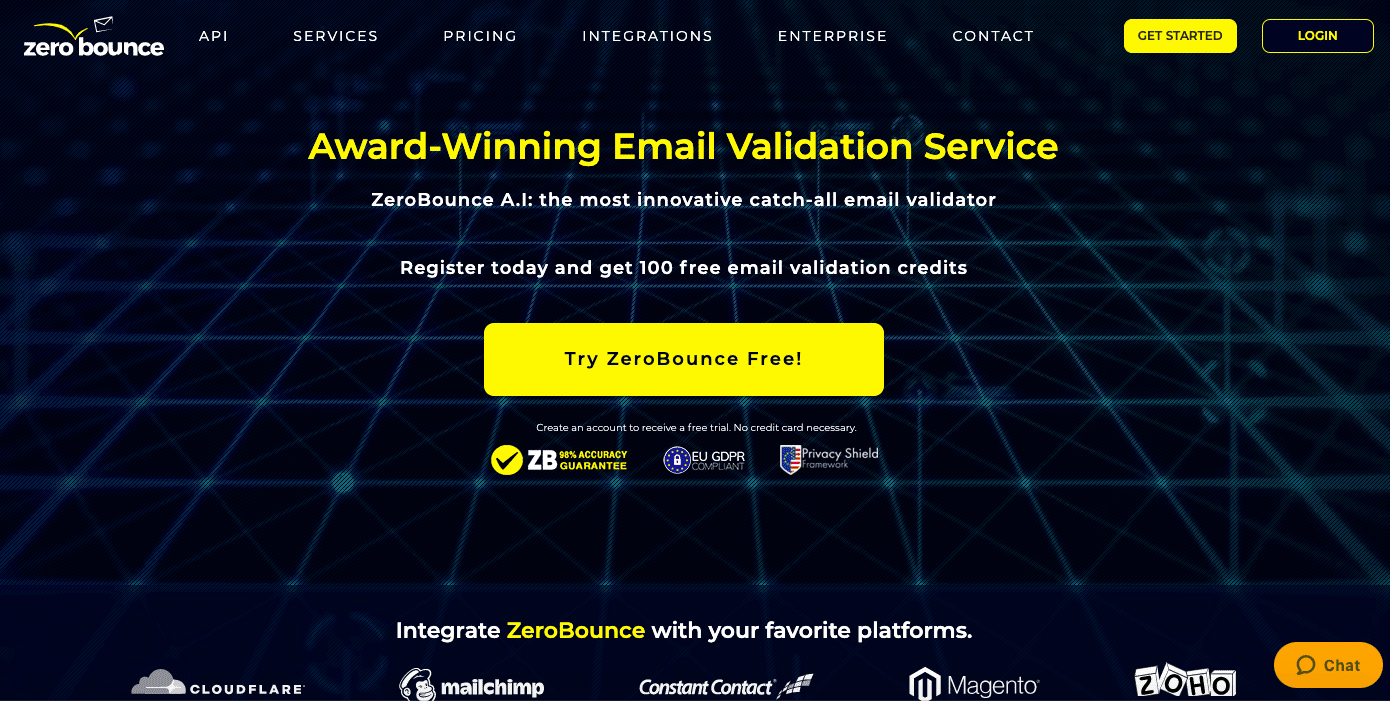 Key features:
Apart from common features, ZeroBounce provides its users with the following ones:
it allows extracting data from social networks and correlating with an email address;
when loading an email list with names, the service can add gender to contacts;
ZeroBounce API finds the full name and geolocation of a specific email user;
the tool cleans up spam traps, and contacts from which many complaints are received;
there is a possibility of integration via API;
once your contact list passes validation, you get a report that is protected with a password;
last but not least — you set parameters for validation.
Prices
The pricing policy is loyal and convenient:
you can use the service for free if your database contains less than 100 email addresses;
you can set the necessary number of emails that need to be checked, and the calculator will show you the exact price;
you can buy a subscription for a month. The price also depends on the number of emails in your database:

For more details on the subscription plans and options they include, please refer to ZeroBounce.
The service guarantees 98% verification accuracy.
Key features:
24-hour tech support via phone;
integration with major ESPs;
fraud protection — the system checks the connection of email with online scammers;
auto-correction of email addresses;
Javascript for mobile devices prevents invalid addresses from entering your database;
ability to check both email addresses and phone numbers.
Prices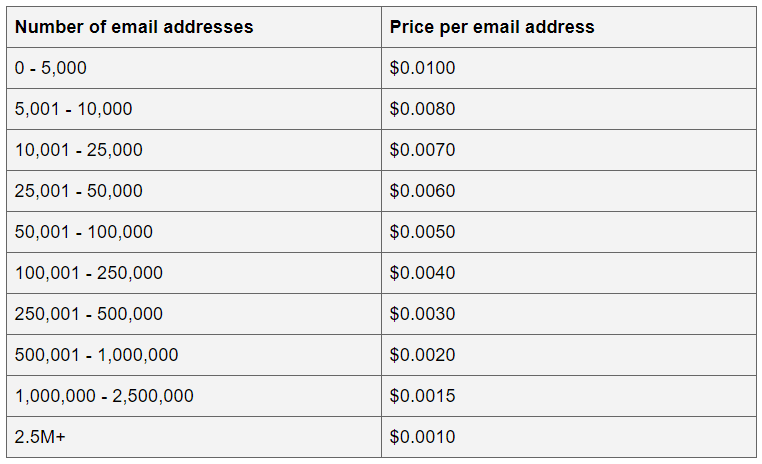 The site also provides a service calculator.
BriteVerify is considered the best email list cleaning service for companies that work in the international market.
Key features:
ability to use your own, geographically-oriented verification algorithm to check if email addresses match the specified country of origin;
ability to check the validity of the US phone numbers.
You can upload your contact base for verification by dragging it into this tool. You can also integrate BriteVerify with ESP. After uploading the contact list, the tool shows the approximate price of verification, allowing users to cancel or confirm the verification.
Prices

This service checks email addresses at three different levels, and the depth of verification depends on your chosen level.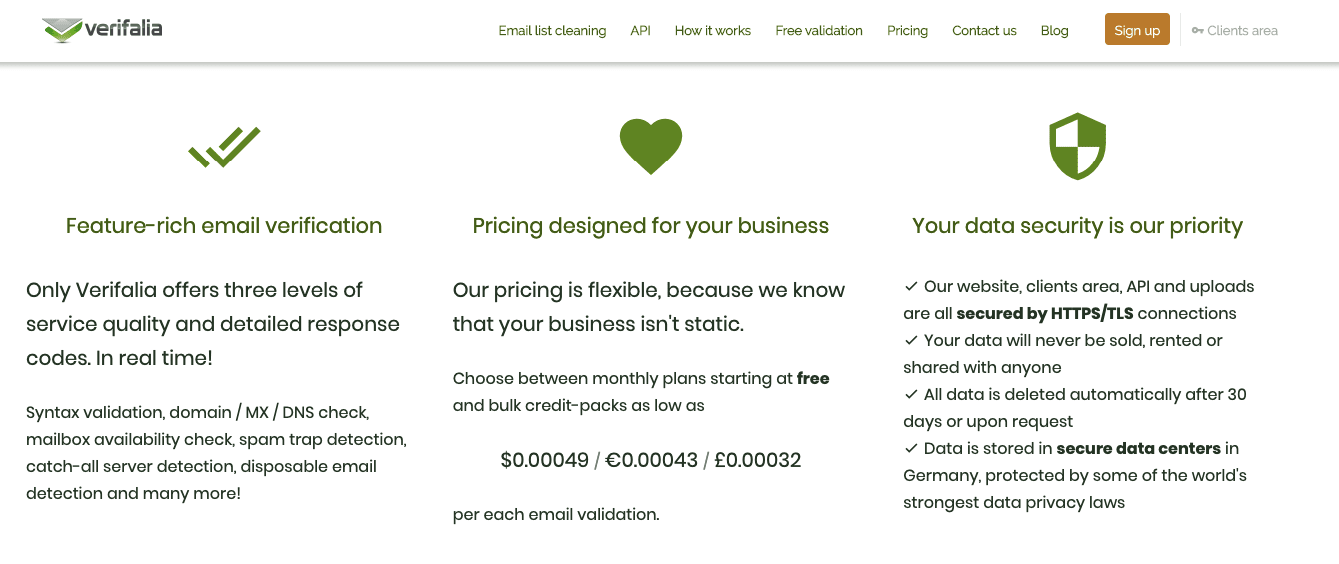 Key features:
the RESTful API repeats email validation several times with regular intervals to remove some email addresses in your database from "greylists". This option allows the tool to detect email addresses that were temporarily unavailable or quarantined as part of the spam protection by an email server. Regardless of the subscription plan that you choose, each check includes 20 tests to make sure the email address is valid;
it normally takes Verifalia about an hour to validate 10,000 email addresses;
checking a base of one million addresses can take up to twelve hours.
Prices
The price depends on the subscription plan and is indicated in euros:

Hunter offers a fast and accurate tool for cleaning email lists. Its Email Verifier allows you to verify a single email address or a list of email addresses.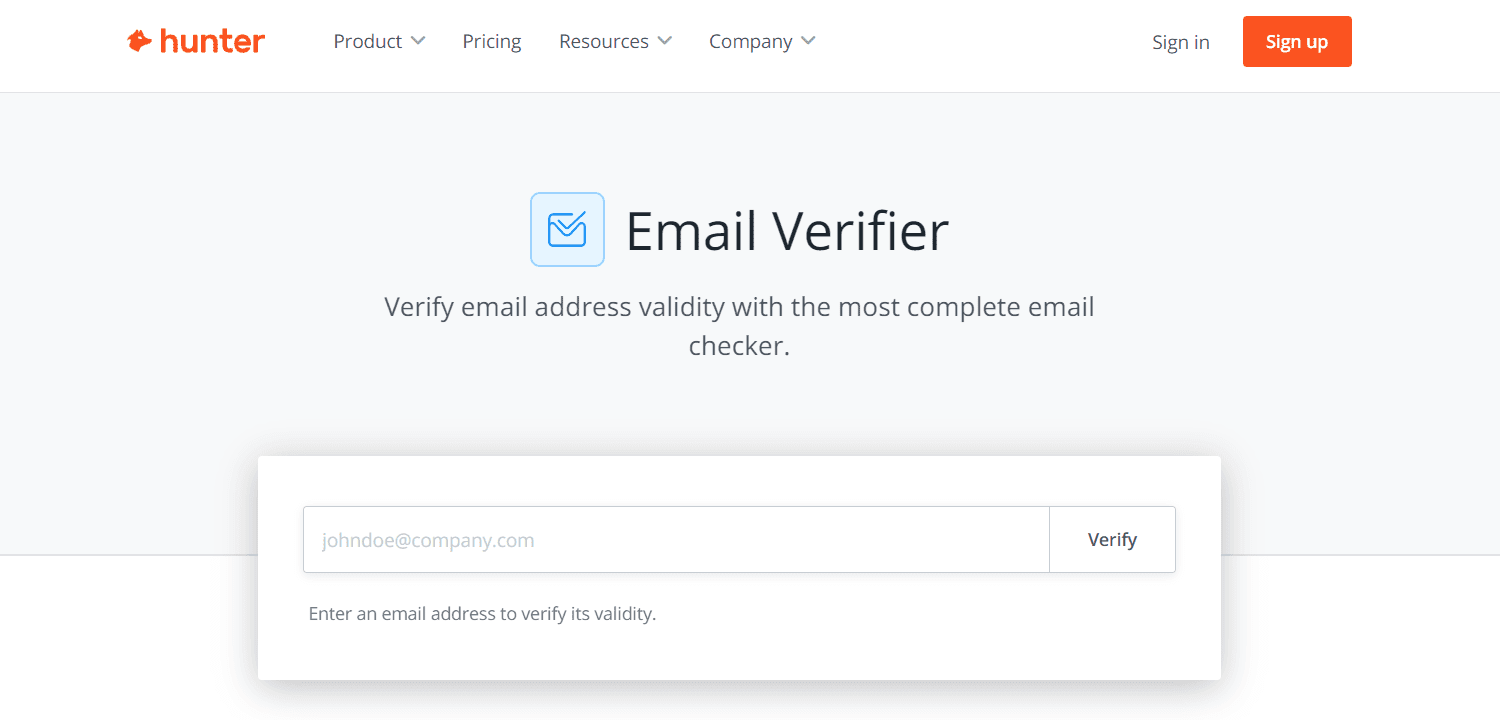 Key features
you can check email format, MX records, SMTP server response, and more;

you can verify an email address without sending an email;

verify email addresses in bulk;

you can use the provided API to verify email addresses through an API call;

and verify a list of email addresses in Google Sheets using the dedicated add-on.
Pricing
You can use Hunter's Email Verifier to verify up to 50 email addresses for free every month. Paid plans start at $49/month.

Final words
Verify email addresses during the registration process — you can do it with email validation services only;
Email scrubbing is critical for maintaining your contact base hygiene — remove those who clicked the unsubscribe button in your emails from the list prior to starting a new campaign. Remember to add this link in all newsletter emails of yours;
Use double opt-in registration and single opt-out unsubscription;
Remove inactive contacts from your base;
Check your base with email validation tool once a month.