What is lead generation email?
In this article, we will find out what a lead generation email is and how to create such emails faster. We'll provide you with some tips on how to get the most out of this marketing tool.
Defining a lead generation email
First things first, let's find out what email marketing lead generation is about. Basically, it is collecting data on potential clients by using forms, in the B2B sector. If you want to cooperate with businesses, you should try B2B lead generation email marketing.
Usually with these forms, you collect a user's name or email address.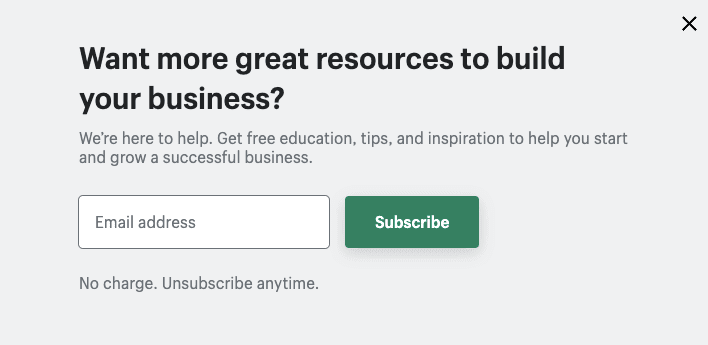 (Source: Shopify)
For detailed information on these forms and ways to build them, please refer to our "Collect your first 1000 subscribers" blog post.
With a lead generation email, companies reach out to their potential customers in order to promote their products or services.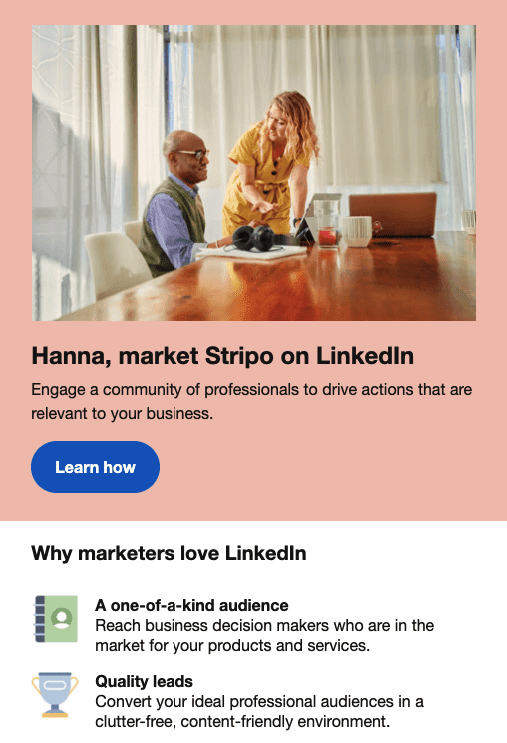 (Source: Email from LinkedIn)
How to create a lead generation email
To create a lead generation email, follow these steps:
Step 1. Build your contact list
How?
Use forms. In this simple way, you only get those contacts that are really interested in your product/services.
Do not buy this list. Don't try to get this list from your competitors or other people who make money by selling databases with personal information: It won't help you to get loyalty from potential customers. And in many countries, it is illegal.
Be sure to send a subscription confirmation email to your contacts. And send lead generation emails only to those who have confirmed their willingness to subscribe.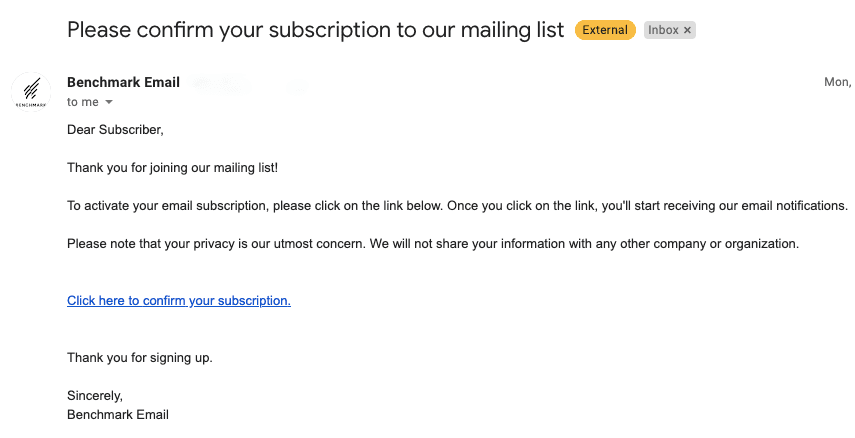 (Source: Email from Benchmark Email)
Step 2. Segment your contacts for better engagement
Make sure to segment contacts by their interests. How? Analyze the advertisements they check out, pages and articles they look through on your website, and so on. The more attention you pay to it, the better effect you get.
Step3. Choose a good send time
It is essential to take into account the perfect time when your subscribers may consider the information you provide.
The best send time does depend on the niche.
Step 4. Work on the subject line
People don't really have time to look through everything that appears in their inbox, so a good subject is crucial. Don't just create some clickbait subject lines to make people open your email. Try to come up with ideas that are capable of convincing your customers.
On our blog, we share over 150 best subject lines and tips to create a good one.
Step 5. Set the sender name
To attract people to your bulk emails, try sending them not on behalf of a company, but personally from you or your employees. This will help to establish and maintain the connection.
Step 6. Keep the email simple
Don't use a lot of bright pictures, different fonts, and crazy font colors: It makes the reading process a lot more difficult.
Step 7. Don't forget about Call-To-Action
Call-to-action is a combination of text and design that prompts the reader to take a specific action. A call to action comes in the form of a button, image, or link, such as "Buy", "Get a consultation", "Subscribe to the newsletter" and "Register". If your emails don't have those, they are basically a waste of time and money.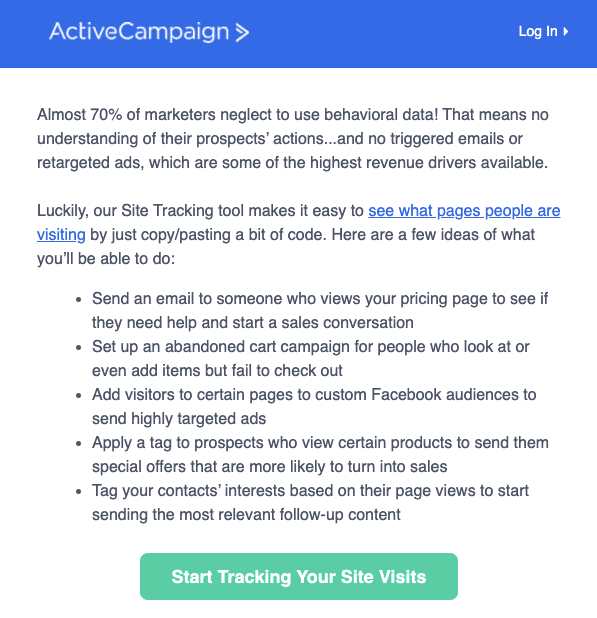 (Source: Email from ActiveCampaign)
Best practices for lead generation emails
Most people still consider emails as a useful way to share important information. To get the most out of email marketing lead generation, follow these simple techniques and ideas:
Keep your emails short and concise
Will you spend more than 2 minutes on some promotion from your inbox? I don't think so. Neither do your customers. To convey all the important information, you need to shorten your text as much as possible. Don't hesitate to diversify plain text with pictures and other interactive buttons.
Automate your email marketing
When you send each and every email individually, it may take plenty of time to send all of them. So you have to make this process faster somehow. This is when automation helps. Because automation will help you create campaigns, send them when you need and target everyone you want.
Run A/B tests
To find out which subject lines work best, what is the best send time for your clients, what offer is more relevant for your audience, you need to run multiple AB tests.
Send follow-up emails
In our "Follow-up emails", we explained what type of emails you should send, when exactly you need to send them, and how many of them.