How to Increase Conversion Rate with Follow-up Email Series
23 August 2022

Table of contents
What is the conversion rate?
Why is your conversion rate important?
What is a follow-up email?
Types of follow-up emails
Best practices for the follow-up email
The best examples of follow-up email (template included)
Final thoughts
1.
What is the conversion rate?
In our time of limitless possibilities, people tend to be indecisive. Every day they receive hundreds of emails offering to buy something, subscribe to some service, or go somewhere. Who do you think they will choose? That's right, the most convincing one. So, email marketers have come up with follow-up email series specifically for such cases, which do not allow subscribers to forget about your brand.
In this article, we'll share essential tips on how to build a powerful follow-up email and accumulate your ideas.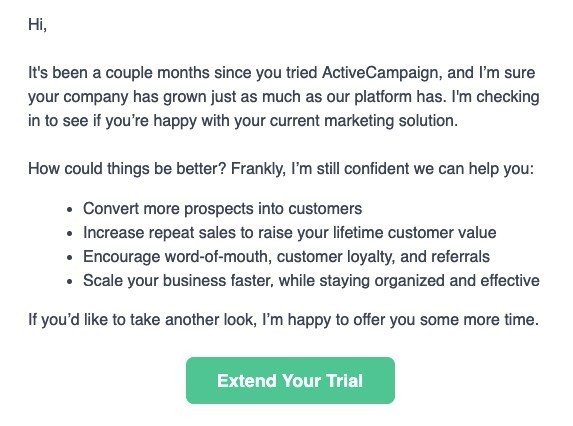 (Source: Email from ActiveCampaign)
Look at this polite follow-up email sample. ActiveCampaign starts with gratitude for using the service. Then, they briefly show you how their product can help you to improve your sales and attract potential customers. And if you're interested, you can click the button to take another look at the conditions and extend your trial.
What is the conversion rate?
Conversion rate is the ratio of the number of site visitors who have performed any targeted actions desired by the seller (purchased the product, registered a personal account, visited the landing page, watched a commercial) to the total number of site visitors expressed as a percentage.
Why is your conversion rate important?
Marketers spend a lot of time analyzing different metrics and suggesting what can be improved in future campaigns.
Measuring conversion and other performance metrics directly affects the results of your advertising campaign and allows you to update your email marketing strategy.
What is a follow-up email?
A follow-up email is one or a few emails sent to contacts, depending on their previous actions or events, for example, a job interview. Such emails are intended to move a conversation forward, cover specific pain points, establish a professional relationship, and say thank you. Whether you are an eCommerce giant, recruiting specialist, or an individual entrepreneur in the tourism sphere, follow-ups should be an essential part of your email marketing.
Here are a few moments you need to know about follow-up emails:
Follow-ups are a pretty easy way to increase your conversion rate. You must research what might interest your audience and create an attractive follow-up email.

Follow-ups increase customers' loyalty. They might have questions about your product/service, so include easy-to-understand onboarding in emails. If they purchased something from you, send a thank-you email. If you ask for feedback, give some immediate value to your clients.

Consider the time when you write a follow-up email. Take into account time zones if you have customers worldwide, don't send emails on weekends, and make pauses between follow-ups in the sequence. And don't send too many follow-ups.

The follow-up email subject line is your superpower. If you struggle to increase the response rate, start with a subject line. Brainstorm with your team, or try A/B testing.

Make sure your recipients benefit from your follow-up email. Provide valuable articles, video interviews, or guides to turn your follow-up email into a win-win experience.
Typically, marketers set up automatic distribution of such sequences, which are sent at regular intervals of the follow-up schedule or based on triggers.
Types of follow-up emails
There are four primary types:
1. Free trial follow-up email.
Here, we reach out to users after their trial period has expired.
Content of the free trial follow-up emails:
ask users if they liked your product;

ask what they disliked;

provide tips on how to use and get the most out of your product;

offer a personal demo;

offer a discount.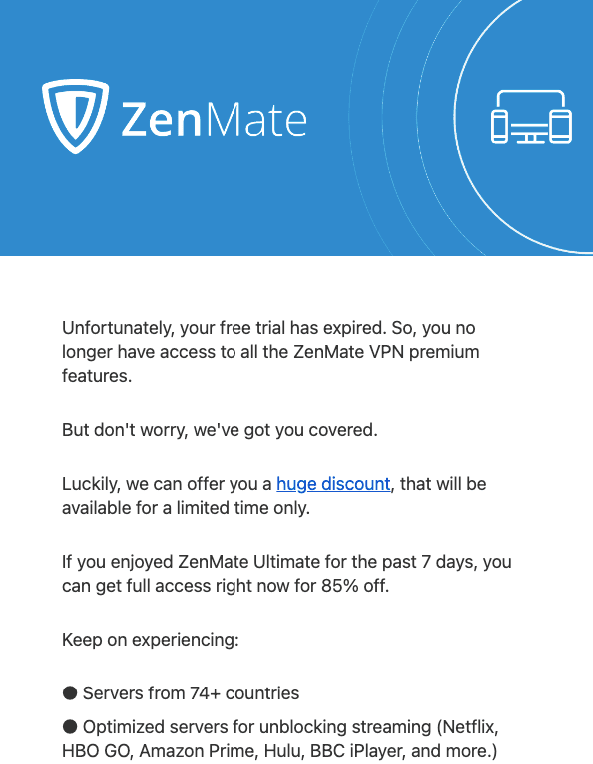 (Source: Email from ZenMate)
2. Subscription/registration follow-up email.
Here, we reach out to those who started the subscription/registration process and have not finished it yet. It means you sent a verification email (of course, you stick to double opt-in), and they have not verified their email address.
It would be best if you reminded them they were willing to subscribe to your newsletters.
Content of the subscription/registration follow-up emails:
remind recipients who you are;

remind them they have not finished the subscription process yet;

tell them how soon their confirmation link expires;

name some benefits of subscribing to your newsletter;

let them complete their subscription/registration in this email.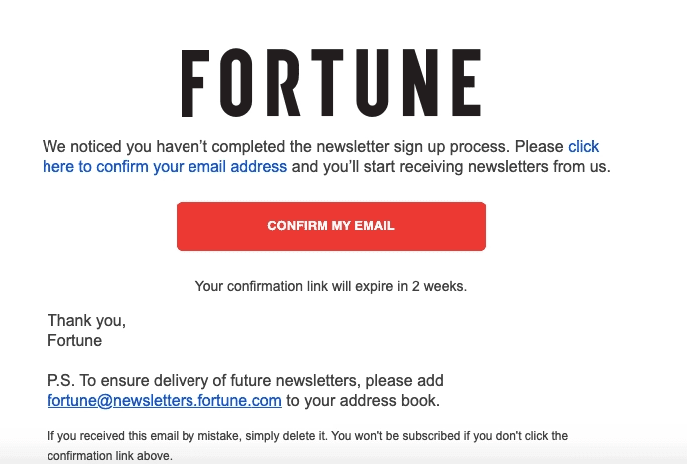 (Source: Email from Fortune — Newsletters)
3. Non-completed purchase follow-up email.
Here, you reach out to clients who added some items to their shopping cart yet have not completed the checkout. We also know these emails as abandoned cart emails.
Сontent of the Non-completed purchase follow-up emails:
list of the items the recipient previously added to their cart;

photo and description of these items;

links to these items on your site;

the total amount of the planned purchase;

CTA to let you complete the checkout right away.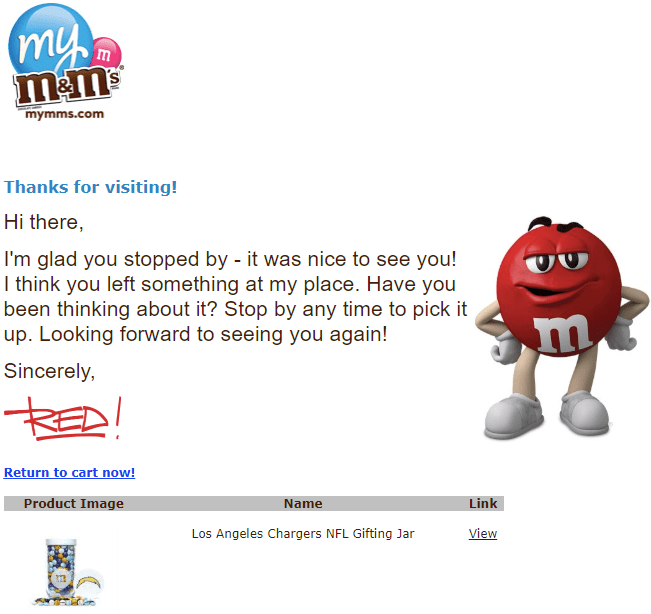 (Source: Email from M&M's)
4. Purchase follow-up email.
Here, you ask users for feedback on the product they have recently bought from you.
Content of the purchase follow-up emails:
your gratitude to the recipient;

name and photo of the product recipients have recently purchased;

the reason why you're reaching out to the recipient;

CTA.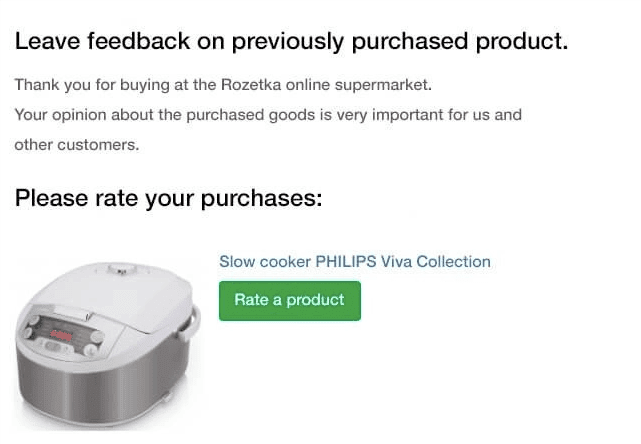 (Source: Email from Rozetka)
You can also let recipients rate you directly in the email with one click.
Such interactive rating increases the conversion of your follow-up email by up to 520%.
In our "Interactive Content in Emails" blog post, we provide a manual on how to build a similar one for your future follow-up email campaigns.
Best practices for the follow-up email
A piece of advice on how to create an effective follow-up campaign.
When you should send a follow-up email
Timing is everything. Emails that are sent too late or too early may remain unread. However, the perfect timing of mailings varies for different brands, so you will have to do your research.
However, there are some universal tips:
Make sure you consider the time zone of your subscribers.

Do not send your follow-ups on weekends — in this case, the chances of them being unnoticed increase.

The best time to send your follow-up email varies from 10 to 11 AM, as people are the most productive.

Pause for at least a few days between the follow-ups and let potential customers consider the offer.
There's also a list of a few items you might have checked before or those you might like according to your previous choices.
How you should write a follow-up subject line
Subject lines are an essential part of a successful follow-up strategy. A professional marketing team knows they should spend plenty of time developing subject lines that will work out.
Sometimes a great subject line can save you from sending multiple follow-ups.
A follow-up email subject line should:
Be concise.

Touch a specific point.

Specify that this is a follow-up email (optional).

Have 3-5 words. However, if you feel like it lacks something important, don't hesitate to add another word or two.
Here are a few examples for your follow-up email subject line:
[Service] – How can we be of use?

An interview follow-up email from [Your name].

Important update from [Company name].

Your Kindle book deal recommendations are waiting for you – Amazon.

Comprehensive insights you don't want to miss – Haymarket at Cannes.

Last chance to save 15% and GET HIRED! ✨ – Skillcrush.

(Source: Gmail)
How to be concise but not too much in your follow-up email
Studies say that the optimal length for emails varies between 50 and 125 words because such messages have the highest response rate (more than 50%).
Then, while the number of words used increases to 500, the response rate slowly decreases to about 44%. You see, there is a difference, but it's not crucial. If you have something valuable to add, you better take the chance.
If you are going to write an article of 2 500 words inside your follow-up email, you won't receive more than 35% of the responses. Therefore, articles should remain on websites.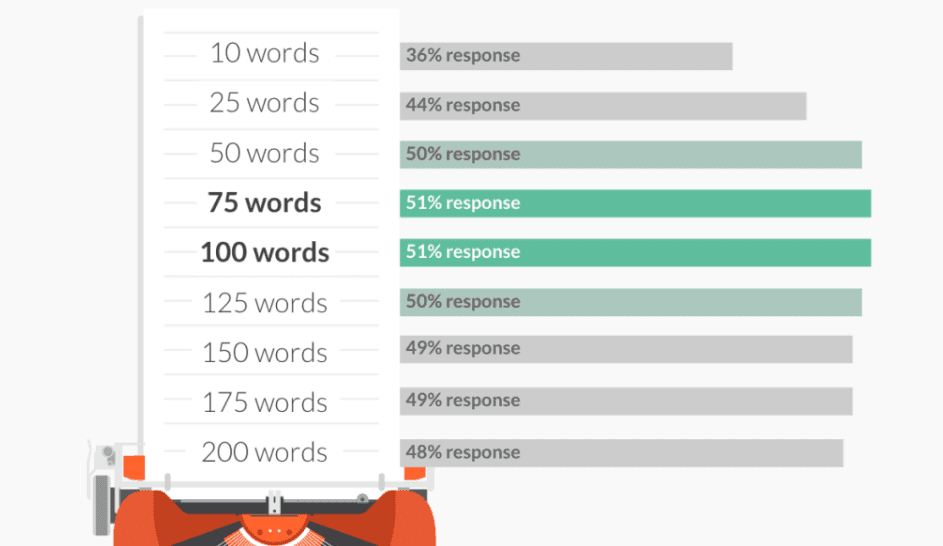 (Source: Boomerang.app)
How not to distract a subscriber from the reason you're reaching out to them
Try to avoid mentioning trivial phrases in your follow-ups.
When you write a follow-up email, stick to the goal of your email:
Getting some information from a recipient.

Scheduling a meeting for a demo.

Convincing a recipient to complete their checkout.

Having recipients finish their subscription.
It's okay if you add a few more phrases apart from those related to your target in a follow-up message. However, don't get lost in casual talking because you risk decreasing the value of your emails.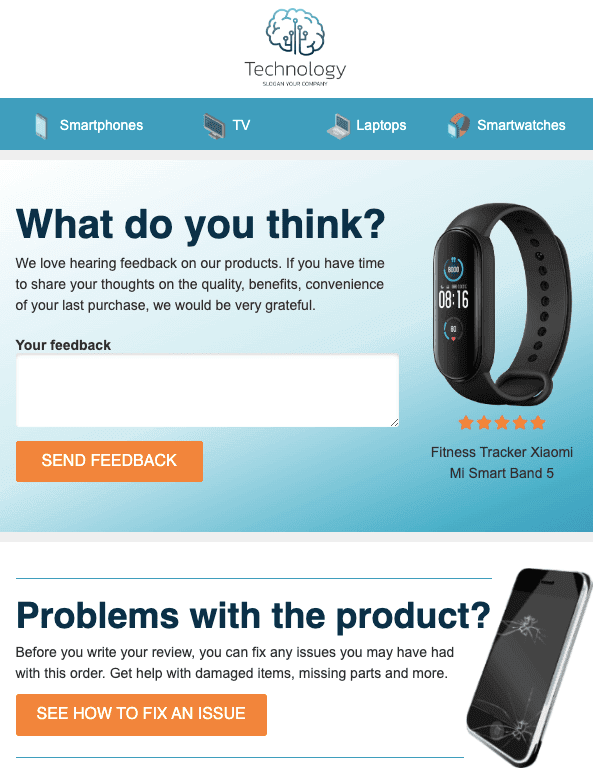 (Source: Stripo template)
The best examples of follow-up email (template included)
Writing follow-up emails can be easy and fun when you have a precisely-prepared target audience and a correctly set trigger event. Add an email message with relevant content and a noticeable call-to-action button, and you have a working formula for follow-ups.
Follow-up email on abandoned cart
We might mention this a lot, but it is true — customers get distracted so many times a day. That is why you should send an email to remind them about their interest in your product. Add a picture to refresh their memory and a link that will lead directly to the abandoned cart.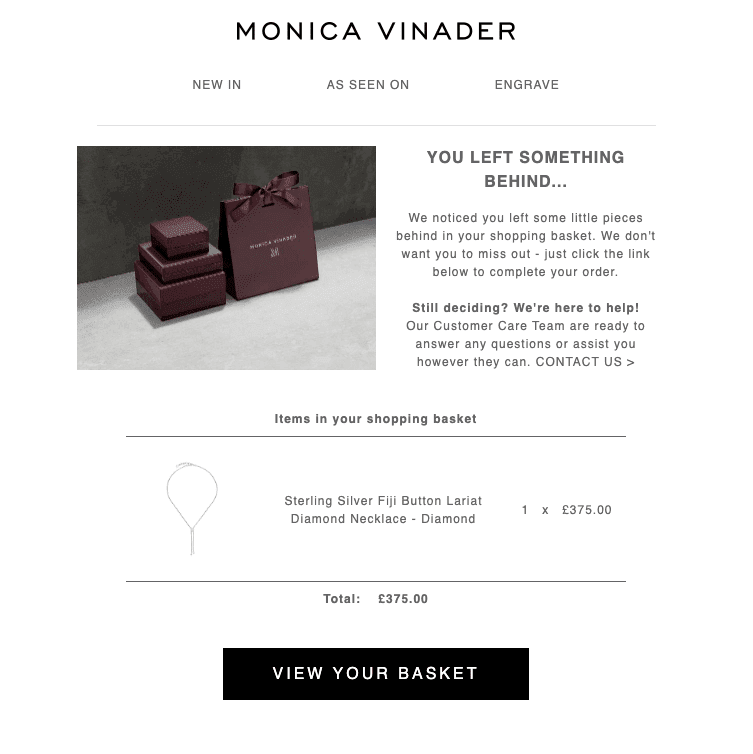 (Source: Email from Monica Vinader)
Follow-up email after a demo
When people request a demo, they are interested in your product and have learned a bit about it. So, it won't be a cold email outreach. Users are ready to listen to you and learn more about the benefits they might get. Don't miss this chance.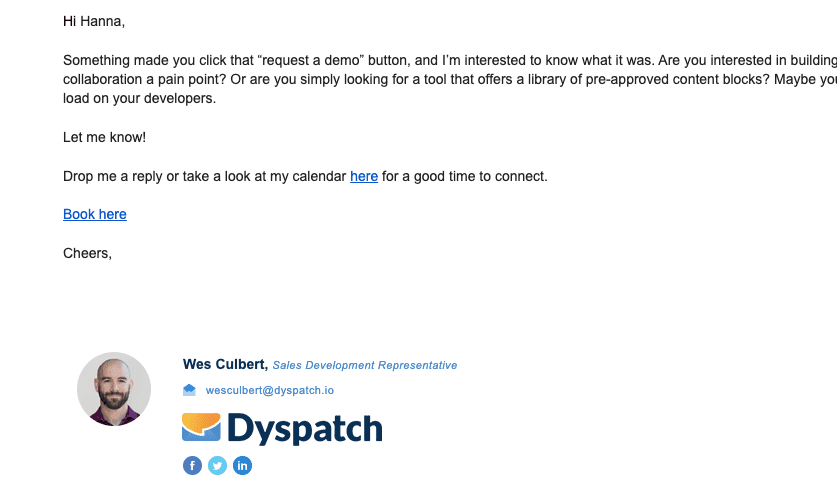 (Source: Email from Dyspatch)
Last follow-up email (after no response)
Not all of your users might answer you right after the first message. Again, they might get distracted or perhaps not even interested in mutual conversation (sad, but this is life). This is why you should initiate a communication one last time and then stop bothering users to avoid causing too much trouble.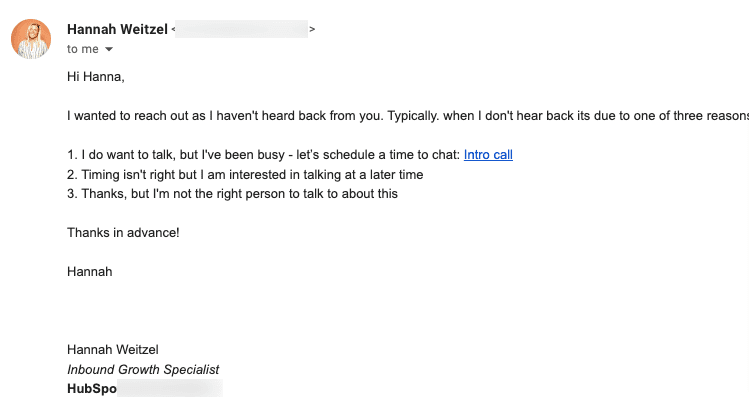 (Source: Email from HubSpot)
Follow-up email (template) with a survey
To grow as a company, you need to listen to your customers. Write a follow-up email to get their feedback. In return, give a pleasant bonus or another promo deal. Define the conditions, add the needed links and a nice call to action button, and you are good to go.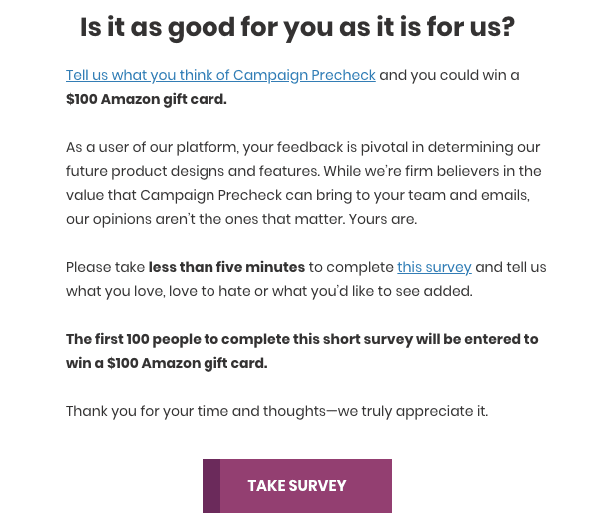 (Source: Email from Email on Acid)
Follow-up email (template) with an interactive feedback request
Interactive elements are a good decision in any mailing campaign. Impress your clients with a feedback field right in the email, ease their life as much as possible, and you'll get a loyal audience.
Final thoughts
We strongly believe in the power of follow-ups. I hope I managed to convince you of what a powerful marketing tool they are.
We wish you lots of luck and inspiration when you write follow-ups. To improve your email design processes, use our platform. Stick to the tips above to create something unique and valuable.
Was this article helpful ?
Thanks for your feedback!