27 September 2021
100+ Best Email Subject Lines to Boost Open Rate
Want to increase your email OR? Write the subject lines your subscribers would be willing to click right away.
In this post, we will share over 100 best catchy subject lines for open rates in 2021-2022, and tips on how to write a powerful one for your email campaign.
Let's start with the examples.
Email subject line examples that work
Not only did we search for the best examples, but also grouped them for your convenience:
Email subject lines that include sales and discounts
No matter how much money we make, we always want to save some. This means that words like "discounts", "sales", "cut prices", and "off" in subject lines for email will drive higher opens.
A deal that seems impossible… — Grammarly Premium.

You've officially got $40 in FREE GapCash to spend! — GapCash.

70% 70% 70% 70% 70% 70% 70% 70% 70% 70% — Gap Factory.

BIGGER deals just dropped! —> Use your $40 GapCash — GapCash.

50% OFF: ✅Tees ✅Shorts ✅Activewear ✅Sweats — Gap.

Congrats Class of 2021 | 20% Off All Gifts — M&M's.

It's a Celebration! Up to 80% Off Anniversary Sale — Bellacor.com.

Just Because We Miss You... Save 30% — SkinCareRx.

Hanna, Start Your Week with 30% Off Food — Prezzo.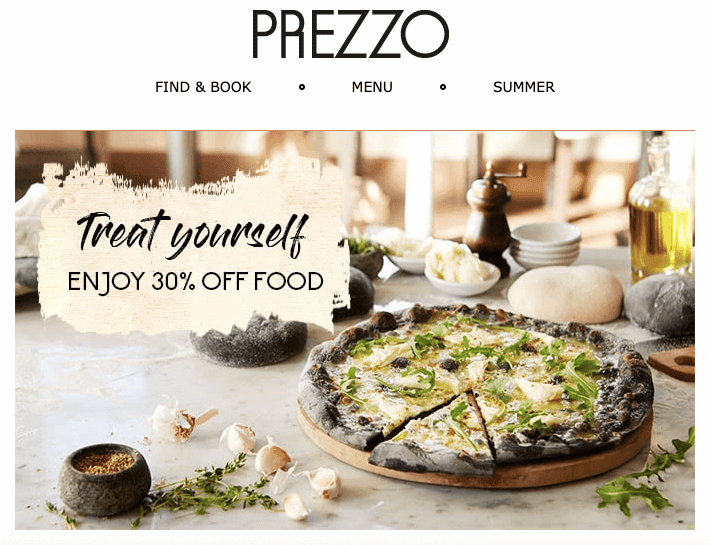 (Source: Email from Prezzo)
Email subject lines that stimulate customer's curiosity
Those may be subject lines with questions or the ones that are pretty controversial. In other words, this type of email subject titles raise a question and hint the answer is in the email.
Open If You Dare! — AshleyStewart.com.

A marriage proposal inside — PicMonkey.

We can't stop smiling... — Bite.

The Nominations Are In… — Greats.

What is the danger of triskaidekaphobia? — Stripo.

Open for an interesting surprise! — Grammarly Premium.

Hey, you headed to the office? — Greats.

Name a more iconic duo. We'll wait. — Gap.

Moments of Ahhh — Athleta.

Small Yet Mighty — Brighton.

Hey now, you're an all-star — Really Good Emails.

Crello goes funky — Crello.

This email may cause drowsiness — Chubbies.

Did Someone Say Glamour — Victoria's Secret.

Class is in session! — Gap Factory.

Hey, It's Your Nike Hi-Five! — Nike.

Robinhood slapped with biggest-ever penalty by Wall Street regulator — CNN Business: Markets Now.

Once in a Full Moon… — Vermont Teddy Bear.

You can still be a unicorn! — Etsy.

You deserve something new… — Burkes Outlet.

Tell me you're a marketer without telling me you're a marketer — Campaign Monitor.

Chills, Thrills, and Non-Stop Entertainment! — Warner Bros Animation.

Halloween game ON POINT!??? — Warner Bros. Animation.

I'm really excited about this… — Jeff Bullas.

​​Your next step! — Wildist.

Join us in fighting hunger — Starbucks.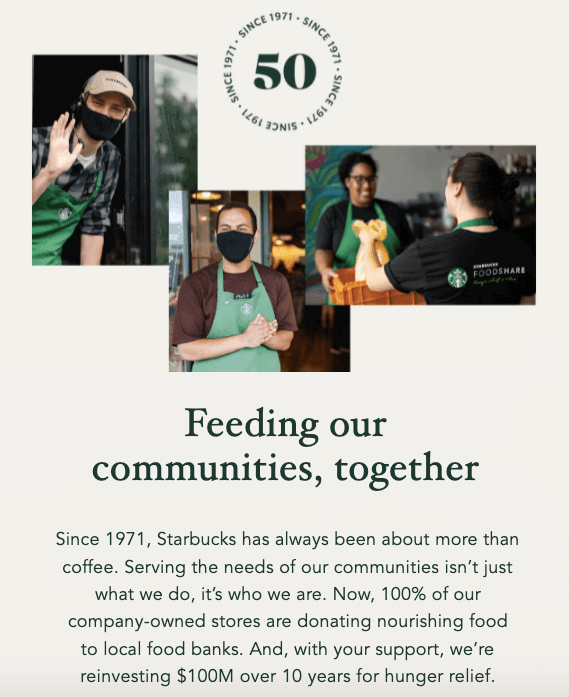 (Source: Email from Starbucks)
Vanity email subject lines
Let's confess — we are all a little vain about ourselves, and, definitely, we like being high-valued. Let your customers feel respected and special.
We hope these attention-grabbing subject lines will encourage you to write a similar one for your email campaigns.
Be the first to experience it — Samsung.

[3-MINUTE SURVEY] We want to know what you think! — WWF.

Be a VIP in the City or Explore the Jungle — The Forbes Travel Guide.

Being a member has its perks — Adidas.

Our birthday gift to you — Banana Republic.

Living the Dream — Victoria's Secret.

You're part of the family now — eve Sleep.

We only have eyes for you — 1-800 CONTACTS.

Style icons spotted in MV — Monica Vinader.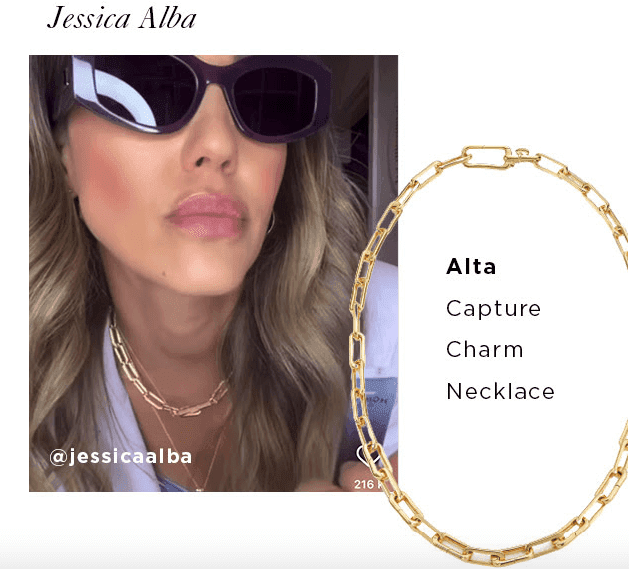 (Source: Email from Monica Vinader)
Email subject lines that highlight important information
In these subjects, you get straight to the point. You do say what the email is about. But subscribers need to open it to get the details.
"Why I Changed My Instagram Strategy": Tips from an Ecwid Seller — Ecwid Blog.

You can help end food waste — WWF.

Family dinner is a tap away — KFC.

Explore Autumn-Ready Cosy Interiors — Tom Raffield LTD.

Drive E.U. Sales with New VAT Compliance — Practical Ecommerce.

My Google rankings dropped — why and how to fix it?? — Stacy from Serpstat.

Look Who's Back: The Jones Espadrille — Greats.

Google has changed the way of forming Title in snippets? — Stacy from Serpstat.

The Big Lie About Protein — Apple News.

What's the secret to customer loyalty? — Jenna at dotdigital.

This Is How You Create Reports Like a Pro — MarketingProfs Update.

How the Most Innovative Brands Approach Growth — GrowthHackers.

Investors are terrified ... of missing out on the market rally — CNN Business: Markets Now.

How food futurist Liz Moskow sees the year shaping up — Restaurant Business.

Travel smarter with flight deals and low fares. — SkyScanner.

Who Influences the Influencers? — Adweek.

Your weekly digital marketing briefing — Dotdigital.

What's new for June — IFTTT.

Marketing automation isn't easy. But we know a secret... — User.com.

[GUIDE] Discover the four pillars of omnichannel success — Big Commerce.

Australian Marketplaces You Should Know — Power Retail.

How might ESG metrics impact executive incentives? — Willis Towers Watson.

Stripo + Your Email Service Provider✔️ — Stripo.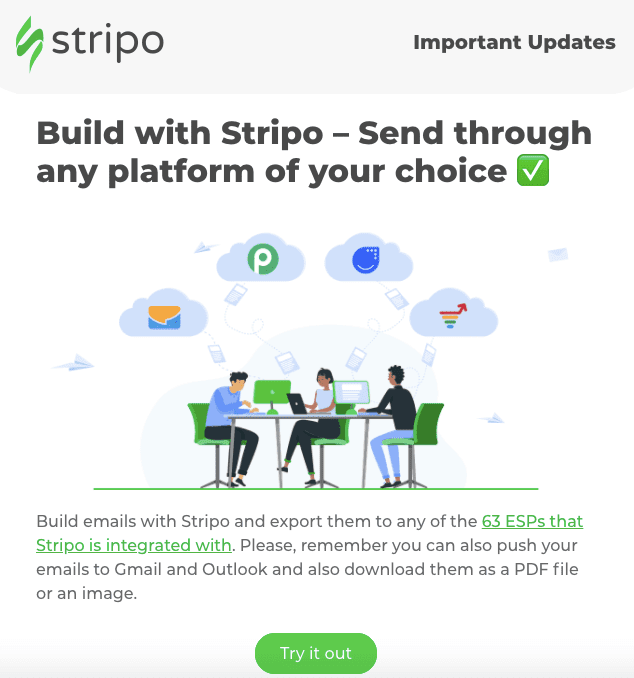 (Source: Email from Stripo)
Email subject lines that are funny
Funny subjects are the definition of "Clickbait email subject lines" because people need to smile, people need to laugh… News can be depressing, most emails in our Inboxes are pretty serious. Stand out and make your customers smile… or at least appeal to some sweet emotions.
About Last Night — Victoria's Secret.

Go Big (Cuts) or Go Home — D'Artagnan.

Caution: Extraordinary shorts inside — Chubbies.

Her Name Is Not Honey Boo Boo — Pocket.

You don't have a trucker jacket???? — Chubbies.

MATH ALERT — Chubbies.

Your Butt Has Summer Plans — Everlane.

When's the last time you… — Really Good Emails.

Is It Hot in Here or Is It This Burger? — Adweek.

Fang-tastic Halloween Treats For Ghouls, Goblins, Witches, Warlocks.... You!!! — Amy's Candy Kitchen.

Two razors for your friends (on us) — Harry's.

Woof — Warby Parker.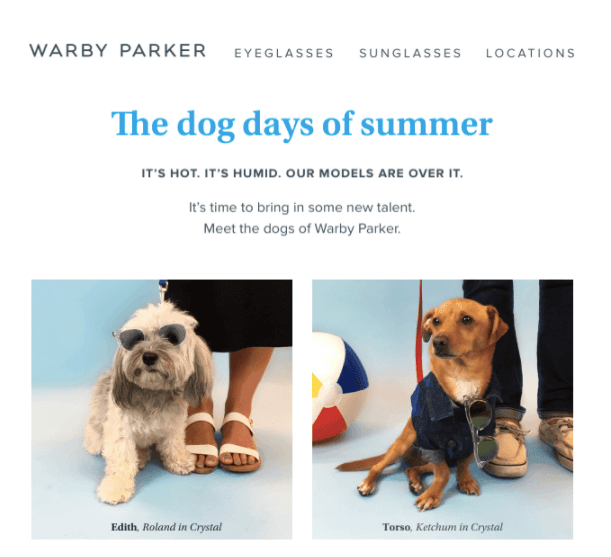 (Source: Really Good Emails)
Email subject lines that appeal to emotions
As we know, appealing to customers' emotions plays a really essential role in email marketing — 95% of all purchases are emotional. See our bundle of effective email subject lines.
Elephants on a crowded planet - Here's what you can do to help — WWF.

We're celebrating our 15th birthday (and YOU!) — charity: water.

Take steps to protect the planet! — WWF.

It's not just driving. It's therapy. Stay Driven. — Porsche.

Run for The Oceans — Adidas.

For years to come — Charity Water.

Treat Dad with the BEST GIFT EVER + 20% Off! — M&M's.

A mother's love is something special — Epilepsy Foundation.

Be nature's Valentine: Join WWF's Race for Love — WWF.

Hanna, let us make this a winter to remember — Four Seasons Hotels and Resorts.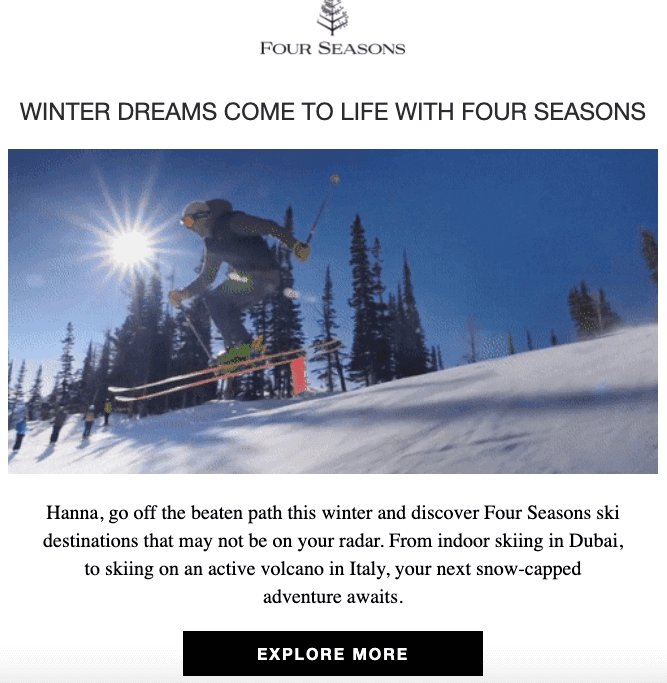 (Source: Email from Four Seasons Hotels and Resorts)
Email subject lines that announce events or product launches
Recipients might not have time to read each and every email they get from you. But they might be awaiting a certain event or new product from you.
Be sure to mention your event in the email subjects for product launch or event invitation emails.
Psst... Coming Soon… Shh, for your eyes only — Monica Vinader.

The Deals You've Been Waiting For — Fall Scent Event from Victoria's Secret.

Sean & Heard — Gap.

The wait is over — Monica Vinader.

Paint Options and Free Supercharging — Tesla.

You're invited — Brighton.

[Webinar] How to Grow SMS Subscribers Before Black Friday & Cyber Monday — Adweek Partner.

Get Ready — Livestream Cybertruck Unveil — Tesla.

Change is a step away — Everlane.

Meet Black Pepper — ORGANIC INDIA.

One month to go! — Building Design.

? Time to put on your mask and celebrate Batman Day — WB Games.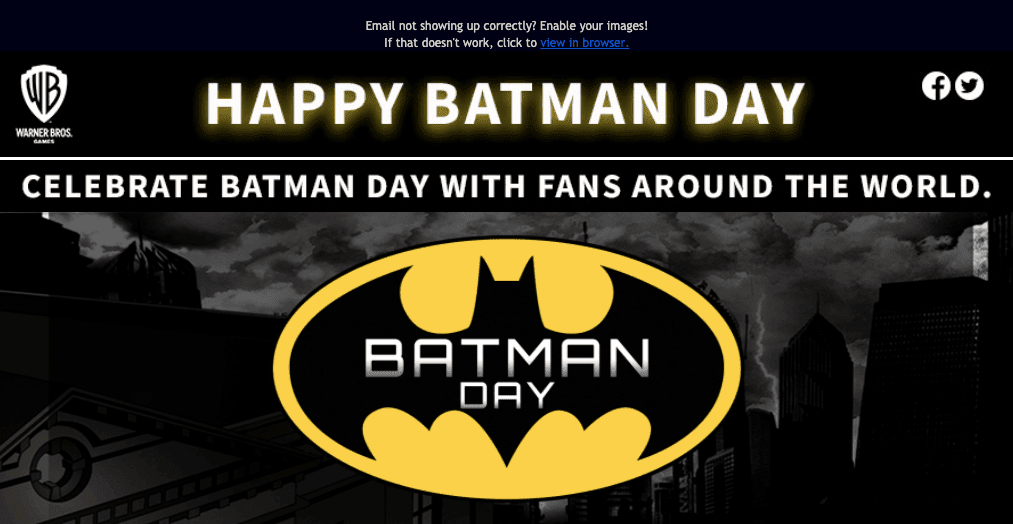 (Source: Email from WB Games)
Email subject lines for event-triggered emails
Event-triggered emails require concise and direct copy both in email body and in the subject line.
Local Availability—Model 3 and Model Y — Tesla.

Reminder: we'd love your help — Ann Handley, MarketingProfs.

Reminder! Code FRIEND expires in 3, 2, 1… — Gap.

New login to Instagram from Chrome on Mac OS X — Instagram.

Google Workspace Update: Switch to the new desktop Google Chat app before March 30, 2021 — Google Workspace Updates

Enjoyed it? — Netflix.

This is goodbye. Here's why … — HubSpot.

Whoops!... You might need this link instead… — OptimMonster.
(Source: Email from OptimMonster)
Email subject lines that are personalized
Let customers know this email was crafted for them only by either reminding them you have communicated before and now they are waiting for your email or by addressing by name.
Did you know that addressing by name in email subject lines increase email open rate by 26%?
Love NYC? These Are Made For You! — Maybelline New York

[POP QUIZ] See how your email program scores — Litmus.

Hanna's Personal Class Recommendations — Skillshare.

New to your feed: 17 ideas in Web banner design, Cars… — Pinterest.

15 Disney Memes Pins you might like — Pinterest.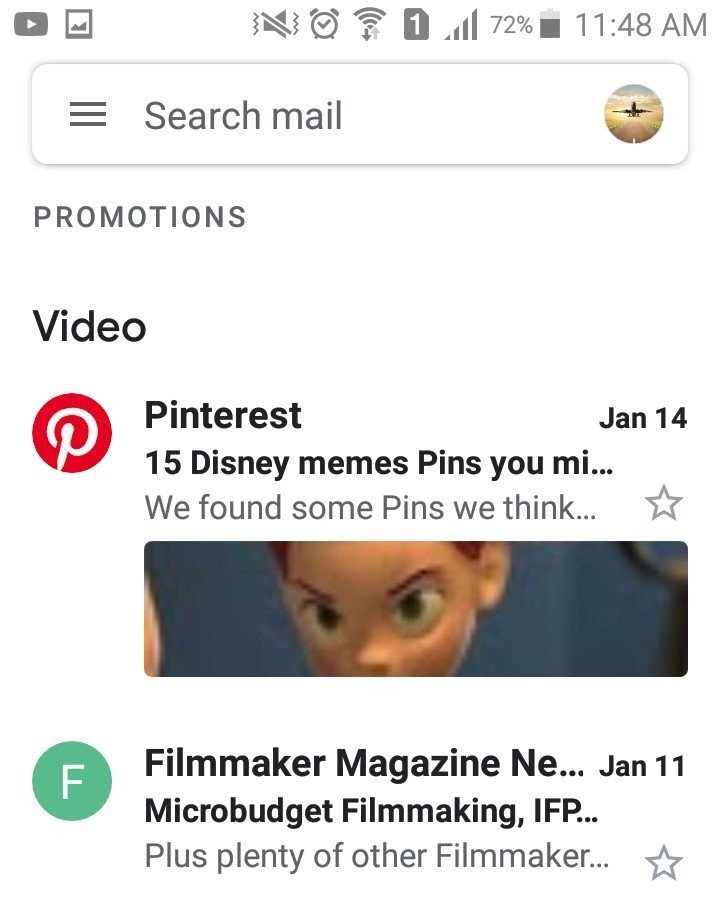 (Source: Email from Pinterest)
If you want to show your promo image to customers before they even open the email, please refer to our "Gmail New Promotions Tab Guide" or watch a video below.
Email subject lines that communicate urgency
Your sale is about to end soon? Let your customers know about it. To urge them to act right away, you need to give them a deadline.
We're sorry, but… — It's the final countdown — Brooklinen.

Last Call for Christmas delivery! — Decathlon.

Limited Edition Collectible Helmets — Scuderia Ferrari Online Store.

Last Chance for 15% Off Bulk Candy! — M&M's.

Last chance: an Extra 10% OFF ends tonight — Boden.
(Source: Email from Boden)
Certainly, in this case, it's preferable to add a countdown timer in your email to be consistent.
11. Email subject lines that show you care
We all love being cherished and cared for. Show your clients your main goal is not to sell, but to be supportive to clients. Certainly, if this is true.
Need a Gift Idea? We Got You Covered! — M&M's.

Stay Warmed Up All Season — Athleta.

Mix & Match: Denim & Tees—BOGO Half Off — Lucky Brand.

Upgrade your bedding! — Brooklinen.

Start your day with something delicious — Starbucks.

Sophisticated styles for every day — Nike.

You Can't Go Wrong With These Bestsellers — Lucky Brand.

Sweet ways to celebrate Valentine's Day ❤️ — Starbucks.

Sweeten Your Celebration — M&M's.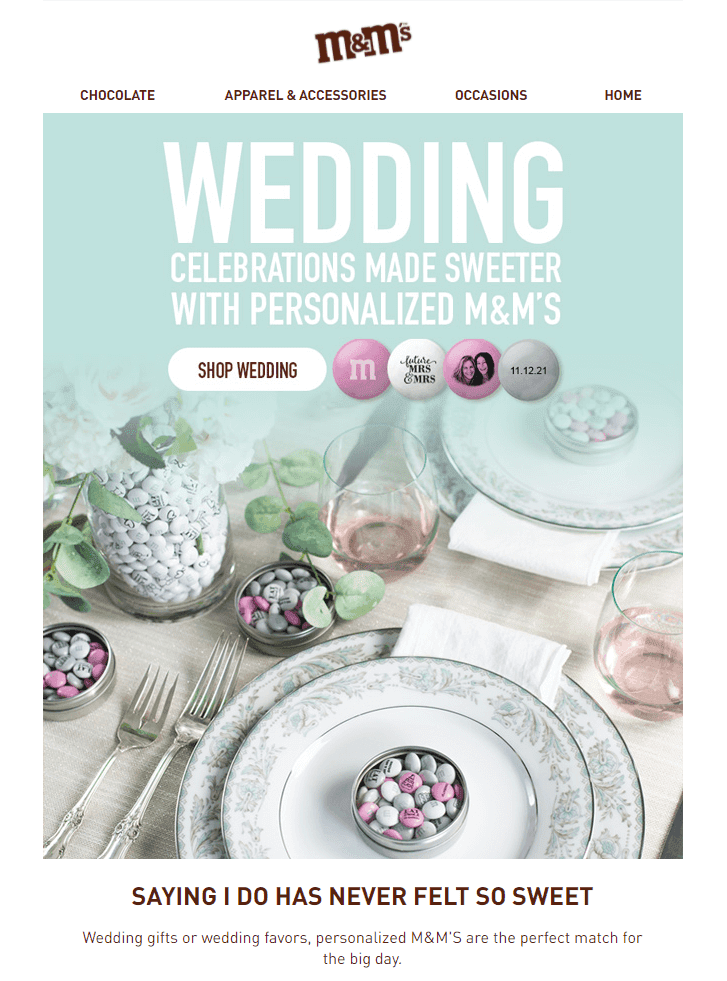 (Source: Email from M&M's)
Tips to great newsletter subject lines that get opened
According to CoSchedule, 35% of recipients decide whether to open an email or not judging by the subject line alone, while 69% of recipients report email as Spam, driven by the same reason.
We have thoroughly researched the web and asked our email service provider to conduct a short survey to provide you with the following tips:
watch the length of your subject lines. Gmail desktop shows 70 characters of your subject lines, while Android Portrait shows only 35;

use numbers in your email subject lines. They grab customers' attention — preferably write them in numerals, not letters;

personalize emails to let the customers feel special and valued;

add descriptive preheader text;

be direct and concise (unless it is a teaser email);

use intriguing subject lines;

stand out — don't be afraid to be funny when it's reasonable;

urge your customers — notify them of how many days the sale will last;

include emojis to spice up your email subject line.
How to add a subject line and preheader to your emails with Stripo
To add a subject and preheader to your emails, you need to:
click the Settings button above the template;
enter your subject line in a respective field;

enter preheader text if you like. If you do not feel like writing and adding any preheader text, just activate the Fill in with white space option. Otherwise, recipients will see the first elements of your email as the preheader text.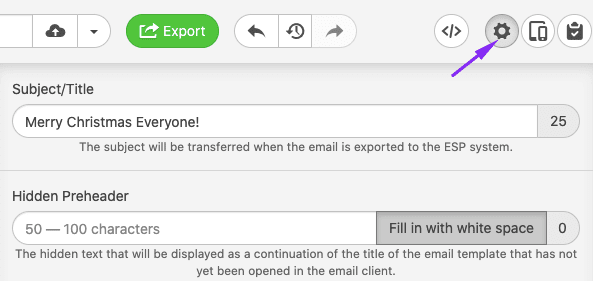 For your convenience, Stripo counts the number of characters you enter in both fields.
Thank you for your time and for reading this post. I hope that the tips and examples given here will help you write subject lines that get opened.