14 May 2019
32 of the Best Catchy Email Subject Lines of 2019
47% of recipients decide whether to open an email or not judging by the subject line, while 69% of recipients report email as spam driven by the same reason.
Let's dive into our compilation of the most effective email subject lines that get emails opened to find out what makes them catchy, notable, how to boost open rates, and consequently improve your click-through-rate by working solely on the email subject lines.
The best email subject line examples
Not only did we search for the best examples, but also grouped them for your convenience:
Educational subject lines
It is human nature to constantly improve ourselves and to search for fresh information.
1. "Here's How Delivery Is Morphing Menus"
By Restaurant Business
Most people are thirsty for knowledge, especially when it comes to their business. And they would not miss a chance to read useful information on how to make their business more profitable and take it to the next level.
2. "Manage Your Growth"
By Amanda Kopen at HubSpot
We strive to get a promotion that requires a lot of arduous work, specific deep knowledge and strengthened working skills. But for being always busy, it gets harder and harder to find time for education. So, the "Manage Your Growth" subject line is attention-grabbing as it means that from now on we can manage my time and decide. Or in our current case, Amanda Kopen compiled a number of recent useful articles. With the compilation, she also showed which skills are vital now. And shared the resources of where to gain them.

3. "4 Things to Remember in the Final Weeks of Campaign 2018"
By Chris Cillizza at the Point
To my mind, this is one of the best email subject lines for its details. Prior to opening the email, you already know what it's gonna be about. If you are interested in the political situation in the USA, you will undoubtedly open it. But if you have only once read the newsletters by the Point, you wouldn't miss their new emails for the world.
4. "What Marketers Can Learn about the Cause Marketing from Nike"
By Adweek Morning Digest
Nike is a prominent brand, many sports companies would like to get half as famous as Nike. Consequently, mentioning that the materials in the email are based on the world famous company experience, makes the newsletter subject lines more effective.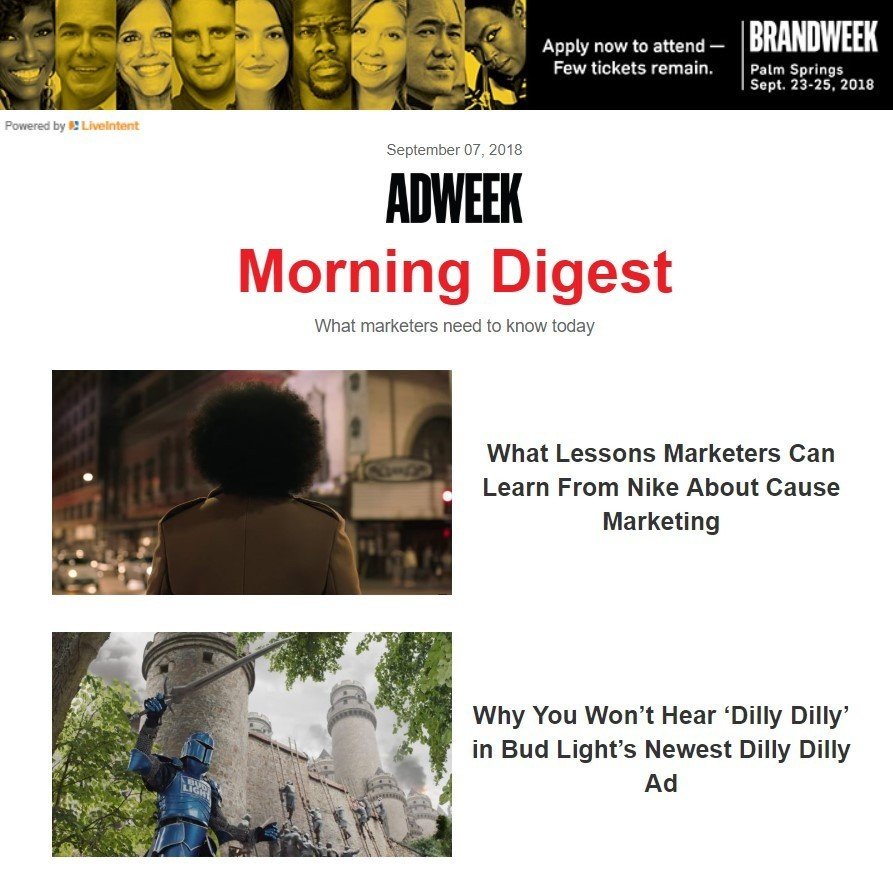 5. "4 Secret Tactics for Breathing New Life into Your Email Newsletter"
By Jeff Bullas
His website motto says "Win at business and life in a digital world". Jeff Bullas featured in Forbes, The New York Times, etc. Definitely, his newsletters are highly informative. And we can see that email subject lines are way descriptive.
It's a known fact that now emails drive the highest ROI. Who wouldn't like to improve their emails? Especially, when it takes only 4 basic steps, and when shared by such a professional like Jeff Bullas?
Discounts and sales in email subject lines
No matter how much we love holidays, being smart and well-educated, we all love to save the money we earn. This means that words like "discounts", "sales", "cut prices", and "off" will drive higher opens.
6. "Hanna, Start Your Week with 30% Off Food"
By Prezzo (Restaurant)
First of all, they said my name. It's always somewhat flattering. Btw, you can set merge tags with Stripo.email. Second of all, if I decide to order some food or dine out, I would definitely choose them, because Prezzo offers a generous discount. Encourage your customers with cut prices.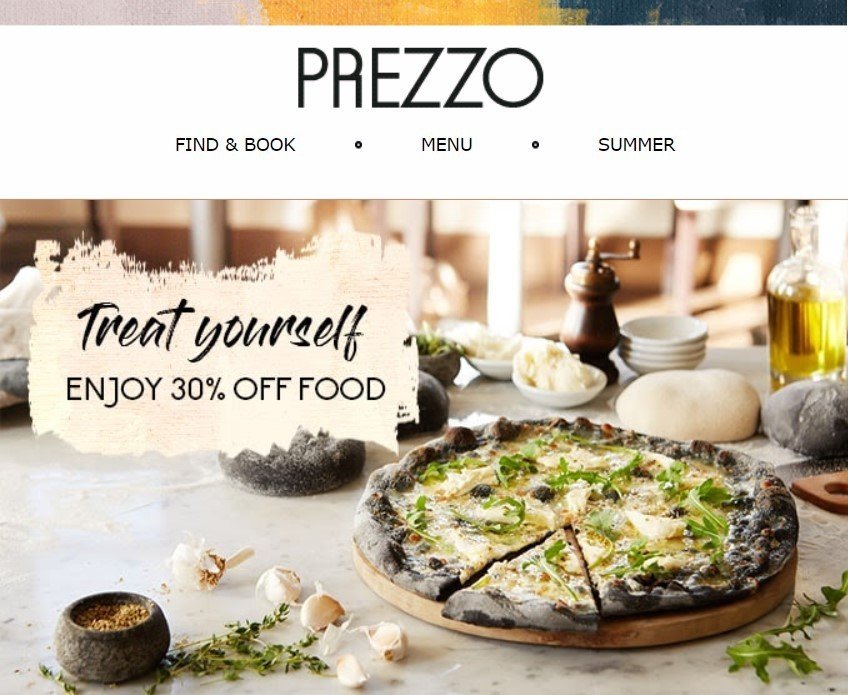 7. "Paint Options and Free Supercharging"
By Tesla
If you own or are just going to purchase a Tesla car, such value offers as free supercharging or paint options would definitely grab your attention. I do not drive Tesla, but I was really curious and opened the email.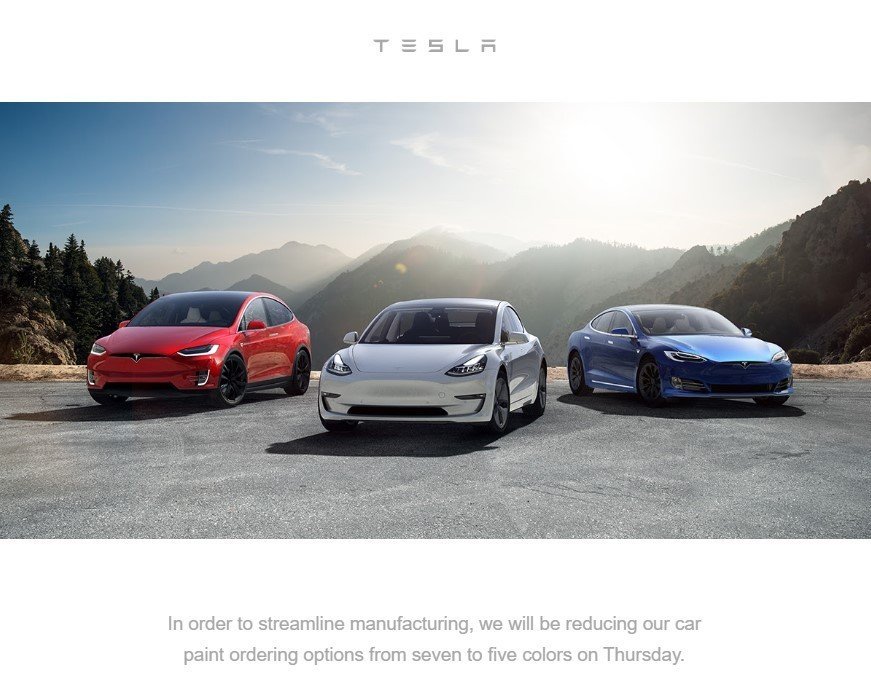 8. "$75 Annual Plans: Get a Fresh Start with Grammarly Premium"
By Grammarly
Not only is Grammarly good at making catchy email subject lines, but also at using interesting preheaders. It's hidden when the email is open and is shown in the email preview. Make a preheader be a continuation of the subject line. This simple trick boosts open rates.
The hidden preheader for this email was: for just 20 cents a day. What I really loved about this email, is that this company even calculated the sum I am about to spend if I decide to use their product. Thanks for saving my time, guys.
Cosmetics companies can use something like, "Eyelashes 200% thicker for half price". Some people won't even bother to count — they will just get impressed with these numbers and will rush to buy your mascara.
9. "Skill Up"
By Sophia at Hubspot
Your readers do not know yet what the email is going to be about, but they know they'll get a bit better and more skilled. Definitely, many of the recipients will rush to read this email.
As this is an email, it won't take long to read it. This means that in no time your recipients will polish their skills and deepen their knowledge. Give people an opportunity to learn something new every day, and they will love you.
Conferring and intriguing subject lines
Those may be subject lines with questions or the ones that are pretty controversial.
10. "Men vs Women"
By Dictionary.com
Nowadays, when some women still fight for their rights and equality, against to others who think that men are always right, you might use such provocative subject lines to improve your open rate. Please, be advised that it's very risky. You need to be very polite and tolerate. Make sure you do not offend anyone with your content.
11. "Wordpress vs Shopify"
By Chris Singleton, at Stylefactoryproductions.
Why is this relevant and interesting? Because we always want to know who wins, who's better, what to choose for our work, etc. We love comparing things. And we love to know that we have a choice.
If you want to build subject lines that get opened when delivering email digests, just compare — choose two famous tools or two famous products of yours and compare.
12. "When's the last time you…"
By ReallyGoodEmails
When's the last time I what? That's pretty interesting to find out what they are talking about. And who knows, maybe they need my opinion for their survey? I guess many of us would like to help these funny guys with the polls.
This email subject line is not provocative, but rather funny and evokes curiosity.
This is a great example of email subject lines that work.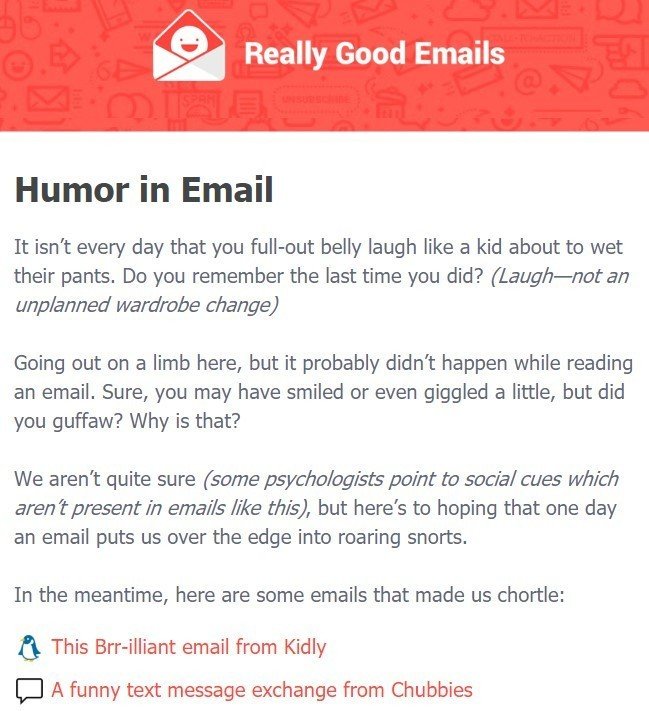 13. "Wanna Know a Secret?"
By Chubbies
The preheader said, "It's a pretty big one, to be honest".
Well, yes! I would love to…
Just out of curiosity, many recipients will open this email to "hear" the secret. Email marketing subject lines that are intriguing show higher open rates. Why not use them for your campaigns?
Flattering subject lines
Let's confess — we are all a little vain about ourselves, and, definitely, we like it when our opinion is valued. Let your customers feel respected and special.
14. "We Want to Hear from You"
By Monica Vinader
You may guess that in this simple email they asked me to update my preferences. But the subject line is sophisticated. Everything this brand produces, including email they send out, is classy.
Undoubtedly, this subject line worked much better than a typical "Preference Update" subject line.
15. "You're officially a part of the squad "
By Maybelline
Sounds pretty moving — I am a part of something big. They accept me… But, in fact, this is just another welcome email. Isn't it cute?
All people are somewhat vain. And we, as email marketers, are to help our customers/subscribers feel respected.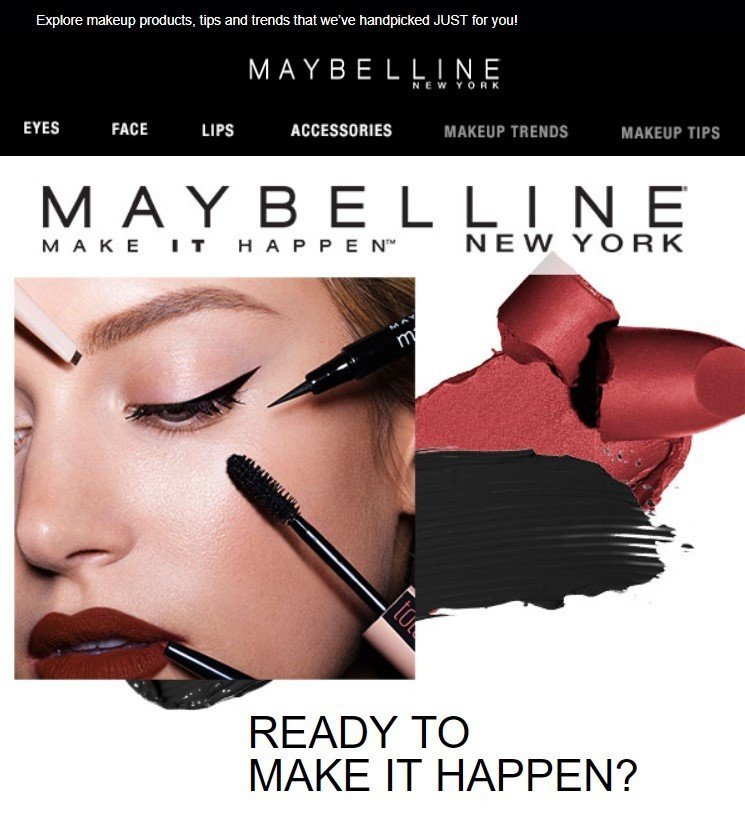 16. "Be a VIP in the City or Explore the Jungle"
By the Forbes Travel Guide
Who wouldn't like to be a VIP, especially when Forbes suggests you become one? This is a great idea to offer your recipients to be a VIP and in case they do not like it, then to explore the jungle. No matter what people choose, they will not be like others — they will be unique!
Creating such subject lines is something we really should learn to do.
Emotional subject lines
As we know, appealing to customers' emotions plays a really essential role in email marketing.
See our bundle of effective email subject lines.
17. "There's still time to get mom the perfect present"
By Brighton
All moms deserve perfect presents. And if we have not got one yet, we'll hurry to do it right away once we get a reminder.
Not only did Brighton remind me to get a perfect gift for my mom, but also used the images that complemented the Holiday.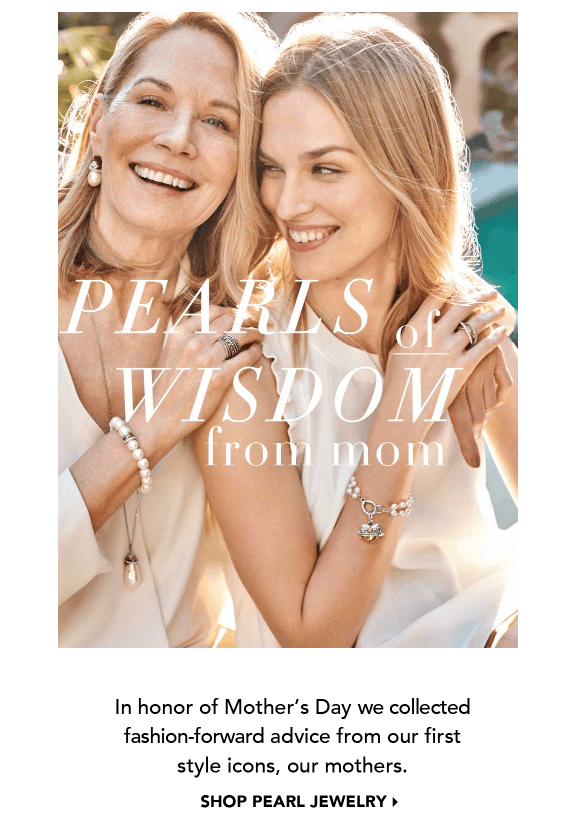 18. "Going Old School ? with 25% off Bulk M&M'S Candies"
By M&M's
We all have heart-warming memories, we all love recollecting our old happy days. Especially, when it's the prom night parties season. Remind recipients of some sweet memories of their childhood or careless youth.
Humorous subject lines
We need to smile, we need to laugh… News can be depressing, most emails in our Inboxes are pretty serious. Stand out and make your customers smile… or at least appeal to some sweet emotions.
19. "It's FriYaY"
By Starbucks
Friday appeals to many good emotions. We know we will have time to meet our friends, to sleep a little longer in the morning, or even to travel over the weekend. Remind your customers the last workday of the week is over soon and they may relax. "FriYaY" subject line means that even Starbucks is happy with me.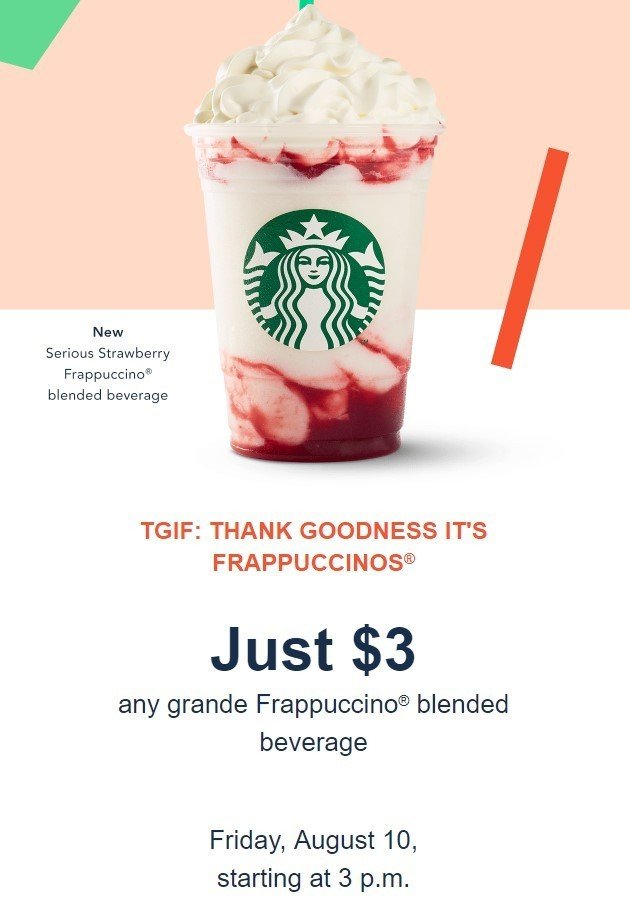 The weekend starts on Friday, at 3 pm for Starbucks' visitors? Yay!!
20. "volcanoshortsvolcanoshortsvolcanoshorts"
By Chubbies
Did I use lowercase accidentally? Not at all!!
Chubbies always stands out! They either use all cap, or all lower case.
What is the volcanoshorts they are promoting? I had not known until I opened the email.
I hope you will agree that if Chubbies had said "Look at our new shorts", the open rates would have been much lower.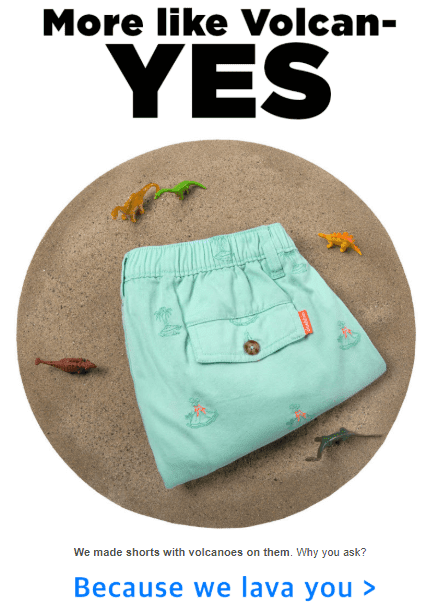 21. "Aaaaand I raaaaan"
Preheader: Aaaaan I raaaan so faaaaaaaast
By Chubbies

Chubbies are the winners of this nomination award. Each email sent by Chubbies is written in human, simple language and contains tons of jokes.
22. "GDP-What? ?"
By ReallyGoodEmails
I find them smart and funny. Their emails are also written in human language and are very informative. This is what makes them useful and desired.
Guess what? They sent this message on May, 22nd, just three days before the GDPR rules came into effect, and contained a number of GDPR email examples.
23. "kdkjwaogowkdhg"
By Chubbies
The email preheader said "I think there's a little gunk in here but it just, hold on, akskhhjkfwiebfjunfajg. Yeah, you need to clean that or replace the parts".
This subject line was widely discussed by email geeks on the web. Everyone found it amusing :)
Yet, the email was about holiday sales.
24. "Official Couch Uniform"
By Chubbies.
Sorry, I can't help it but I love them for their funny email subject lines.
While the copy in the email was pretty interesting, too.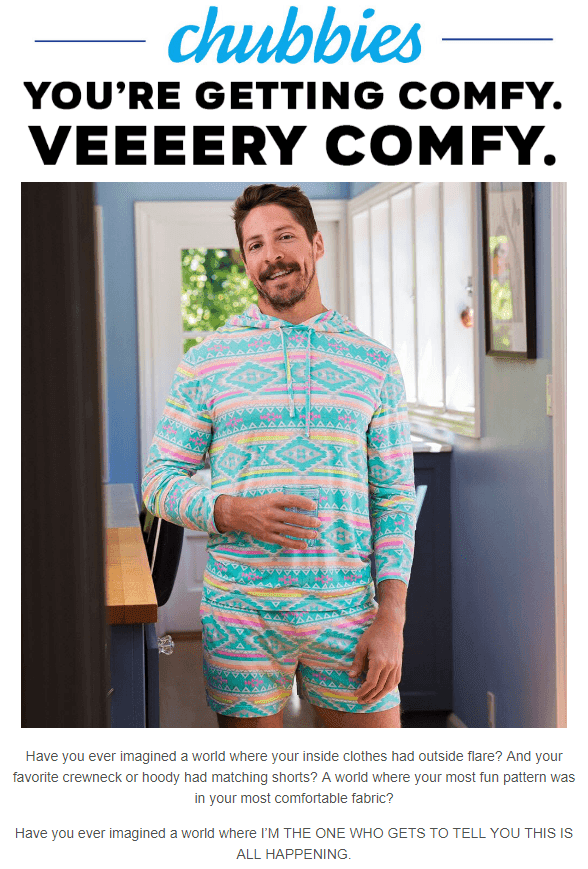 Teasing email subject lines
We love intrigues, we like hearing secrets (definitely, when it's not about our private life).
25. "In Three Days Our First True Stretch Denim"
By Everlane
What is teasing about this? Everlane attached a photo of their new product items, and even the designers' team made a note of explanation what it was. But the copy over the banner said, "Get Ready for It". You could not order this product. All you could do was anticipate! Pretty interesting idea to promote your new items.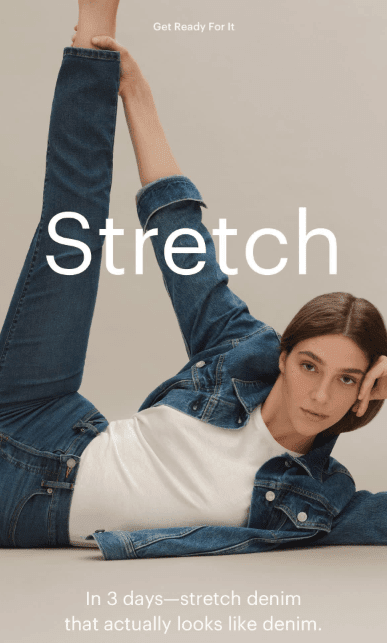 26. "500,000 Reasons to Join Hilton Grand Vacation"
By Hilton Grand Vacations
When people doubt or are afraid to do something, they want to be convinced.
The "500,000 Reasons" subject line convinces me that in that email, I will find the reason to finally join Hilton Grand Vacation…
Good subject lines for event-triggered emails
Event-triggered emails require concise and direct copy both in email body and for the subject line.
27. "Your Decathlon Account Almost There"
By Alex at Decathlon
By the first letters, subscribers guess they need either to confirm their email or to set the preferences. Once they found your website and shared their e-address with you, they are likely to wait for an email from you.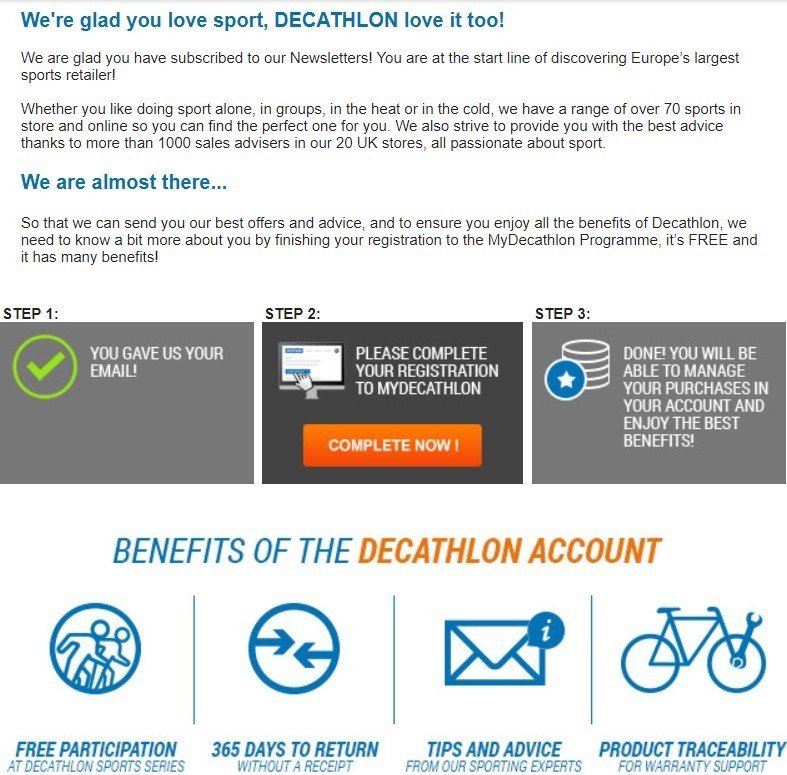 28. "It's Back in Stock"
By Brighton
How convenient it is to receive a notification from the online store that some items I added to the cart but could not buy as they were not in stock, are back to the warehouse.
29. "Tesla Updates: Model 3 is Available to Order"
By Tesla
Tesla and Apple make their new items presentations a few months prior to the release day. No wonder they get tons of emails per day with pre-order date requested. Do a favor to your prospects — let them know when items are available to order…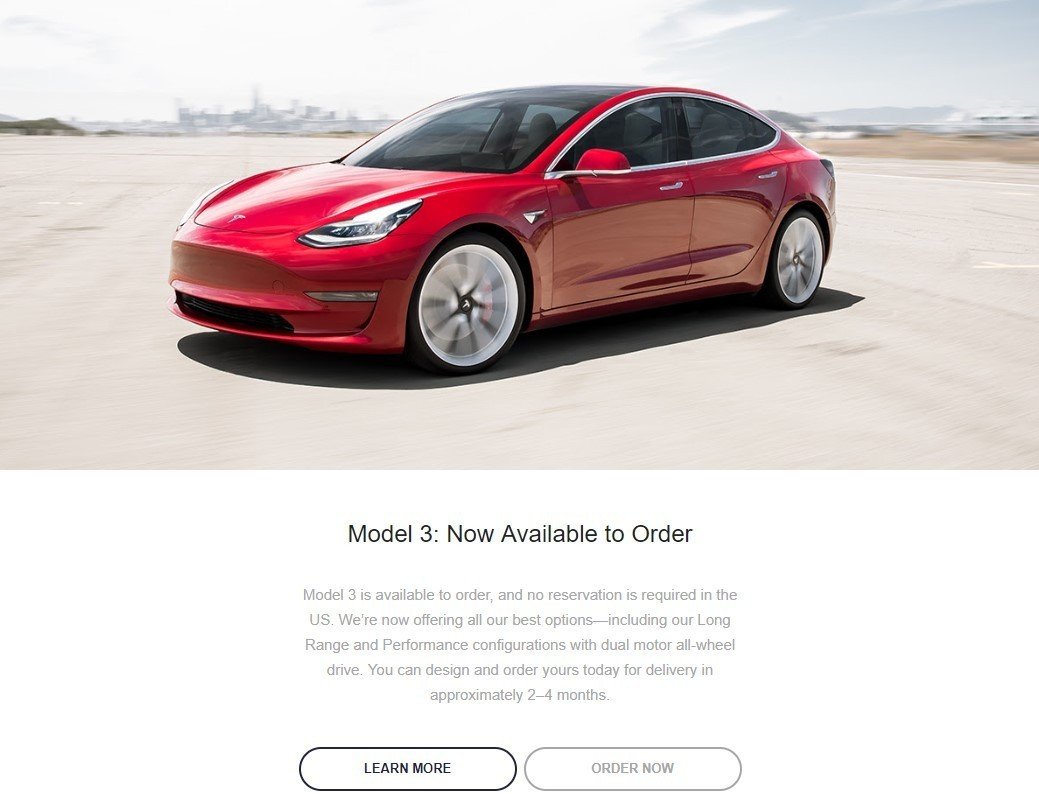 30. "Final Reminder from Ghirardelli"
Preheader — Lose Yourself in Pleasure
By Ghirardelli
Thoughts like "Reminder about what?" and "What am I missing" might convince your subscribers to open the email.
In fact, Ghirardelli reminded me that I had received a welcoming 10% discount for their products.
This is not a very clear and direct subject line, and it was kinda risky, but it successfully accomplished its mission for being intriguing — I opened the email.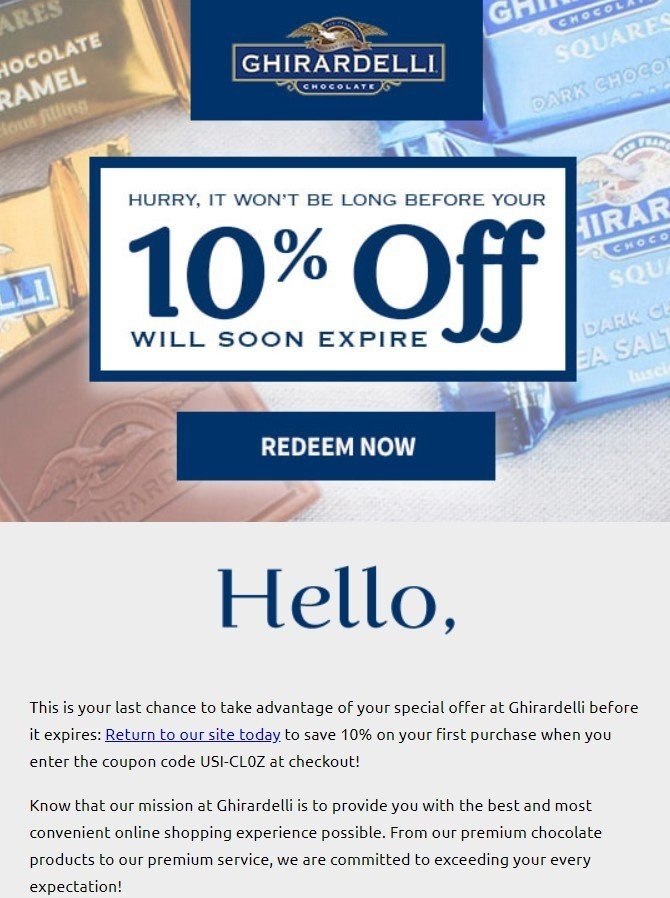 31. "WEBINAR | Diagnosing and Treating Common Email Marketing Problems Confirmation"
By Eryn at Pinpointe
What makes this subject line good is that it contains the reason why Eryn reached me out — "Confirmation of the registration for the webinar". And they also once again reminded me of the topic of the upcoming event.
32. "Thank you"
By Rendijs Gzibovskis
They just thanked me for signing up. And I liked it. You can send "Thank You" emails after subscribers have left feedback about your online store, etc.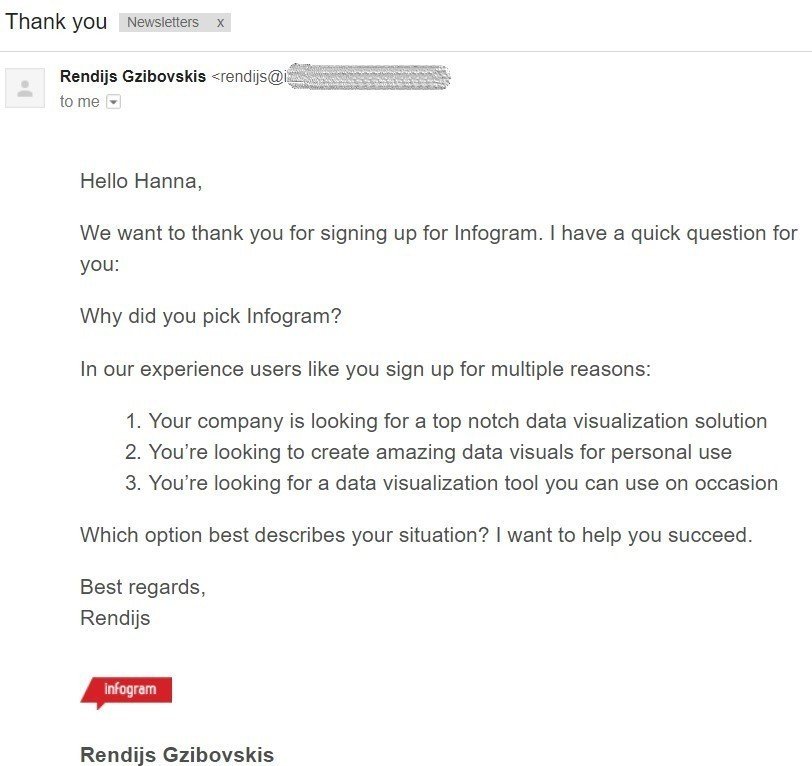 Tips to create effective email subject lines
We have thoroughly researched the web and asked our email service provider to conduct a short survey to provide you with the following tips:
Watch the length of your subject lines. Gmail desktop shows 70 characters of your subject lines, while Android Portrait shows only 30;
Use numbers in your email subject lines. They grab customers' attention — preferably write them in numerals, not letters;
Personalize emails to let the customers feel special and valued;
Add descriptive preheader text;
Be direct and concise (unless it is a teaser email);
Use conferring subject lines;
Stand out — don't be afraid to be funny when it's reasonable;
Urge your customers — notify them of how many days the sale will last. Certainly, in this case, it's preferable to add a countdown timer in your email to be consistent;
Include emojis to spice up your email subject lines;
According to some investigations' results, provided by eSputnik, there should be sequences of some event-triggered emails.
For example, promo emails, dedicated to a special holiday, should be sent out a few weeks or days prior to the Day X. On the very holiday, you should send an email notification via Whatsapp or a web push notification to remind them the sale is going to its end.
Note: send the latter only to those who have not purchased anything from the sale list yet.
Please find many more ideas and email subject line examples with stats on the Omnisend blog post.
How to add a subject line and preheader to your emails with Stripo
To add a subject and preheader to your emails, you need to:
click the Settings button above the template;

enter your subject line in a respective field;
enter preheader text if you like. If you do not feel like writing and adding any preheader text, just activate the Fill in with white space option. Otherwise, recipients will see the first elements of your email as the preheader text;

For your convenience, Stripo counts the number of characters you enter in both fields.
Thank you for your time and for reading this post. I hope that the tips and examples given here will help you write subject lines that get opened.
In order to save each email marketer's time, we have already prepared a wide variety of email templates — pick the ones you like, customize them in accordance with your needs, and indulge subscribers with sophisticated newsletters.
If you have any questions or want to share your great examples of email subject lines, please leave a comment below, or email us at contact@stripo.email. We will really appreciate your feedback.