02 August 2021
Subscription Confirmation Email: Best Practices & Examples
Today we will talk about subscription confirmation emails. The subject seems quite simple, but as one well-known banker said, "Simplicity is the hardest thing in business". That is why we are not supposed to ignore the important aspects of our marketing activities even if they seem rather simple at first sight.
What is a subscription confirmation email?
The subscription confirmation email is a trigger email sent after a customer has performed a certain action: subscribed to your service or product. The email's purpose is to make the client click on the confirmation button.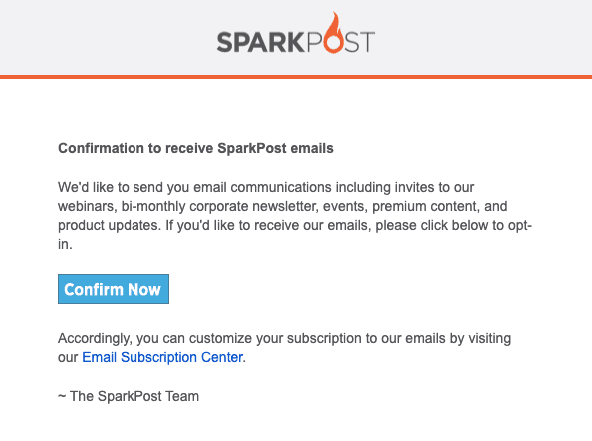 (Source: Email from SparkPost)
This type of subscription is called double opt-in.
Why are Subscription Confirmation Emails Important?
Benefits of sending subscription confirmation emails and Double opt-in:
GDPR compliance. The GDPR agreement dictates that you always have to ask users to confirm their willingness to subscribe to your newsletters and that they give you consent to process their data, email address in this case;

engaged contacts. Even if a user entered his or her email address on your site by mistake, they can always decide to not "confirm" their willingness to subscribe to your newsletters;

clean contact list. This point is the result of the previous one. Only those who are interested in your company updates will click the "Verify your email" button.
Subscription confirmation email best practices
1. Stay on-brand
Make sure your email is designed according to your brand style. The color scheme and tone of communication should represent your position in the market. Harmonious use of those will lead your confirmation email to success.
People who received the email will visually recognize the style and colors that they saw on your site.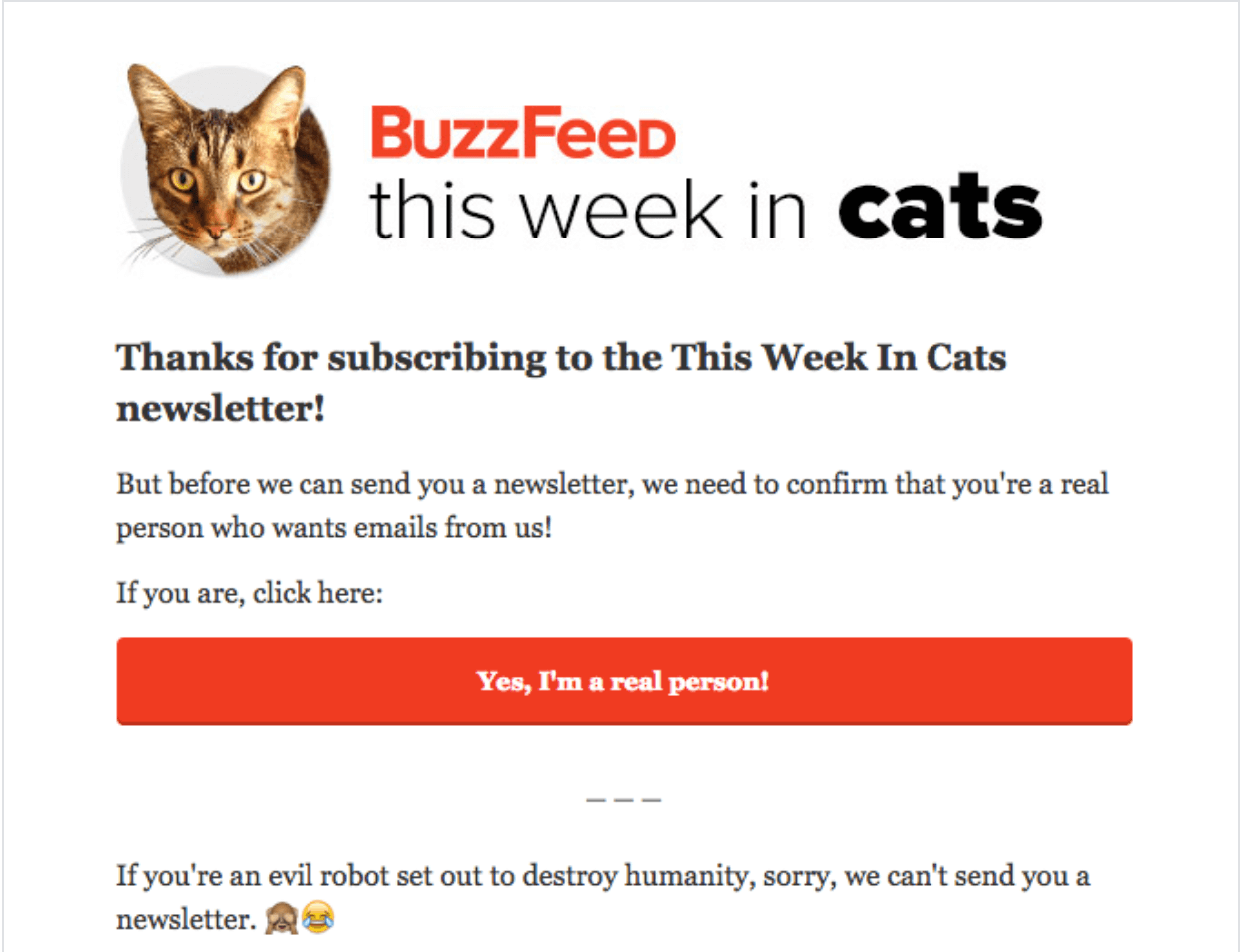 (Source: Email from BuzzFeed)
2. Be concise
Remember that you only have a few seconds to inform your client about the goal of the message. Clients do not like long reads that are not even separated by paragraphs.

(Source: Team Jilt)
3. Add the unsubscribe button
Unfortunately, we also have to talk about sad things.
A person who does not want to subscribe to your mailing list will be able to unsubscribe from your list, in case you have a series of "subscription confirmation emails" to reach out to those who did not confirm their email address with the first email.
Be sure to put this button at the end of your email.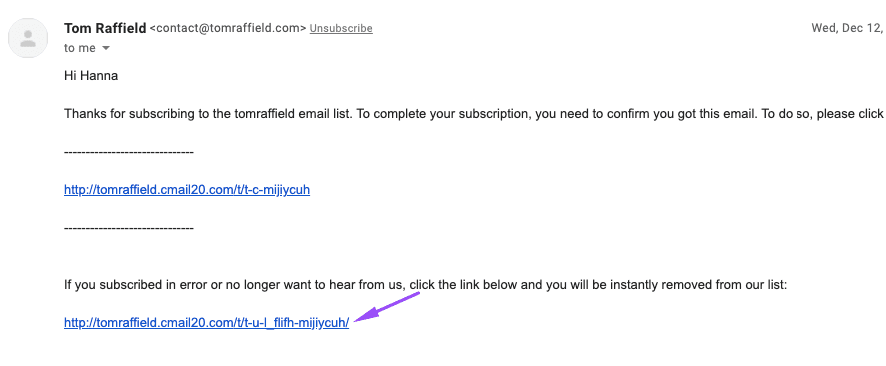 (Source: Email from Tom Raffield)
4. Use imagery
When it comes to the subscription confirmation email design, some email marketers hesitate whether they should use imagery.
The answer is yes! Imagery, if used wisely, won't hurt.
Make it simple, make sure it fits the goal of your email.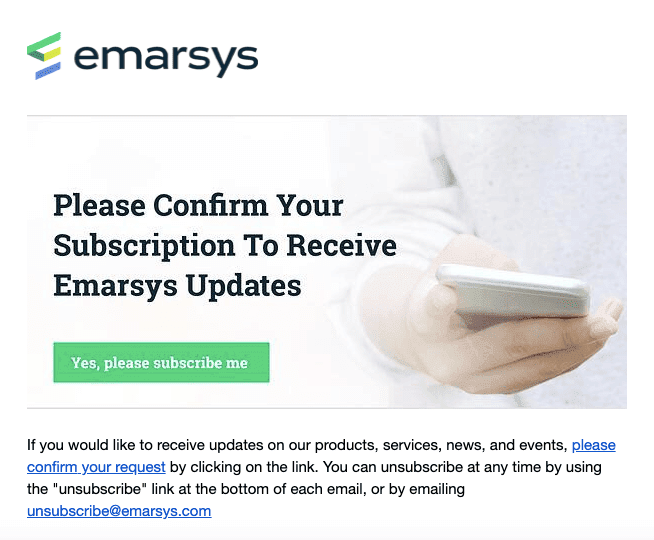 (Source: Email from Emarsys)
To make those banners even more useful and meaningful, add the "Confirm" button on them.
Please watch a short video below to find out how to add buttons over banners with Stripo.
Spice up your subscription confirmation emails with Stripo
Join now
5. Enable the 1-click subscription
What do we mean?
With AMP, you can let your users confirm their subscription and see the result right away in the email.
Users don't need to wait for the email where you notify them they successfully subscribed.
It means, they can start using your tool/start shopping right away.
(Source: Email from Stripo)
Of course, you still have to send a welcome/onboarding email to show them how to use your product.
6. Send a reminder
If for some reason a user did not hit the "Confirm" button in the first email, be sure to send a second one within 24 hours.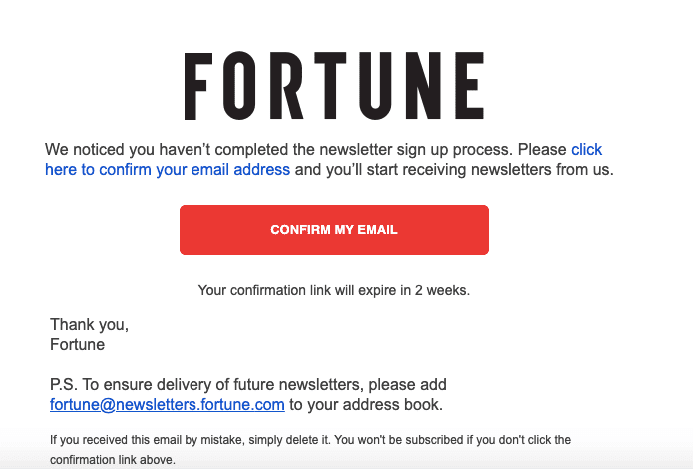 (Source: Email from Fortune - Newsletters)
In this email, you are to explain the reason why you are reaching out to the user. And let him or her know that he or she will not be subscribed to your newsletter unless he or she hits the "Confirm my email" button.
And let users know how soon the link expires.
7. Decide on the subject line
Once your subscription confirmation is ready to go, be sure to write a short yet meaningful subject line.
It, of course, should contain the words "Subscription" and "Confirm/verify".
Send those emails on behalf of your brand.

(Source: Gmail)
5 subscription confirmation email examples
Now that we know the best practices, let's see them in action:
Example 1. Make your email look as simple as possible
If you like, you can make your email look like a plain-text one.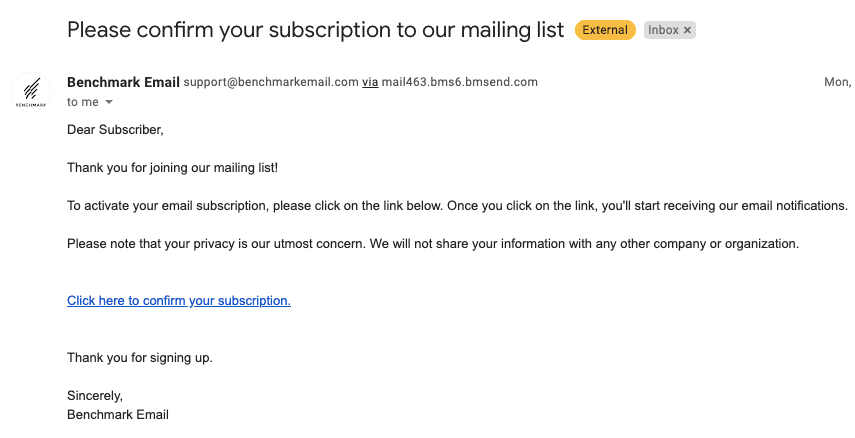 (Source: Email from Benchmark Email)
Please, be advised that this is a regular HTML email, it's not a plain text one.
Example 2. Conciseness
Don't write a lot of unnecessary text. Just thank the customer for choosing you and add a subscription confirmation button.
If it's possible, tell your clients what you offer after subscribing or just let them know about some important news. Describe it in one line or two. Of course, you do that only if you know for sure that such things would be important for users.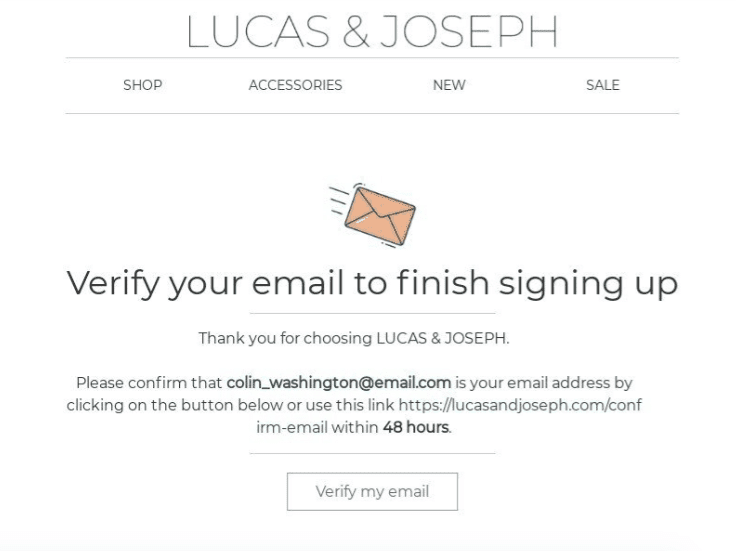 Use this subscription confirmation email template to speed up email production
Get started
Example 3. Use the largest CTA possible
Make a CTA text font or button larger to accurately direct the client to a confirmation button. Oh yes, or even animate this button!
Just don't overdo it at this point. It doesn't have to look like you are forcing the client to do the right thing. A large enough font is able to visually highlight the CTA button.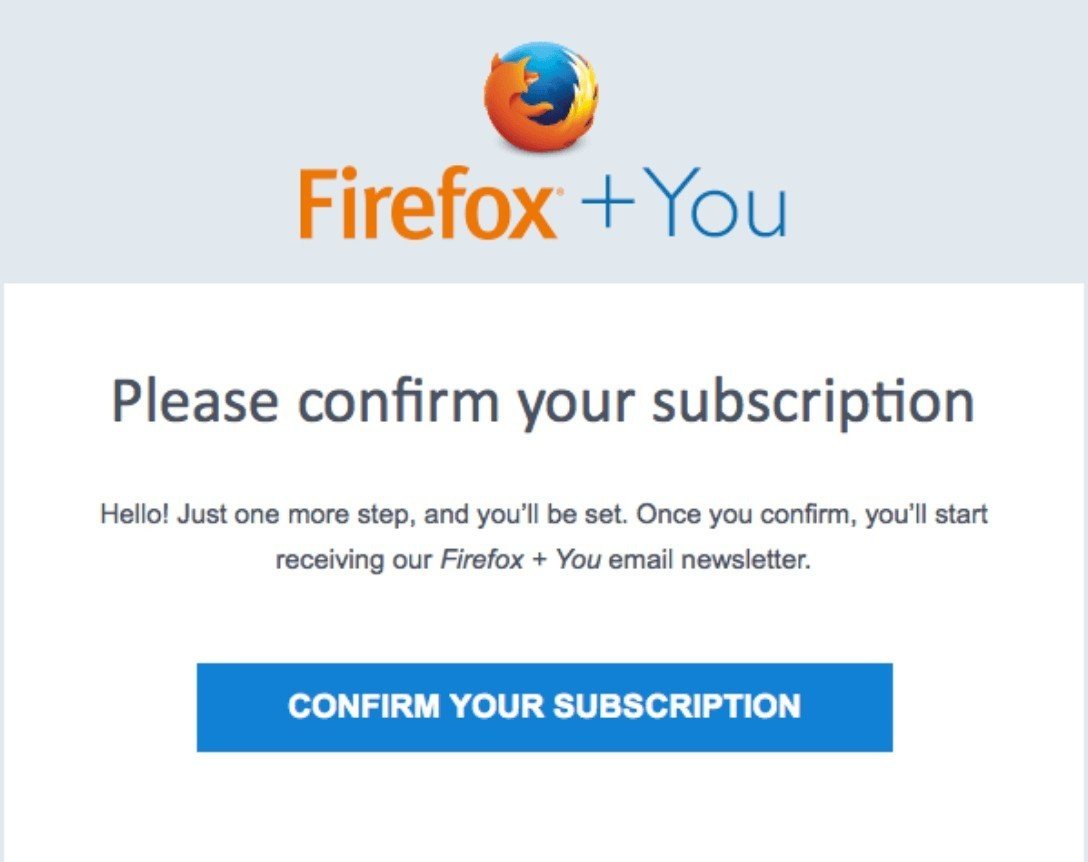 (Source: Email from Firefox)
Example 4. Work on your subscription confirmation email design
Apart from making the CTA buttons noticeable, you must maintain the colors and style of your brand — we've already mentioned it. This means the subscription confirmation email design should be visually associated with your site and other emails.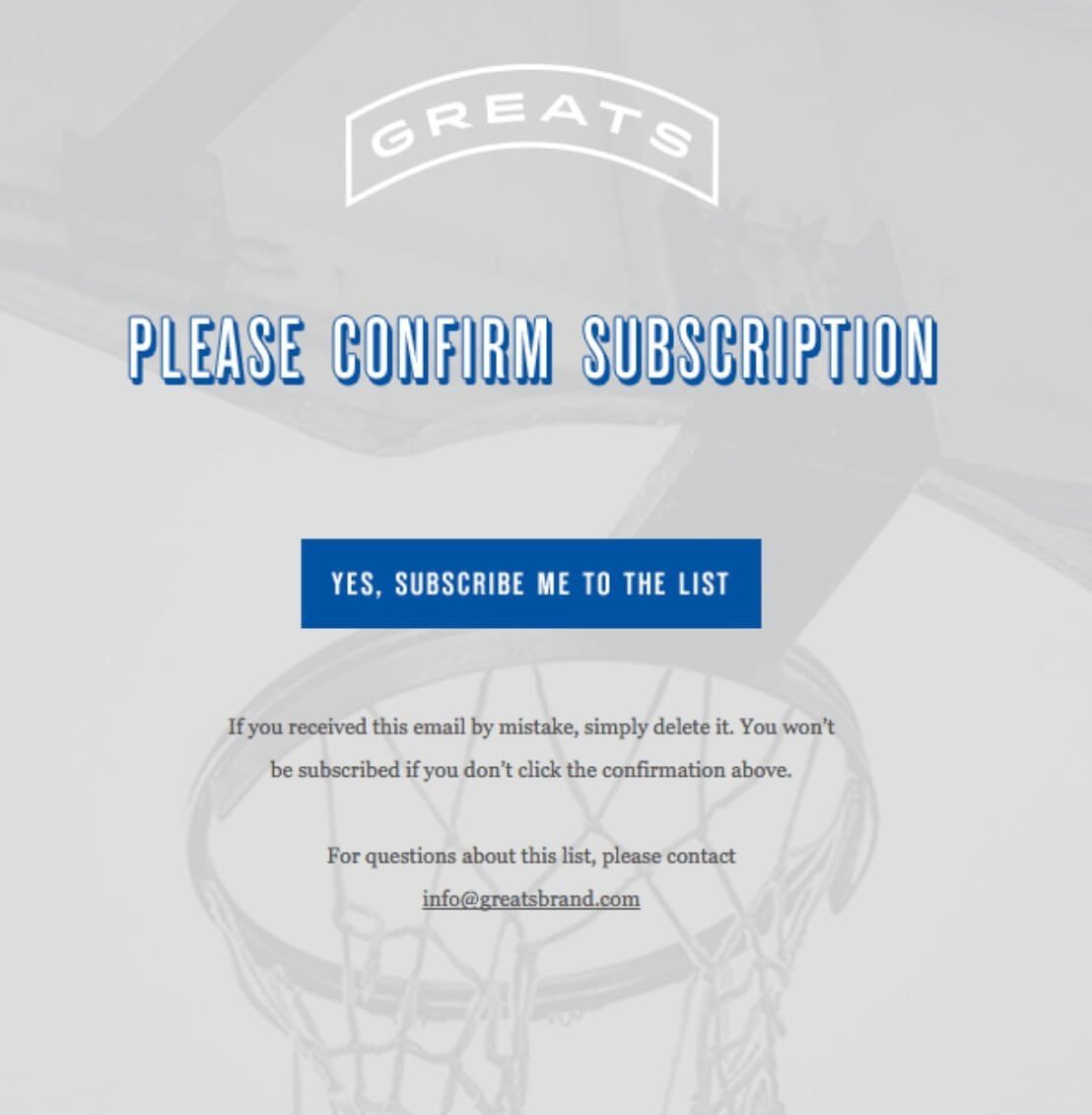 (Source: Email from Greats)
I love this example. Though, the selected font blends in with the background. Please, remember that readability is above all.
Example 5. Inform the clients what they should await after subscription
You need to describe what awaits the person after he or she confirms the subscription as briefly and clearly as possible.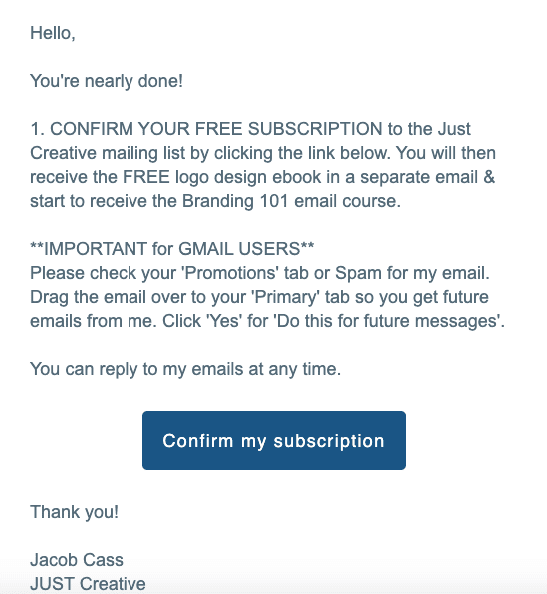 (Source: Email from Jacob Cass at JustCreative.com)
Important to note
Once users confirm their subscription, be sure to send a well-crafted welcome email if you run an eCommerce business or even a series of onboarding emails if you run a SaaS company.
Final thoughts
The subscription confirmation email is a must. Double opt-in is allowed only.
The best practices given above will help you build a proper email.