In our welcome email series, we changed everything from the logic of the emails to the design of the blocks — and it works.
In this case, we describe what was done and what results it brought. And most importantly, we show all the components of our welcome email series — we give the recipe, tested and ready for use.
What is the welcome email series in Stripo, and why is it needed?
The welcome emails in Stripo are a sequence of emails sent to users who have registered in Stripo. It doesn't matter which tariff plan you choose — paid plan or free one — immediately after registration, you will start receiving our welcome emails.
This series helps the user:
understand the functionality — how to use Stripo correctly, what features are there in general, and when they can be helpful;
learn about the educational materials we have for users, e.g., the Academy, where you can get fundamental skills for working with the editor;
start using templates and modular email design;
get helpful content from the blog and other channels, prepared specifically for those new to Stripo and with step-by-step manuals.
That is, the user receives as much introductory information as possible, which will help them quickly understand what Stripo is and how to use our editor effectively.
For Stripo, the welcome email series has the following goals:
retain the user because the faster they understand the editor, the more likely they will remain our user;
transfer the user from the free plan to the paid plan and choose a tariff plan that will allow solving all problems.
Why we decided to change the entire welcome email series
There is an unspoken rule: if it works — don't touch it. Our previous welcome series of two emails worked well, but we wanted better results.
Among the reasons why we decided to improve the series were the following:
There have been many changes in the product itself — this had to be reflected in the welcome series.
The design of the website and emails in the regular newsletter has changed, so it was logical to update the creation of the welcome emails as well.
Evergreen content on the blog has been updated, new webinars have appeared, and much more — it was necessary to add this so that new users get it.
It was necessary to implement user segmentation. This is an important first stage of user interaction, and we can sell better at this stage. We realized that we do not segment the audience in welcome emails into paid and free, and accordingly, we do nothing to sell to those who have yet to buy — something had to be done about this.
Cardinal changes we made in the welcome series
So, we decided not to waste time on long attempts but to make all the changes we wanted to add to take our welcome email series to a new level. Therefore, we chose a somewhat risky path of cardinal changes, but it was worth it.
We send all emails within a week because there is a statistic that if a person does not start using Stripo within the first week, they are unlikely to stay with us.
We changed the logic, the number of emails, and the subject lines
Previously, there were two emails in the series, and now it consists of five emails, not counting trigger emails. Here are the emails that are now included in the welcome sequence.
Email 1: Your first day with Stripo!
In this email, we show step-by-step how to use Stripo. We provide five valuable links so you have all the necessary information at once, and we encourage you to start working with the editor immediately.

(Source: Stripo email)
Email 2: Your Weekly Reads from the Stripo Blog📗
This one is an email with blog articles, where we have collected evergreen content — a selection of what will help you start working with Stripo. This content must remain relevant over time because the email sequence is created once and sent automatically without changes.

(Source: Stripo email)
Email 3: Part of the big team❤️
In this email, we have collected success stories from our users, in which they share how Stripo speeds up email creation, requires less effort to create letters, and makes email marketing effective. We hope this email inspires our new users to use Stripo to its full potential, serves as social proof, and further builds trust in the tool.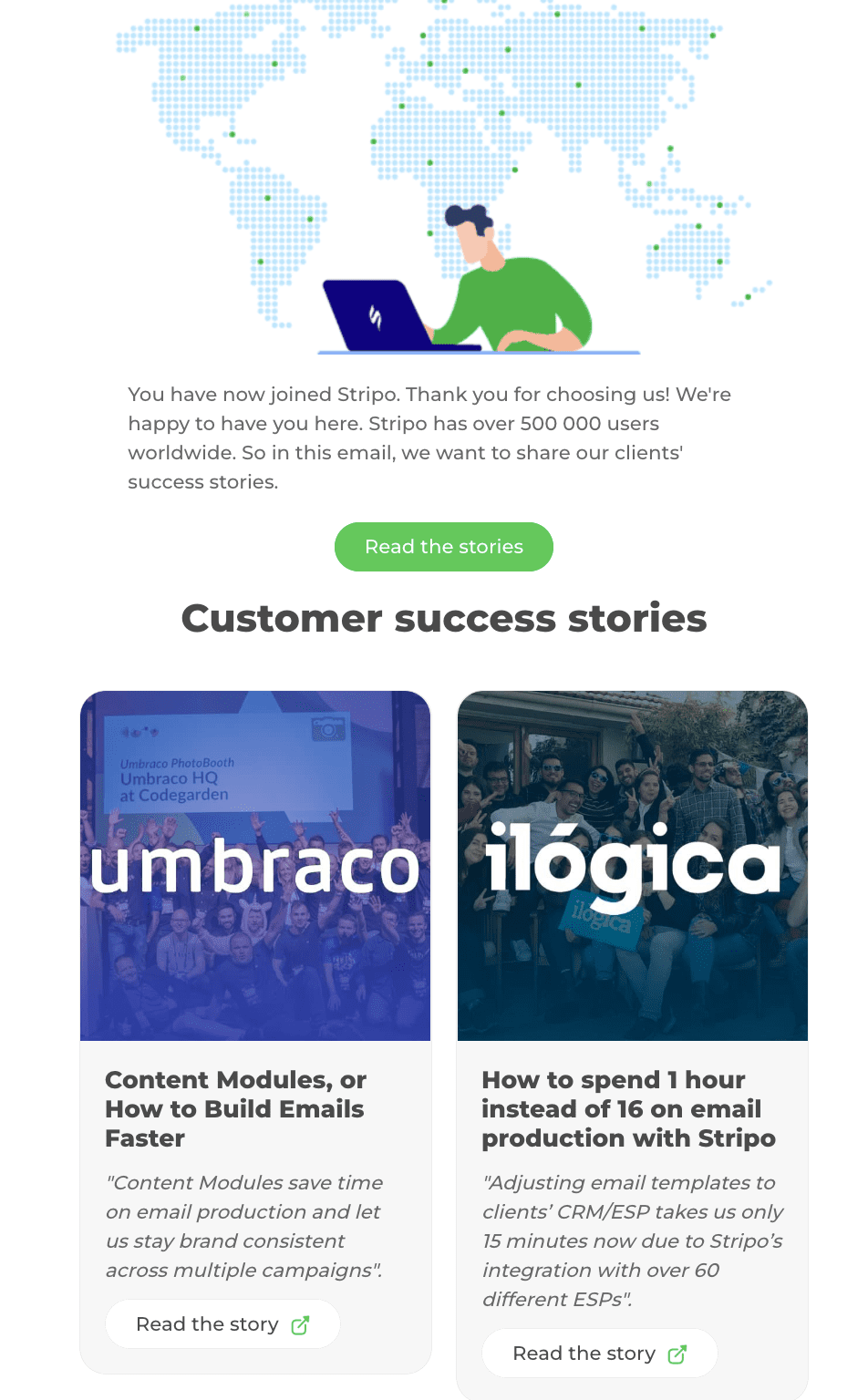 (Source: Stripo email)
Email 4: Learn how to use Stripo like a PRO🎓
In this email, we have collected educational resources because Stripo creates a lot of such content to help users build effective emails using all modern functionality: AMP, gamification, surveys, and much more.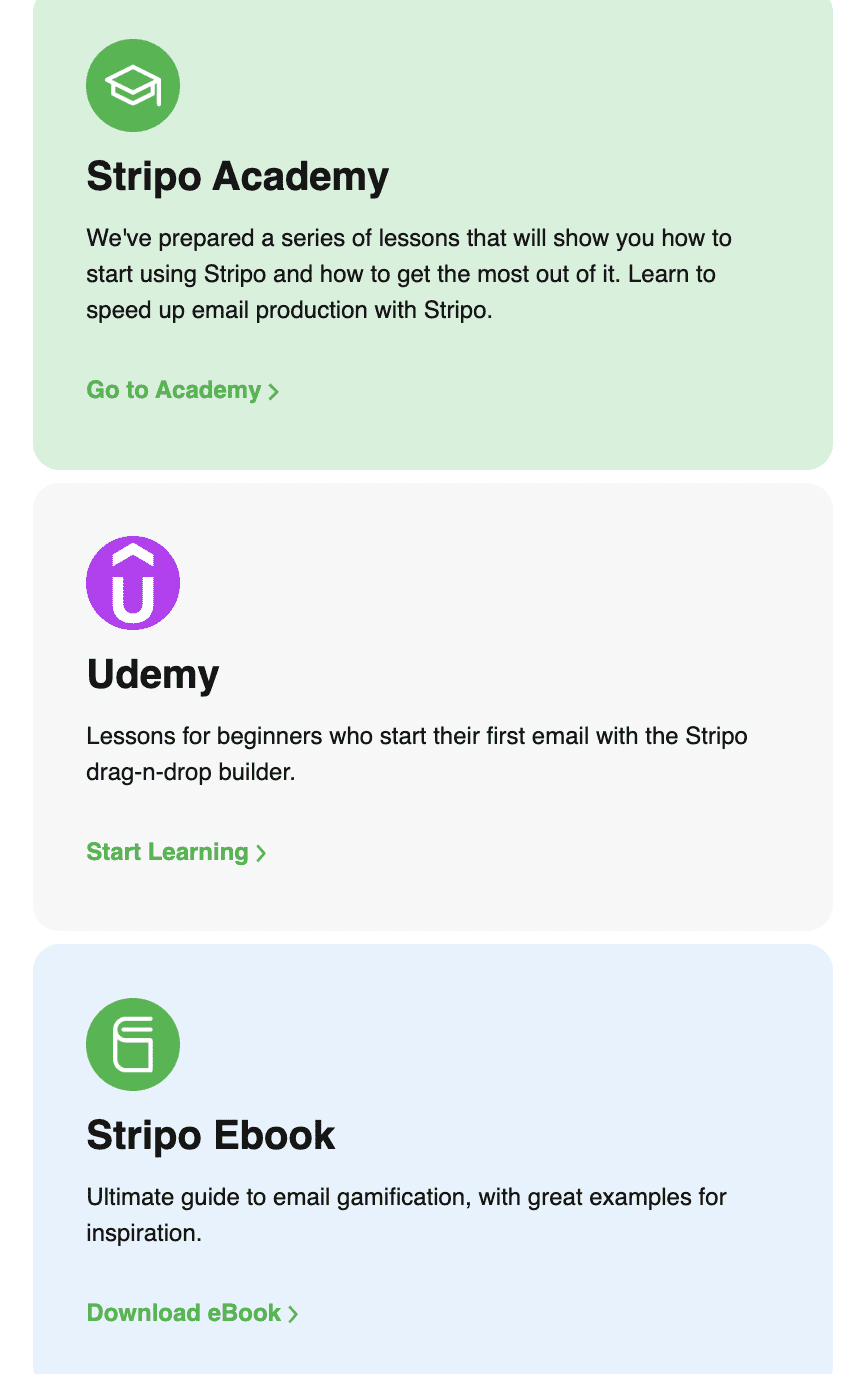 (Source: Stripo email)
Email 5: Let's be better together
This is the last email in the series in which we ask for feedback. In the survey, we included five questions, asking users to tell which features of Stripo they used, what they liked, what difficulties arose, and whether they were ready to recommend us.
(Source: Stripo email)
You might also like
20 Best Welcome Email Examples

We reinforced the series with trigger emails
We had been supporting trigger emails before. For example, if the user has not finished making the template, they receive an email: "Did something not work out for you? Book the call with support."
Or the user created but did not export the email to an ESP for sending. For us, export is the primary indicator of product use efficiency and a key activity marker. We send an email: "If you have problems with export or still need ESP, we will help."
Along with the new welcome series, we have created another trigger email. If the user has not yet signed up for a paid subscription in the middle of the welcome series, we send them an email where we try to sell a paid plan — we show the advantages of paid packages, for example, the number of exports, joint work with colleagues, etc. But we encourage you to use these opportunities to create powerful emails.
Subject line: Make the most out of Stripo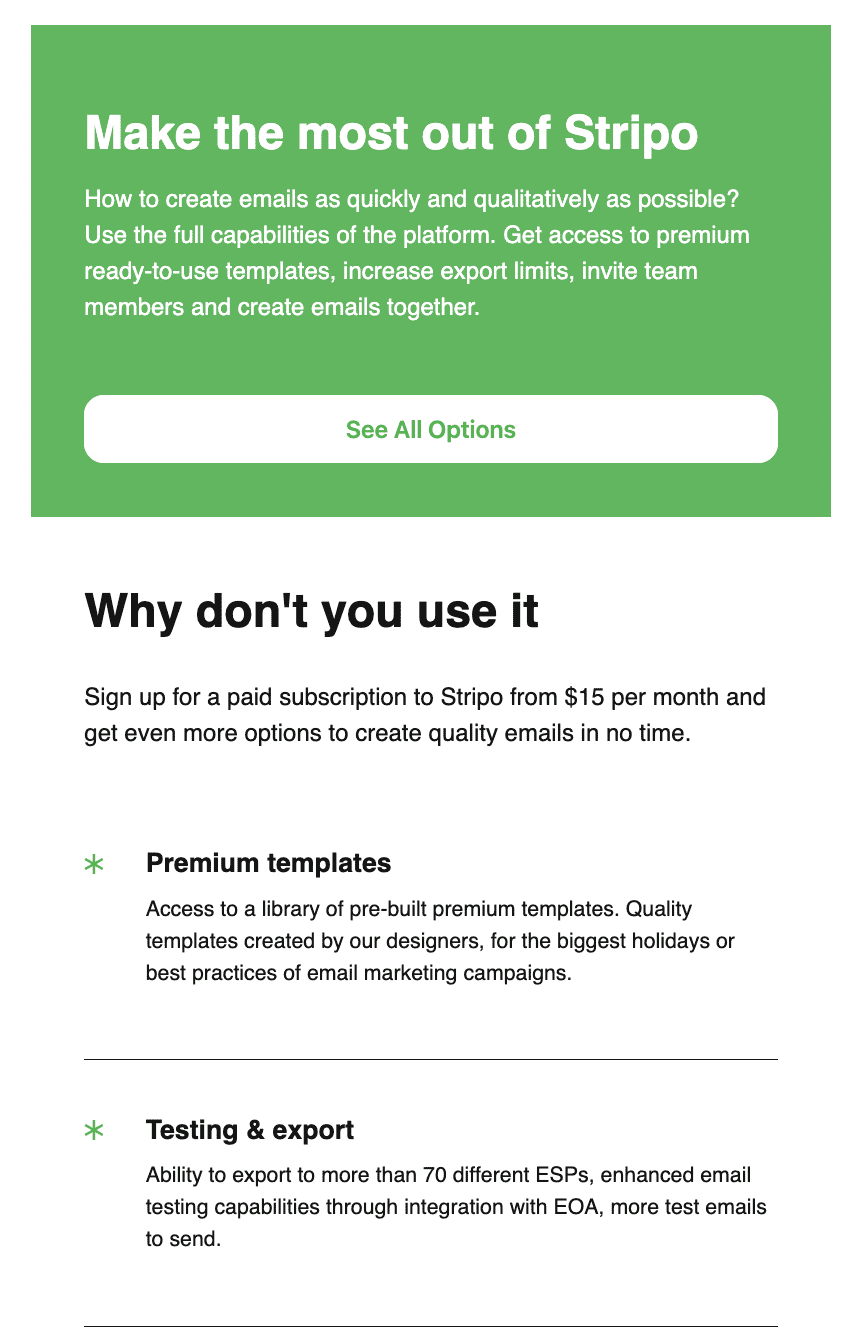 (Source: Stripo email)
In the new welcome series, we decided to focus precisely on covering the basic needs of users and provoking the user to specific actions. This action trigger will already cause subsequent emails depending on the activities. These trigger emails are already designed to help more precisely.
Changed the design
We have updated the design of the emails to match the new website design and the new templates of our promo emails. It has become more modern and light, allowing us to precisely draw attention to those crucial blocks.
Thanks to the fact that we develop the emails in our editor, changing the design of all emails after creating a basic template takes a little time. How the design changed was shown in detail in this case.
Added the prioritization of CTAs
Our welcome emails may have multiple CTAs, but we designed them differently to attract attention depending on the priority:
primary CTA — the main action "Get started" is highlighted with a button that takes a person to the editor (collects 51% of conversions);
secondary CTAs — links to articles, videos, or any useful materials — these are just links, not buttons.
All links are designed to appear in different emails — if the user did not see it the first time, we would serve it again because it is crucial.
Added two new calls to actions
Previously, when users had problems using Stripo, we gave our support email address and offered to contact them. It was not very convenient for users and required a lot of resources to process emails by the support unit.
Now it looks like this:
The link to the help center is a knowledge base that contains all the information on how to work in the editor, step by step, with screenshots.
Possibility of booking a demo — a 30-minute call with support, during which you can get answers to questions with a screen demonstration.
This approach relieves the burden on support because users either find the answers themselves or request a call.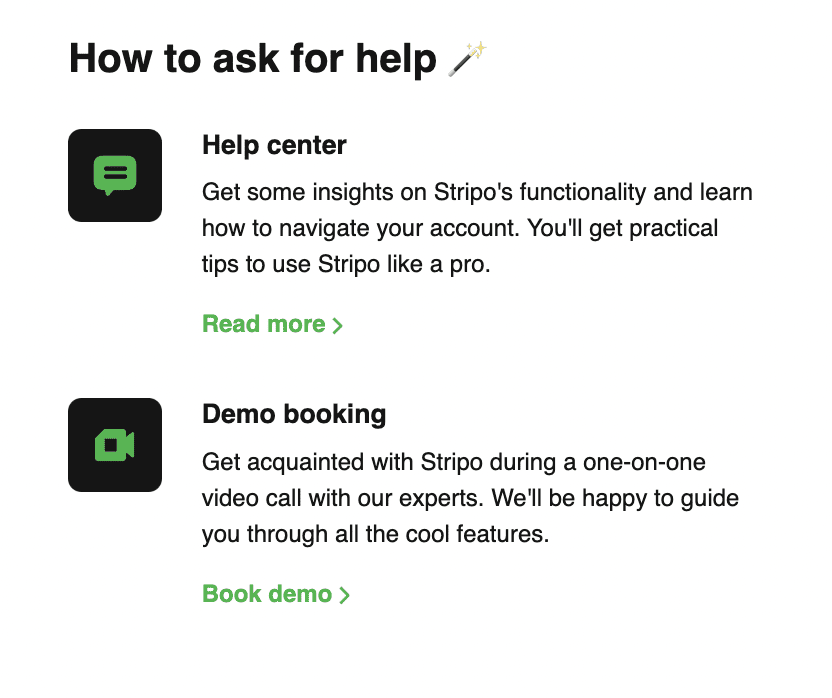 (Source: Stripo email)
Added a reaction block to each email
In each welcome email, we added a block asking if it was helpful to track the reaction and understand whether our welcome series was helpful. If feedback is not collected, we don't know what is actually happening with users.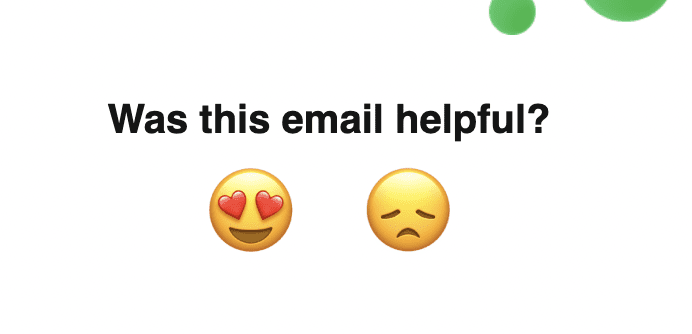 (Source: Stripo email)
How the key metrics of the new welcome email series changed
We need to learn more about our users and what they need at each moment. But it is only possible to understand with tests. Therefore, we are now actively analyzing and collecting information on how each email and its parts work.
All key metrics are improving month over month.
We started sending the new welcome series in January 2023, so we have five months of results. Emails are sent in 1-2 days during the week.
Among the results, we would like to highlight the following:
OR indicators of all series emails — from 47% to 87.5%. At the same time, the OR of the first two emails increased by 8 and 19.7%, respectively, compared to the two emails of the old welcome series.
The OR of the last fifth email rises to 87.5% and is the highest among all emails, meaning users read the entire series.
CTR indicators are kept within 13.8% (first email) to 3-3.5% for other emails.
The OR and CTR indicators are higher than the benchmarks in our industry.
What do we plan next?
We started actively working on trigger letters. We implemented what worked in the welcome series into trigger emails — for example, the help center and a call with support.
This use case was coauthored with Alina Samulska-Kholina, a copywriter at Stripo.
Was this article helpful?
Thanks for your feedback!