07 February 2018
7 Popular Types of Triggered Email For eCommerce
The triggered emails increase open rate up to 69%. While only welcome emails win 33% customers more and drive higher engagement with your brand. Online reminder emails help us increase the attendance rate from standard 25% up to 60%.
Triggered email marketing campaigns generate at least half of the companies' revenue, according to Litmus.
Automate this process to win newly registered customers and to re-engage your old ones.
Triggered emails, also known as transactional ones, are the emails that are triggered by the subscriber's behavior or a special event.
In this article, we are willing to describe the 7 most popular types of triggered emails, show how to create them by using our newsletter email templates and provide the best trigger email examples for each case.
7 popular types of triggered emails
Of course, triggered based email marketing defines many more kinds of transactional emails. But we decided to combine them just into the 7 groups.
1. Confirmation emails
It's too obvious that confirmation emails are supposed to confirm something. What they do confirm:
subscription/registration;
event registration;
order and shipping;
reservation.
Subscription confirmation emails are meant to notify the prospects that they have successfully subscribed or registered with your website. For subscription/registration, you should use double opt-in forms. The reason we use this option is to get only interested people in our products.
How to write subscription confirmation emails:
mention your company name;
ask to sign the Privacy Policy.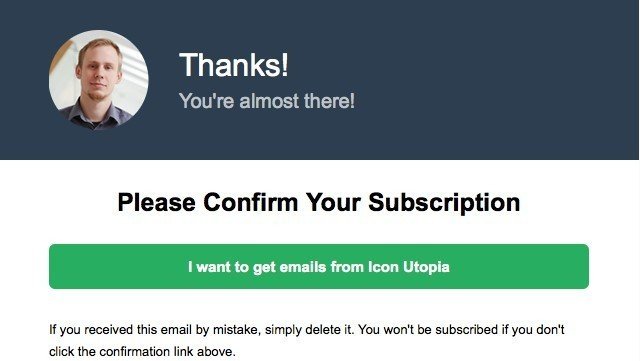 Registration confirmation emails are almost same as welcome emails in case they confirm registration with the site. But if it is about the registration for a special event, this is a completely different email.
How to write event registration confirmation emails:
Firstly, these messages should include:
company name;
event name;
date, time;
event brief description;
further instructions.
And of course, all these emails should be followed by the reminder emails.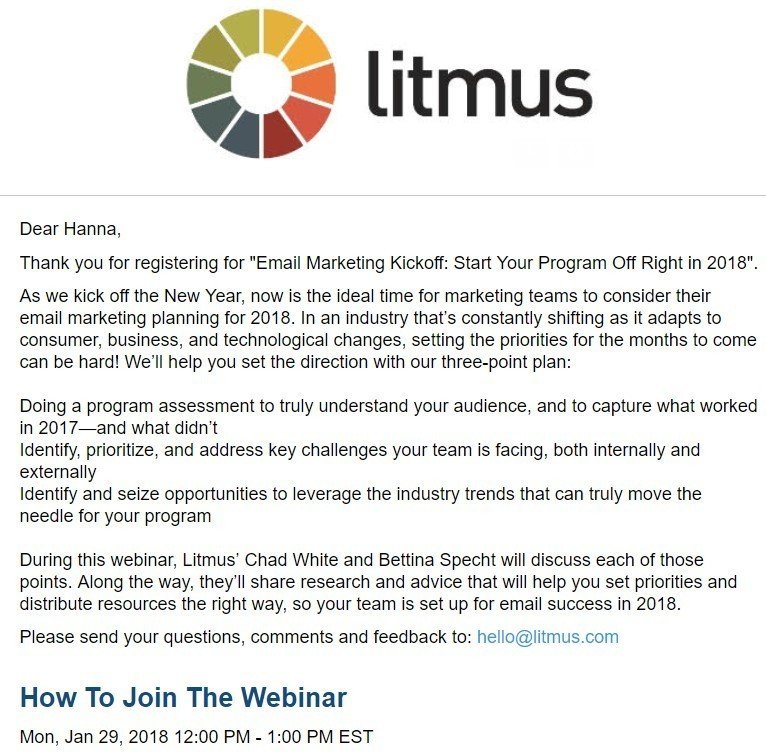 Order confirmation emails
In order to confirm your customer's order or a purchase, we send out an order confirmation emails.
How to write order and shipping confirmation emails:
Besides all typical obligatory ingredients for trigger emails, order confirmation emails should mention:
items ordered;
availability of the items;
total sum;
approximate date of shipping/arrival;
how to cancel the order if possible.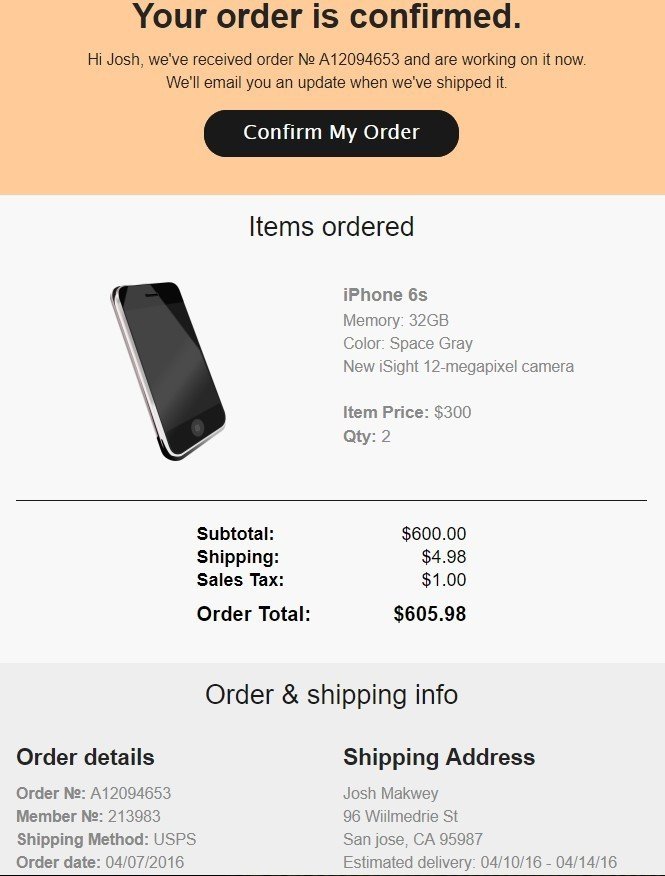 Reservation confirmation emails
Reservation, aka booking, emails are supposed to inform the customers that we are aware of their reservation. And we confirm the availability either of a hotel room or a table in a restaurant, etc.
How to write event registration emails:
First of all, these emails notify our consumers that we are able to fulfill their order.
Things to mention:
period of reservation;
place, town, country for reservation;
quantity of visitors;
date of arrival and departure, for hotels;
map/directions how to get there;
offer transfer from the airport.
When to send confirmation emails:
Send registration confirmation emails right away. Don't let your customers wait and get nervous. As soon as they receive the confirmation of their registration or order email, they exhale and calm down. Especially, if they have already paid for the purchase.
The benefits you get
As long as people confirm their registrations, orders, incl. items, time, a way of delivery, and you let them think if this is what they really want — you avoid misunderstanding. All the customers are happy with what they get.
How to measure the effectiveness:
You will get fewer order returns… and orders will be shipped to the right addresses.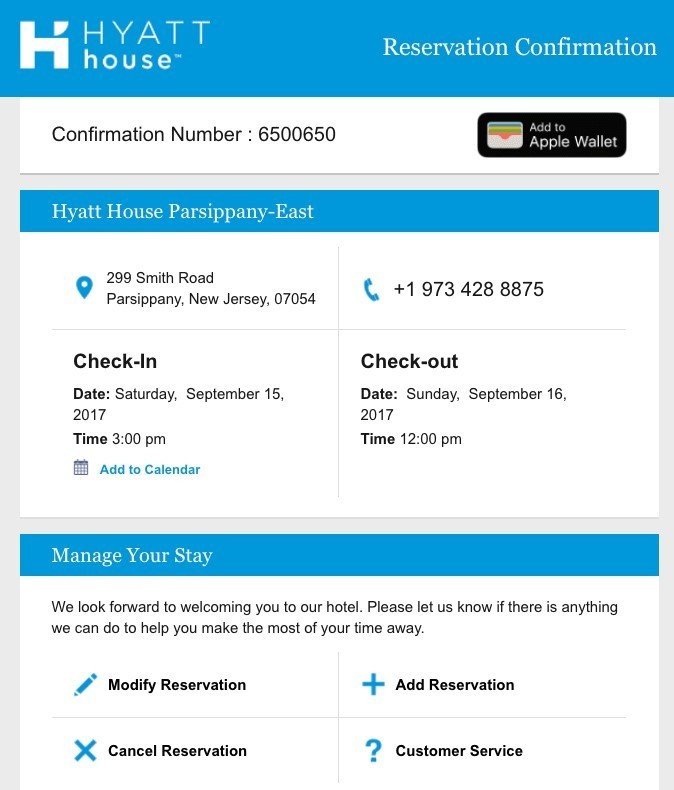 2. Welcome emails
Welcome emails are definitely the most popular ones. They are sent to welcome the customers after subscribing to your newsletter or for registering with your website. They are also known as onboarding emails.
Welcome triggered emails are meant to navigate the newly registered customers across your website. This is also a great opportunity to get them acquainted with your products.
How to write welcome emails:
Firstly, you should mention the reason why you are reaching the consumers out. Secondly, if you have not requested their personal information, you can do it in this email. Attach the proper form. Here you also should ask the customers to set their preferences for more relevant information. Thirdly, say a few words about your company and what your subscribers are going to get by signing up for you. Like, "You will receive our latest news biweekly".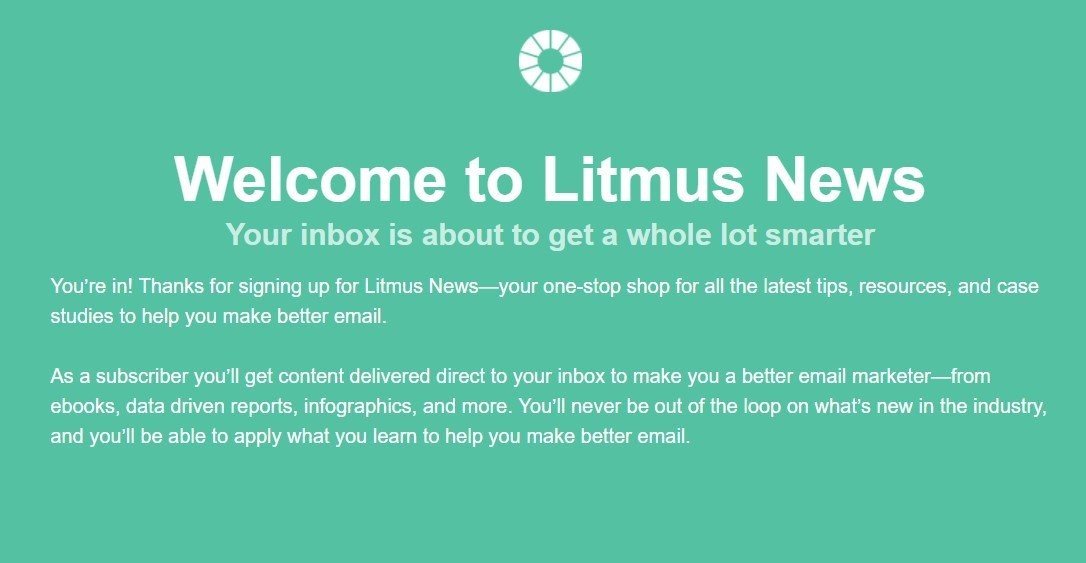 Note: asking the customers for their personal information, make sure to personalize your further newsletters, having segmentized the contact base.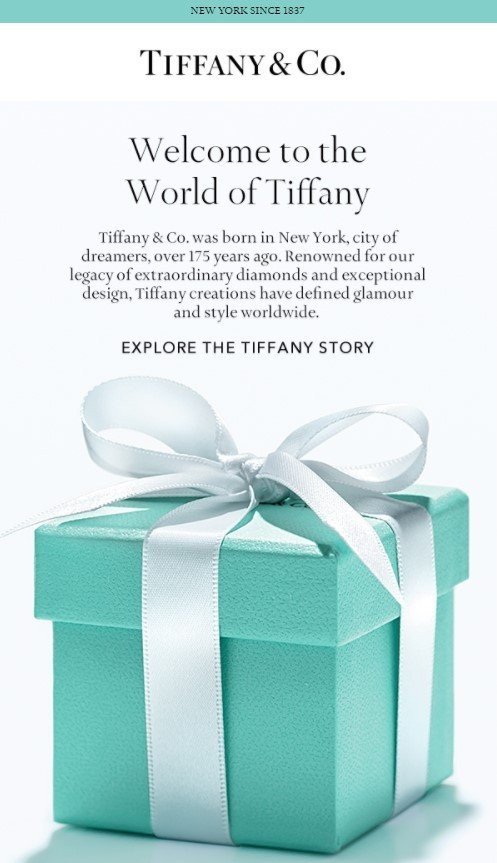 Tiffany&Co. welcomes the customers and provides the history of their brand. It's always interesting to know a little bit more about the company you have signed for.
When to send these emails:
Welcome emails should be sent right away after registration, in other words, within seconds. The very moment your potential subscribers click "Sign-up", he/she expects to see the "welcome message in his/her mail inbox.
The benefits you get:
You win 30% more customers. You send out only relevant newsletters. Some customers go "shopping" with you right after receiving your onboarding email.
How to measure the effectiveness:
Check how many of the recipients purchased your products or used your service.
Try out our "Welcome email" templates.
3. Reminder emails
This is the most underrated type of the triggered emails. They go after the registration or reservation confirmation emails. As a rule, we need to remind our customers to attend an online or offline event or that they have booked a room at our hotel. As reminders are extremely important, we recommend writing a sequence of emails.
Let me describe each sequence separately.
Online event reminder
When speaking about online events, we usually mean "webinars". It doesn't matter whether the event is free or prepaid. People keep forgetting due to being very busy. And our duty is to keep reminding ? In fact, this is a very easy thing to do. Besides, by sending out this kind of trigger emails, we not only save the audience — people remember they have an appointment, but also we show our concern and, hopefully, sincere respect. We all cherish care about us.
How to write online event reminder emails:
Here, the preferable quantity of emails in a sequence is 5. Not less for higher attendance. Now we can describe only briefly the things to mention in your online event reminders:
date according to the recipient's timezone;
name of the event;
duration;
benefits / what people will learn at the event;
speakers, and links to your website with detailed information about them;
event plan;
link to the webinar.
Use our event invitation templates.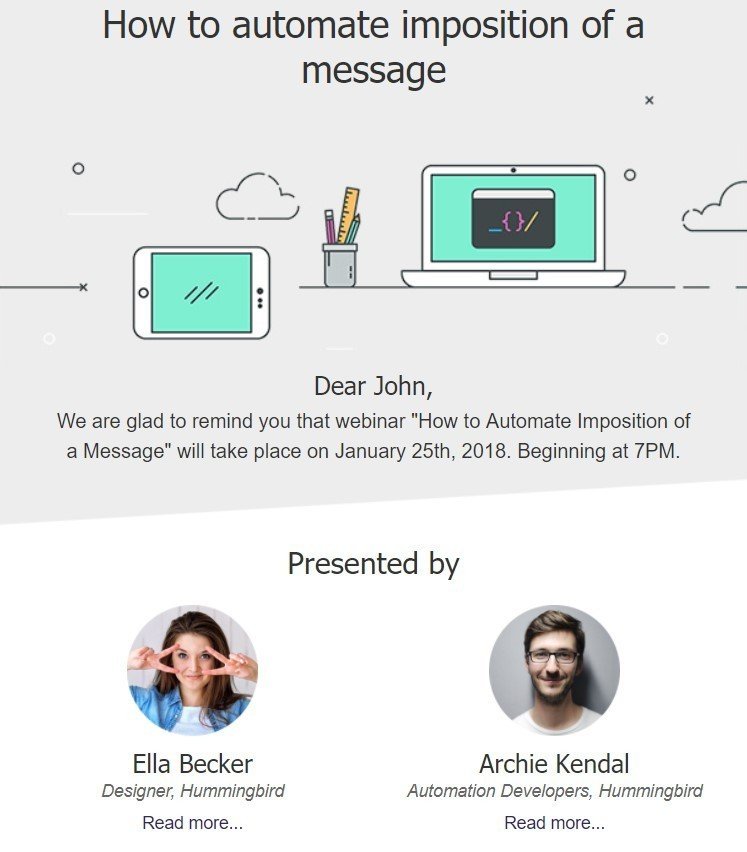 Offline event reminders
By an offline event we understand live concert, ceremony, conference, lectures by a famous or experienced person, etc. Here they sequence can consist of only 2 emails. No need to make it longer.
How to write offline event reminder emails:
They are quite similar to online event reminders. With a few distinctions.
Apart from all the ingredients for an online event, have:
map;
dress-code;
coffee-breaks if there is any planned;
instruction upon arrival;
personal contact information.
For more detailed information read our article.
Reservation reminder emails
When reserving a hotel room, etc beforehand, your customers will love to get a reminder from you.
How to write reservation reminder emails:
Reasonable to add here the following information:
same info as in reservation confirmation email;
additional service you provide at your hotel, such a spa, gym, etc;
places to visit in your town;
untypical traditions;
upcoming events in your location;
weather forecast.
Possessing all this information, your visitors will be prepared for a trip. Help them enjoy their stay.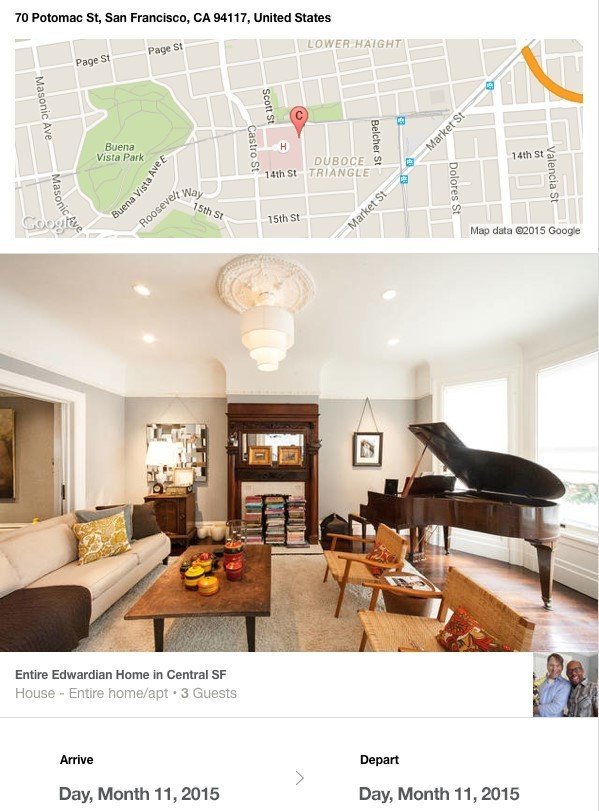 When to send reminder emails:
This is very individual and depends on the goals of the reminder.
Offline event reminders should be sent minimum a day prior to the meeting so that attendees have time to arrive on time.
Online event reminders should be sent a week before the Day X and on the very day of the webinar.
And reservation reminder emails need to be sent a few days prior to the customer's arrival.
Note: you can send reminders to the customers who have not used their coupon.
The benefits you get:
A higher number of people will show up to the event.
How to measure the effectiveness:
Compare the percent of people who attend your event/visit your hotels.
And by the number of the used coupons.
4. Abandoned carts
The highest amount of online purchases are emotional. Customers come, see and buy! Almost like "Veni, Vidi, Vici". But there are consumers like me: who just come and see, add items to cart, then they take some time to think it over and if they do not forget — they eventually buy the items they like. Unfortunately for both sides of the selling process, we can forget about to come to the site. Here, we need a trigger email "Abandoned cart".
How many messages are you to send not to annoy the customers? Trigger marketers say that 2 is the best solution here.
How to write abandoned cart trigger emails:
Specify what particular items the customer added to cart, the quantity of the products and of course mention if the items are still in stock.
When to send reminder emails:
Relying on my personal experience, I would appreciate it if you send trigger emails:
The first one within 24 hours;
The second one 2-3 days later.
The benefits you get:
People come back to your store and complete their order.
How to measure the effectiveness:
Your ESP will provide the statistics on how many customers came back to open their carts. And you will be able to track the number of the "finished" carts.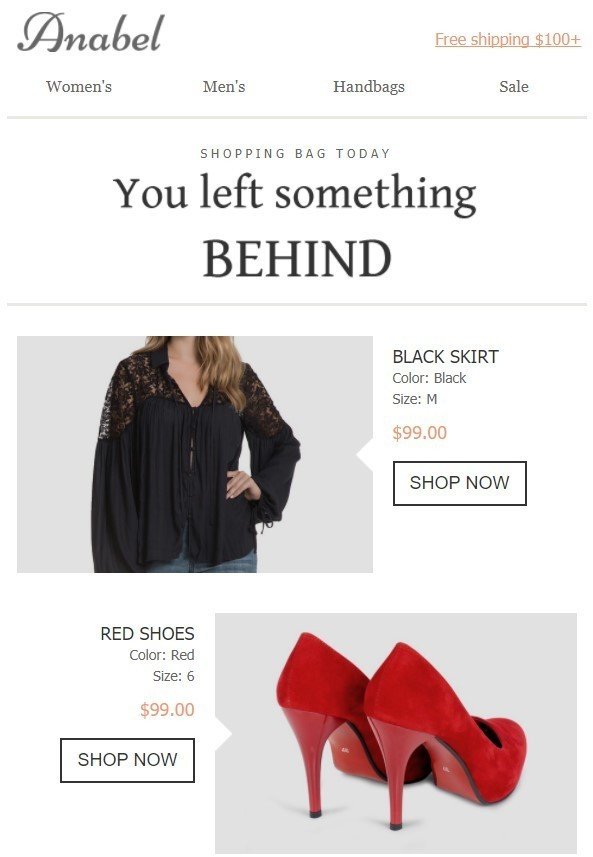 5. Re-engagement emails/ retention
According to the Market Metrics, only 5-20% of new customers are ready to buy your products against to 60-70% of the existing ones. Why not reach the latter out once they have been silent for a while?
Of course, only some of them will come back. For definite reasons, some clients prefer not to shop at the same place twice.
How to write re-engagement trigger emails:
It would be proper to mention what items the customer purchased last time. Offer him/her a coupon for the next purchase or free shipping if you want.
When to send re-engagement emails:
Generally, there are three periods: a month, 3 months and 6 months. But this is very individual and depends on the products/service you offer. We strongly recommend tracking the life cycle of your customers.
Our duty here is to contact the customer before he/she gets lost.
The benefits you get:
You get loyal customers. According to the Data Scientists, it is 7 times cheaper to re-engage existing customers, than winning new ones.
The customers who've shopped with you once are 50% likely to do it again, those who've purchased with you 3 times, are 89% likely to come back to you.
How to measure the effectiveness:
The ESP is supposed to provide you with statistics on how many clients opened your message and how many of them clicked the link.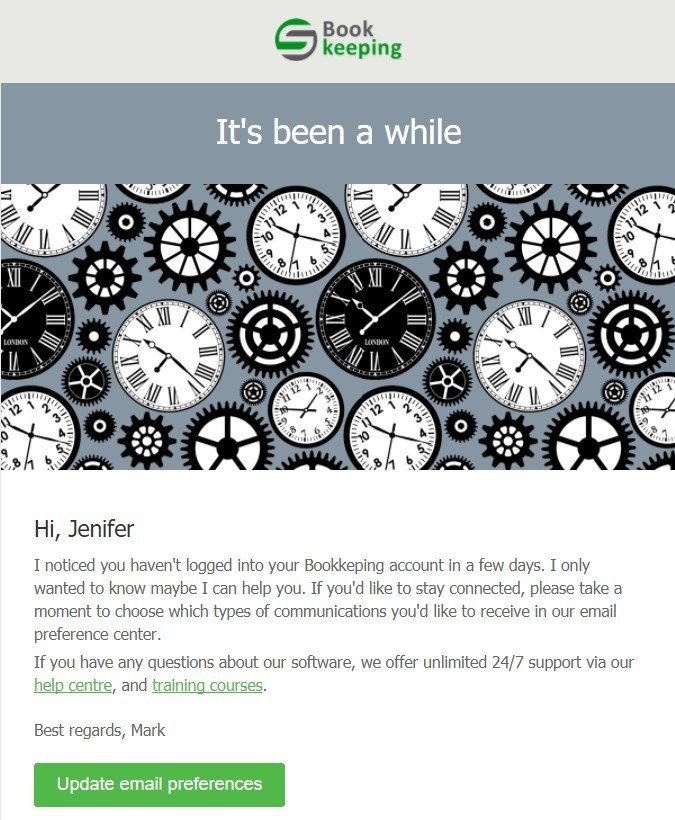 6. Survey invitation emails
In order to keep in touch with your customers and not to lose them, to turn them all from the newcomers to your most loyal customers, you should ask your clients for a feedback. You need to know if they are pleased with your service if they enjoyed their order or how much they like your products.
How to write survey invitation emails:
There are 2 types of such emails:
a simple form to fill in;
a feedback.
A simple form requires short answers to your concise questions. As a rule, people need to just insert the tick or choose "yes" or "no". The best questionnaires take less than a minute. You may use survey google forms. You attach this form to the email or even embed it in.
A feedback… here you ask people for their opinion — what they liked or disliked the service. You expect to receive a detailed maybe emotional answer.
When to send trigger survey invitation emails:
The sooner the better — right after the visit, upon order delivery.
The benefits you get:
By sending these emails, you prevent customers' disappointment. Prompt feedbacks allow reacting and making some changes to the whole selling process for better.
How to measure the effectiveness:
By the quality of information you receive from clients — whether it's complete or not.
Track statistics of the unsubscribers and loyal customers.
For more detailed information on the survey invitation emails, read our article.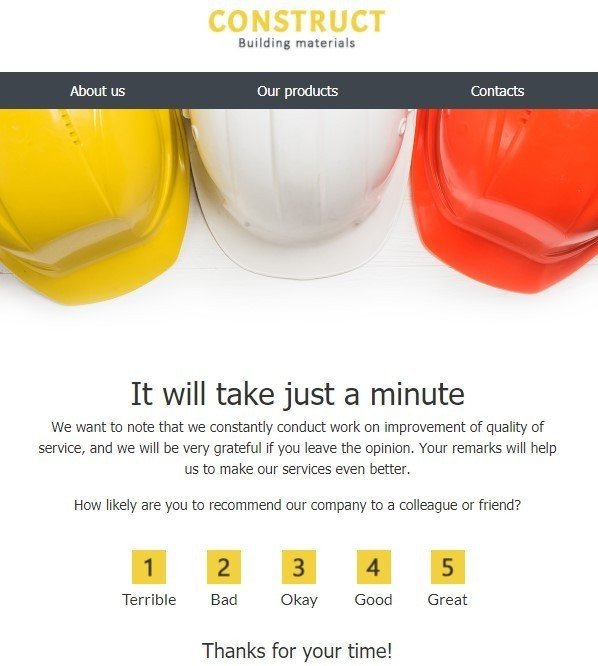 7. Happy birthday/milestone
A special event, like birthday, is worth celebrating. Share this day with your customers. Become a part of their close people.
How would you know about their birthday? In one of the newsletters, ask them to fill in the personal information, like date of birth, gender, preferences and even marital status.
How to write birthday/milestone emails:
The crucial and the most pleasant thing about this type of emails is to thank the customers. Add a wish to a happy birthday email.
And always congratulate them on a definite time spent with you. Here it would be great to mention your common achievements… Like, "Together we ate 20 boxes of candies and 30 pounds of chocolate"… Share your plans for the future.
When to send happy birthday/milestone emails:
We recommend starting this email campaign a week prior to the Day X. Why? Because you may want to add a gift coupon, consequently you need to notify the customer about it.
For more triggered email ideas see our "thank you" templates. Congratulate your customers.
The benefits you get:
Closer relations with consumers. Those who feel cherished are more likely to come back to you more often.
How to measure the effectiveness:
If you just congratulate the loyal customers without any CTA buttons and coupons, then nohow. In case you sent a coupon, track the number of the used ones.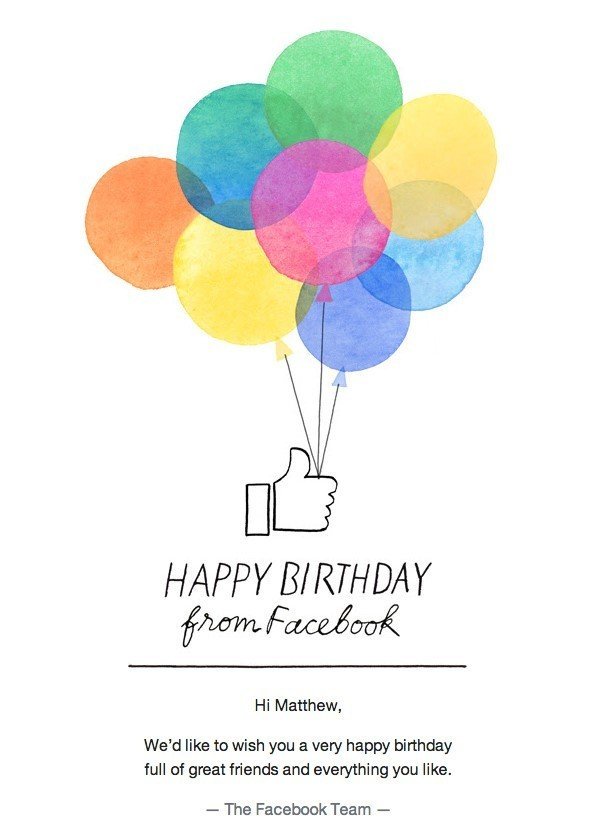 Conclusion
This is it. We have described the 7 popular types of triggered emails for eCommerce.
But trigger email marketing is a very complex thing, and you will need to write various scenarios to automate this process.
Many of the existing ESPs will help you here. As for us, we use eSputnik. It's been developed for the eCommerce.
triggered emails are highly important for your business as their open rate is 69%;
they help you re-engage existing customers;
for more relevant triggered messages you need to create scenarios;
triggered emails must have a CTA button, "shop", "confirm", etc;
track statistics to measure the success of every campaign.
Stripo.email offers a wide range of responsive thematic templates. Try them out.
If you have something to add, please find us on Facebook.
I wish you all the best.