Who said that B2C newsletters are only promotional? Ecommerce companies send out business emails also.
And who said that B2B companies do not send newsletters? Of course, they do.
What are the main distinguishes between the promotional and business emails?
It's proven that promotional newsletters should call emotions. Then what about the business ones? They probably should be informative and trustworthy looking.
In one of the previous articles, we hosted the Email Oscar Awards.
And today we wanted to start our Business Newsletter Awards.
But Mr. Steve Forbes, the CEO at Forbes weekly magazine, said he could not attend this event. Besides when talking about businesses we decided just to be serious and create our own chart with the best business newsletter examples.
We will share the best examples of business emails with perfect content and design. And if you like these emails, you will easily create them by using our prepared HTML email templates.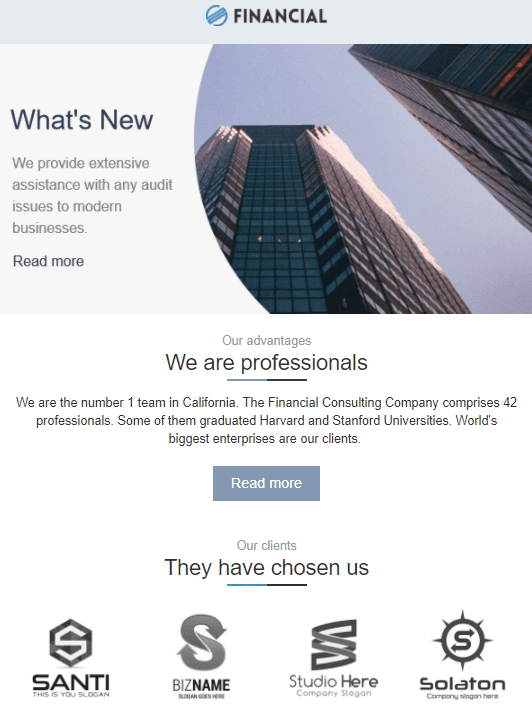 Who may need to send out business newsletters? Only lawyers and CEOs of big corporations? Definitely not!
Areas of use
Emails thematic may be different, and it doesn't really depend much on the area of use. It is important to create messages which evoke trust to you and desire to read the message to the end.
But still we tried to divide them into categories for the convenience:
Business correspondence;
Companies' internal notifications;
Education sector, including conferences and webinars;
Financial sphere, including the banking sector and consulting companies;
Human resources;
Legal service;
Mass media. Public broadcasting, like BBC, CNN, business magazines, like Forbes, and newspapers, like the New York Times.
Obligatory ingredients for all business emails
Corporate domain;
Formal language;
We are aware of the necessity of proper subject lines. And of course, we all know it's preferable to use only formal English in business emails, no internet slang allowed here.
But I want to say a few words about a domain and an email. It is essentially important to possess a corporate domain and corporate email address for each office-worker. And your clients should be able to reply to all the emails they receive from you.
If you do not possess your private domain, you still can set corporate emails via Gmail. Here is a manual on how to do it.
Should we use images in business emails? Certainly, yes! According to Jeff Bullas' blog, the emails with images get 94% more views than emails with only plain text. No wonder the companies which sell legal, consulting and educational service now add them too.
Best business newsletter examples
We have searched the web, our inboxes and even contacted our ESP for the best available business email newsletter examples to share. We tried to segmentize them into categories.
Emails for business correspondence
In everyday life, we all send dozens of emails every day — to our friends, families. They all know our email address and gladly open emails which come from "barbie-doll@gmail.com" and they do not care if I add a signature to my emails as they know it is me.
But this will not work for the business correspondence.
If you want your clients to consider you as a reliable lawyer or fin consultant, please make sure you add a signature.
What elements should an email signature contain:
your name;
your position;
phone number;
business hours;
photo of yours or an image related to your business sphere.
Jeff Bullas' blog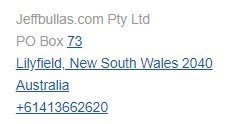 Their feature: short yet informative signature.
A signature can be simple, like Jeff Bullas' one. Or you can create a bright signature aka footer with the Stripo editor:

Choose any template you like, apply various background colors, add social networks' links, your image, and links to your website. Be creative — stand out!
The good thing is that you can export or save this block to your computer and then set it as an e-signature into the email client you use.
Their feature: bright, vivid signature with complete information about the sender and the most important element — endearing photo of the author.
Emails for companies' internal notifications
No matter what your company is producing or selling. For sure, you have your brand colors which you use in every email for your clients. Why not use the same design for internal notifications? Firstly, your colleagues will consider themselves as a part of something big, secondly, they should not feel they are less valued than customers.
eSputnik
I like the way our ESP eSputnik does it. They use this kind of design in all smallest notifications, news and even congratulations inside the company.
Their feature: company workers are aware of their value. At the end of each year, their CEO and leaders of all departments share the achievements the company has reached during the year, they also send out a monthly report. They always stick to corporate design in emails. Looks interesting.
Why do they use "Satellite" as their logo? Because eSputnik in their native language means e-"Satellite". So the satellite and space in header mirror the company's name. I find it one of the best internal company newsletter examples.
Emails for the education sector
Jeff Bullas' blog
The other day I discovered Jeff Bullas' blog for myself. It's very informative, interesting and written in its unique manner. The Forbes Magazine and New York Times are among its readers.
What are they doing on the list of business newsletters? First of all, they are not an entertaining platform. Secondly, they are probably the number 1 company which thinks about its customers and subscribers.
When receiving my onboarding email from them, I was astonished:
They offered me a list of tips and tactics, notified me about the webinar they would hold the next day and what I loved they suggested that I add this event to my calendar. This is a very useful feature, unfortunately only some people add it… Small details make our lives.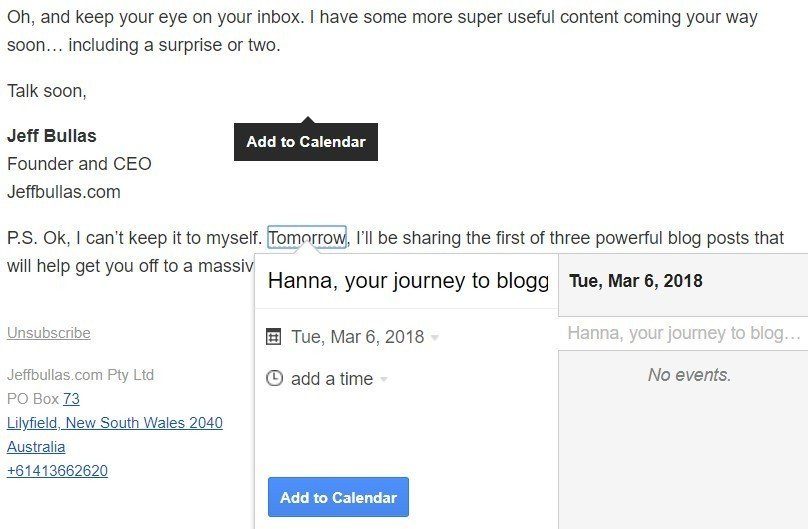 Their feature: care about the customers.
Emails for the education sector
Hubspot
When it comes to education, we don't really mean only schools and colleges.
In our modern world, people tend to learn something new every day. Especially, if they are professionals of what they are doing and are eager to improve their skills. We attend webinars, go to the conferences. Thus, we can say that webinar invitations, review of the conferences are a part of our business.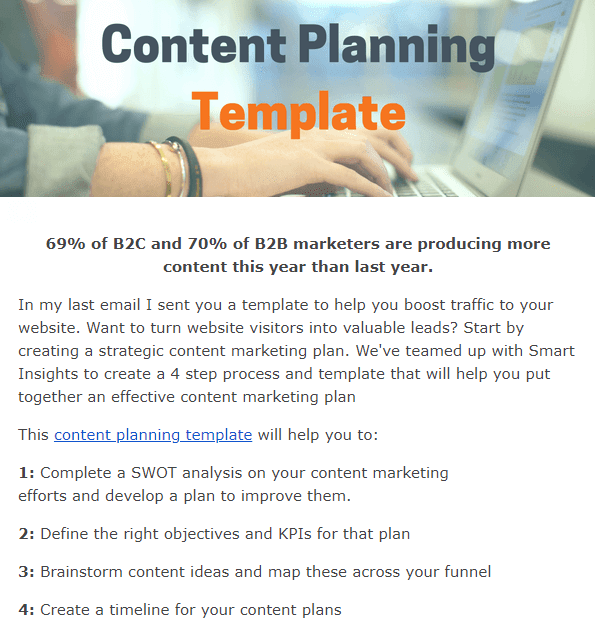 Again, Hubspot is the best in this sector — very concise email, brief information on such an important topic and brilliant design banner.
Their feature: conciseness.
Emails for the financial sphere
We previously divided them into two groups:
The banking sector
PayPal
This business newsletter example is to notify the customer that his or her monthly report is available.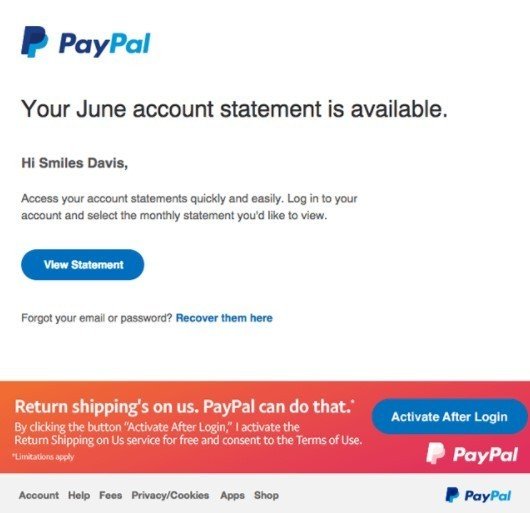 The Simple
Probably, 90% of the emails people receive from their banks are the event-triggered emails. But sometimes they receive promotional or informative newsletters when the banks release new features or announce new possibilities.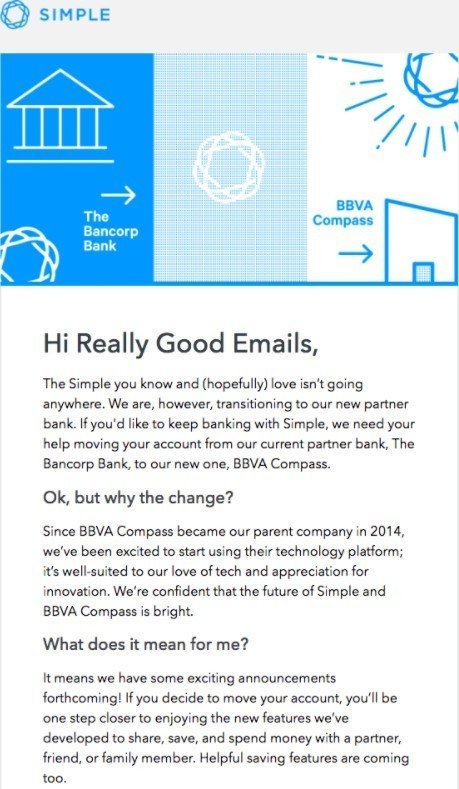 Their feature in common: brand colors and colorful design. I can't stand boring emails written in just black and white. They add a bright footer or header to enliven their business emails.
And please pay close attention to the separate block with useful for customers information.
Emails for the financial sector
The Financial Company
Financial companies and banks also need to announce and promote their new features. The image of downtown on the banner sets the business spirit.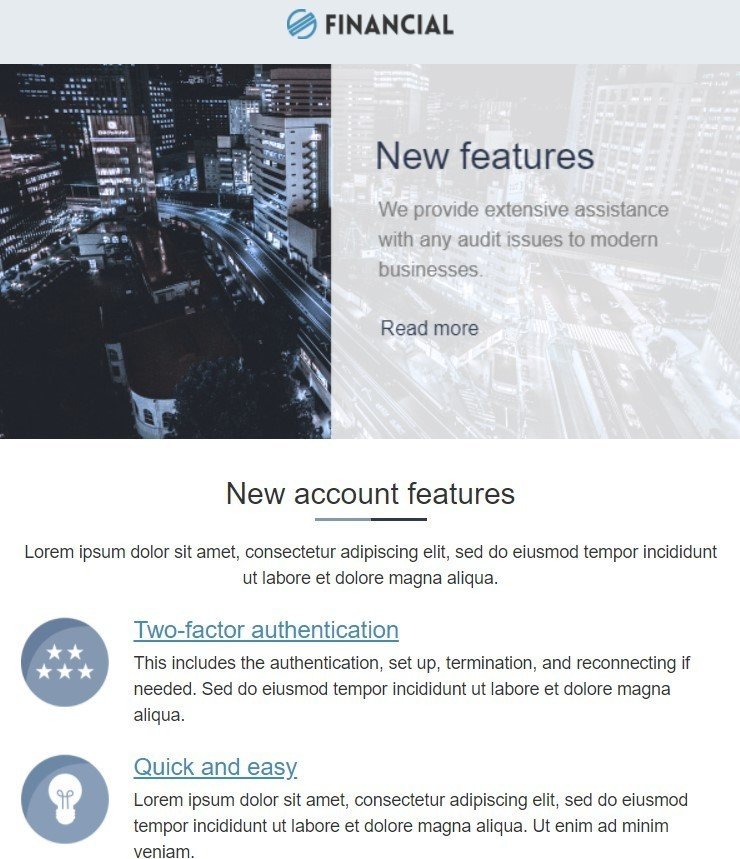 They may also share some news with the clients.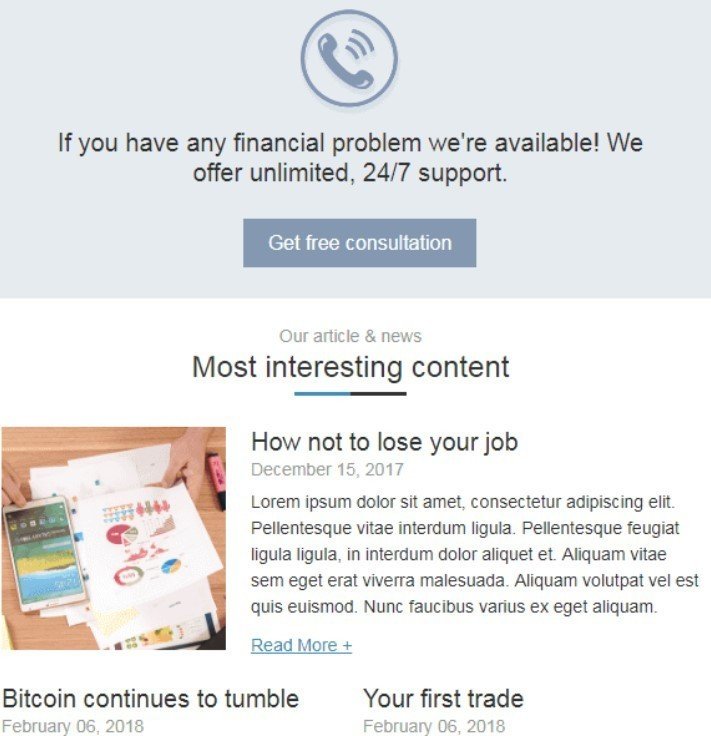 The financial sector is not the best place for jokes. Which is why it is essentially important to select perfectly matching images.
Their feature: restrained images and concise text.
Emails for human resources
Nucor Corporation
Another kind of business emails is a job invitation one. All companies, even Google and Facebook sometimes look for new employees. Thus, they need to design a business newsletter of this kind. It would be kinda weird to receive a simple text job offer.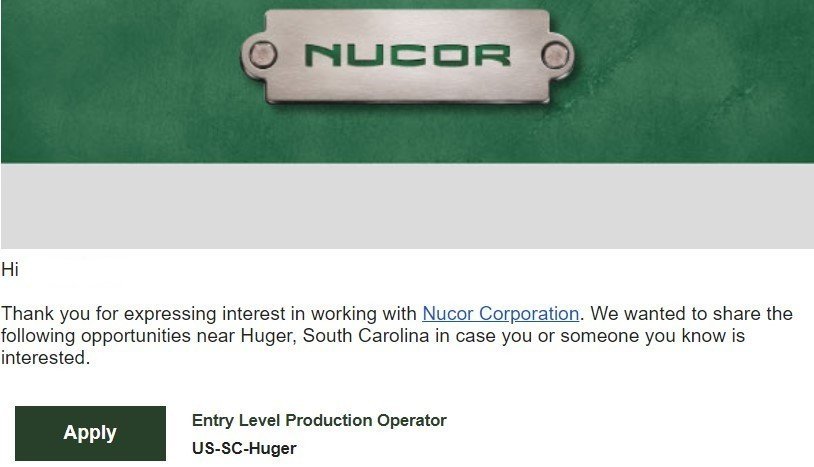 Their feature: simplicity, just a header with the company's logo, and position placed right next to the button. No superfluous letter in the email.
Emails for the legal service
The Law Service
Like banks and consulting companies, law firms also send out newsletters.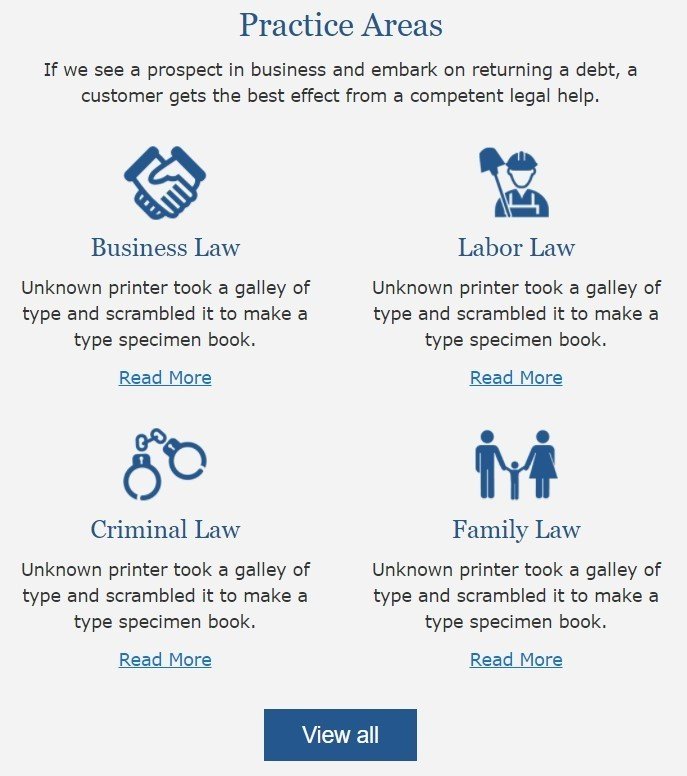 This part of the promotional message can be sent within a newsletter or added to some event-triggered emails law firms send to their customers. And perfectly matching pictures complete the legal atmosphere.
Pretty reasonable for the law firms to send out digest emails. Of course, they may announce about the new people in the companies. But way better to inform people about the most resonant cases, about the changes made to the legislation. Keeping your clients updated, you build stronger relations, remind them about yourself and let them know you are aware of everything that is going in the world of law.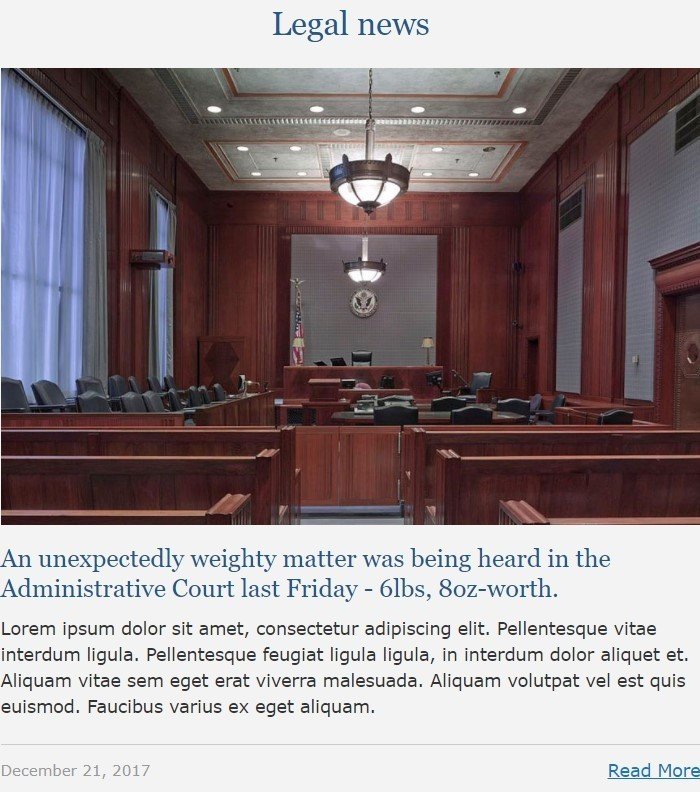 Here you may also share your opinion about the case.
Their feature: they keep the clients updated on the service they provide and changes to legislation.
Emails for the mass media
Newspapers, like the New York Times, magazines, like Forbes, and of course TV channels they all keep their readers updated. This is what we love them for fresh, updated, newest information.
I love reading the CNN digest.
Writing about the latest news, they usually, they send the plain text. Nonetheless, their emails are very important for us.
CNN digest
But when it comes to finances, CNN editors insert colorful tables for better understanding.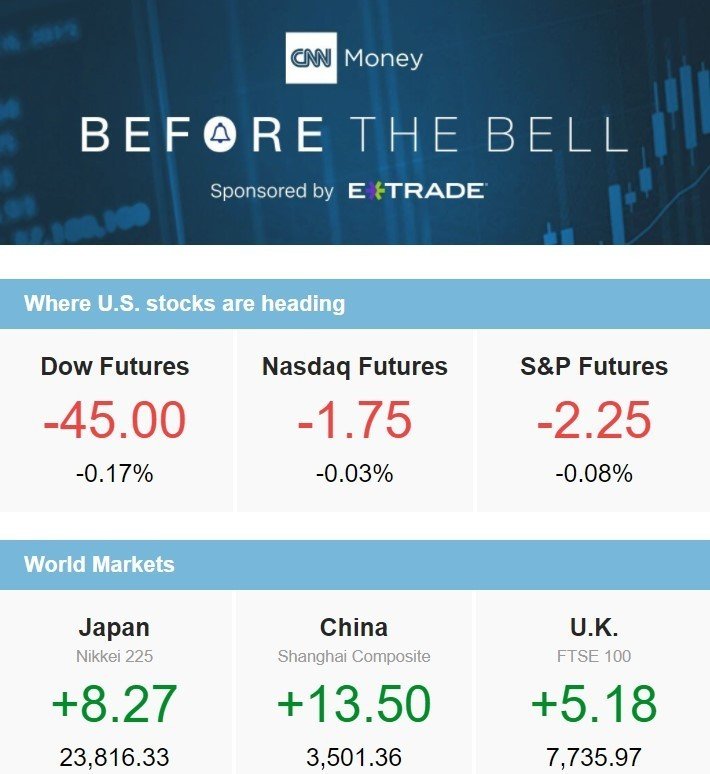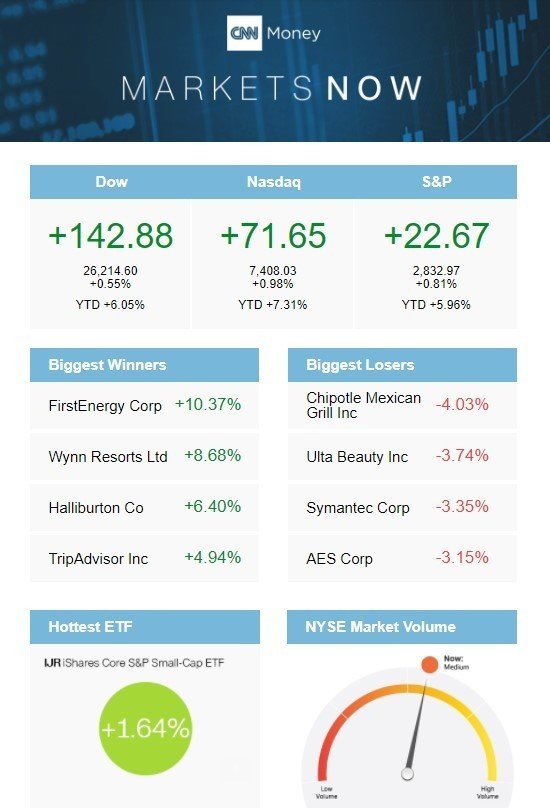 Their feature: fresh information and use of infographics.
I really love it and thank them for this feature.
Video — to add it or not
Yes! You should add videos to your emails. This is the shortest way to share the news when you have something to say. A short, one-minute video would attract much more views than a 10-minute text.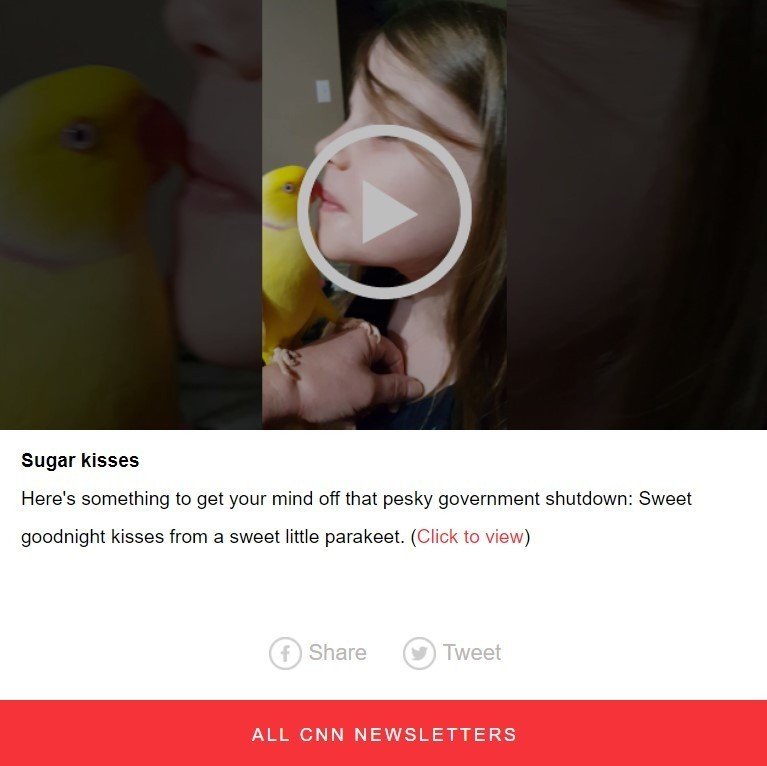 This is a great option to implement in a newsletter for small businesses. This way, you can introduce yourself, help people get familiar with your company's features and explain to them how to use your tools.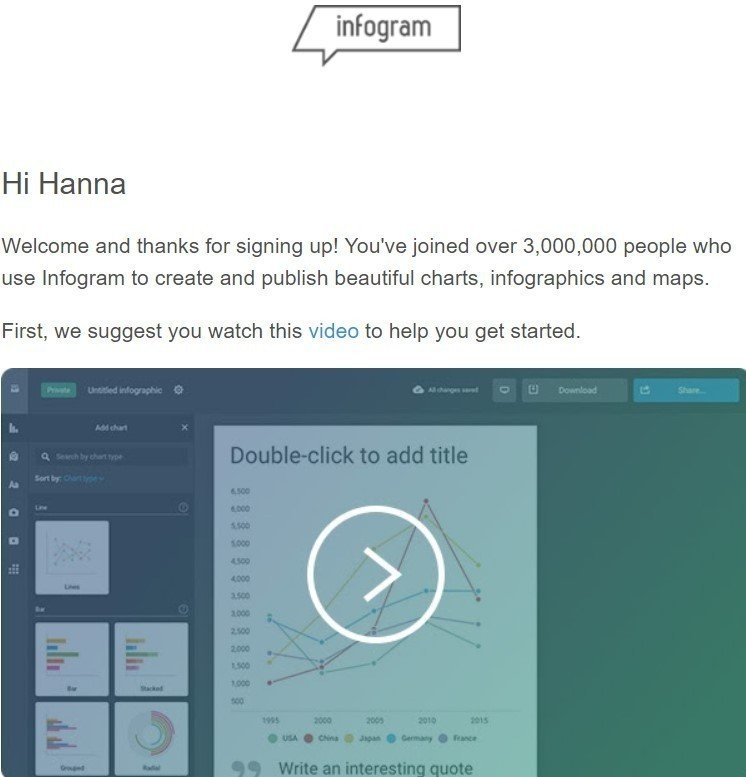 Business newsletter design
In fact, there are no strict special rules on how to design a business newsletter. As usual, the design depends on your inspiration and the company's concept.
Still, there are some common ideas:
responsive web design;
insert matching images;
add videos when it is reasonable. As videos increase CTR up to 30%;
use brand colors;
always include header and footer or a signature.
Summary
The times when the financial consulting companies and legal service providers used to send dry, colorless emails have gone. Now all email newsletters, be they ecommerce or business ones, are perfectly designed. Don't hesitate to use videos, images, bright colors in your emails.
We hope that you've got inspired by the newsletter examples for business we have complied. For your convenience and in order to save your precious time, we also offer free small business email templates which enable you to create a business email in no time. All you have to do is customize it down in accordance with your brand design. Done!
If you have any questions or concerns, please feel free to contact us via Facebook or email us at contact@stripo.email.
I sincerely wish you best of luck.
Was this article helpful?
Thanks for your feedback!