22 May 2020
10 Best Ways to Use AMP in Emails
AMP is proven to be effective. It does increase conversion by at least FIVE times.
All Gmail and Mail.ru users are now able to see AMP in their inboxes. Yahoo users will join them soon, too.
Isn't it a good reason to start using AMP in your newsletters?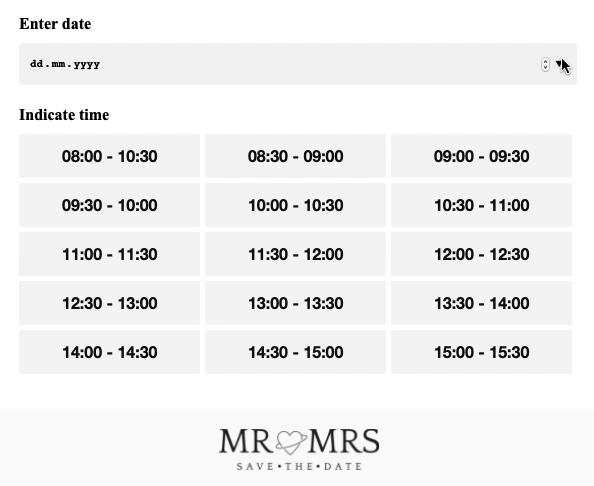 This template is a perfect match for all businesses. It let your users arrange and confirm appointments with a few clicks in their inboxes.
Wanna do the same? Then keep reading — as we'll talk about effective ways of using AMP for email.
So, what is AMP for Emails?
Of course, you've heard it a hundred times that AMP email is like a mini web page and all that stuff. But that's not what we wanna say.
In our opinion, AMP technology is revolutionary, it lifts email marketing to a totally new level. Because now essential actions, like registration confirmation, appointment confirmation, submitting feedback, filling out forms, giving rates, sharing/delivering real-time content, and many other things can be done in newsletters. Why is it so important? Today, when we're always late, when every second of our lives is precious, AMP saves time! Not to you, of course, but to your customers :)
It decreases the number of steps they need to take to reach the desired conversion goal.
Why would you care?
Well…
In this simple way, you show customers your care. And sincere care, as we know, is the cornerstone of trustworthy and long-lasting relations. Isn't it something we're all looking for?

You boost conversion. No comments.

You improve virality. The more innovative and revolutionary your email is, the more often it gets forwarded to friends.

You amuse your target audience with all the interactivity that is now possible due to this functionality. Today, gamification is one of the most prominent ways of using AMP for emails.
Ready to give it a try?
10 ways to use AMP in emails
All AMP emails, generally speaking, can be divided into two major groups:
those with layout components — all AMP elements are stored inside your emails. Like carousel and accordion;

those with dynamic components — these emails have to deal with your servers.
1. Running quizzes
Wanna know how marketers use AMP in emails? To run quizzes, for instance.
This is my favorite example, so I decided to start with it.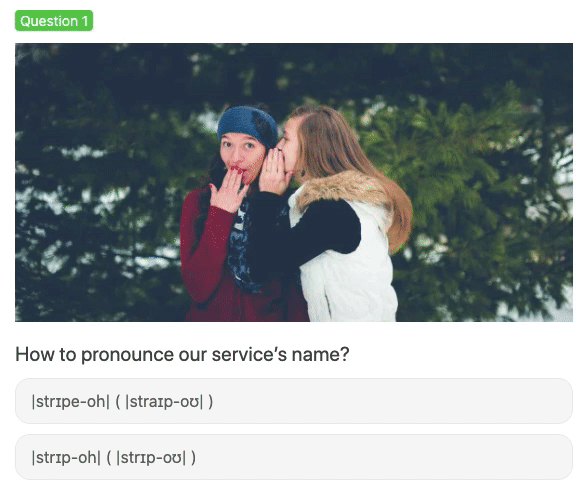 Last week, over 100K our users received a quiz from us, where they were asked to answer three questions:
how to pronounce Stripo;

name the most popular email client according to Litmus;

how to update a header or a footer in a hundred emails at once.
Of course, we offered a prize for the three correct answers.
So, did this email generate any profit?
A large number of answers from those users who could submit their answers in this email. A few answers from those users who had to leave the email to participate in this quiz. (The difference is obvious). And this AMP quiz was widely discussed on Facebook and in other Russian speaking communities.
AMP components required for this email:
amp-list along with amp-mustache — for displaying questions;

amp-form — for submitting answers;

amp-bind — for indicating and highlighting correct and incorrect.
2. Utilizing gamification. Part 1
Gamification is one of the best ways email marketers can use AMP.
Games are not supposed to boost sales. Their main goal is to raise brand awareness and to amuse your subscribers.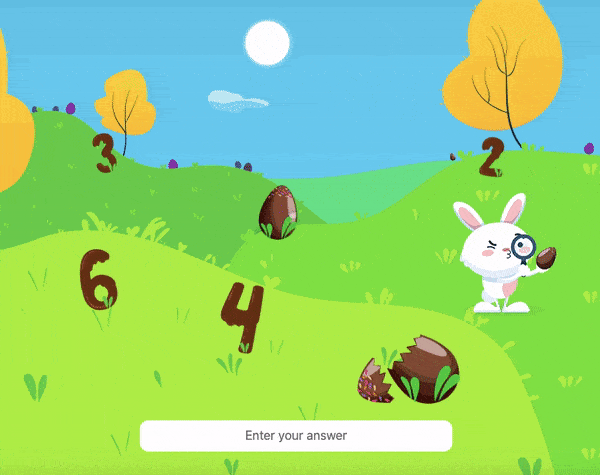 Gamification is quite often used in sales/discount emails.
AMP components required for this email:
amp-bind — for displaying numbers and for indicating and highlighting correct and incorrect;

amp-form — for submitting answers.
3. Placing multiple banners in one screen
Ever wondered how to use AMP for email when you are not familiar with coding at all? Give layout components a try.
Carousel is mostly used by eCommerce companies for showcasing many product cards in one screen.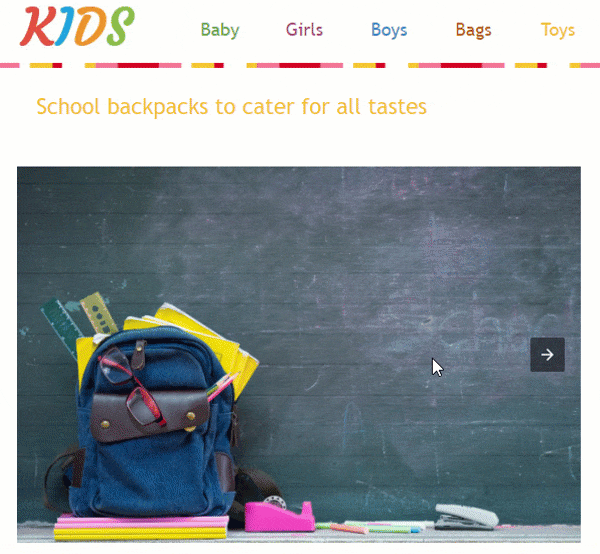 Designing carousel with Stripo:
start with pulling the AMP carousel block in your email;
enable/disable the image preview option;

upload your product snippet;

add a desired number of slides to further fill them all with your product photos.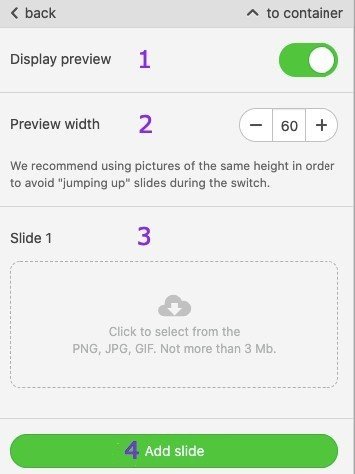 4. Sharing real-time data
It is essential to provide users with the most actual information on your brand in digests, welcome emails, etc.
Use the amp-list component for these purposes like we did.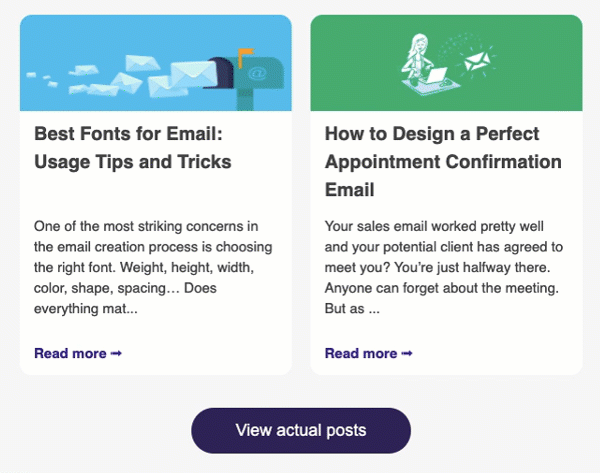 See, we do not need to update/edit or even build a new welcome email every week.
If you wanna build a similar one for your welcome/onboarding series, you will need to prepare a JSON file with the required code elements and set the CORS policy on your side.
But you do it once and for months.
5. Upgrading email confirmation triggers
We all are aware of the importance of double-opt-in. So, normally, when users register with us, we send them a request to verify their login email address. Next, we send them a subscription confirmation email. Sounds really ok.
But as we said, clients will love it if you save them a minute of their precious time.
So why not let them complete registration and see the result of this process right away in one single email?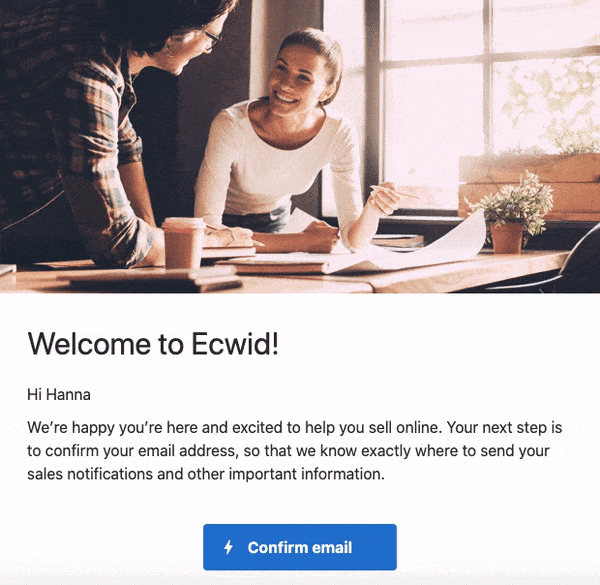 (Source: Newsletter email from Ecwid)
AMP components required for this email:
amp-form — for submitting confirmation;

amp-list along with amp-mustache — for displaying that email has been confirmed.
6. Enabling customers to select items in emails
Select — is the key word here.
With the amp-selector component, you let your users select items, colors, etc. right in email.
After they do it in your promo, they proceed to checkout. That's easy.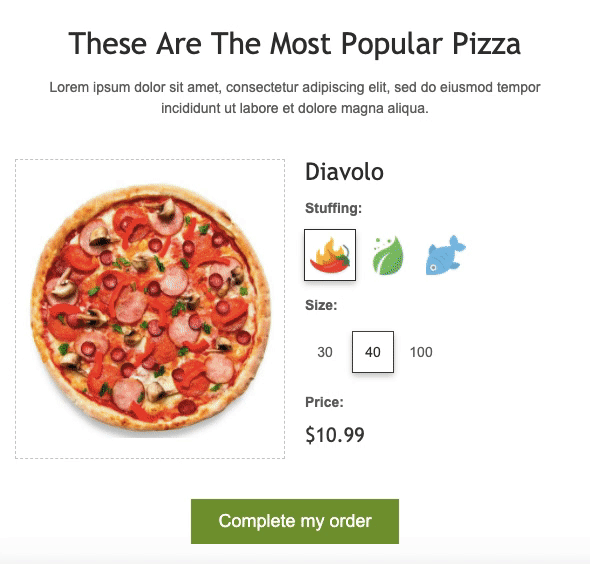 Use AMP to improve email campaigns' effectiveness.
Our template with the selector component is up for grabs.
7. Utilizing gamification. Part 2
In part 1, we showed how to "give" coupons — we asked users to "seek" the numbers hidden behind chocolate eggs, to sum them up, then to enter the correct answer in the submission form.
In the email shown below, we asked users to click on the email element they liked the most to get their "prediction" for the next month.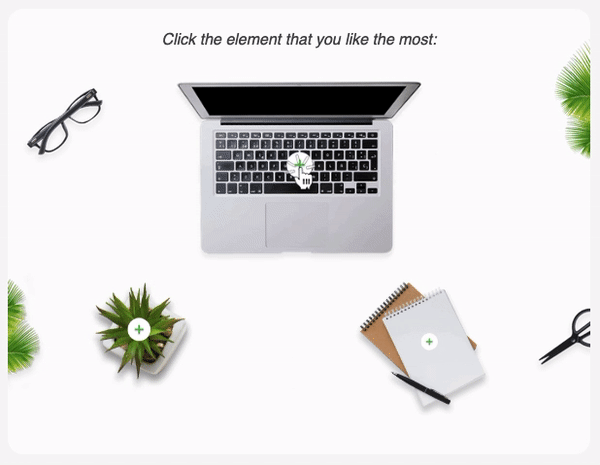 In this simple way, we offered collections of pre-built templates.
Results of this campaign:
This email was also widely discussed in some email communities. And many recipients would ask us to help them with building similar emails for their promo campaigns.
AMP components required for this email:
amp-bind — for displaying numbers and for indicating and highlighting correct and incorrect;

amp-form — for submitting answers.
8. Making appointments in emails
If you want to enhance your cold emails and to have more leads come to your demos, why not let recipients select a convenient time and confirm your appointment/demo in sales emails?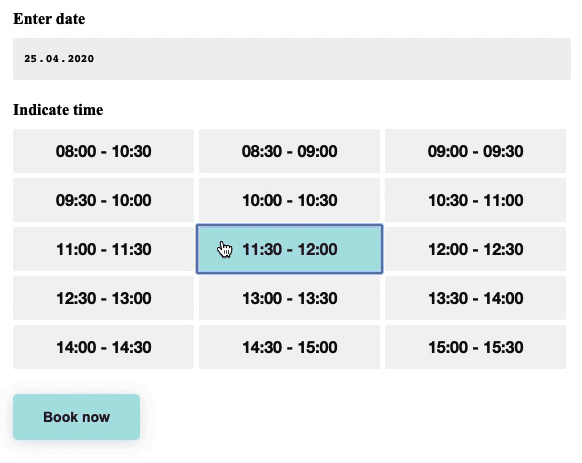 We've already presented this email sample in this post, but we did not say a word about how it really works.
Once your potential partners ask for a demo from you, you send them this email. They select a necessary date, then pick a necessary time slot and confirm their meeting.
AMP components required for this email:
amp-list along with amp-mustache — for displaying questions;

amp-form — for submitting answers;

amp-bind — for indicating and highlighting correct and incorrect.
Important to note:
Today, you have to insert these slots manually. I mean, when user A took the "11.30-12.00" time slot, you will have to manually remove it from the schedule prior to sending this appointment confirmation email to another recipient.
But in the near future, we'll automate this process. You will not have to even care about your schedule. You only open certain slots on your server. And our emails will get/post/update available slots in emails automatically, without your interference.
9. Structuring content in emails
That's right, we are talking about accordions.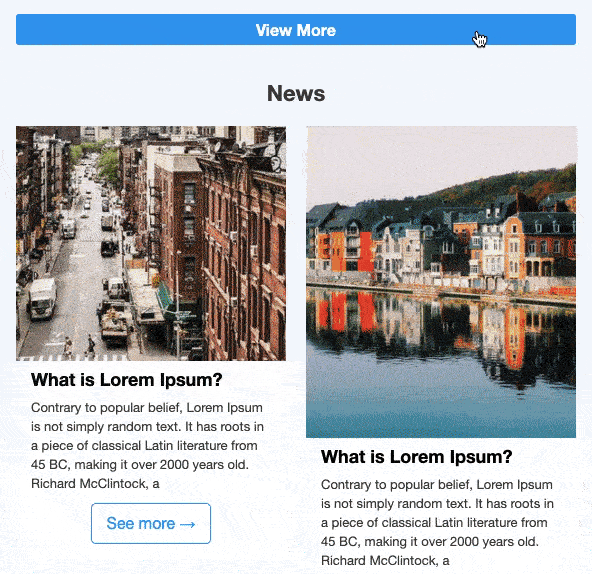 AMP accordion can be much more than just hiding text info in its sections.
This innovative accordion can comprise even carousels, videos, multiple product cards in it.
And our template is proof.
Accordion is a layout component. So, all you have to do to use this template in your campaigns right away is to customize it as you do with regular email templates.
10. Collecting feedback
How companies can use AMP in emails for this purpose?
Just look below: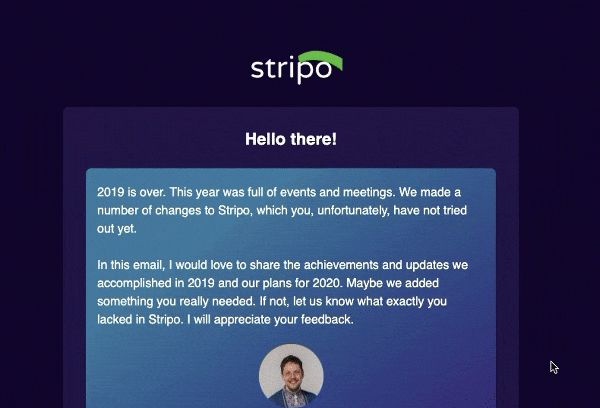 We used this email for the A/B test that we mentioned at the beginning of this post.
You can build and configure a similar form with little-to-no coding skills. And all reviews will be stored on our end or any data storage of your choice.
Add AMP form in emails to collect 5X more feedback
Word of advice
We talked a lot about AMP emails and how to use it.
Here's just a friendly reminder. To be able to send AMP content, you need to:
fix all the bugs if any occurs. You will see them in the Preview mode (otherwise users will see HTML email);
add the fallback — HTML version — in this email;
make sure that your ESP/CRM is capable of sending AMP emails;
keep in mind that currently only Gmail (both web and mobile apps on all OSs) and Mail.ru are capable of rendering AMP emails. Yahoo will join the list soon;
AMP emails lose their AMP components if you forward them.
Future of AMP in email
Well... You must have noticed that 9 of 10 AMP examples were built by our coders and designers.
We did not do it out of vanity. The point is that many companies are still afraid of giving AMP a try.
Well, I dare to say, they shouldn't.
AMP is now supported by all versions of Gmail — web one, and mobile apps on Android, and iOS.
AMP is fully supported by Mail.ru — also, web version, and mobile apps on Android, and iOS.
Yahoo is going to "join" Gmail and Mail.ru soon.
Other users will see the regular HTML (fallback, remember?) version of your emails.
But as our test showed — AMP proved to be effective in raising conversion.
Final thoughts
To AMP or not to AMP — that is totally up to you.
All we can say is if you ever decide to give AMP a try — we are there for you.