07 June 2021
20 Best Ways to Use AMP in Emails with Examples
AMP for Email is proven to be effective. It does increase conversion by 520%.
Isn't it a good reason to start using AMP in your newsletters?
(Source: Email from Stripo)
With this quiz, we let users answer our questions directly in the email and see if their answers are correct or incorrect right away.
Sounds impressive? Then keep reading 'cause in this post we'll show 20 examples of effective AMP emails.
So, what is AMP for Email?
Of course, you've heard a hundred times that AMP email is like a mini web page and all that stuff. But that's not what we wanna say.
In our opinion, AMP technology is revolutionary, it lifts email marketing to a totally new level. Because now essential actions, like registration confirmation, appointment confirmation, submitting feedback, filling out forms, giving rates, sharing/delivering real-time content, and many other things can be done in newsletters.
AMP decreases the number of steps a customer needs to take to reach the desired goal. Our test showed the fewer actions it takes, the higher the chances customers will do it.
Why would you care?
This is an effective way of showing your customers that you actually care about them by eliminating extra steps. And sincere care, as we know, is the cornerstone of trustworthy and long-lasting relations. Isn't it something we're all looking for?

You improve virality. The more innovative and revolutionary your email is, the more often it gets forwarded to friends.

You entertain your target audience with all the interactivity that is now possible due to the AMP for Email technology.

You boost conversion. No comments.
Now we're ready to share the most prominent ways of using AMP for email.
20 ways to use AMP in emails
All AMP emails, generally speaking, can be divided into three major groups:
those with layout components — all AMP elements are stored inside your emails. Like a carousel and accordion. Don't require connection with servers;

those with real-time content — do not require any actions from the users; the content gets updated in emails automatically; require connection with servers;

those with open forms and NPS ratings — require actions from users in emails. Require connection with servers.
Important to note:
Stripo provides you with necessary servers: Data Service, aka Data Storage, for storing users' responses, or Data Source for pulling data in emails.
You can connect any of them with just 2 clicks.
Way 1. Collecting feedback — open forms
Wanna know how companies can use AMP in emails for this purpose? Just take a look below: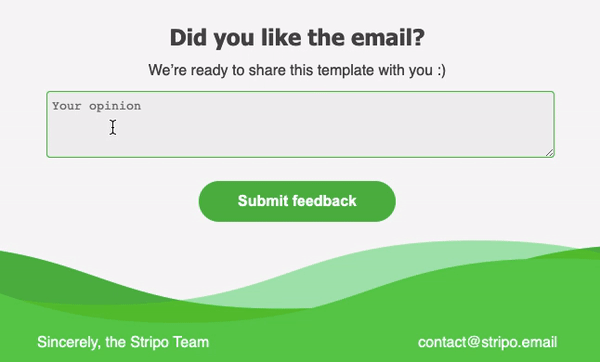 (Source: Email from Stripo)
In January 2020, we ran an A/B test that we mentioned at the beginning of this post. The test showed that interactive forms embedded in emails collect 5.2 times more feedback compared to regular external forms.
You can build and configure a similar form with little to no coding skills by following the guide given in our "How to Build AMP Forms for Emails" blog post. All reviews can be stored on our end or any other data storage of your choice.
Add AMP form in emails to collect 5.2X more feedback
Get started
Way 2. Star/NPS rating in emails
To run a successful business, we need to know what our customers think about us.
In shipment confirmation email or after any online event we ask users if they were satisfied with our product/event. If you ask users to leave the email and go to an external form to rate you, only some will do it, as it requires extra steps. If you enable customers to do this directly in the email, the response rate increases dramatically — by X8 times.
(Source: Email from Stripo)
Important to note:
Stripo provides a number of prebuilt AMP modules for your survey emails. Just pull a necessary one into your template, customize it down as given in the manual for the Module, and start your own survey email campaign ASAP.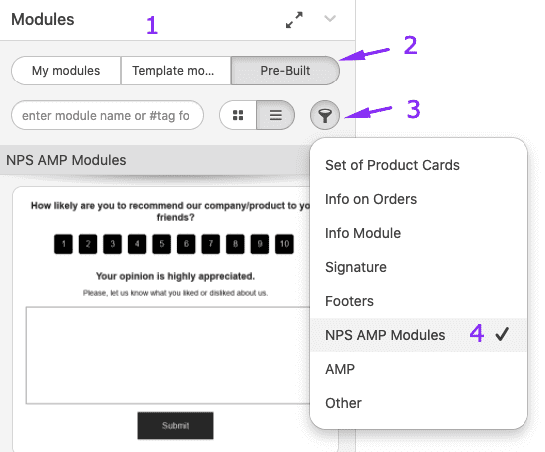 Increase users' response rate in survey emails by adding interactive NPS forms
Join Stripo
Way 3. Simplifying the registration process
We all are aware of the importance of double-opt-in. So, normally, when users register with us, we send them a request to verify their login email address. The next thing we do is send them a subscription confirmation email.
But as we said, clients will love it if you save them a minute of their precious time.
So why not let them complete registration and see the result of this process right away in one single email?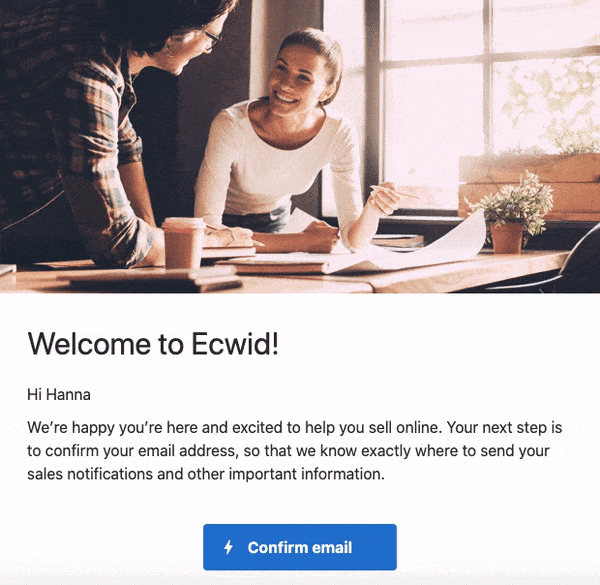 (Source: Email from Ecwid)
Way 4. Running quizzes
We've already shown the below email sample in this post, but we have not said a word about how it really works.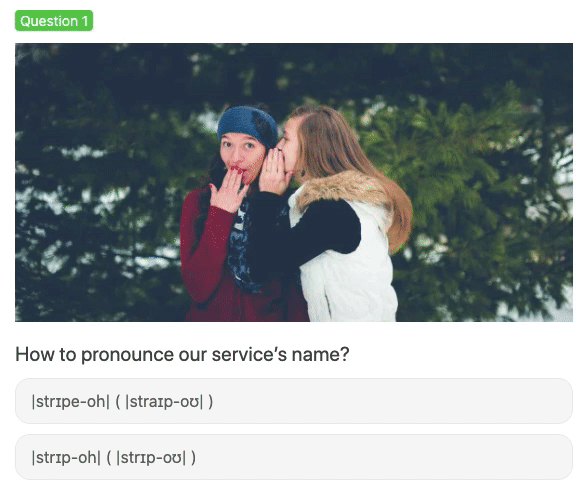 (Source: Email from Stripo)
Last summer, over 100K our users received a quiz from us, where they were asked to answer three questions:
how to pronounce Stripo;

name the most popular email client according to Litmus;

how to update a header or a footer in a hundred emails at once.
Of course, we offered a prize for those that answered correctly to these three answers.
So, did this email generate any profit?
A large number of answers from those users who could submit their answers in this email (AMP version). And a few answers from those users who had to leave the email to participate in this quiz (HTML version). The difference is obvious. And this AMP quiz was widely discussed on Facebook and in a number of Russian-speaking communities.
In the "Building AMP Questionnaires" blog post, we show how to build a similar quiz for your newsletters. And provide prebuilt modules so you can create the quiz for your newsletters in under an hour.
Way 5. Making appointments in emails
If you want to enhance your cold emails and to have more leads come to your demos, why not let recipients select a convenient time and confirm your appointment/demo in sales emails?
In this email, users were supposed to select a necessary date, then pick a necessary time slot and confirm their meeting. And see the appointment confirmation right away.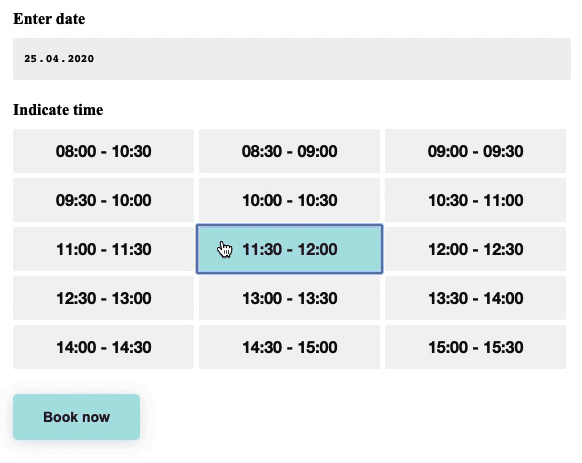 Use this template to let your customers schedule appointments with you in just 1 click
Try it
Way 6. Sharing real-time data in email digests to provide users with fresh content
It is essential to provide users with the most actual information on your brand in digests, welcome emails, etc.
No matter when new subscribers open our emails, they always see only fresh content.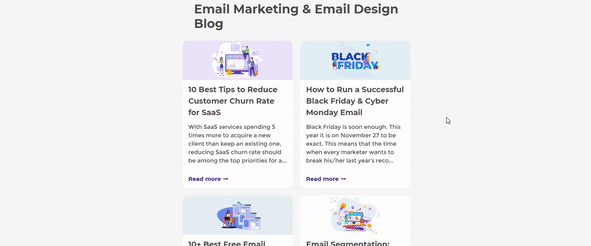 See, we do not need to update/edit or even build a new welcome email every week.
If you wanna build a similar one for your welcome/onboarding series, you will need to prepare a JSON file with the required code elements and set the CORS policy on your side. But you do it once and for months.
In our "How to Pull Data from Google Sheets into Emails" video, we showed in detail how to build a similar. It won't take you long.
Way 7. Utilizing gamification — Find and sum numbers. A new way to give discounts away
Gamification is one of the most popular ways email marketers use AMP. It is quite often used in promo/discount emails.
With this game, you entertain your customers. Not only do they get a little fun in your email, but also get their discounts.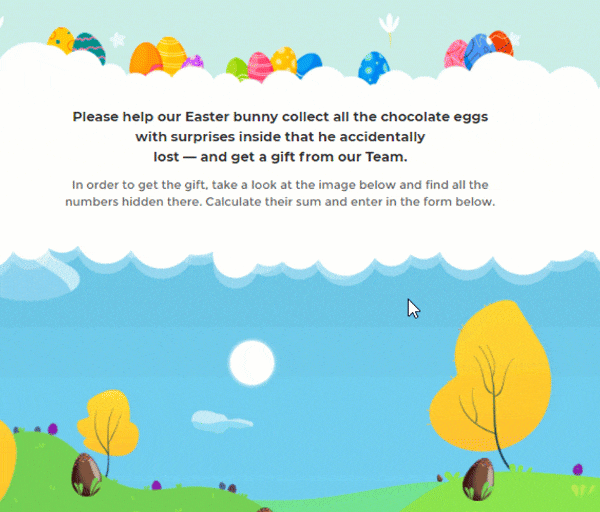 (Source: Email from Stripo)
Way 8. Utilizing gamification — Wheel of Fortune. Another way for giving discounts away
Sometimes you can't give a generous 30% OFF on purchases to all your clients, but you'd like to. Let them WIN this generous discount. Others will get 2%, 5%, or 10% OFF.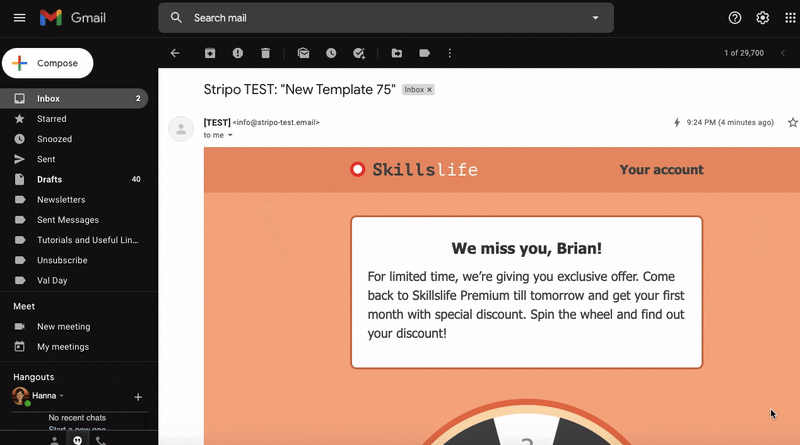 (Source: Stripo AMP email template)
Way 9. Placing multiple banners on one screen
Ever wondered how to use AMP for email when you are not familiar with coding at all? Give layout components a try.
Carousel is used by eCommerce companies mostly for showcasing many product cards on one screen.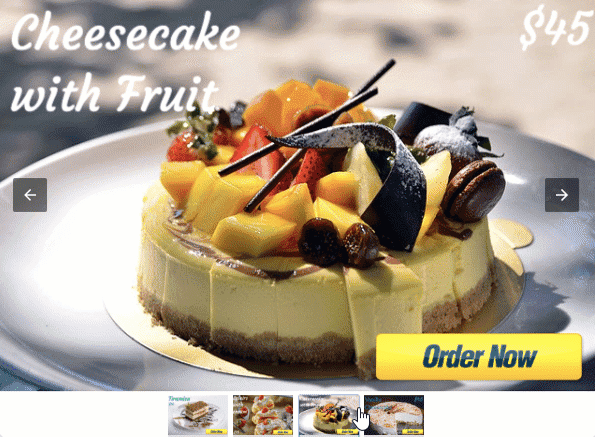 Or take a look at another example:
(Source: Email from Stripo)
Designing carousel with Stripo:
start with pulling the AMP carousel block in your email;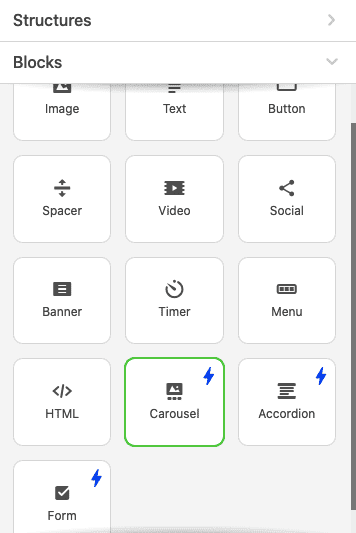 upload your product snippet;

add a desired number of slides to further fill them all with your product photos;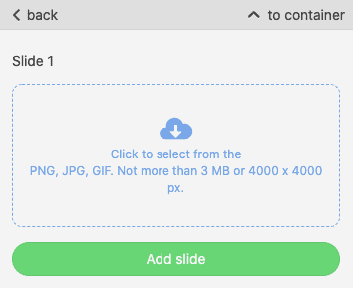 enable/disable the image preview option;

set width for the preview images.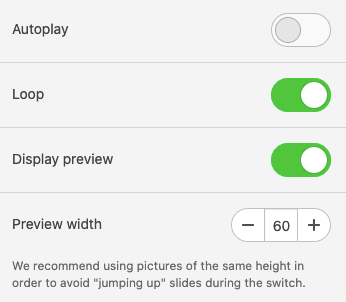 Add AMP carousel to emails to show a number of products on one screen
Join Stripo
Way 10. Enabling customers to select items in emails
"Select" — is the key word here.
With the amp-selector component, you let users select product items, their colors, and sizes, etc. right in the email.
After they do it in your promo, they proceed to checkout. That's easy.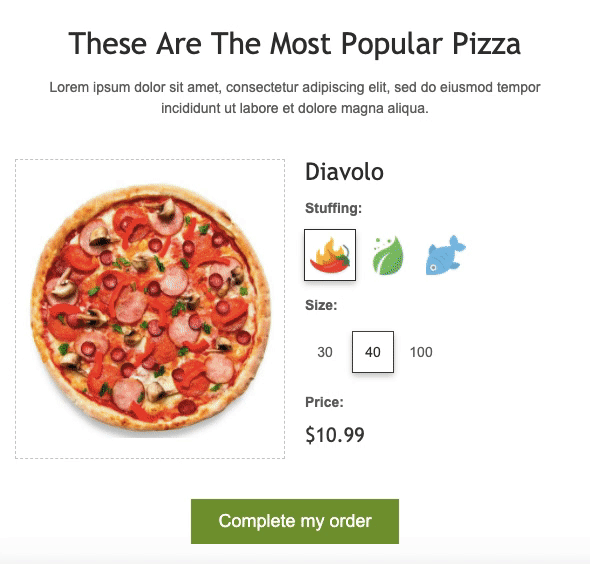 Our template with the selector component is up for grabs.
Use this AMP email template to improve email campaigns' effectiveness
Pick it
Way 11. Utilizing gamification — Increasing user engagement
Previously, we showed how to "give" away coupons. We asked users to "seek" the numbers hidden behind chocolate eggs, to sum them, then to enter the correct answer in the submission form, remember?
In the email shown below, we asked users to click on the email element they liked the most to get their "prediction" for the next month.
Grab this template to entertain users
Use it
In this simple way, we offered collections of pre-built templates.
Results of this campaign:
This email was also widely discussed in some email communities. And many recipients would ask us to help them with building similar emails for their promo campaigns.
Important to note:
You can also hide product descriptions behind the snippets, promo codes, etc.
Way 12. Structuring content in emails
That's right, we are talking about accordions.
AMP accordion can be much more than just hiding text info in its sections.
The innovative accordion can comprise even carousels, videos, multiple product cards in it.
And our template is proof.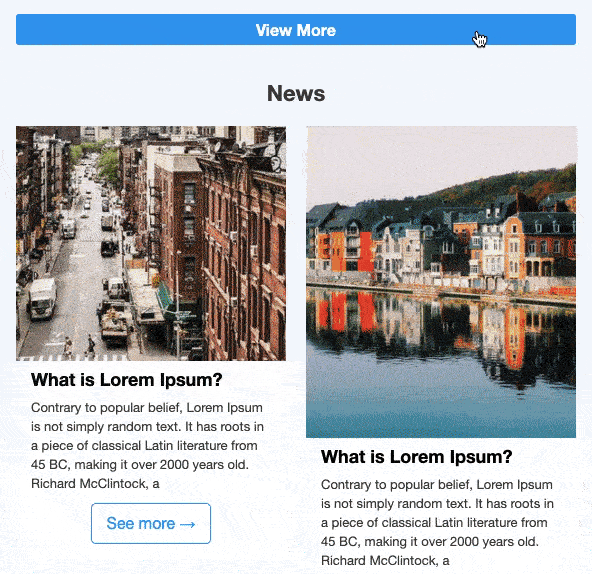 Structure content in emails to make them more appealing
Use it
Accordion is a layout component. So, all you have to do to use this template in your campaigns right away is customize it as you do with regular email templates.
Way 13. Running multi-question surveys
As we said, our test with the AMP form showed that the fewer steps it takes, the more answers we get.
We believe the same concerns multi-question surveys.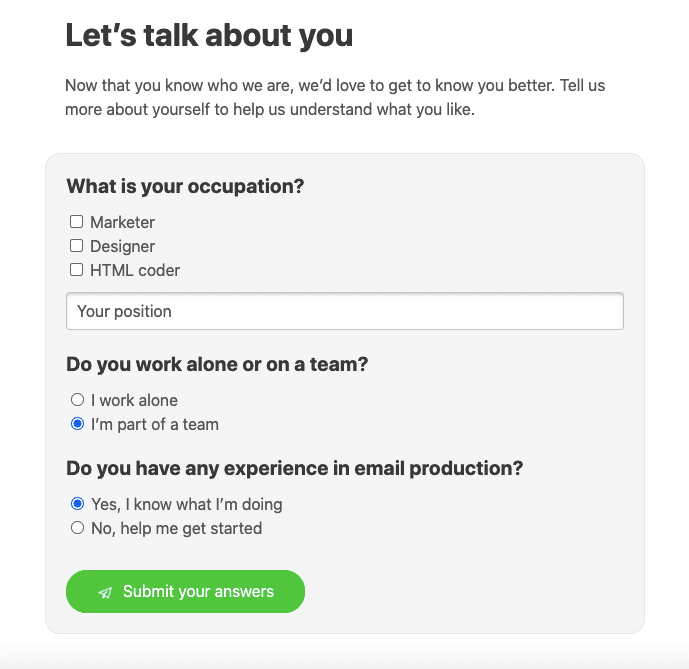 (Source: Email from Stripo)
This AMP email sample is part of our welcome email where we asked users to answer a few questions of ours so we know what materials and guides to share with them in the future.
Way 14. AMP carousel — Enabling users to find their perfect look
Carousels… They help you either show a number of products on one screen, or enable users to find perfect looks, find matching pieces of clothing, etc.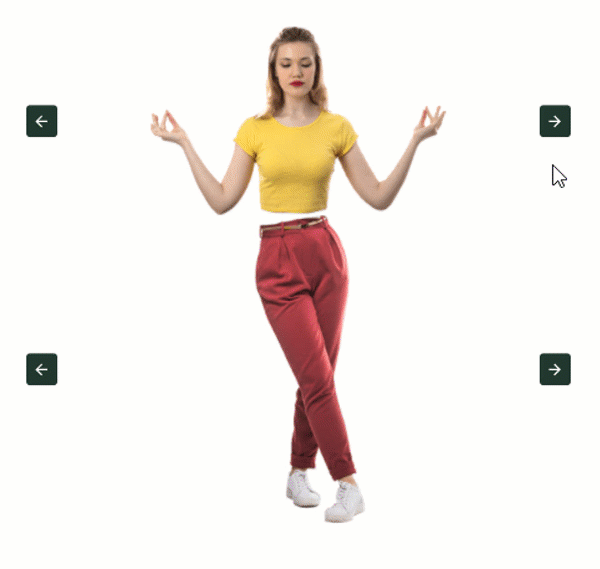 (Source: Stripo AMP email template)
This is a great way to let users match new pieces of clothing to find the perfect pair.
Way 15. Utilizing gamification — Building mazes
In 2020 on Father's Day, we built a short game — our users were supposed to rotate image slices to solve the maze.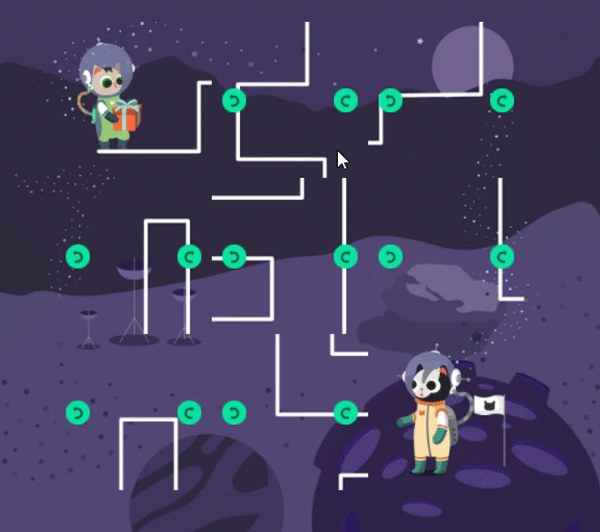 (Source: Email from Stripo)
This game was built just with the Drag-n-Drop block "AMP Carousel".
You can build similar ones just by following the steps given in our "Building Mazes" blog post.
Way 16. Utilizing gamification — Letting users compose their own emojis
There are so many things you can do with the AMP carousel… Running some simple contests is one of them.
It's easy to convince customers to participate in a contest that does not take much of their precious time and lots of effort.
With this email, you ask users to create their own emojis.
Way 17. Accordion — New way of structuring email digests
We believe that when it comes to educational courses and digests, accordion is exactly what you need. You hide all the content in sections. Users see only the names of the courses. This gives us way more chances users will see all the topics given in the email.
Once they get interested in any given section, they just click to expand it and see more information on the topic they are interested in.
(Source: Stripo AMP email template)
You can place buttons with links, images, and even videos in AMP accordion sections.
Way 18. Utilizing gamification — Enabling users to see right away if their answers are correct
Decided to give Email Gamification a try? That is great!
In this case, we should keep in mind that the "Feedback system" is one of the defining traits of a good game.
This means we need to let users know how they are doing or if their answers to the given questions.
(Source: Stripo email template)
To implement this game, we used the Drag-n-Drop block "AMP Form" for the input field, and a piece of custom code for "conditions" so that you show users if their answers are correct/incorrect.
Please, take a look at a similar example: The same mechanics, but a way different implementation.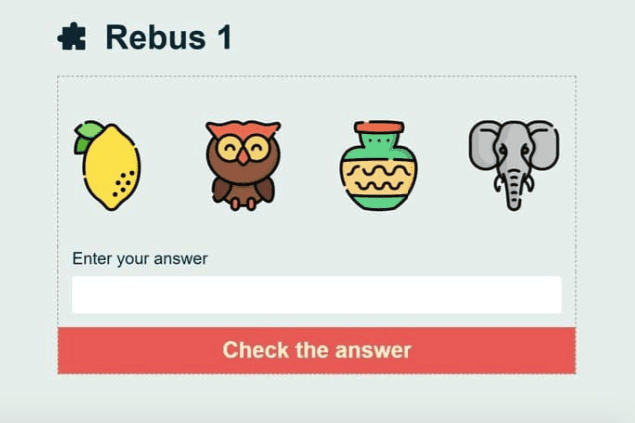 Way 19. Imitation of chats
Use chat imitation in emails to either let your customers win a promo code, or to announce an upcoming event/feature.
(Source: Email from Stripo)
Remember the game we implemented last Easter, where users had to "find" numbers and sum them? And the examples, given in the "Way 18" section… Again, the same mechanics, but way too different implementation.
Way 20. Personalizing offers
As we know, personalized offers generate way higher ROI compared to general promo emails. You can either send your customers emails with personalized offers, or let them choose what they like directly in emails and generate a personalized offer by themselves.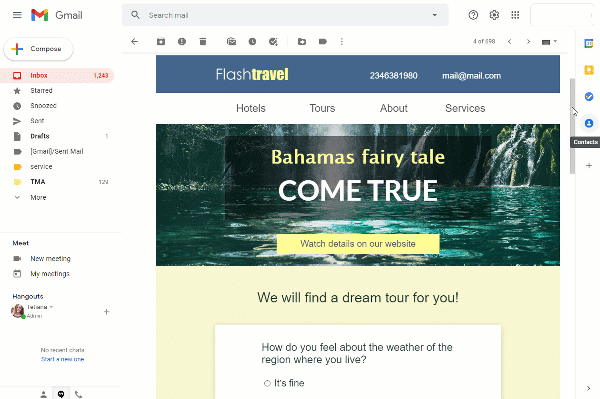 (Source: Stripo email template)
Users answer simple questions, like what language they speak, what leisure they prefer, etc. And see the journey that matches their interests right away.
Important to note:
You can do the same with product categories or gifts.
Word of advice
We showed the 20 most popular ways to use AMP for Email.
In the blog post "Ways to Build AMP with Stripo", we showed 6 ways of creating AMP emails.
Here's just a friendly reminder. To be able to send AMP content, you need to:
get whitelisted with Google, Mail.ru, and Yahoo;

fix all the bugs if any occur. You will see them in the Preview mode (otherwise users will see HTML email);

add the fallback — HTML version — in this email;

make sure that your ESP/CRM is capable of sending AMP emails;

keep in mind that currently Gmail (both web and mobile apps on all OSs), Mail.ru, and Yahoo are capable of rendering AMP emails;

AMP emails lose their AMP properties if you forward them. This was made out of data protection reasons;

AMP emails expire in users' inboxes 30 days after they are delivered. Again, the email loses its AMP properties. Users see the HTML version.
Future of AMP in email
Some companies still doubt whether they should give AMP for email a try and if this technology has a future ahead of it.
Well, this is totally at your discretion. But let us share a list with some pros here:
1. AMP makes email content diverse and way more useful
In 2019, we were able to add mostly layout components — carousel and accordion — in emails. They would make emails look well organized and structured.
In 2020-2021, it became easier to collect feedback from customers in emails and to implement multiple games in email marketing. The games that previously were impossible to utilize in email.
Real-time content allows us to provide customers with only fresh information in newsletters.
The possibilities of AMP for email are growing.
2. Wide support
Email clients
AMP emails now render well across:
Gmail — desktop and mobile, on Android and iOS;

Yahoo — desktop. Mobile apps will support AMP soon;

Mail.ru — desktop and mobile, on Android and iOS.
AOL, the product of Verizon Media, will support AMP soon.
Email platforms and service providers
Currently, 33 ESPs support the AMP for Email technology.
Amazon SES, Amazon Pinpoint, AWeber, eSputnik, Mailgun, and Salesforce are among them.
You can find the entire list here.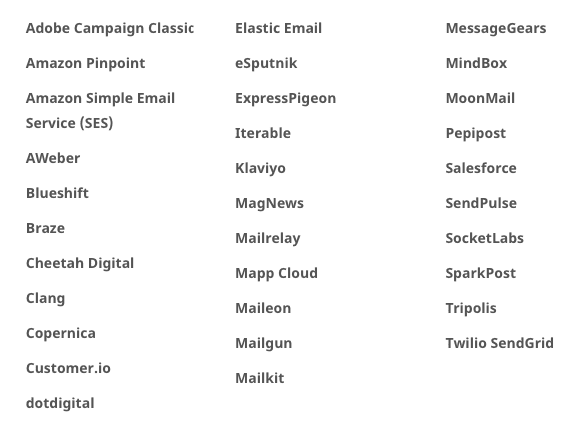 (Source: Google AMP dev)
3. Data protection
AMP for Email is, first of all, about data security.
This means that your emails are monitored at several levels.
Put very briefly:
all senders, meaning brands and companies, are to be whitelisted with email clients and are thoroughly checked by ESPs, otherwise brand is not capable of sending AMP content;

email clients block all AMP emails with any suspicious content;

email senders, like ESPs and CRMS, do not let such emails be sent;

AMP emails cannot be forwarded and, as we said above, lost their AMP properties in 30 days and when the email is just opened in a new tab.
4. Building AMP emails is getting easier
We've built lots of modules, templates with AMP content so you can start on your own campaign fast. Requires little to no coding skills.
Also, Stripo offers 3 Drag-n-Drop AMP blocks:
carousel;

accordion;

form.
Working on these blocks requires no coding skills at all.
5. AMP for Email efficiency
We prepared a digest with a number of use cases from different companies worldwide that show how brands improve conversion, increase ROI, and user engagement with AMP.

Final thoughts
To AMP or not to AMP — it is up to you to decide.
All we can say is if you ever decide to give AMP a try — we are there for you.