According to statistics, based on analyzing 100 billion emails sent in 2021, the open rate and click-to-open rate of emails are still high. The leading industries are Education, Agriculture, Financial Services, the Nonprofit, and the Real Estate sectors.
Yet the average cold email response rate over the globe is considered to be 1%, but do not think that this channel is not effective. Since experienced marketers and sales representatives get response rates as high as 20% from cold emails. So the question is how can you make a successful sales channel with a cold email template? With the help of Stripo.
Main features of the Stripo platform for your assistance
Let's see some features that make Sripo cold email templates irresistible.
1.Synchronized modules allow you to update all your emails in one go
Imagine you have 50 email templates in your company and at a certain stage, the contact information of your business has changed. Instead of editing all the 50 templates, you can just apply synchronized modules.
Here's how:
prepare the content you want to add to all your emails;

click the "Save as module" button to save this element to the modules' storage;

give a title to this module, toggle the "Synchronized" button and click "Save";

if you see the "OFF" symbol appearing on your template then you've done everything right. It means that a synchronizable module/content element is created, but the synchronization option has not been activated yet. In order to do this, click the "OFF" sign, and in the settings panel toggle the "Synchronized module" button.
For more details, please watch our video below.
2. You can add the "Follow us on Social Media" module in 1 click
There's no need to look for the right social media icons design and add links to them from campaign to campaign. Just create a "Social Media" module and add this block to e-signatures and email footers. All the buttons in your cold HTML email templates will be of the corresponding brand style.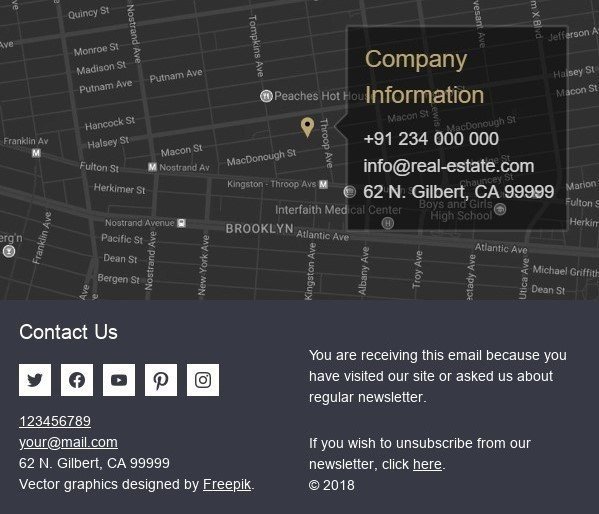 Speed up email production with our prebuilt templates
Use this one
3. Another useful feature of Stripo's cold responsive email templates is the Image rollover effect
When you place a cursor on the image it changes to another one. It is simply an irreplaceable feature for the Fashion industry when we want to show how the item looks on the front and backside, the multiple colors option, and close-ups. This also can be used in any other industry for sending teasers, gamification, running quizzes, and many more.
To build an email with the rollover effect you need to:
upload the first image and toggle the "Rollover effect button";

upload the second image of the same size;

you're done.
4. Pre-built AMP email templates that ease the work of marketers a lot
A big choice of lists, accordions, carousels, forms, and selectors. That means the customers can scroll an email and scan all the necessary information without opening a new tab to visit your website.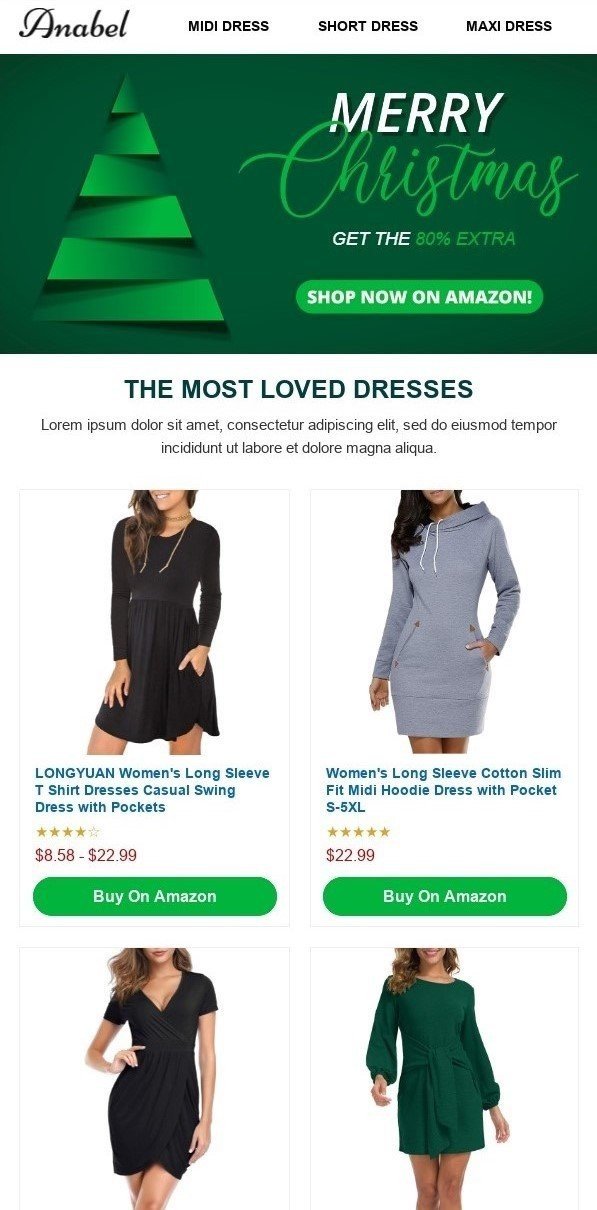 Check out this "Christmas Style" cold email template design for the eCommerce industry
Use it
What else is a cold HTML email template for?
To sum up
Those are just a few of the multiple advantages Stripo email templates have. Entrepreneurs who say that cold emails do not work are probably using the same email features as in the 90s. Those marketers that think that cold newsletter templates are a big headache just haven't come across Stripo yet. Alluring design, personalized messages, trending marketing baits, compelling images, optimized previews, strong CTAs, and professional signatures — are all in place in our templates.