Cold email is a method of initiating a dialogue in our digital world. It is a crucial part of the future sales process. Cold email campaigns must include a value proposition for prospects who might not even realize they need your services, so they are not sure whether or not to work with you.
These emails should be brief, visually appealing, and informative. When a customer sees your cold sales email template, they should be motivated to invest their time and money in your product or service. Stripo makes it easier for you and is always at your service with ready-to-use templates!
Reasons to use cold emailing for your SaaS company
What are the initial purposes of cold emails? Searching and generating leads and identifying prospective users who may be interested in your product or service. That is most likely the prime goal of B2B sales via cold emails. But we can go above and beyond. So, what else can cold emails be used for in your SaaS company?
Here are some other ways cold emails can help your SaaS business:
1. Higher performance compared to other forms of outreach
An effective cold email campaign allows sales teams to contact many potential customers at once. Even if you do not receive responses from everyone, writing emails to a significant number of people ensures that at least a few will interact.
Regardless of the number of replies, sending these emails to a group of prospective clients could really help raise brand awareness among them. And because of the number of emails that should be sent, cold email templates come in handy to reduce time on creating the same newsletter over and over again.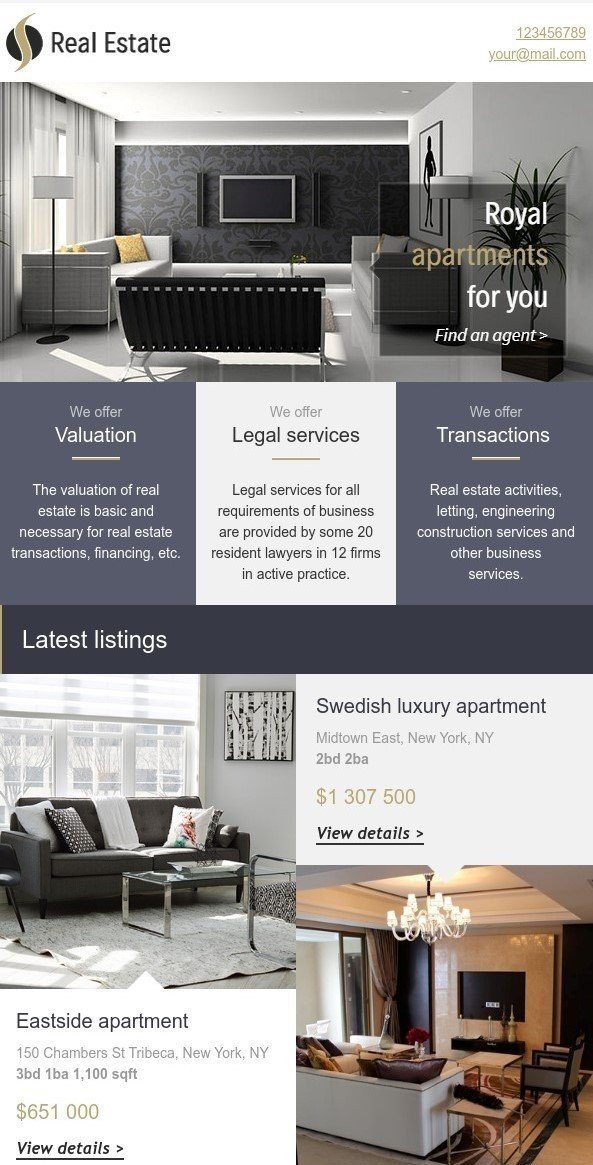 (Source: Stripo template)
2. A better understanding of your prospects
To comprehend what your clients may require and establish a mutual connection, you should understand their needs and desires. You can request testimonials from prospects or existing clients using cold email templates. It's also possible to track which emails performed better than others.
3. Affordable acquisition channel
Cold emailing is a reasonably priced tool for reaching your target audience! Pay once to set up an automated email sequence, which will pay you back for months. As a result, the worst marketing pain point is resolved in a matter of minutes.
But you need to keep in mind that this process needs some time before it starts working. So don't get upset if you don't have hundreds of replies the next day you've sent your cold emails.
4. Enhanced brand awareness
Even if you don't receive any solid leads, cold emails can help you improve your networking. Sending these emails to potential customers raises brand awareness and the reputation of your business. Your leads may contact you later or forward your newsletters to their acquaintances who might be interested in your services. Word of mouth is still an excellent tool that will undoubtedly increase brand awareness.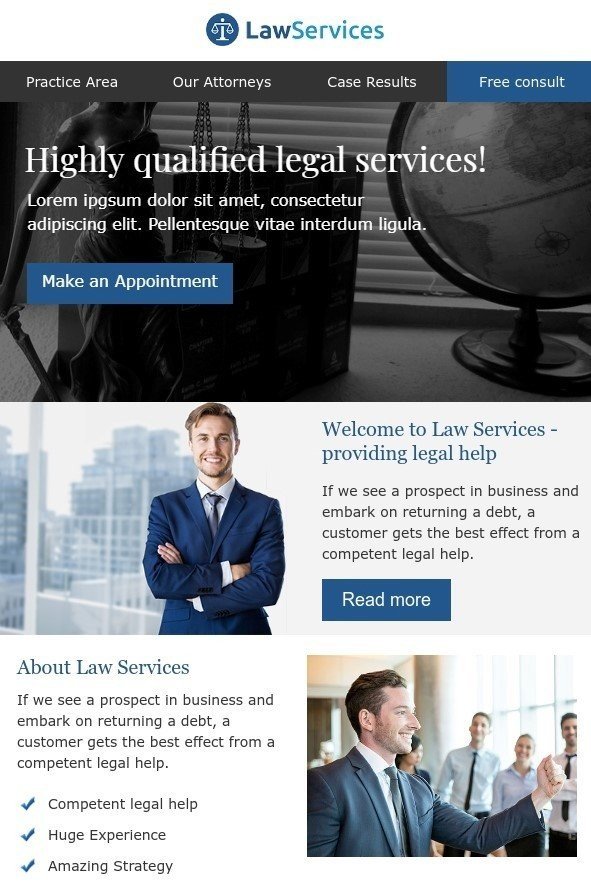 (Source: Stripo template)
5. Automated and trackable solution
Cold email outreach can include great marketing automation tools that help companies operate and extend by qualifying leads, monitoring conversions, and showing a clear brand identity in all email templates.
Marketing email automation is your time-saver and CTR tracker. With Stripo, you can utilize smart elements for creating multiple product cards and email newsletters, as well as Drag-n-Drop AMP blocks, modular email architecture, and a bunch of other tools. Set them once and use them across multiple cold sales emails.
How to build a successful cold email for SaaS companies: best practices and examples
Collect data to understand your prospects
Data collection is an opening line for cold sales emails. It has become a must-have for businesses looking to improve their consumer onboarding and loyalty. Data collection can also help you determine which prospects are likely to become clients. And it is not just about the contact info; to choose the appropriate person for your cold email outreach, you also shall dig into their social media posts. The more information you gather, the more effective cold email campaign you may have.
Segment your contact list
Analyzing previously collected data will assist you in optimizing your conversion rate in your cold email outreach. As a result, sales teams must identify prospect lookalike groups based on one or more determinant factors or characteristics. It is most likely done based on age, location, and purchasing habits.
This classification aims to optimize your email marketing for each group to provide prospects with the most relevant offers. And as a result, you will receive positive responses from your new customers.
Check out the article below to learn more about email segmentation strategies and best practices:
Create detailed buyer personas
The portrait of a target group is a key concept in email marketing. For cold emails, it is extremely crucial. It is nearly impossible to develop a serious marketing strategy without a clear understanding of the ideal potential buyer's characteristics. You can't establish a full-fledged relationship with a client or run an effective advertising campaign without a client's portrait.
Come up with eye-catching subject lines
A subject line can help you stand out from the crowd of messages in recipients' inboxes, especially when it comes to cold emailing. You can test various subject lines to see what works best, such as including the recipient's name or emphasizing their needs.
Inform your recipients why you're reaching out, create a sense of urgency, address your clients by name, and ask questions. Consider which cold email subject lines would appeal to your consumer and try them out!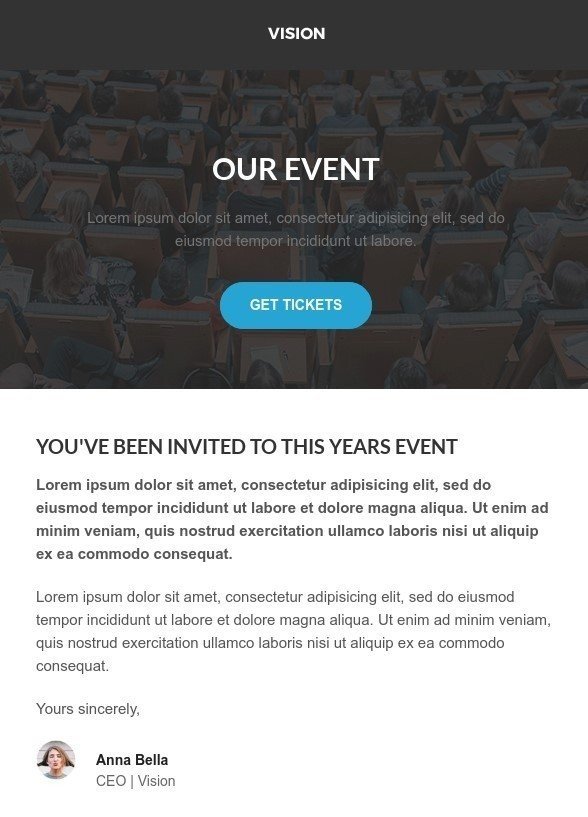 (Source: Stripo template)
Clarify the purpose of your message
Create a short email body that will trigger the prospect's pain points and highlight the benefits of your offer. In the first line of your cold email template, clearly state the purpose of your message so the recipient understands why they should read it and try your product or service.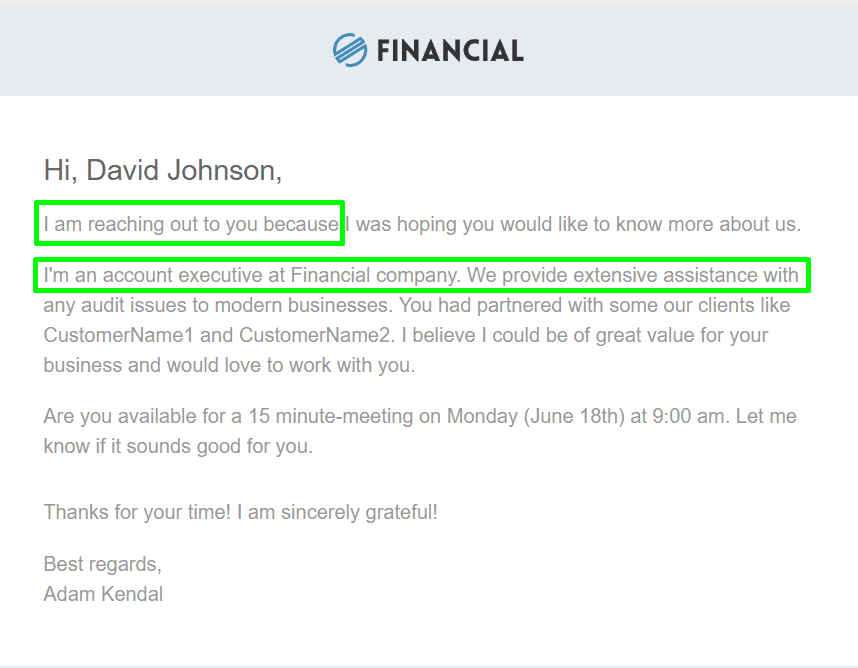 (Source: Stripo template)
Personalize your cold emails
Your communication should be personalized from the start of your partnership to gain your customers' trust and loyalty. After gathering potential customer data and segmenting your prospect list, you can select and create an email sequence based on their interests, age, buying habits, and so on. Hence, they receive personalized emails with a value proposition.
An old but gold tip here is to address your recipient by name in the opening line. This results in a chilly mutual connection.

Work on responsive and attention-grabbing email design
Don't forget to adapt your cold email templates to laptops, smartphones, and tablets. The goal of responsive email design is to provide content that is adapted to your user's preferred device. Using responsive design, you can send email templates that change depending on the screen size. Therefore, your email templates will always display correctly regardless of the device used to view them.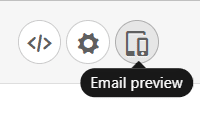 In Stripo, you can implement such adaptiveness in the "Mobile Formatting" tab. And thanks to the "Email preview" mode, you can check what your cold email looks like before sending it out. Consider some interesting and relevant images, or work on the info structure itself, such as creating a blog post design to make your email template more responsive.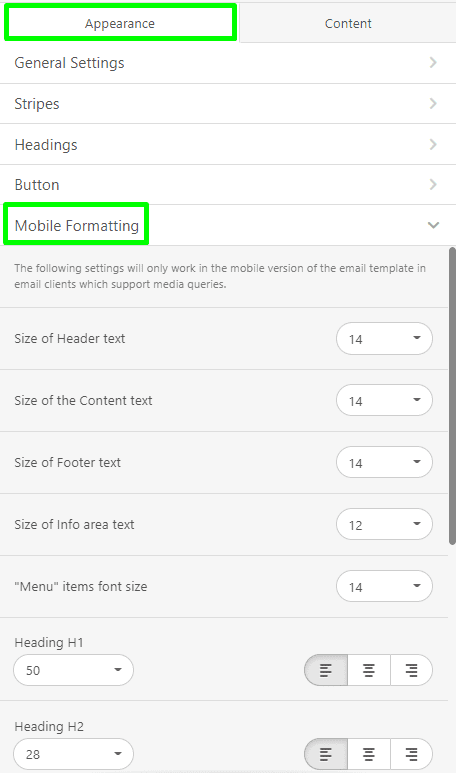 Add a professional signature
After you worked on the email body of your cold outreach email, you have to add a good-looking and professional signature. The signature typically includes some brief information about the sender, such as a name, position in the company, and phone number.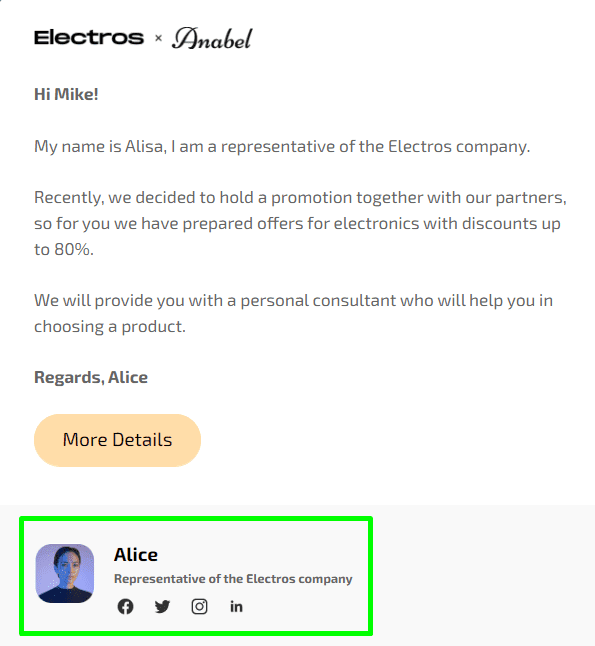 (Source: Stripo template)
It would also be nice to include your social media icons in this section of the cold email template, which is easy to do in the Stripo editor:
open the "Blocks" section;
find the "Social" icon;
drag it to the container you require.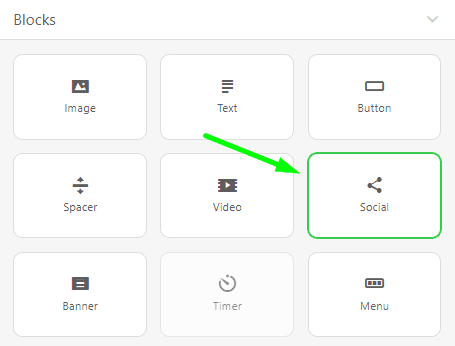 Then you'll be able to select your favorite design from the list.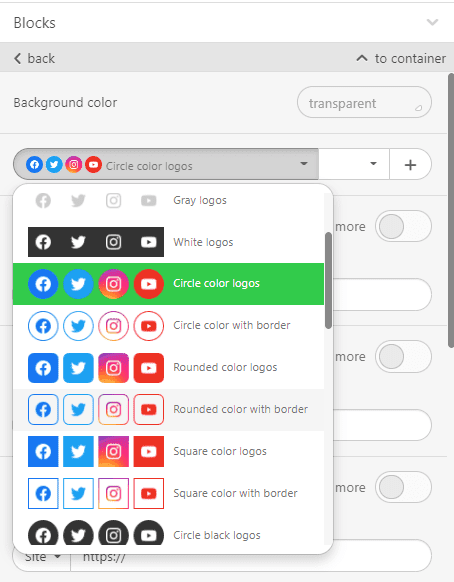 In the article below, you can find more detailed information on how to create an HTML email signature:
Benefit from follow-up emails
Stripo can help you create a follow-up newsletter to ensure that your previous cold email message got to the prospect's inbox. You can choose a time limit for contacting unresponsive prospects (like 5 or 7 days, for example).
Follow-up emails include a clear call to action as well as a unique selling point (USP), such as a discount for the first purchase, probation period, or time-limited offer, increasing the likelihood that your offer from the previous email will be accepted.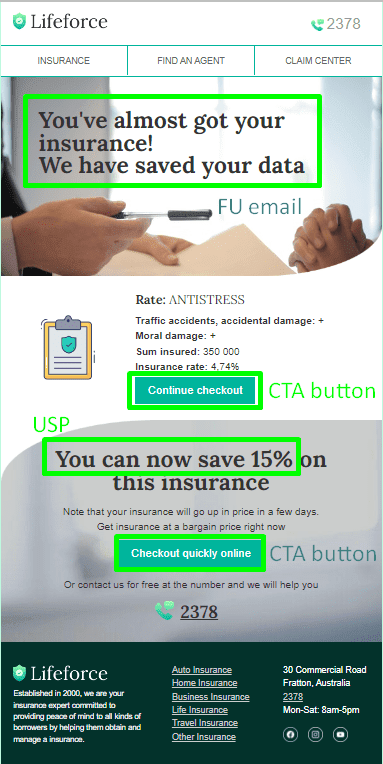 (Source: Stripo template)
Wrapping up
Writing cold emails has never been so easy and enjoyable. Personalization, credibility, relevance, and value, along with a catchy subject line and an appropriate call to action — this is the key to your successful cold emails. Are you ready to get the most out of your prospects' attention and acquire a lot of new customers? Stripo's cold email templates are waiting for you!
Join over 950K users
Start for free — upgrade anytime