Some emails lead to a sale. Others are ignored by users and receive no response. And the key difference between the two is how the salesperson perceives each contact with a potential customer.
Below, we will explain why a single email is not an effective solution to close a deal. You will find out how many there should be. We will also tell you how to write sales follow-up emails that will not only be read but will also receive a response.
Why are sales follow-up emails necessary for business?
Let's imagine that a company has developed an excellent sales script or commercial proposal. I found a potential client and made the first contact. Everything seems to be correct, only the deal could not be closed.
According to Pareto's law, 80% of conversations will not result in a sale. The purchase will be made in only 20% of the cases, which will provide most of the company's income. Is it so?
Research shows that not really. With this approach, the company will probably refuse to make the second and third contact. However, 98/100 of sales require them. It is the subsequent actions that ensure the closing of the deal.
Let's see how many companies actually have the perseverance to complete all the contacts. Research has shown that sellers stop making additional attempts after:
one email rejection — 44%;
two attempts at contact — 22%;
three attempts — 14%;
four emails sent — 12%.
Only 8% of companies make it to the fifth attempt. They take 80% of transactions for themselves. Next, we will show examples of emails sent by sales managers.
Failure to work with a client before the fifth attempt is a halfway stop. Of course, the mere fact of contact does not guarantee a sale. However, with the correct content and frequency of circulation, the company will be able to reveal much greater trading potential.
4 situations where a sales follow-up email is really appropriate
There are situations in which sending an email is most appropriate:
Situation 1. After the presentation
1-2 days after you introduced the product to the person, build a follow-up email and send your second email. You can thank him/her for the time that he/she has spent. Also, the email after the presentation is turned into an opportunity to discuss the client's pain points. However, be sure to add a call to action. A person must understand what you want from him/her.
Situation 2. Approval by the decision-maker
This point is especially relevant for companies that operate in the B2B market. It is not always possible to contact the owner or director of the company directly. Therefore, not only the potential client but also other interested parties should familiarize themselves with the proposed product. The sales cycle is extended. But who said that you should passively wait? Schedule a sales follow-up email four to five days after the product presentation. For expensive and complex goods/services, the period may be longer.
Also, an increase in the duration is relevant if the client works for a large company. To understand how complicated the buying process is in a particular case, it is worth clarifying the moment when presenting the product. Just ask how the deal is closed. By understanding the steps in the buying process, you will be able to give the customer ample time for discussion with the entire team.
Situation 3. No response
This is one of the challenges to learn to manage in an email marketing case. Emails may remain unanswered. It is necessary to develop a plan of action in advance for such cases. Communication can be resumed in various ways. For example, by offering additional resources.
However, it should also be remembered that the product may not be of interest to everyone. It's unpleasant. But this must be realized and accepted. If the email remains unanswered, then ask if the offer remains relevant or if it's worth moving on. Sometimes a simple question will stimulate action. Such a message can be sent approximately one week after the previous email was sent. You need to look at the situation and build on the specifics of your business.
Situation 4. Parting
In part, this reason is a continuation of the previous one. If the follow-up sales emails have not received a response, then it may be worth saying goodbye to a potential client. Tell the person that you are closing their file. The second option is to make one last try by asking about the best time to talk.
How to send a follow-up sales email and not piss off a client
The essence of subsequent attempts is not at all perseverance. Your job is to get attention. No scare away. To achieve this, an email must meet a number of requirements.
1. Say what you want
The call to action and the proposal itself should be as clear as possible. Then it is easier for the person to answer. This is especially true if your clients are busy people (for example, company owners, directors, or senior managers).
They receive dozens of emails every day. Your duty is to try to make the task as easy as possible.

2. Be realistic about the importance of the email
Don't make it a high priority. Any product is just an offer. From the client's perspective, it is not more important than his/her personal priorities.
Marking "high priority" will not increase the likelihood of opening the email. But it will present the company as arrogant. The worst outcome - the email will be deleted. Want to increase your chances of reading your email? Then study the client, his/her tastes, and preferences.
3. Personalize your email and subject
Remember, you should always add by name in subject lines and in the body of follow-up sales emails. So, you can make sure that the email was received by the person concerned. This will increase the effectiveness of your actions and is more likely to lead to the desired result.
To address by names, if this is a mass follow-up email, with Stripo, you need to:
put a mouse pointer exactly where you'd like to enter the recipient's name;

in the toolbar, click "Merge tags";

pick your ESP;

choose the "First name" option.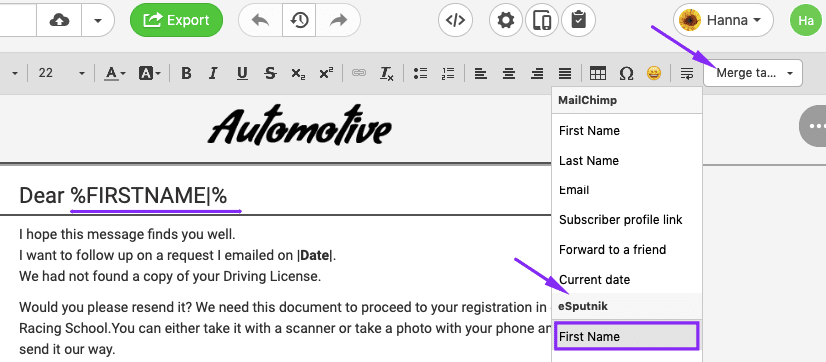 4. Remind about context
When writing a follow-up email, you should be guided by the fact that the user does not remember you. This strategy is the most winning one. A gentle reminder about the context of the conversation will explain who you are and why you are contacting.
For this to work, describe the circumstances of your acquaintance. Try to keep your reminder short. Personalize it by adding unusual details to your previous conversation. For example, by writing: "We met after your performance" or "I'm the guy who spilled coffee on your pants." Highlight unique moments so that the person can remember you exactly.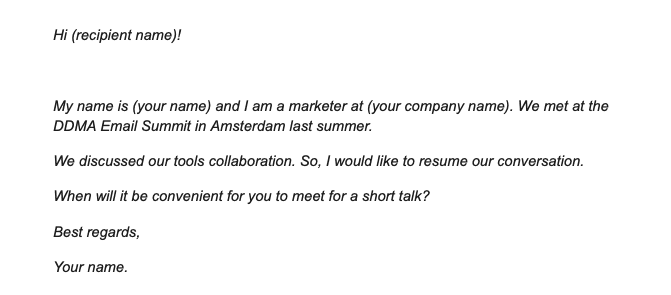 5. Maintain your image as an expert
You know that you are a professional in your field. The potential client is not. Therefore, it is necessary not only to create but also to maintain the image of an expert. Otherwise, trust will not be formed.
The perception of the interlocutor as an expert is influenced by many factors. In particular, literacy of writing the text. Flexibility in the use of terminology is also important. Applying this in moderation will present you as an expert on a particular topic.
If the email is from a staff writer, ask them to check the grammar carefully. Even one mistake can alienate the client. Also, pay attention to readability. The email should be written in a friendly and easy-to-read manner.
If the company doesn't have an author, find a remote employee. It's not hard to find a good one now. There are tons of resources offering coursework writers UK services. Such authors understand the technical aspects of topics and are responsible for the literacy of writing. Just formulate your own wishes for the letter and ask the professionals to make it a compelling message.
6. Respect the lead time
Before making a purchase, a person must make a decision about it. And that takes time. So instead of sending emails often, give the client some space. Think carefully about the frequency of repeated emails. Receiving emails too often can get on the user's nerves.
The optimal frequency for sending messages depends on many factors. In particular, the characteristics of the target audience and the proposed product. It is worth trying different intervals and analyzing the results.
7. Pick the right time to send sales follow-up emails
Timing is important when planning your email. To increase your response rate, send messages when potential customers are in touch. You can search for this time by trial and error. However, it is likely that you already have the information. Check out your own site's ESP/CRM.
Also, pay attention to the days when the hits get the most response. Determining them, the time, and the frequency of sending will allow you to develop an effective system for subsequent emails.
8. End a sales follow-up emails with a call to action
So, finishing the email, the potential client should understand who you are, why you write, and what you want. This is great, but not enough to sell. The final part of the email is extremely memorable.
An effective call to action will increase the likelihood of getting a response. After all, a person does not need to make difficult decisions. He/she chooses from two options: "Yes" or "No".
To make it easier to write, we've created a selection of effective sales follow-up email templates.
Sales follow-up email templates
Follow up email template 1:
Hi again,
It's (your name), from (company name).
Just wanted to follow up on the email I sent a few days ago to ask whether you'd had the chance to check out our tool?
No worries if not — it's been a busy week for us too!
As always, I'm here to chat if you have any questions.
Best regards,
Your name.
Follow up email template 2:
Hi, (recipient name)
I hope you all are well.
I would like to know if there was an opportunity to consider my proposal? Perhaps you have questions and I can help you.
If so, I will be happy to answer them. To do this, just contact me.
Best regards,
(Your name)
Follow up email template 3:
Hi, (recipient name)
I haven't received an answer since our last conversation. I would like to know if there was an opportunity to consider my proposal.
If you are facing difficulties and need additional advice, I am ready to answer all your questions.
Best regards,
(Your name)
Follow up email template 4:
Hi, (recipient name)
Every month I compile a report and close files. As a rule, I do not receive a response because the recipient is busy or not interested in the offer.
Let me know if you are still interested in my proposal.
Yours faithfully,
(Your name)
Final thoughts
Make your repeated emails useful for a potential client as that ensures the closing of the trade.
Offer potential customers real benefits, personalize, say what you want and motivate them to respond. Lead to the deal gently. The purpose of follow-up emails is to increase interest in the offer.
Was this article helpful?
Thanks for your feedback!