04 September 2020
Email Segmentation: Strategies & Best Practices
Each email marketer spends hours preparing a newsletter and trying to make it perfect and get the most out of it. For your email campaign to be successful, it is not enough to send informative and beautiful newsletters — it is important to correctly determine whom and what to send.
What is segmentation?
Basic segmentation plays a key role in email marketing. Often the concepts of a segment and a list are confused. A segment is a group of contacts united by a given criterion — that's what distinguishes it from the list. One of the important criteria is dynamism — thanks to regular updating of information, segments can be changed in real-time. Meaning, as soon as the user performs a certain action and falls under a given criterion, he/she moves to a specific segment, for example, "Clicked the link".
Email segmentation is one of the main tools for email personalization newsletters.
What is email segmentation for?
You can choose any parameters for the segmentation of your base. The success of your email campaign directly depends on how well you can segment subscribers and how much of relevant information you send to respective segments. Personalized offers drive 18X times higher revenue compared to emails sent to a non-segmented base.
The main purpose of an email segmentation strategy is to send the right email at the right time to the right group of contacts. As a bonus, in addition to achieving the main goal, you will receive:
increased Open rate: with segmentation, the topics of your emails will become more personalized, which increases the chances for future emails to be opened;

decreased the number of unsubscribes: in most cases, people unsubscribe from irrelevant newsletters, and segmentation allows you to send interesting content to the recipient;

increased CTR: you will send the content that is relevant to customers;

higher conversions in the newsletters.
Where to get information for segmentation?
Admit that working with a database built online is much easier. You have access to the purchase history of each client, his/her interests, behavior on the site, area of ​​residence, gender, and age. Not all companies working offline can boast of such information.
There are several ways to collect customer's data:
filling out the form while registering on the website.

conducting surveys for further customer email segmentation strategies, depending on the received responses.

using data from Google Analytics and CRM systems.
By transferring the received information to your mailing system, you will be able to form segments according to the necessary criteria.
What information needs to be collected to build segments?
Before conducting an email segmentation strategy you need to remember that your subscribers may vary depending on the cities they live in, tastes, and rhythms of life. Obviously we can't gather all the factors by which they can be distinguished, but it's quite possible to single out the main ones and make the newsletter more precise.
Below we list the main criteria for segmenting your database.
1. Demographic data
Basic information on gender, age, place of residence is enough to get you started. Based on demographic data, you can already send relevant newsletters: for example, an email to the residents of a selected city about opening a new store in their area. Knowing the gender of the subscribers, you can prepare relevant newsletters for female and male audiences.
Age segmentation
Recommended only if your product belongs to different age groups.
Segmentation by place of residence
Suitable for international brands, plus online companies can use them to send more relevant or seasonal information to customers. And segmentation by region allows you to send newsletters based on the availability of a store or any institution in the area. Multiplex mailings can serve as an example of such segmentation: emails are sent to those areas where the cinemas are situated.
Gender segmentation
Perfect choice for online stores. As an example let's take a look at an email on women's shoes: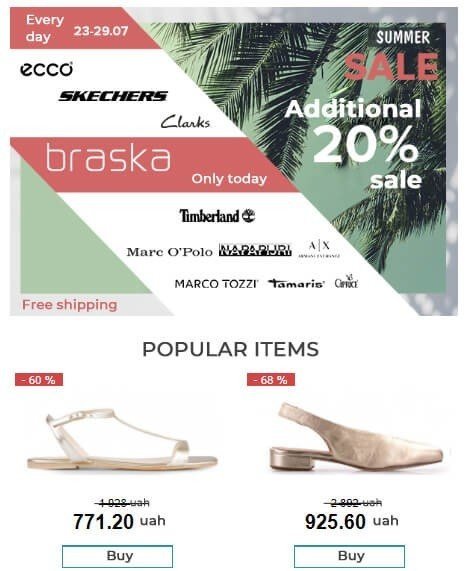 (Source: Email from Prom.ua)
And men's shoes: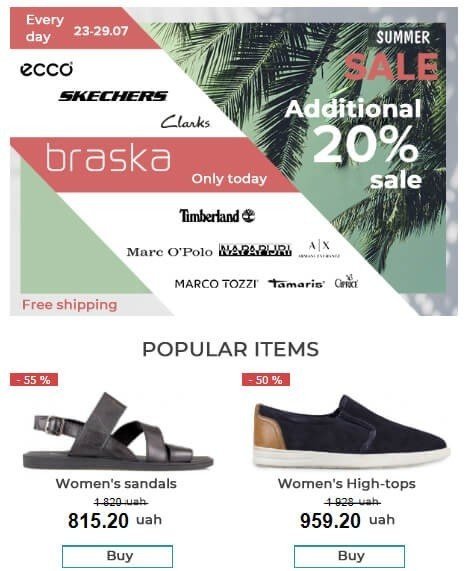 (Source: Email from Prom.ua)
Important to note:
The Stripo Content Display Conditions, which you set manually, enables you to personalize emails by gender, age, geolocation, etc. without the necessity to segment your entire contact base and with no need to build a number of emails. You just build one single email, add different product cards for men, women, kids, those who did not set their gender in your system, set Content Display Conditions, and voila — your users will see emails with relevant products only.
For the manual on how to create and set these conditions, please refer to our blog post "What Makes Stripo an Email Design Platform", section "Conditions".
2. Life cycle
The content of your newsletter should depend on the actions of the client. When a potential customer appears for the first time on your site, he or she still does not know anything about you and your product. As for the regular customer, you don't need to tell him or her how to use your products
Therefore, one of the most popular and effective principles of segmentation depends on the sales funnel stage where the subscriber is located. Let's take a look at every stage along with email segmentation best practices.
Just registered users
We recommend that you send a welcome email series to new subscribers where you showcase the functionality of the service, describe our services or present goods.
For example, after registering on the Mango website, its team sends an email to its subscribers asking them to choose the appropriate look: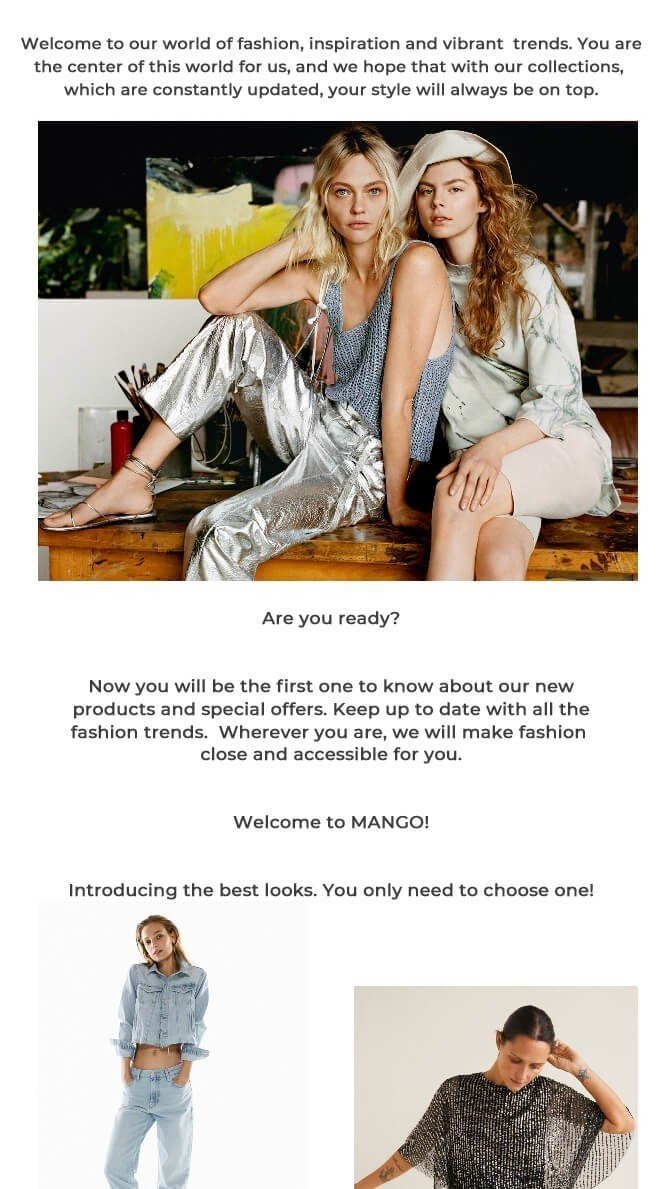 (Source: Email from Mango)
Newbies
They already know about you, but still have not completed any targeted actions. The mailing task for this segment is to show how your product can be useful and what tasks it can solve. Such clients should get a series of fact-finding emails, possibly with a discount offer on their first purchase. Talk about what awaits them in your email, as the team of the vsisvoi.ua online store did.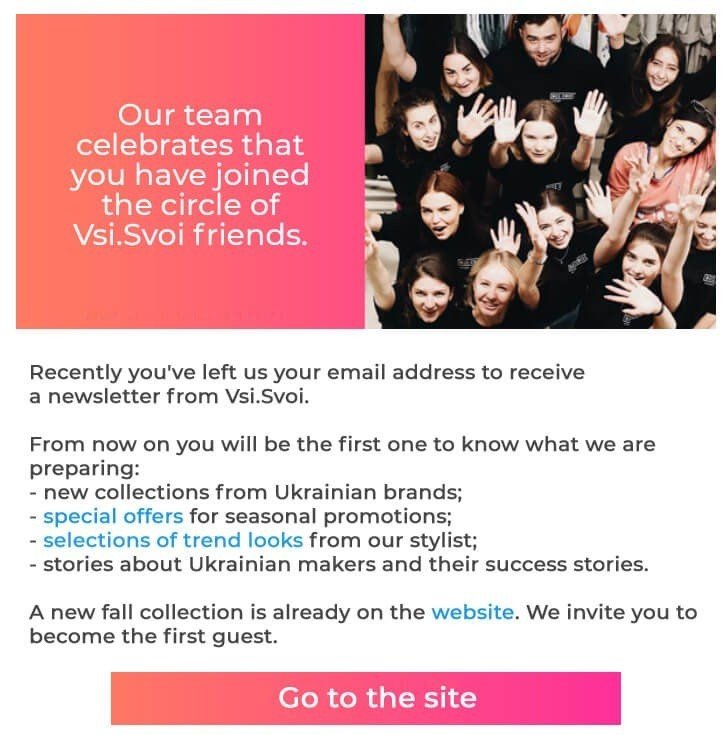 (Source: Email from Vsi.Svoi)
Involved customers
They have already used your product or your services, but not as often nor at the level as you would like. Select them in a separate group and talk about those functions that they might not be aware of yet. Emails with recommendations based on previous purchases can be examples of such newsletters for the B2C sector.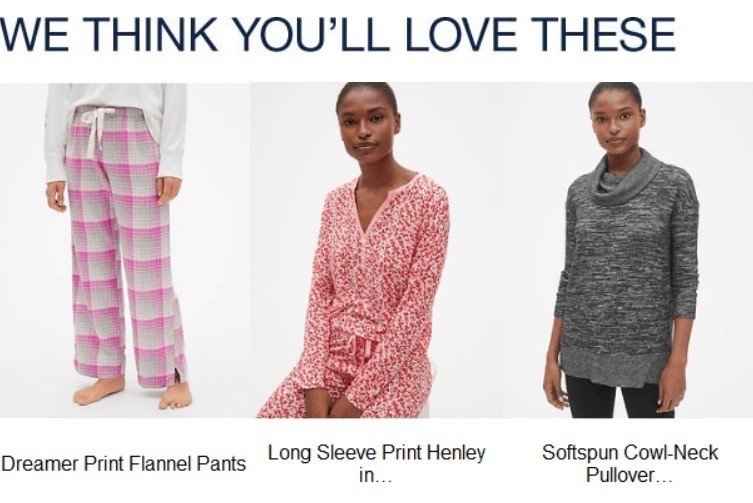 Loyal customers
They regularly use your services, read emails, and thoroughly know your product. Maintain the interest of this group to your product, tell about new products, offer bonuses and ask for their opinion. Airbnb offers $30 its most loyal users for attracting new customers for the next trip: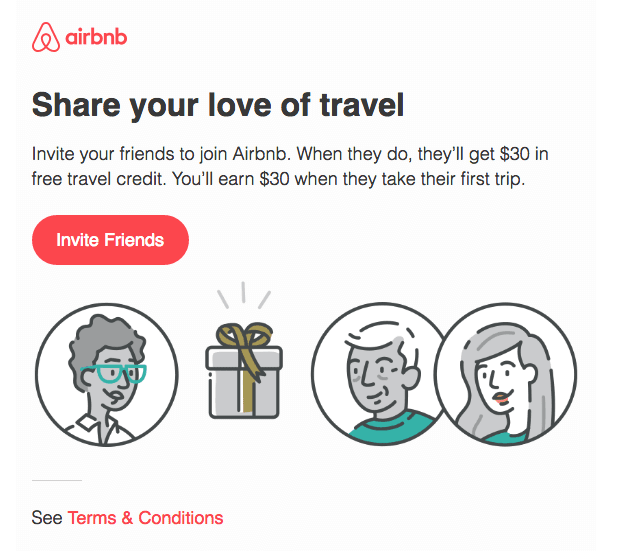 (Source: Email from Airbnb)
Inactive clients
Unfortunately, most of the customers at some stage cease to use the service or to make purchases. The reasons are different, our task is to try to return at least part of your former customers.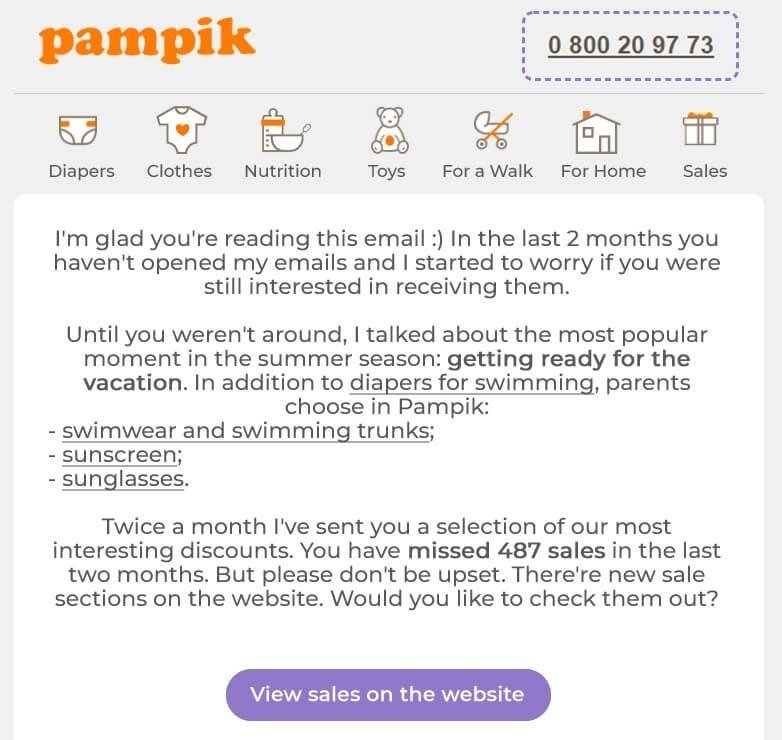 (Source: Email from Pampik)
Remember that the content of your newsletters should be as linked to the customer's actions as possible.
Please see more examples of great re-engagement email campaigns.
3. Customer behavior
This criterion can be divided into 2 parts: the behavior on the website and the behavior in the received newsletters.
In the newsletters
There are plenty of opportunities for email list segmentation. You can select the following segments:
those who opened;

those who opened and completed any targeted action;

those who opened, but did not click any link;

those who did not open.
Consequently, the following mailings for each of these segments should be different: additional reminders for those who opened the email and did not take any action; reactivation campaign for those who have stopped reading emails.
On the website
When subscribers visit the website from newsletters, they can also be divided into different segments:
went to the site;

went to the site and performed the targeted action;

went to the site and did not perform the targeted action.
For example, the Citrus.ua online store sends an email with a product that a website visitor was interested in, but didn't purchase: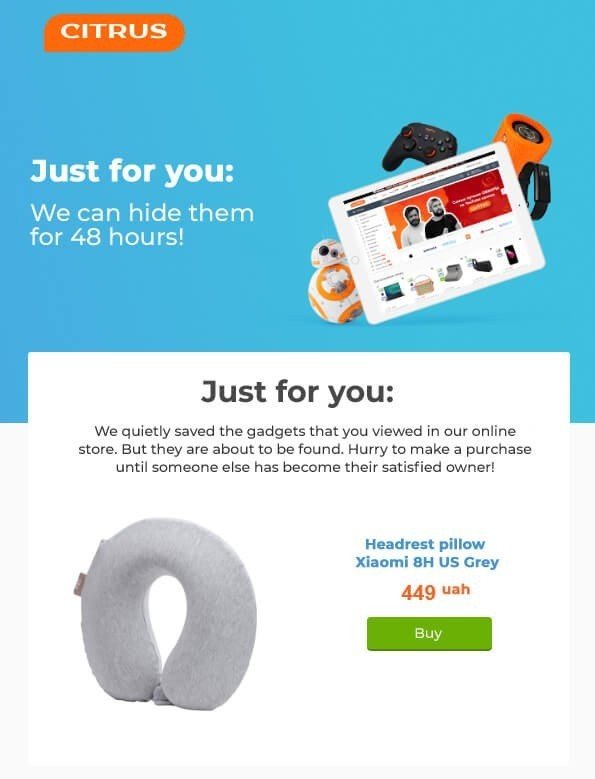 (Source: Email from Citrus)
Since I did not buy anything, I received the following email with a selection of products of the same category: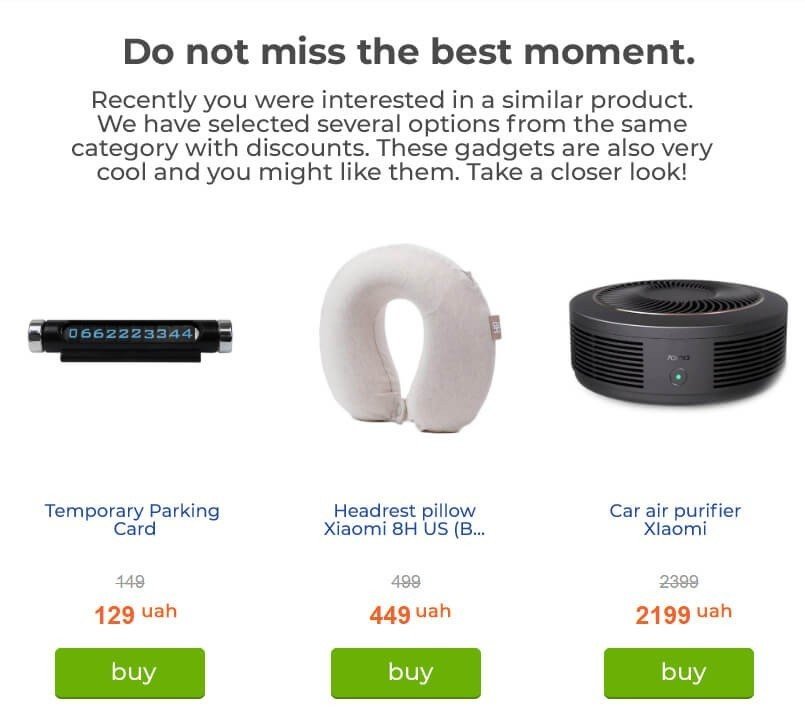 (Source: Email from Citrus)
Track the pages and sections that the client visits, pay attention to the frequency and amount of purchases. It is important that your mailing system allows you to correlate the actions of the client with his email. Based on this data, you can configure both trigger mailings (for example, recommendation emails and abandoned carts), and promos. Pay attention to the purchase time, this is a piece of crucial information for example, for the tourism business. For customers who usually prefer a summer vacation, but have not yet purchased a similar tour, Travelata.ru sends a personalized email. The OR of such newsletters increases by a factor of 1.5.
When to segment?
This process is almost endless. You should study the behavior of all customers, from recently registered to fans of your brand, in order to send them the most relevant offers. It's never too late to start segmenting the database — just remember to take into account and use the customer's data in your newsletters.
Final thoughts
The purpose of email marketing segmentation is to increase sales of your product. Segmentation allows you to separate your customers by grouping them according to their similar interests, demographics, activity, purchase history, and much more. But do not forget that an important criterion is minimalism in the number of segments. Thus, you can be sure that you are sending the right dynamic message to each specific person at the right time, increasing the effectiveness of your marketing campaign.