08 August 2018
What Makes Stripo Templates Great
When being tired of creating new templates for your newsletters as it takes much time or when the emails you create do not mirror your website design, you come to a decision to order a template built by professionals.
Yet, your mission not completed: now you need to export this template to an ESP, and edit before sending out in case you use it for the second or the third time.
But are all the templates reusable? Let's conduct a short survey.
Types of email templates
We have investigated the market, to see what it offers and how much it costs.
Before we dive into templates' features, I should mention that all templates are divided into three general groups:
HTML email template;
Master template;
Guideline template.
Do they differ? Yes, a lot. And the features depend on the type.
Tip: pay close attention to what type of email template you are ordering.
1. HTML email template
An HTML email template is a pure HTML code you receive from an executor. Being created by professionals, it will certainly look great. A template of this kind may even contain interactive elements, embedded videos, etc. certainly for an extra cost.
So, what you receive is an HTML file with images attached.
Note: to prevent your email from being corrupted after export, ask the executor for advanced integration with a particular email service provider.
*advanced integration means that your newsletter template is editable in the particular ESP after export. This feature makes the template reusable.
Its advantages:
orderly-structured template;
no superfluous elements;
low price.
Price: on average, $149.
Its disadvantages:
makes it way hard to edit email template layout if CSS is not added in HTML. Because CSS is responsible for styles, colors, fonts, and responsive web design;
even when CSS is added in HTML, but you are not an experienced HTML developer you will face certain difficulties with editing and reusing this template again: every little change you make, even like adding an extra space, may corrupt the entire template.
Here, I'm gonna show just 40 lines of code out of 775. Ahh, and you will also need to upload certain programs to be able to see and edit this code.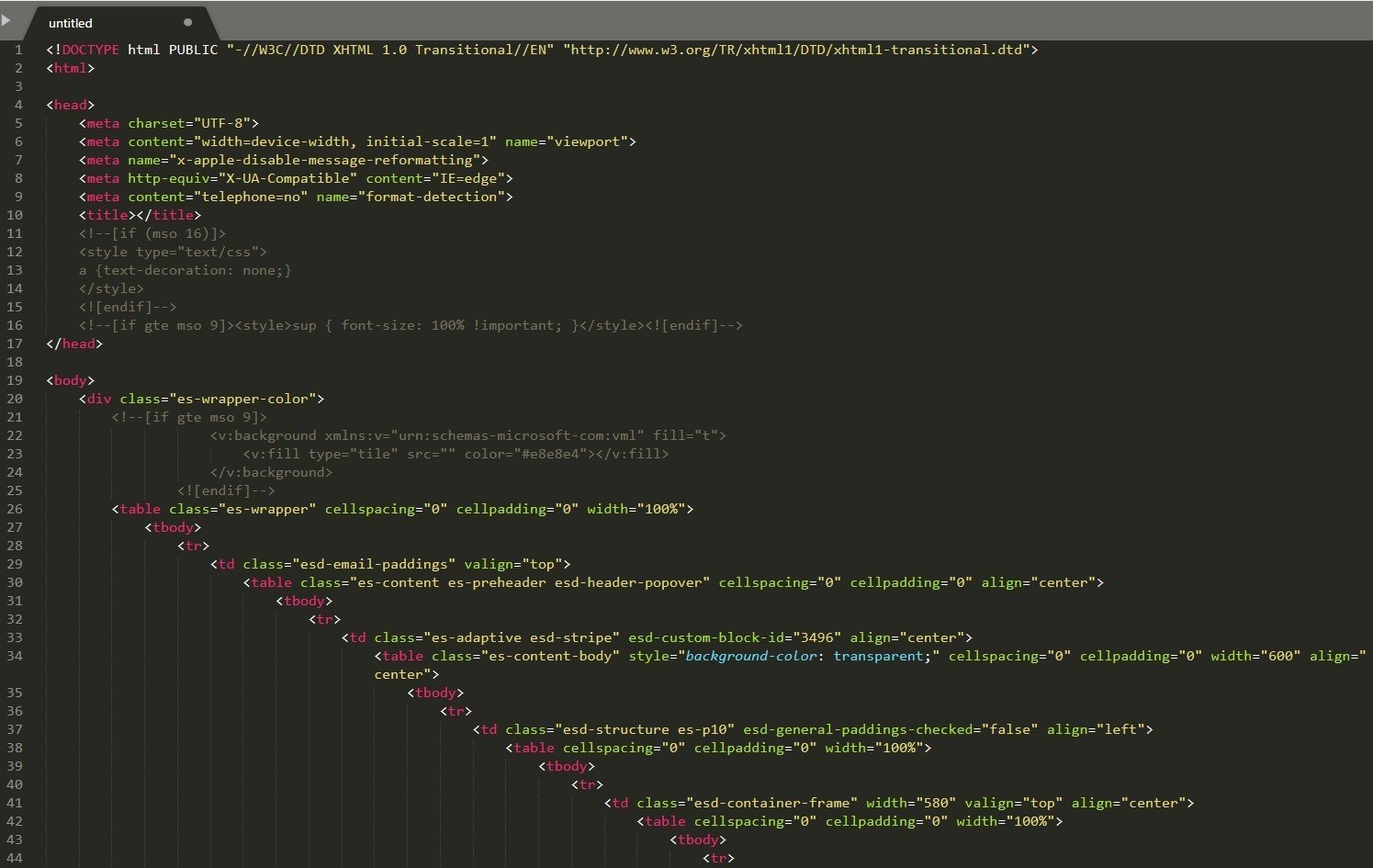 Remember that your HTML email's weight may not exceed 100 kB. Otherwise, it will be clipped by some email clients. For instance, Gmail clips emails which weight exceeds 102kB, Yahoo seems to have similar size limits.
Caution: it depends on the editor whether they provide you with images attached, or you will only have links to them in the template code.
2. Master template
A master template is a compilation of various blocks. You may combine them to create new emails for different purposes, and use them over and over again. Typically, it will be built in accordance with your brand book.
Yet, many editors provide you with HTML master templates.
Three headers for various purposes, ten variants of products' cards, etc.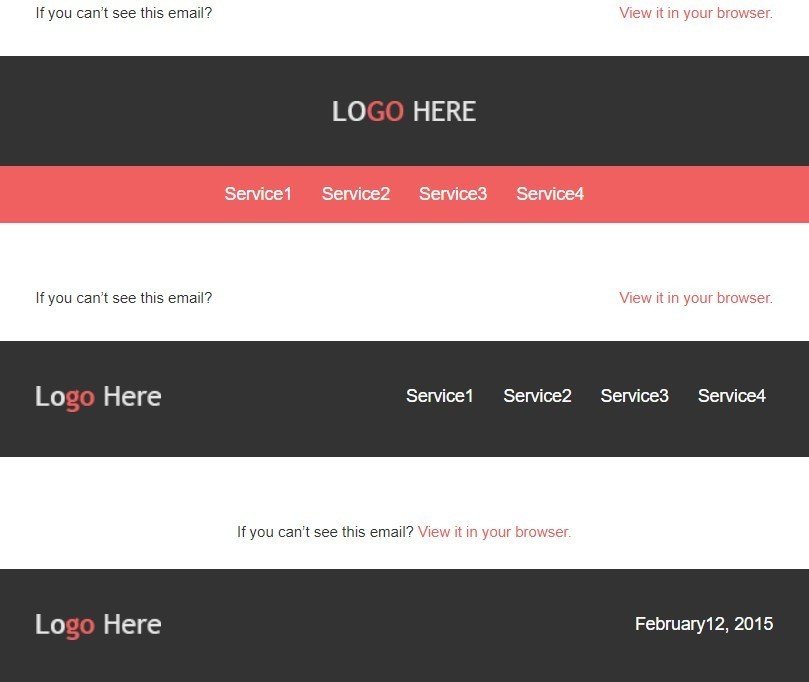 (Source: EmailMonks)
So, in some cases, you will have to edit not blocks, but an HTML code.
Certainly, you may try to do it in an email editor, but normally you will have to adapt your master template to the editor or ESP you use. The executor is supposed to provide you with required documents for adaptation. If not, read our article how to adapt a custom template to Stripo.
Otherwise, you will only be able to change colors, and edit text, but not the font size, and also to replace images. That's all! Without master template adaptation, there won't be any ability to remove or replace buttons, to apply filters to images, etc., and what is crucial — difficult to remove blocks.
Note: proven as I have tested this with many editors and ESPs.
One of the solutions here is editing your template with an editor you ordered it from or adapting custom templates to the editor you normally use.
(Source: EmailMonks)
Email editor must enable you to export email templates to the ESP you collaborate with. In many cases, it will cost you some extra money.
Its advantages:
at any time you may edit some elements in existing blocks to create an email which matches your current needs;
is supposed to be a multipurpose thing;
email template complies with your website design. Due to this feature, you stay brand consistent through all marketing campaigns.
Price: on average, $149 – 600.
Its disadvantages:
you may still need to deal with HTML code, or adapt the master template to the editor you normally use;
it saves you some time, but does not mean email creation process will take minutes, because email editor provides you with only common blocks. Consequently, you'll need to build additional necessary ones on your own when starting a new marketing campaign.
Caution: some companies, in fact, will send you back only a colored mockup of a master template. And you will need to paste text, insert images, and embed interactive elements all by yourself.
3. Guideline template
A guideline template is a master template created in accordance with your brand book, with proper colors and proper alignments applied. And executor provides you with a guideline that says which fonts, colors, alignments, image sizes, and which indents they used when creating your email template; and strict recommendations for further work with the template you received, including all its blocks. This guideline may work for you even after rebranding.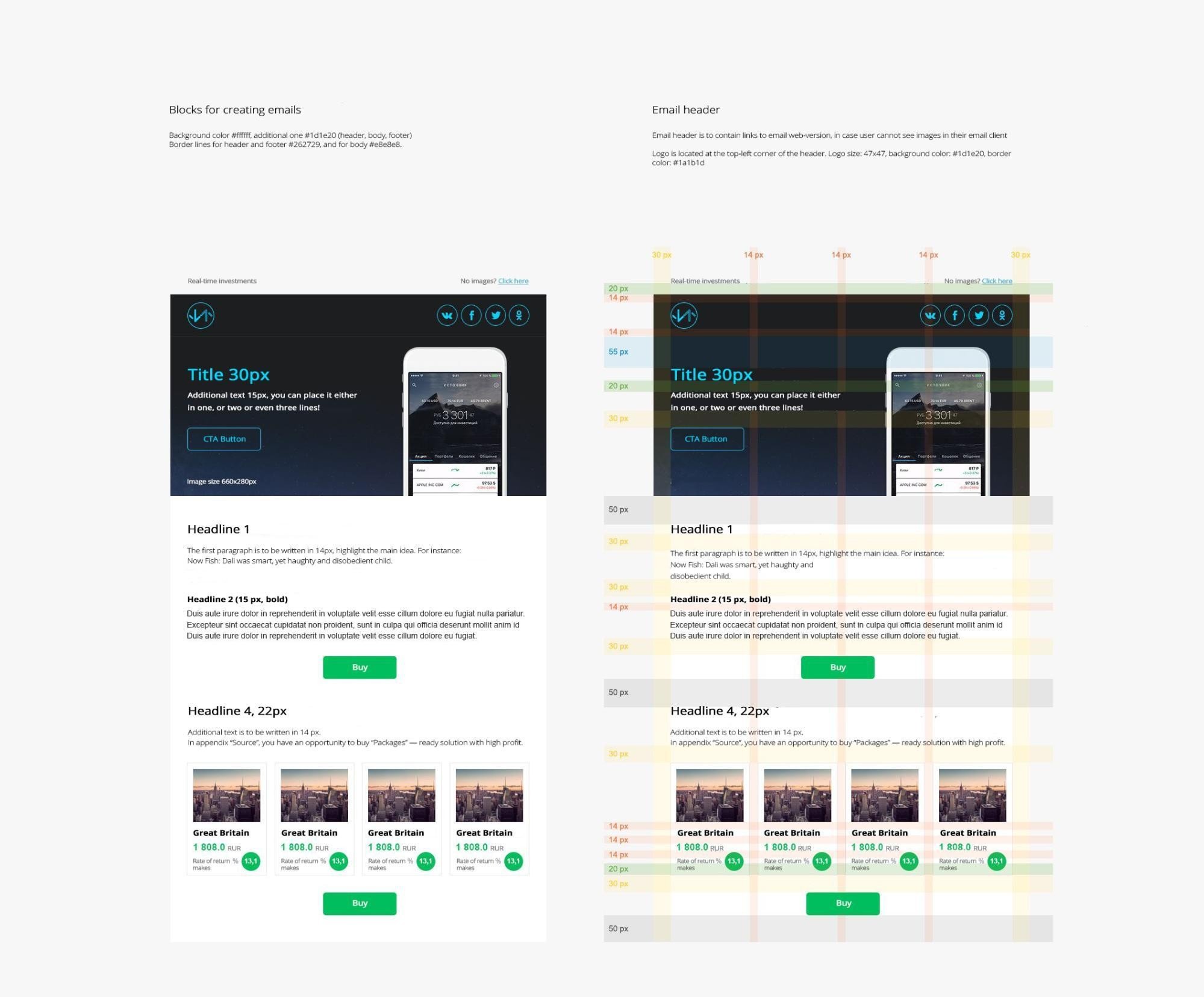 (Source: EmailSoldiers)
Its advantages:
easy to select and adjust elements that fit the template when changing or editing the content;
you can extend and maintain designer's idea and your unique style due to the specified rules and content element parameters;
you simplify your staff designer's work with these recommendations.
Price: $300-2,000, but it is very individual, as requires thorough arduous work.
Its disadvantages:
way expensive;
if you could slice your template into blocks, save them in the editor, edit and use only the required ones when starting a new campaign, that would significantly simplify your designers and marketers' work.
Every email template type has its strong and weak points. Due to the latter, none of the templates, mentioned above, performs its mission completely — they do save you time just once when you use the template for the first time.
Universal templates are meant to facilitate your work, save you a high amount of precious time, and help you make your email newsletters unique and selling.
A universal email template:
Contains reusable blocks and is multipurpose;
Helps your company stay brand-consistent and stick to unique style through all the newsletters you send out as those blocks' elements comply with your brand book;
Is totally reusable without being corrupted when you edit its elements;
Contains elements that automate all your work connected with further editing;
Allows your marketers stay marketers and create functional, sophisticated emails without diving into email template layout;
Is cheap.
If this template exists, where can you find one?
Solution
Create with us or order a universal email template from Stripo.
Stripo.email offers one of the best solutions of a kind for marketers, designers and for those who run their businesses.
We provide you with the templates that match all the features mentioned in the previous paragraph.
Price: starts at only $45.
Additional advantages of the templates built with our editor or by our professionals:
pillars for brand consistency
All the blocks' elements, like fonts that comply with your brand, are easy to apply with Stripo;
Or our designer will create a template in accordance with your website no matter if you provide us with your brand-book or not;
a wide range of blocks for all occasions
If you decide to order from us, it is you who decides which blocks to order, and their quantity;
An utterly useful tool that allows you to save all the necessary blocks to your personal account with Stripo. Store all the created footers, headers and even body elements for promo and event-triggered emails in your personal content library.
This is very convenient, especially when it comes to the smart-elements;
smart-elements — are the highest level of work automation
Now, with our smart-blocks, you do not need to write down a full description, price for every item you are about to sell. You just need to insert a correct link to the product on your website — and the system will add necessary information for you. Even the CTA button is added automatically. Upon your request, our developer will set up this option in your template if you need it. Just mention it when ordering a template; or use one of the smart-elements' templates;
Our "Banner" block enables you to create new banners right in the editor, without using Photoshop and other similar tools. Here, you may apply decorative fonts, change images, edit texts without being worried that the email layout will be corrupted;
Due to our open HTML code and HTML block, you may embed interactive elements like MP4 video, image carousels, accordion and hamburger menus.
Try out our rollover option — by placing the cursor of a mouse over an image, the image will be replaced with another one. This is a perfect way to show a close-up or the other side of some product items;
ESP advanced integration is included
And as the cherry on the cake, all templates ordered from us are integrated with many famous ESPs like MailChimp, Campaign Monitor, eSputnik, GetResponse, SendPulse, etc and even email clients, like Gmail and Outlook. This means that after export, your newsletter templates are not corrupted and are even editable. Export your template to the ESP, and use it for several marketing campaigns by simply replacing blocks right in there.
Ordering a template from us, you may be sure that your templates are done in accordance with your brand book, that in the future you will spend significantly less time on template creation and your emails will be editable after export to any ESP you use or email client you prefer, and you are welcome to use them over and over again.