Mailchimp is a great, professional world-famous ESP that provides excellent marketing automation services. But it's mainly focused on email delivery, campaign analysis, landing page creation, etc. While Stripo is focused on email building only, as a result, it provides way more options and built-in tools to simplify and speed up email production. So, Stripo and Stripo's templates might be of great use when you're designing a new email for your future campaigns.
Thus, the only right decision in this situation is to use free Mailchimp template that we have designed for this ESP, customizing it with Stripo when necessary, and export it to your favorite ESP.
But first, let's talk about one important question, namely:
Why use custom Mailchimp email templates for your campaigns?
While Mailchimp itself provides a fairly wide selection of free Mailchimp email templates that look great and do the job, there is one catch. Stripo has over 1000 email templates so you'll definitely a prebuilt free Mailchimp template that suits your tastes.
To maximize the success of your email campaign you need to be better than your competitors and a unique custom Mailchimp email template is what you need. Only with your own template will you be able to convey the mood and identity of your business as well as stay in line with your own email marketing strategy.
How to create free Mailchimp email templates for your campaigns
So you've decided that you need your own custom Mailchimp templates. However, where to start? The creation process takes a lot of time and requires enough email marketing efforts. To guide you through the process, we've put together the basic steps to help you create great custom Mailchimp templates for your business.
Step 1. Identify your campaign goals to create perfect Mailchimp newsletter templates
In order to create effective Mailchimp email templates, you need to understand what you are going to aim for in your email campaign. Having foreseeable goals will make it easier for you to come up with tools to achieve them. Once you determine the reason why you want to send emails to your subscribers, you will know exactly which Mailchimp templates you want to distribute.
Your campaign might look like this:
Welcome. Your website has received a new subscriber and as a result, your business should greet them with an appropriate Mailchimp template. At its core, you should create welcome emails to say Hello to your new subscribers and invite them get acquainted with your business (this can be either one or several templates)
Promo. Your new client is already comfortable with your business and now is the time to start offering him or her your products or services. An advertising campaign is the backbone of your marketing strategy as it generates the bulk of your customers. You should create a Mailchimp template that encourages your potential customers to make a purchase (and preferably more than one).
Congratulatory. There are many holidays on the calendar and in order to stay in touch with your customers, you should congratulate them. Your Mailchimp template should keep up with the general mood of the holiday, its style, but at the same time do not forget about the brand guidelines.
Brand awareness. Another way to stay on the same page with customers is to regularly share your business news, ongoing promotions, and more. In addition, you can create introductory Mailchimp templates that will help introduce people to your business and grant you new customers.
Re-engaging. Losing customers to a small extent over time is normal. The database of email addresses tends to become outdated in a year, and regular customers may stop making purchases. In order to regain their attention, you can create a Mailchimp template that will provide a unique and personalized offer that will help you win back lost customers.
These were the most basic types of Mailchimp newsletter templates that are related to one of your email campaign goals, but you can think of additional goals for yourself. The more goals, the more email templates you will need to create. All in all, the above analysis will help you kick start the Mailchimp email template design process.
Step 2. Look for inspiration to make your Mailchimp newsletter templates memorable
It is difficult to design a good Mailchimp template from scratch as you need to put together thoughts and the creative process has no boundaries. That is why we recommend that you check professionally designed email templates as a reference. Studying the competition and different solutions in your field is a sure way to create a unique vision that will be the flagship of your future email campaigns.
In addition, by studying free Mailchimp templates of other companies and their promotion approaches, you can understand the market sentiment and find out what is hot at the moment. After all, you definitely do not want to waste precious time creating a deliberately unpopular newsletter solution.
For fruitful research and generation of ideas for creating a Mailchimp template, you can use the following approaches:
Subscribe to competitors. This is one of the easiest and most obvious ways, as you will see their mailing lists and ways to influence customers right in your inbox.
Google research. Another reliable way to get some inspiration and design a template using a better idea.
Pinterest research. This platform is a real treasure trove of ideas that you can conveniently store and catalog for later analysis and creation of your solutions.
Adopting the tech. There are many services that collect templates from popular companies and you can subscribe to them to get access to examples of the best Mailchimp templates.
Stripo templates. Stripo offers over 1000 prebuilt, fully customized email templates.
Step 3. Design a structure for Mailchimp email templates
So, you have collected a bank of ideas and are full of inspiration. Now is the time to structure them so that your email template doesn't turn into a mess. Best Mailchimp templates are hierarchical and structured, which will be useful for your email as well.
We can give you some tips on how to design a thoughtful email template without errors.
Don't overload your email. Too many elements to attract attention is a direct path to the the opposite. As much as you'd like to add all your ideas, focus on the very best and keep a balance between focusing on the important email template elements and visual style.
Keep the customer's eyes on the benefits of your offer. If you place all the components of your templates so that they stand out visually on the CTA button, you can significantly improve your conversion rate. Also, do not forget about the readability of your email template. All elements should be clearly visible, the text should be easy to read and the colors should match. Your email subscribers should be able to easily read your email template. If there are any difficulties during this process, your email template can easily end up in the spam folder.
Step 4. Be brand consistent while building Mailchimp email templates
This applies to all design aspects. The client must recognize your email template from competitors, and this will be extremely difficult if you change the design from email to email. Use certain elements that will be the same regardless of the email marketing campaign and this will create a picture of a brand identity for your customers.
Be sure to apply brand design styles to all free Mailchimp templates to always stay on-brand.
Step 5. Start creating your Mailchimp email template
Here it is, the final stage, but it is extremely important and takes a lot of time. It's time to start designing your email template. Apart from other tools for design (like Adobe Photoshop or Figma), you can use an online builder to create template in no time. This email editor allows you to design a new template from scratch using various user-friendly tools.
Stripo is a full-fledged email editor made to design emails of any complexity and it's time to talk about why you should use it to design an email template for Mailchimp.
Why choose Stripo's Mailchimp email templates over others
1. Responsive design for Mailchimp newsletter templates
Did you know that 43% of emails are opened on mobile devices? Hence, building mobile-friendly emails for Mailchimp is not an optional feature, but a must today.
We've got good news for you — any custom email template for Mailchimp designed by Stripo will render correctly across all kinds of mobile and desktop devices.
The highest level of mobile-friendly email design, or mobile styles settings
All Mailchimp HTML email templates that Stripo offers are fully responsive by default — no horizontal scroll, all texts are legible. However, we let you experience a new level of mobile friendliness — you can choose which elements to display on desktop devices, and which ones you want your customers to see only when they open emails on mobile devices. You can also set the size of email text fonts — including the button fonts size — specifically for mobile devices.
Just a few steps and your emails for Mailchimp are fully optimized for mobile devices: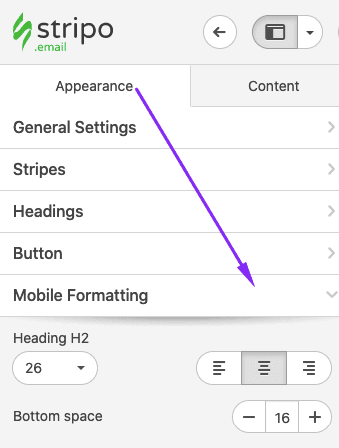 For more information on how to set mobile styles for your emails, please read our "Responsive Email Layout" article.
Important:
In the near future, we will enable our users to work on a mobile version of your email in our advanced WYSIWYG editor — to let you see how your emails will render on mobile devices right away. To do so, you will just need to switch between the mobile and desktop modes.
Give the new editor a try right away
Try out
2. Automation of the Mailchimp email templates production process
Stripo has a number of innovative time-saving features. We'll highlight the most notable ones of them:
Creating an appealing product card for your email template with custom design in just a few clicks is now possible.
How does it work? You design these product cards or email digests just once. Next time, when building a new email template, you just paste a proper URL into a respective field, and our editor automatically retrieves all necessary data and inserts it into respective fields.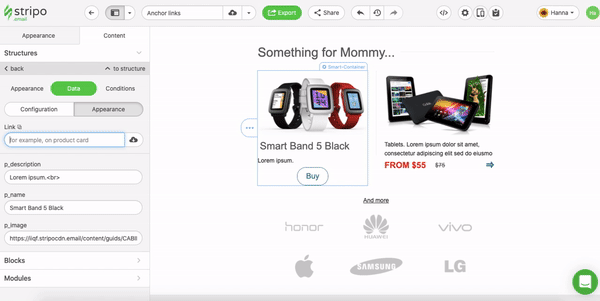 Speed up email production process with Stripo
Get started
Reusable content modules
How does it work?
You build an email element for Mailchimp email, then save it as a module to your personal Modules library, a.k.a. Library of Modules — and then use it again. To do so, you just drag and drop it into your own responsive HTML emails for Mailchimp.
What elements should you reuse this way in your email template? Email elements like header and footer/contact information almost never change. Some users of ours even store product blocks, so when starting a new campaign — they just replace a product photo, link, and a price. The rest remains the same — it saves them lots of time on making a custom template for Mailchimp.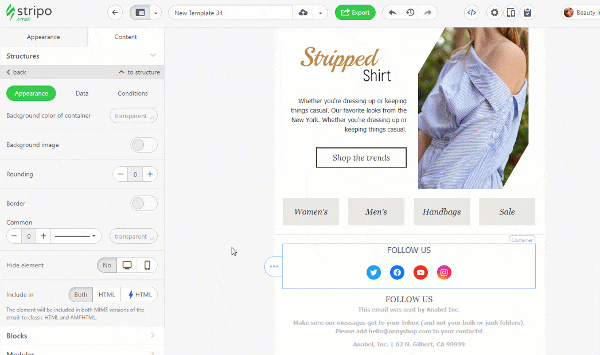 Synchronized modules
This is a totally unique option, which is truly loved by our customers. It lets them save hours!
How does it work?
You build multiple modules — containers, blocks, rows, or entire structures — then save them to the library of modules with the "Synchronized modules" option activated.
Then you add this module to all new or existing email template for Mailchimp that you've built and now store in Stripo. Once you make necessary changes to this module in any of the templates, these changes will be applied to all other templates for Mailchimp where this module has been used.
For more details on how to speed up email production process with this feature, please refer to our "Synchronized modules" blog post, or watch our short video.
Edit and update up to 100 email templates for Mailchimp at once with Stripo
Edit and update up to 100 email templates at once
Join Stripo
Wide variety of ready-to-use templates for Mailchimp
Not only does Stripo group email templates by diverse categories, like industries, seasons, features, but it also divides them into types, like promo and triggered emails. All triggered Mailchimp templates are presented by both single emails and drip campaigns. Besides that, you can easily customize them with our drag and drop editor with an intuitive interface using content blocks as you see fit. All of this no coding skills required so you can start designing your email template for Mailchimp right away.
3. Elegant design of Mailchimp email templates
The design of your email template depends on the purposes you set for your email marketing campaign. It can be bright and festive for holidays and promo, whilst restrained for business and legal services, event-triggered emails, etc.
As you can see, there is no golden rule when it comes to the design. However, there are some elements that are a must for all campaigns:
Banners
Stripo allows producing diverse banners with a compelling copy over banner images, with the copy wrapped in decorative fonts, with CTA buttons next to this copy, etc. Just drop content blocks in your email template and customize them as you need to make a unique email template for Mailchimp.
You can do it directly in our editor for an embedded banner generator.
Backgrounds
Backgrounds, in fact, have no direct impact on your CTOR, however, they make your emails for Mailchimp look complete and consistent to please your email clients.
Feel free to utilize them across all campaigns.
Just in case you're not in the mood to surf the web looking for a proper background image, we offer over 100K of them in our stock.
Custom fonts
With Stripo, you may wrap all texts in any of your favorite fonts or edit existing ones within Stripo to make your emails for Mailchimp truly unique and on-brand.
See how to upload your custom font in the Settings tab in your account with Stripo.
Videos
With videos you better present your team, your goals, your products rather than with long detailed descriptions that some of your clients will not read.
There are two ways of utilizing videos in Mailchimp templates with Stripo — adding links to videos on video hostings and embedding videos in emails for Mailchimp so users can watch them directly in the email template.
Custom email width
Normally, an email template builder gives you no permission to set a custom width for your emails as the 600 pixels width is said to be the golden standard.
But it's not the standard anymore.
Hence, you might want to set the width manually.
The width of your new Mailchimp template designed in Stripo can vary from 320 to 900 pixels.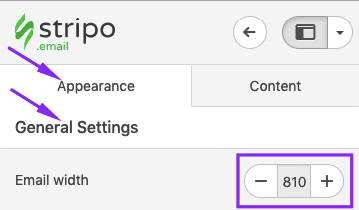 For more details on how to utilize a custom width for your emails, please refer to our "Email width" blog post.
4. Open HTML/CSS code editor to fully customize your Mailchimp email template design
Stripo is one of the few editors that offer an open HTML code, so you can edit (fully customize) email templates by either using our drag-and-drop feature or by making changes to the email template code.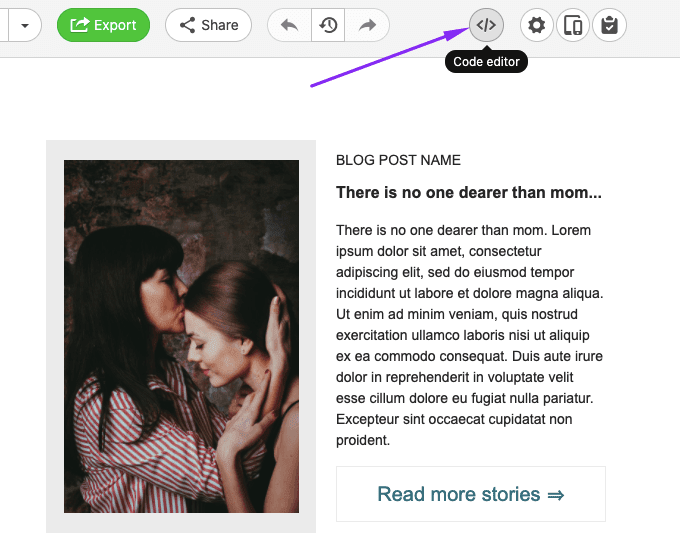 Also, due to this innovative feature, you can add custom elements, dynamic and interactive content to your templates to design beautiful responsive HTML templates. These components allow delivering real-time content to keep your users updated. Real-time content is one of the hottest email design trends for 2022.
If you are tech-savvy you can easily import HTML files with your email template code directly into Stripo, tweak it a bit and you can edit the whole template with a drag and drop editor to design the right template for Mailсhimp to support your campaign.
5. Stripo integration with Mailchimp: 3 ways to push Mailchimp email templates to your ESP
In order to facilitate our clients' lives, we have implemented advanced integration with the featured email service provider as well as other email platforms, and currently offer three exporting methods that you can use:
Method 1. Direct export
Allows exporting templates for Mailchimp from Stripo to your ESP with just 2 clicks.
Any Mailchimp email template is editable after export.
For more details, please watch our short video tutorial:
Method 2. Working with files
go to the Export menu, and pick "HTML";

then in a new pop-up window select "Download HTML file";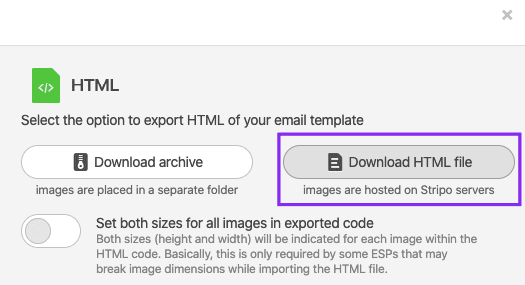 import this file into a respective field in your Mailchimp account.
Method 3. By using Zapier
You may choose Zapier as a connector for your personal reasons.
How does it work?
Stripo delivers your Mailchimp templates to your Zapier account — Zapier transfers this email to your ESP or CRM right away. We provided a step-by-step guide in a dedicated blog post.
Choose the exporting option that works best for you.
Final thoughts
As you can see, Stripo provides ample opportunity to design unique Mailchimp templates that will be the flagship of your email marketing campaigns. You have maximum creative freedom with a wide range of tools and can easily export Mailchimp email templates to this popular ESP or any other email clients. And you can start doing all this for free and design emails for your email marketing campaign in no time.
Was this article useful for you? Share your thoughts in the comments below.
Frequently asked questions
How to create an HTML email template in Mailchimp?
With 750+ Mailchimp-compatible email templates, it's easy to design eye-catching messages to impress recipients. Whether you want to showcase new products, send an invoice, or congratulate your subscribers on special occasions, we are here to help.
Just choose one of our prebuilt templates, click the "Use in Editor" button, sign in to your Stripo account, and that's it! You are all set to start designing your first Mailchimp email template.
How to use Mailchimp email templates?
Found the perfect template but not sure how to use and customize it? No worries, Stripo enables you to edit each template element to align it with your brand design guidelines and campaign objectives.
In the "Blocks" section, you can equip your template with elements like images, text, buttons, videos, banners, animated GIFs, countdown timers, carousels, AMP forms, etc. You can always edit them as necessary.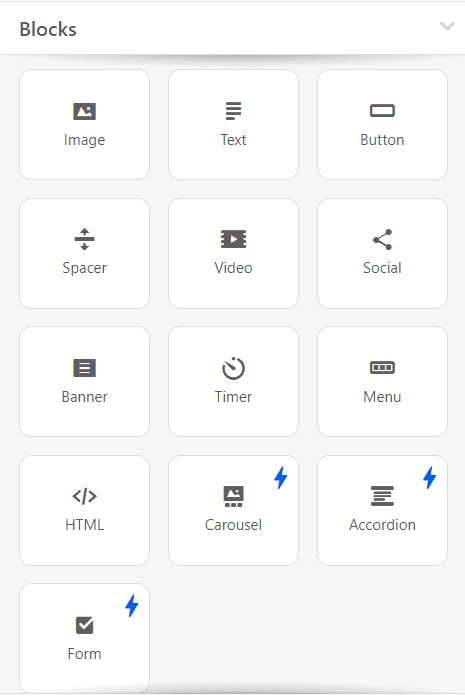 Check out the "General Settings" section to set up the main parameters of your message like its width, background color and image, and fonts.
Don't forget to open the "Mobile Formatting" tab to optimize your email template for mobile devices.
How to save email templates in Mailchimp?
Your Mailchimp email templates are always available in your Stripo account, so you can edit and test them as necessary.
When your email is ready, you can export it to Mailchimp:
click the "Export" button;

in a pop-up menu, select the "Mailchimp" icon. You can also choose the "Popular" tab to find this ESP faster.

How to send HTML email templates with Mailchimp?
in a pop-up window, click the "Export" button;

log in to authorize your Mailchimp account;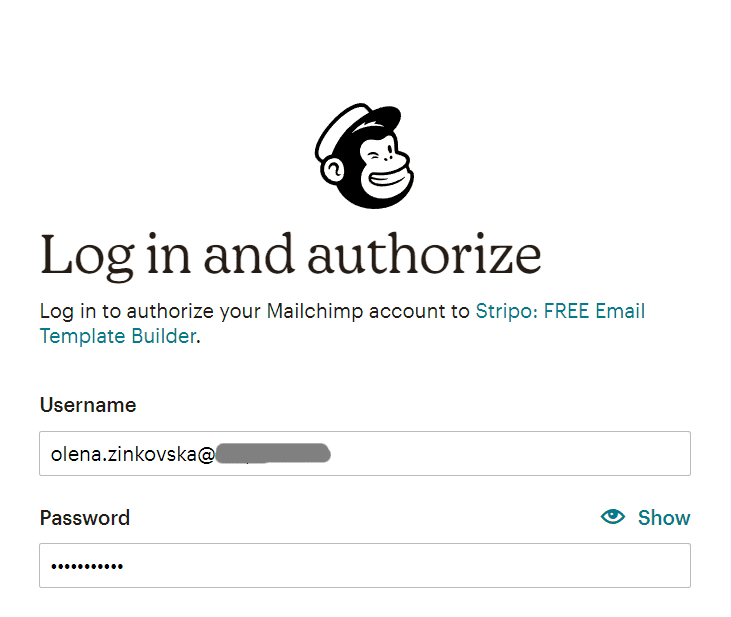 connect Stripo to your Hubspot account by clicking the "Allow" button. Please note that we don't store your Mailchimp account password;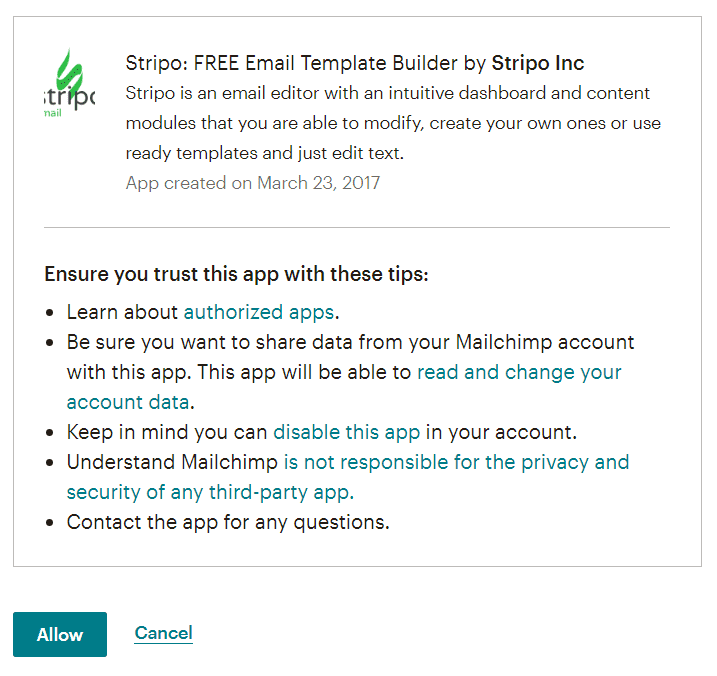 then, you will be redirected to your Stripo account once again. Toggle the "Minimize HTML" button if necessary and choose a client folder in a drop-down menu;

click the "Export" button.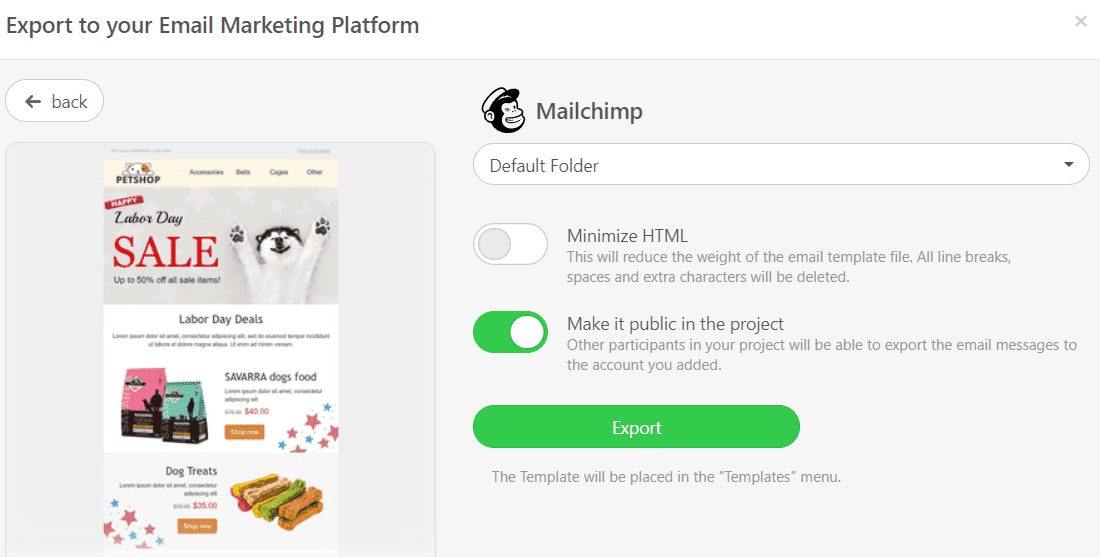 Where to find your email template in Mailchimp?
Now you can find your email template in Mailchimp. Here are a few simple steps to make it happen:
in your Mailchimp account, open the "Campaigns" section;

choose the "Email templates" folder.

Edit your template if necessary:
in your Mailchimp account, click on the template you exported;

click the "Edit Design" button to edit visuals, text design styles, etc;

if you want to work on your code, click the "Edit Code" button.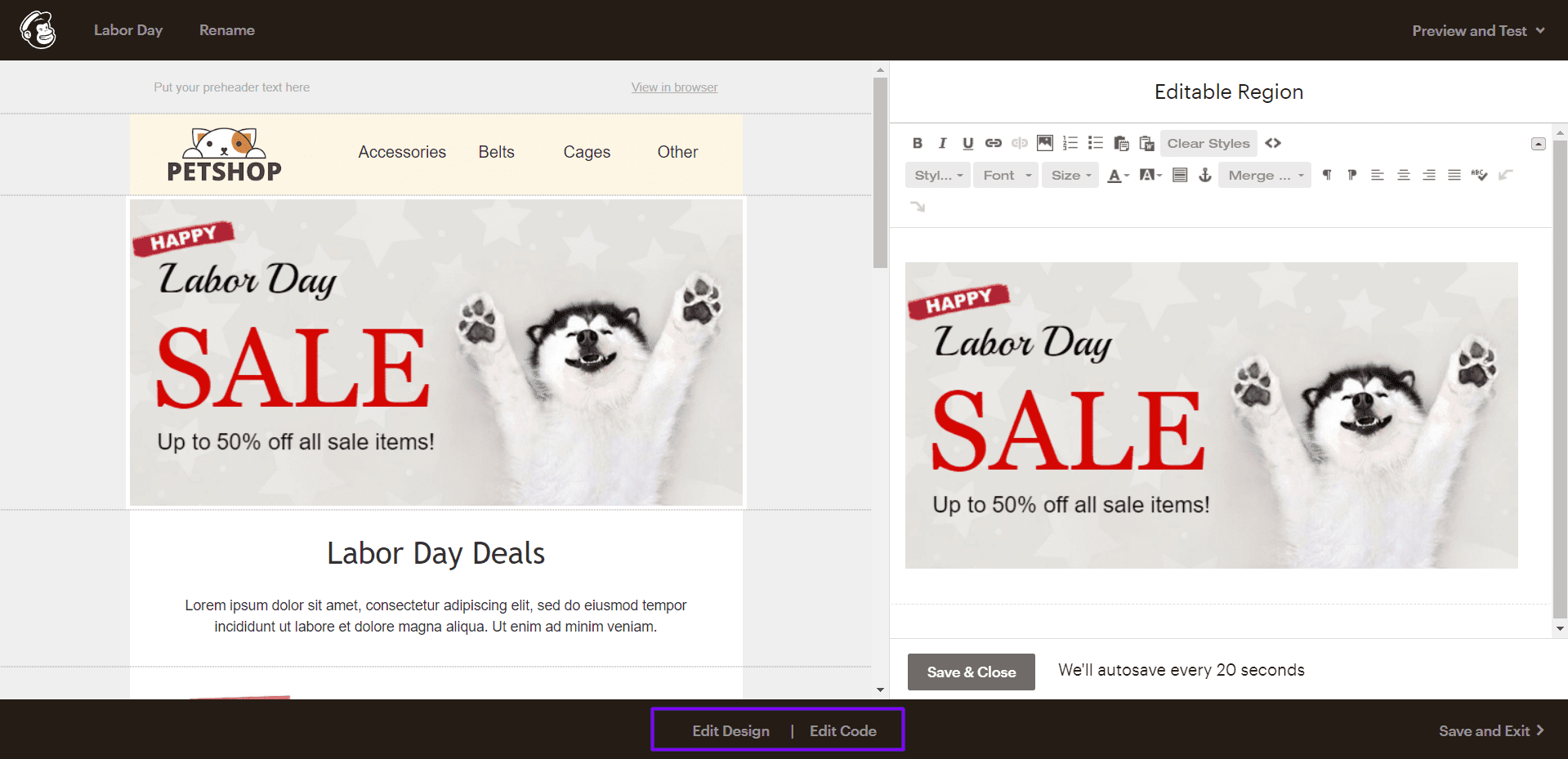 How to add Mailchimp email templates?
There are two simple ways to find our prebuilt Mailchimp email templates and add them to your dashboard:
Find the "Email Templates" section on our website. Then, select Mailchimp in the "Integrations" block. Now you can browse through 750+ Mailchimp-compatible templates to find the one that suits your requirements. Finally, you just have to click the "Use in Editor" button and create an account to start designing your beautiful message.
If your account already exists, you can choose a Mailchimp template right in the editor. Select the "Templates" tab in your Stripo account and go for the "Prepared templates" option.
Have any other questions?
If you have more questions on our pricing and plans, contact us so we can help.
Join over 950K users
Start for free — upgrade anytime