10 November 2022
Email Marketing Insights and Advice from Professional Marketers
The email marketing industry is ever-evolving. To be successful, you need to consider the experience of other marketers. Everyone devises their own strategies and approaches for implementing successful email campaigns, and you can draw valuable knowledge from their experiences.
In this article, we present the experience, advice, and insights of marketers from three companies, using them to discuss the current state of email marketing and help you apply the valuable experience of professionals in the field.
First, let us introduce these guests who have shared their knowledge with us.
Kateryna Nazarenko, Senior Email Marketing Specialist for CleanMyMac at MacPaw
Kateryna has worked in email marketing since 2012. She has experience with SaaS products, classifieds, and e-commerce companies. She has been cooperating with MacPaw as a senior email marketing specialist on the CleanMyMac team for over four years. MacPaw is a software company headquartered in Kyiv, Ukraine, that develops and distributes software for macOS and iOS. MacPaw is the maker of CleanMyMac, Setapp, and ClearVPN, among other programs.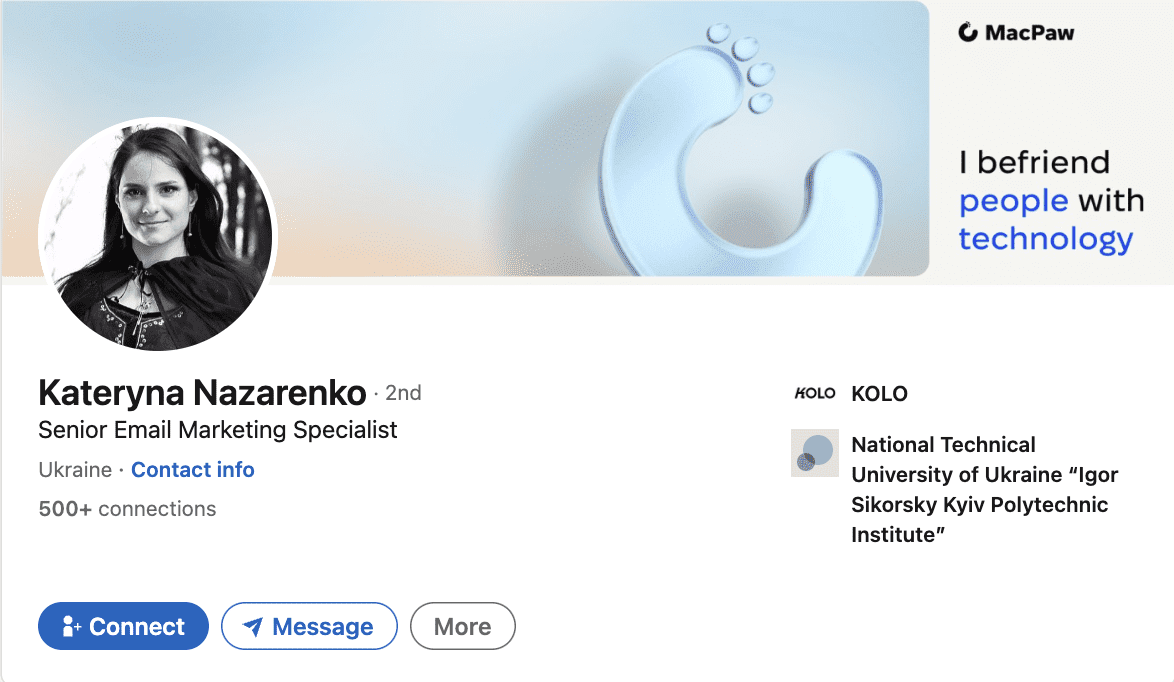 (Source: LinkedIn)
Karyn Strybos, Marketing Manager at Everlytic
Karyn has been a marketing manager at Everlytic for the last five years and has been working in marketing since 2004 for both agencies and corporations. Everlytic is a digital messaging platform that helps its customers communicate personally, reliably, and automatically at scale via email, SMS, web push, and voice broadcasting.

(Source: LinkedIn)
Eugene Zayats, СMO at Serpstat
Eugene is an enthusiastic SEO and growth-marketing specialist. Currently, he is CMO at Serpstat, a company that helps SEO specialists achieve their goals. Serpstat is the go-to platform for quickly achieving search-marketing goals. Customers use Serpstat to reduce the time spent on common search-marketing tasks, cut down on repetitive manual work, and attract more clients via searches.
(Source: LinkedIn)
The role of email in modern companies
Email is an essential method of communication that is fast, cheap, accessible, and reproducible. Email use can significantly benefit businesses, as it is an efficient and effective means of transferring all types of electronic data.
This seems an obvious truth. However, statistics suggest a significant percentage of businesses do not leverage this benefit of email. Currently, 81% of businesses use email as a customer acquisition tool and 80% as a retention tool. Why aren't the other 19–20% doing likewise? They may doubt the need for email marketing. Or they may need more persuasion, unconvinced by the dry arguments for the importance and usefulness of email are in business.
To offer such businesses evidence based on real cases, we asked our guests to discuss the value of email for their companies.
Kateryna Nazarenko

Email is definitely a key channel of two-sided communication between MacPaw and its users:

emails help the company maintain good relationships with its customers and increase customer loyalty to the company and its products;
in addition to sending the standard or required purchase and maintenance emails, we use email to notify users about important product updates, to offer special promos and exclusive content, and to seek precious feedback and feature requests to improve our products;
we use this communication channel to speak up about the war in Ukraine and discuss ways to help the country revive.
Karyn Strybos

Email is an important part of our strategy, especially when executed via automated workflows, as this allows us to communicate the right message at the right time. I know this is a cliché in the field, but it's true. Engaging with your database at exactly the right time with highly relevant content ensures better results. I'd like to highlight the following points:

we use email to communicate to our marketing database (newsletter subscribers) as well as to continuously communicate new features and thought leadership to customers and share sales toolkits with our resellers;

from a sales perspective, we have integrated Everlytic with Pipedrive, which allows us to trigger email communications to pipeline leads based on their particular sales stages. Such emails are sent by salespeople, and replies go directly to them, fostering a much more personalized feel;

email marketing allows us to personalize at scale via merge-tags, database segmentation, dynamic content, and more. Customers expect brands to understand them, their needs, and the next steps they will take on their journeys;

the capacities to A/B test and track what does and doesn't work are also fabulous features of email marketing that allow us to learn. For example, we've learned that signing emails with a company representative's name instead of just "Everlytic" increases open and engagement rates;
Eugene Zayats

At Serpstat, email marketing is an important part of our retention and lead-nurturing strategies. Newsletter content is designed to catch users at different stages of their life cycles by solving their problems and involving them in using the service.

We accomplish the following through email:

onboarding new platform users, for example, after registration, subscribers receive a series of emails about the service's capabilities, allowing them to gradually learn about cases and become acquainted with the platform through tutorials and video instructions. Each onboarding email encourages users to use the service;

informing our audience about potentially useful events and content. We form a community around the platform, so it is important remember that content has educational and entertainment purposes. Every month, we hold six to eight Twitter chats and webinars that include Western experts in digital marketing and SEO, and the content team creates from 20 to 30 articles (e.g., search data research on niches, expert surveys, how-to articles, case studies). Such content is presented in email digests, thematic series, and long-read newsletters;

informing users about new features and service updates in product newsletters. It is a way to convey important news from a product team. For example, after recently launching a "test lab" with AI content tools, we developed a series of newsletters about AI for current users and blog subscribers who do not yet use Serpstat.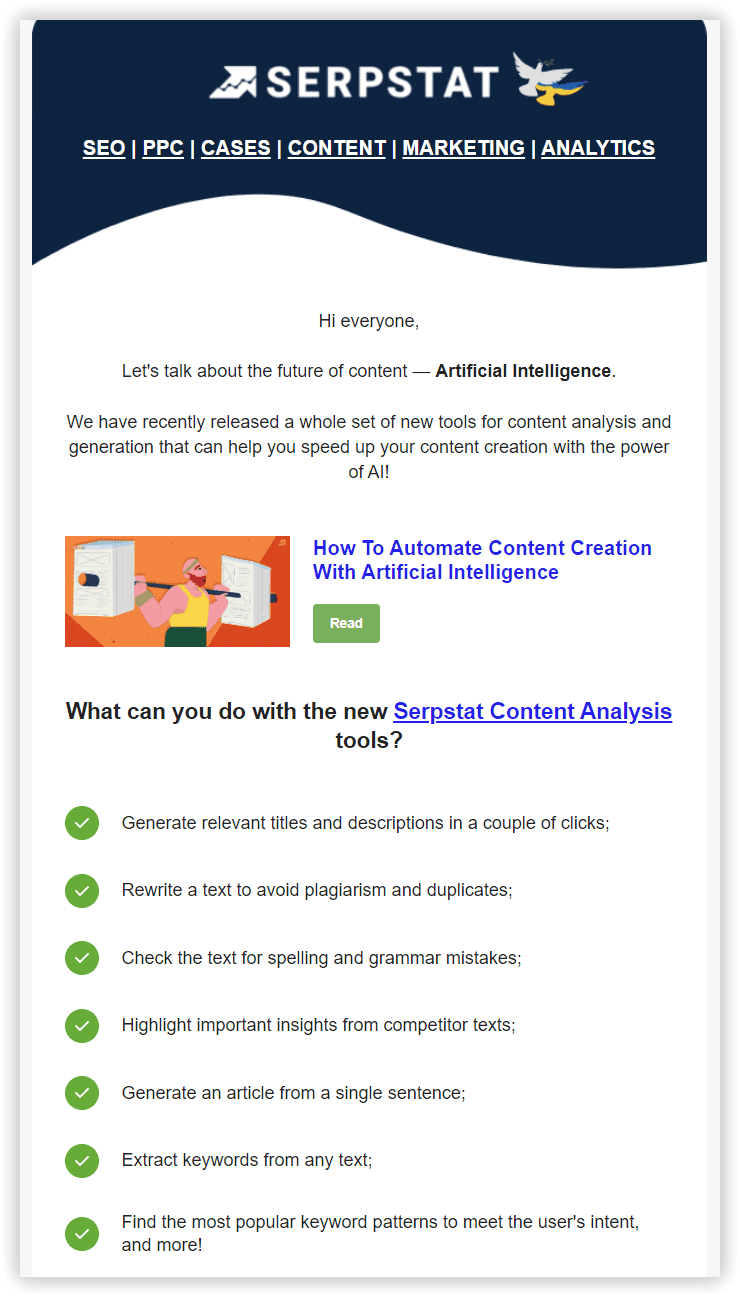 (Source: Serpstat)
These experts confirm the value of using email to conduct business. When you adopt email marketing in your company, you receive the following:
immediate and wide geographic outreach;

an easily tracked customer communication tool;

the means to develop targeted communication;

a way to reach an audience with a great ROI ($36 for every $1 spent);

a limitless field for design and marketing ideas.
Using email marketing as a primary (or secondary) strategy helps businesses achieve daily success.
Email marketing trends
Trends are more than just funny TikTok challenges that come and go. In industries such as email marketing, trends can be the primary determinants of a company's development. Trends allow businesses to break market boundaries. Trends put forward new ideas and opportunities. And trends allow brands to communicate their values in diverse ways.
It is vital for email marketers to recognize upcoming trends and choose those that will best drive their business's success.
Kateryna Nazarenko

As nothing under the sun is new, I know that some trends of the near future have already been in practice for several years. I'd like to highlight the following trends:

ongoing enrichment of contact bases with zero- and first-party data as this is getting more and more relevant due to the emergence of new data privacy policies and the upcoming cookie-less world;

personalization and delivering the most relevant offer or truly interesting content to the right person at the right time is a surefire formula for attracting new contacts to join your loyal customers and subscribers. This task is getting more difficult month by month, however, as you must offer such content while satisfying the growing demand for data privacy;

gamified, interactive, and AMP emails since most of us are playful kids inside, and these technologies take content interaction to the next level, qualitatively improving it and evoking user emotions. Emails with complex game mechanics might not directly increase your purchase conversion rate, but they will definitely arouse new interest that you can further work with. It's like opening a Kinder Surprise toy—one always wants to know what's inside;

high-quality design should be ensured by the product itself and everything connected to it. We mainly work with Mac and iOS audiences, groups that demand a high-end experience. Therefore, emails should be concise, light, bright in color, and contain crystal-clear images—at least for Western audiences (Eastern users have a different culture). I believe this approach is relatively universal and relevant for almost any business;

receiving and processing user feedback and we follow this essential process. Nowadays, listening to and hearing your audience is a must. As the MacPaw coaching team says, feedback is a gift. It's a golden source of insights for building trust, nurturing loyalty, and further improving products, processes, and customer interaction. Therefore, you must encourage users to give feedback by providing a variety of options and channels.
Karyn Strybos

There will always be exciting new trends, but they won't work for every audience. While I believe that knowing these trends allows you to try new things, it is essential to understand what content your audience needs to remain customers or make better purchasing decisions. If your content is engaging and relevant, it should perform well. This is the strategy we follow at Everlytic.

Interactive emails have been discussed for some time, and some brands use them well. For example, some create emails that include live weather data. Others design interactive emails that allow consumers to browse products and content by selecting from various menus. Such emails keep recipients engaged within their inbox.

Given recent privacy changes, however, marketers will need to think about how to track email campaign effectiveness without vanity metrics, such as open rates. The real impact of an email campaign is demonstrated through ROI. The tricky thing here is that even when the last click isn't attributed to an email, that email may still have assisted with the conversion. Understanding the role of email in our larger marketing strategy is the key to success.

Omnichannel marketing enables brands to connect with consumers across multiple touchpoints, aligning with their on-the-go lifestyles. As automating these various touchpoints helps to optimize the experience, we will see more of this in the coming years. Each channel offers a unique strength.
Eugene Zayats

In my opinion, the current trends—maximized segmentation and personalization, useful content, and recommendations—have not changed for many years.

I believe that the main trend in the next few years will be full transition from single-channel to omnichannel efficiency calculation. This is a good tool for increasing the effectiveness of lead-generation channels for SaaS products.
We at Stripo have also discussed popular email trends in a dedicated blog post. We suggest reading it if you'd like to be on the cutting edge of innovation.
You might also like
Email marketing trends for 2023

Data privacy challenges in email marketing
Every business strives to ensure the privacy of customer data. Customers trust you with their data, expecting you to provide reliable protection. Even one minor data breach can seriously undermine customers' trust in a brand and create reputational losses.
You don't need to highlight the importance of data privacy and protection rules in email marketing. However, it is worth knowing the obstacles that can get in your way of adopting it. Our guests spoke about data privacy in their companies.
Kateryna Nazarenko

As MacPaw operates worldwide, we follow GDPR (General Data Protection Regulation) requirements for all user bases. We also use the double opt-in approach, which provides a kind of universal framework and results in more qualitative contacts and less legal turbulence. The biggest challenge lies in personalization. As data privacy requirements increase, we must meet them while continuing to offer relevant content.
Karyn Strybos

A recent challenge of updated privacy policies (e.g., Apple's) is that they preclude tracking and engaging customers based on certain behaviors, such as opens. This has led Everlytic to use a suite of tools from Cloudflare that use AI to differentiate between human and bot traffic. These tools can be trained to improve over time via machine learning, which uses the quality, context, and volume of data to provide more accurate results.

From a data-protection point of view, the push and pull between providing personalized services and wanting to protect personal information is placing brands and marketers in a difficult place. They must balance consumer privacy with personalization. Consumers want relevant content and personalized messaging but not at any cost.

There are conflicting messages on this balance in the market. Here are a few examples:
Personalization in email marketing
Personalization and gamification are currently among the main email marketing trends.
In personalization, marketers use subscriber data to present email content that recipients feel is tailor-made for them. This is an important user-retention tool. In fact, 99% of marketers report that personalization advances customer relationships, and 78% claim it has a "strong" or "extremely strong" impact.
There is no reason why you shouldn't personalize your emails. Here's what our guests think about personalization.
Karyn Strybos

Customers expect a personalized experience, and the stats prove that brands that use it outperform those that don't.

72% of consumers claim they only engage with personalized messaging (SmarterHQ);

63% of consumers see personalization as a standard of service (RedPoint Global and Harris Poll);

74% of marketers report that targeted messages and personalized emails improve customer engagement rates (Instapage).

Many brands still send generic messaging to their customers due to time constraints, small team size, or insufficient data. We realize that some companies find personalization extremely overwhelming and thus need guidance and a platform to help them scale their personalization efforts.

At Everlytic, we have created a step-by-step growth journey to help our customers transition from bulk communication (i.e., generic content) to message personalization (e.g., tagging, segmenting, and filtering) and eventually to communication automation (i.e., a fully automated customer journey).
Gamification in email marketing
What about gamification? Gamification is the inclusion of game mechanics into non-gaming realms, such as emails, to increase engagement. This method increases audience interaction and opens unprecedented opportunities for email creativity. A recent study indicates that 60% of consumers reported being more likely to buy from a brand if they enjoyed playing a game with it.
Kateryna Nazarenko

At MacPaw, my teammates have used AMP gamification in their email communication about product we can't name. However, we haven't yet used it to promote CleanMyMac.
Eugene Zayats

We use gamification in our newsletters in the format of questionnaires, quizzes, and various studies. For the content team, newsletters are also opportunities to receive feedback on the latest articles, learn what most interests our audience, and involve it in creating content.

Such newsletters engage the audience well, prompting significantly greater response and feedback than regular content newsletters.
These aren't the only opinion leaders we asked about email gamification. Read more in our special article.
Successful email cases from real companies
Learning from the experience of other companies is helpful for improving email newsletters. Knowing which email marketing methods have (or haven't) worked for others helps you build your own strategies based on proven approaches. We asked our guests about their most successful email campaigns so that you could be the first to know about them.
Kateryna Nazarenko

In terms of money, our most successful email campaign was likely one of our promo campaigns, such as the one dedicated to St. Valentine's Day. I think these campaigns had great results because we put a lot of effort into thoroughly crafting specific messages and offers for different user segments.

In terms of user feedback and insights, most invaluable is almost every edition of the MacPaw Digest, our content newsletter that presents the latest news, articles.

I'm especially proud of the beautiful design and complex layout of our emails dedicated to the local holidays in our Asian markets. As I am still unfamiliar with many aspects of these cultures, preparing these kinds of masterpieces is often mind-blowing.

By the way, all the emails I've mentioned above can be found on the Really Good Emails site. That's additional recognition that we do a great job.
(Source: Really Good Emails)
Karyn Strybos

The emails that stand out are those we sent about the changes to Apple's privacy policy. Engagement was great on these, as the topic was highly relevant to our audience and we sent them at the right time, when the topic was still hot. The lesson here is that we must adapt to what is happening in our specific markets. We approached this change from two angles: what it meant for marketers and what it meant for users.
Eugene Zayats

Recently, we launched an infographic newsletter on Google's 24th anniversary that went viral among digital marketing professionals. If the usual OR averaged 28-30% for digest mailing lists, then in this mailing list it was within 40%. The share of clicks on infographics was about 50% of all clicks, and another 30% of clicks fell on the infographic test.

We also received both positive and negative feedback following newsletters that presented studies of trending Google.ru keywords (the negative feedback was associated with the trends themselves). The newsletter that included Serpstat's official statement about blocking users from the Russian Federation also became a hit, prompting thousands of comments and replies. If virality is considered success, these are our most striking examples.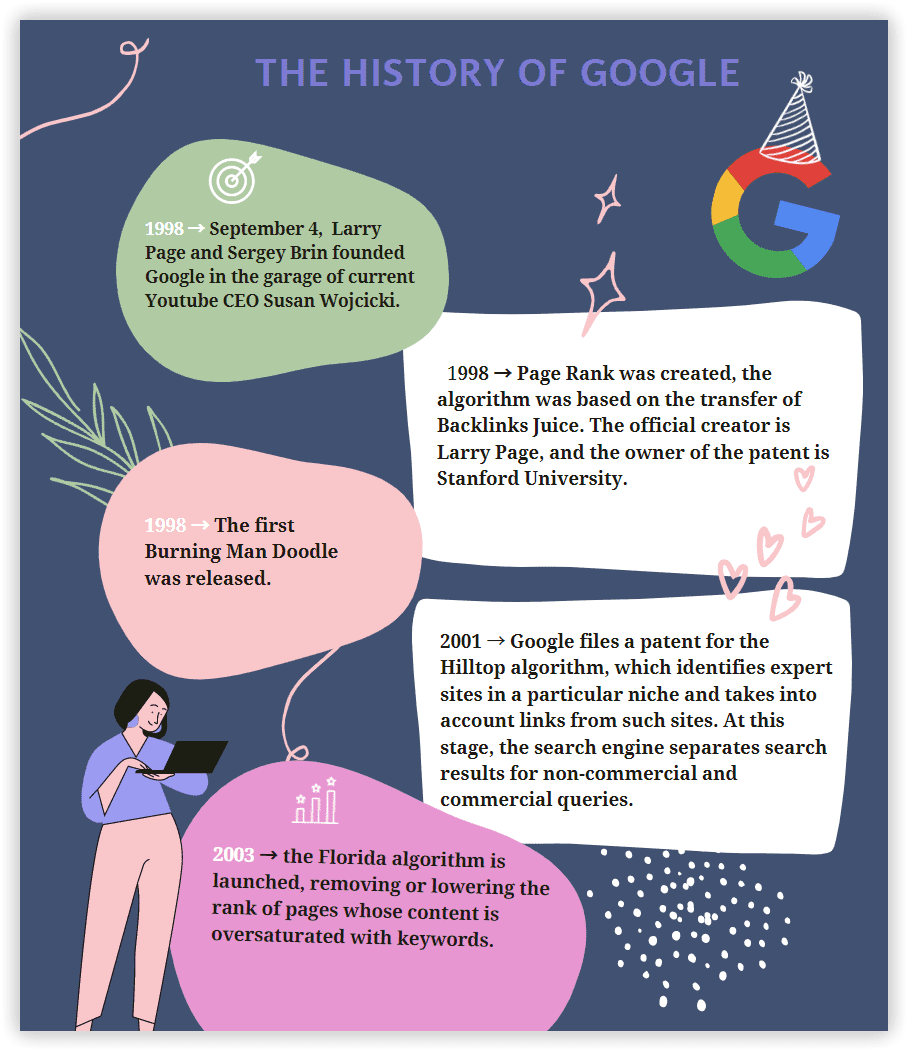 (Source: Serpstat)
Tips for success in email marketing
To conclude this blog post, we will discuss some mistakes you should avoid and offer tips to help you improve your email campaigns. Whether you use this information is up to you. However, as these mistakes and tips are based on real marketers' many years of industry experience, they are definitely not redundant.
Karyn Strybos

Failing to define clear goals and KPIs upfront and how they tie into your larger marketing strategy is a mistake. Your email strategy should be distinct from your overall strategy. Email marketing is a tactic that should form part of your overall strategy.

When we fail to allow for flexibility in our strategies, we can get stuck in a plan, being unwilling to disrupt our teams by pulling them from a task to focus on something topical. We need some flexibility.

It is a mistake to focus on what we want to say about our company rather than approaching content from a problem-solving angle. What does this mean for consumers? Why should they care?

I mentioned these earlier, and it's hard to choose just three tips, but here goes one of the must-have tips:

build knowledge of your audience so that you can personalize their experience;

create valuable content that speaks to your audience's needs;

set clear goals and monitor results closely.
Eugene Zayats

remember that the main metric is sales, not the number of sent or opened emails or the beauty of the newsletter itself;

trigger newsletters are among the most effective email marketing tools, so be sure to use them;

increasing the efficiency of a channel can be achieved in two ways: increasing the number of subscribers through forms, pop-ups, etc. and improving email conversion. Optimization, as always, is somewhere in between, so you must constantly combine these methods.
Read more about ways to create successful email campaigns in our special blog post.
Wrapping up
Our guests have shared many tips and insights, and we hope you find them useful for improving your email strategy. We can likewise lend a helping hand by supporting you in applying the knowledge you have gained here to design effective emails.