Email marketing trends for 2023
15 December 2022

Table of contents
Top 10 email marketing trends to watch for in 2023
Wrapping up
1.
Top 10 email marketing trends to watch for in 2023
With the end of the year right around the corner, it's a perfect time to take a step back and assess whether your email marketing strategy is up to date with the most impactful industry trends. To help you reap the benefits of email marketing in 2023, we discuss here 10 trends you should know to drive revenue and keep your subscribers engaged.
Top 10 email marketing trends to watch for in 2023
Adopting the trends below will help you run successful campaigns.
1. Hyper-personalized email content
This trend has become prominent during the last few years and is expected to grow further in 2023. Email personalization is complex, going way beyond addressing recipients by name. Put simply, it includes all the data a subscriber shares with you: name, gender, age, country of residence, preferences, etc.
Personalization is a great tool for making your subscribers feel valued and motivating them to open your emails more often. Indeed, 72% of consumers only interact with personalized content. When a message lacks personalization, recipients are more likely to mark it as spam, delete it, or even unsubscribe.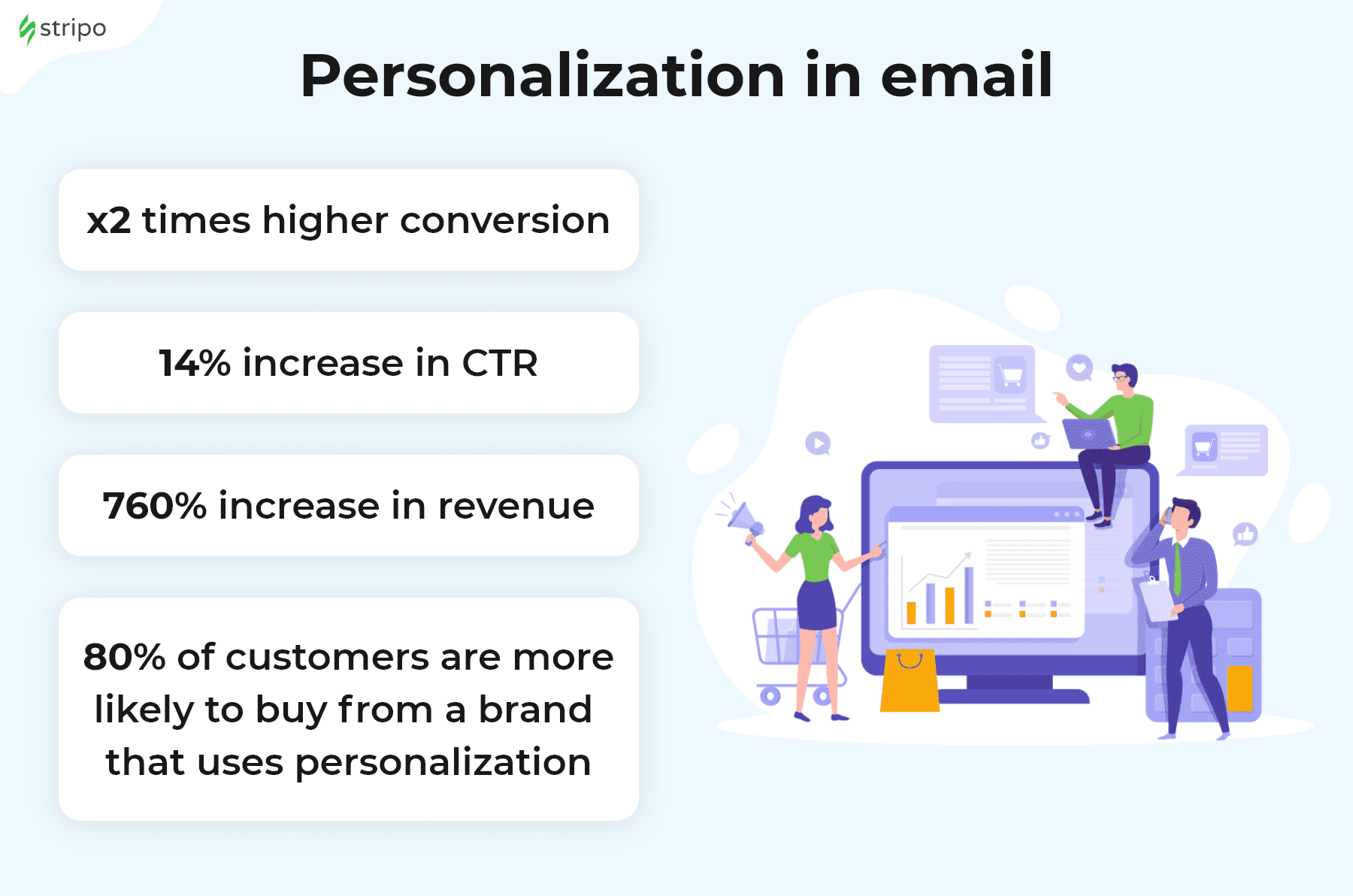 Benefits of email personalization:
Here are some tips for making the most of this trend by personalizing your content as much as possible:
address recipients by name in your subject line, email body, and visual newsletter content;

suggest products, services, or content according to user behavior;

tailor emails to customer preferences (e.g., look for patterns, such as whether they place more orders in the afternoon or on weekends, and send promo emails at appropriate times);

send trigger messages based on customer behavior;

offer discounts by audience segment;

send birthday wishes to your subscribers to show them you care.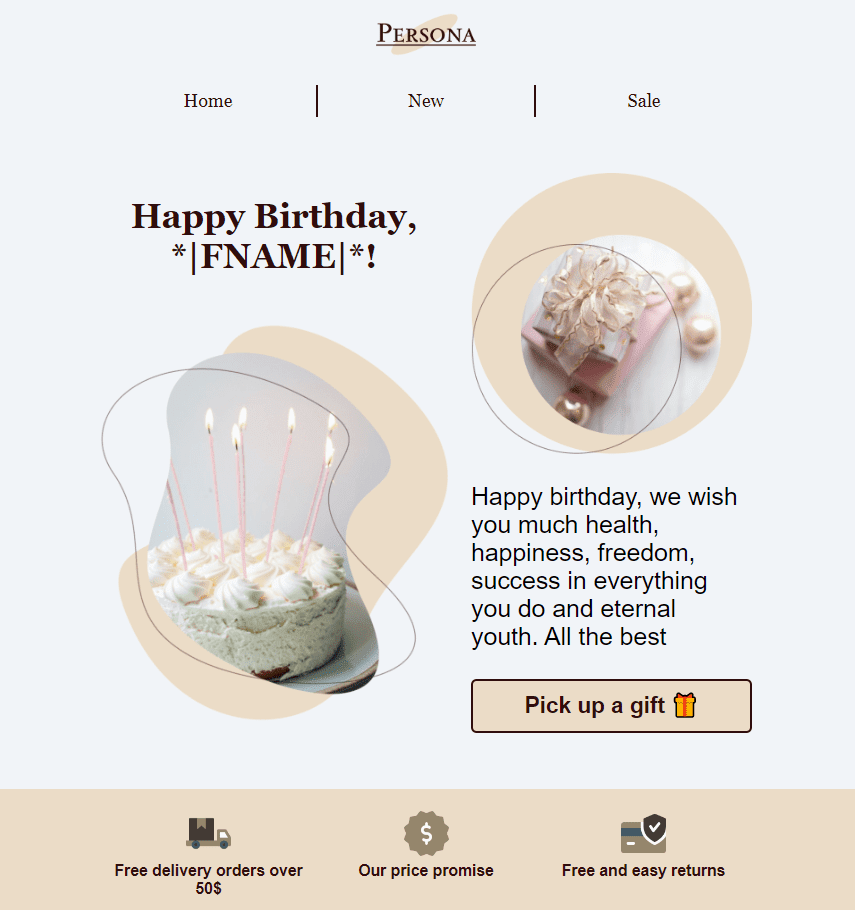 (Source: Stripo template)
2. Data privacy
Personalization drives great results. To implement it, however, we need personal data, such as users' geographical location and preferences. According to a Litmus study, 73% of users are willing to share some personal data to help companies deliver better experiences. But they also need us to be careful with these data.
There are many data privacy regulations, including the General Data Protection Regulation (GDPR) and California Consumer Privacy Act (CCPA), and we have learned to live with them. But in 2021, Apple released its Mail Privacy Protection (MPP), and in the second half of 2024, Google will phase out support for third-party cookies (this was postponed from January 2022 and again from mid-2023).
This means we must learn to analyze customer data according to new rules.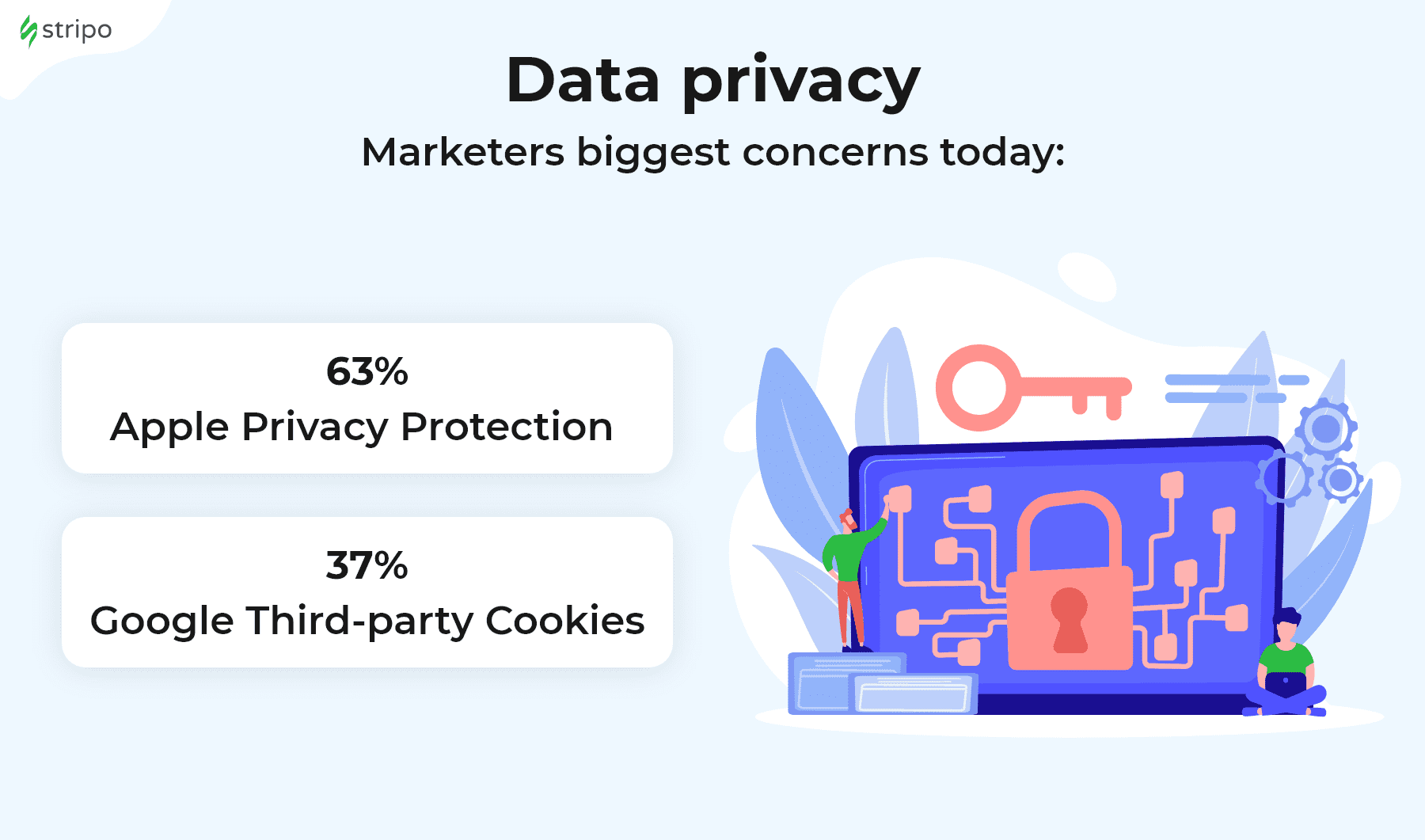 So, what are marketers most concerned about when it comes to data privacy?
Here are some tips to improve data privacy:
don't use open rates as metrics, as they are no longer a workable way to evaluate campaign performance;

adapt your strategy to use first-party cookies;

stay up to date with our blog posts, which provide many effective tips.
3. Artificial intelligence
You already know that personalized emails will be all the rage in 2023, but how is it best accomplished? Artificial intelligence enables further tailoring of your messages, making them relevant by gathering and processing data about your audience and optimizing the email production process.
For instance, Domino's Pizza has used Phrasee, an AI-driven content platform, to improve email subject lines and consider users' interaction patterns, thus boosting subscriber engagement and brand consistency. As a result, the company increased open rates by 26% and clicks by 57%.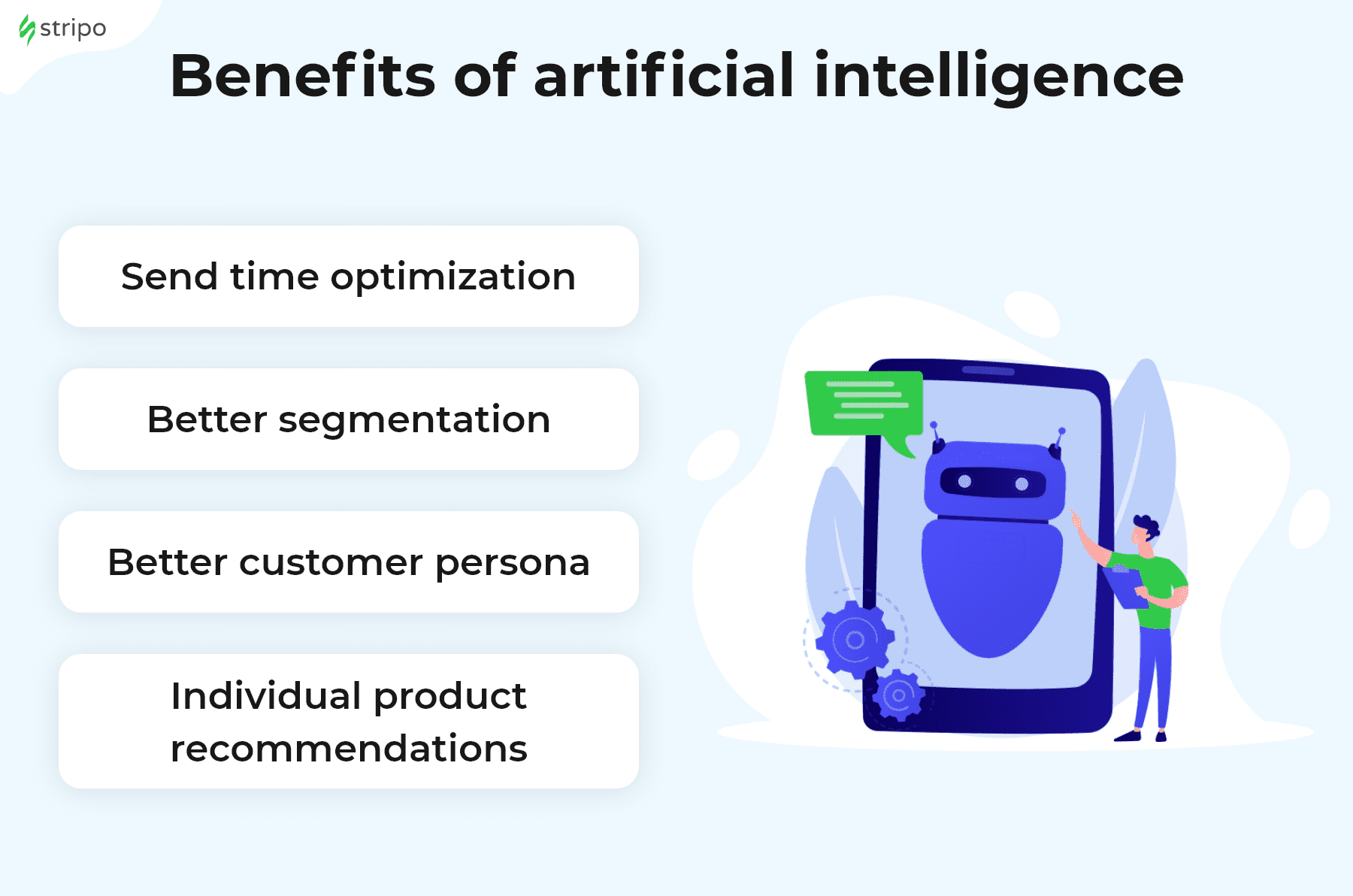 Benefits of AI in emails:
individual product recommendations;

better customer segmentation;

optimized send time;

better customer persona.
AI can't yet replace human jobs, but we have some tips for using it to make your next campaign a success. Use AI technology to:
generate relevant and personalized subject lines and email content;

identify email marketing trends and make data-driven decisions;

detect and analyze customer data to deliver tailored experiences.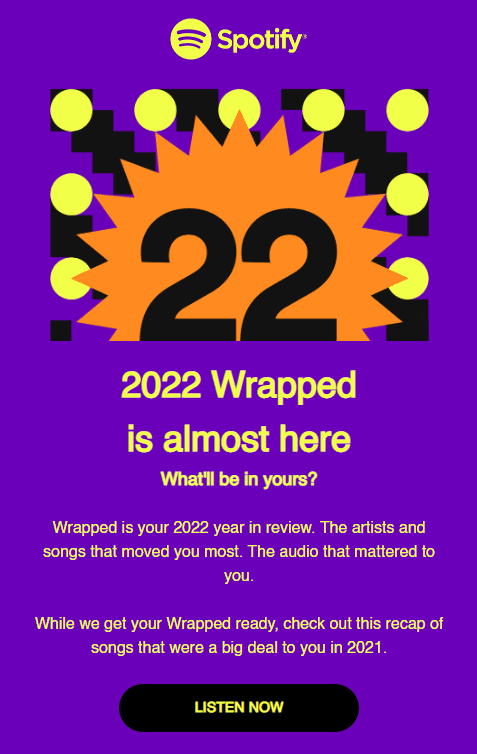 (Source: Email from Spotify)
For more information on how to use AI and AI tools in email marketing, please refer to our "Improve Your Email Marketing with AI" blog post.
4. Interactivity and AMP in emails
One can boost email click-through rates by 200% by adding interactive elements, so it's no surprise that this trend shows no signs of slowing down. We recommend you enrich your emails with interactive content, such as CSS animated buttons, star ratings, embedded questionnaires, image carousels, accordions, and videos to make subscribers look forward to your messages. These elements render well in the most popular email clients.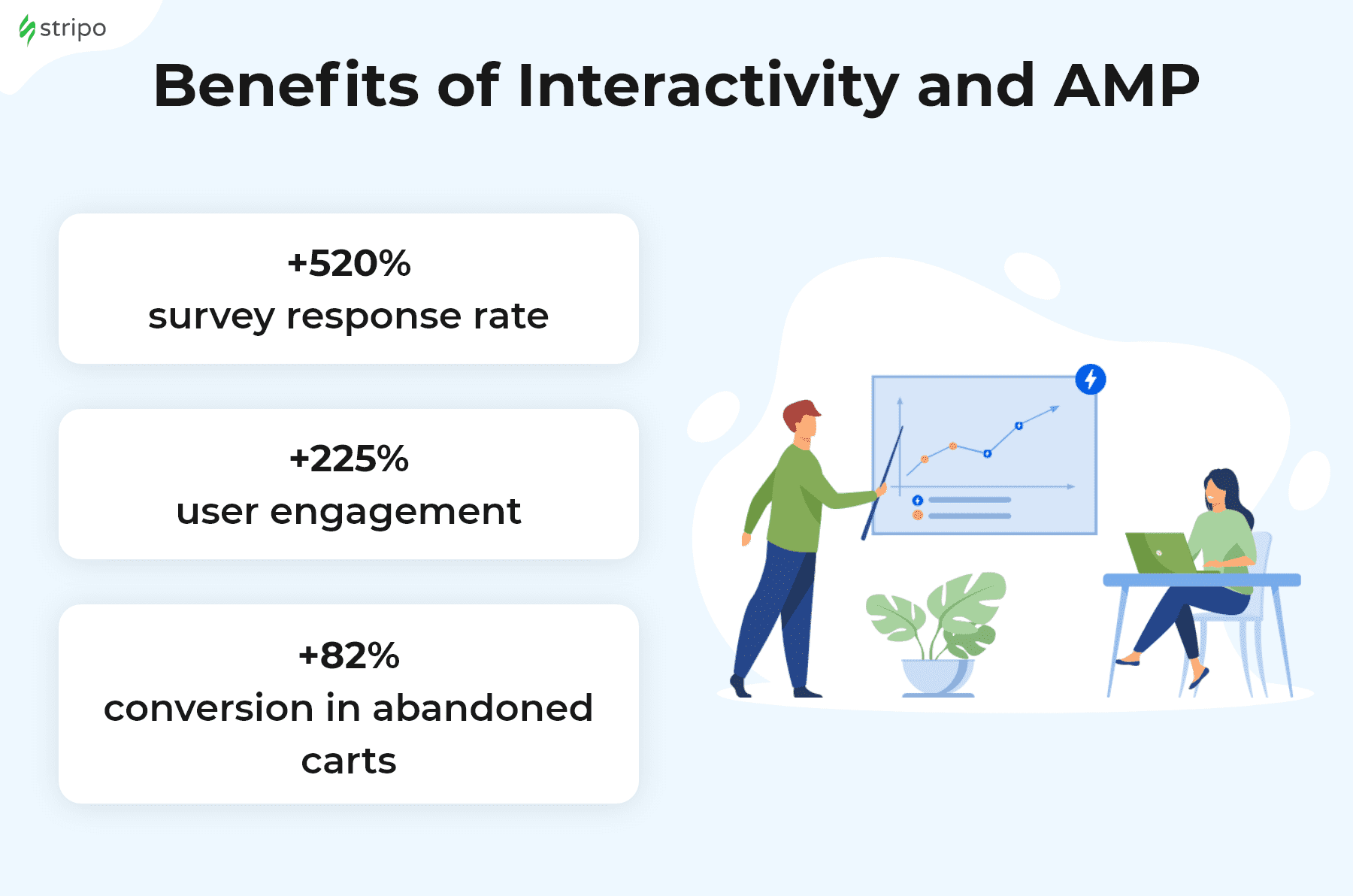 Benefits of email interactivity and AMP:
increasing survey response rates by 520% (Stripo);
increasing user engagement by 225% (AWeber);
increasing conversion of abandoned carts by 82% (Ecwid).
Consider these ways to make the most of interactive elements in your newsletters:
enable subscribers to rate your company directly from the email;

showcase several products on one screen;

show products from different angles;

make long emails more compact;

introduce new products.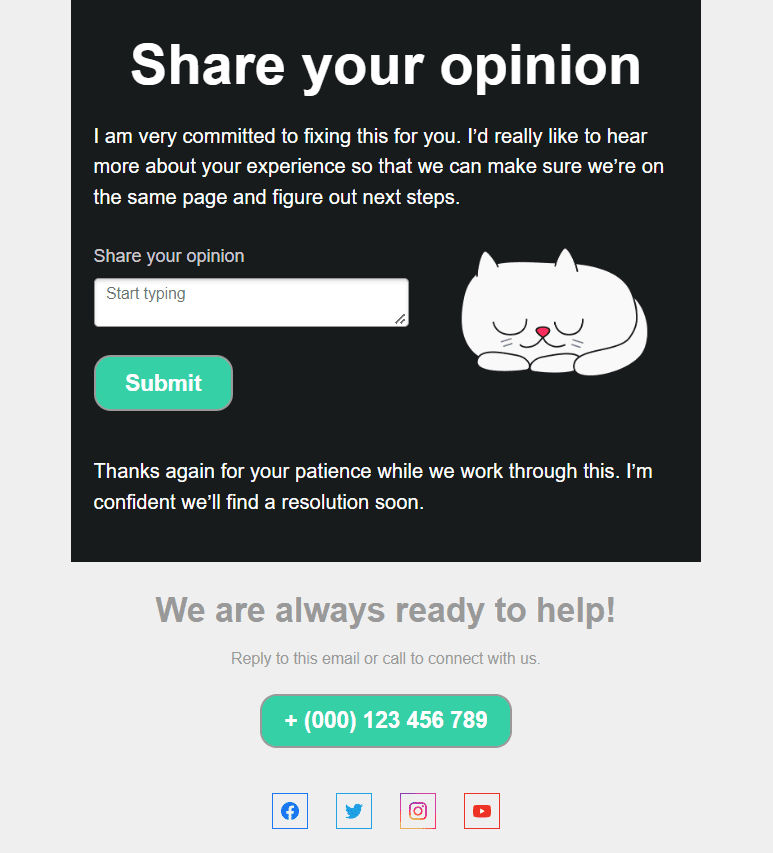 (Source: Stripo template)
5. Responsive email design
Before you send out an email or even start designing it, consider the 41% of subscribers who will open it on mobile devices. Keeping your email design responsive is necessary to deliver a flawless mobile experience.
Responsive email design is a timeless trend that has already become a must-have for any campaign. It enables you to make longer newsletters appear well-structured and readable on smartphones and tablets by hiding some email elements and presenting appropriate alignments and font styles and sizes.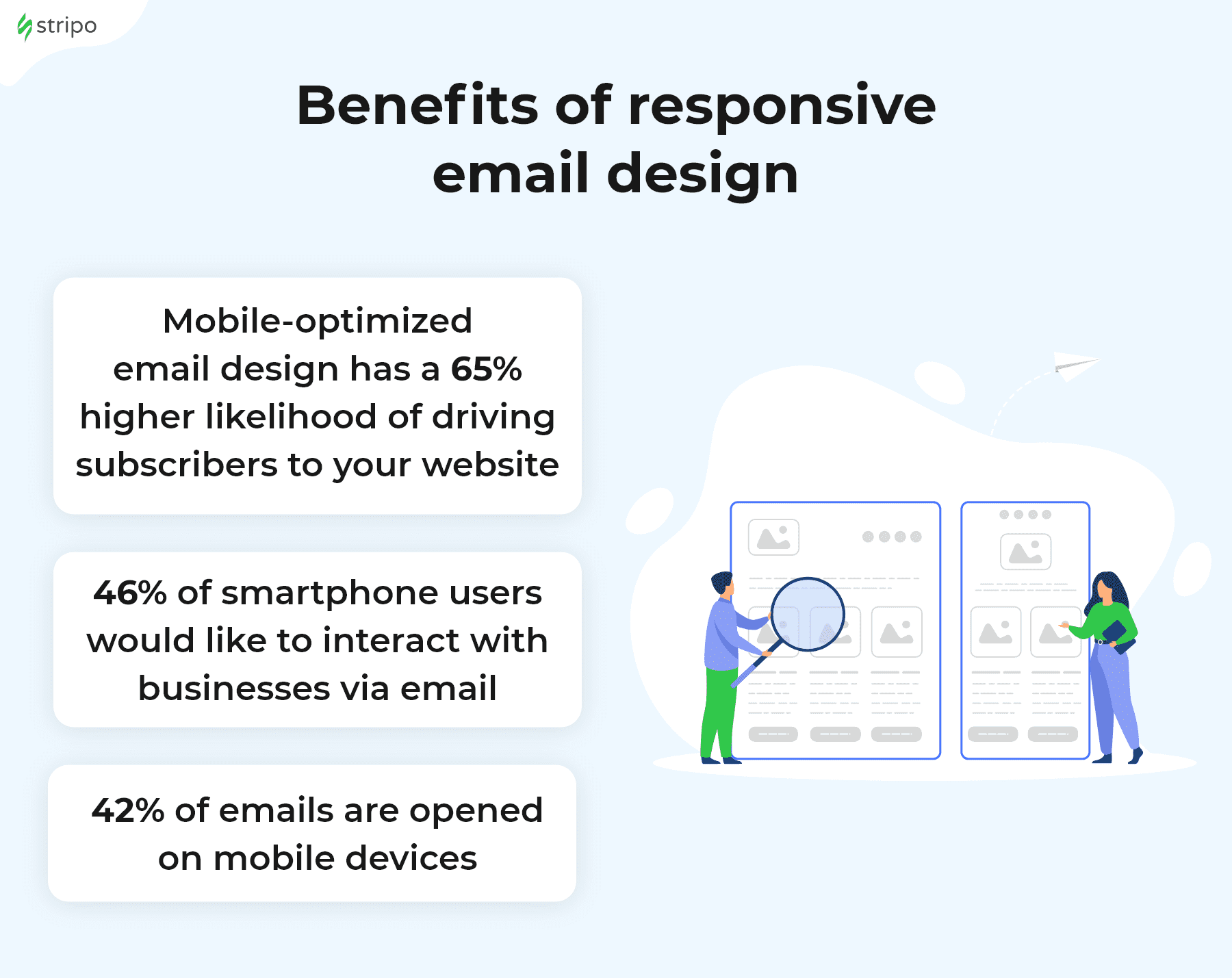 Benefits of responsive email design:
a 65% higher likelihood of driving subscribers to your website (TrueList);
46% of smartphone users prefer to interact with businesses via email (Statista);
42% of emails are opened on mobile devices (EmailMonday).
hide or show certain email elements for mobile users;

choose fonts styles that make emails readable on any mobile device;

set up styles for CTA buttons;

select appropriate alignments for specific email elements;

use responsive images to avoid the need for horizontal scrolling.

(Source: Stripo template)
6. Email marketing automation
Several marketing processes — such as sending trigger and transactional emails — are almost impossible to perform manually. However, they are utterly useful for your business. This is when automation helps.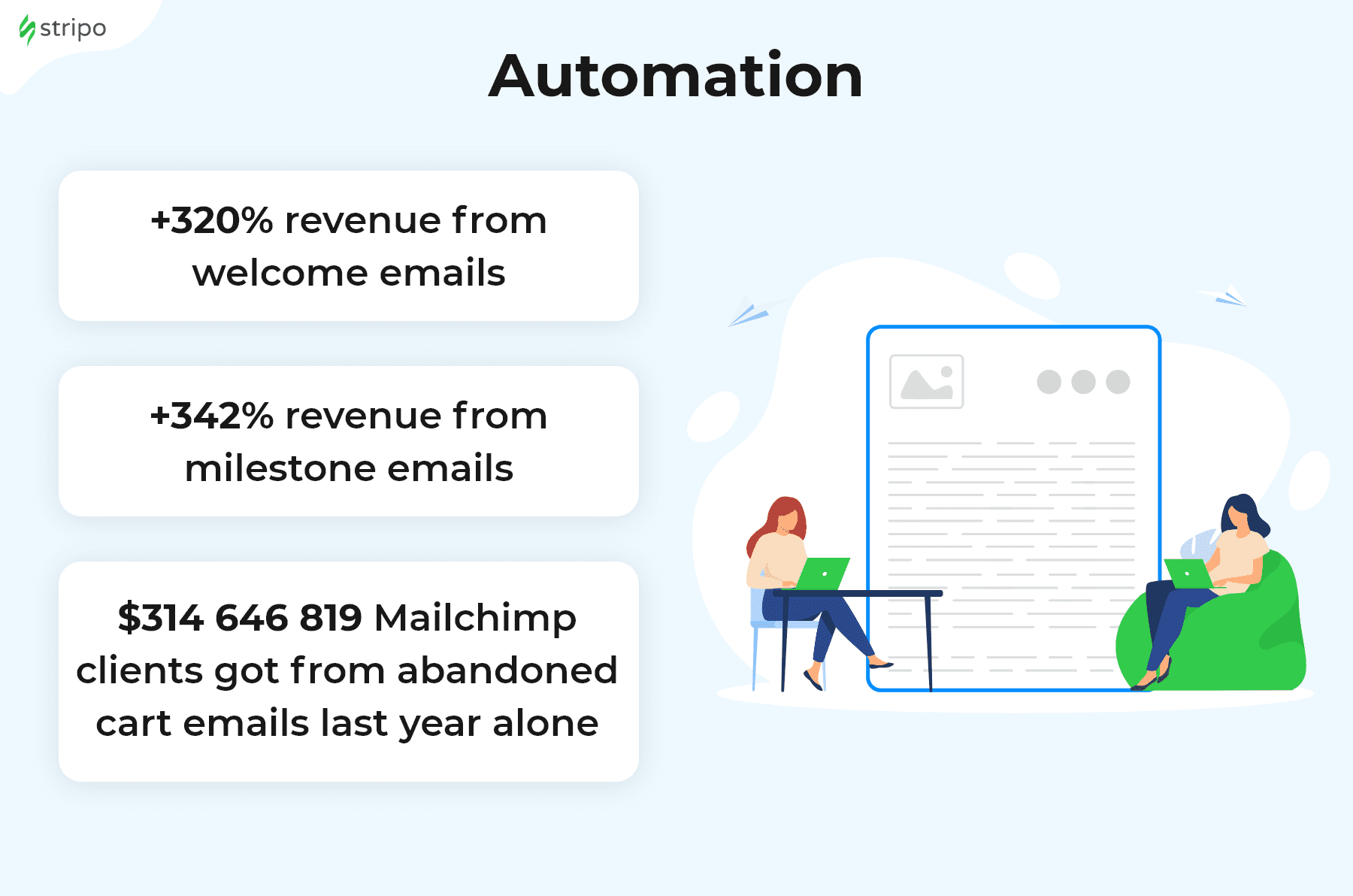 Benefits of automation:
a 320% revenue increase from welcome emails (WordStream);
a 342% revenue increase from milestone emails (CampaignMonitor);
abandoned cart conversion—Mailchimp clients reaped $314,646,819 from abandoned cart emails last year alone (Mailchimp).
Here are some tips to automate your email campaigns: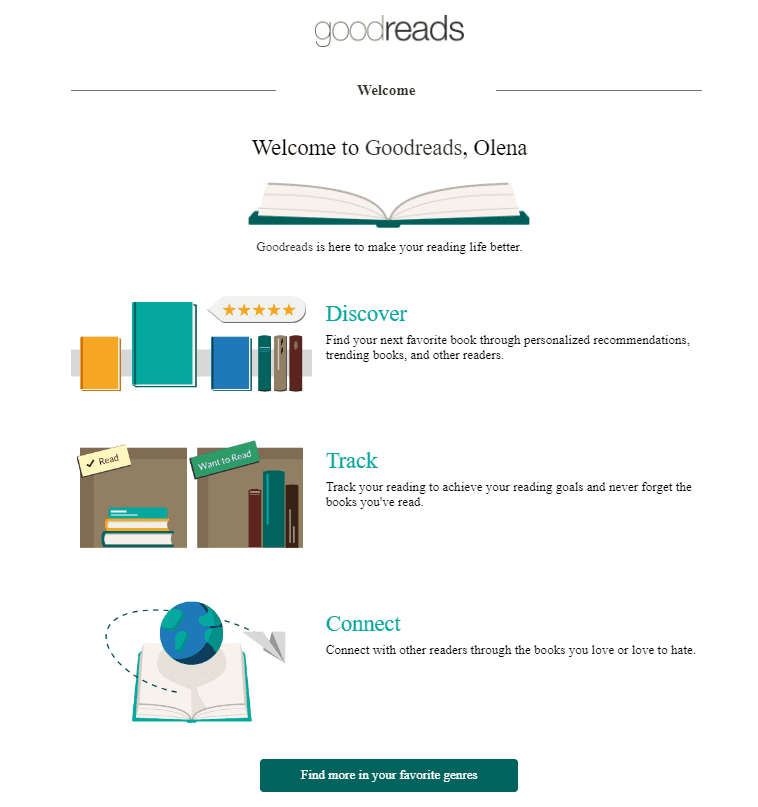 (Source: Email from Goodreads)
7. Accessibility
Email accessibility requirements were developed to help marketers create emails that can be read by all people. These rules make emails readable for those who, for example, suffer from dyslexia or color blindness.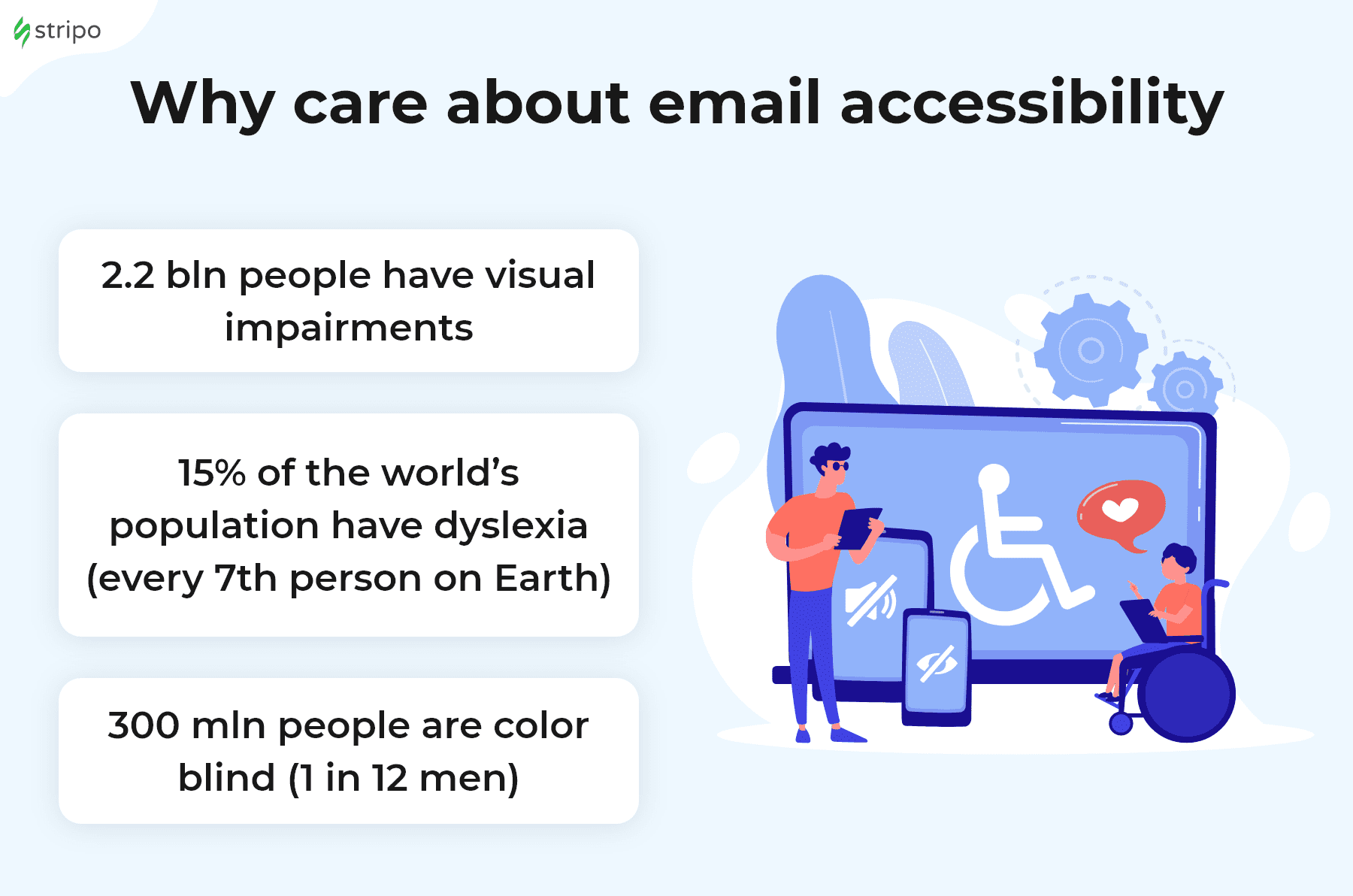 Why care about email accessibility?
Take a look at these tips for making your emails accessible:
use contrasting colors but avoid green and red;

create brief and clear subject lines;

add alt text to all visuals;

bold all email links to help color-blind readers;

don't underline link text, as this may confuse dyslexic subscribers.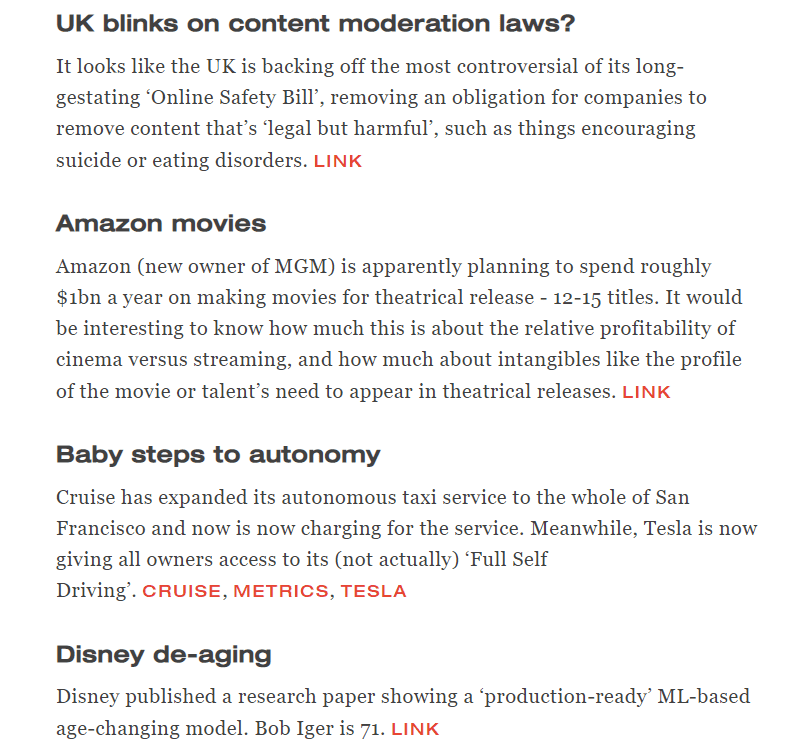 (Source: Email from Benedict Evans)
Those who are blessed to see, hear, and read should take care of those who aren't.
In our "Email accessibility" blog post, we share all accessibility requirements. Following them will make your emails fully accessible.
8. Gamification
Gamification is crucial in emails. It not only helps your business go viral and increases user engagement but also encourages your customers to relax and have some fun with your emails, which develops good long-term relations.
In our highly competitive world, every company must be effectively creative — doing something catchy and engaging to boost sales.
Gamification can definitely help you achieve this.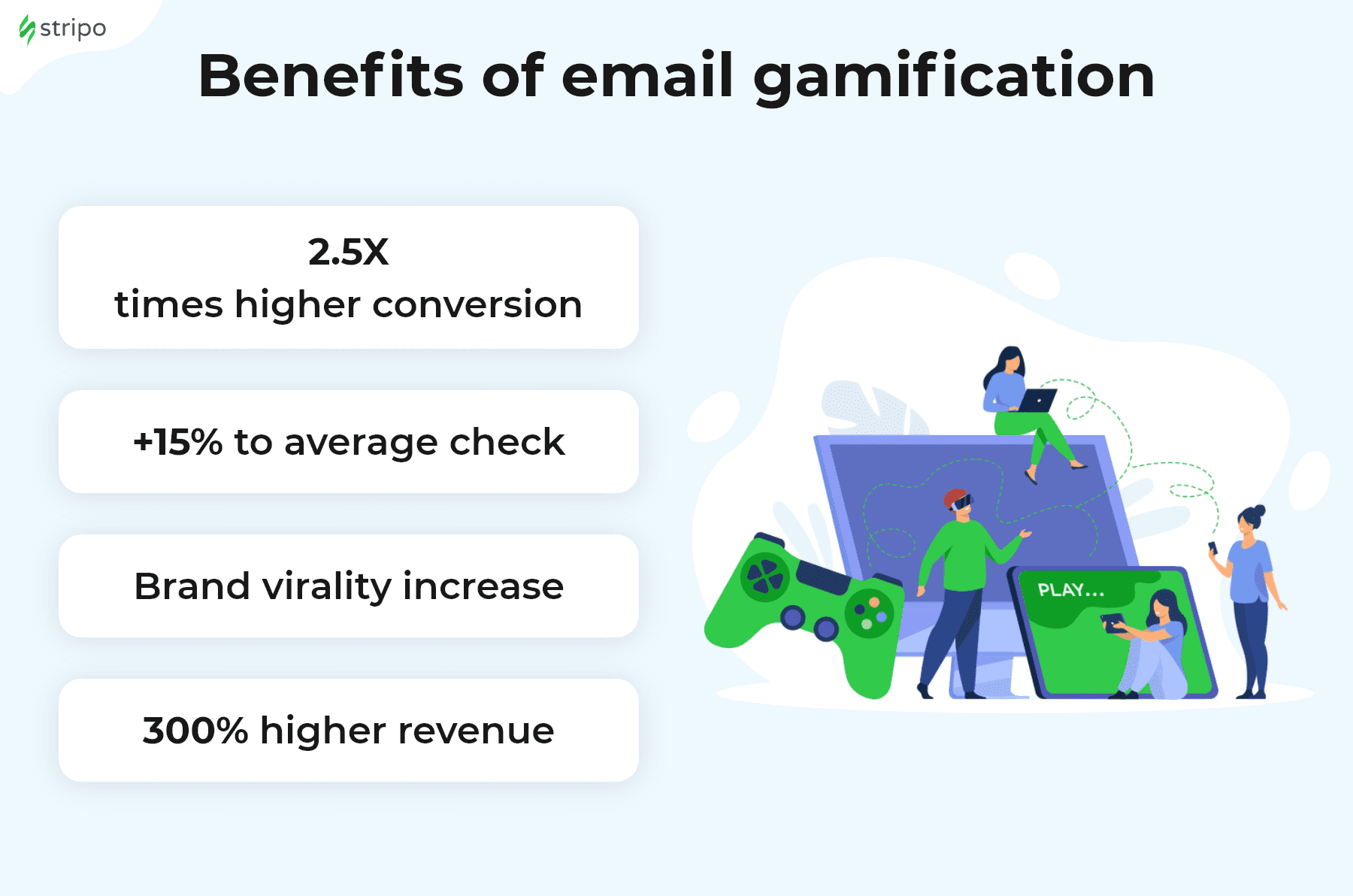 Benefits of gamification in email marketing:
We have handpicked some tips to help you surprise your subscribers with amazing email games:
create quizzes that grant instant rewards for correct answers;

use "spin-to-win" games that give subscribers discounts or prizes;

design interactive holiday cards to entertain your audience;

implement quests to boost user engagement;

present scratch cards that offer various rewards, from certificates to free shipping;

use word games to motivate recipients to interact longer with your emails.
(Source: MAC Cosmetics)
We know that building gamified emails can be time-consuming and expensive. So, to optimize this process for you, we've prepared several ready-to-use game mechanics. You only need to slightly customize them to fit your brand style and campaign goals. Find them along with a summary of best practices in our eBook "Email Gamification".
9. Modular design
Although the modular system is not new, it is currently on the rise. Some call it "modular email architecture."
So, what is it, anyway?
Let's define modules.
A module is an email element (sometimes called a "block") that is pre-designed and tested. It contains a small piece of information/content, and you can mix and match different modules to make a new email.
Modular email design is a new approach to email building that lets you combine content modules to create emails. And it saves time!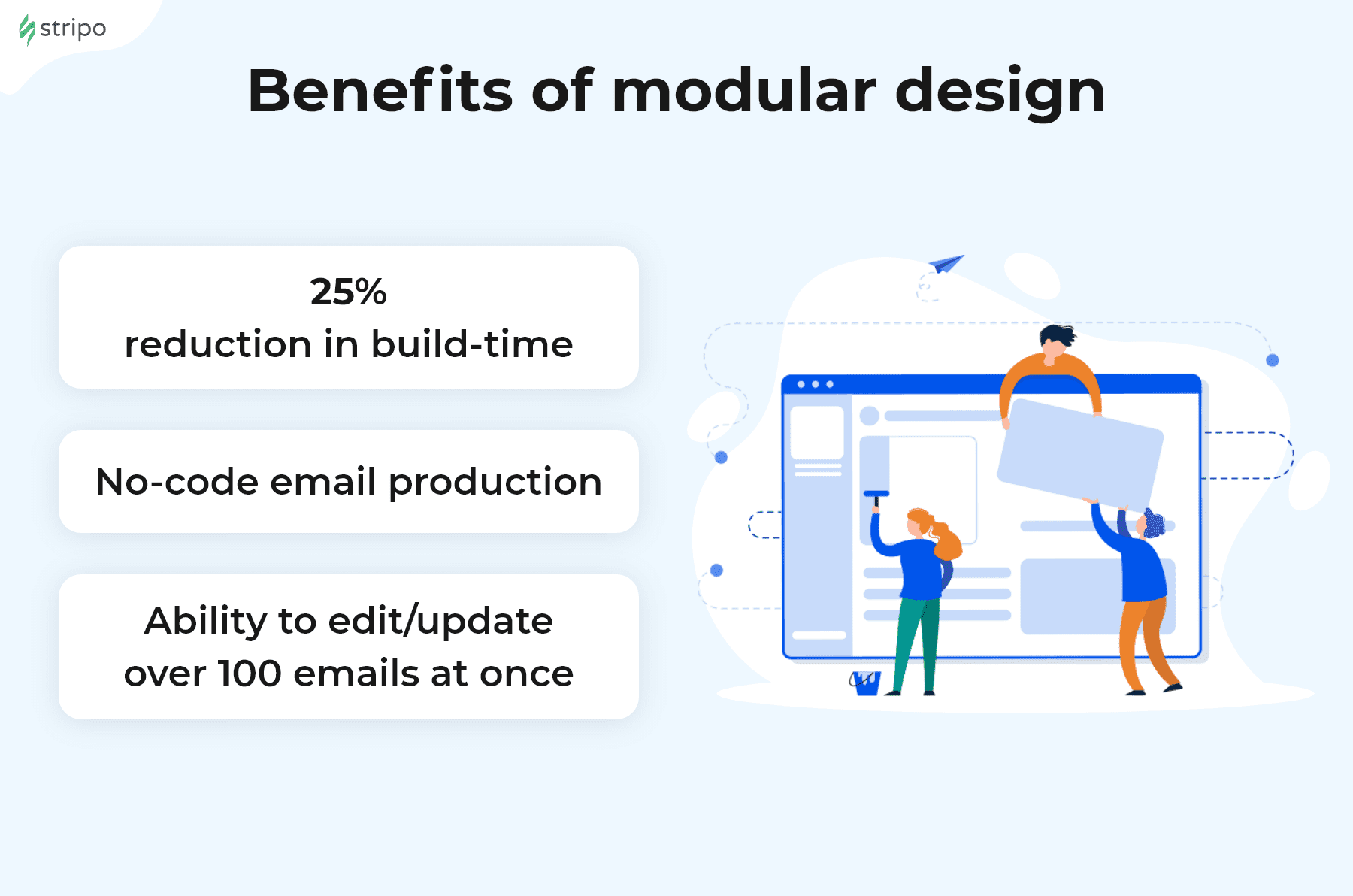 Benefits of modular email design:
25% reduction in build time (Oracle);
no-code email production—designers build it for you once, and you reuse it across multiple campaigns (Stripo);
ability to edit/update over 100 emails at once via module synchronization (Stripo).
Oracle has measured that modular email architecture reduces email production time by 25%. Sounds impressive, doesn't it?
It's time to do some math.
Litmus says it takes an email marketer 27 hours to build a promo email. When you use modules, therefore, you save almost seven hours! Now, that is impressive!
As you may know, we ran a series of interviews with our clients in 2021 and 2022. They all reported that modules are among the best email builders they have ever tried.
Important
Stripo offers a wide range of diverse content modules built by our professional designers. They span categories such as headers, footers, product cards, surveys, and ratings.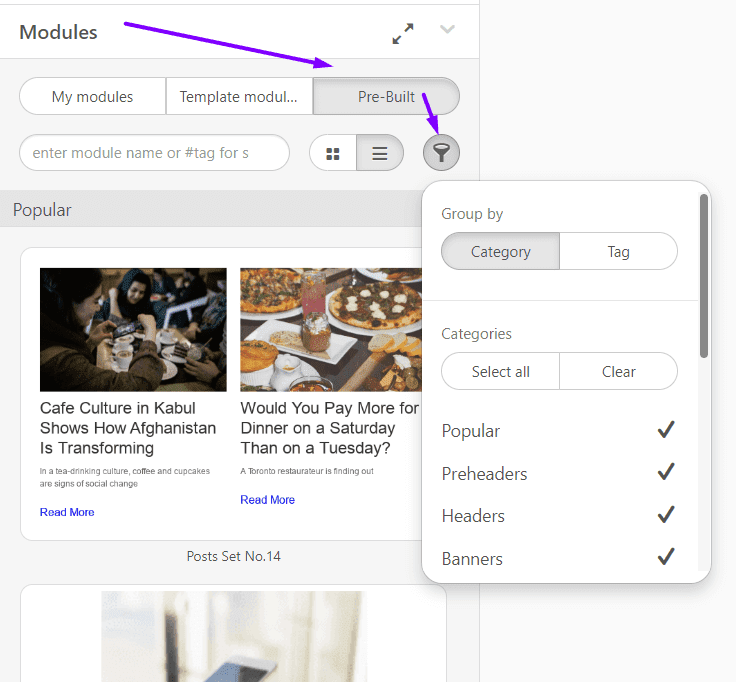 10. User-generated content
Users tend to trust other users like themselves, so it's no surprise that user-generated content (UGC) impacts the purchasing decisions of 79% of customers. Any content (e.g., text, photos, videos) created by end users acts as social proof, as it seems more authentic and trustworthy than traditional brand promo emails. It's also a cost-effective solution, as the content is created by your customers. Your only task is to choose the best examples to include in your email marketing campaigns.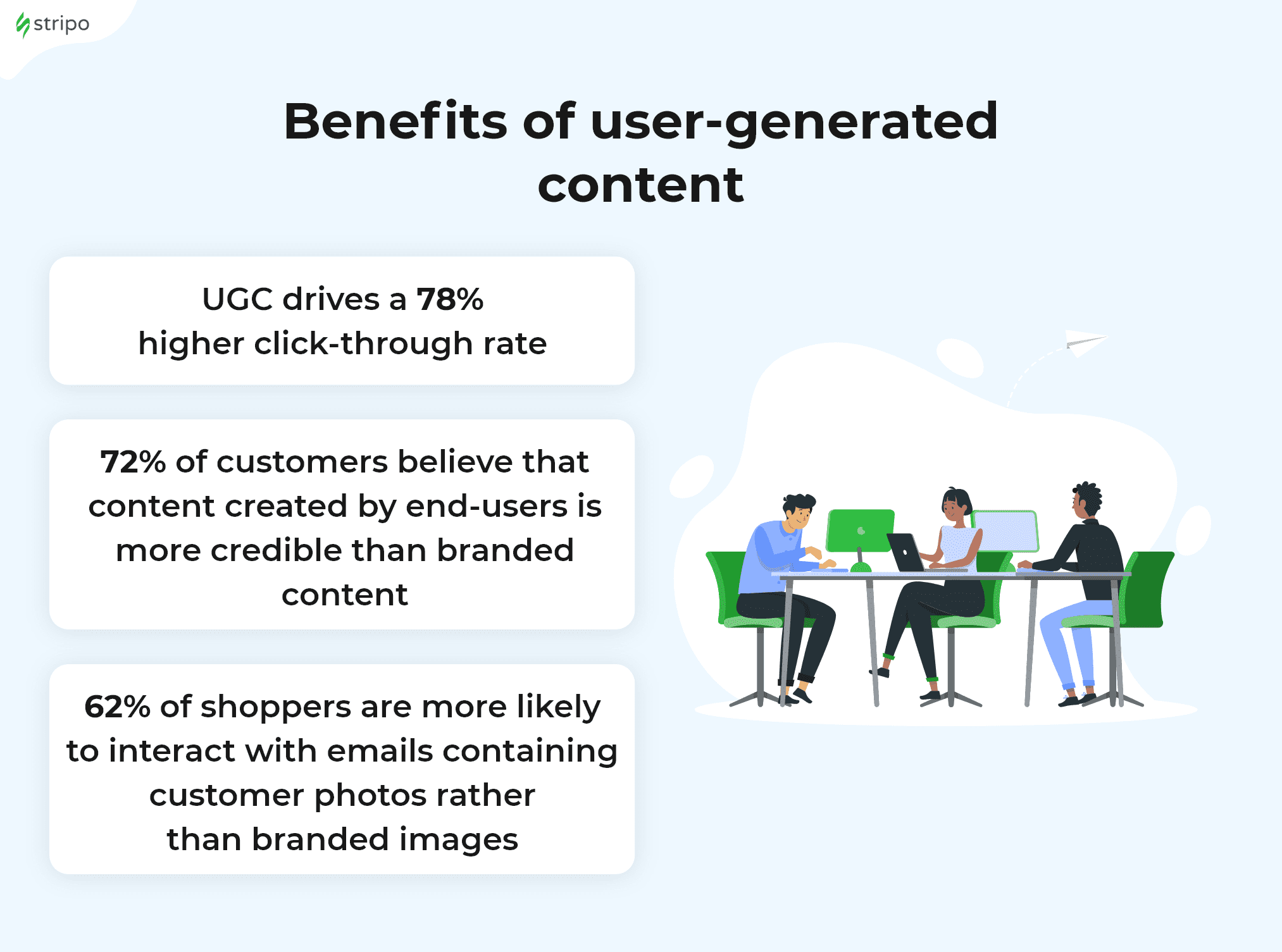 Benefits of UGC:
a 78% higher click-through rate (EmbedSocial);
72% of customers believe that content created by end users is more credible than branded content (TINT);
62% of shoppers are more likely to interact with emails containing customer photos instead of branded images (TINT).
Here are some tips for implementing UGC in your email marketing strategy:
add unboxing videos to drive attention to new products;

organize challenges to boost brand awareness;

include success stories and product reviews with photos to win credibility and conversions.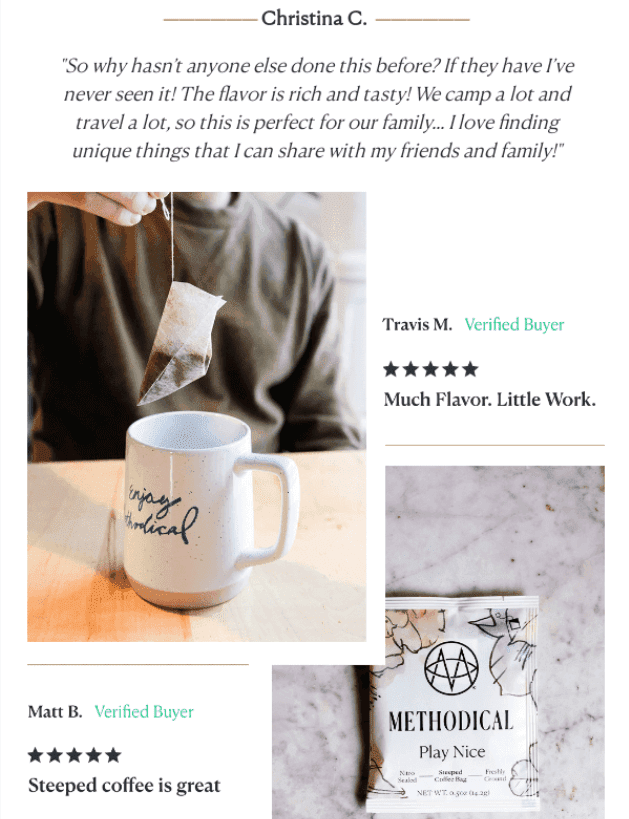 (Source: Really Good Emails)
Wrapping up
The coming year is expected to be all about data privacy, content modules, gamification, automation, interactivity, and hyper-personalized and user-generated content. Whether you need help with new trends or timeless classics, Stripo is always here to keep your email marketing strategy relevant so that you can produce gripping content and generate higher revenue.
Was this article helpful ?
Thanks for your feedback!