13 June
How to write a resignation email
Saying goodbye can be hard, but saying goodbye to your employer can be even harder. Sometimes employees tend to feel guilty when they are quitting a company they have worked at for a long time.
However, it would be fair and respectful for both parties if a team member provides an appropriate letter of resignation to a boss and clarifies all the details related to quitting before their last day at the company.
In this article, you will find some valuable tips and learn all the essential information on how to write such an email. Also, we will provide you with a resignation email message example to keep the structure and the tone of voice of your letter.
What is a resignation letter?
It is a formal email that announces an employee's intention to leave the job at their current company. It is usually sent beforehand to keep the formalities, help an employer find a replacement, and finish all the work needed. But also you can give a resignation effective immediately due to some urgent circumstances.
Nevertheless, a well-written resignation email will help you keep a good relationship with your former employer and leave on a positive note.
What to include in your email message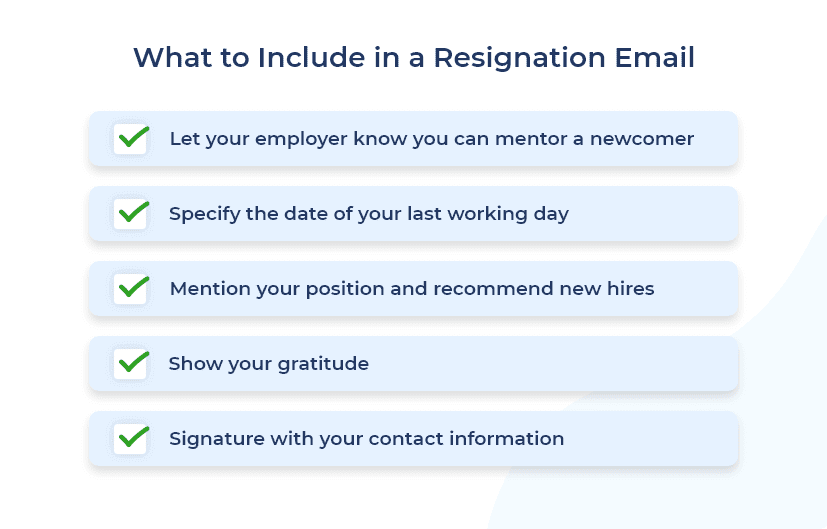 Let your employer know you can mentor a newcomer
If you are going to write this note, make sure you use formal and polite language. You should include how you can provide further assistance for a newcomer in order to maintain professional relationships.
Specify the date of your last working day
It would be better if you write the date of your last day there in order to give as much notice as possible, this will be appreciated by both your employer and hr manager.
Mention your position and recommend new hires
Mention your position title in the first paragraph of the resignation email, projects you've been recently working on, maybe even a recommendation for your replacement, or at least suggest giving a hand while your boss will be looking for someone else.
Express gratitude to leave on a good note and keep a good relationship with your former employer. Let your boss know how appreciative you are of their effort while mentoring you.
Be respectful in your email message because there might be a time you find your acquaintances at the company helpful, or you may need some kind of favor or simply a reference. After all, it's just essential for your professional reputation.
You may add your personal contact information to your resignation email as well if you wish to stay in touch with your previous employer.
What not to include in your resignation letters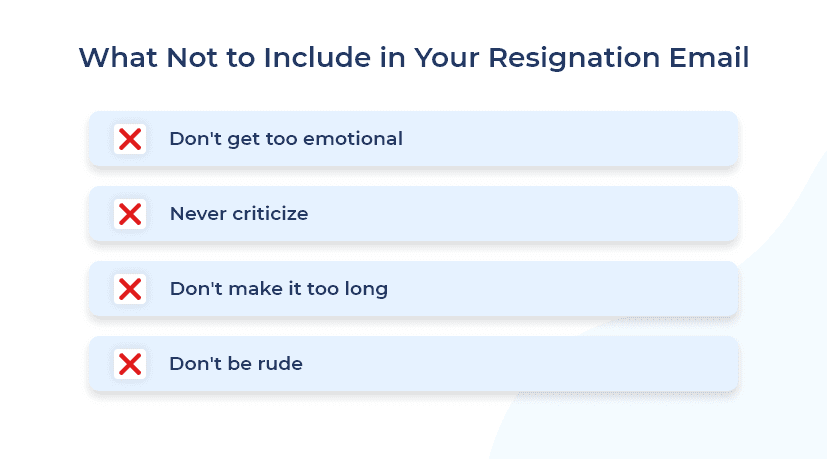 Your letter of resignation should be a formal email. Try to avoid emotional words and expressing personal feelings — positive emotions are better to show in person than in a resignation email, and we advise you to keep negative ones to yourself.
Do not criticize your boss or the company in general when you write a resignation letter. Whatever the situation is, it will more likely be unfair because they have already invested a lot of money and other resources into your development and helped you grow in a way.
Also, never complain about the salary or other conditions in your letter of resignation. If you want and think it's appropriate, you may share the domain or the position and express gratitude in a resignation email message about how your current company helped you improve your skills and qualities.
There is no need to let your employer know about your specific future plans, future job title, and intentions in your resignation email message.
But you should include contact info like a personal email address, so anyone from your team (especially a new employee) could write you regarding some questions about your projects, work activity, etc., to provide a smooth transition for a newcomer into your job.
Do not use rude words about your coworkers or management in your resignation email — in some cases, it might seem like you blame others for your failures, and it doesn't look good.
Tips for writing a resignation email message
We are a bit old-school and believe that it's always better and more effective to resign in person with a manager rather than via resignation email, especially if you are giving your resignation effective immediately. However, we prepared some useful ideas for you on how to write a resignation email.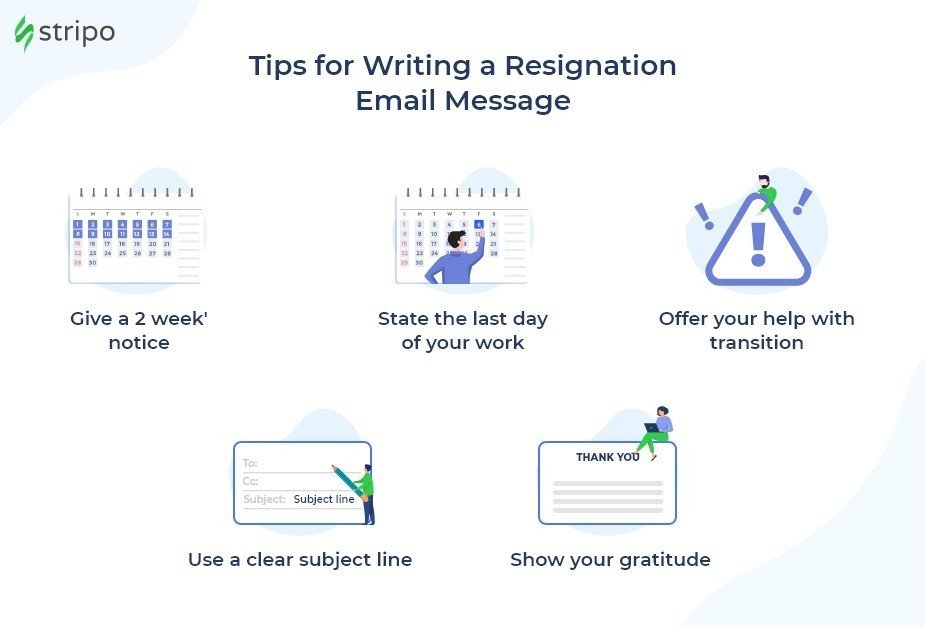 Hope you will find them relevant to your needs.
1. Add a subject line
Good emails always start with a clear email subject line.
If a letter of resignation contains sensitive and important information, you wouldn't want a recipient to miss it or mistakenly delete it. Keep it simple — you may mention just your name and the word "Resignation" and the date of leaving your current job. Such an email subject line will encourage your manager to read the letter sooner.
2. Consider a two weeks notice period
Please don't be afraid of saying goodbye to your employer and wait till the last day, you will only make things harder for both parties.
If you have a friend in a Human Resources department, you may consult with them on some details, including legal ones. There's more — you have to check the conditions of your employment contract beforehand, because some of them may require up to 6 months' notice.
3. Mention the last day of your work
State the date of leaving in a resignation email to make things crystal clear for your boss and avoid misunderstandings. Reminder: this goes to the email subject line also, formulate it clearly, and add the last date so your formal resignation note will be noticed immediately among other emails.
4. Don't make excuses
You are not obliged to explain any of your actions in the formal notice. Of course, it's not prohibited if you will. Anyway, don't say too much. For instance, you might say that you have some family circumstances, other personal reasons, want to make a change in your career path or you are moving somewhere.
Whatever you say, remember about keeping your resignation letter positive. And you better not mention it if your position title has not changed, but you have gone to a competitor.
5. Offer your help
If you are available and willing to assist, mention it in your resignation letter. First of all, you can help a Human Resources office with the preparation of a candidate portrait and a job description to find you a replacement faster. When the company hires someone, you may train a new team member or even suggest being open for further contact after leaving.
6. Ask questions to clarify things
Take your chance and ask about benefits such as compensation for unused vacation days or your last salary when writing a resignation email. If all the details are written in a formal letter, you will have a proven record of the agreement with your employer.
7. Double-check your email
It goes without saying, you should check your letter of resignation before sending it to make sure there are no mistakes and it looks friendly. If you will, you can ask some of your friends or relatives to proofread it and see if everything's fine.
8. Send a copy of your resignation email to the HR department
They may also help you find answers to the questions related to unused vacation days, compensations, and so on.
9. Follow up
You know, sometimes a letter may be lost among millions of new emails. To make sure your letter of resignation has been received and read, send a short follow-up letter.
Resignation letter template
You may find it helpful to look through some samples before you write a resignation email, so we decided to provide you with a formal resignation email message example.
This template will help you to keep the structure and the tone, and not forget any essential detail while writing a resignation. But, of course, you need to make your resignation email personified and make sure it fits the circumstances. Let's have a look.
Email Subject Line: Name_Surname — Resignation Letter
[Date]
Dear Mr. / Mrs. Surname,
I am writing to inform you that I am resigning from my position at [Company Name] as [Position Name], [effective date].
I appreciate all the time and effort you invested in my growth and I am very grateful for all your advice and help. You have always been there for me these years and I cannot thank you enough.
Reason 1: The skills and knowledge I have gained working at [Company Name] helped me a lot to clarify what I really want to do. I decided to move on and accepted a new job offer [Position_Name] in [City_Name].
Reason 2: It was a great pleasure to work at [Company Name] with you, dear Mr. [Name], but, unfortunately, my personal circumstances require me to move to my hometown and help my family.
Surely, I am willing to help with the transition period and search for my replacement. I am ready to provide the training and I will be in touch with you after leaving if there is a need for my consultation or any sort of advice.

Thank you again for all your guidance, support, and great opportunities. I wish you all the best and hope we will keep in touch. You may contact me at Email_Adress or Phone_Number.

Yours sincerely,
Name_Surname.
When should you start preparing a resignation note?
We advise you to start preparing a resignation email when you get or at least expect an offer from another company. However, if you are totally dissatisfied with your job place anymore, you may write it as soon as you feel the need.
You may also never send this letter, but a written resignation email can help you increase your confidence in difficult situations. But you better avoid googling "how to write a resignation email" on your corporate laptop to prevent any misunderstandings.
Make sure that you took into account a notice period — the amount of time between your notification of leaving the company and the actual quitting. There's usually a two weeks notice period, but it may vary according to your employment contract.
Anyway, it would be best if you did not wait until the very last day to prevent inconveniences for your employer.
And when should you send a resignation email?
It may sound weird at first, but it's actually better to send the resignation letter at the end of the day. It will let you have the opportunity to also meet your boss if needed, and allow you to leave the office without feeling discomfort. Both you and the manager will have time to cool the thoughts during the night and the next day will be much easier.
Speaking of weekdays, the best time is the beginning of the week.
Therefore, the management will be able to clarify how to handle the processes related to your left. If you do it on Friday, your manager will probably spend the weekend thinking about possible problems and solutions, your replacement, and other stuff. There is no need to deflate the weekend.
Final thoughts
You've got to know how to write a resignation letter, and we believe you will deal with it perfectly. Let's briefly summarize the information.
Think about all the essential details before you write a two weeks notice letter. Use a clear subject line. Follow the structure and make sure your resignation email contains a few paragraphs for comfortable reading. Mention the date of writing, position, and the last day.
Express how grateful you are, and show appreciation for the support and guidance from your manager. Inform the recipient about your business and suggest some ways of handling it.
Express your willingness to help with the transition and provide your contact information at the end of your resignation letter email.
Keep the tone of your resignation email polite and strongly professional. Make sure you have written everything correctly and wouldn't mislead the recipient. Remember to send the letter beforehand and do not wait until the very last day.
We wish you success and luck with finding the best place for you. Hopefully, one day you will be so satisfied with your corporate life that you will never need to write a resignation email anymore.