User-generated content in email marketing: tips and examples
20 January

Table of contents
What is user-generated content?
Why you should incorporate UGC into your email marketing campaigns
User-generated content statistics you need to know
The best ways to incorporate user-generated content into your email marketing strategy
How to collect user-generated content
Remember to ask for permission before sharing UGC
Wrapping up
1.
What is user-generated content?
One of the most critical and challenging aspects of running a business is establishing a reliable and personal connection between brands and consumers. Existing customers' feedbacks encourage new users to try your product or service. At this moment, your email marketing strategy shall incorporate user-generated content (UGC).
Let's take a deep dive into the user-generated content email campaigns with Stripo.
What is user-generated content?
User-generated content refers to any content related to your company, such as images, videos, text, or audio created by consumers. It can include social media posts, podcasts, reviews, and user testimonials on different forums and other similar platforms. Instead of just the brand promoting itself, encourage your customers to create content for your product, services, or company culture to collect user-generated content for your future email campaigns.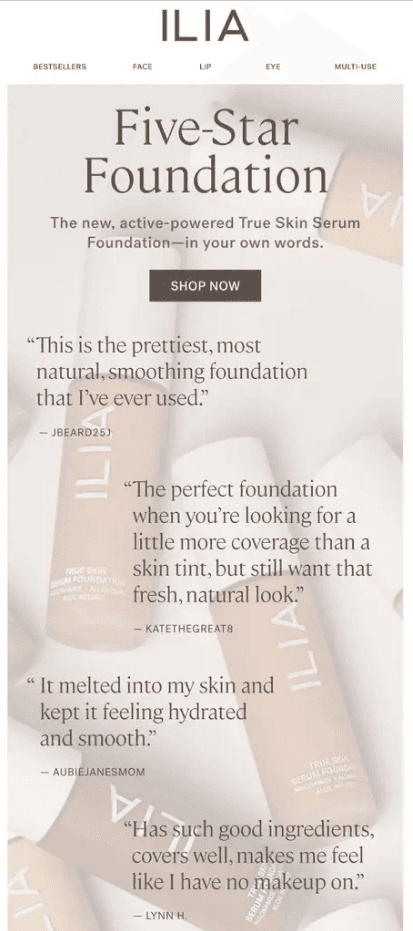 (Source: Email from Ilia Beauty)
Why you should incorporate UGC into your email marketing campaigns
User-generated content can be an effective tool for personalizing email campaigns. You can easily boost your conversion rates by collecting high-quality content from your customers' social media channels. And then, using UGC, create a digital marketing campaign that represents the company's preferable target audiences.
Build trust in your brand
User-generated content is your social proof. It has recently become commonplace for consumers to research a product, company, or service before purchasing. And yeah, the testimonials they read impact their final purchasing decision. As a result, by incorporating user-generated content into your website and email campaigns, you demonstrate to your customers that you are a genuine and reliable brand.
However, be cautious because fake reviews can be awful for your business. Demonstrate influencer content to your subscribers through email marketing campaigns to boost the consumer trust index.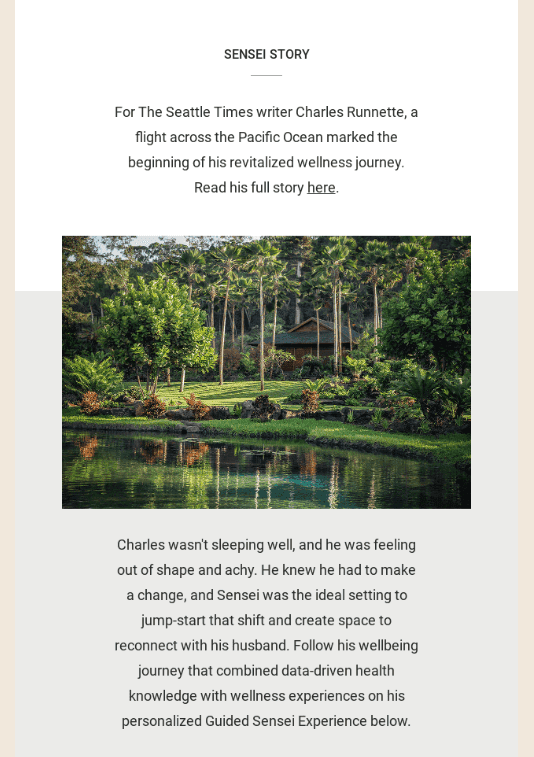 (Source: Really Good Emails)
Benefit from a cost-effective solution
Content affects all your marketing channels, from your website to media platforms to your sales channels, regardless of your business type. The goal of integrating user-generated content into your marketing strategy is to reduce time, build trust, and motivate more consumers to create branded content via videos and pics of your product, as well as encourage users from public customer reviews.
If you want to receive more high-quality content, you should offer some goods in exchange. Mostly, it's free of charge to ask your real clients for any product evaluation. Furthermore, it is common for customers to brag about their new purchases to their followers. However, it is less expensive than creating professional content from scratch. As a result, you put in less marketing efforts but receive higher conversion rates.
Enhance your ROI
Customer or employee-generated content can be cost-effective while also increasing ROI. In turn, conversion rate and ROI go hand-in-hand. You will more likely get more purchases with more users involved in your campaign.
Moreover, as UGC can be produced in large amounts at no cost, it has to reduce your marketing spend. And it logically follows that if you spend almost nothing on content marketing because consumers create it for you but still close sales, your ROI will shoot through the roof.
User-generated content statistics you need to know
Here are some statistics to motivate you to incorporate UGC into your email marketing strategy:
in 2021, nearly 70% of online shoppers read from one to six customer reviews before deciding whether or not to purchase a product (Statista).
The best ways to incorporate user-generated content into your email marketing strategy
The number of online consumers grows daily, and this trend will likely continue. So, here are the best ways to incorporate UGC into future email campaigns:
Add testimonials and reviews to your emails
Testimonials are intended to be user-generated content as well. Genuine human feedback is more likely to be believed by potential customers than commercial advertisements. At this point, you can ask your current customers to evaluate their previous purchases so that you can use them to make recommendations to prospects.
It helps the customer's decision-making process if they see a positive reaction to the product or service they want to buy.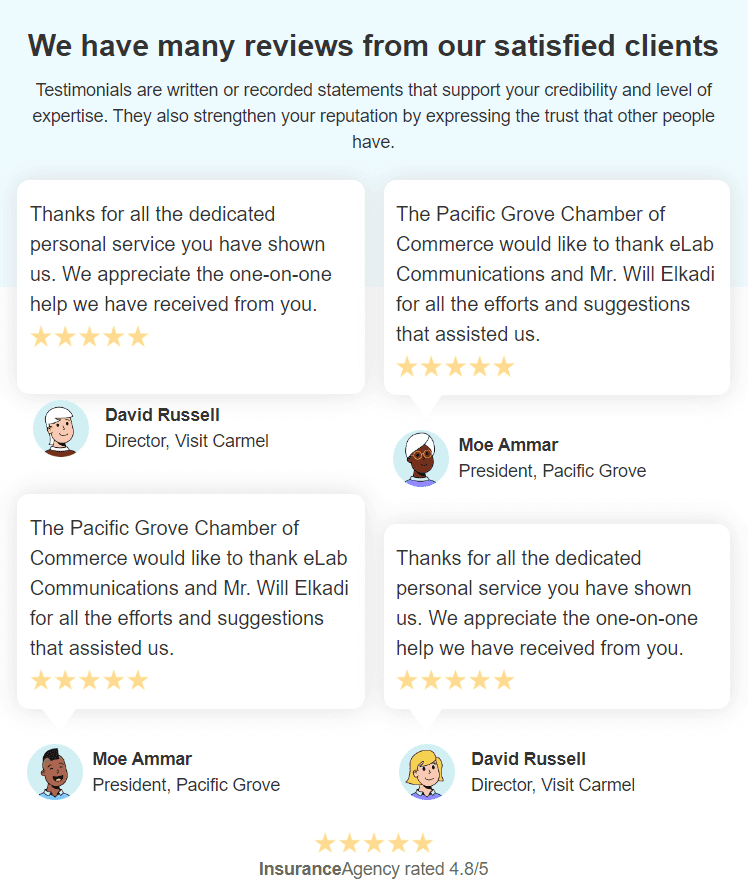 (Source: Stripo template)
Demonstrate your customers' photos
After conducting extensive research and receiving permission to use customer photos on your website or social media platforms, you have to post this user-generated content and frame it in some heartfelt story for your email marketing. Make this content personal, genuine, and appealing. With visual inspiration, your prospects will have confidence in your brand. Any daily routine stories about your product usage followed by an authentic picture will positively impact most customers.
Encourage more customers to submit photos of your service or product by providing gifts or special deals for their content.

(Source: Really Good Emails)
How to collect user-generated content
Run a hashtag contest on social media
Collect user-generated content by implementing a unique branded hashtag. Hashtag campaigns are great for companies as they have high engagement on platforms like TikTok, Instagram, Twitter, and YouTube. Tons of views, likes, and reposts in no time to help you boost conversion rates and produce community content. Get your potential customers engaged in the hashtag campaign by offering amazing prizes for the most popular or creative content.
Ask for a review in a post-purchase email
A testimonial is more credible because it represents the unbiased opinions of others. So, why not ask your clients to provide feedback on their latest purchases? Your review request might look like an open form or a quick survey.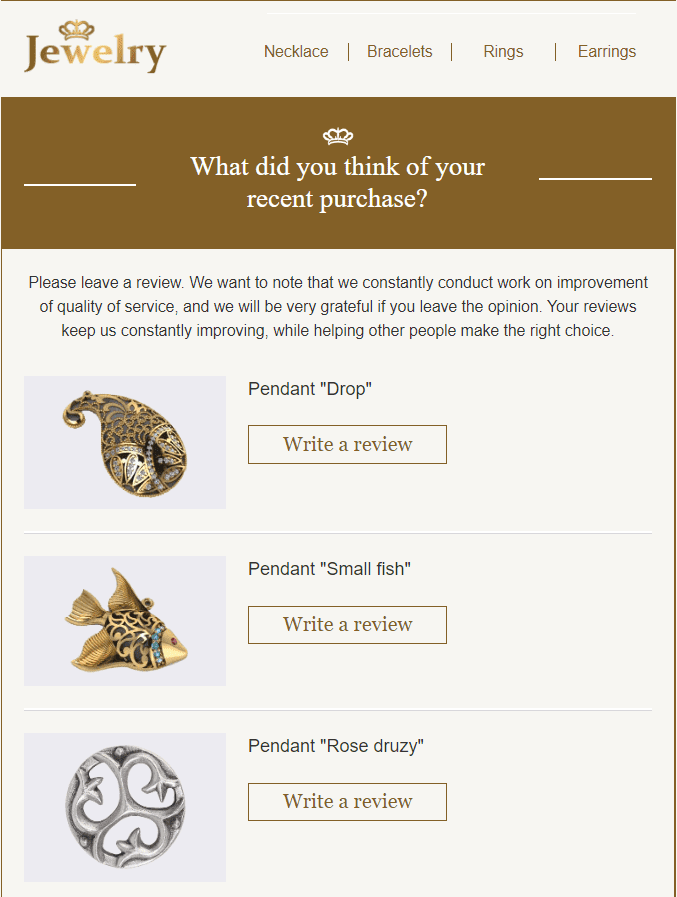 (Source: Stripo template)
A post-purchase email template will also direct your clients to the website, potentially leading to repeat purchases. As a result, you should incorporate feedback form templates into your email marketing as a part of UGC campaigns.
Allow customers to leave reviews on your website
Satisfied customers' positive reviews are a part of your content strategy. We recommend you make the "Reviews" section on your website. It will help you produce new user-generated content for email marketing.
Add AMP forms to your emails to gather customer testimonials
AMP forms are an excellent tool for your email marketing strategy. It's even easier with Stripo prebuilt templates! Ask about your customer experience directly in the email.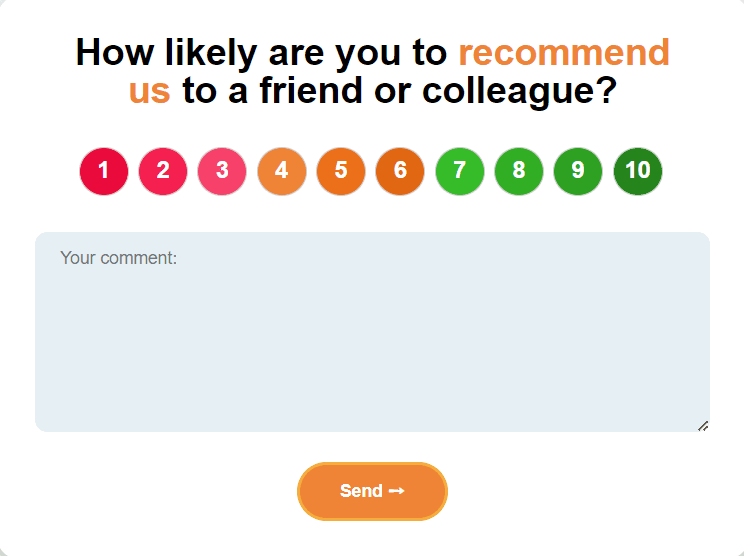 (Source: Stripo template)
Follow these easy steps to let users rate you in emails:
insert a one or two-column structure into your template. It depends on your evaluation rate: if you want to use five stars, you need only one column; for ten points, you will require two columns;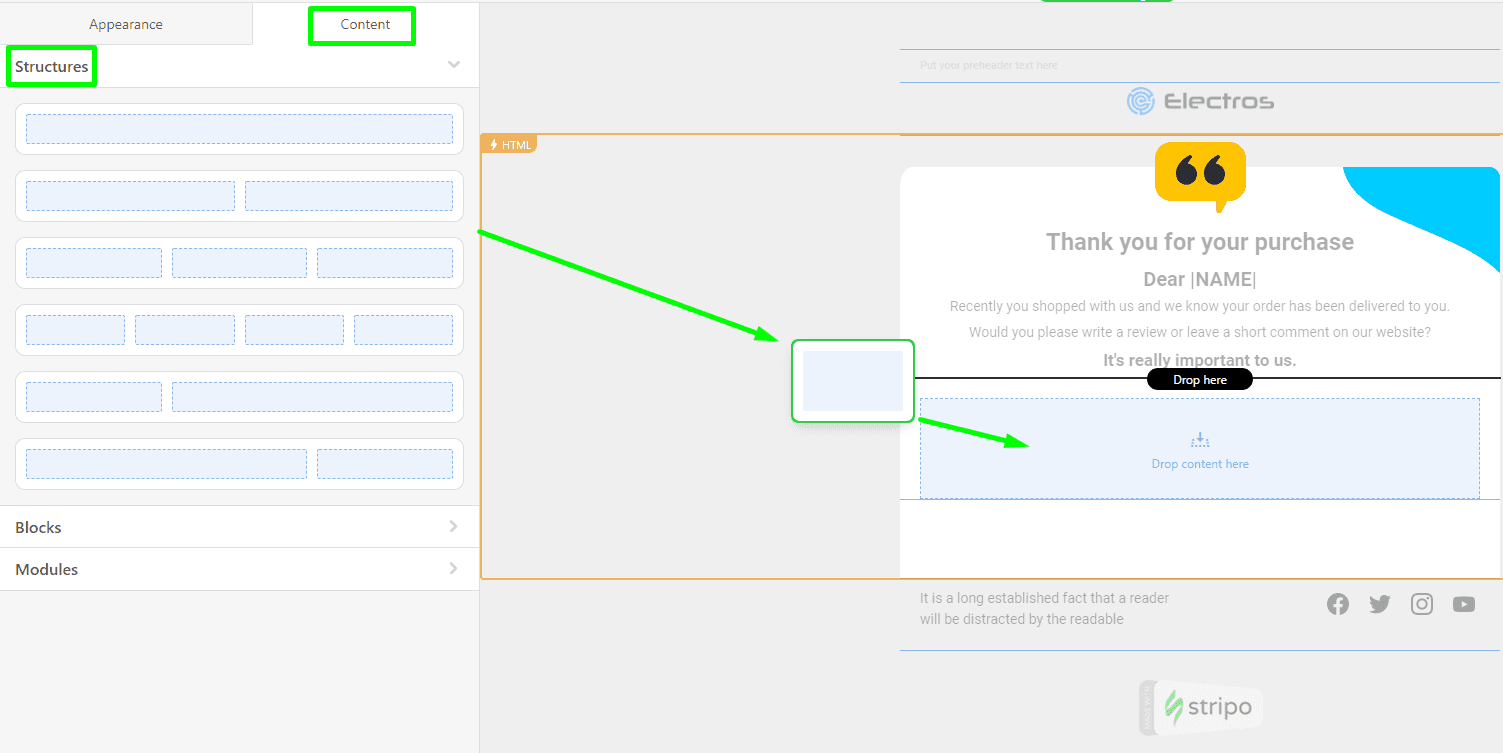 make a new Data Service and copy its URL;

click the "AMP HTML" icon to open the code;

remove the block's content and replace it with the following script (the rating code);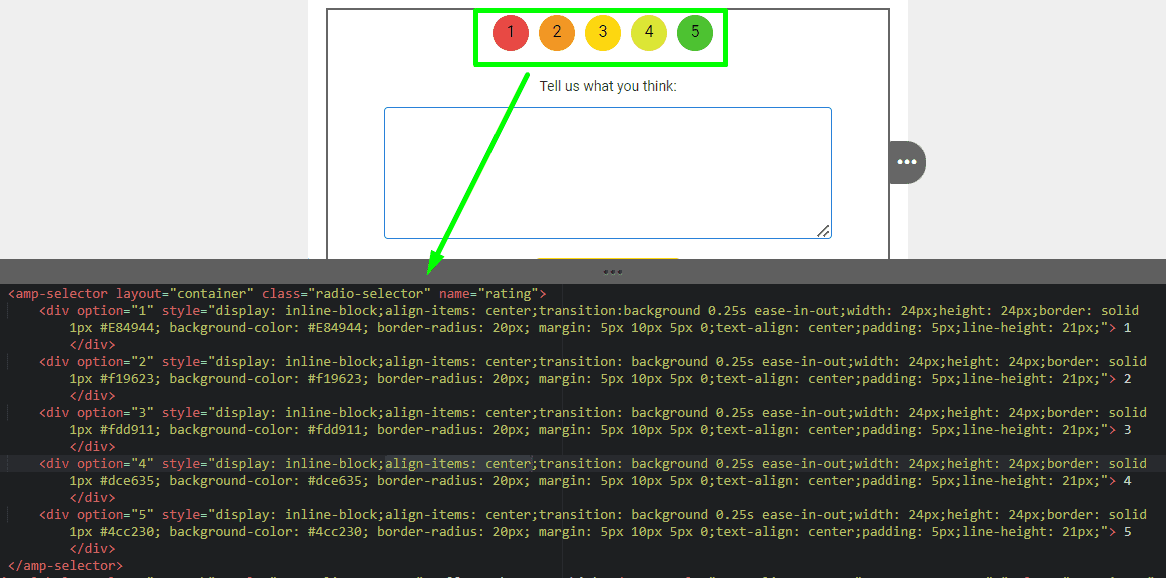 optionally, you can add an extended feedback area.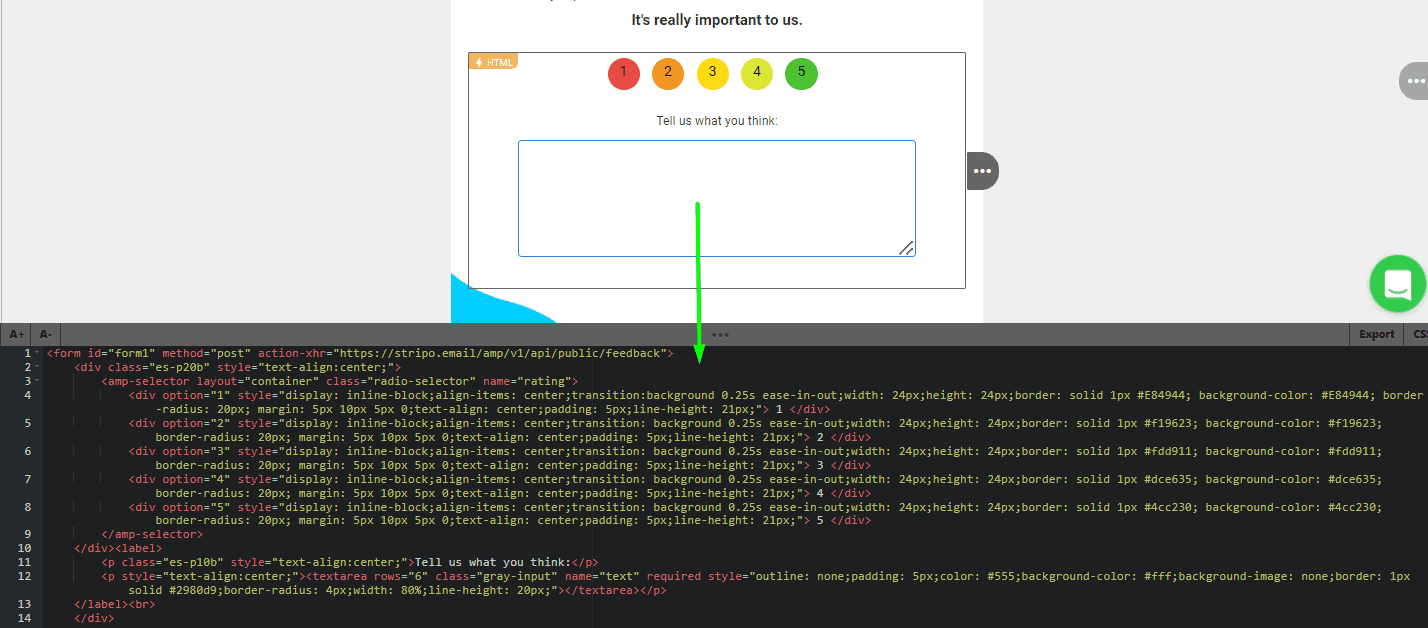 To simplify this process, you may use prebuilt AMP survey modules. Choose the "Pre-built" tab in the "Modules" section, then click the "Filter" icon to view ONLY the NPS AMP Modules. Select your favorite one, insert it into your template, and customize the module to meet your needs.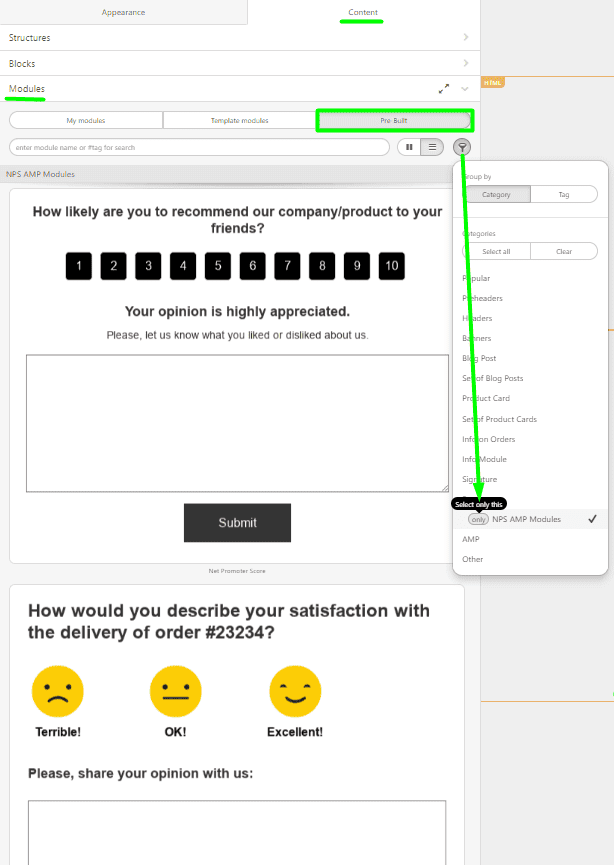 Please check this blog post if you require a complete guide.
Collecting user-generated content as part of your email marketing strategy will be easier with APM forms.
Find more examples and ideas for inspiration in the article about 8 examples of interactive content in emails.
Remember to ask for permission before sharing UGC
Any user-generated content must be officially approved by the customer who made it. Hence, remember to mention in the post-purchase email that any feedback or UGC content may be used in the opened sources.
Wrapping up
Adding user-generated content to your email marketing strategy is quite reasonable these days. Create personalized emails with visual content by collecting UGC images, videos, and reviews from existing consumers. Boost your marketing campaigns with more sales, ROI, and CTR at almost no cost. And last but not least, create a trustworthy brand community!
Stripo will gladly assist you with email building for user-generated content collection ;).
Was this article helpful ?
Thanks for your feedback!