Whether you work alone or manage a dedicated team, past-due payments can affect your financial goals. Invoice letters are an amazing tool to prompt clients to pay for products or services provided. A professional invoice template boosts client relationships and doesn't make recipients feel that you want to extort costs from them.
In this piece, you will find meaningful tips on how to write an invoice email and top-notch message examples you can apply to get your emails noticed among a staggering amount of other content.
Tips on how to write an invoice email
Your effective financial invoice should be succinct and legible. To create such email you should follow these tips:
Upload invoices as an attachment.
Add clear subject lines to invoice emails.
Use invoice email templates.
Describe all payment methods available.
Keep invoice email official and simple.
Implement introduction.
Send invoice in advance.
Make sure a recipient.
Send a thank you email after payment.
Let's talk about all these tips in more detail.
1. Upload the invoice as an attachment
Uploading your invoice as a separate file instead of putting it in the email itself is crucial. Let your clients see the sum of their debts, choose the most suitable payment method, and look through a detailed list of services they obtained from you.
It's better to use a PDF file for your document as it works across various devices so you can eliminate compatibility concerns. Don't forget to equip your attached invoice with relevant information like:
invoice ID number;
payment terms;
list of goods or services supplied;
total payment to be made.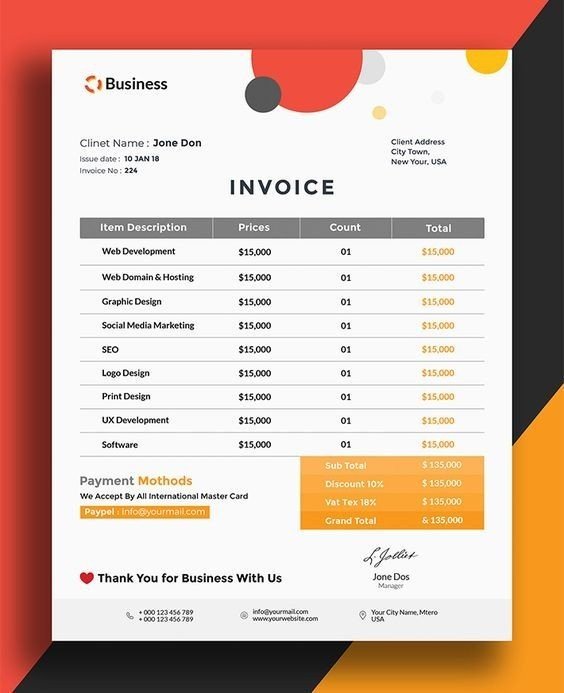 (Source: Graphic Design Junction)
2. Write a clear email subject line
It is the first aspect clients perceive about your message. What's more, 35% of readers open their messages based on the subject line only. We recommend you equip them with the following details to keep messages client-focused and gain your costs faster:
invoice number;
due date;
client's name;
project title;
your brand name.
We've got a few descriptive subject line examples you can use right away:
[Client's Name], Invoice [Number], for [Product/Service] from [Brand Name] Due on [Date].

[Client's Name], Here's Your Invoice [Number] from [Brand Name] for [Product/Service].

New Invoice [Number] to [Client's Name] from [Brand Name] Due on [Date].
3. Consider using an invoice email template
With prebuilt email templates, you will conserve your resources and get a splendid chance to send online invoices considerably faster. Thus, there is no need to compose a new text every time you need to send an invoice email. Invoice email templates will also make your communication process more consistent if multiple specialists handle billing and invoicing.
Make your invoice email templates versatile enough so that you can personalize them by placing clients' names and other crucial data effortlessly.
4. Keep your invoice email official and simple
Now that you are done writing a relevant subject line, developing a responsive business invoice template, and filling in all the meaningful data, let's make your email body specific and succinct. Keeping your messages both official and easy to digest will motivate your clients to open these emails and proceed with their payments in a timely manner.
Take a look at some useful tips for invoice generation:
keep the language accurate;
avoid using jargon, niche-specific business terms, and abbreviations;
be specific and don't overload clients with irrelevant information;
keep your invoice email explicit and limit it to 2 brief paragraphs;
use bullet points to keep your email structured;
thank clients for cooperating with your organization.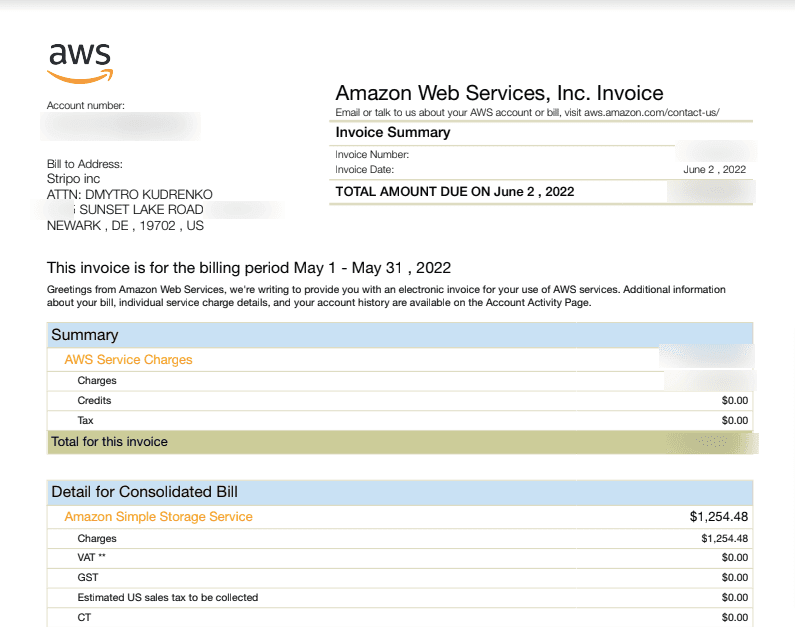 (Source: Email from Amazon Web Services)
5. Describe all the payment methods available
Make sure your customers understand how to proceed with the payment. Providing various payment options will attract a wider audience and motivate your clients to make larger purchases. You can incorporate such methods as electronic bank transfers, debit and credit cards, checks, and mobile payments.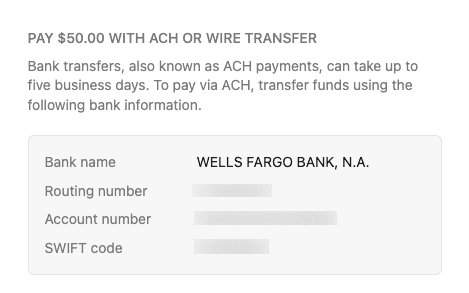 (Source: Email from Stripo)
6. Introduce yourself
Besides an invoice attached to your message, don't forget to remind recipients of what company you represent and the upcoming due date, include your name and position, and add a detailed list of goods or services your team provided. It will make your message more personalized and easy to digest.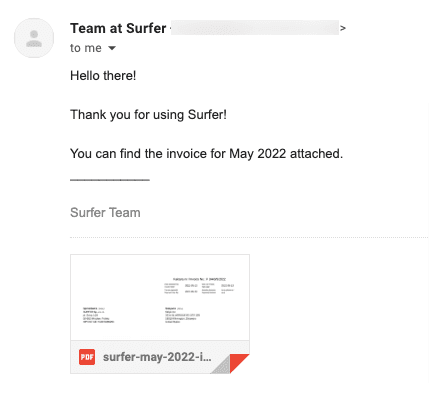 (Source: Email from Surfer)
7. Send your invoice in advance
To ensure that your invoice is paid on time, we recommend that you send it at least seven business days before the payday. Don't rush your clients to pay as soon as possible — this email is just a friendly reminder about the upcoming due date. Just give them some time.

(Source: Email from Microsoft)
8. Make sure a recipient got your invoice email
This tip will enable you to offer customers a tailored approach and address any possible issues they may face. Ask recipients to confirm if they got your invoice email message and encourage them to contact you with any questions or concerns.
9. Send a thank you email after you get paid
Make your consumers feel valued and special with a thank you email once their payment is made. Showing your appreciation for their business will boost your retention rate and motivate customers to pick your company over hundreds of alternatives.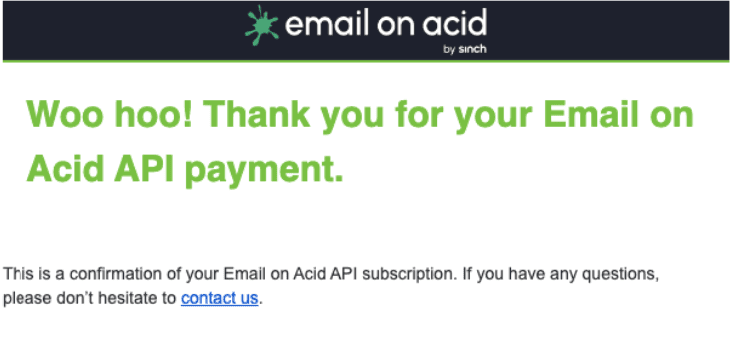 (Source: Email from Email on Acid)
10. Maintain brand consistency
When you are sending invoices, it's crucial to maintain brand consistency and make your messages recognizable. With Stripo, you can benefit from Brand Guidelines to use unified fonts, logos, color schemes, and CTA buttons across all of your emails. You can create Brand Guideline kits for multiple projects you manage.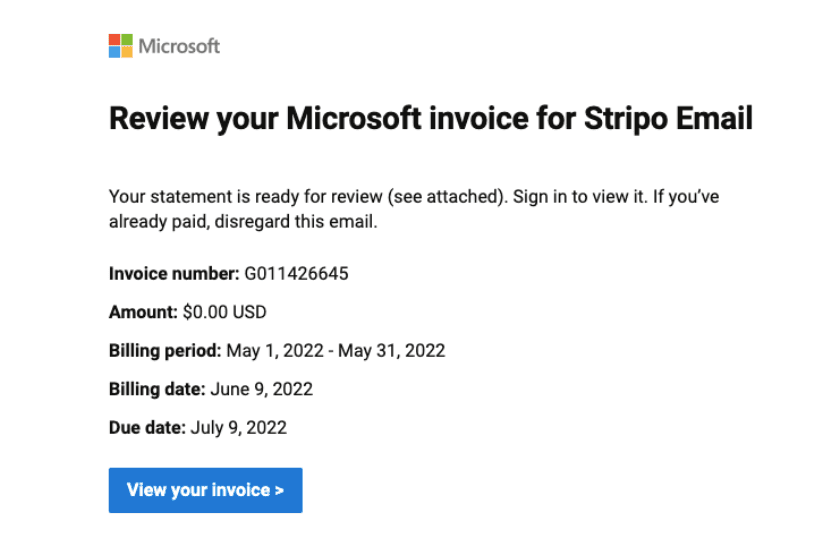 (Source: Email from Microsoft)
In case of any contingencies
When you understand how to write an invoice email that grabs attention and gets opened, you can still face some issues to deal with.
Sometimes you provide a client with goods or services but don't receive payment on time. No worries, it doesn't always mean that you are being scammed or taken advantage of. Clients might be forgetful, they can have issues with payment methods you offer, or the invoice can end up in the recipients' spam folder.
If you are working with a new customer, make sure to contact them within a day after sending your email. Clarify whether they got your message and understood how to proceed with the payment. Thus, you will address any possible contingencies, provide your clients with a tailored approach, and encourage them to cooperate with you again.
If a customer doesn't pay promptly, don't be afraid to benefit from follow-up emails to gain your payment. Such messages are usually more formal but still polite and patient.
Invoice message examples
Still not sure how to send an invoice email and make it look natural and unambiguous? We have created two invoice message templates for various situations so that you can fill in the essential details, upload a file, and send your message.
The initial invoice email — the invoice email template
Subject line: [Client's Name], Here's Your Invoice [Number] from [Company Name] for [Product/Service].
Dear [Client's Name],
I hope you are doing well and having a great day. Please find the Invoice [Number] for [Product/Service] from [Company Name] Due on [Date] attached to this email. Feel free to reach out if you have any concerns or queries regarding your project.
Thank you for doing business with [Company Name]. We look forward to collaborating with you again.
Kind regards,
[Your Name and Title]
[Company Name]
[Contact Information]
The follow-up invoice email — invoice email template
Subject line: [Client Name], Follow-Up Invoice [Number] from [Company Name] Due [Date].
Dear [Client Name],
I understand that you are busy, and my previous message probably got lost in your inbox. This is just a brief reminder that I haven't received payment yet for Invoice [Number] due [Date]. Please proceed with your payment via [Payment Methods Accepted].
You can find the original Invoice [Number] attached to this message. Don't hesitate to contact me with any observations or suggestions.
Kind regards,
[Your Name and Title]
[Company Name]
[Contact Information]
Build your attention-grabbing business invoice emails with Stripo
Stripo is an intuitive and responsive email design platform where you can produce messages of any complexity with minimal manipulations. You just have to design your invoice email template and export it to your favorite ESP, where you can automatically send messages to your clients.
Explicit invoice emails will enable you to acquire costs faster and enhance relationships with your clients. It's also a fantastic way to make your invoice letters more consistent when multiple specialists are responsible for invoicing.
Was this article helpful?
Thanks for your feedback!