17 January 2018
Design Tips for Shipping Confirmation Emails
Your clients commit a purchase and then cancel their orders. Or they do not shop with you twice. This doesn't help your business grow. Pretty sad, isn't it?
You wonder how to fix this situation? A good solution is sending out shipping confirmation emails… yes, yes… Shipping confirmation emails… Don't underestimate them. Create a proper one by using our email templates.
What information should they include, and are you supposed to work on the design? When should you send them out?
The answer is here.
What is a shipping confirmation email?
Shipping confirmation emails fulfill their important mission: they notify a customer that you are aware and proceeding with his/her order. They remind about abandoned carts. That the items he/she purchased are in stock, and what is very important: they are on the way to the client's home.
Here, we'll display the best shipping confirmation emails.
A shipping confirmation email is preceded by an order confirmation email.
Send the shipping confirmation emails as soon as you have any news. Keep your customers updated. Actually, all trigger emails, also known as transactional emails, should be sent immediately, just within seconds. Do not let people wait. The less they anticipate, the less they will be worried, the more chances they will like your service.
We need to mention advisable, if not to say obligatory, things which have nothing to do with the design.
The best practices for shipping confirmation emails:
The subject line
The first thing your customers see is the subject line. We have already talked a lot about it at the previous articles. But we want to repeat once again: in the subject line, mention the purpose of the email as it is the first thing the clients see when receiving an email.
E.g., Order#_Status Update
The items purchased
Once a client has ordered some products at your website, he/she wants to make sure that you are aware of it, that the price remains the same as mentioned on the website, and the quantity is exactly what he/she needs. Insert photos of the products.
Include this information in the shipping confirmation emails.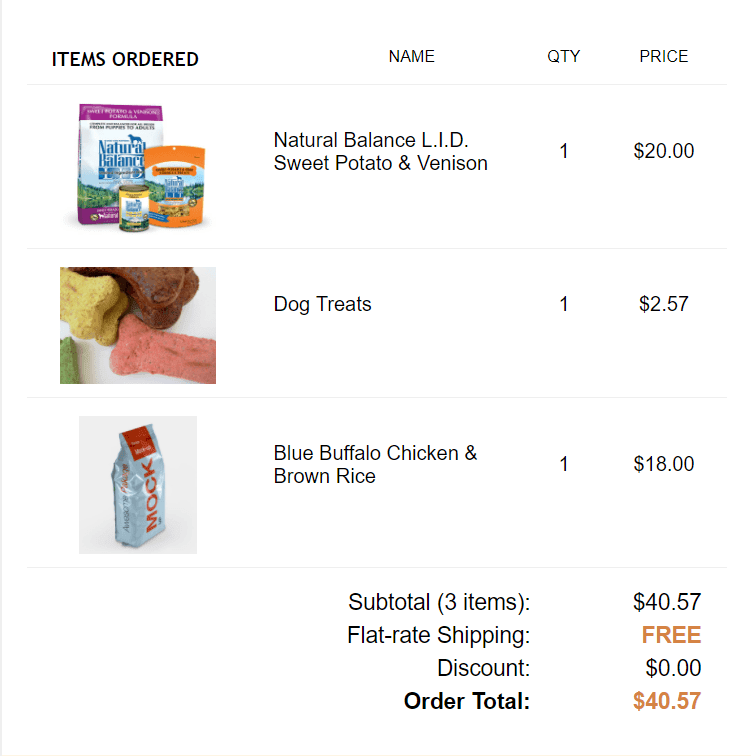 Reasonable to add the shipping and taxes rates (VAT).
Note! If some items are not in stock, notify a customer about it. Of course, you can offer him/her some other items to see or you can let him know if the item is back in stock within the definite time.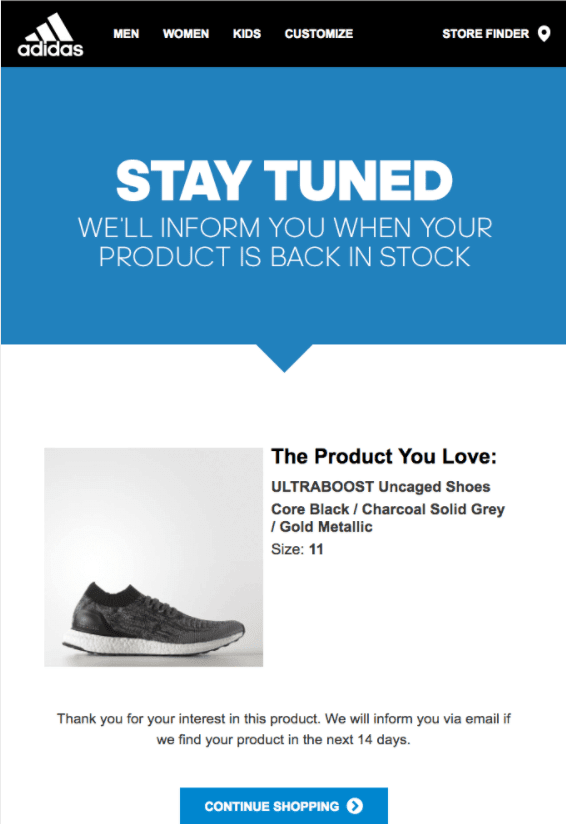 I love the way Adidas do it. They even mention the size, color, and name of the product which is absolutely great.
Time of arrival
The next thing to mention is the approximate time of shipping and day of arrival.
Of course, you should mention which way you will deliver the items: USPS or you have your own delivery team. The best way is to offer a choice.
We are all busy, consequently we need to know when exactly to wait for the parcel. Yes, we can ask you to leave the parcel on the porch. But in case you need us to sign the papers, we may need to take a day off. Which is why it is utterly important to deliver orders right on time.
Please, essentially important to notify the customers if you had to ship two packages. Besides, they will have two tracking numbers.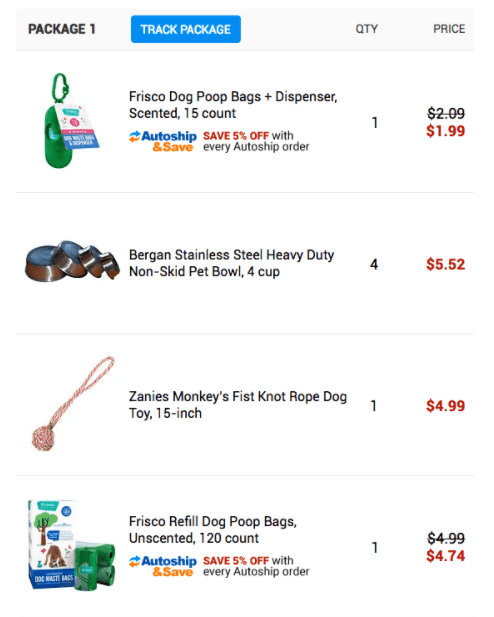 In order to keep your customers updated and provide them with the up-to-date information, we strongly recommend creating a short sequence of shipping confirmation emails.
The first one to mention that you are proceeding with the order.
Yes, this is pretty ok to say "We'll inform you when we've shipped".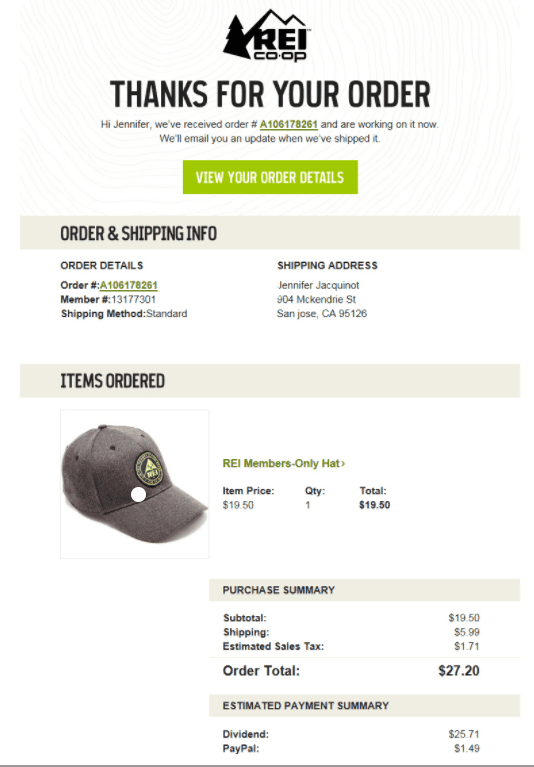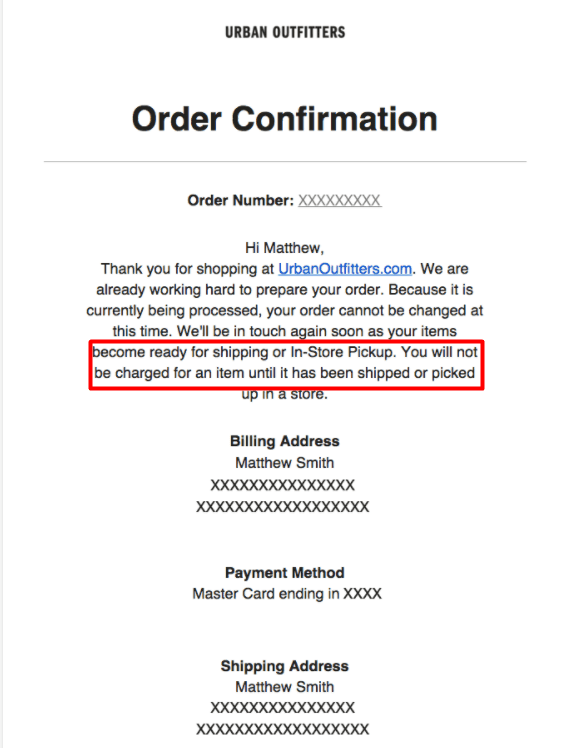 The second message should be sent once the order has been shipped.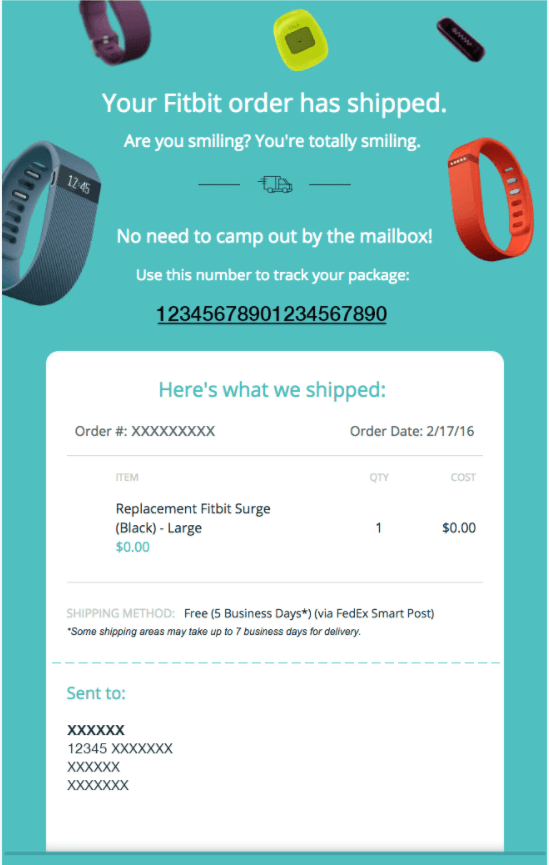 Here, mention the date of arrival, and the shipping method used.
Enable your customers to track the parcel. To dos so, you might need integration with a package tracking tool. Or just let users know the tracking number of their order that you sent via FedEx or UPS.
Note! Inform about any delay that you know of. People will understand that delivery doesn't depend on you or there can be definite circumstances which lead to delay but will appreciate your concern.
The third message should be sent upon order arrival.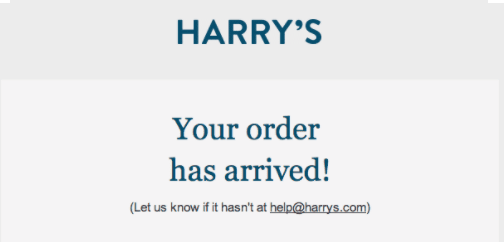 HARRY'S did a great job. They not only informed a customer about order status but also mentioned that the client can contact the company if something went wrong with the order delivery.
For your convenience and in order to save your time, use our built shipping confirmation email templates.
Reminder
Yes, you may need to send this type of email, too. And it will be really nice of you to track the orders and remind us whether we have not picked it up yet.
Make sure you add the tracking button and provide the customer with the tracking number.
The tracking button should be visible, and it should be one.
Don't hesitate to make the shipping confirmation emails colorful, insert a bright contrast button.
Recipient's address
When making an order, we, of course, write our address in the necessary fields but as normal human beings, we can make a few typos. Or we moved to another place since the last order and forgot to inform you about it. And you may send my items to the wrong address. Which is why it is very important to mention the recipient's address in the order confirmation and shipping confirmation emails.
You can do it in two ways: either write down my address or include a map with my address.
That would be nice and will grab my attention for sure.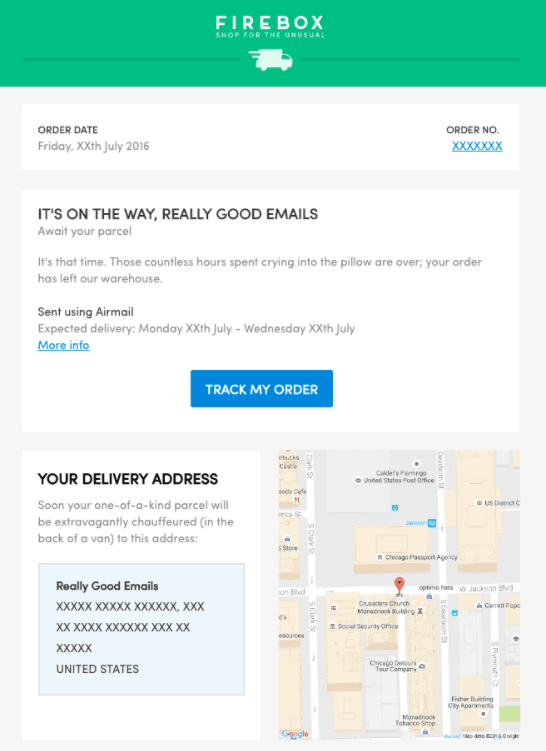 Some companies do it for international shipping. They include the world map. I love it.
Survey Invitation
Upon delivery, you are supposed to send the follow-up email to ask the customers for their opinion. The tendency is if people are not satisfied, they will let you know but if they are, they are likely to consider it as something normal, and will not go to your website to leave a feedback unless you ask them to.
For more detailed information on the survey invitations, read our previous article.
Design
Now that we have displayed a big number of shipping confirmation email examples, we should talk about the design.
CTA button
Many companies make these messages pretty pale, they do not use the colors.
Of course, if you can also do this if you please but then make sure the CTA button is bright enough, be it a tracking button or view the order button. Even if you insert the tracking link, do not make it grey or blue. Make it green or orange.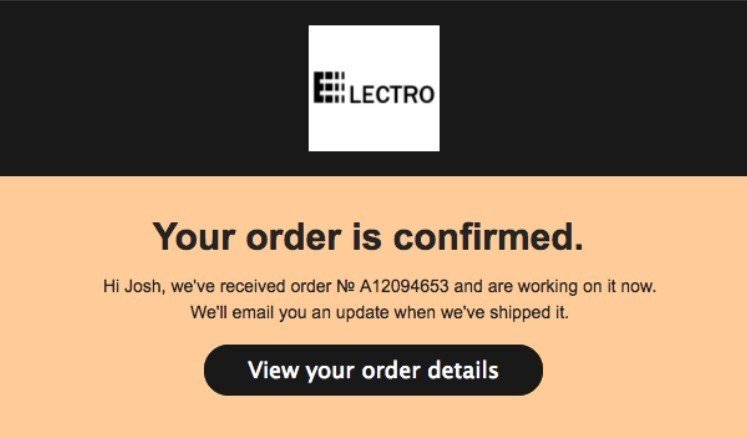 Colors
There is no common rule whether to use bright colors or to write down just a plain text. So we recommend combining them. You either place the information on the bright banner or add your company logo and use brand colors.
Your own feature
We also love the way Etsy do it. To all their shipping emails, they add a blue lorry with a big yellow box on top. Btw, this is not their regular design. This is their feature for this type of messages.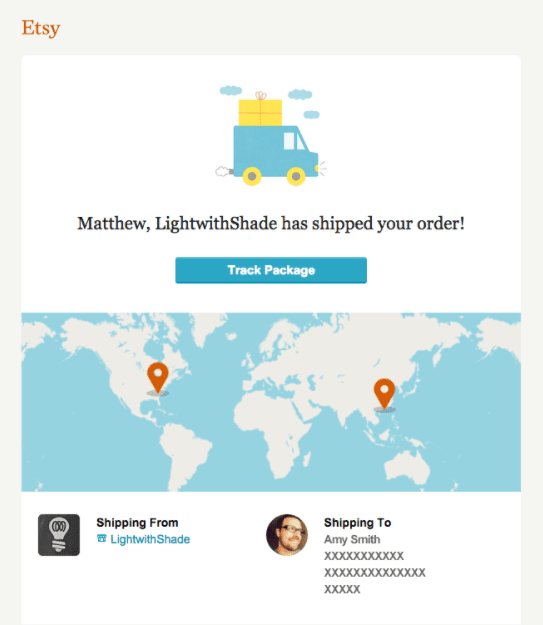 Gratitude
Gratitude has nothing to do with the design. But we strongly recommend saying "thank you" to all of your customers for their purchase.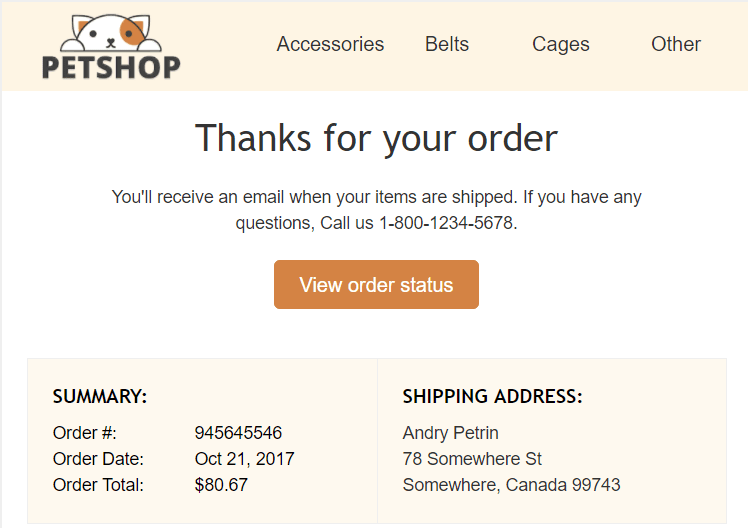 It is up to you to decide where to place it but the most common way is to put it at the beginning of the message/ on top of it.
You may just type a text in colors matching the brand strategy but also you can create something really unusual.
For instance, include a happy, smiling pet.
Responsive web design
Always! No matter what purpose your emails serve, make them mobile friendly. Easy to do it with Stripo. Just turn on the "adaptive structure" button, and then check the way your message looks like on a mobile device.
With this option on, your containers will be located one below the other on any mobile device.
Conclusion
Shipping confirmation emails are extremely important. Without sending them out, you may lose a big number of your customers. In order to save lots of your time, you should automate the emailing process. There are many marketing email service providers like eSputnik you can use.
Rules to follow when creating a shipping confirmation email:
Stick to the brand colors;
Confirm the items ordered;
Inform about the shipping method;
Mention total price, including taxes;
Say "Thank you to your customers".
The more you communicate with your customers, the more chances they will get back to you.
Use our built shipping confirmation email templates.
If you have any questions, please, feel free to contact us at contact@stripo.email or join us on Facebook.
I hope you find our recommendations useful and will implement them.
I sincerely wish you best of luck.