Imagine you order something online and... get nothing. You sit and wait, wondering if the order has gone through or if the payment was successful. You have no idea if they are going to send you the order. It's much less likely that you will come back to this seller in the future, isn't it?
We all work for clients no matter what type of service we provide. It's nice when you redirect the customers to the order confirmation page. However, you still need to send confirmation emails so they can get back to it anytime and check the order details.
Order confirmation email templates require special treatment and approach. The better you manage creating order confirmation emails, the more clients you attract in the long run.
Order confirmation emails are event-triggered. And there are three main types of them:
Order confirmation email
Typically, this is a transactional email sent to an online store customer and proves the purchase. This message contains basic information regarding the purchase, such as order summary, shipping details, and estimated date to expect delivery.
You can also add links to the website, social media icons, and helpful information about loyalty programs for the next purchase.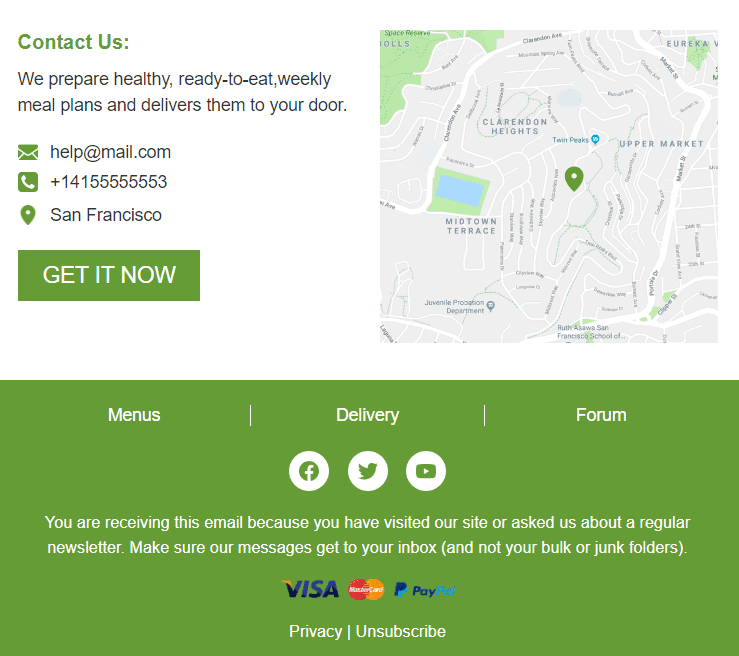 Cancellation confirmation email
Cancellation confirmation emails are those that businesses send after the customers decide to cancel the order or withdraw the subscription to the services.
Such emails can be used as an opportunity to re-engage the customers by offering something valuable to them, collecting their feedback to improve the quality, or driving traffic to the website.
Shipping confirmation email
Shipping confirmation emails notify customers about the fact that their order has been sent. They usually contain an estimated delivery date and a tracking number.
It helps your customers feel more secure about the delivery and organize their schedules accordingly.
Content of order confirmation emails
Although we have plenty of confirmation email templates you can get inspiration from, we still have some general tips you may find useful.
First of all, confirmation emails are typically simple. You don't need bright designs, colorful backgrounds, or festive fonts. It's essential to deliver all the information, though. Here are the key parts:
1. Work on the order confirmation email subject lines
Confirmation email subject lines have to be brief yet informative. People receive dozens of emails daily, and order confirmations can easily get lost in their inboxes.
Therefore, you should mention the order number and express gratitude or mention the stage the order is at. For example, "Thank you for your order — 12345" or "Your order has been received — 12345" work just fine.
It would be perfect for easy access if the sender name contains your brand's name, as in "Max from The Brand Name" or simply "The Brand Name." Otherwise, you should mention it in the subject line.
2. Include a list of products in your order confirmation email
It doesn't matter if it's a first-time customer's purchase or if it comes from an existing customer; it never hurts to mention the order summary or a booking confirmation after an online purchase.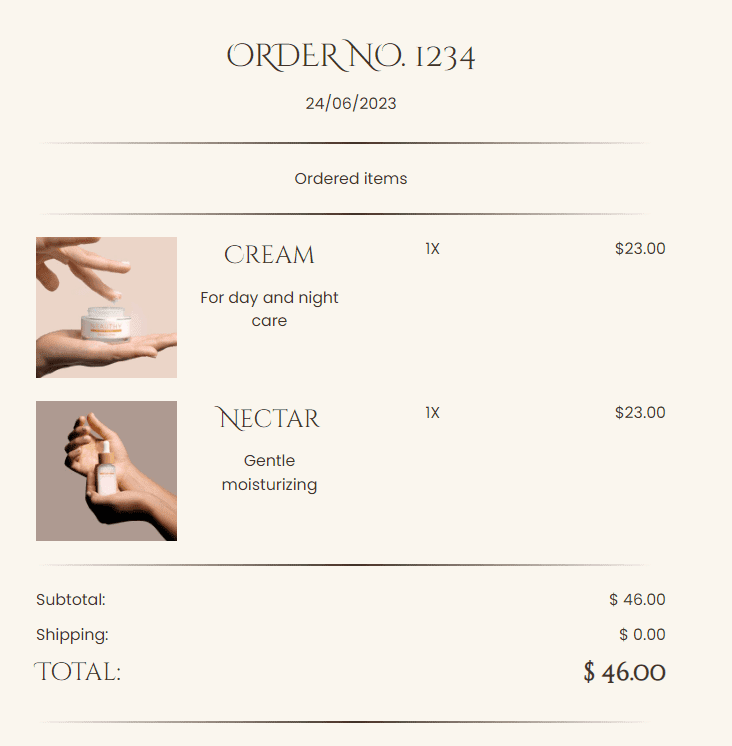 You can also use the opportunity to cross-sell and offer some relevant products to the items purchased.
3. Add a total amount to the order confirmation emails
Most customers would appreciate a digital receipt from an eCommerce store to easily identify the total cost of the purchase. In addition, you can mention more order details, meaning the price for particular items.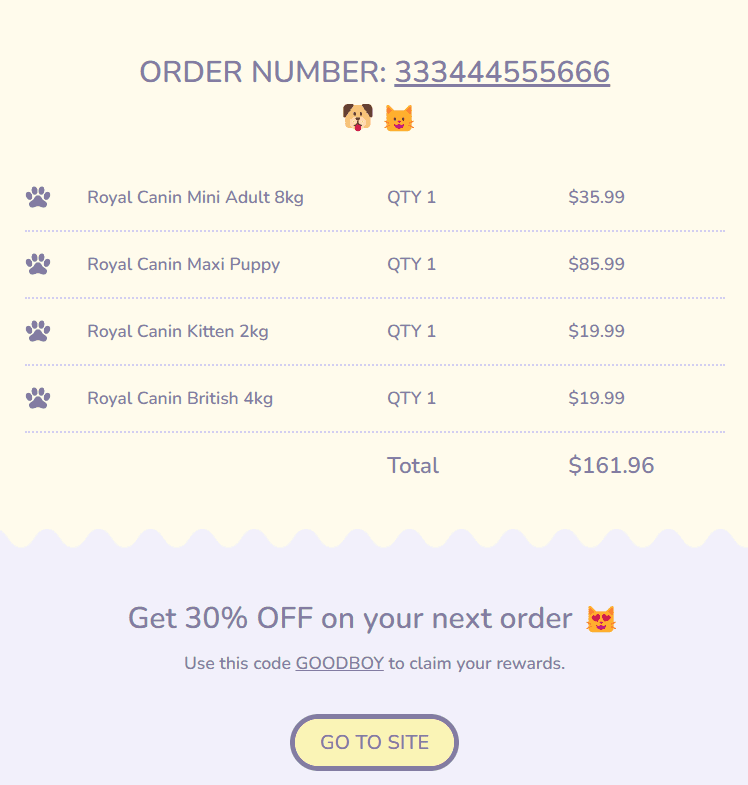 4. Add payment methods to your order confirmation email
As order confirmation emails show the amount of money paid, it would also be nice to mention the payment method used. It can be important for people to calculate their spending, especially when it comes to family budgets.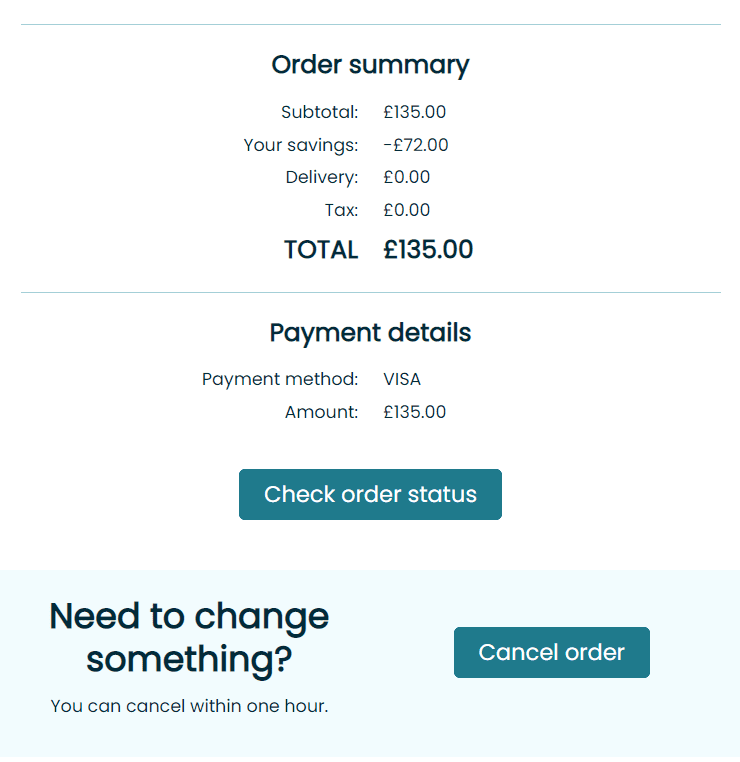 Some businesses also add a billing address to a confirmation email template.
5. Include the shipping address in order confirmation email templates
Ideally, shipping information includes a shipping address, a tracking number to track an order status, a date when to expect the delivery, and other details.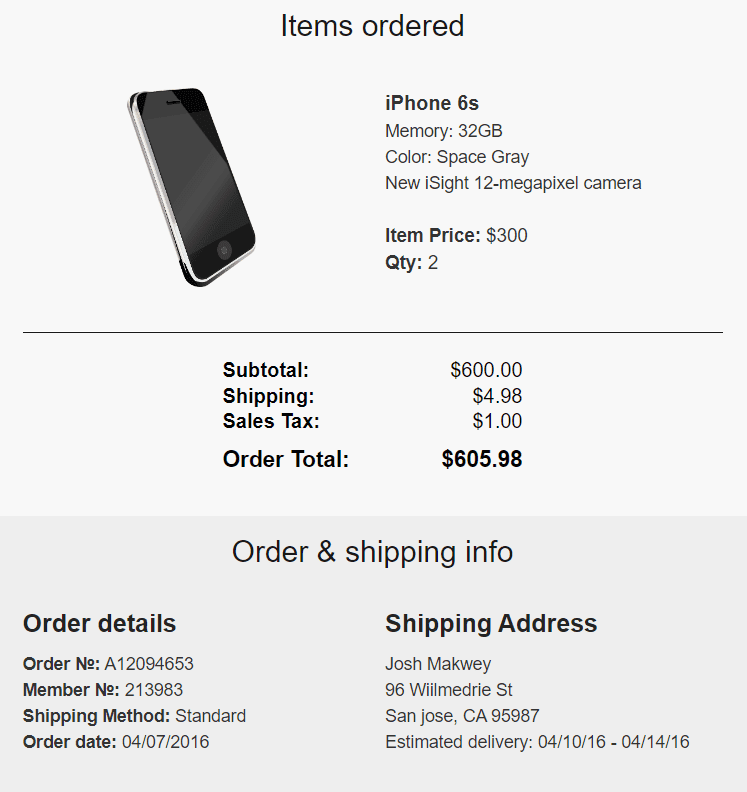 It's crucial to mention the shipping address because people may forget if they ordered the delivery to their office or home. And it can be easily checked via one email.
6. Add contact information to order confirmation emails
When it comes to email confirmations, anything can change at any time. Mistakes can be made, too. To protect yourself and help the customers feel calmer, provide the contact of your support team.
In addition, this is a great time to collect customer feedback or let them know about a referral program if you have one. Of course, it would be nice to leave links for social media so that customers can interact with your brand.
Why do we think that our confirmation email templates are exactly what you need?
1. Smart elements
Smart elements significantly reduce the time you spend on creating order confirmation emails. With Stripo, the process is even faster.
Due to our smart elements, you can insert links to images and their prices into your order confirmation email templates. Then, the system will fill out all the necessary fields for you. You set it up just once — and use it as often as you need.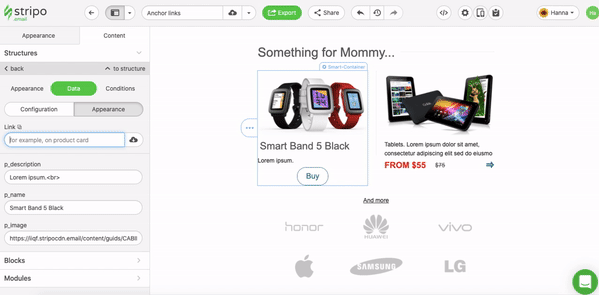 2. Library of blocks
If you do not want to spend time creating similar blocks every day, you may build the ones you need and save them to our library of blocks.
Another option that Stripo provides is a general library of pre-made blocks, such as basic ones (text, pictures, social media), containers (spaces to group elements together), structures (like columns), and stripes to set the backgrounds beyond the email boundaries.
This way, you can save plenty of time on such a routine thing as transactional emails.
3. Open HTML code
At Stripo, we believe that customization is key. That's why we let users edit as many email elements as possible.
Using our platform, you can work with HTML and CSS email templates created in any mailing system or code editor. We're here for you if you need to change the text or pictures quickly.
Also, you can add additional features to your order confirmation email templates. For example, you can easily embed maps into order confirmation templates. This way, you enable your customers to track their orders.
4. Modular email design
Modular email design is a fantastic tool to speed up the production process. You only need to define what elements you use more often (header, footer, product cards, etc.), design them once, and save these modules for further use.

You can adapt modules to your brand style and reuse them whenever you need without spending time creating the same elements.
Get inspired by our order confirmation email examples, implement your own ideas, and satisfy your customers with beautiful emails.
5 best order confirmation email examples
We are glad to share some of our best templates you can use to engage customers and establish more qualified connections.
1. Here it comes
This is a great example of a confirmation email template.
You can immediately see all the important details: the link for the order confirmation page, shipping information, the list of items bought, a summary, contact for assistance, and the link for the Returns and Exchanges policy, just in case.
At the bottom of the email, there are also additional links to stay in touch with the brand.
2. Bob has shipped your order
Here's a good order confirmation email template if you have a marketplace. Therefore, you can add more mentions of your brand in the letter and personalize it a bit.
The body of this email is quite brief: only the list of shipped items and the link for the receipt and tracking. There's also a colorful design to set the right mood :).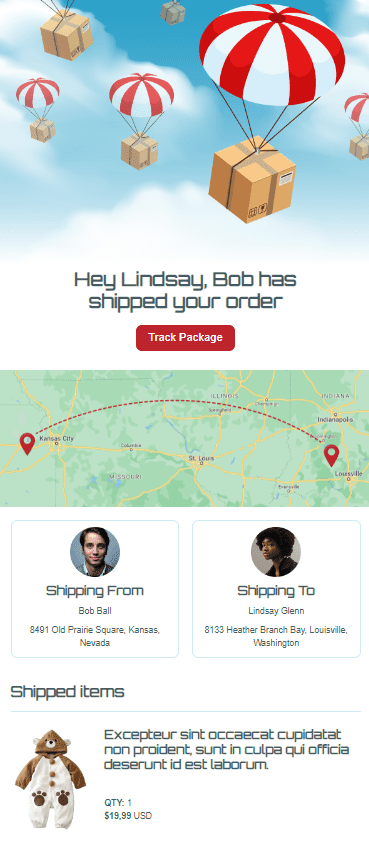 3. Rate delivery
As we mentioned before, confirmation emails are a good way to collect customer feedback. And this confirmation email template is a good example.
There is a call to action — to rate the service. And the feedback form is embedded into the email, so it doesn't require any extra actions. You can check this article to learn how to build email AMP forms.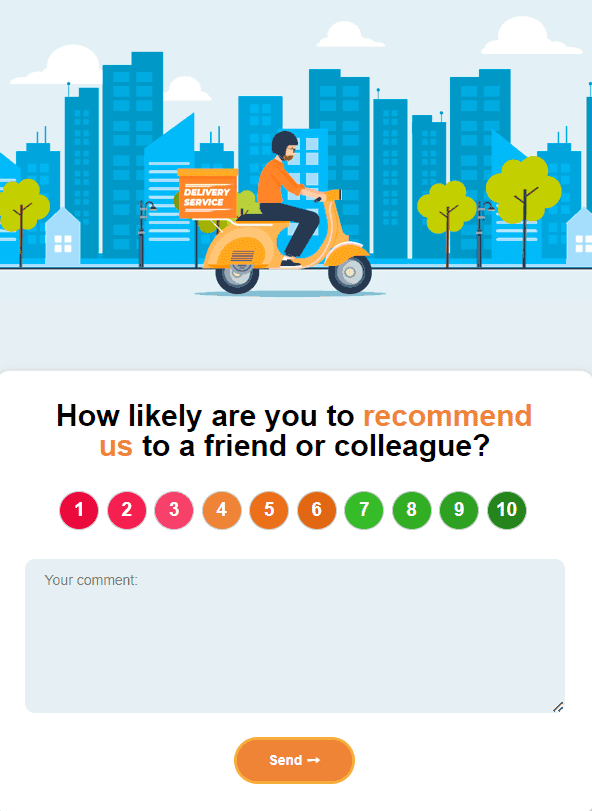 4. Your food is coming
Apart from the order status and the list of items, this order confirmation email template is a nice example of a cross-selling practice.
You can see the featured products are at the bottom of the email and are not at all intrusive. They are relevant to the last purchase and invite customers to visit the website and place the next order.
If they are not ready to buy anything now, customers can always get back to this email, and these featured items will remain there.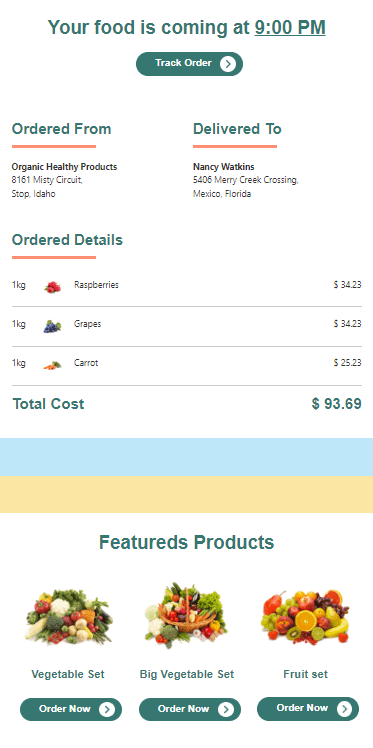 5. Order is on its way
The advantages of this example are in the links for the frequently asked questions.
Of course, the support team is always there to help the customers. However, people may need some answers right away or feel not really comfortable getting in contact with someone.
That's why creating such links with relevant information is a good idea to entice customers.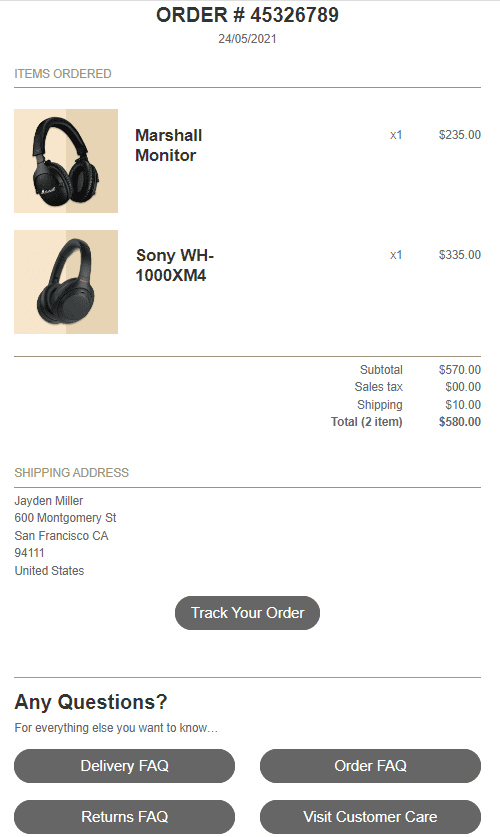 Wrapping up
Order confirmation emails are a perfect way to maintain stability in customer relationships. Even though the primary goal of such emails is to notify them about any updates on the order, a stronger connection will be built in the longer term.
Let's briefly summarize the content of confirmation emails:
prepare laconic and informative subject lines so that your customers can easily find the message in their inbox and check the details if necessary;

insert a list of ordered products (ideally, with pictures) to make the user experience more convenient — customers can see if they placed a correct order;

mention the total amount (including taxes, delivery cost, and additional expenses) to let the customers know how the price is formed;

add a payment method that was used while making the order in case your clients track their spending and need this information for analytics;

include the shipment address to avoid misunderstandings or mistakes and make sure the order will be delivered where the customers expect it to be;

don't hesitate to leave the contact of your support team and links to your website and social media to stay in touch with the clients.
Considering all the above, you can engage subscribers, improve customer retention rates, and increase sales! Sounds great, doesn't it?
Now, we wish you luck with further campaigns. And remember that we're always here to help!
Join over 950K users
Start for free — upgrade anytime