11 June 2020
Best Practices to Build Password Reset Emails
When it comes to data security, users need to be sure that you are on their side. At the moment when they need to change their password, you should provide them with this opportunity and do so in a way that you won't lose their trust. Otherwise, the outcome is not certain.
In this article, we're going to find out what makes a password reset email great. Shall we?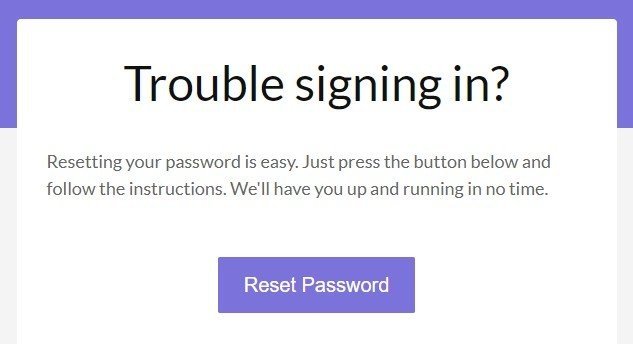 What's important in the password reset email design
As all that users expect from this email is to change their passwords, the design should be simple, understandable and it has to solve their request.
For this, it is important to consider several password reset emails design ideas:
clearly state in the subject line what kind of company you are and when the users have requested to change the password;

add brand identity into the body of the message so that the recipients finally understand who is writing;

add password reset link;

make a prominent CTA;

add support contacts or icons with links to your social networks.
And to make it in an appealing way take a close look at our list of 11 email examples and tips.
Best practices of the password reset emails
To make a neat and relevant email you need to take the following pieces of advice:
1. Make it really short
One sentence might be enough. Sounds odd, right? How can an email consist of only one sentence? Still, it's possible. 1 illustration, 1 sentence, and 1 CTA can actually make your users happy. They got a requested opportunity to reset a password and none of the unnecessary information.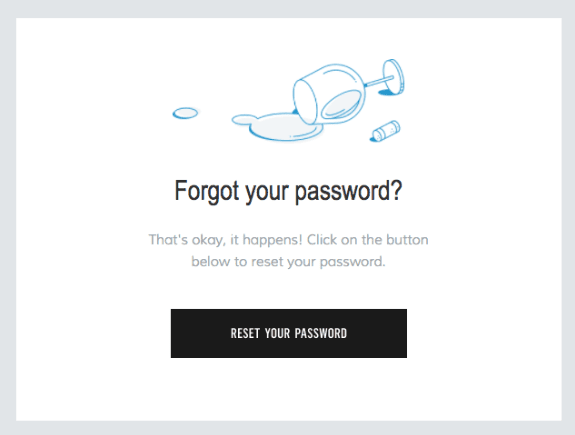 (Source: Newsletter from Verve Wine)
And another example of the minimalistic password reset email ideas from Lingo.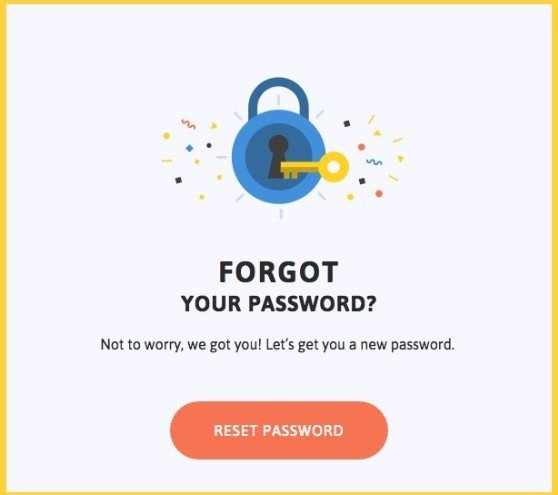 (Source: Newsletter from Lingo)
2. Add a meaningful banner
Banners are always a great idea for email's key message — recipients will immediately understand why they have this newsletter in their mailbox once they open it. Plus if you're a design-related company, like VSCO in our example, you can refresh the user's memory of how good you are at your job.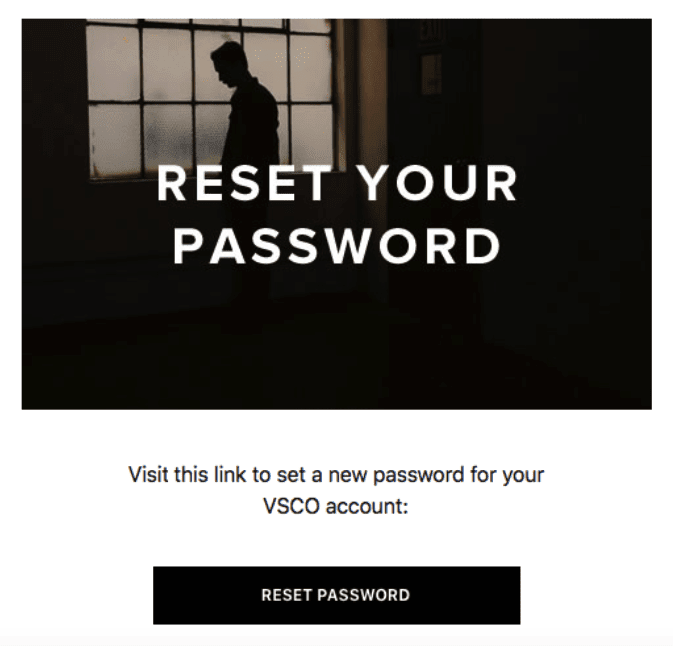 (Source: Newsletter from VSCO)

3. Add a "password reset" link along with a button
It's always better to prevent your users from possible errors rather than reply to their angry messages. Sometimes buttons might not work and to avoid such a situation, add a link along with a button. Thus your subscribers will be able to reset a password even if a button is broken.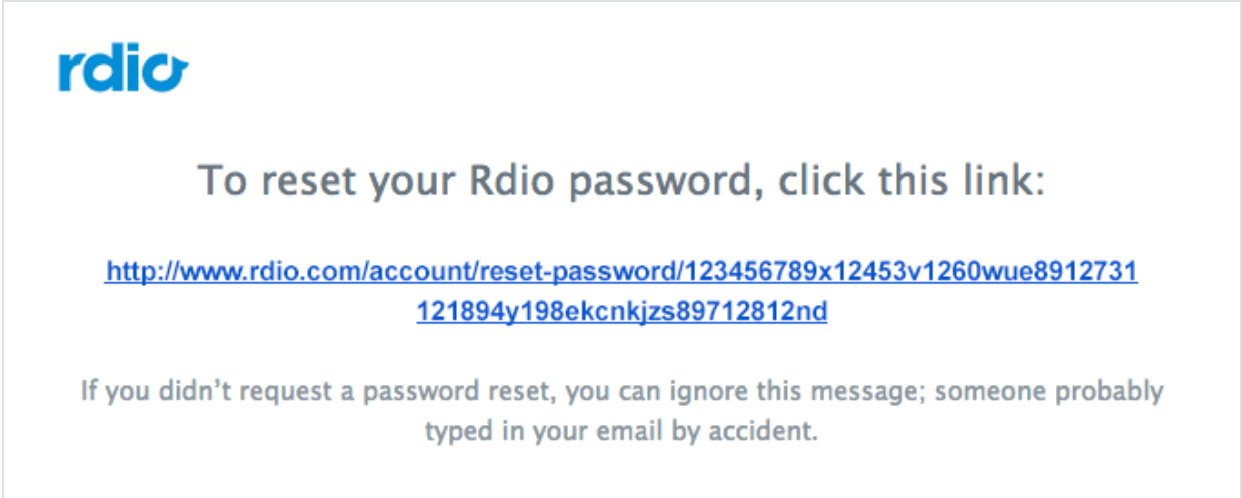 (Source: Newsletter from Rdio)
4. Include essential details
Best practices of password reset emails also include a reminder to your recipients when exactly they requested to change their passwords.

(Source: Newsletter from Stripe)
5. Send a confirmation email
I don't know how about you but I have so many accounts that sometimes I forget passwords. And then I forget that I've reset the forgotten password. And next time I try to log into my account I might get frustrated why the password is wrong (and I'm entering a forgotten one). It sounds weird but it happens. For such users, it'd be better to send a confirmation email where you show details on when the password was changed.

(Source: Newsletter from Harvest)
6. Explain what to do if users didn't request to reset the password
Another crucial part of reset emails is a block with explanations on further steps if someone else tried to reset a password to your users' accounts. There are 2 options that your recipients can do. The first one is to ignore the reset email as Slack suggests.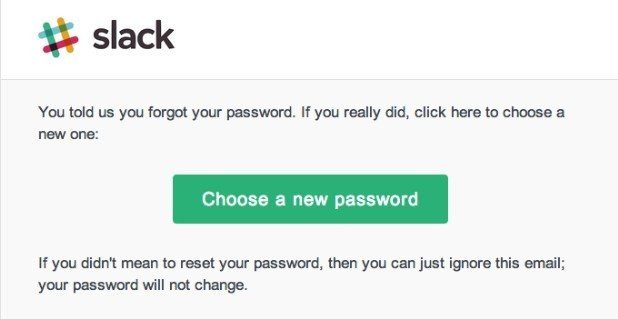 (Source: Newsletter from Slack)
The second one implies sending a form where you prove that you didn't request a reset.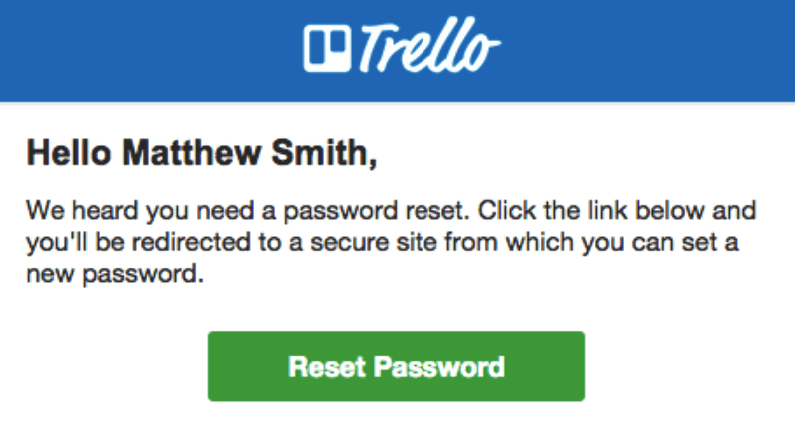 (Source: Trello)
7. Spend less time on creating an email
For your convenience designers at Stripo created over 250 ready-to-use content modules. Each of them was carefully prepared and well-designed so all you have to do is upload needed images or edit some text. Or you can pull in your own modules that you store in your Stripo account, which remain the same from email to email. And just pull necessary blocks into the mail body.
Another nice thing about these modules is that you can reuse them as many times as required for various newsletters.
8. Add a logo or any visual brand attribute
Sometimes people tend to memorize visual identity instead of text names. Ensuring your users will recognize you no matter what with logo, banner with the company's name, gif, etc. at the top of your email is probably one of the most crucial password reset emails design tips. Recipients are already stressed out, try to ease their lives as much as possible.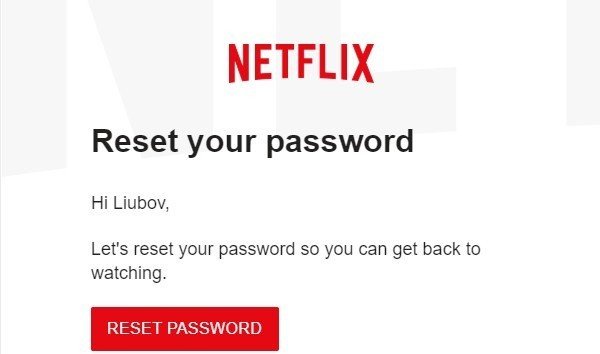 (Source: Newsletter from Netflix)
9. Add links to your social media profiles
That should be done not in order to increase the number of followers but to ensure recipients that they can contact you via different sources and their messages will be read. Include all profiles and messengers where you can quickly process incoming requests.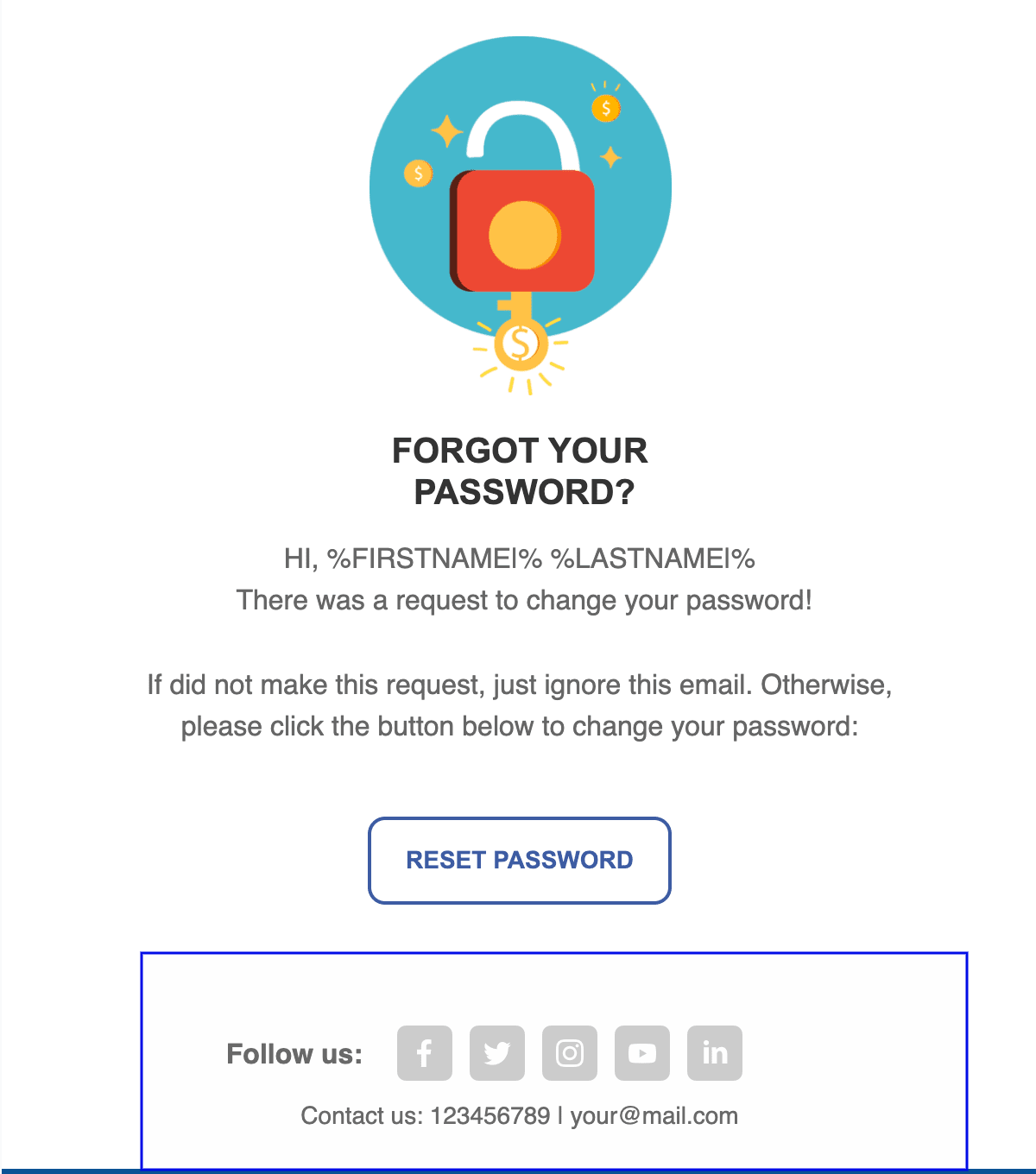 In our "Social media" blog post, we show how to add social media icons in emails with Stripo in literally under 1 minute.
10. Include details on the expiration time
This piece of advice is among the best practices for password reset emails. Security specialists recommend using links that cease in a soon time (preferably in 24 hours) thus no one else would be able to use this link again. Point out the expiration time so the recipient won't miss it.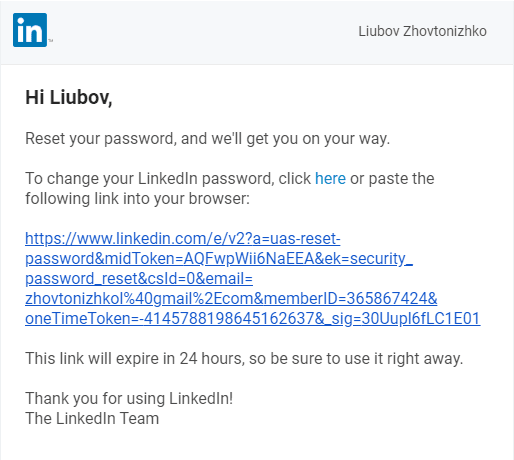 (Source: Newsletter from LinkedIn)
Valuable information. As links sometimes are long and in order to prevent unsightly horizontal scroll, we recommend that you enable the word-break function while editing an email with Stripo. In this case, you'll get a nice link that will fit even on a mobile screen.

11. Highlight the terms under which users can be blocked
Last but not least amid tips for password reset emails.
Sometimes users who try to reset passwords can have a bad connection or any other reason for not receiving a reset email immediately. And what do these users do? Right, they click on the Reset button on the website as many times as possible. And in a few minutes, they receive several password reset emails. And which one should they use now?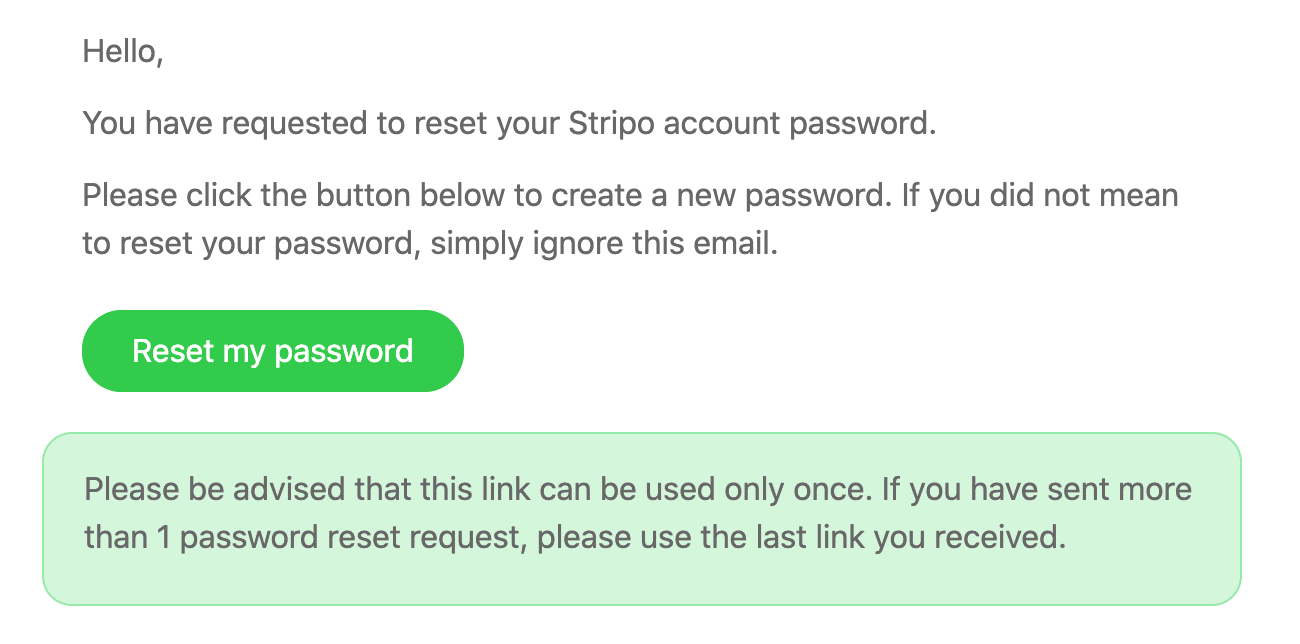 (Source: Newsletter from Stripo)
Some companies don't satisfy lots of attempts to change a password. They determine numerous requests as suspicious activity.
Be sure to notify your users of why exactly their accounts have been suspended.
Avoid the temptation to upsell in reset emails
Considering the main goal of such an email — help the user to reset a password — you need to follow one rule: make it simple. Especially that you have a list of the password reset email design best practices.
Pretty classic one, right? But still, some companies decide to add, for example, sale coupons or information on the new design line. I know, I know, marketers try to use every opportunity to increase a profit, but it'd be better to skip it in this situation as it's not what makes a good password reset email.
Practically every month there's news about personal information leaks from different social media and organizations. Now more and more people hesitate before sharing their data with anyone online. So imagine this — your users want to reset their passwords (quite a personal thing) to protect their accounts but instead of receiving a neat email that shows them how to do that, they get a weird text with a bunch of sale materials. Of course, the first thought that would cross their mind will be "What a materialistic company! They just want to take advantage of me! Unsubscribe and bye". You don't want that to happen.
That's why you should choose a light side and become an assistant to your users. Explain why they received this email, insert a link to reset a password, place contacts of your support service, and voila — you're still a trusted brand.
Final thoughts
When it comes to best practices of the password reset emails you need to remember one thing — let your recipients reset their passwords and facilitate the process as much as possible with the help of technical moments and clean design.