8 Powerful SaaS Email Marketing Examples
05 September 2019

Table of contents
1. Subscription confirmation email by Stripo
2. Warm welcome email by Wistia
3. Segmented promo email by Weblium
4. Updates/digest email by Zapier
5. Promotion email by Grammarly
6. Personalized Emails by LinkedIn
7. Survey invitation email by Email on Acid
8. Thank you email by Litmus
Final words
1.
1. Subscription confirmation email by Stripo
Email is the most effective communication channel for reaching out to customers. Well-written and constructed emails generate $38 revenue for every dollar spent, making 3,800% ROI.
It is impossible to overrate the importance of emails for SaaS companies.
Via email, you can introduce a new product, send an event reminder, notify customers their order has been shipped, remind them to make payments before the due date, help them work with your tool by using new features, ask for feedback, etc.
In other words, email marketing as a channel for SaaS companies replaces the necessity to call clients yet it delivers important information on time.
That being said, sending emails per se is never enough and will not drive any profit. You need to pay close attention to email design and content.
Weblium gathered the most interesting SaaS email examples to inspire you to create stunning and powerful email campaigns.
1. Subscription confirmation email by Stripo
This type of email is mandatory for all businesses as, according to the GDPR rules, we are allowed to send only solicited newsletter emails.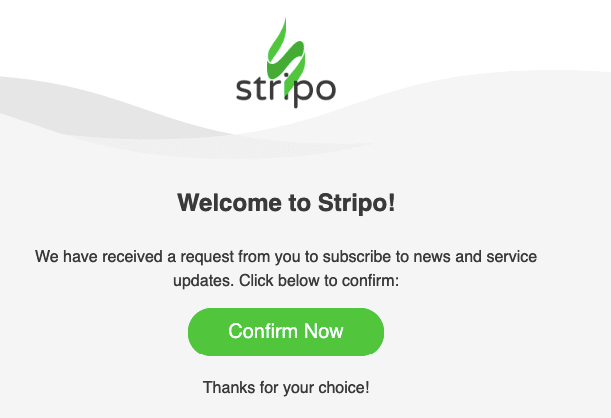 All confirmation emails are triggered. This means you build them once — and your ESP/CRM sends this email over to the recipient upon a respective action.
What makes this SaaS email example great? Its content does! The email only has one CTA button along with a clear request to confirm the subscription. Readers will not get distracted by numerous buttons and excessive information.
Takeaway:
Not only does subscription confirmation email prevent you from breaching the GDPR and CanSPAM regulations, but also helps with keeping your contact base clean. Make them as simple as possible.
2. Warm welcome email by Wistia
A welcome email is the second email your subscribers see. Make it as warm and as informative as possible.
Now it is the right time to write emails in your corporate style: make jokes, if you normally do in your emails; use jargon; use interactive elements if you this is what you normally do.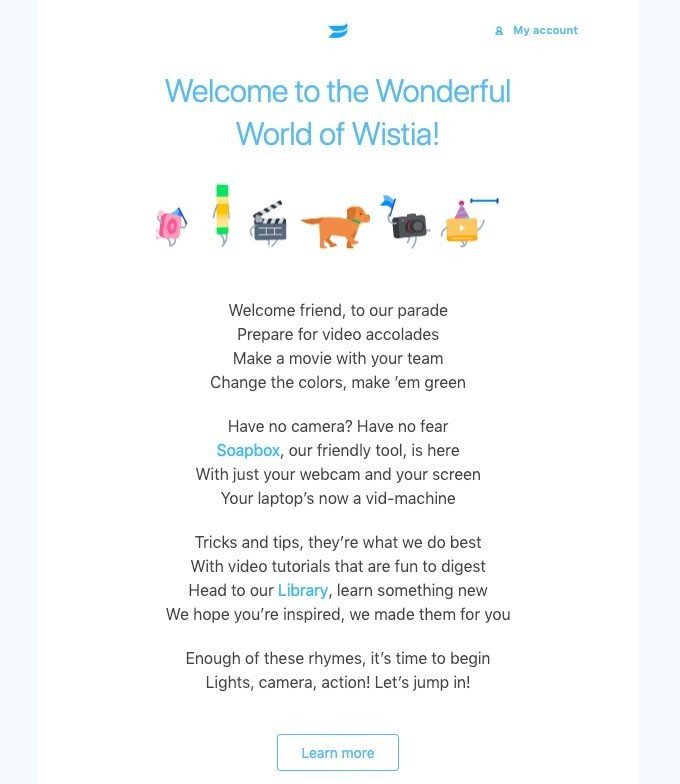 Wistia, a video-hosting software for business, is a great example of adding something to remember in their introduction email. However, the visual part of the message is not the primary component that makes it work. Have you noticed that the email is kinda catchy? Oh, you probably could even sing it, we imagine the team humming a melody when coming up with the idea.
The email is eye-catching and specific, therefore it answers the basic questions on service for newcomers.
Takeaway:
Don't be shy with worthwhile creative writing. You have to know when it is time and possibility for such a move, and then strike people with a delightful and fun copy. Business solutions don't necessarily mean dull and boring presentations.
3. Segmented promo email by Weblium
It's unexplainable, but a fact. The right segmented list can make the difference in a mind-blowing 1,000% increase in CTR!

What a long read, you can think. Who will even scroll it? At first glance, it seems like the truth. But the goal of the email is to communicate new product updates to customers who have already waited for them, so the right segment of the audience will absorb every word from the email.
Weblium, an intuitive website builder, keeps in close touch with its customers regularly providing them with How-to articles, onboarding guides, and pieces of handy information for website creation. They profoundly use customer segmentation to make every message tailored to inquiries of particular recipients.
Copy in the email sells benefits, not features. It shows customers what can get done by using these features. The text is block-structured and organized in a big and bold template.
Takeaway:
Segment your audience to deliver the right messages to the right customers. It will help you increase the CTR rate – the metric to measure the success of your email marketing campaign.
4. Updates/digest email by Zapier
Email digests and updates are crucial to have in their arsenal to bloggers, to those who provide different services and software. It's always a good idea to inform users about your news and updates on time.
Also, you might need these emails to keep in touch with investors and to share company news and achievements with employees.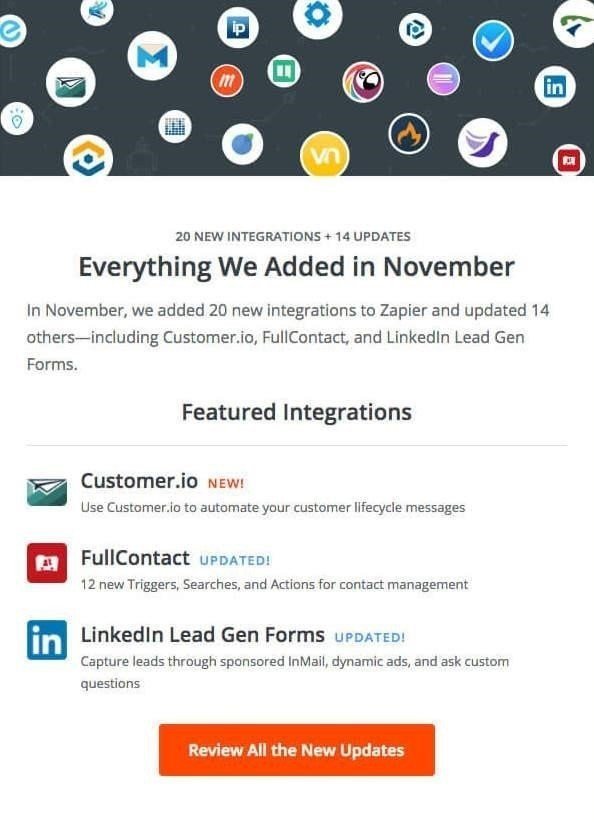 Zapier is a software that integrates different applications and helps you manage your flow. In their email, they share the results of their work and revisions. The focus of email is on the SaaS email design usability — the buttons give recipients the possibility to review these updates in detail. On the other hand, the email is a collection of updates, without bombing your customers' inboxes with different updates, one at a time.
Moreover, Zapier makes a personalized email, based on the applications relevant specifically to you. You know that they know what you use, but aren't these updates precious when they are important to you?
Takeaway:
Personalized and timely emails are something your customers need. When you know the preferences, behavior and provide relevant information, it decreases unsubscriptions from newsletters. Emails are good when they have what people need, nothing more.
5. Promotion email by Grammarly
Promo emails are probably the core emails for all online businesses. You introduce, promote, sell new products with these emails. And quite often we offer discounts.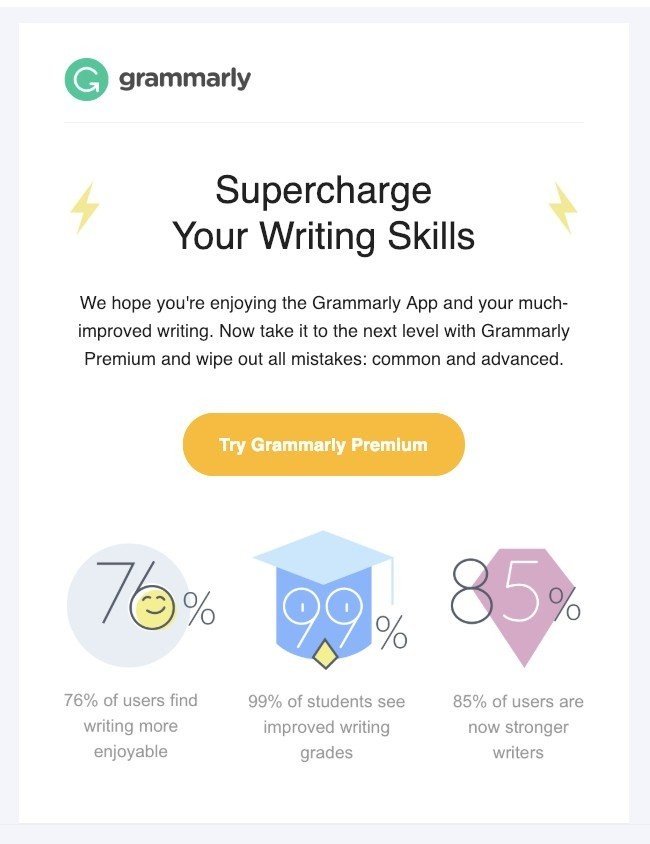 Grammarly is a plagiarism, spelling and grammar checking platform that is very smart with the utilization of visual images in their newsletters. They prioritize the statistics and embed them in visual cues. 32% of marketing specialists emphasize the importance of visual images in their business strategies.
Grammarly team begins with the call to action, to try their Premium account features, and then they reinforce their offer with a statistics presented as visuals. In other words, they imply why using Premium account can be an advantage for their customers. Let's admit, and the email would look drastically different with just dull presentation of stats and facts. Here we have something that will stick with us and give us a second thought for consideration.
Takeaway:
Visual images, when applied creatively, can make facts stand out, if not convincing. You would be at least interested in learning more about the perks of Premium account because of look at those numbers, which will increase your click-through rate. Astonishing!
6. Personalized Emails by LinkedIn
Personalized emails are quite a thing in the world where we share a lot of information with companies. We want to feel that someone out there cares for us, either it is a company or a friend. Of course, we don't want to mix personal and business too much, but sometimes some gestures of close relationships are improving our belief in the greater meaning of company message.
What does it mean for your business to create a not only unique but personalized email? It improves company reputation, boosts your campaign ROI, and increases customer engagement.
How exactly does personalized email look like? Personalized emails aim to resolve some specific issues that you may be concerned when using the software. The video email with special updates or offers would be based on your interests and needs.
Takeaway:
Personalized emails are actually decreasing churn rates for almost 15%. You have to take an opportunity and show that you actually care for those who left their email addresses to let you keep them in the loop.
7. Survey invitation email by Email on Acid
Everything we do — we do for our clients.
It is crucial to know if they like our products, our tools, our services, our webinars. Survey invitation emails are of great use here.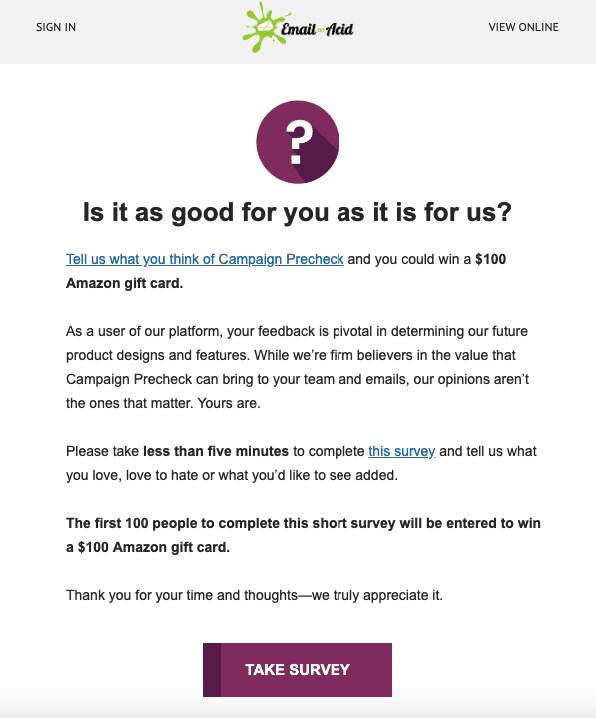 This survey invitation email is yet another great SaaS email marketing example. Email on Acid sticks to corporate design.
The email is concise, its goal is pretty clear. And the chance to win Amazon Gift card is a nice incentive from Email on Acid. Yes, we need to encourage our customers to share their feedback with us. Only then we will be ahead of the game!
Takeaway:
When designing an email for SaaS business, keep your emails recognizable with logo placement as well as your brand colors. Be clear, and get straight to the point.
8. Thank you email by Litmus
A successful company always feels grateful to clients for their trust and love.
They installed your tool, purchased your products or upgraded? Thank them. Even if they visited a webinar that you hosted — let them know you appreciate that.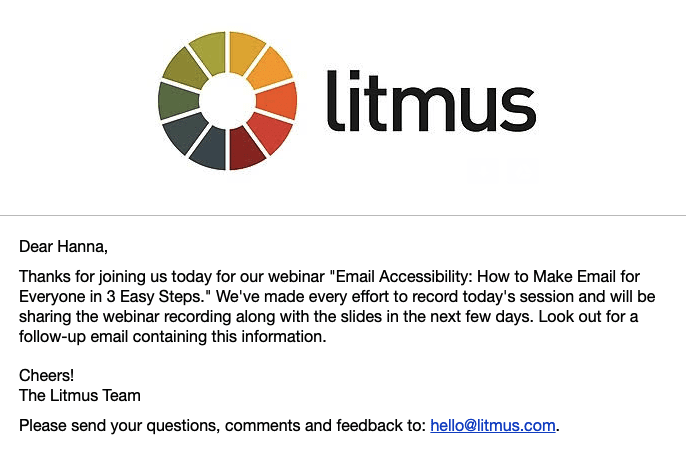 Not only does Litmus remind us that we've just visited their event, but also informs us that we should expect a follow-up in the short run.
Another great feature that we loved a lot — Litmus suggests that we send some questions if we did not manage to ask them during the webinar.
Takeaway:
Something as simple as saying "Thank you" can give you an advantage.
Final words
We want to sum up special ingredients and tips.
There is no right or wrong answer on how to make your email a game-changer. You have to interview and survey your customers to know what they expect, and how to talk to them in the words they're using. Keep your copy classy or as creative as possible, build brand awareness, segment your audience, and never be afraid to experiment with visuals and other tools that can make your emails memorable
We believe that the key to success is knowing how to combine all those ingredients. Whether it is a formal or personalized email, show that you care and value your customers. May your email campaigns be powerful and highly profitable!
Was this article helpful ?
Thanks for your feedback!