Let's say that you run a SaaS company. You've already built a solid product that solves your target audience's pain problems, and now you're looking to bring in new customers.
To do this, you need to reach out to potential customers and get them to sign up for your service and keep using it. This article will explain why and how you should automate your SaaS business to drive leads effectively and automate repetitive marketing tasks. It also reveals how all statistics for business automation are a net positive for your SaaS vertical.
What is marketing automation?
Marketing automation is the process of using software to automate various operations like lead management or segmenting subscribers. It helps you generate leads, increase sales, and improve customer satisfaction.
It also allows you to personalize your marketing communications to create a stronger relationship with your customers. This is one of the main reasons why many companies use marketing automation tools today.
Why you should use marketing automation for your SaaS business
If you are still not sure whether you have to implement marketing automation tools into your business processes, take a look at some stats you should be aware of:
Increased qualified leads
According to a study by Ascend2, 28% of marketers think that automation is the top reason to increase qualified leads.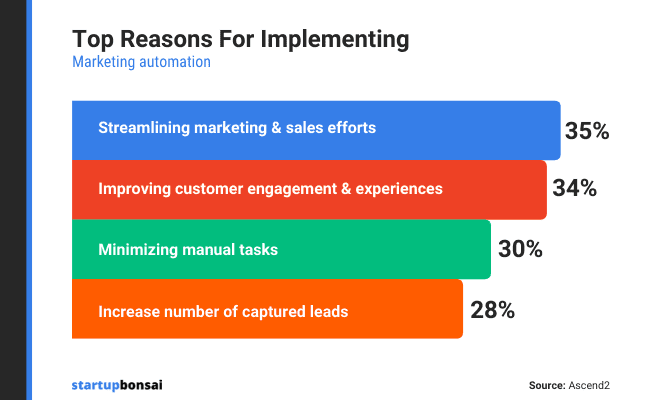 (Source: Ascend2)
Marketing automation can generate up to a 53% conversion rate, according to recent statistics.
By using automation software tools, marketers can convert 77% more leads than before. Marketing automation makes it possible to reach out to various audiences across channels like social media, ads, and emails much faster.
Statistics show that 52% of companies use marketing automation tools to enhance customer experience and engagement.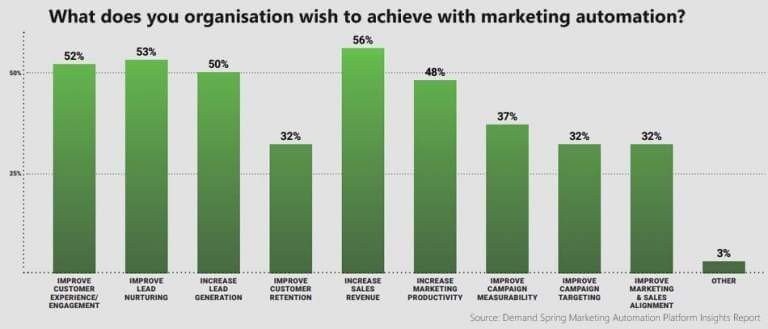 (Source: EmailMonday)
When it comes to sales and revenue, 63% of companies that use marketing automation software outpaced their rivals.
Time-efficient solution for social media marketing
If you automate 50% of your comment moderation on social media, you can save up to 175 hours per month. Social media marketing automation also helps you keep track of your posts, schedule them for optimum engagement, and measure the impact of your content.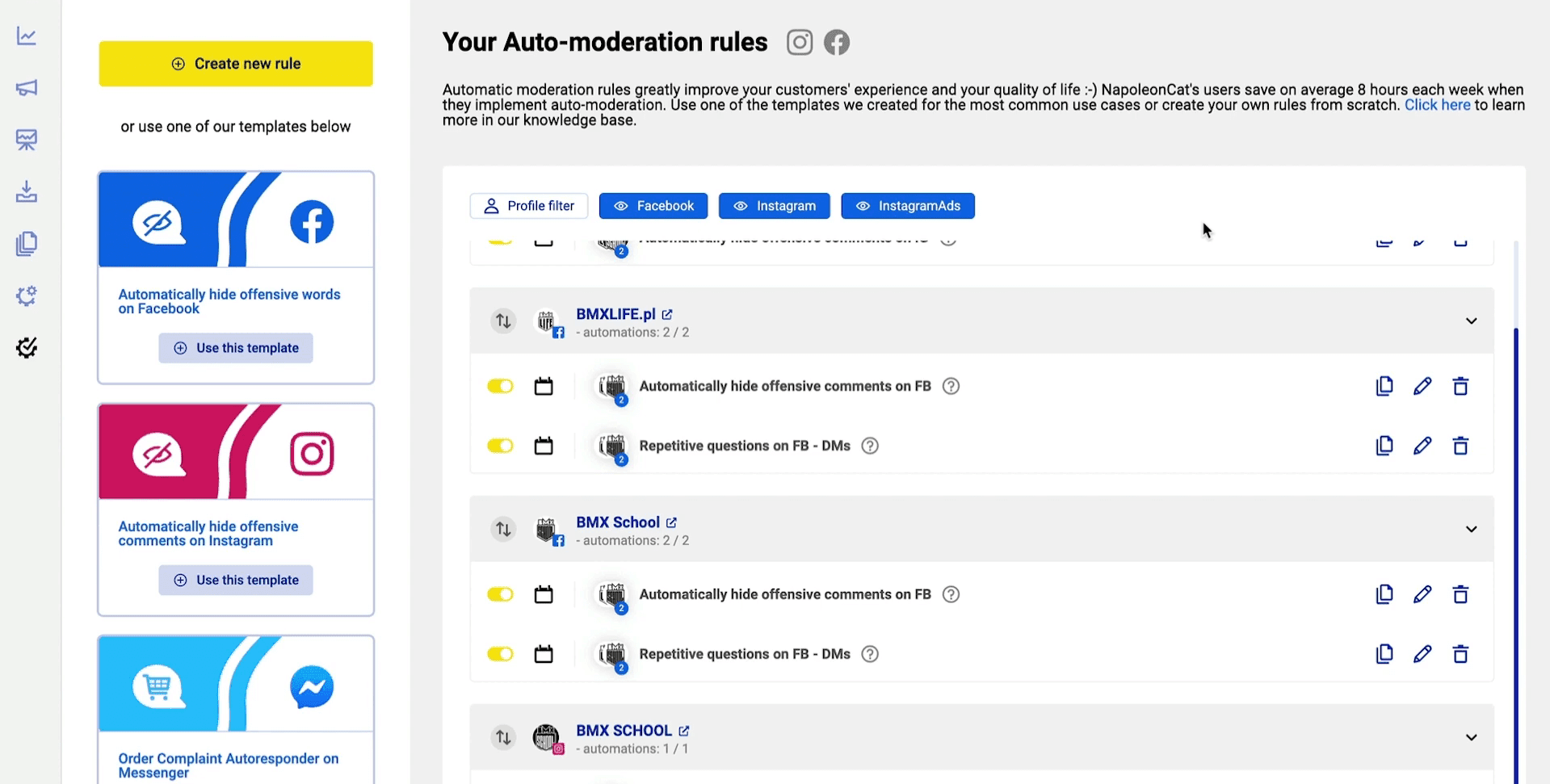 (Source: NapoleonCat)
Reduced cart abandonment rate
There is an average cart abandonment rate of 70% across all industries. Marketing automation tools like trigger emails are 497% more effective than blast emails.
Providing customers with a tailored experience without automation software is a time-consuming and costly endeavor, but 72% of consumers said they only interact with personalized marketing messages. Marketing automation will enable you to use customer data to personalize your content.
According to a study, 80% of companies that use email marketing automation report increased lead generation.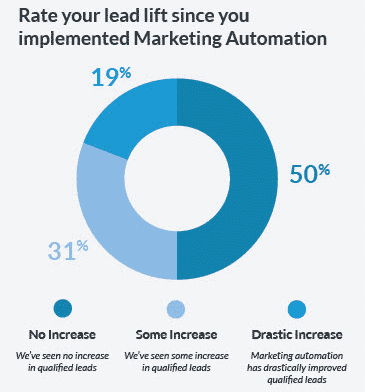 (Source: EmailMonday)
Automation types for your SaaS marketing
A lot of marketers have a basic understanding of what marketing automation is and how it can benefit them. But many different marketing automation tools are used to drive marketing strategy, create campaigns, track results, and measure ROI.
1. Social media marketing
Social media marketing automation allows you to create posts, schedule them, and track the results. It is much better than manual work, but you still need to monitor your campaigns to see how well they are doing.
Tools to use:
Hootsuite — schedule posts, monitor incoming messages from various social networks, use chatbots, track brand mentions, promote your content, and analyze your results;
Sprout Social — implement social media listening, identify influencers in your industry, and create informative reports;
Buffer — plan posts, drive traffic to your store from your Instagram bio, control core engagement metrics, and use collaboration tools to work with your team.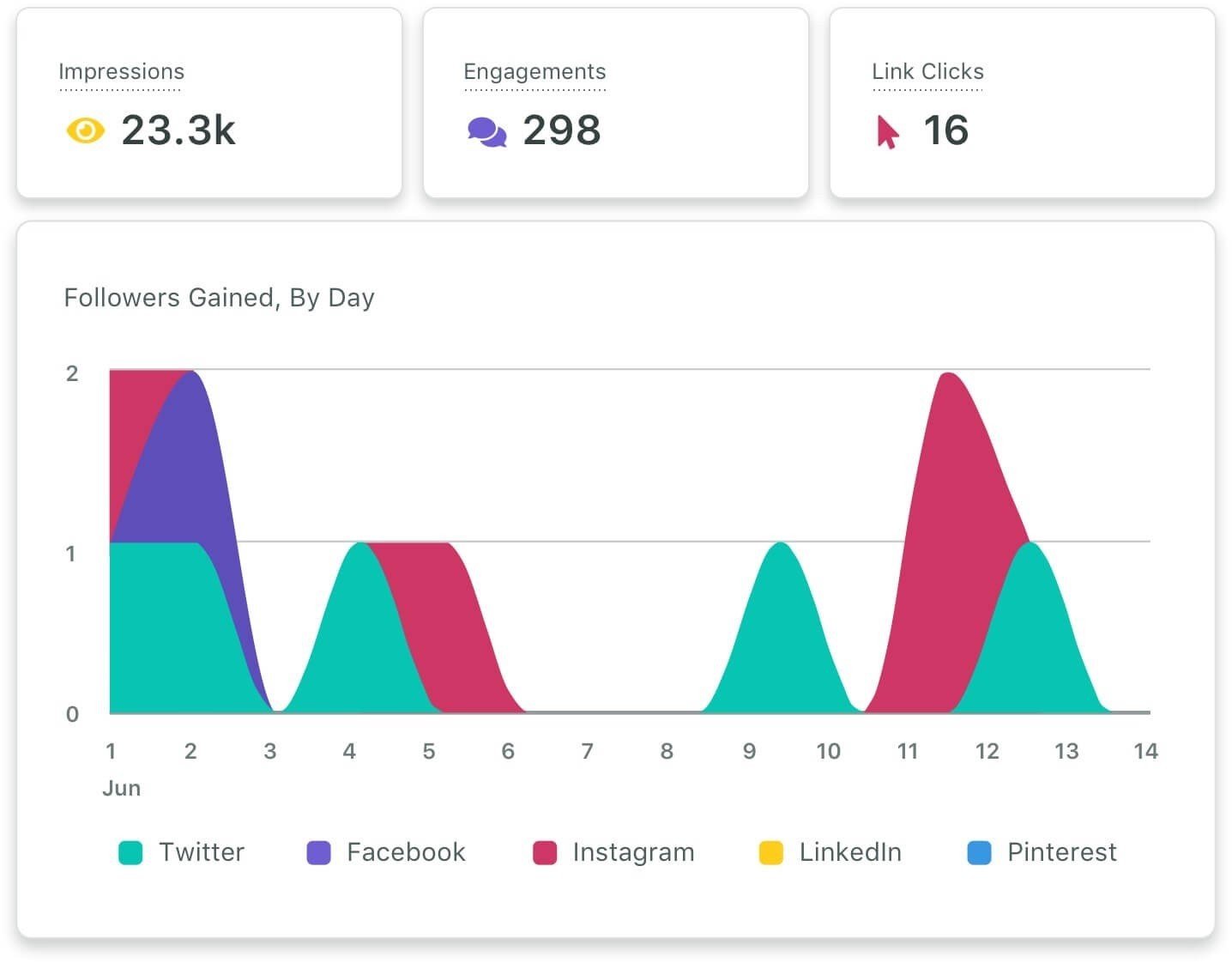 (Source: Sprout Social)
2. Advertising
This is the process of automatically generating a series of advertisements to target users based on their interests, location, demographics, and other criteria.
Tools to use:
AdRoll — run all your campaigns across over 500 platforms from a single place, benefit from AI to attract relevant customers, connect all your marketing tools, and create ads with dynamic content;
Trapica — put your campaigns on AI-driven autopilot, target your ads to the right audience, and acquire valuable campaign and audience insights;
Zalster — automate budget allocation, test your ads, boost your posts, and get detailed reports.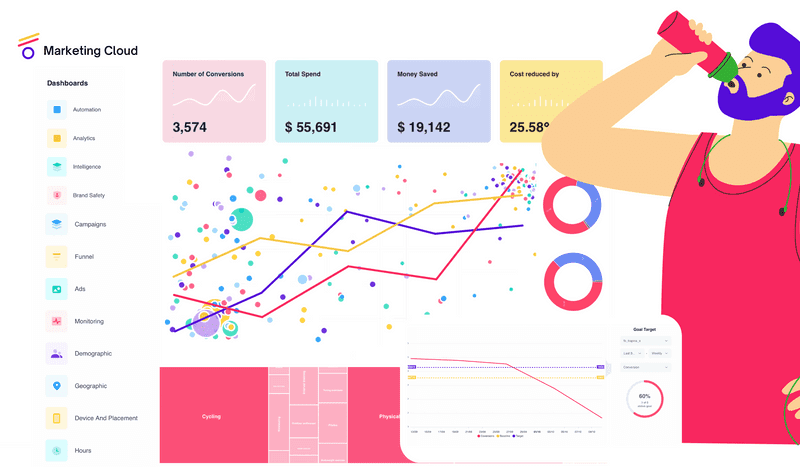 (Source: Trapica)
3. Marketing analytics
Such automation tools usually include an analytics dashboard that shows you how well your campaigns are performing. A comprehensive list of metrics are provided, including paid campaign performance, email marketing, customer purchase, and website visitor data.
Tools to use:
Improvado — gather data from over 300 sources (FB Ads, Twitter, YouTube, Google Analytics, etc.), reveal all touch points on the customer journey, benefit from data visualization, and use pre-made dashboards;
Funnel — monitor your performance with accurate reporting, optimize your spending, collaborate and share data with your team members, export data from any source, and store it in a centralized hub;
Whatagraph — share automated reports with your clients and team, collect data from more than 40 sources, and use pre-built report and dashboard templates.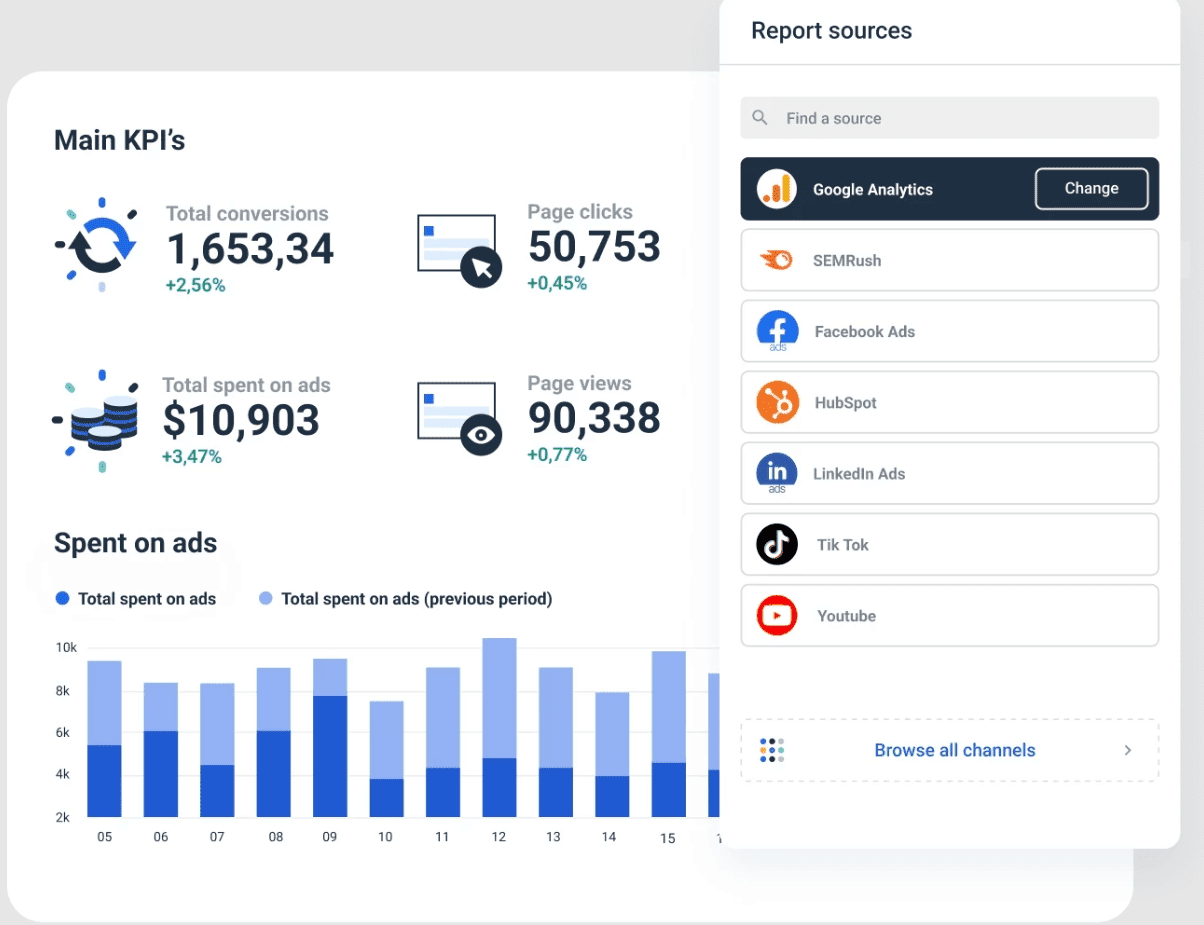 (Source: Whatagraph)
4. Email marketing
When you send emails to your customers, there are two main things that you should be optimizing for, engagement and conversion. You can automate this process by scheduling your emails, sending emails to your contacts to answer questions, or speeding up your email design process with smart elements.
Tools to use:
Stripo — automate repetitive tasks with the help of smart elements, adopt modular email architecture, work with 1150+ ready-to-use templates, and benefit from dynamic content to save time;
Automizy — use segmented email automation, check your subject lines with the help of AI, conduct A/B testing, and schedule your emails;
Mailchimp — send time-sensitive notifications, use conditional content to make your emails personalized, and keep customers updated by sending them automated transactional messages based on their preferences.
5. Customer relation management
CRM automation is a marketing automation software that allows you to integrate all of your customer data and information in one place. With this knowledge, you can target your audience better and deliver personalized content to convert more leads into customers.
Tools to use:
ActiveCampaign — nurture leads automatically, trigger dynamic emails after booked appointments, maintain your contact base in a central platform, and use automated segmentation;
EngageBay — schedule meetings automatically, track your emails, calls, and notes, use a sales reporting module, detect qualified leads, and sync your email with CRM;
HubSpot — maintain your sales pipeline in real-time, send timed follow-up messages, identify relevant prospects, and implement live chat to interact with your website visitors.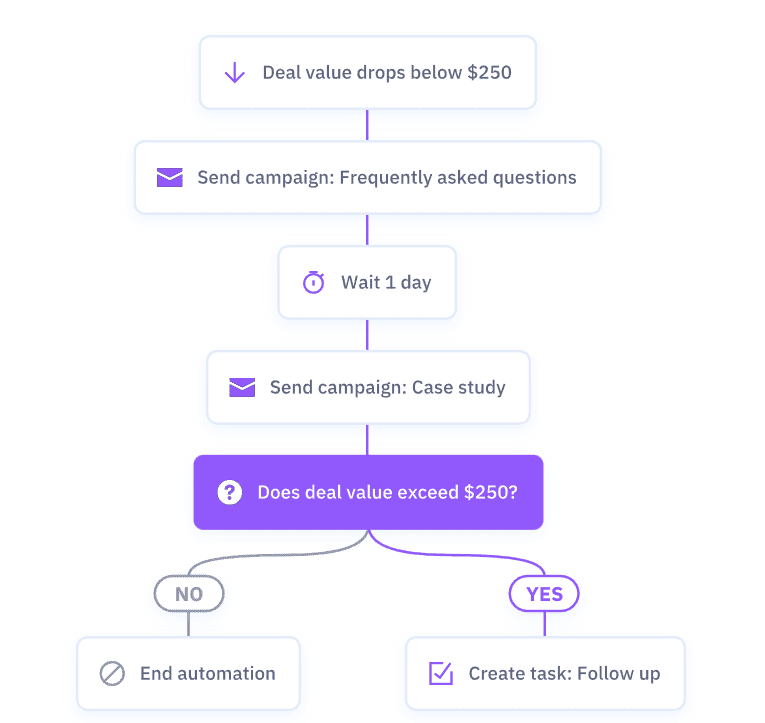 (Source: ActiveCampaign)
Wrapping up
Marketing automation allows you to automate almost every aspect of your sales funnel. There is no other solution that can offer you as much control as marketing automation. Not only that, but it also helps you to get more qualified leads and sales.
We recommend you invest in marketing automation software to optimize your business processes, attract more relevant leads, and analyze your performance.
Was this article helpful?
Thanks for your feedback!