In the increasingly competitive online shopping landscape, standing out from other retailers in the global eCommerce industry can be challenging. There are endless substitutes available for almost everything. Online marketplaces are not just competing with each other but also standing tall against brick-and-mortar stores. Thus, simply listing your offerings on a boring website or launching a minimal-effort app for mobile devices is far from enough.
Personalized email marketing is one of the best methods of building a lasting connection with your target audience. We bring you six ways email marketing can act as a means to reach people who love to shop online and boost eCommerce sales.
What is email personalization, and how can it attract customers?
Email personalization is a digital marketing method that involves sending out marketing materials via email after customizing them according to each recipient's past or current preferences, browsing history, behavioral data, and demographic data such as the customer's location, age, or income level. Personalized emails aim to be uniquely relevant to each recipient and more successful at piquing their interest.
Some common ways to personalize emails are to address customers by their first or last names, provide recommendations based on their previous purchases, and send them discounts or other incentives to buy products they have viewed before but not bought. We will explore these in much more depth, but before that, let's talk about the great potential that email marketing personalization holds for your eCommerce business.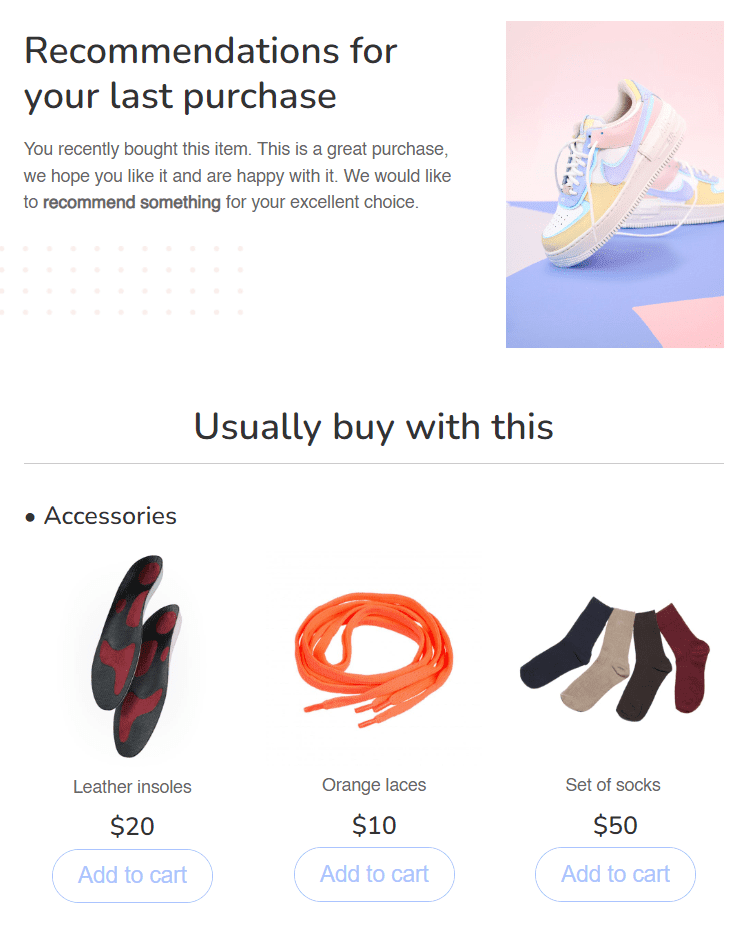 (Source: Stripo template)
How personalized email campaigns boost global retail eCommerce sales
In a 2022 study conducted by Ascend2 for marketers, respondents said that they believe personalization has the most significant positive impact (65%) when applied to email correspondence with customers, compared to other marketing channels such as landing pages, social media, and even live chat. Thus, email personalization remains a key area of focus for digital marketers.
Customers are more likely to open an email that feels like it was crafted specifically for them. They are also more likely to interact with and click on email content, such as CTA buttons or links, that personally speaks to them.
A recent survey by McKinsey revealed that 72% of consumers want brands to deliver personally targeted marketing material to them. Furthermore, 54% of survey respondents said it was important that companies address them by name in all the communications they send out. Something as simple as this can leave a lasting impact on your target audience, so much so that 78% of them would consider buying from such brands not once but repeatedly and recommend them to friends and family.
72%
of consumers want brands to deliver personally targeted content
54%
of respondents said it was important that companies address them by name
Email personalization cultivates a sense of brand loyalty in target audiences by making them feel seen, appreciated, and unique. Customers who receive emails catering to their interests and needs are more likely to perceive the brand as trustworthy and customer-centric.
All these factors lead to higher chances of conversion and, thus, increased online sales revenue.
6 ways to personalize your eCommerce email marketing campaigns
Target audience segmentation
You can't send the same message to everyone on your email list and expect it to have the same enchanting effect on every recipient. If you want to have some level of personalization in your email, no matter how small, you need to segment your audience first.
This division usually depends on each member's defining characteristics. Doing so will enable you to cater to smaller groups at a time. These groups can be formed based on one or more common attributes; you can send each group a more targeted and personalized message. The attributes can be anything that differentiates each member of the target audience from another, such as demographics, behavior, personal preferences, or past purchases.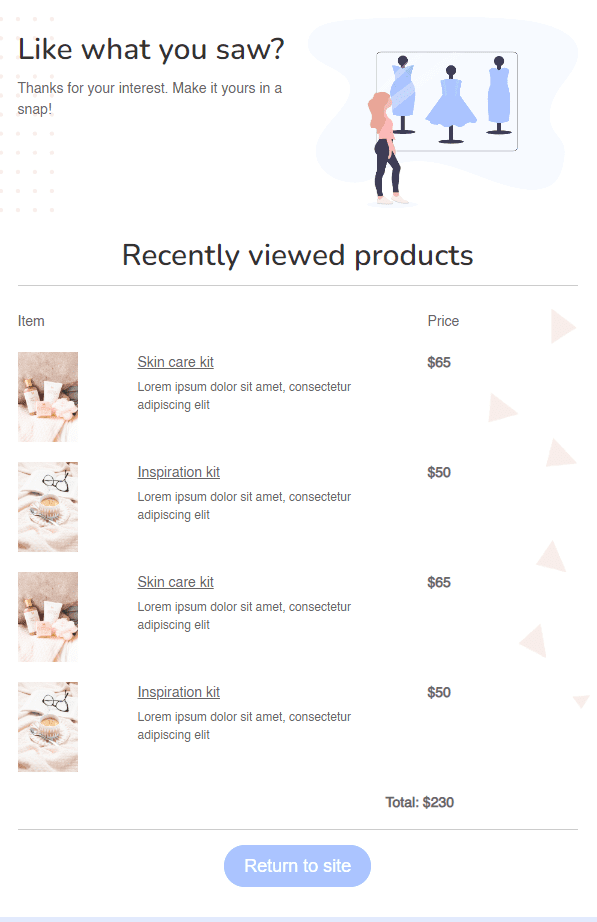 (Source: Stripo template)
Once you've done that, you can send certain emails containing promos as incentives to customers who have abandoned their shopping carts, for instance, and different promotional emails recommending a specific scent to all those customers who have bought similar perfumes or body mists in the past.
Thanks to email list segmentation, you can tap into your customers' wants, needs, and interests and create engaging content that speaks directly to them. Thus, you can run more relevant and effective email campaigns with a greater chance of increasing conversion rates and fostering customer loyalty.
Personalized email content
"Start your email with the recipient's name." That's the first thing every marketer suggests when personalizing marketing emails. Addressing recipients by their names is the most basic personalization form, but personalized email marketing content goes far beyond that.
Another way is to tailor the content to each recipient's unique interests and preferences, as discussed in the previous section. So, you can send emails promoting products they seem interested in or providing recommendations based on their purchase history.
You can also develop relevant content for different age groups. For example, when emailing a younger audience, you can use more casual or friendly language, but you can keep it formal and professional for the older customer base. This will ensure that the personalized content resonates with the specific intended group.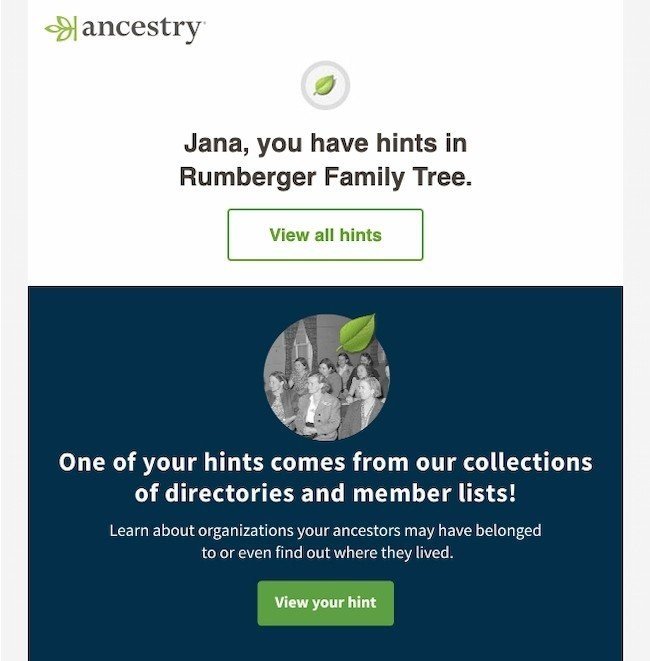 (Source: HubSpot)
Another effective method is using a professional email signature where possible. Instead of using the company name or a generic sign-off, try using an actual person's name and something that proves their existence, such as a LinkedIn profile link or a personal blog URL.
The trust and credibility you build with your audience via these personalization tactics will ultimately boost eCommerce sales for your brand.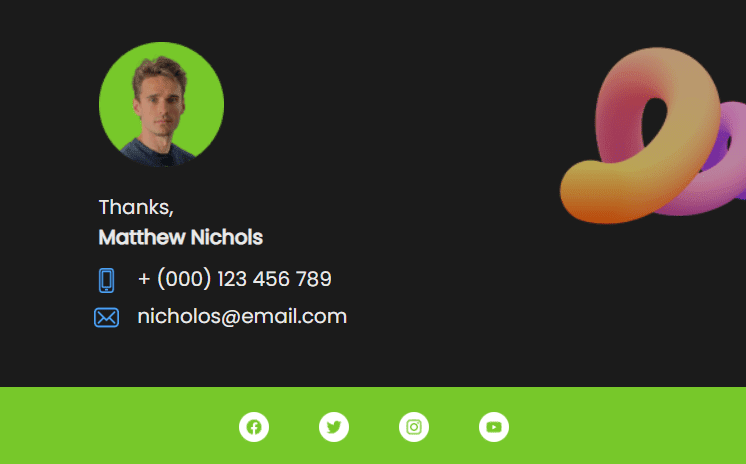 (Source: Stripo template)
Personalized product recommendations and promotions
We've briefly touched upon these already, but targeted promotions and recommendations are worth exploring in detail to maximize the benefits of personalized email marketing.
Product recommendations and promotions can be much more effective, with higher chances of conversion, when customized according to what each consumer needs or is interested in. You can build a list of relevant products by observing and analyzing your customers' likes, dislikes, interests, and actions.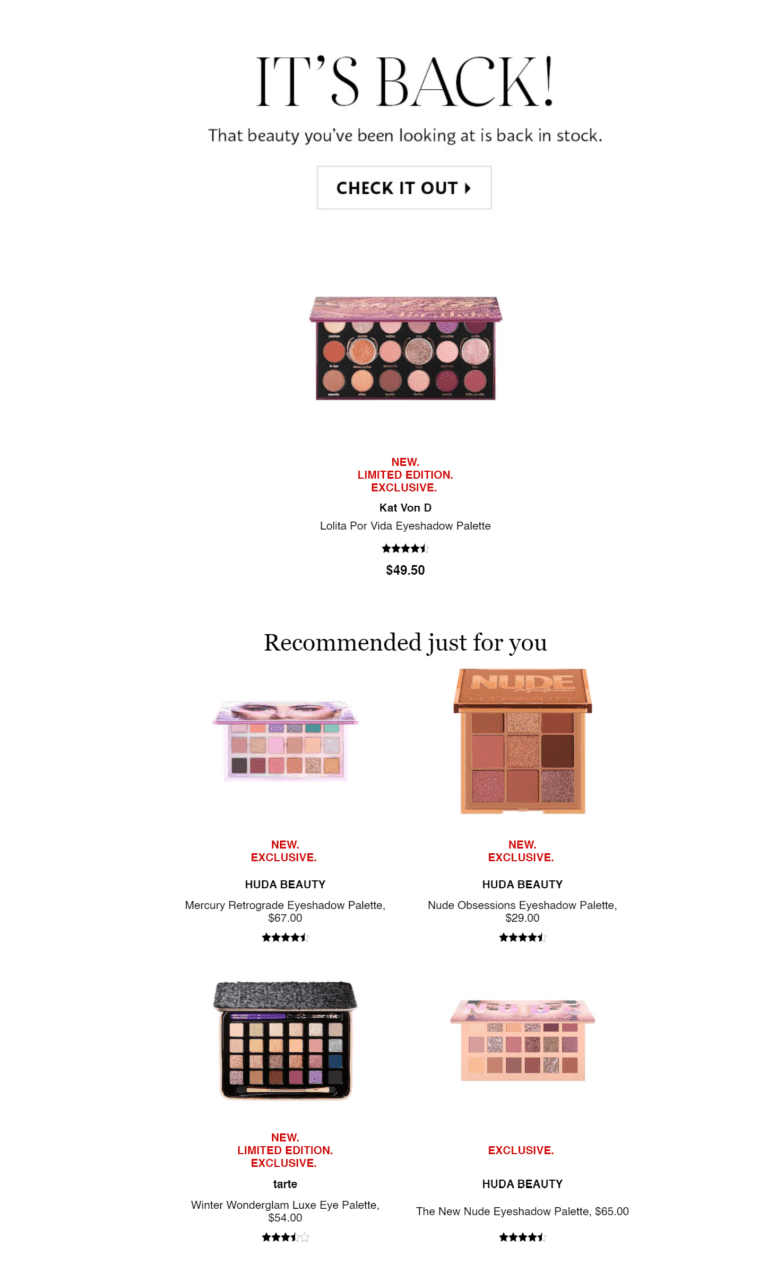 (Source: Drip)
For example, you can use cookies or other tools on your store website or app to keep an eye on which specific product pages a visitor has been looking at recently or whether they have any favorite product categories they love spending time browsing through. Similarly, social media platforms often have business analytics tools that collect and provide insights into user interactions, such as how many views a specific post or ad gets and their corresponding click-through rates.
Another reliable source of key information is customer data for past sales, where you can see which items have previously been bought by which specific shoppers. You can thus directly identify the products and categories that are most popular with different groups of customers.
These strategies can help you identify products that a consumer is most likely to buy and that you can add to a list of recommendations and pitch to that particular buyer via email. You can couple these high-converting recommendations with other promotions too. For example, in the same email, you can include exclusive product bundles or personalized discount codes that the consumer will not get from any other marketing channels.
Trigger-based automation
Emails that are automatically sent due to specific pre-defined triggers are an immensely powerful means of delivering a personalized email marketing experience.
Triggered emails can be based on users' personal information or real-time activities.
One example is cart abandonment emails, where you can set up a trigger based on how long a ready cart has been sitting there, waiting for confirmation.
Another great example is a welcome email, which you can send to shoppers as soon as they sign up for email updates. Similarly, consumers who recently made purchases deserve your genuine gratitude in the form of personal post-purchase emails. And if a user hasn't shopped with you in a while, you can send them a simple "We miss you, <name>!" email and include a special discount for further encouragement.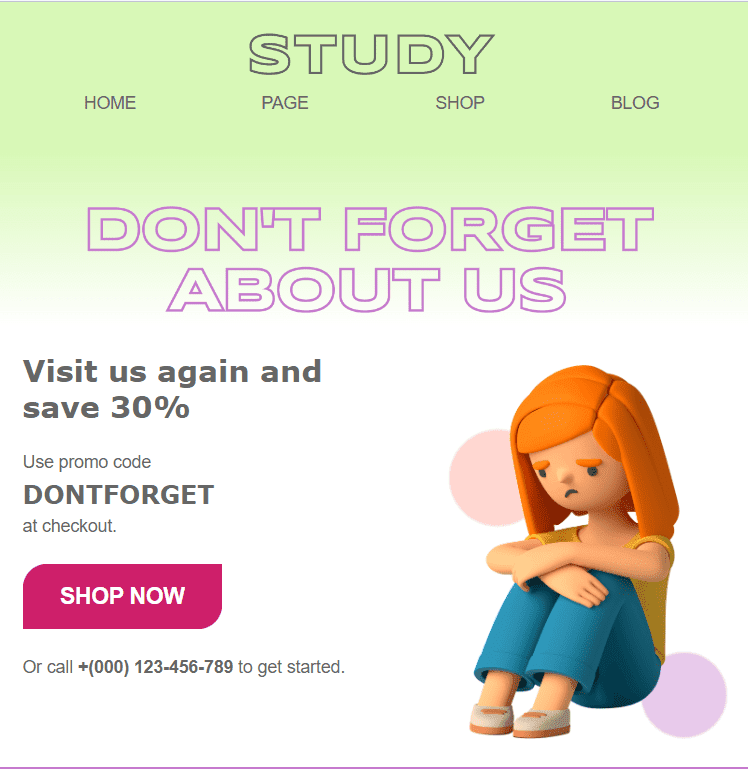 (Source: Stripo template)
Another thoughtful way to use trigger-based automated emails is to send one for an item that might've been on a customer's wishlist for a while and has just been restocked as per your inventory management system. This proves to your customers that you are paying attention to their needs and will go the extra mile to fulfill them, which can help gain their long-term loyalty.
By sending timely yet personal emails, you can build a stronger connection with your audience, increase customer engagement, foster trust, and boost your online sales numbers.
Abandoned cart reminders
A reminder for an abandoned cart is automatically sent out when a customer, while shopping from an eCommerce business, adds products to their cart but doesn't check out.
This could happen for several reasons. Maybe it's a big purchase, so they don't want to rush and instead take some time to think about it. Or perhaps something urgent came up before they could click the "Proceed to Checkout" button. By sending a gentle abandoned cart email, you can remind them to return to your website and complete their purchase.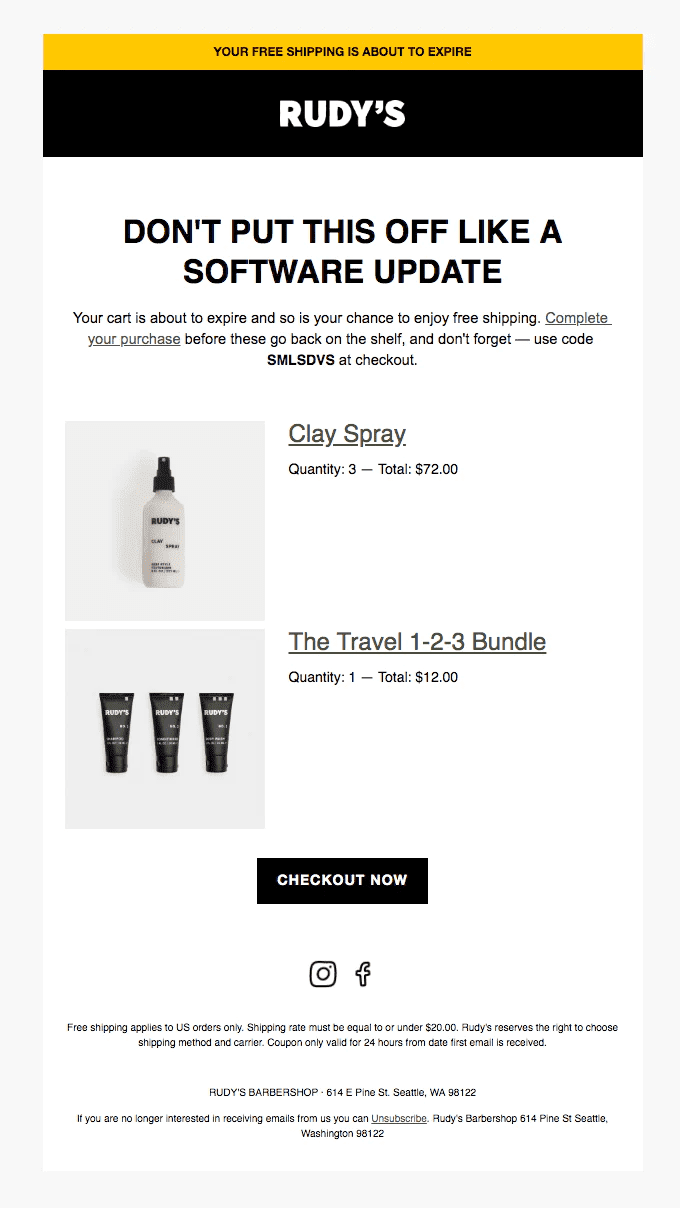 (Source: Shopify)
Before you send these reminder emails, though, you need to detect which shoppers have abandoned their carts and what products they contain. That brings us back to cookies, which are one way to keep track of this information. They are essentially small tokens of information you can get from a user's browser or device to see what they've been up to. Using cookies, you can keep a temporary record of cart contents and sometimes even save them till the next time the consumer visits your site.
One important thing to remember with cookies is that you must get the user's consent before you collect or store their information so that you don't break any local or international privacy laws. The issue is that Google announced it would phase out support for third-party cookies in its Chrome browser in 2024. In the article below, you can learn how to align your marketing strategy with such an update.
You might also like
The end of Google third-party cookies: how to prepare yourself for it

Optimal send time
Delivery timings are important to consider if you want to ensure that your customers open your emails and engage with them. It's always good to match your target audience's active times or unique preferences — nothing some good old A/B testing can't tackle.
For instance, sending emails during business or lunch hours, or even after the work day ends, when people are at home destressing, can be effective in the case of working professionals. On the other hand, the best send time for stay-at-home parents to check their emails might be when their children are away at school.
In any case, you must avoid sending emails at odd hours so that you don't end up disturbing your customers. One ill-timed nuisance can lead to a permanent loss of a subscriber. Many customers might form a negative association with your brand, resulting in a direct loss of sales.
Wrapping up
Various statistics have proved personalized email marketing to be a highly effective tool for eCommerce online retailers worldwide to connect with their target audience, provide a better online shopping experience, and boost global retail sales revenue.
However, to take maximum advantage of this marketing strategy, it is crucial to know how to implement it. There are numerous methods, starting with segmenting audiences and personalizing the email subject line and body. More advanced techniques involve automated emails, such as abandoned cart reminders, and dynamic recommendations dependent on various factors, such as a customer's preferences and in-store actions.
If you want your business to make the most of email marketing, we recommend adopting a combination of our suggested methods. By doing so, you can build stronger personal connections with your target audience, effectively appeal to their particular interests, and successfully boost eCommerce sales in multiple ways, including first-time and repeat purchases.
Was this article helpful?
Thanks for your feedback!