With SaaS services spending 5 times more to acquire a new client than keep an existing one, reducing SaaS churn rate should be among the top priorities for all businesses.
In this post, we'll survey the most effective ways to decrease your churn rate and increase the number of loyal customers.
But first things first…
What is SaaS churn rate?
SaaS churn is the percentage of clients who cancel their recurrent subscriptions over a given period of time.
Why would you actually care about it?
churn in SaaS services, same goes for all eCommerce companies, has a direct impact on Customer acquisition cost and customer lifetime value. These metrics, in their turn, impact your company's revenue and long-term viability;

like we said above, acquiring new customers cost companies at least 5 times more than keeping existing ones.
How to calculate churn rate for SaaS?
First of all, you need to choose the period of time that you are going to investigate — a month, a year, or a fiscal quarter. We recommend calculating them all to have a full picture.
Churn rate = cancelled subscriptions / total new customers x 100%.
(Over a given period of time)
For instance, this April 5 600 users purchased a subscription, 3 400 of them prolong their subscription in May. You do not include your all active customers, nor do include all those who unsubscribed from your services in May. You just take into consideration all those who joined you in April.
Now that you know your results, you probably want to know if you are doing well and your churn rate is within norms. Well, luckily or not, there is no such thing as average and good churn in SaaS. It does depend on the industry, on your company age. Young companies normally show a higher client churn rate in SaaS.
How to reduce churn in SaaS
We'll share only proven ways here.
1. Understand what your customers really need
It may seem very obvious, however, many brands omit this option.
How often do you ask your clients about what they really need?
People change, times change, hence, their needs also change.
Whenever you get the chance to ask customers about their needs or their expectations from your service — use it.
But here you need to choose the communication channel of their choice.
Email marketing, for instance, is preferred by over 73% of millennials.
Stripo allows adding such feedback forms and questionnaires in emails. These forms generate 5 times more feedback from users rather than regular forms you post on your site or social media. Which means you will have 5 times more information on what you can do to improve your services.
Be sure to send follow-up emails to those users who participated in the survey to thank them or to ask what particular changes they expect from you this year.
Then you have to process this data and make respective changes to your product, if you find them necessary, of course.
Also, learn the niche, learn what your successful competitors offer to their customers.
You need to provide clients with what they need to make them want to stay.
Tip 2. Onboard your clients well
Help clients better understand how exactly your tool works.
Tooltips in users' profiles that you create by using an onboarding software, an ultimate knowledge base on your site.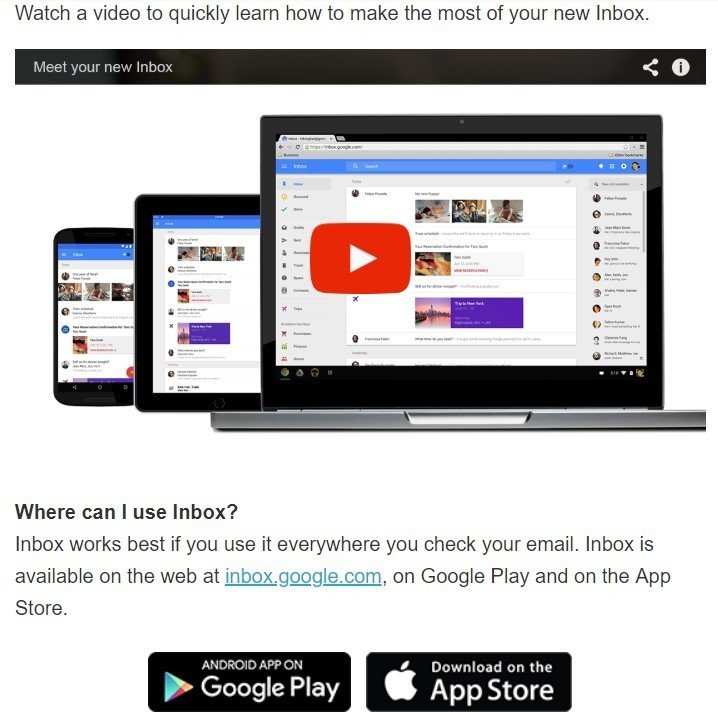 (Source: Email from Gmail)
Many SaaS companies even send out videos in welcome emails. With these videos, you show your clients how exactly they can get the most out of your tool.
This can be just one email, or a series of onboarding emails.
Tip 3. Reach out to those who are likely to leave
You need to track your clients — how often they use your tool, when the last session was, how many projects they have finished, etc.
You are to reach out to your clients on every step of their journey with you.
Also, contact those who have not used your service for a week or two to remind them about yourself.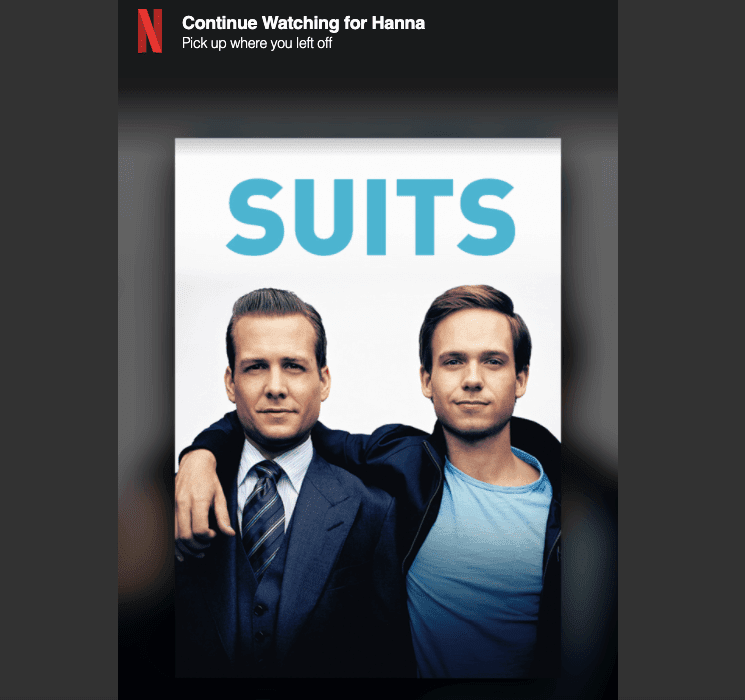 (Source: Email from Netflix)
Even this simple practice helps you minimize customer churn for SaaS.
If you are a tool, in your emails you, actually, should ask users why they have not logged in to your tool this long.
Tip 4. Constantly ask for feedback
For any SaaS, it is crucial to know what your users think about your product.
How to reduce customer churn for SaaS with surveys? — Don't ask them for feedback just once. Do it regularly.
For instance, you can do it in every email. Just put a small "Feedback" form there.
Or via chat, when users reach out to you for some help.
You can also track your NPS to know for sure if your users are going to recommend you to their friends.
If your NPS is less than 8, you should get worried. And when it's higher than 9.5, you may relax.
The best way to always know what your customers think about you is by building a drip campaign and asking users for their opinion after a week/fiscal quarter/year they've spent with you.
Find more information on ways to build and types of surveys in our post:
Tip 5. Fix your pricing
Users need to know why exactly they pay you.
According to investigations conducted by Price Intelligently, improper prices can heavily increase users' churn rate.
Research the market, compare your competitors' prices to yours, compare your product to competitors', and then rethink your pricing if necessary.
Tip 6. Fix bugs
As a SaaS company, you should be always aware of the issues your clients experience when using your product.
Be sure to fix the bugs as soon as possible, and notify your customers the problem has been fixed.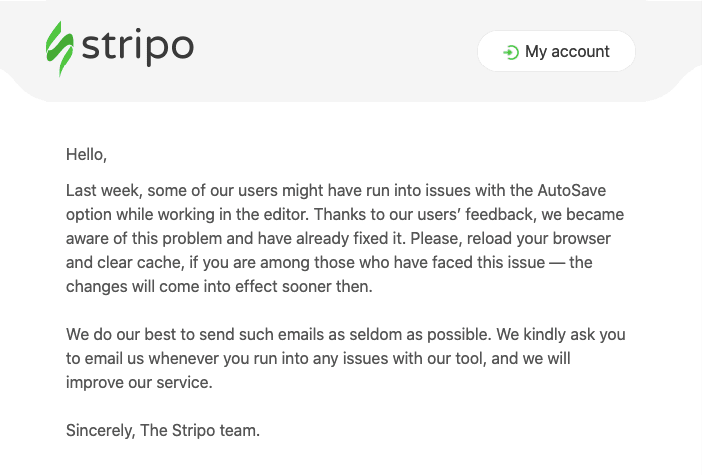 Sometimes, your users inform you of the bugs they run into. Let them do it in a way that they find convenient: Email, chat, social media, feedback form on your site.
Tip 7. Inform clients of updates/releases
Whenever you release a new option or update your product — inform your users about it.
Do not underestimate the Release Notes page. Users quite often read it. Email them with a manual where you in detail explain how the new functionality works.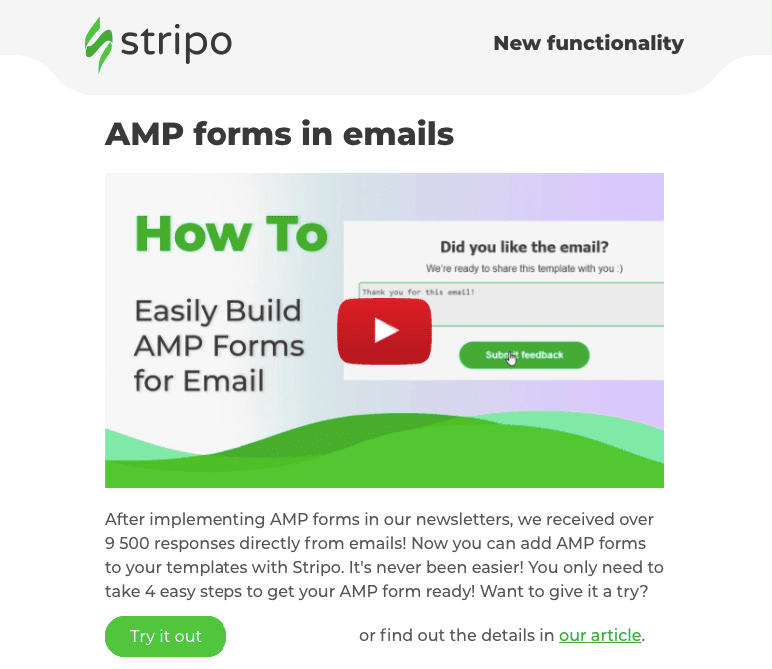 It would also be nice if you provided your clients with a manual/video tutorial on how to use the new options.
Tip 8. Show clients their progress
Be it an annual, or just a monthly report, show your customers their achievements.
They need to know if they make any progress, they need to know how many hours they spend crafting a video or building a mockup by using your product. Youtube shares this report in users' accounts, Grammarly sends our personalized reports to each and every client of theirs on a weekly basis.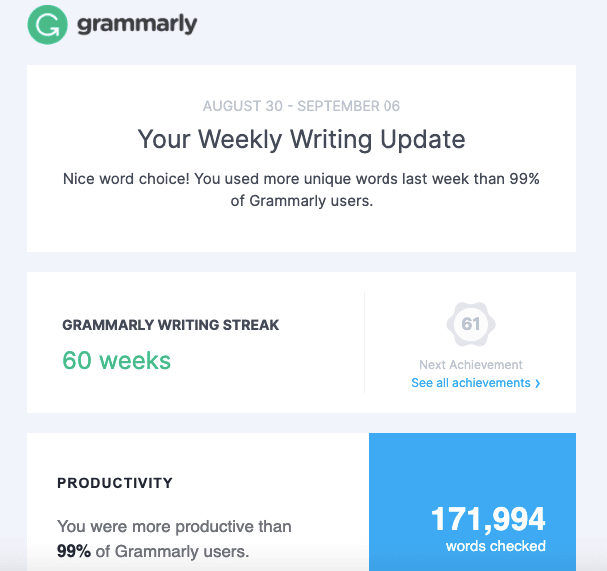 (Source: Email from Grammarly)
Not only is this a good way to keep customers updated, but also a good way to remind them about yourself.
Tip 9. Let users access your customer support easily
Customers need to be able to reach out to your customer support whenever they need it.
On your site, in users' accounts, in emails there always should be the "Contact our support team" option.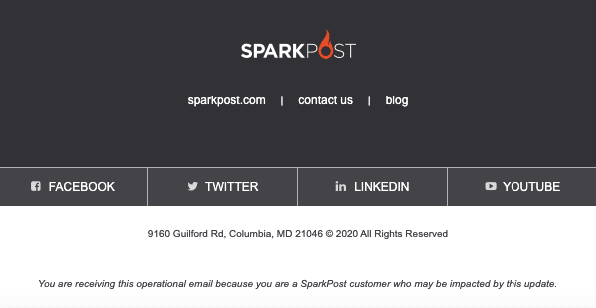 (Source: Email from SparkPost)
Please be advised that you may build and reuse email elements across multiple emails with our Modules option. It saves you a large amount of time on email production.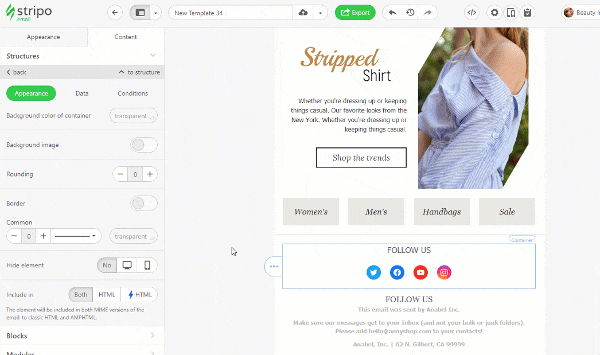 What does the customer support team have to do with improving churn in SaaS services?
The customer support team is among those who set communication with customers.
According to Zendesk, about ⅓ of your customers may leave after experiencing just one bad communication with your customer support.
71% of users, as Zendesk claims, get really annoyed if they have to repeat their problems/preferences/payment methods to different representatives of your customer support team.
Tip 10. Analyze
Always analyze any information you get from your users.
Final thoughts
Reducing churn for SaaS companies requires time. But at the end of the day, you will see it was worth the effort.
We sincerely wish you the best of luck. May your customers stay with you.
Was this article helpful?
Thanks for your feedback!