31 December 2019
The Stripo Annual Report 2019
Another great year together!
I want to thank everyone for being with us, for pointing out either our strengths, or things we need to improve.
All the features we've added this year — were made per your requests.
1. New technical features we're proud of
We keep upgrading our tool to provide you the best email builder yet.
You share your ideas and your needs with us via Facebook, via email or any other possible way. We do our best to implement them as soon as possible.
Here's what we've added this year:
1.1. Ability to build and export AMP emails
Dynamic AMP email is an innovative new type of email. This technology allows recipients to interact with your website and commit certain actions, like leaving feedback and others, directly in their inbox.
And what is more important — it allows you to deliver real-time content, like showing if items are still in stock or have been sold out, etc. in your emails. In other words, every time when opening your email, clients see only updated info.
What are AMP emails for?
Like I said, dynamic emails enable recipients to take all required actions directly in emails without going to a website.
The fewer actions it takes a customer to do what you want them to, the higher the conversion is. Besides, this is how you care about your customers — by minimizing the number of steps they need to take for achieving a certain result, you save them time.
So, what we did to let you build these innovative AMP emails effortlessly?
Stripo now allows 1) building, 2) validating, and 3) exporting AMP emails.
1.1.1. Building
It requires a few simple steps.
Building an AMP email per se
There are three major ways to do it:
a) using AMP blocks — no need to work on the code — first, drop a respective block in your template, and second, add your content in it. We are now the only tool that offers this method.
AMP blocks available now — AMP carousel, and AMP accordion.
Soon we will add more AMP blocks ;) ;
b) by pasting the code of a necessary dynamic component from a Google Playground;
c) by customizing our dynamic email templates.
Building a fallback email
Luckily, many email clients now support AMP, even mobile devices can handle it.
But all AMP HTML emails require a regular HTML-format email as a fallback in case recipients' email client has not rolled out the support of this innovative technology. Moreover, both formats should make just one email. Sounds like building it could take a while, doesn't it?
I've got good news for you!
No matter what type of email creation you choose for your campaigns, with Stripo you can:
build your normal HTML email and just add AMP elements in it;

choose what special elements will show up with certain email formats — just by toggling respective controls;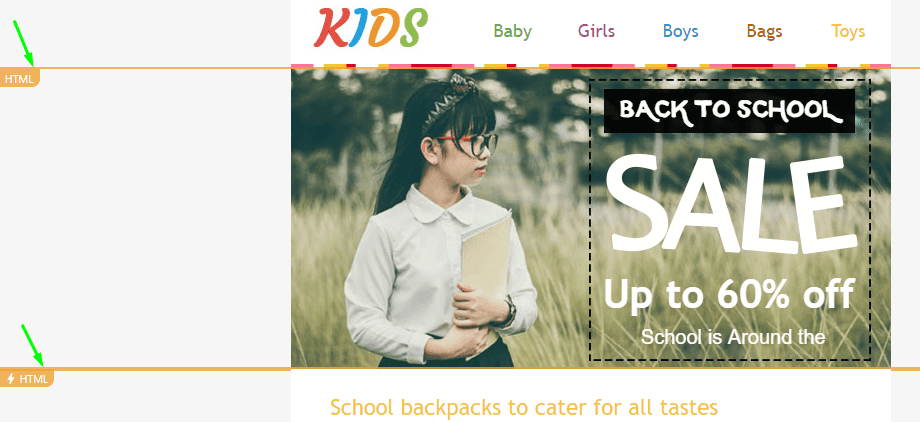 all other elements will render both in HTML and AMP HTML formats.
Yay! We're done building our AMP email.
Required only if you want to transmit — get or post — real-time data in emails.
Create one with our mock-server to check if your email is capable of "communicating" with servers. And if everything is super good, you then contact your developers to have them build a similar end-point on your server.
Providing developers with this element saves them hours.
1.1.2. Validating your emails' code
Before sending this email to your contact base, you need to validate its code to be sure it is correct and is going to work properly in all inboxes.
In Stripo, do it in the preview mode with no extra moves like copying and inserting the code into any external code validator.
If there's any mistake, click the red button for the list of errors you need to fix.

Happy to admit that if you craft AMP emails by either using any of our blocks or by using any of our respective templates, your code will be correct and will not contain any errors.
1.1.3. Exporting dynamic AMP emails
Direct export saves time and prevents from losing some attributes and tags.
This is why we've upgraded our integration with some ESPs that support AMP.
Now export your dynamic emails to your ESP directly. If the latter does not support this MIME-type — download your newly created email as the AMP HTML file. Now you only should paste it in your ESP.
Currently, only the listed below ESPs support direct export of AMP emails from Stripo:
But the list is growing as more and more ESPs start supporting the AMP technology today.
1.2. Library of modules
Must confess, I am extremely proud of this feature.
It simplifies email creation: you build and store entire rows and structures, or small email content elements — they all are known as email modules.
When crafting a new email campaign — you just put a necessary module into your template.
If necessary — slightly edit it.
This feature does reduce time on email production.
1.3. VML button for Outlook
Many of us have faced the problem when rounded buttons look quite different in most versions of the featured email client: they had no white space, the button background differed from what you set, so did the font type.
Before, to fix this problem you needed to embed a special VML code and then customize it to fit your email editor rules and requirements.
Now you just toggle the respective control on the settings panel — and your buttons will look terrific in MS Outlook.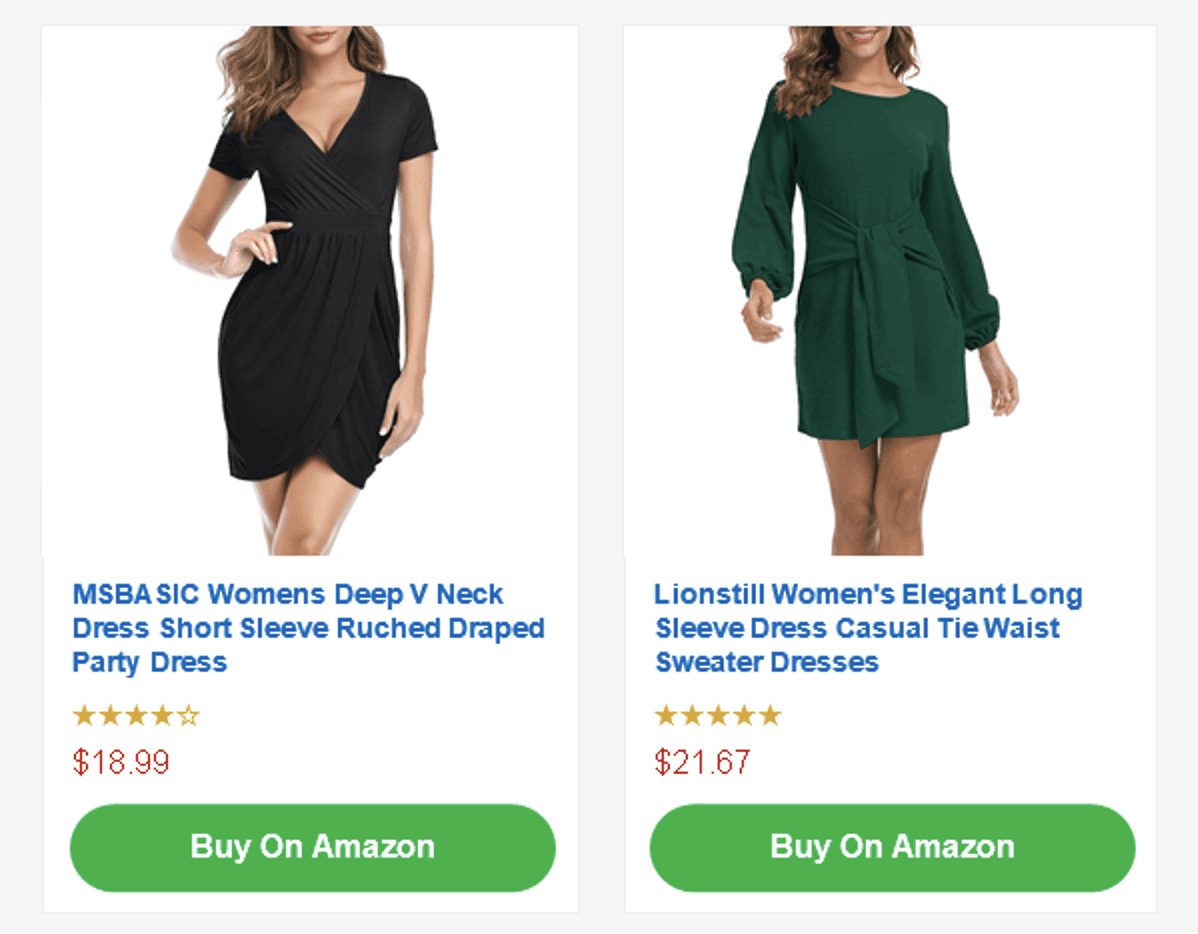 (Outlook 2016, Windows)
1.4. Email on Acid plus Stripo, or how to preview emails across 90+ environments with 1 click
We all know that testing and previewing is an essential step of email building.
You normally need to copy your email code for checking/previewing a certain email across multiple environments with an email testing tool.
This Spring Stripo integrated with Email on Acid — the world's top testing tool.
Now you can check and preview your emails directly in Stripo, as Email on Acid provides you with screenshots of your email rendered in popular email clients and on multiple devices right in your Stripo account.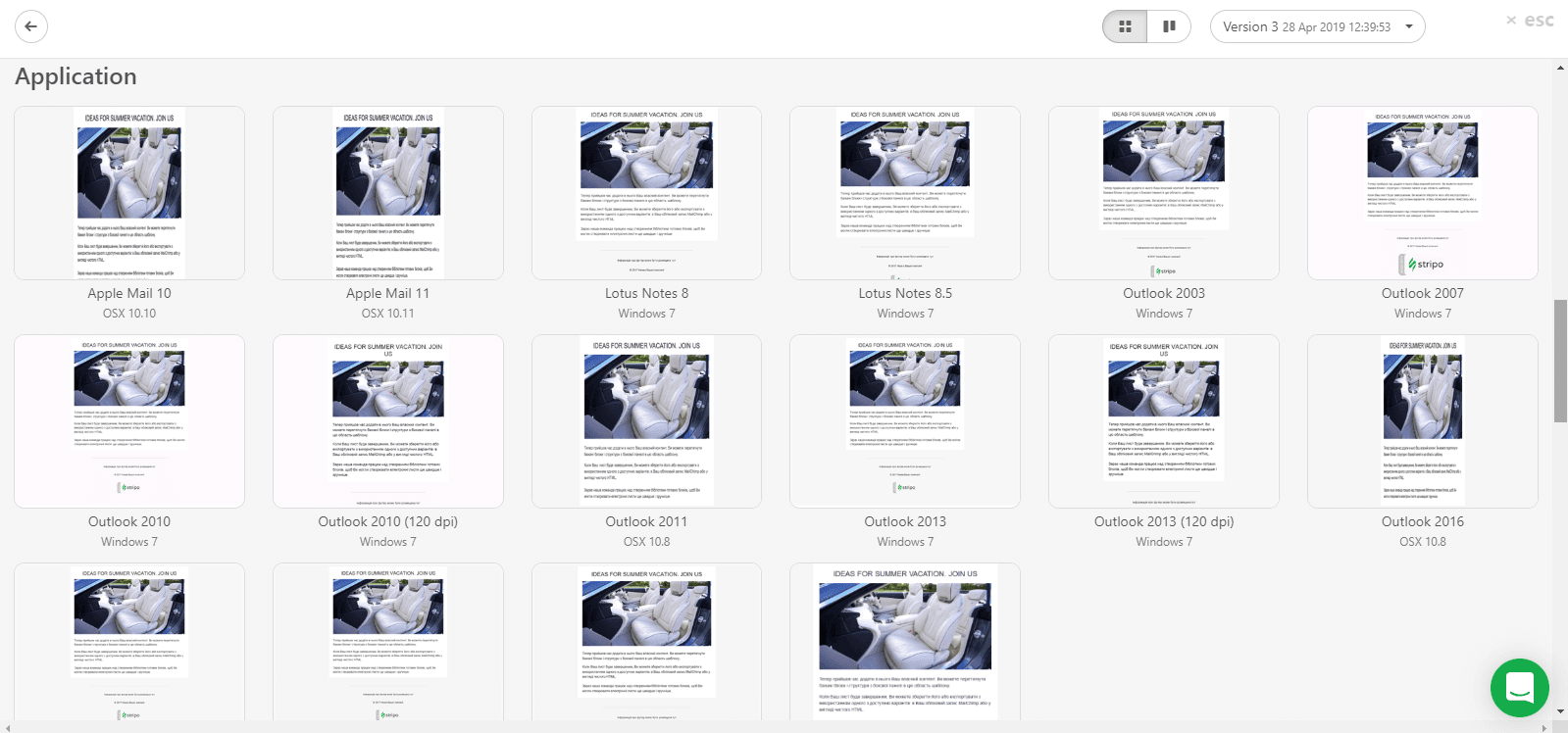 Previewing emails allows you to prevent diverse rendering issues.
Please watch this video to see how we preview emails with Stripo.
1.5. Drag-n-drop AMP blocks
I just want to emphasize that now Stripo is the only tool now that enables you to create dynamic AMP emails with no coding skills at all for its drag-n-drop accordion and image carousel AMP blocks.
More blocks to come soon ;)
1.6. Mock server
Just one last thing about AMP.
If real-time content is required for your emails — use our Mock server to check if your emails are built correctly and can send/post dynamic content.
1.7. Complete knowledge base on Intercom
When our support team is on holiday, like during the Christmas season, and you need some help — you can find the answers to all your questions on our tool whenever you need it in our Help Center.
We have over 100 articles with detailed explanations on how to handle email building with Stripo.
I guess there's no question left uncovered.
1.8. CSS-animated buttons, or how to apply a hover effect to buttons with no extra moves
CSS-animation, aka hover effect, is a must in email design today.
We enable our users to apply it effortlessly. Again, with no coding skills.
1.9. Gmail promo annotation
Bulk emails in Gmail normally go to the Promo tab.
With the promo annotations, your emails literally stand out among hundreds of other ones.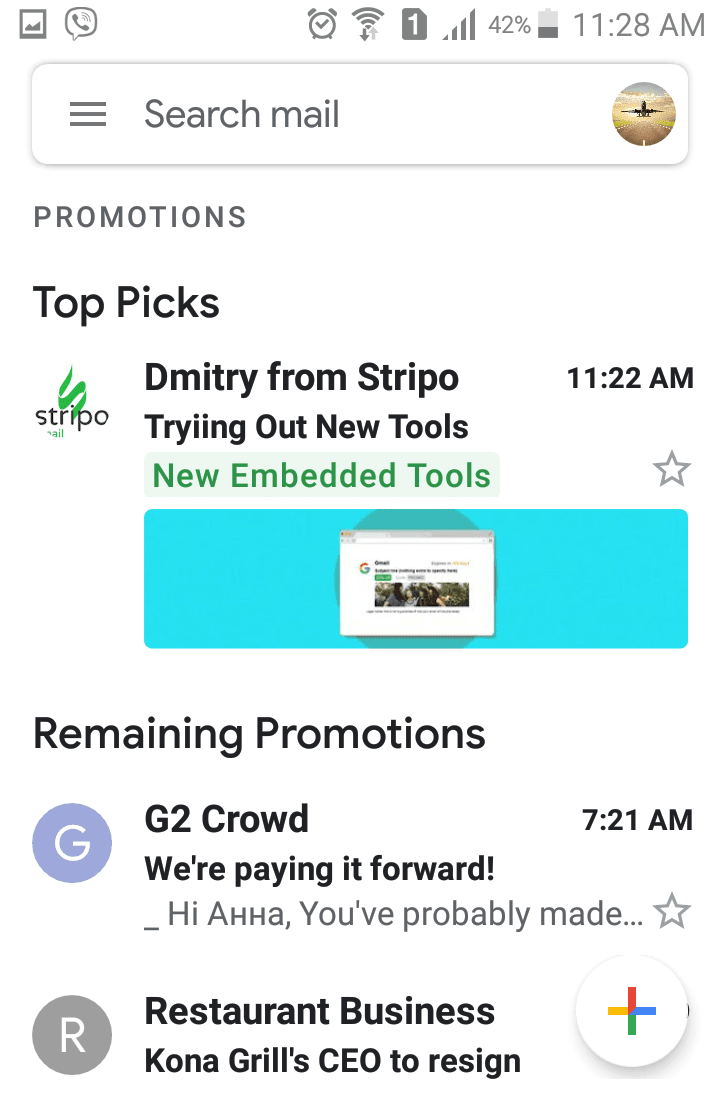 These annotations show the amount of your discount, the promo image, your logo, the expiration date if you've set them.
There you two ways of building these annotations in Stripo — on a respective page or in the settings panel.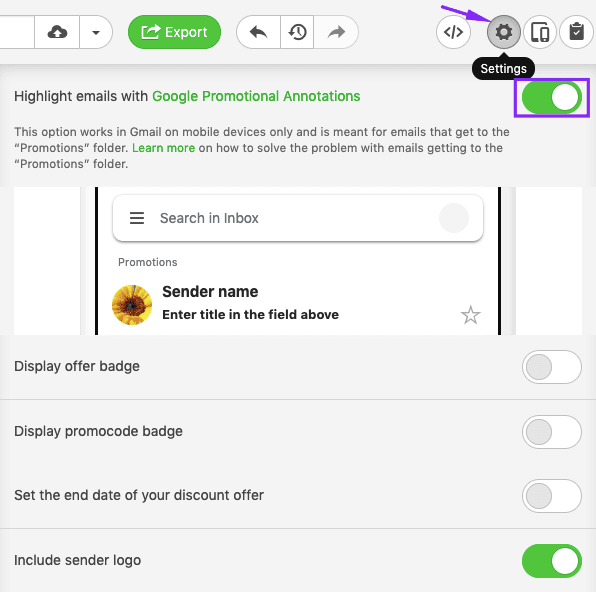 Both ways are as easy as it is.
1.10. 4 new languages added
It is always easier to work with a new tool in your language.
At Stripo, we track what languages our users speak.
Our investigation showed that Brazilian Portuguese, Italian, French and Spanish are quite popular among our clients.
Hence, we decided to add them to our UI — you did not even have to ask us about it.
Yes, our site and our editor now go in 8 languages:
65.21% of our users speak English;
13.55% — speak Russian;
6.68% — speak Spanish, added in 2019;
5.15 — speak French, added in 2019;
3.71% — speak German;
2.66% — speak the Italian language, added in 2019;
2.49% — speak the Brazilian Portuguese language, added in 2019;
1.0% — speak the Ukrainian language.
However, if your language is not on the list yet and you would like us to add it to our site, please email us. And we'll do our best to translate Stripo into your mother tongue ASAP.
1.11. Folders in folders
In a survey that we ran this year, many of you said you needed the ability to place folders in folders. You asked — we listened.
We released this feature like a week or two ago.
As a Stripo user, I find it convenient, too ;)
1.12. Integration with multiple ESPs
We enable you to transfer your emails/templates to your marketing automation platform with just 1 click. Like I said above, direct export saves time and prevents from losing classes, tags, and attributes.
During the direct exporting process, we remove all Stripo's custom classes and deliver only pure HTML code to your ESP.
Moreover, your emails/templates remain editable after being transferred.
Every week, we receive hundreds of emails where you ask us for integration with certain ESPs.
So, per your request, this year, we've integrated with multiple platforms:
(in alphabetical order):
Act-On;

Active Campaign;

Amazon SES;

AMP HTML file;

AWeber;

dotdigital;

HubSpot;

IBM Acoustic Campaign;

iContact;

Iterable;

Klaviyo;

MailClickConvert;

Maileon;

Mailgun;

Mailigen;

Mandrill by Mailchimp;

Marketo;

Ongage;

Pepipost;

Postmark;

SparkPost;

Sendloop;

SharpSpring;

Tripolis;

Zapier.
25 this year.
40 integrations in total.
If we're still not integrated with your ESP, you can always download your templates as HTML, or just contact us and we'll do our best to perform integration with your platform ASAP.
1.13. Security test by Bishop Fox
To assure you and ourselves that the data you share with us remains totally secure, we contacted Bishop Fox, the world's leader in offensive security consulting.
During a month, they were testing and validating our tool and our export methods.
Result: no breaches found. We are now officially allowed by Gmail to deliver our emails and templates to the Drafts folder in your Gmail account.
As an addition to this security test, we are now accepting reports of potential vulnerabilities and security issues. Found any, let us know and we'll fix it.
1.14. Updated roles and permissions for Agencies
Quite often, a few people share an account or work on the same project — relevant for Agency subscription.
Hence, it's vital to know what level of access a certain person has.
We reviewed and updated all the roles available for Stripo users.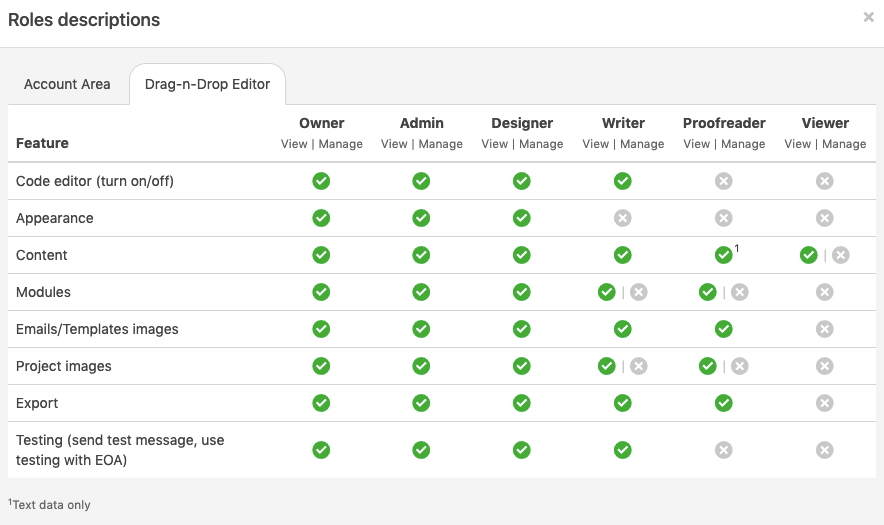 Now, when setting a role for your colleague, you know exactly what he or she will be able to do to your emails.
1.15. Redesign of our website
On January 30, we rolled out a totally new version of our website design. We worked hard to make the UI more intuitive.
Not only did we redesign our website, but we also transferred it to another web hosting service.
The new web hosting service enabled us to translate our site into 4 additional languages, it had a positive impact on the site load speed as well.
We managed to do it so smoothly that nobody noticed ;)
2. Error handling, or how we provide you uninterrupted access to Stripo and its features
In last year's report, I mentioned that we run numerous tests every business day. We still keep doing it.
I want to repeat myself and say that every time when rolling out a new feature, we run also manual tests to check if everything works fine.
However, some bugs occasionally occur. When we notice any or when you report one to us, we hurry to fix those issues in order to provide you uninterrupted access to our product.
This year, we've fixed 2024 bugs:
~200 essential bugs for the editor and ~100 essential bugs for plugin were highlighted on the Release notes page.
3. Our failures
I've just bragged about our achievements — features we've managed to implement.
However, the year could not go without pitfalls.
I feel like saying a few words about our biggest failure in 2019 — collaboration tool, which was supposed to be released this Fall. We wanted it so badly.
Unfortunately, we've faced some serious obstacles, but we'll overcome them soon.
And in the middle of 2020, you will see our brand new editor with the so long-awaited collaboration tool.
In fact, it will be much more than a typical collaboration tool you can think of.
I'm sure we will surprise you with its capabilities, which will make working with Stripo even easier.
4. Our plans for 2020
We are full of bold plans for 2020. Here I want to mention just some of them.
4.1. AMP forms and AMP lists
We are now developing the AMP-form and AMP-list blocks.
Yes, we want you to use these innovative components in your emails with no coding skills.
АМР form is meant to let you run a single- or multi-questioned survey in emails.
It won't be necessary to cope with code at all as you will be able to paste your end-point right in the settings panel.
You can build your endpoints even with Zapier.
AMP list will let you edit and update data after an email has been sent over to customers.
Such complicated actions with no coding skills!
4.2. Synchronized modules
Online stores, on average, use about 50 emails — trigger and promo — for communicating with customers.
Just imagine — your email or postal address has changed, you redesigned your logo, etc. Editing this information across all emails sounds like a pain in the neck.
Soon, you will only need to edit this info in any template, and all other email templates of yours will inherit these changes.
4.3. Email template marketplace
We want to enable you not only to build emails in Stripo, but also to sell them.
4.4. Landing page builder
Yep! Building landing pages will be as easy as 1-2-3.
4.5. Upgraded email builder
More functions, more opportunities, more features — working with Stripo will be easier and more fun!
4.6. Collaboration tools
Like I said before, we are working on collaboration tools to enable you to leave comments, to approve emails directly in the editor. The fewer actions, the better.
4.7. Simultaneous editing
Ever thought of working on emails simultaneously as you do in Google Docs?
Well, we have thought about it too.
Next year, we are going to release this option — simultaneous editing in real-time.
5. Brand awareness is growing
I can't help but boast about our growth a little just so that you know the product you are using is getting popular.
Highlighting just the brightest events here:
5.1. Our family's growing
Yay!! This year, over 110 000 users joined Stripo. And now there are more than 145 000 of us.
We're grateful to each and every one of you for choosing Stripo.
5.2. Google knows Stripo
Yesss!! Stripo is the first and currently the only email editor to be listed on Google's dev page as a tool that allows building AMP emails in the Drag-n-Drop email template editor.
5.3. Startup Grind dedicated an event to Stripo
This is true! The Startup Grind community in Ukraine dedicated an event to Stripo.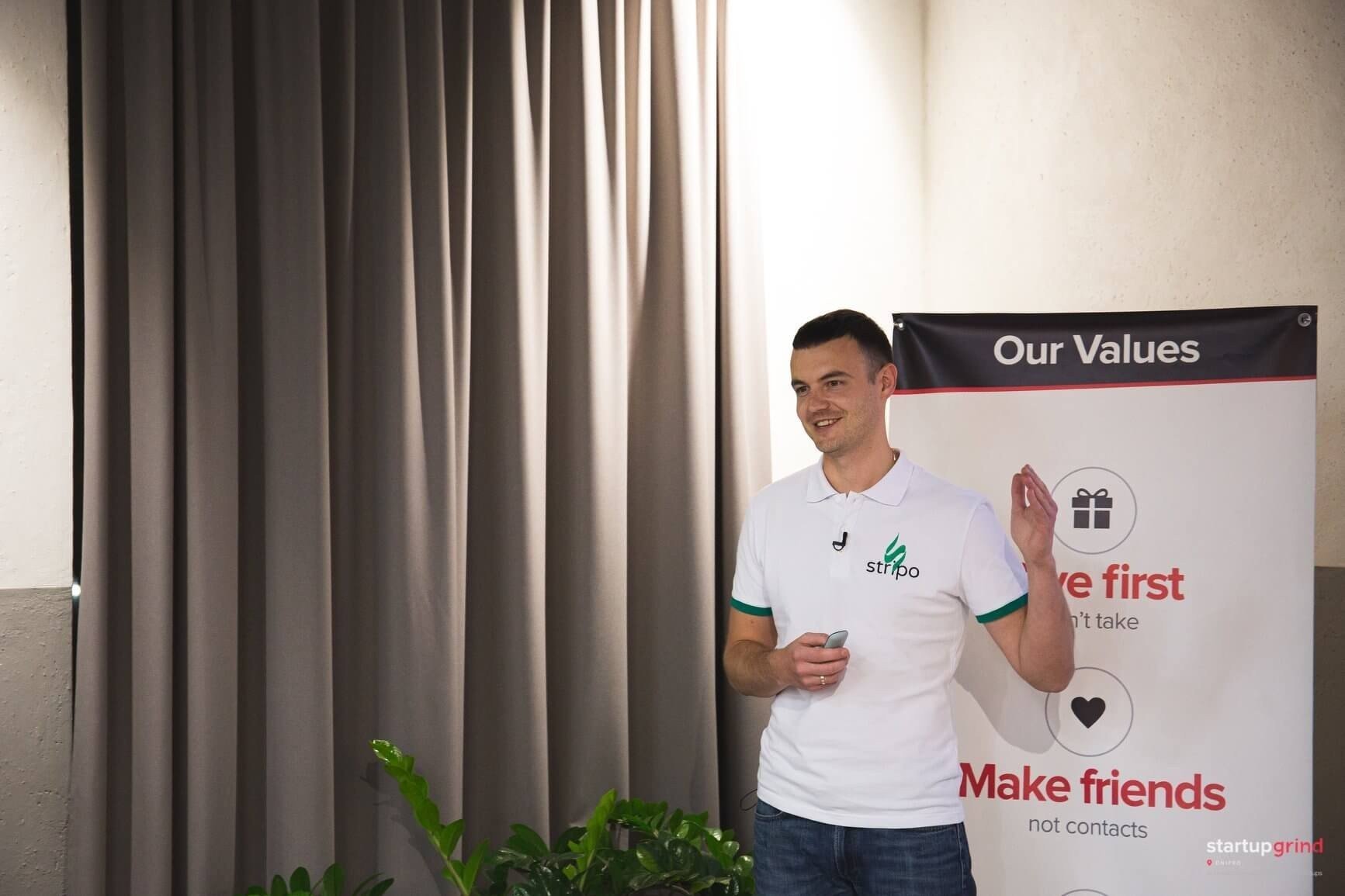 (Our PM Dmitry Kulaksyz)
The conference hall was full. We were proud to present our product there.
5.4. Education, or how we study
Stripo was selected out of 4500+ teams for participation in Startupbootcamp Commerce Acceleration Program 2019 in the Netherlands.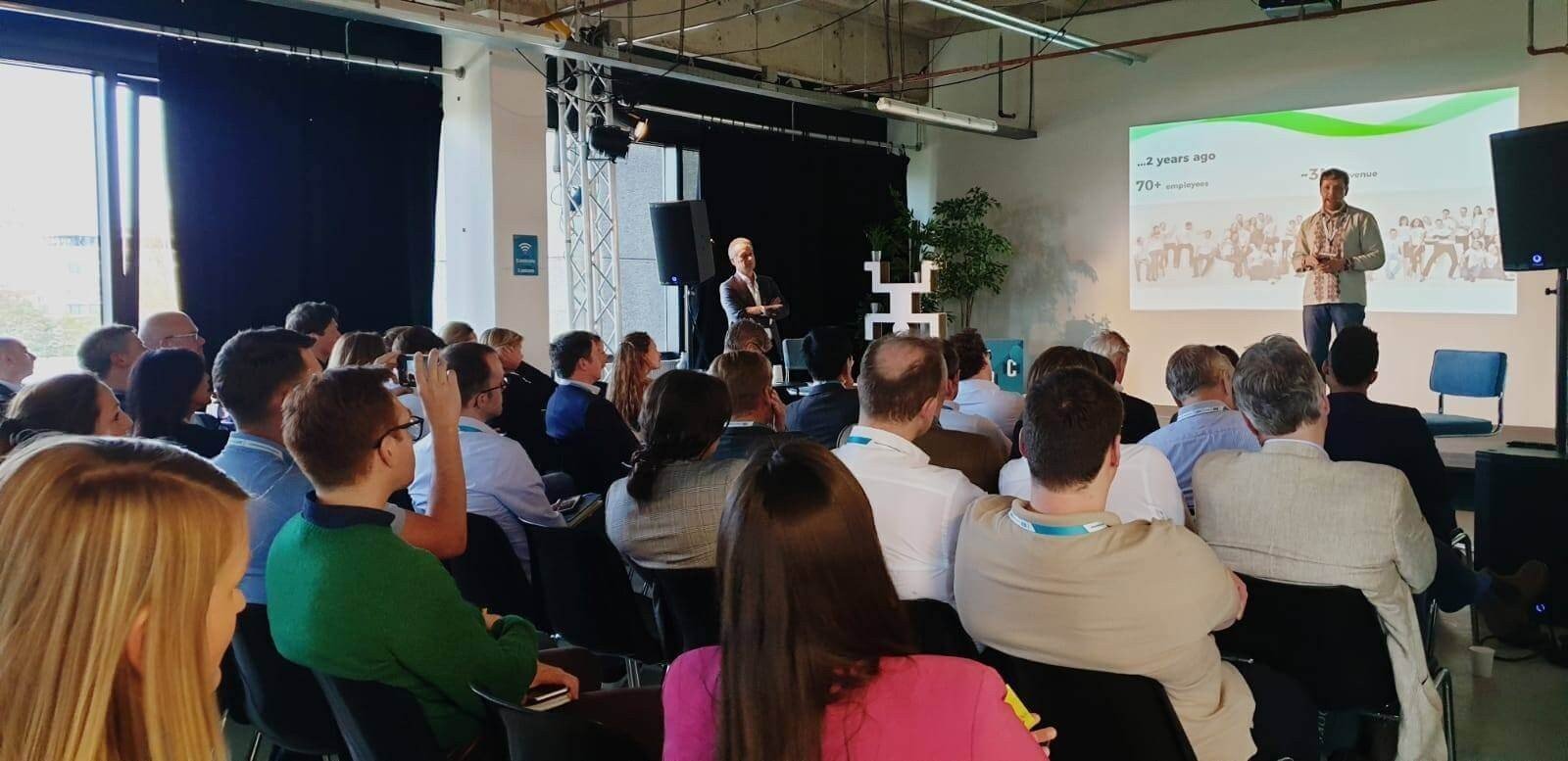 There we successfully went through the intensive 3-month acceleration program.
We studied marketing, we studied pitching, met new partners, shared ideas with products like ours, heard feedback on Stripo editor from some influencers — enterprises and independent email designers.
5.5. We appeared as speakers at multiple events
This year, Stripo was invited to diverse conferences and seminars.
In September, we, along with SparkPost, hosted a workshop at the PMTA Summit 2019.
In October, we alone hosted another workshop by ourselves and even made a presentation on AMP emails at the OptIn2019: Email Intelligence Conference in Carmel Valley Ranch, California.
Representatives of Google, i.e. some members of the AMP team, were there. They liked our report and our tool! We discussed closer collaboration. Yay!!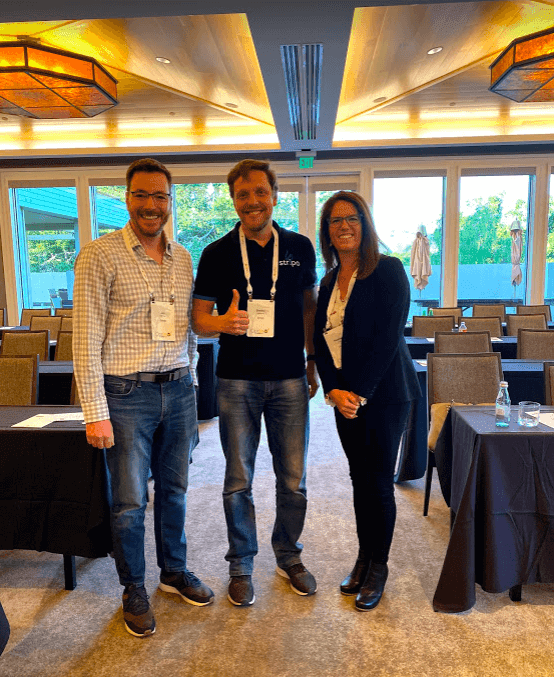 As a result, we were among the first teams in the world to try out the beta version of AMP for email on mobile devices. We even got their feedback on our respective post.
5.6. Stripo pitches at festivals
Excited to add that we were also invited to pitch at events like the TNW Conference, Disrupt 2019 held by TechCrunch in San Francisco, Launch Scale in SF, WebSummit 2019 in Lisbon, Webit Festival Europe 2019, etc.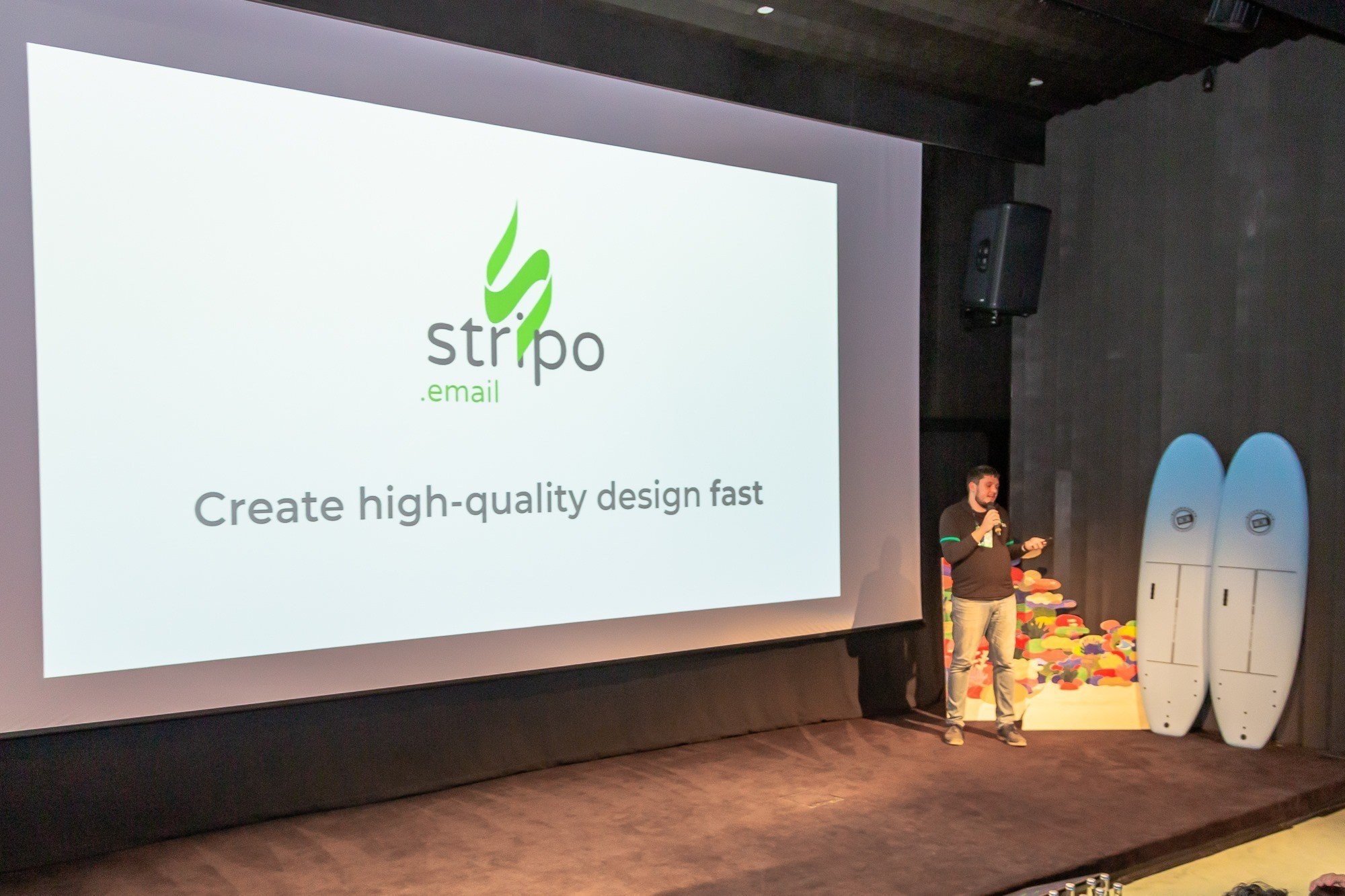 (Our CMO Ivan Burban)
There were many other bright and important events we've participated in and attended this year — hard to enumerate them all here.
But I can tell you that I spent much more time traveling to all these conferences rather than here in my home country :)
5.7. Mentions, or how Stripo awareness is growing
This year, we were featured in blogs of many famous companies — we are grateful to each of them for that.
Email on Acid, HubSpot, Mailgun, Outbrains, and many other opinion leaders mentioned us on their blogs.
Brands like AWeber, HubSpot and Mailchimp mentioned Stripo as their technology partners. Yay!
One more thing: the number of results in Google, when you search for Stripo, increased by 3 times. And — the number of searches performed on Google this year increased by 7 times!
Final thoughts
I want to thank everyone for being with us.
Your support gives us the will and the power to be better, to be the best for you!
Thank you for your trust.
I wish each and every one of you a Merry Christmas and a Happy New Year!
May you all be happy!
Sincerely, Dmitry.