AMP emails are the last word in email marketing. They also mean the new era for eCommerce.
Why use AMP email templates in your campaigns?
Now with AMP utilized in emails, recipients can add items to cart, submit feedback/leave comments, see product items from different angles, play games, and book appointments directly in emails.
Let us deepen into details a little bit.
Reason 1. AMP HTML email templates to increase ROI
In 2020, we conducted an AB test which showed that AMP emails do increase ROI by 520%.
Put simply, we built a survey invitation email that had two versions of the very email: AMP, and a traditional HTML one.
Those who saw the HTML version had to leave the email and go to an external form to leave a comment. Those who saw the AMP version were able to share their feedback on our services directly in the email.
The AMP email with its embedded form generated 5.2 times more feedback than a regular HTML email.
Example of an AMP email with embedded form and interactive rating: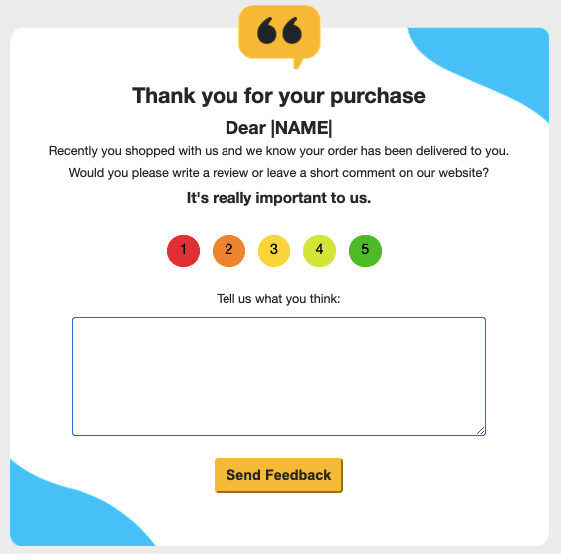 Reason 2. AMP emails to provide users with real-time content
There are a few reasons to use real-time data in emails:
To always show the actual number of product items left in stock. So users wouldn't order those which you have run out of.

To provide users with the latest content from your site.
For instance, we utilize real-time content in welcome emails where we share the most recent posts from our blog. We don't have to build new ones or edit existing emails often.
We built it once, and due to AMP content in emails, blog posts update in emails automatically, without our interference.
Example of an AMP email with real-time content in it: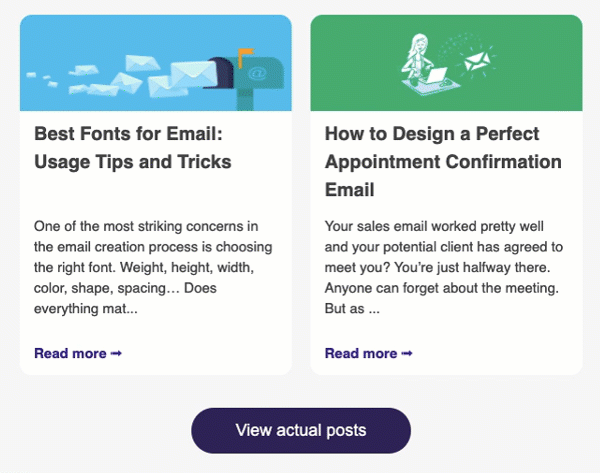 If you want to build a promo AMP email that shows users a real number of product items/colors/etc. left in stock, please refer to our "How to Pull Data from Google Sheets into Emails" blog post where we show in detail how to do that.
Reason 3. Accelerated mobile pages to make emails more compact and meaningful
Image carousel and AMP accordion are meant to save you space in emails.
AMP carousel for your email templates
Image carousel in AMP emails allows showcasing a few product items with the description on one screen or a few photos of the same product from different angles;
Example of an AMP email with image carousel: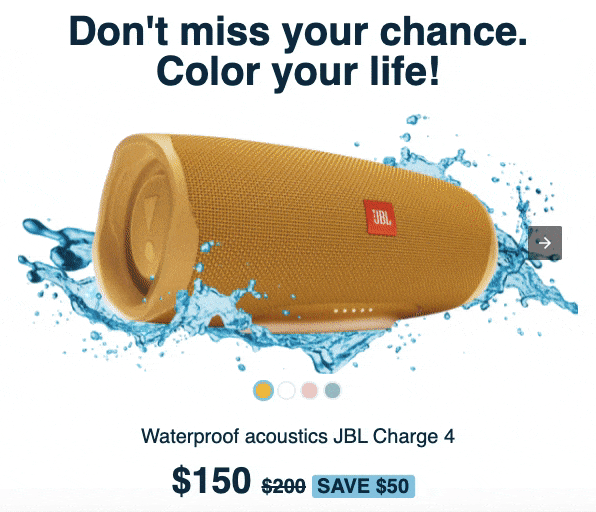 AMP accordion for your email templates
It helps you to deliver information, visually divided into categories for better and easier perception. Users on their own choose what piece of information to read first. How does it work? It looks like a real accordion — all info is grouped in blocks. By clicking on any of them, they get to see more details in this section.
Example of an AMP email with accordion: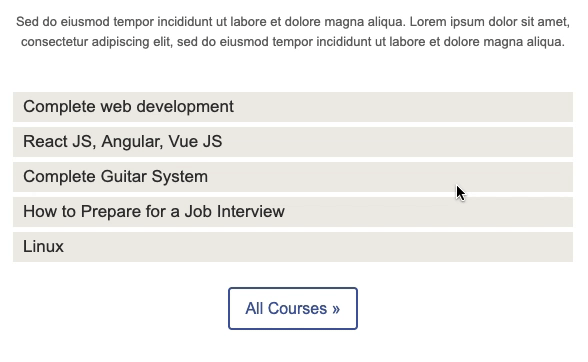 Reason 4. AMP emails to make your content more convenient for customers
Let users confirm their subscriptions in emails with 1 click and see the confirmation right away.
Let users see all possible colors and even choose stuffing for the pizza they are going to offer.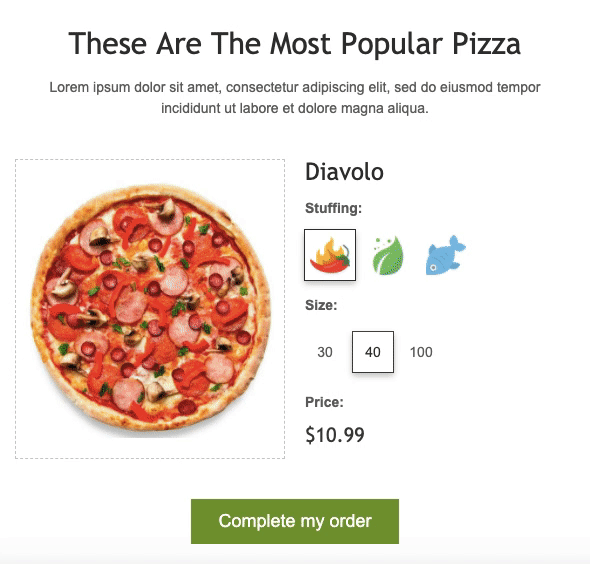 Diverse AMP components even let your users pick the color for their new gadgets right away.
Also, you may let your users book appointments with you directly in their inboxes. Users pick the date and time that suits them.
In summer 2020, we conducted a test that showed that time slots embedded in emails and the ability to book them right in the emails do increase the number of the book time slots compared to regular links to Google calendar and Calendly.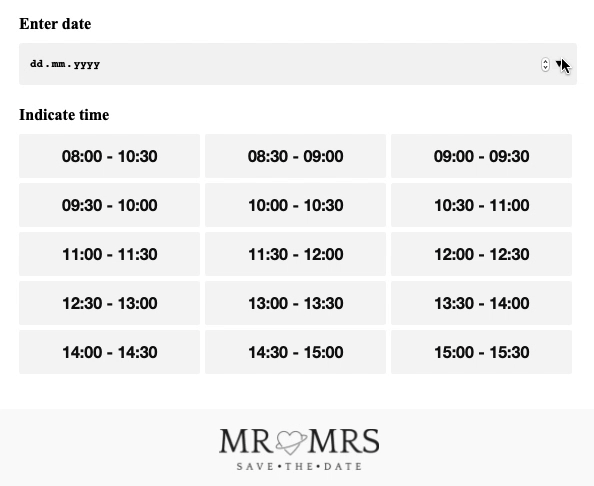 Reason 5. AMP HTML email templates to improve user engagemen
We all love playing games no matter how old we are.
Those brands that know it and utilize gamification in emails do experience increase in user engagement that leads to higher conversion.
AMP is the best and the easiest way to use gamification in email marketing.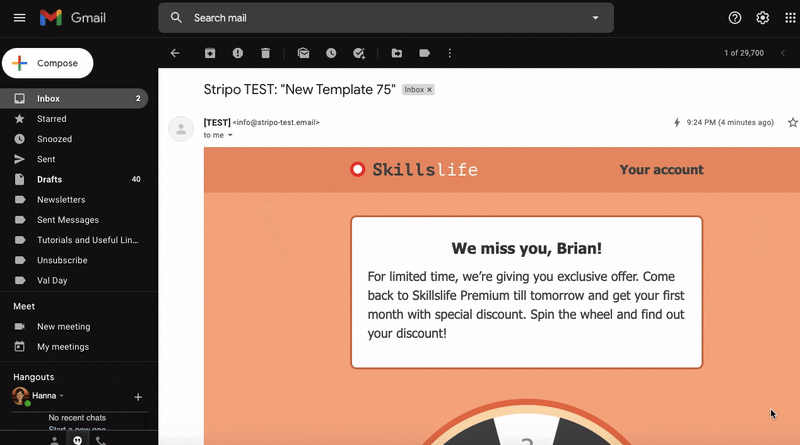 For more examples of AMP emails that do increase conversion, that do help brands become more useful for their clients, please refer to our "Ways to use AMP in emails" blog post.
Ways to build AMP emails
Stripo offers two easy ways to do that:
Way 1. Stripo prebuilt AMP email templates
Stripo offers about a hundred various AMP HTML email templates.
Way 2. Build AMP email templates on your own in Stripo
In the "Ways to Build AMP Emails" blog post, we showed 5 more ways how to build AMP email templates with Stripo. Those are as follows:
by using Stripo's AMP blocks;

by using Stripo's prebuilt AMP modules;

by using and adding code from Gmail Playground into Stripo's free AMP email templates;

by coding emails on your own with guides

by pulling information from Google Spreadsheets.
Get the most out of AMP 4 Email with Stripo
Get started
Email clients that support AMP
AMP emails are supported by the following email clients:
Given that AMP is mostly about dynamic and real-time content, they contain lots of data. To make sure that users' data is secure, brands need to get allowed to send those AMP emails.
We've prepared two blog posts where we show how to get whitelisted with Gmail, and Yahoo.
How to test AMP emails
AMP email templates contain dynamic content.
To check if they work correctly, you need to send test emails to yourself and your friends — just running regular screenshot tests won't help here.
Send as many test emails as you can to different email clients and open them on different gadgets.
Google enabled Stripo's users to send test AMP emails.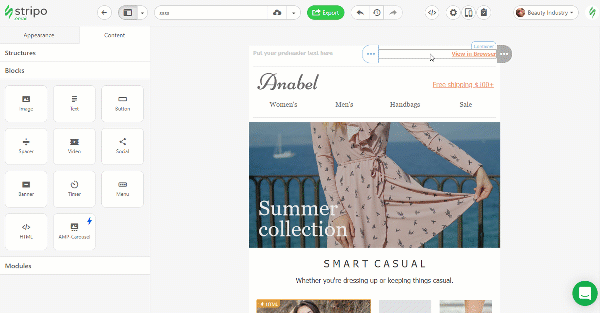 Ways to export AMP email templates to your ESP
Once your email is ready, you need to push it to your ESP.
Stripo offers:
1. Direct export of AMP email templates to certain ESPs with 1 click
You can export your AMP emails to the ESPs on our list that have the "AMP" label on them.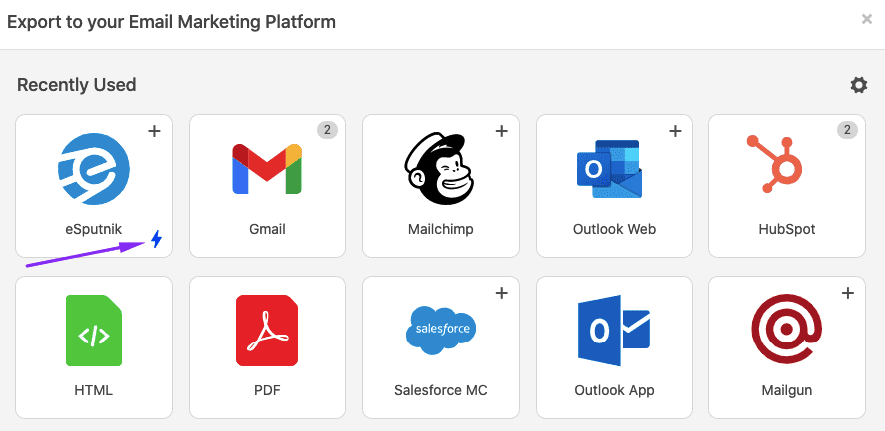 2. Downloading AMP Files
If your ESP supports AMP but is not integrated with Stripo, you need to download your AMP email as an AMP HTML file and then import it into your ESP.

Given that AMP emails do increase conversion, do make emails more meaningful and useful for our clients, we believe they are the future of email marketing.
Take a minute to give them a try with Stripo prebuilt AMP email templates.
Join over 950K users
Start for free — upgrade anytime