07 December 2017
16 Best Email Marketing Tools for Small Business
All marketers have their favorite email marketing tools. And today we will share some of ours, which might ease your life, as well, and improve your email templates.
Every company has its own unique goal. A slogan, strategy of the whole email campaign and the structure of the emails depend directly on it. Thus, here we are going to focus on a design only.
Tools for editing pictures
Sometimes, when you add your own pictures or the ones you have found online, they may spoil the appearance of the whole template due to their bigger or smaller size. In this case, you will need a photo editor.
We will not talk about famous ones like Adobe Photoshop or Paint as you are already aware of them.
We would love to put a light on the free email marketing tools:
Pablo is a Google Chrome extension. You can either use their photos or upload yours. Choose the font size and color to write texts on the pictures. For your convenience, there is a possibility both to work online or download this app to your computer.
Advantages of using:
creates banners;
bank with over 600k high-quality pictures is available. Pictures are categorized;
insert logo and quotes to your images;
and my favorite feature: you can test how your message will be displayed on Pinterest, Mail clients, and Social nets.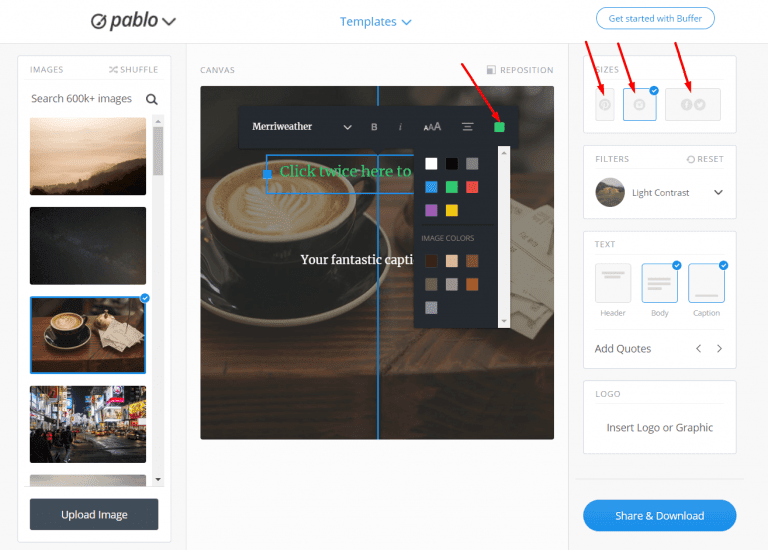 Stripo already contains an embedded photo editor Pixie, "a photo editor application that works on mobile and desktop". All the necessary features, like image orientation, cropping, resizing, color change, dozens of effects, framing, different stickers, etc are presented here.
Advantages of using Stripo Editor:
no need to leave Stripo to edit your pictures;
a rich palette of colors;
zoom in if you work on small parts of the picture;
and what I love most is that you can always cancel the last changes without losing the previous ones.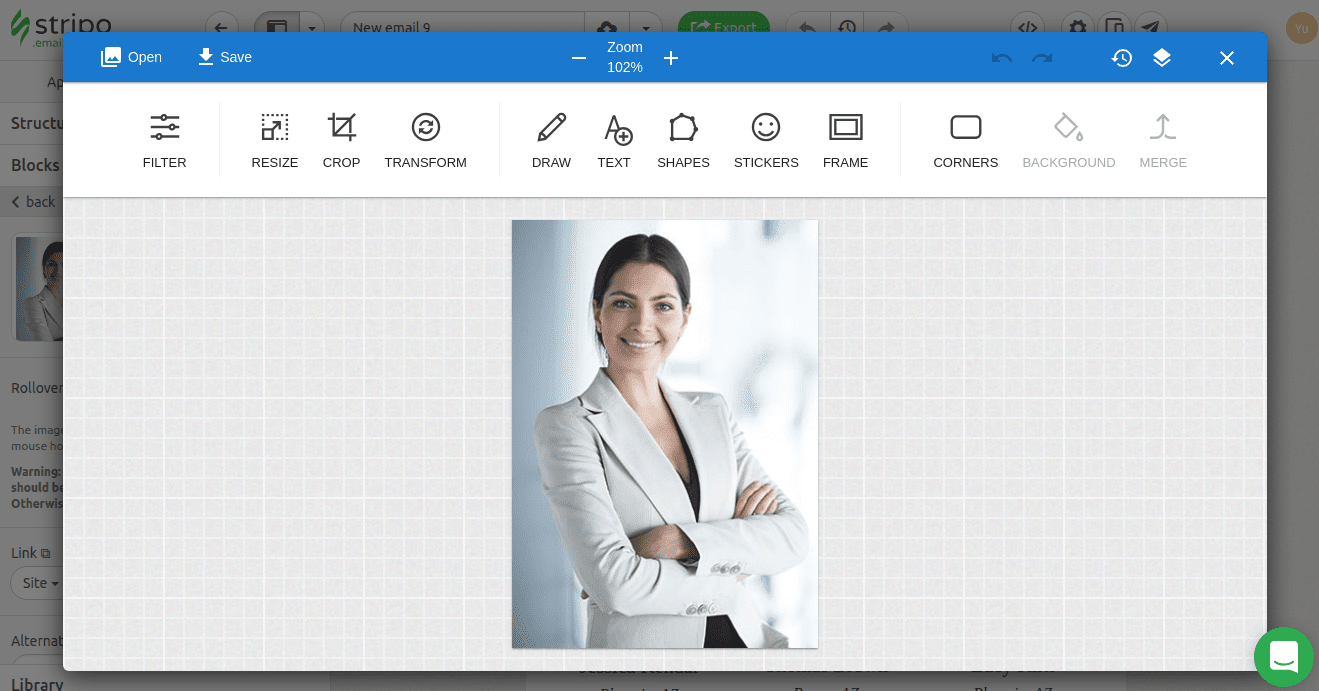 Tools to pick colors
ColorAdobe helps find the perfect match for your company colors. Choose how many of them you would like to combine. Once you have set the necessary number and desired colors, the service will pick their matching shades. You will need this tool to make your picture good-looking.
Advantages of suing ColorAdobe:
selects the perfect colors;
contains lots of ready-to-use color themes;
define colors from your pictures;
shows where exactly on the picture they were used;
you can save these colors for the future messages.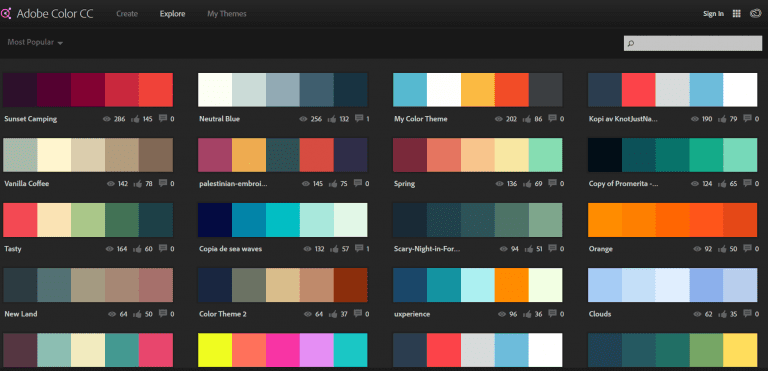 Paletton serves the same purpose. But it works quite differently. You cannot upload your pictures, consequently cannot define the colors of your existing images. You are not able to save your samples. But its distinguishing feature is that: it matches different shades of one color.
Perfect solutions for those who prefer minimalism in the messages.
From my own experience, I can say that no one can do it better than Paletton.
Advantages of using Paletton:
export your palette to social nets or to your email;
color list;
display chosen palettes in ready messages.
I decided to try green: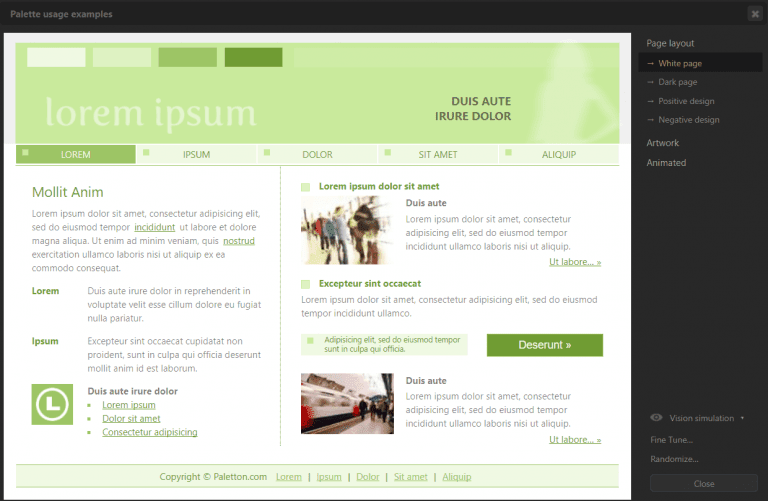 Here is an example of a perfect combination of grey and blue along with black text.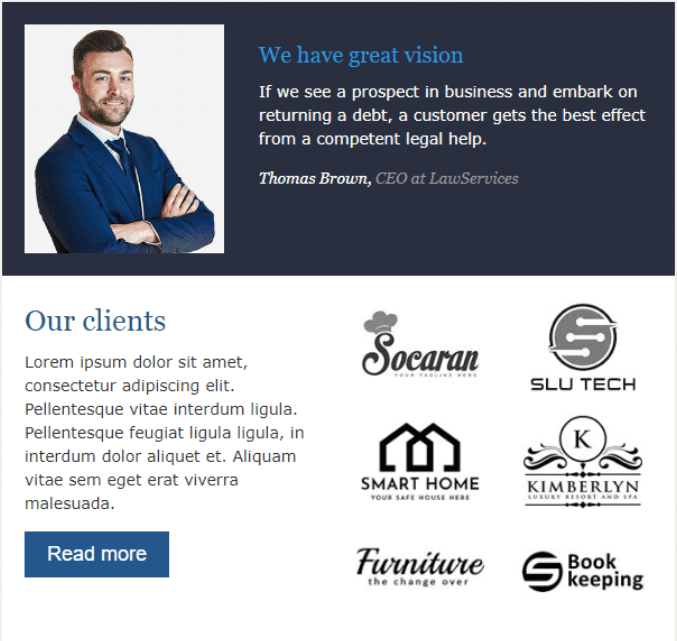 Important! Avoid using all possible colors in your newsletter. Keep it simple. 3-5 main colors will be enough.
Tools for reducing the size of the pictures
The number of people who read their emails on the smartphones is constantly increasing. Thus, you need to make pictures maximum light, without losing their high quality. The tools below are extremely useful for this purpose in email marketing.
TinyPNG allows us to compress images. What does it mean? It means that they reduce the size of your png and jpg files by simply decreasing the number of colors in your images.
Advantages of working with TinyPNG:
allows changing the size of the images literally without losing their quality;
you can do it online;
in the nearest future, they will compress GIFs;
upload up to 20 pictures at once.
Note: TinyPNG accepts files up to 5 MB in size, and if you need to upload a bigger image, buy their pro version.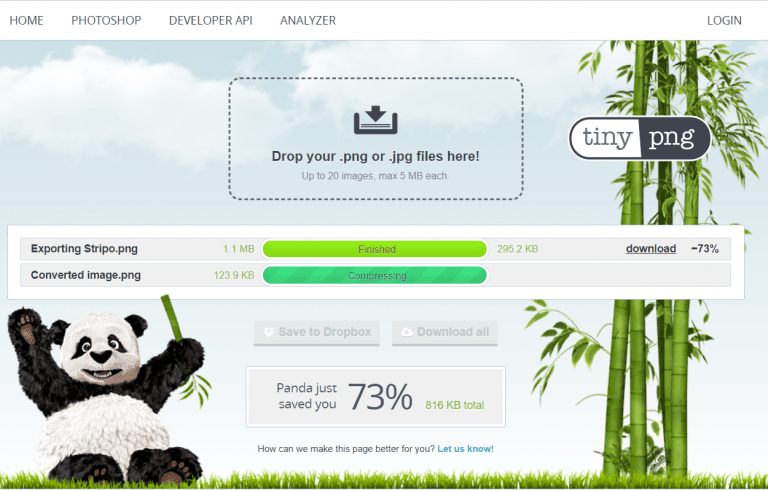 Fixpicture serves the same purpose. But there are three available options for the output quality of your images: good, better, the best. You choose it considering the number of images in your emails. For example, if there is one single picture, of course, you can afford yourself the "best" quality option.
Advantages of using Fixpicture:
supports all file formats;
compresses GIFs;
size limit 3 MB;
allows editing images before saving;
14-days free trial.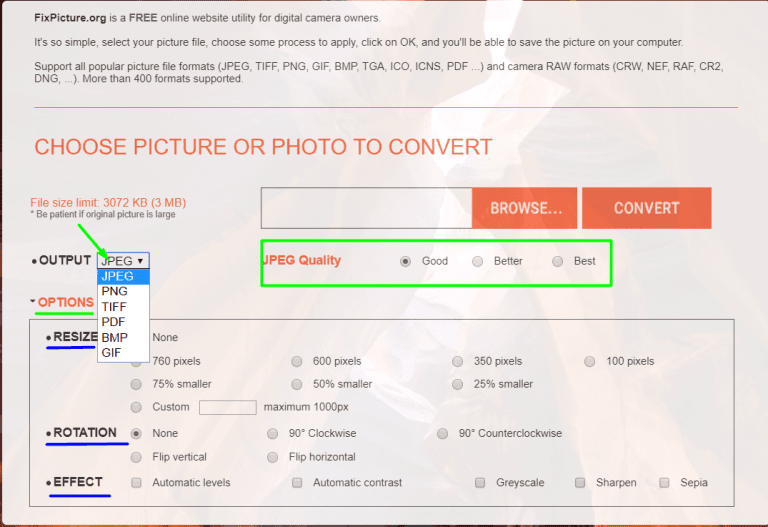 This is all we wanted to say about pictures.
So now it is the right time to tell you how to insert pictures into your Template with Stripo: when you choose "Change picture" in our editor, you will be able to upload your own photos.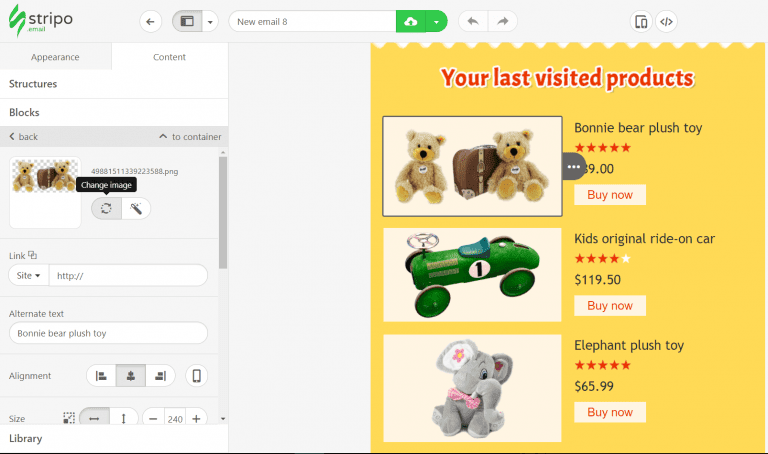 Marketing tools which can add some spice to your messages
Here we propose a list of online email marketing tools we use.
Services to create GIFs and timers
Niftyimages. With them, you can easily create a countdown timer to use in your newsletters. You choose the time zone when the countdown timer expires. Transparent backgrounds… this feature allows you to place your countdown timers anywhere you like, even on the banners.
Advantages of using Niftyimages:
personalized images;
countdown timers;
live Image Editing;
live social feeds.
All these features are extremely useful, but I would explain the next one, which distinguishes Niftyimages from others:
Live Image Editing. This option automatically edits information in your newsletters, such as updated quantity of the remaining items or the increasing number of donations, for example, if your fund is gathering money for planting trees all over the world.
!! In order to use any of their features, registration required.
Motionmail specializes on the countdown timers. You can create a new timer just with a few clicks. The short code can be easily added to your message.
They adjust timers to the recipient's time zone. Adjust timer's colors to your company colors, support many languages. And analyze how many times your countdowns have been viewed.
Advantages of using Motionmail:
adjust timers to the recipient's time zone;
shows expiration time after the time is over;
you may edit the color and the font size of your countdown timer.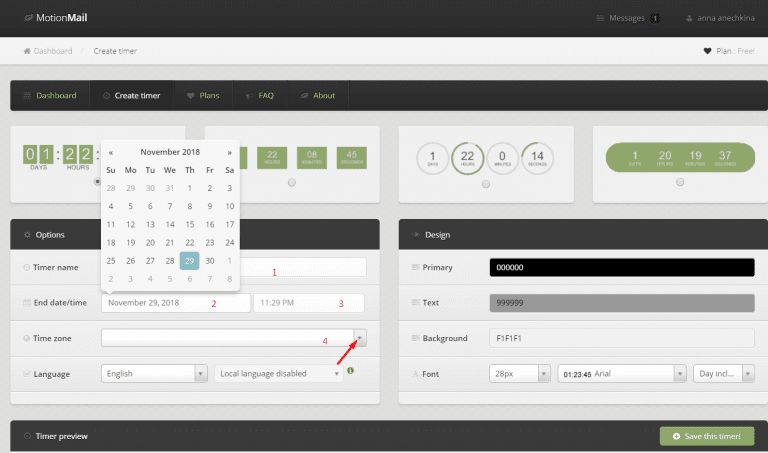 Tools to convert videos to GIFs and vice versa
Sometimes we need to convert a GIF to a picture or a video:
Ezgif lets us convert gif to video. And vice versa. You just upload the file. That's very easy.
Advantages of using Ezgif:
cut the video;
change colors, frames;
compresses videos and animations, if needed;
allows adding texts to the videos.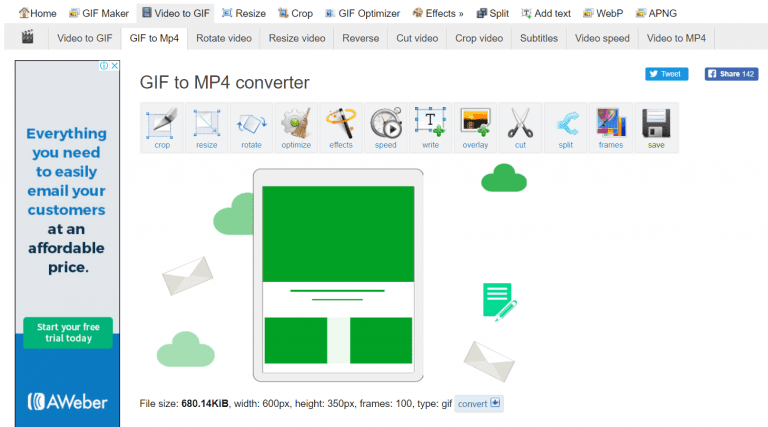 Makeagif allows converting any kind of videos to GIF. You can upload video from youtube, Facebook or can just insert links. If you need a gif less than 10 seconds length, you can use this service for free.
Advantages of using Makeagif:
free tool;
no need to upload the video, just insert the link;
you choose which part of the video to convert;
converts to HD format (premium-account).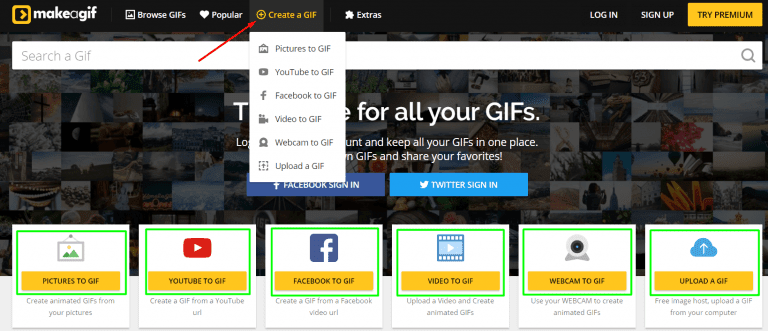 Creating Manuals
Lightshot allows taking screenshots. Then prior to saving, you can crop, rotate screenshots and draw on them. In other words, you do not need to use any additional applications or open any other tools to work with the screenshots. Add text or numbers to the received images if you please. By using Lightshot you can easily underline the most important parts and words in the text.
Advantages of using Lightshot:
facilitates work with its easy tools;
saves time;
doesn't require extra applications;
helps create manuals;
allows sharing screenshots online right away without saving them to your computer.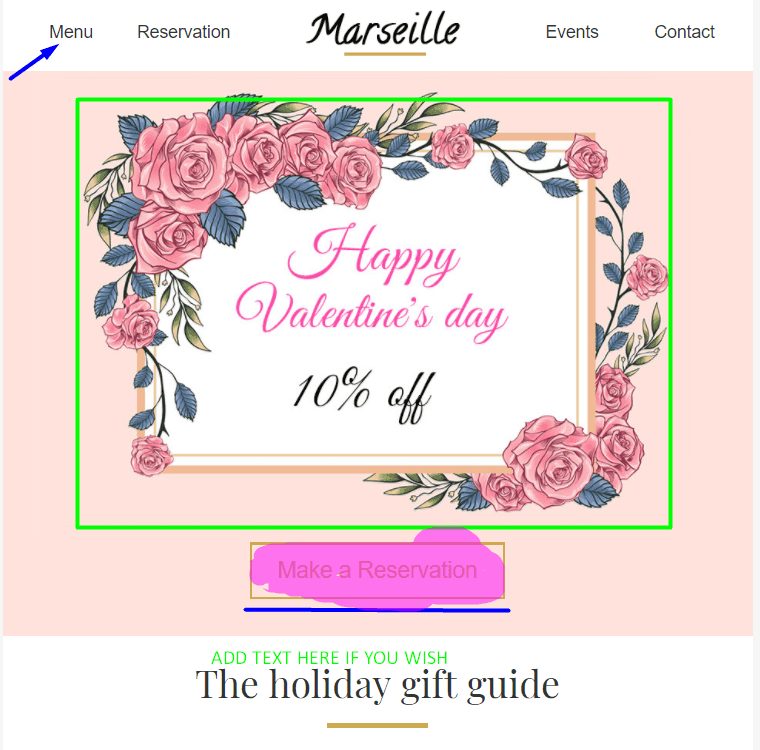 Services to View the Emails Before Sending
Important! We strongly recommend previewing your emails before sending them out. Check whether they render correctly on all possible devices and email clients.
Note! Retina screens demand higher resolution. Twice higher than normal screens. Pick the picture which fits Retina, consequently, it will be correctly displayed on all types of screens.
Litmus or EmailOnAcid both display the screenshots of the emails on more than 70 devices and email clients. I would advise using any of these websites always before sending out emails.
Personally, I do it with Litmus.
Advantages of using Litmus and EmailOnAcid:
they test your email on 1,600 machines (impressing!);
you will see the screenshots of your email displayed in about 70 different devices and mail clients;
you can integrate Litmus, it will edit your errors and optimize the loading time for your emails.
They check for desktop, mobile devices, and web.
Important to note:
Email on Acid is now integrated with Stripo. You can preview and test your email across 70+ the most popular combinations of email clients and devices right in the editor just with 1 click!
For more information on how to preview and test your emails with Stripo, please read our dedicated blog post.
Now when everything is ready, you need to find an appropriate Email Service Provider.
Email Service Providers
Investigations and comparison of the following transactional email services show they have many features in common. They all perform automatization of your business, analyses of CR and CTR, all possible metrics and provide reports. They all perform perfect service. But they also have the distinguishing features.
Mailchimp is one of the most world-famous email service providers. A perfect tool for new business. What I love about them is that they discover trends in your data. Haven't seen it anywhere else.
They provide free service for small companies and IEs – if your subscribers' base is less than 2,000 names or if you send out less than 12,000 messages per month.
But useful options like "delivery by time-zone" or segmentation of your customers by interests, and trigger messages are not included. To get them you need to upgrade to the paid "Pro-Marketer" package. While some other services include these features in the free package.
Advantages of using Mailchimp:
enables to customize the way you view reports. Very convenient for beginners;
allows starting campaigns from mobile devices;
integration.
GetResponse is a great tool for bloggers. Webinars and CRM are their unique features. They send notifications, invitations, and follow-up messages to help you build strong relations with your target audience. I would recommend this provider to all kinds of info-business.
They do not offer a free package, but you can get a one-month trial. Deliverability consulting available for Enterprises only.
Advantages of using GetResponse:
helps you build a landing page;
1.5 hours a month of expert consultation regarding your marketing strategy;
dynamic content, including geographically relevant content and language to meet individual subscribers needs.
eSputnik is a perfect tool for eCommerce. Majority of its clients are big online stores. The ESP offers various complete scenarios, which you can even combine, to analyze and increase CR, to boost your business.
They track even offline history of your subscribers, like revisit of a restaurant or use of a promotional code. Which gives you complete information regarding your customer's preferences. But this option is available in case of advanced integration on a client's part.
Upon signing up, send out to 2,500 messages for free. This is not much, but quite enough to experience whole functionality, available with the test package.
What I like most about this ESP is that from the first day after registration, their support-department helps you with settings.
Advantages of using eSputnik:
eCommerce specialized, provide with dynamic content, detailed RFM, Cohorts, and Prognostic analytics;
multiple-channel system: emails, SMS, IM, web push;
optimal Prices at a high volume of subscribers.
Just with two clicks, you can export your emails to all the 3 ESPs.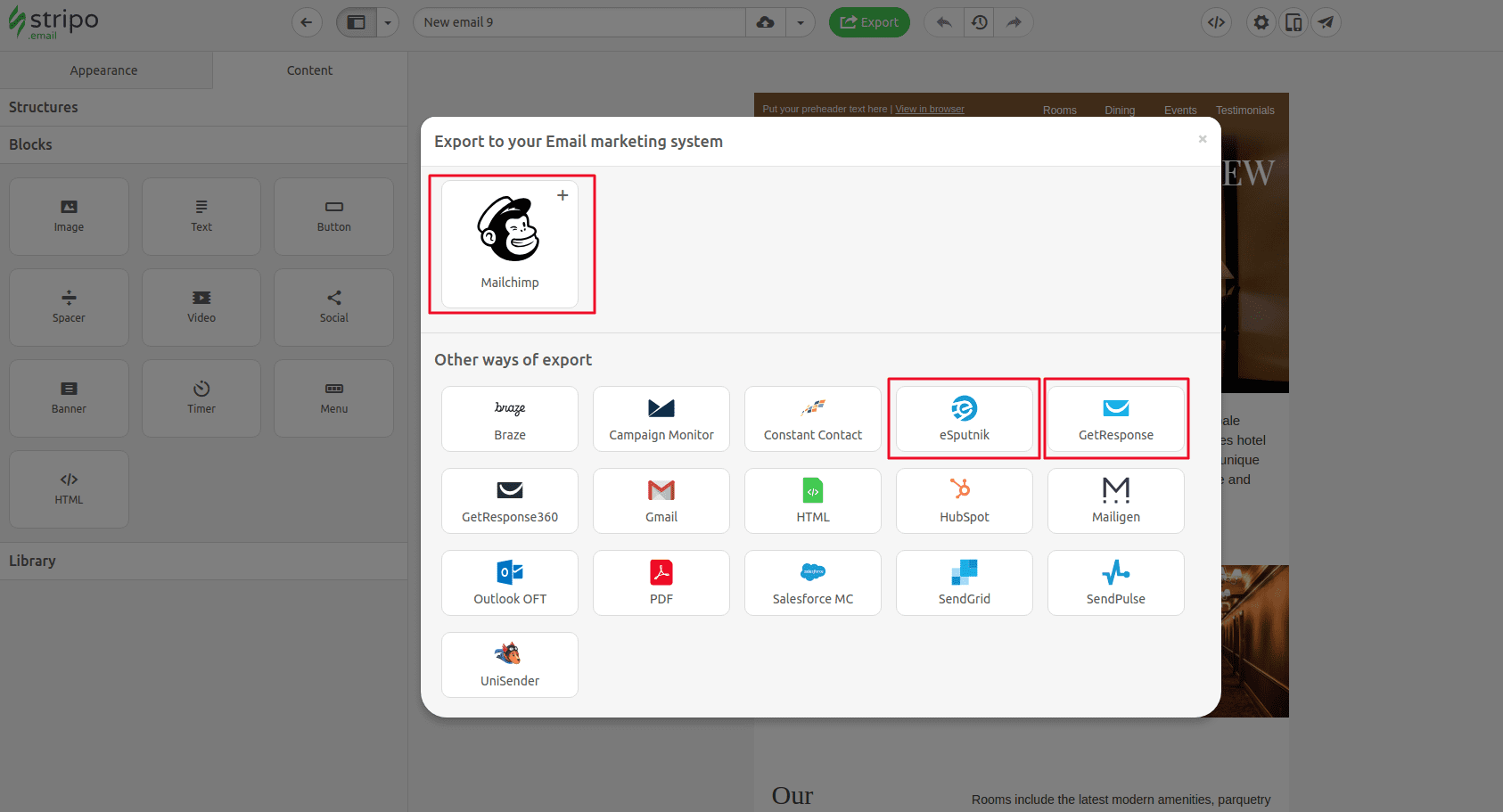 In this post, we made a brief review of the most used and, to our mind, the best email marketing tools for small business, use of which, hopefully, will help you improve your future marketing campaigns and will save your time.
I sincerely wish you the best of luck!