30 August 2019
Stripo Content Modules: What Are They And Why Do You Need Them?
Building HTML emails has never been this easy! By using content modules from our library, you can build newsletter emails much faster than you used to.
Content Module is an independent email template element that has been crafted and saved.
Our content library consists of a number of email elements that have been carefully crafted by our designers. Those modules are elegant, gorgeous, some of them contain configured smart elements, some of them contain AMP elements. Our designers have built over 250 modules so far. And this number is growing every day. All these modules are at your service at any time.
What is very important is that you can both use our prepared modules and build / store custom ones.
Reuse all these modules for numerous email campaigns, combine them the way you like, edit, build certain modules for different projects, etc. — all this reduces the time you spend on email production. You can build entire emails just by dragging modules into your template — no coding skills required.
Why do you need them?
When crafting a new campaign, you just choose a module from the library; drag it into the HTML email template you are working with.
Modules like logo, header, menu, contact information go unchanged from campaign to campaign.
You might want to make some changes to product card modules to update their content, such as product snippet, price, and description. However, elements like buttons, the size of images, font size and font colors, text alignment will not require your attention as you've set them prior to saving modules to the library.
Our library of modules option will save you precious time on building emails.
Where are the modules stored?
All content modules are stored in the namesake section — Modules, which you may find in the settings panel.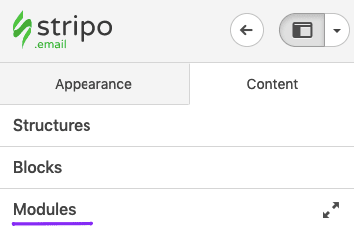 For your convenience, this section is divided into three groups:

My modules — these are the custom modules that you build on your own;

Template modules — these are the modules that make up the template you've picked in our library of free email templates;

Advanced — those are the modules that were crafted by our coders and designers. Now there are 250 modules in this group, but the list is constantly growing.
How to find a necessary module
You click a tab in the Modules section to enter a respective group.
Now there are two easy ways of searching for the right module, apart from just scrolling down :)
Way 1. Entering module name
When saving modules to the library, you give them names. We also name all the modules that we build.
just write this name in and click "enter";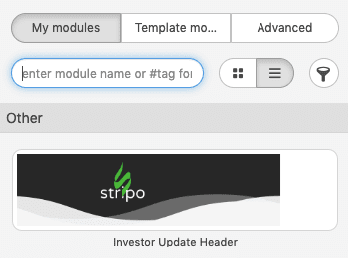 drag the necessary module into your template.
This method works best for situations when you are looking for the modules that you've built.
Way 2. Searching by categories
In every group, modules are divided into the following categories:
preheaders;

headers;

banners;

info modules;

product cards;

footers;

AMP sandbox.
There also is the category named "Other". Here you will find the modules which have not been assigned to any category. It is applicable to "My modules" group only. Other templates have categories set :)
click the category selector;

tuck necessary categories;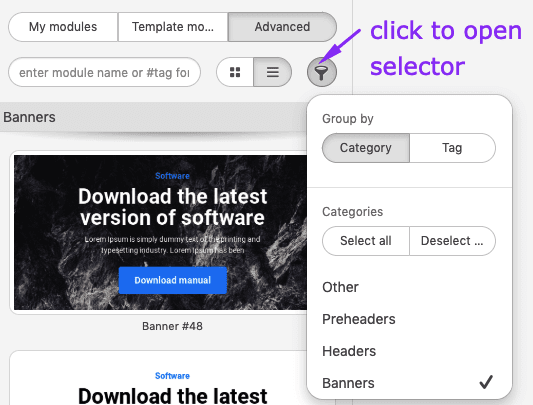 scroll down to find necessary module;

to preview any module prior to dragging it into your email template, just place the mouse pointer over it;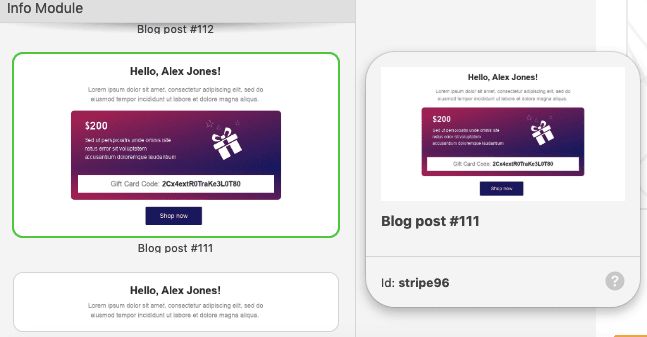 drag the module into your template.
Working with AMP modules
It is very easy to work with any AMP module that you need. You simply drag it into the template you are working with. And our editor will add a necessary script.
So, here's what you need to do:
How to save custom modules to your personal content library
When you're done with crafting or editing your content module, you can store it to your library for further use.
You can save literally anything: from small elements like buttons and logos to entire structures, aka rows, which contain a number of elements.
To save custom modules, you need to:
place the mouse pointer over this module;

to the left or to the right, you will see the "Save as module" button;

click this button;

in the settings panel, give a name to product module;

enter a description — this is optional, but helps you better understand what content this module has;

pick a category for easier search;

enter tags. In our case, it is "Product cards";

click save.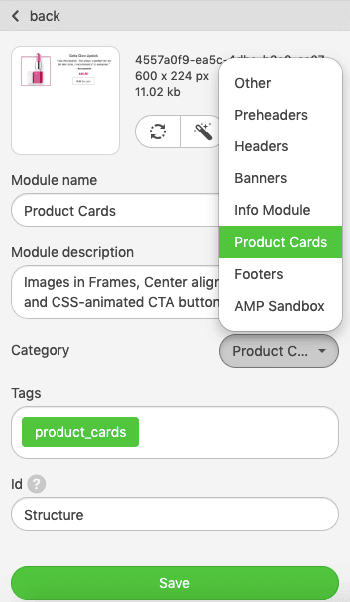 If you are going to build your newsletter emails by using Stripo API, then filling out the ID field is required.
This module will be saved to your personal library, located in the "My modules" group.
Access levels
Agencies with a number of users can set roles for their colleagues.
Roles and their levels of access to modules:

View: allows viewing and using modules. Those users with this level of access can drag modules into emails, but cannot save, edit and remove them from the library.
Manage: allows editing modules. Those users with this level of access can use, edit and remove modules. They can also save new ones to the library.
Final words
By using content modules from the Library, you significantly reduce time on email production.
You just drag them into email templates instead of building from scratch.
Modules are technically divided into three groups:
modules that you build and save;
modules that belong to a certain template;
library of advanced modules — including those with AMP elements — that were built precisely for your convenience.
Shortly, we will add modules with smart-elements to our Library. These modules will be crafted particularly for those retailers, who work with Amazon, Etsy, and eBay. You will only need to choose the module that fits your email design best, paste the link to a product page on any of the mentioned sites — and our system will retrieve all required information, like price, description, product snippet, etc.
Our main mission is to make email building easy and timesaving.