04 October 2021
Full Guide to Real Estate Email Marketing
A decade ago it was hard to imagine buying or selling a house or an apartment online. But today the situation is absolutely different. In fact, in 2020 a whopping 63% of buyers made an offer on a house before they had seen it in person, according to the New York Times.
How do you communicate with clients then? Via email, because it is one of the most effective channels here. Because real estate email marketing is about communication at all stages of the purchase — from a welcome email to the moment clients sign the papers when buying/renting a house.
So why do we need email marketing for real estate?
First, because it is perfect for nurturing clients. Second, email as a communication channel is preferred by 73% of millennials, who make the biggest share of buyers on the market. They choose it over other channels because they can open emails whenever it's comfortable for them.
What other pros of using it are out there?
Benefits it brings you:
you get to know users' preferences. You get important information about your clients, like whether they want an apartment or house, how many rooms they need, and so on;

you can segment your contact base according to the potential buyers' preferences, needs, age, priorities;

chance to get ahead of competitors. Visual elements like images and videos allow you to show the "product" from different angles and tell way more about it than you could say with words;

automation. You can automatically send promo emails to users at a chosen time and to a chosen audience;

it helps you bond with your audience. In your promo emails, not only do you share newly available homes, but also share some news about the market and give your clients tips on how to choose the right home.
What information about our clients do we need to know for a proper real estate email campaign?
Given that there are over 3 mln active real estate licensees in the US alone, we need to craft real estate marketing emails thoroughly to get ahead of the game — we need to make them relevant to our clients.
So what information do we need to know?
How soon a buyer needs a new home
You have to know how soon your client wants to buy the real estate: In a year, or in a month. Knowing the exact or at least estimated date when your client wants to move in gives you a chance to effectively divide the tasks related to the deal.
This point seems to be an obvious one but there are also some important things to admit. The best option is to understand the client's limits. When you know the range of your client's financial possibilities, you can find and offer a wider number of real estate. At the same time when the clients give you such information, they stay much calmer and without thought like "They will offer me something that I can't afford".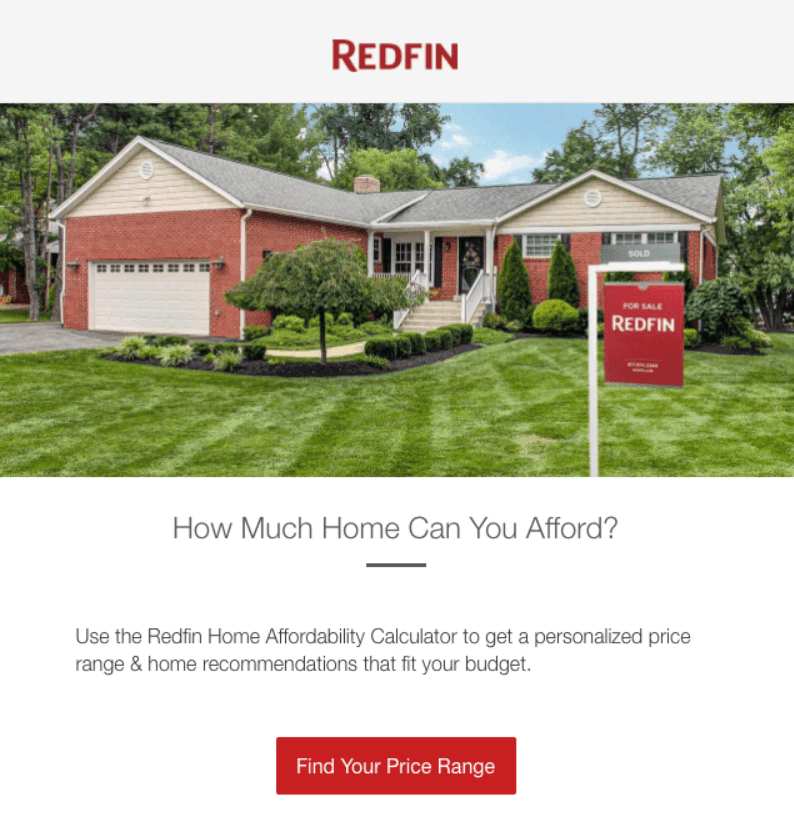 (Source: Really Good Emails)
When clients know exactly what district they would like to live in, it is amazing. But such cases do not happen very often. That is why it is better to get information about their preferences like the presence of schools, kindergartens, shops, malls, hospitals, and so on. If you know such information it would be easier for you to find the right place for your clients without knowing the direct address where they want to live.
You can request this information in a welcome email.
Email marketing vocabulary for real estate agents
If you are new to email marketing, you might come across some terms you have never heard of before. We'd like to explain some of them:
email campaign is an email or a series of them, normally promo ones. Its main goal is to encourage customers to contact you and set up a showing;

contact list is a group of subscribers, i.e. potential buyers you are sending emails to;

HTML email is an email that can contain lots of different visual elements and links;

segmentation makes it possible to divide your contacts into different groups according to their preferences;

double opt-in… When users just register on your website, you ask for their consent to send them newsletters. It is a must today according to GDPR and CanSPAM rules;

personalization is a process of making email content personalized for a specific buyer or for a group of them;

conversion rate is the number of recipients who did a certain action that you wanted them to. This is a key metric to estimate the effectiveness of your ads;

email builder is a tool that helps you build effective and colorful HTML emails easily and fast;

CTR (Click Through Rate) is the number of clicks in your email divided by the number of people to whom you sent it.
Types of real estate marketing emails
Now let's examine the types of emails real estate agents will need along with the tips on how to build them.
1. Subscription confirmation emails
Remember, we talked about Double Opt-In? With this email, you ask users to verify their email addresses. This type of email is very important because they start your communication with a client. At the same time, you have to remember that such an email also has to have a clickable subscription confirmation button.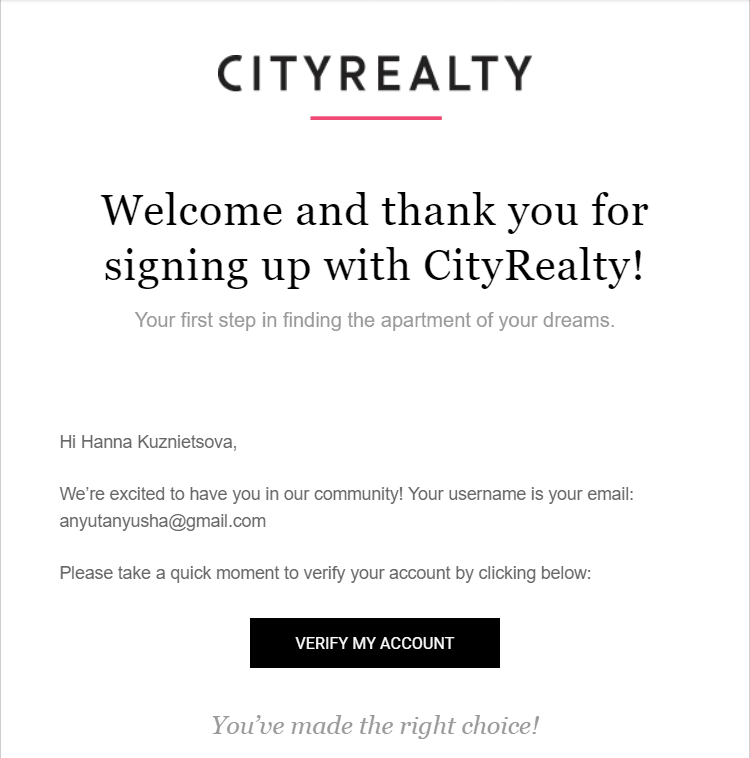 (Source: Email from CityRealty)
2. Welcome emails
This is the first email (after the registration verification email) prospects get from you. This is your chance to make a good first impression on them.
Provide them with the best that you have.
You do not need to sell things in a welcome email, as this is just an introductory one. However, you can finish this email with an invitation to visit your website and a link to the very site wrapped in a CTA button.

You can also ask users to choose a district/town they'd like to live in. In other words, a welcome email is a good chance to find out users' preferences.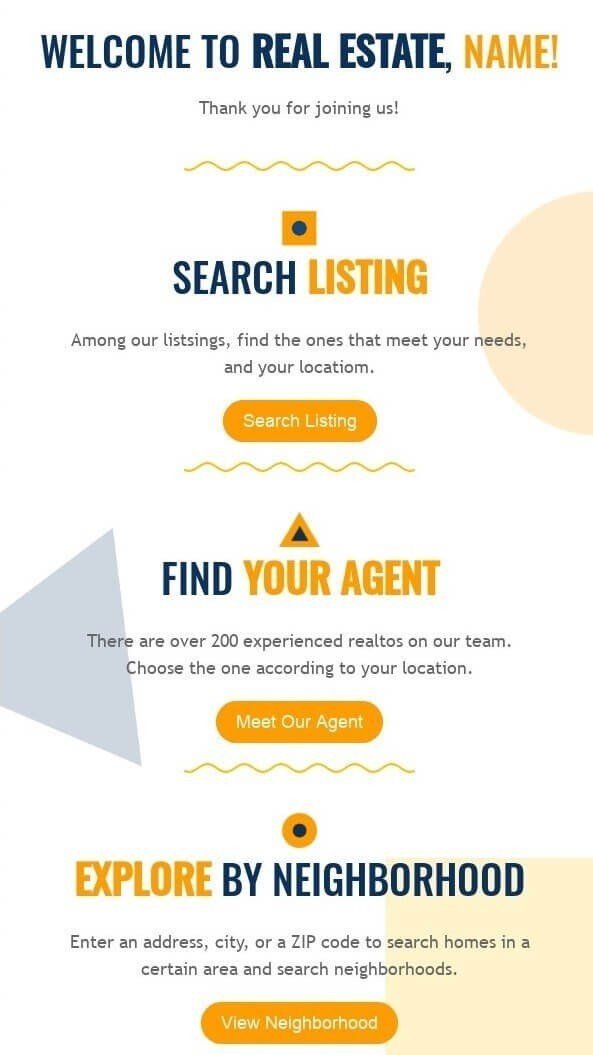 3. Promo emails
There are a few things we'd like to mention about real estate promo emails.
First, they should be personalized. Meaning, if your clients are looking for apartments in Manhattan, there's no need to send them available ones in Chicago.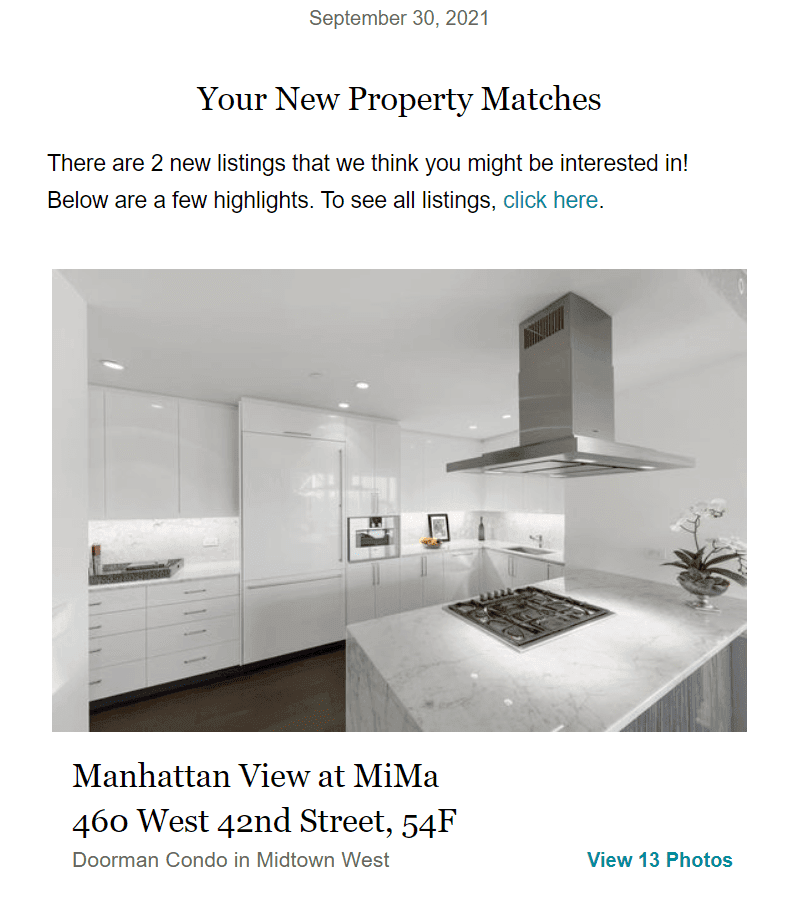 (Source: Email from CityRealty)
Second, be prepared to send dozens of them. Normally, prospects contact real estate agents after spending three weeks looking for a home on their own.
4. Email digests
When speaking about email marketing for real estate agents, it is vital to mention that your newsletters are not supposed to be promotional only. You should also share some useful content with your prospects. If you are running a blog, share links to recent blog posts where you show how to, say, protect homes from robberies. Or you can also share some news on the market in your real estate email digests.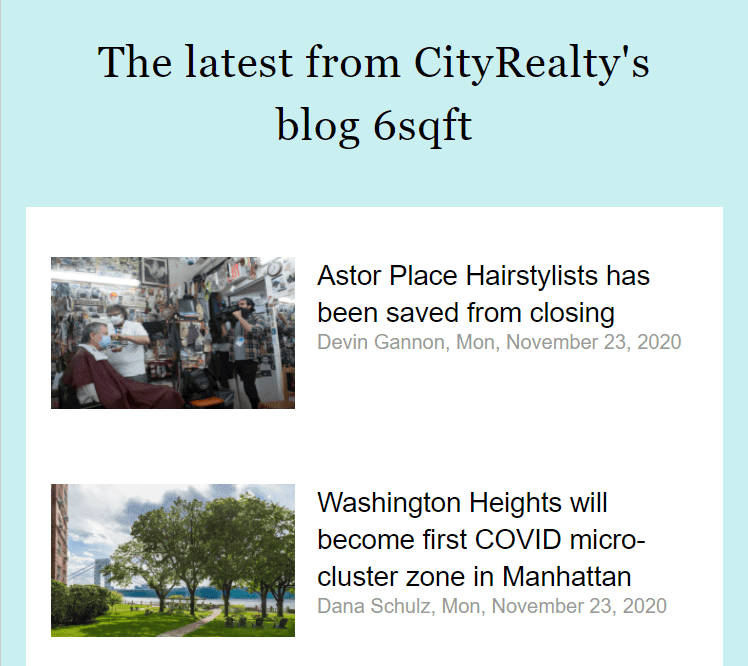 (Source: Email from CityRealty)
As we previously mentioned, true care and support will help you bond with your customers.
5. Survey emails
If you come to the real estate agent email marketing, you have to remember that each client has individual preferences and wishes.
Ask your potential clients about the desired number of floors, what window view they would like to have, the district/region they want to live in, the style of their home exterior, and so on.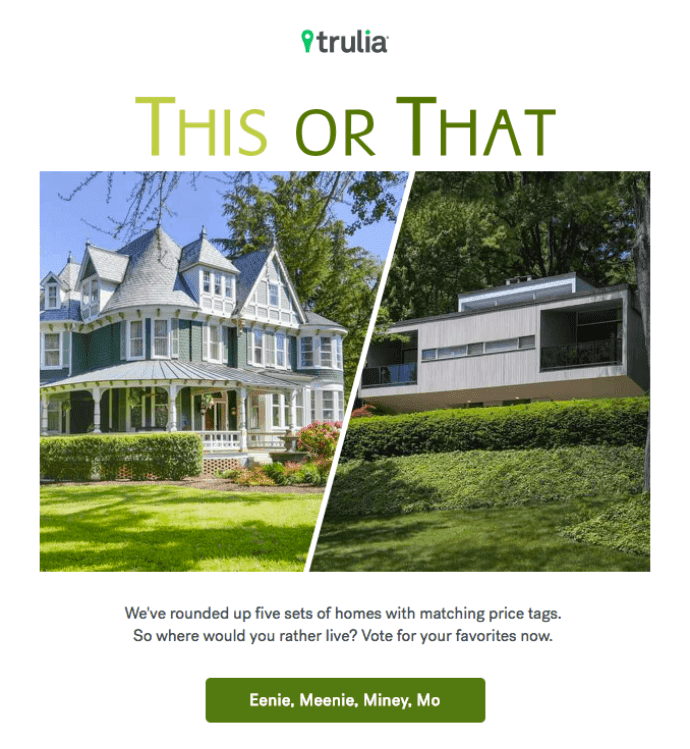 (Source: Really Good Emails)
This information will help you make your promo emails way more personalized.
6. Follow-up emails
There are three major types of follow-up emails in real estate:
when you ask users if they liked the house they have seen. You do it after an Open-House day, or after a showing;

after a purchase. Ask users if they like their new home;

all verification/confirmation emails, like informing users they have successfully confirmed their ownership of the house they are about to sell.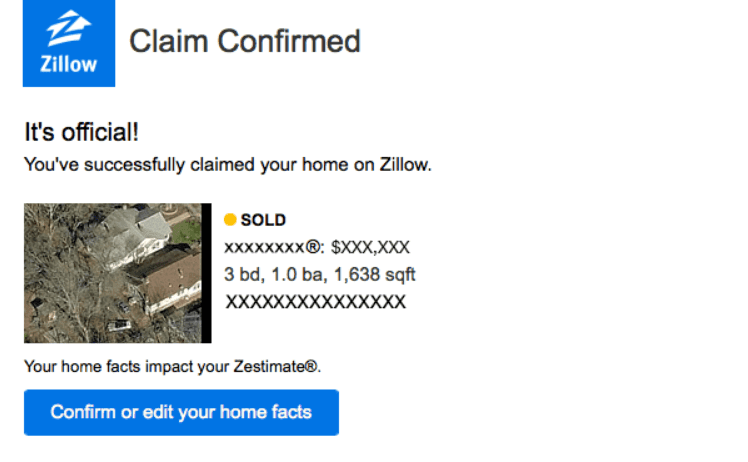 (Source: Really Good Emails)
7. Referral email
Given that 41% of sellers, according to NAR, found agents through their friends and families, it is reasonable to think of a referral program. May it also have some perks for those who recommend, not only to you.
Yep, I have not found a proper example of a referral email for real estate marketing. This only proves that you need to build one.
8. Thank you email
Did you know that 26% of buyers contact the agent they have previously dealt with? Be sure to have good relations with customers after a purchase.
Thank them for the purchase. Thank them for choosing you. Because out of 3 mln real estate agents they chose you.
In this post-purchase email, you can share with your customers' phone numbers of individual designers or websites of design agencies. They might need it.
You can also share addresses of closest malls, schools, kindergartens, etc.
Be helpful.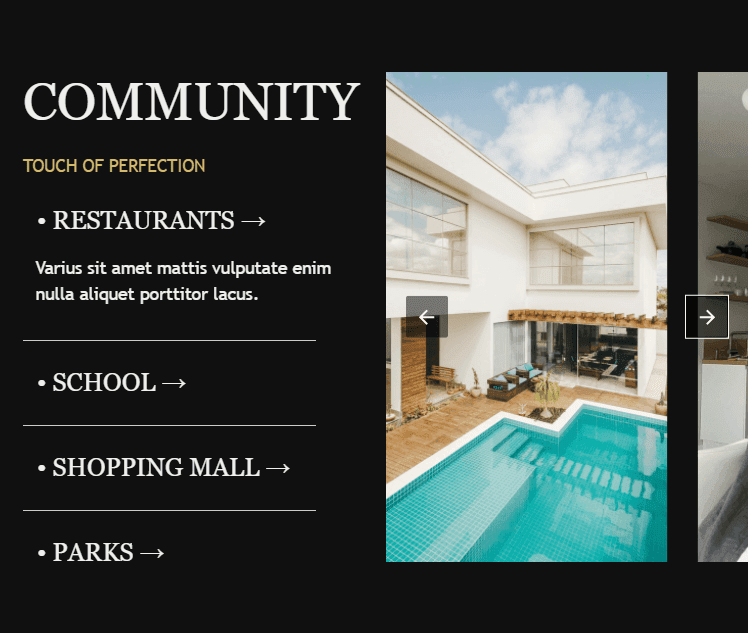 Tips to help you start off your real estate email marketing on the right foot
We will cover them briefly. But they will definitely help you out:
Work on your real estate email signature
Real estate agencies instead of signatures can just add contact information to the email footer.
However, agents can share some personal contact information, including business hours, a photo, and phone number.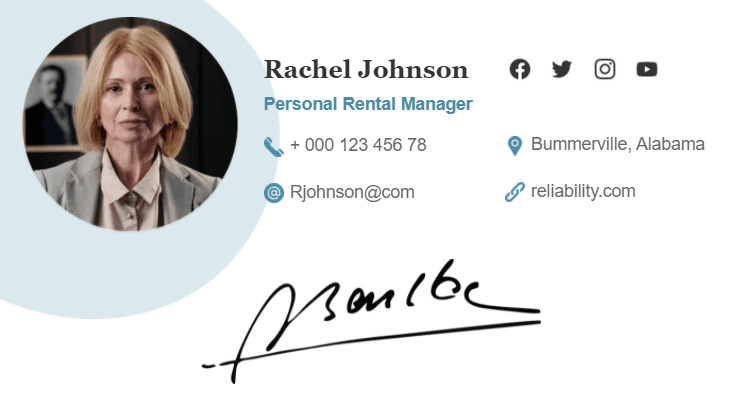 (Source: Stripo email template)
In our "How to design an email signature" blog post, we share a number of professional email signatures.
Design consistent emails
It means your emails should look similar from campaign to campaign. The same fonts, the same colors, the same header and footer, etc. to make them visually recognizable. Recipients are supposed to know the email is from you just at first sight.
Easy to do with Stripo. It allows you to save and reuse either certain email elements, that you store in the Modules section, or entire emails.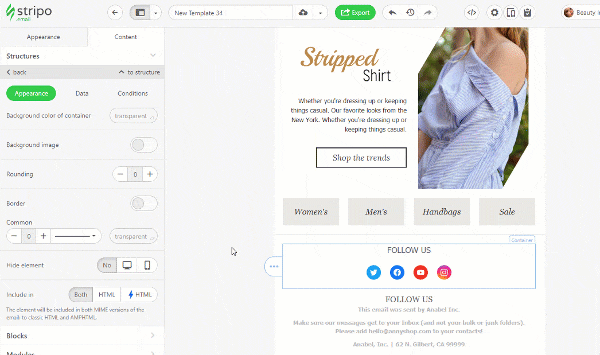 If you are representing a real estate agency, or if you have a site, make sure the design of your emails matches the design of your site.
Add videos to your emails
Videos speak better than words. You may either add links to videos or 3 D tours on your website or even embed those videos in emails so users can see them directly in their inbox. Please refer to our "How to add videos to emails with Stripo" blog post for the manual.
Be concise
No long reads are required. Make sure your emails are short and informative. Always get straight to the point both in the email body and in the subject line.
Speaking of which...
Write catchy subject lines
Make them clear; they have to encourage recipients to open the email.
In our "Subject lines" blog post, we share almost 150 examples of different subject lines for all occasions.
Optimize emails for mobile devices
About 50% of your recipients open emails on mobile devices. Make sure your emails are legible across all screens. Meaning, for smartphones you can use larger fonts, make buttons wider, etc.
Maintain email automation
Only promo emails and email digests are to be sent manually, as you craft them from scratch for every campaign. All other emails are sent automatically. How do you do it?
You choose the right ESP (marketing automation system) and build a workflow for each and every type of real estate agent emails. These emails are called "Trigger emails" and they are sent by your ESP upon user's action, like registration, survey emails, etc.
Be helpful and supportive
Yep, your objective is to sell homes. But people also cherish care and support. Show them (and mean it) that you are there for them, first of all. And then you can expect them to pick you as their real estate agent.
Final thoughts
It's no secret that today email marketing is vital for all industries, including real estate. We hope all the information given above will help make a good start at real estate email marketing.