14 December 2018
Email Footer Design Best Practices
First impressions matter, which is why we work hard on the email templates design and which is why most of us neglect the email footer — we treat it as something really unnecessary. Well, we shouldn't.
What is an email footer? It is the last block of all email newsletters. Typically, it contains contact information, such as the brand name, website address, postal address and the unsubscribe links. But a complex email footer is much more than that.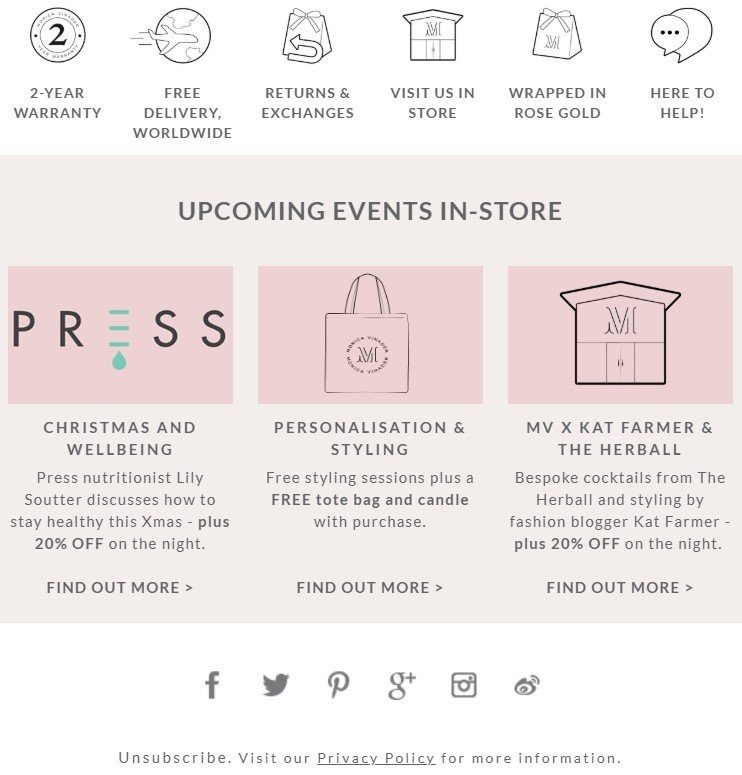 (Email footer by Monica Vinader)
According to the GDPR rules, which have legal validity in the EU, and the CanSpam regulations, we are obliged to remind all recipients the reason why we reached out to them, how we got their email address, and offer the opportunity to unsubscribe from our newsletters in just one click (single opt-out). This info should be put in email footer, too.
Thus, the email footer, also known as an email signature, fulfills two very important missions:
it forms recipients' impressions of our entire newsletters;
helps us comply with the GDPR and CanSpam rules.

(Email footer by Forever21)
We're gonna tell you that best email footers engage our target audience, sell and get their feedback.
Email footer design best practices
Taking some recommendations and ideas given below, you will improve your CTOR.
1. Showing your gratitude and appreciation
Yep, we spend lots of time to create an email newsletter that works, we search for interesting relevant materials, we offer discounts… then who should thank whom? Certainly, WE have to be grateful to our recipients for their attention, time and trust.

(Email footer by CNN, Brian Stetler).
Unfortunately, only some email marketers do it.
2. Asking for feedback on the newsletters
Litmus calculated, on average we spend 9.6 hours on the entire email creation process. Certainly, we would like to know if we succeeded and if recipients are satisfied with this particular campaign. There are two common ways of doing this:
a) using emojis/stars to rate your email newsletter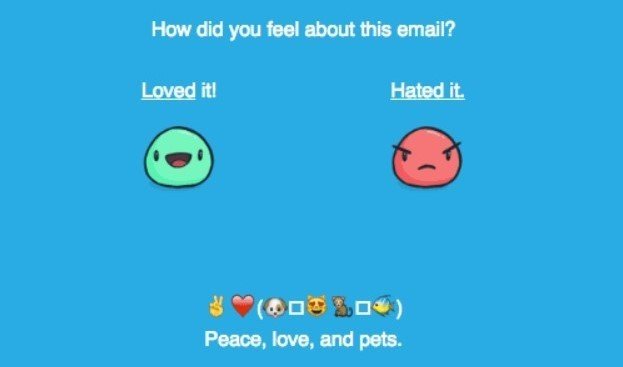 (Email footer by AWeber)
In this case, your ESP will provide you with a detailed report on clicks.
b) asking recipients to send their feedback your way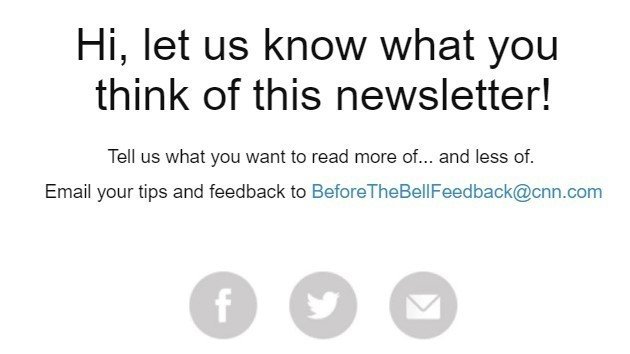 (Email footer by CNN)
When working on the email footer design and choosing the way to ask customers to rate you, keep your brand style in mind.
3. Allowing recipients to update their preferences
We change, our tastes change, our children grow older, we move to other countries — no wonder our interest in some newsletter emails fades away.
The "Update preferences" link is not a mandatory element of newsletters, yet it's very useful because it stops thousands of customers from unsubscribing from our newsletters.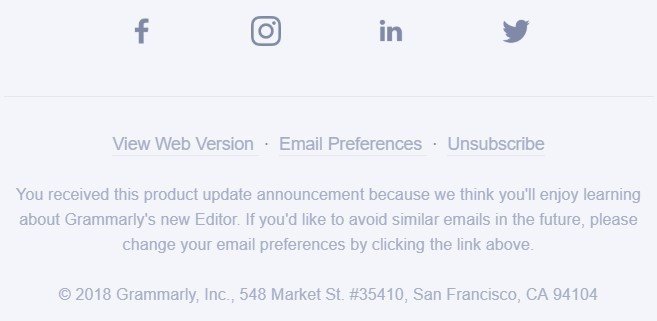 (Email footer by Grammarly)
Prior to offering recipients to update their preferences, you need to create a proper landing page with an offer that gets the recipients interested.
Note: it's utterly important here to also add "the unsubscribe from all email lists" checkbox.
4. Adding a photo
Letting readers know our company better helps us building stronger relations with the former. When a person sees the photo of the CEO or of the person who curated this email, the emailing seems more personal. Be sure to add this person's email address.

(Email footer by PinPointe)
This email footer design is simple, not overloaded with bright backgrounds. Yet, in my opinion, this is one of the best email footer examples.
5. Placing the company's logo
Yep, your recipients are well aware who the sender is. But putting your brand logo in the email footer will help some of them go to your site directly from the email.
The click map of our newsletters proves the logo's necessity.

(Screenshot of a click map of newsletter's report)
As you can see, 4% of the recipients clicked the logo.
6. Adding social media icons
Taking this recommendation is one of the best practices for email footer design. Why would we do it?
We do need to synchronize email newsletters and social networking, as these two are the most powerful channels of digital marketing.
This click map shows that 4% of those recipients who opened the email clicked on the Youtube icon, 4% clicked on the Facebook icon, and 6% and 9% clicked on the Instagram and LinkedIn icons respectively.

(Screenshot of a click map of newsletter's report)
Just for a record: Facebook has 2.27 billion active users a month, and Instagram has reached a 1 billion users level.
Don't be afraid to make the social media icons bright and colorful in your emails, certainly if this goes along with your brand style well.

Some brands just add blocks with social media icons, others say "Let's get social", and some brands like Readdle, ask us to "like" them on Facebook.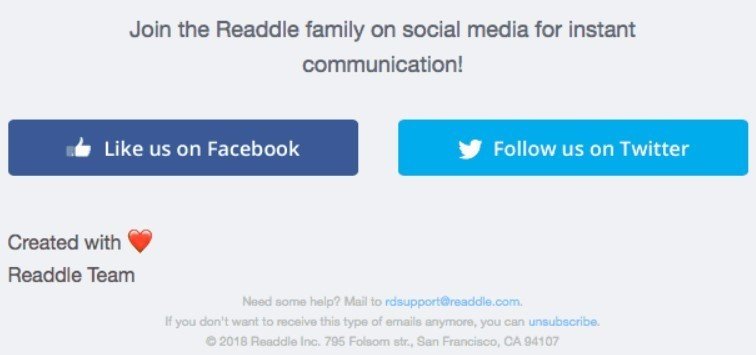 (Email footer by Readdle)
Good idea to drive more visitors to new Facebook or Youtube channels.
Note: we want to remind you that you can save a significant about of time on adding social media links and icons with Stripo. You need to fill out all the information about your company and add the social media networks' links when getting registered with our brand. And next time, when starting an email campaign, you will only have to add the "Social" block to the template, and our system will automatically the icons and links you specified in your profile.
For more detailed information on how to do it, please read this article.
7. Adding a referral link
Another good way to promote your email newsletters and get new subscribers is adding a referral link to the email footer.
Studies show that this works better than adding "share" buttons in the middle of the email. This can be explained by the factor that we want to share something we really find terrific. Recipients need to finish the email before they make their minds whether they want to share it or not.
But if the person scrolled your email to the footer, he or she is likely to enjoy reading it. Consequently, he is likely to share it with his or her friends.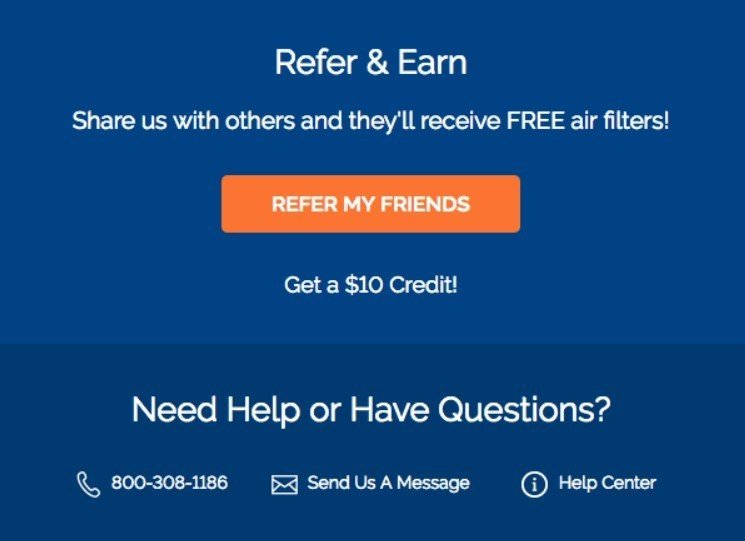 (Email footer by FilterEasy)
And a good way to encourage customers to share your emails is an incentive.
8. Sharing your awards and history
If you have something to boast about, then do it. We all love to know that we use high-quality products, that the brands we like are also preferred by others. So, a little proof won't hurt ?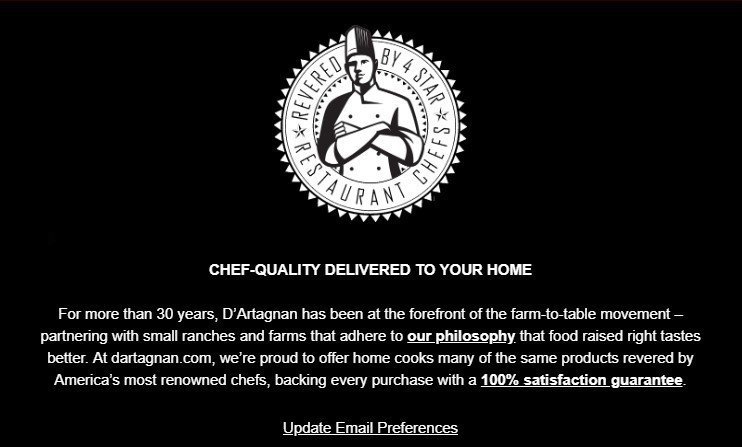 (Email footer by Prezzo)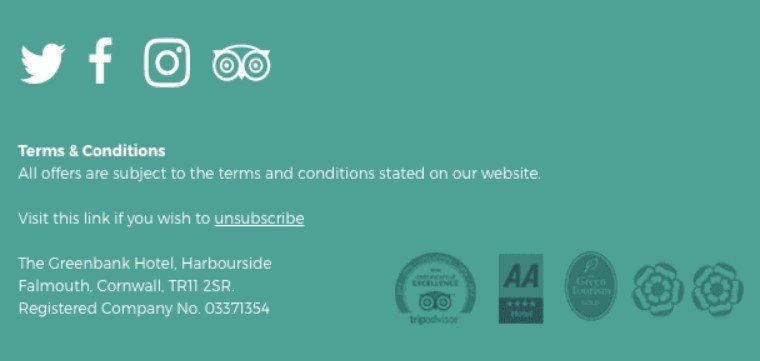 (Email footer by the Green Bank Hotel)
Why not boast that TripAdvisor recommends you?
9. Making email footer informative
In case you run an offline business and have offline stores/offices, you need to provide customers with a map, and hours of operation.
Hotels and hostels need to add a phone number, as well.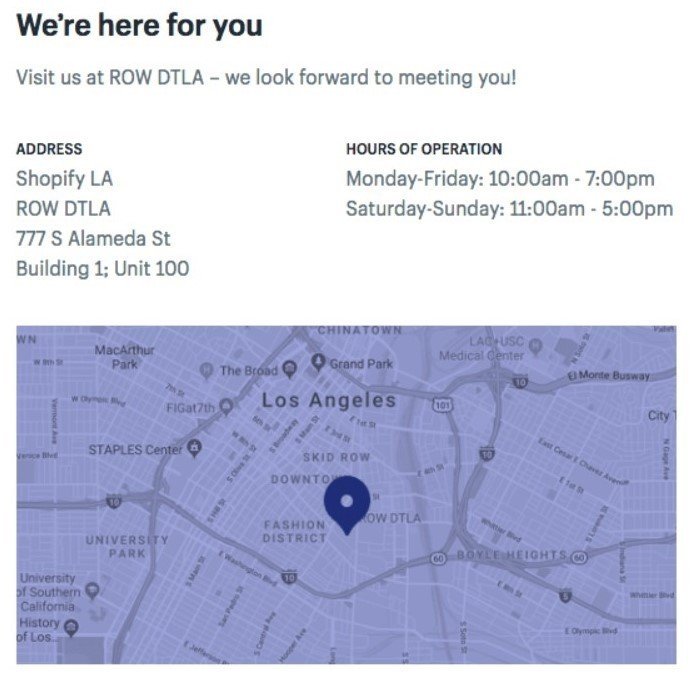 (Email footer by Shopify)
It's easy to add a map with Stripo:
you need to pull the image block in your template;
insert an image of the map;
add a link that takes to Google.map with your address already put in or saved as your home one. Clients will only have to add their current location, and Google Map will navigate them to your place.
Once your guests or clients get lost, they will use the map to get home.
10. Adding a direct link to the FAQs
If you want to facilitate your customers' lives and make your tech support less occupied, give recipients a direct link to the FAQs page, where they can find the answers themselves, without contacting representatives of the customer service. Those who love to cope with problems themselves will appreciate it. While others will appreciate the customer service's email address.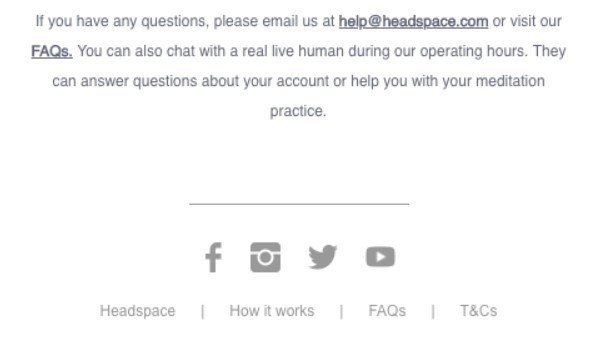 (Email footer by Headspace)
11. Adding a menu to the email footer
This is especially important when your email is long. Readers don't need to scroll up your long read to get to the menu.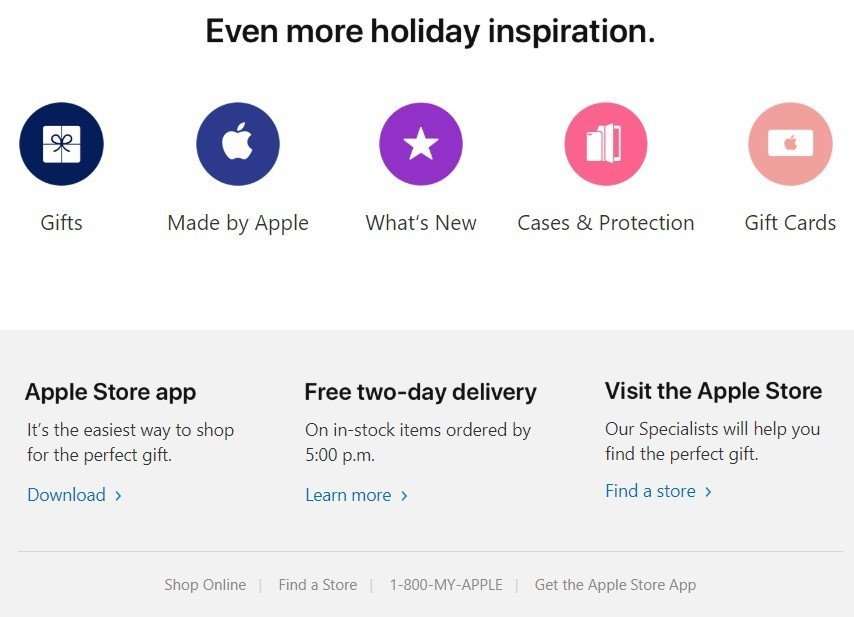 (Email footer by Apple)
This screen of a click map proves that menus in email footer are one of the best practices for email footer design.

(This click map was provided by a brand that preferred to stay anonymous, so I had to change the footer design).
Yes, it gets only 6% of total clicks, yet menus are worth adding.
12. Applying festive design
Who said that footers and headers should be boring and always in dark or white colors?
If you don't run a law firm, then why not make your email footer design festive enough?
You are not obliged to change colors, to change fonts (you may even add custom oneswith Stripo), though you are welcome to do it in, let's say, the Christmas newsletters. But for sure, you can add some snow, deer, etc. for Winter holidays, or a bat for the Halloween newsletters.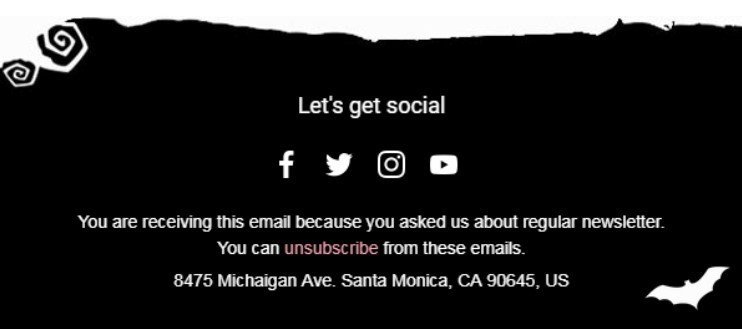 You can also add a short wish to the footer. Spread the holiday spirit.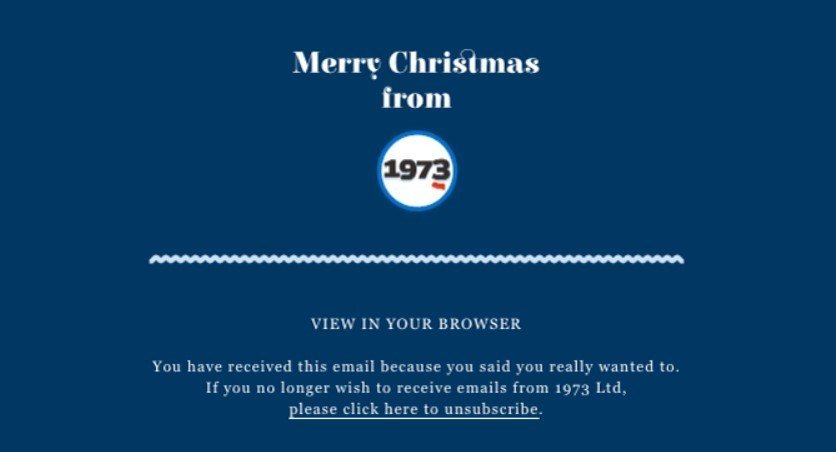 "Merry Christmas from 1973" is likely to make recipients smile. Personally, it would have this impact on me ?
Summary
By implementing these recommendations, you show your customers that you care.
So, what other tips you should keep in mind to create an email footer that really works:
don't bother with email footer design size. Its width is to coincide with the entire email width. The length of the footer depends on how much information it is going to contain;
remember to stay brand consistent through all emails. Apply one single font to an entire email. Banners are exceptions here. If your emails are written in a humorous manner, then your footer can be funny, too;

always remember to add proper links to all buttons and icons in email footers.
For your convenience, you can save a footer to your personal library of blocks, then pull it in your new templates every time when creating a new campaign.
All the HTML email templates created by Stripo, already contain all necessary fields for inserting information and widely used social media icons. You will only have to replace our links with yours and work with fonts.
I sincerely wish you best of luck!