23 July 2021
8 Reasons to Use an HTML Email Template
In 2021, email remains a powerful tool for everything from email marketing to internal communications. But the stakes are higher.
With the world going remote, emails play a huge role in keeping customers, workers, and just about everyone else connected and engaged. That's where an HTML email template can help.
In this post, we'll break down the top 8 reasons to use an HTML Email Template in 2021.
What is an HTML email template?
An HTML email template is an HTML file. It outlines the structure of an email itself and the order of content elements in the email.
HTML email template allows you to add images, videos, and other visual elements to emails. It allows you to add CSS styles to texts and other elements of the email.
Its best trait is reusability. Working with them requires no coding skills.
8 reasons to use an HTML email template
1. Clarity and efficiency
The best thing about an HTML email template is that it gives your content a clear and consistent structure and flow. Using rows and dividers you can break up and organize large chunks of text or display information with containers, infographics, tables, and charts.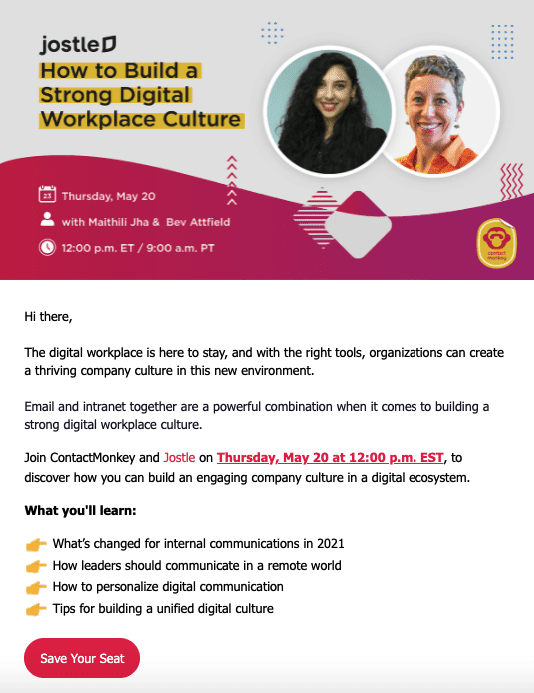 (Source: Email from Contact Monkey)
When you use an HTML email template for your mass emails or internal newsletters, your readers will know exactly how and where to find the information they need. They'll also be a lot more likely to engage with your communications if they can easily find the key points they're looking for.
2. Email tracking
Once you've chosen and customized your email template, you want to make sure that the email you send is actually being opened and read. You want to know that your design resonated with your readers.
The key is to use an email service provider that lets you track and compare OR, CTR, CTOR, user engagement, NPS, and other metrics.
Important
Stripo is integrated with over 70 ESPs and email clients. All the emails that you build with Stripo can be exported to an ESP of your choice in 1 click.
You may check the list of Stripo's integrations.
3. Higher user engagement
Unless you have expert graphic designers on your email marketing team, creating visually appealing HTML emails can be tough. At the same time, visuals are important for engaging your readers. In fact, some studies show that our brains process visuals 60 000X faster than text.
With an HTML email template, you can use graphics, colors, backgrounds, and images for more visual engagement.
On top of that, an HTML email template lets you create CTAs that truly stand out, with bold fonts, highlights, and CTA buttons. That means increasing your chances of sending your recipients to key products and deals, resources, and event RSVPs.
(Source: Email from Stripo)
4. Brand consistency
A key benefit of an HTML email template is that you can easily create content tailored to your brand.
HTML email templates let you customize your message with colors, logos, and layouts specific to your organization.
The key is creating an email template that reflects the rest of your brand, from the messaging and graphics on your website to your event invites. The goal is a unified brand experience for anyone receiving your email.
With an email template builder like ContactMonkey, you'll have the option to save brand colors and rows while optimizing your design over time through email tracking.
With Stripo's brand guidelines kit, you'll be able to save and share email design styles that your team used in previous emails, including fonts, CTA buttons, and more.
Stay brand consistent across all email campaigns
Join Stripo
5. Reduce the number of errors in email layout
When using HTML email templates, you reduce (I'd say, "Eliminate") the number of errors in email code.
Once you've chosen a template, you can edit it in the drag-n-drop email builder with no need to deal with the code.
6. Scaling email production
It is vital to let your teammates build emails without the help of developers. First, it is cheaper. Second, the fewer people engaged in the process the faster you finish it.
7. Interactivity
Did you know that interactive and AMP emails have 5.2X times higher conversion?
You can easily, with no coding skills, utilize interactivity in your email marketing. How?
Some email templates built with Stripo already contain interactive, dynamic, AMP, and real-time content. Some templates are gamified. You just have to slightly customize them down.
8. It saves time
Above all, the biggest benefit of HTML email templates is their ability to save you time without skimping on quality.
Whether you need to send out your company newsletter or marketing email blast weekly or monthly, your design will always be prepared. All you'll need to do is simply plug in your updated content.
That means, your recipients can get the information they need more quickly while your email marketers can focus on delivering accurate, engaging, and up-to-date content. With all the time saved, you can concentrate more on making improvements to your campaigns to continuously increase engagement.
Final thoughts
HTML email templates are essential for tapping into your audience's full potential. Not only do they make your emails more interesting and engaging to read, but also let you track, measure, and improve your content quickly.
By using HTML email templates, you can take your email marketing to the next level and save time doing it