Email marketing cannot do without the right tools, like various bulk email services. However, what is a bulk email service? At its core, this is an email distribution tool that allows marketers to send mass emails to multiple recipient lists. In addition, such tools provide features to send emails at the appointed time. All this allows marketers to run global email marketing campaigns and reach the widest possible audience.
However, sending mass emails is not the only feature a proper mass email service providers should have. In this article, we will share what other features of a bulk email service you should look for when choosing a new ESP.
We want to remind you that Stripo provides integration with 70 different ESPs. This means you can push all the transactional emails or any other emails that you build with Stripo to an ESP of your choice with just 1 click.
What is bulk email marketing service
Before you start choosing a tool for your future bulk email marketing campaigns, you should first understand what a bulk email marketing service is. At its core, this is a mass emailing service capable of sending marketing emails to a large number of recipients at the same time.
Bulk emails are typically used for advertising or marketing campaigns, or to send updates to your email list. However, this is only part of how you can tailor the bulk email marketing service to your business needs.
In order to create effective email templates that will avoid spam filters, you must adopt a reliable bulk email sender that will not let you down in difficult times and will be able to send a huge number of emails to your audience. Bulk email senders are built with high volume email in mind and know how to send your emails so your reputation doesn't suffer and your bulk emails and entire bulk email marketing campaigns don't end up in your potential buyers' spam filters.
Main reasons to use bulk emails
Why invest in bulk email tools that can send unlimited emails to huge audiences? In fact, there are many reasons why you should adopt bulk transactional and marketing emails in your business, and here are just a few of them:
Sales promotion. For example, you need to promote a certain product for a promotion, and mass mailing of promotional emails is a great way to increase sales and generate leads;
Newsletter. In order to stay on the same page with the audience, newsletter email delivery is a good strategy to notify your audience about various events or provide exclusive content (interviews, podcasts, reviews and more);
Product updates. You can easily notify your audience when specific products or collections are updated, helping your customers stay up to date with your services and product range.
Important announcements. Perhaps you are announcing maintenance work on your website or changing the opening hours of a physical store. Your subscribers should be aware of this in order not to be frustrated by these events.
Trigger emails. Bulk service delivers such emails immediately after user actions, which allows you to automate the entire process.
As you can see, bulk emails are not limited to promotional emails and transactional emails and can support many aspects of a business' email marketing and marketing automation, which is why you should look for a free bulk email service. And now, it is time to consider the main aspects of this tool.
Must-have features to look for in bulk email services
So, it is time to talk about the features you should list before you start looking for a free bulk email tool for your business. These features form the backbone of useful functionality that will greatly facilitate the conduct of marketing and emailing in general. However, it should be said that during the search for a tool, not all options offered to you may have all the features from this list. However, let's get started.
Feature 1. Analytical tools
When launching global bulk email marketing campaigns, you always hope that they will succeed and that they will work as you plan (or even better). And in order for you to know the exact success of your work, bulk email services should have dashboards with detailed email marketing real-time analytics.
The more detailed the dashboard, the better. The tool of your choice must provide you with such metrics as open and bounce rate, CTOR, CTR, spam rate, advanced email analytics and detailed reporting tools so you can see the progress of your email campaigns.
This is valuable customer data (for example customer details like location, age and so on) that will help you make decisions and the necessary tweaks to your email marketing campaign in order to make it even more effective in the future.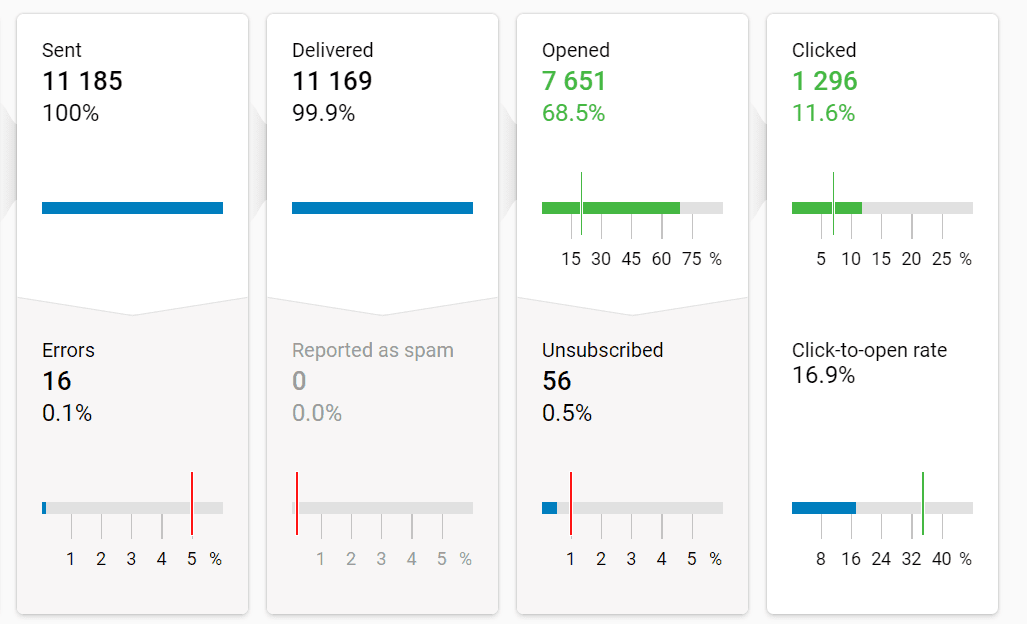 (Source: eSputnik)
Feature 2. User behavior tracking
Information is always the key to opportunities, as you can analyze it and make decisions based on it. User behavior tracking tools allow you to track, collect, and analyze quantitative and qualitative user data to understand how users interact with your product or website.
This allows you to send more personalized emails and ads.
Feature 3. Email segmentation & personalization
Segmentation and personalization are quite similar. They both are vital when you need to send relevant content to your audience. Probably this is why they have been and still are one of the key email marketing trends.
Why care about it?
Because personalization increase revenue by up to 760%, and not only. That's why you should look for advanced email personalization options in your future email service provider for email campaign.

Benefits of segmentation and personalized email campaigns
You can segment your contacts by:
geographical location;

purchase history;

favorite products (added to wishlist and so on);

client type (potential, current, etc.);

age;

preferences;

customer behavior.
Feature 4. А/В testing
A/B testing is one of the main ways to understand what you can do to improve your email campaigns. AB testing lets you understand whether your emails resonate with your audience.
With this test, you can test different elements of the bulk email, like subject lines, CTA buttons, body text, and so on to find the best combination.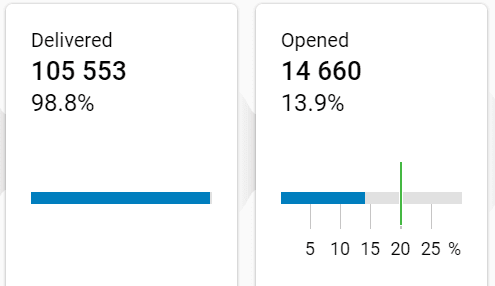 (Source: eSputnik)
Feature 5. Automatic bulk email throttling
One of the bulk email sender features you should pay attention to is email throttling. This approach allows you to control how many emails your contacts get a day.
Some ESPs limit (throttle) the number of emails a user can receive from one mass email sender a day. If a larger amount of emails is sent to a particular user, ISP can consider those emails as SPAM and block the sender.
This is why you need your ESP to control the number of emails sent to your users.
This strategy allows you to ensure the best email delivery and reduce the likelihood of recipients throwing your emails into a spam folder.
Feature 6. Automation
You need to send to your users hundreds or even thousands of trigger, transactional emails and targeted messages a day. Of course, you can't do it manually. This is a highly important feature to look for in a new ESP cince automated emails are real lifesaver.
Stripo's option "Replace an existing email template" is crucial when it comes to trigger emails.
How does it work?
Let's say, you need to update just a little of your current trigger emails. You do it in Stripo, then bulk export those templates to your email service and choose the "Replace an existing email template option" and Stripo automatically replaces the templates that you've previously set in the "Email automation" section in your ESP with the new ones without pausing and stopping the entire workflow there.
Just the moment you push a new template to your ESP, the previous one disappears and the new one is used in your workflow (automation).
You might also like
Create Custom Email Template for Mailchimp with Stripo

Feature 7. Smart send
In addition to standard scheduled newsletters, the bulk email service of your choice may:
resend emails to those who never opened, which greatly increases your bulk email open rate;

choose the best send time according to recipients' time zones and the time they normally open their emails.

(Source: SendPulse)
This feature is one of the main ones and any tool that calls itself the best mass email service on the market should have it. It will allow you to schedule multiple campaigns for different audiences, which will take your email marketing to a whole new level.
Feature 8. Customer verification process
No Internet user likes spam, and no one wants to see it in their mailboxes. Top bulk email software providers always check future customers before lending email marketing tools to them. For example, senders of various spam and other mailing lists that clog user inboxes use the same mailing tool as you.
If your business sends only legit emails (like various subscriptions, and person-to-person emails) using a shared IP address, the bad reputation of other businesses can hurt yours too. The whole email marketing campaign and hard work will go to waste. Therefore, when choosing a platform, you should pay attention to this aspect.
Feature 9. Dedicated IPs
A business should encourage its customers who actively use its services. As a result, you should find the same mass email service that can provide you with a separate IP address to improve the email deliverability of your emails.
If you are going to send targeted and promotional emails and they are will be multiple times a month, you might want to consider looking for that particular bulk email provider. This will allow you to get a personal IP that you designate that will boost your email marketing campaign.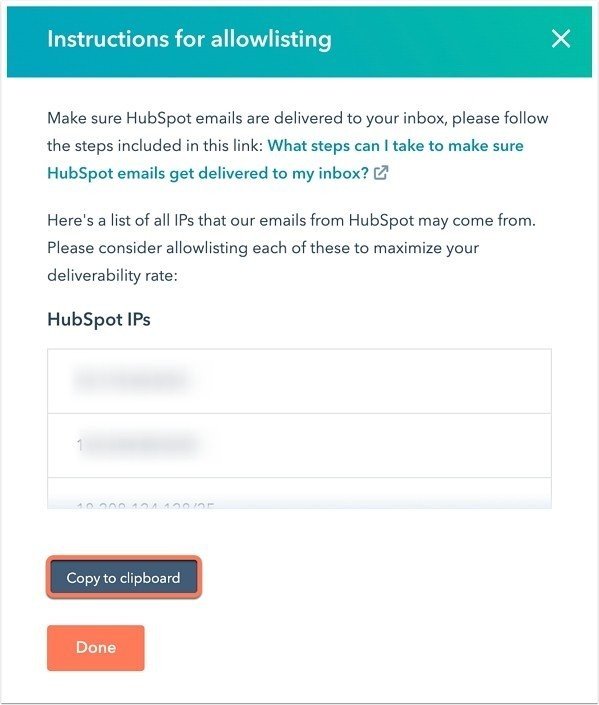 (Source: Hubspot)
Feature 10. Support for AMP for Email
AMP in emails is capable of:
increasing sales through Abandoned Cart emails by 82%;

delivering only fresh info to users no matter when they open your emails;

pulling information from Google Docs into emails to update information in emails at any time;

increasing user engagement by 225%;

increasing user response rate by up to 520%.
This is why it is crucial that your bulk email service supports AMP.
Please be advised that with Stripo you can build AMP bulk email with little to no coding skills. And then export them to your ESP with just 1 click.
Those ESPs that do support this type of integration with Stripo are marked with lightning.
If your ESP has support for AMP but does not accept AMP Emails via direct integration, you can download your bulk email as an AMP HTML file and then import it into your ESP.
The choice of bulk email sender is a responsible process, as all subsequent email marketing campaigns will be based on the platform you choose. We made a Review of the Top 10 Email Services Providers to help you choose.
Feature 11. Drag and drop functionality
The ability to quickly create a simple email and send it out is a great feature that will save you a ton of nerves and time more than once. And so that you do not waste time learning, the email editor should be simple and based on a drag and drop editor that is extremely easy to learn and does not require technical knowledge.
As a result, before choosing a free bulk email tool (or a paid one), you should test the built-in drag and drop editor for flexibility. You need to make sure that its functionality is enough to cover your needs.
We've made a full-fledged overview of the best email template builders to use in 2022.
You might also like
10 Best Email Template Builders for 2022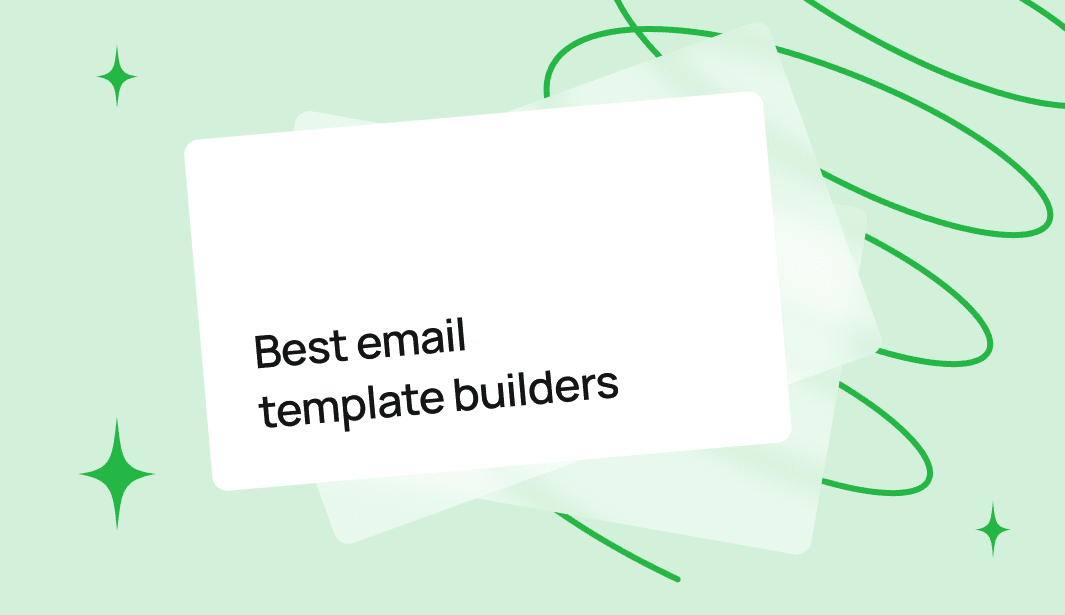 Final words
Choosing a bulk emailing service for marketing campaigns is a responsible process, since the convenience of developing companies and their success depends on your decision. The tool of your choice should have all the necessary features to maximize the flexibility of your newsletters and track their success. We have compiled a list of bulk email service features that will help you organize clock-work email campaign processes. However, before sending out emails, they need to be created, and we can also help you with this task.
Was this article helpful?
Thanks for your feedback!