Frequently asked questions
How to create an HTML email template in Amazon Pinpoint?
With our 490 prebuilt Amazon Pinpoint email templates, you can design responsive emails effortlessly. Select the most suitable template and hit the "Use in Editor" button. Then, create an account in a few clicks to edit your template and align it with your campaign goals.
How to use Amazon Pinpoint email templates?
Designing Amazon Pinpoint emails with Stripo is easy and hassle-free! You can modify templates as needed for your design purposes. From fonts and background images to banners and videos, you can align any template with your brand design styles to maintain brand consistency and make your content stand out in the crowded inboxes of your subscribers.
In the "General Settings" section, you can set up parameters like your message width, font, line spacing, and background image.
Open the "Mobile Formatting" tab to enable subscribers to view your messages on smartphones and tablets. Here you can select the size of header, content, footer, info area texts, menu items font size, button text size, and content margin.
You can also use the "Modules" section to benefit from reusable content blocks (headers, footers, product cards, banners, info on orders, etc.). You will have to design them just once and then edit them according to the goals of a certain campaign.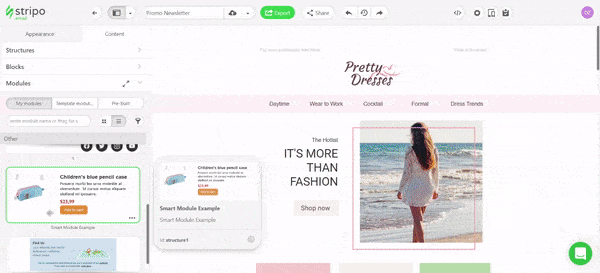 How to save email templates in Amazon Pinpoint?
When your attention-grabbing email template is ready, you can export it to Amazon Pinpoint:
click the "Export" button;
choose the "Amazon Pinpoint" option from the list of ESPs.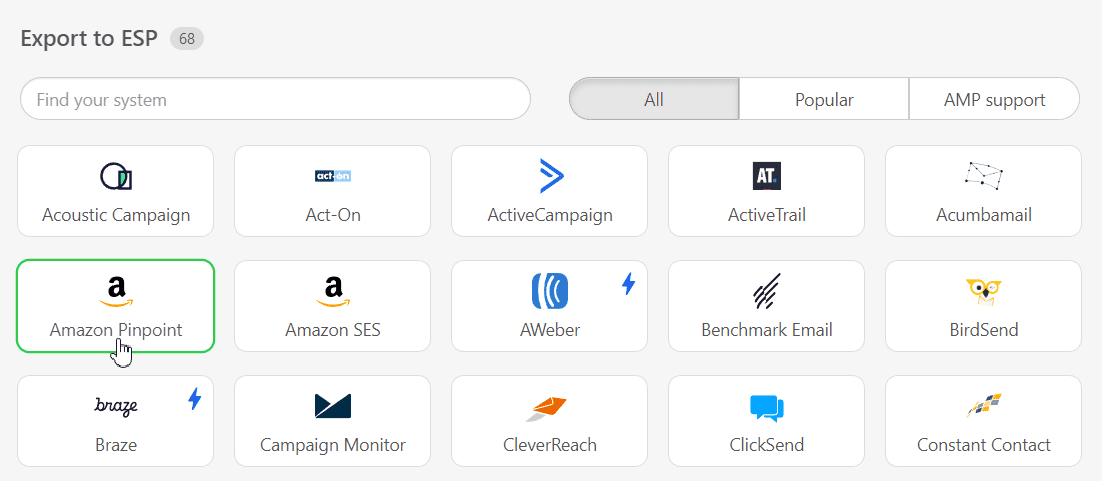 How to send HTML email templates with Amazon Pinpoint?
Amazon Pinpoint requires some extra information before you can export your email template. Once you have clicked the "Export" button, fill in the following fields in the pop-up window:
enter the "Connector's name". You can type the name of your company or project here;
provide your API key and Secret. If you are not sure where to find this data, check out this guide.
select your instance. Click here to learn more about your instance and how to pick it correctly;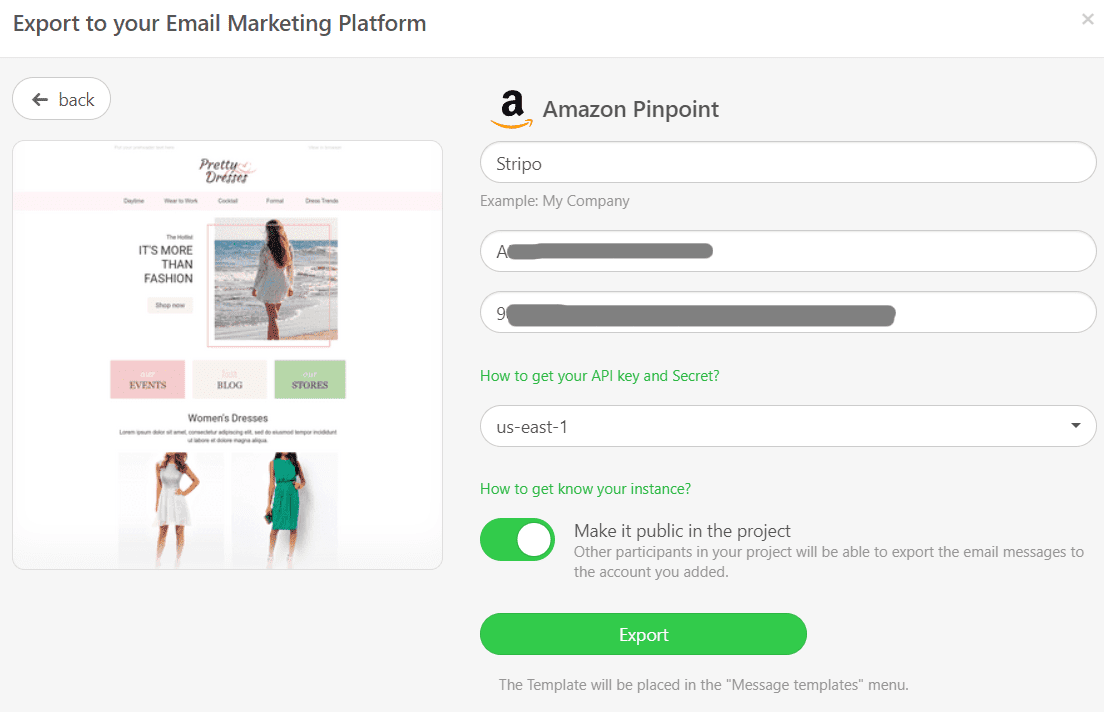 click the "Export" button.
Where to find your email template in Amazon Pinpoint?
Once you have exported your email template, you can find it in Amazon Pinpoint. Click the "Message Templates" section to open your email. You can also edit both HTML and design if necessary.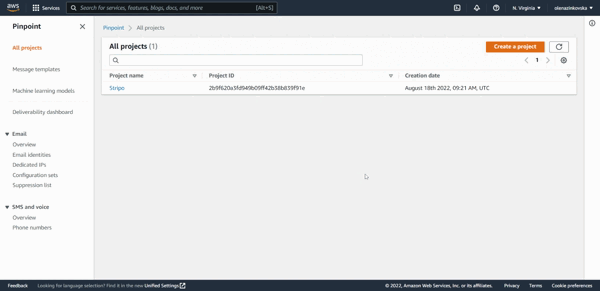 How to add Amazon Pinpoint email templates?
Take a look at the two methods to find and use our Amazon Pinpoint email templates:
Open our website, select the "Email Templates" block, and find prebuilt Amazon Pinpoint email templates in the "Integrations" section. Choose your favorite one and click on the "Use in Editor" button. Then, you have to create an account to start building your eye-catching email.
If you are already signed in to your Stripo account, you are free to choose one of 490 Amazon Pinpoint email templates in the editor. Go for the "Templates" section and click the "Prepared templates" button.
Have any other questions?
If you have more questions on our pricing and plans, contact us so we can help.
Join over 950K users
Start for free — upgrade anytime