Presidents' Day is celebrated on the 3rd Monday of February.
Also known as Washington's Birthday, it is celebrated as a federal holiday almost all over the USA. On the third Monday in February, we praise all the compatriots who were elected as Presidents. And first of all, we honor our first President George Washington, a hero who led our nation to glorious victory.
Most schools, colleges, and universities have a day off. As well as government institutions and agencies. Should we enjoy the vacations to taste the traditional cherry pie? Until the end of the 1980s, corporate businesses were closed too.
But now, most companies and brands are open on this day. Moreover, it's a big opportunity for sales and promotions. Good news: We have prebuilt templates to help you! Of course, we offer a very special themed HTML email template for Presidents' Day.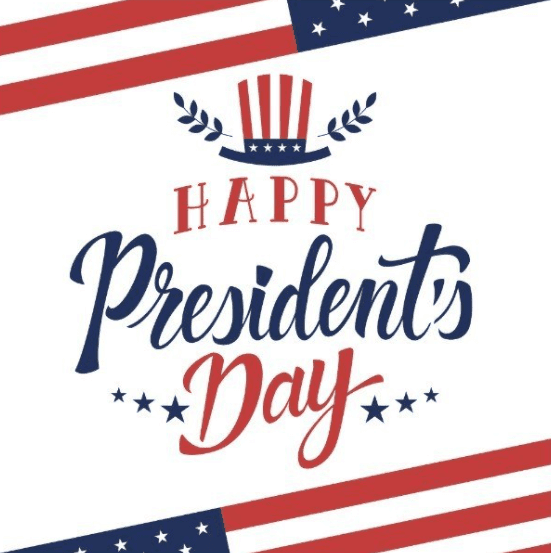 Build holiday emails in no time with our prebuilt Presidents Day email templates
Use it
Presidents' Day email template design
Speaking of email campaign design, everything is quite simple. We should stick to these recommendations:
add recognizable visuals associated with America to your Presidents' Day email template, like the US national flag, its colors, stars, and stripes, The Statue of Liberty, skyscrapers, etc;
combine them wisely with your brand identity — choose the matching colors and pics that won't damage the overall harmony.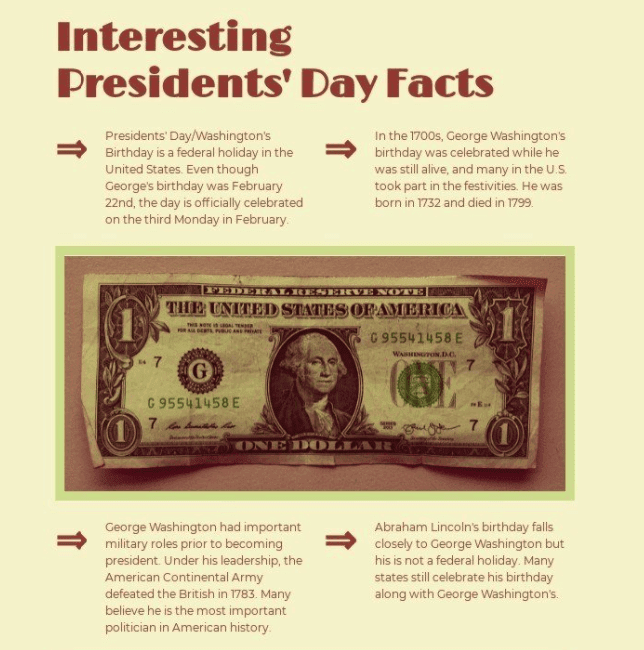 Speed up email production this Presidents' Day with our prebuilt templates
Use it
Helpful features of our free Presidents' Day email templates
As we said above, it's a day of sales and promotions. Who said that simple objectives mean limitations of a creative approach? We provide you with a set of features to generate content that really sells.
Product cards with smart elements for your Presidents' Day email templates
Promo newsletters are all about the wide assortment of products available at special prices. This means we need to fill out lots of product cards. With our Smart Elements option, you'll automate this process.
Build the design/configure settings just once — and then simply add the links to each further campaign. Stripo will insert all the respective data automatically.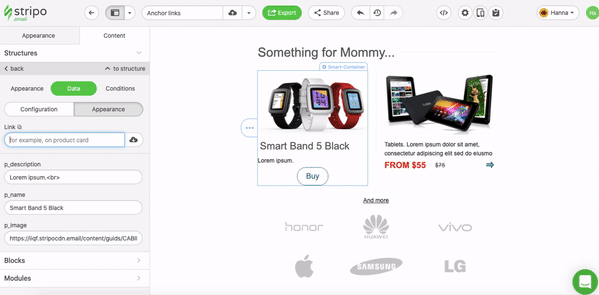 AMP-powered blocks to make your Presidents' Day email templates interactive
Some of our Presidents' Day HTML email templates are initially featured with the AMP accordion menu and image carousels. These elements help to structure your content and to showcase multiple images using less space.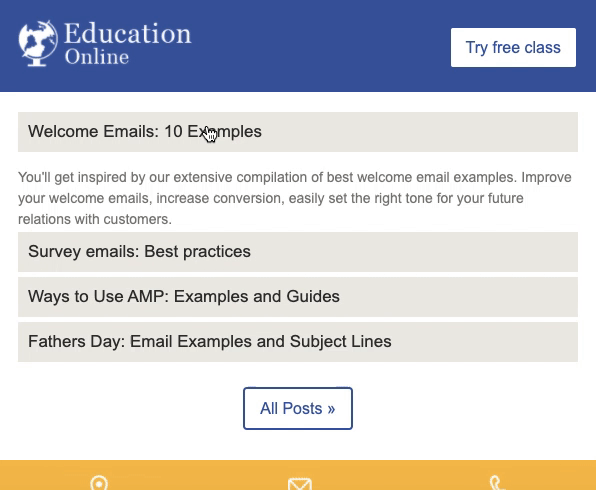 If you choose the template without these blocks, you can just drag and drop them from the editor into your President's Day email template.
Embedded photo editor for beautiful Presidents' Day emails
When it comes to promo emails, design harmony really matters. We must combine traditional Presidents' Day visuals with the corporate identity components.
With Stripo you don't need any third-party tools or paid professionals anymore. Our embedded photo editor allows processing images with filters, frames, and other effects right in the template builder.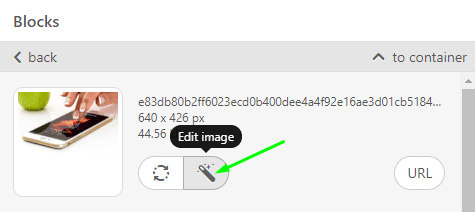 Gamification options to bring some fun to your Presidents' Day email campaign
You can find the Ultimate Guide to Email Gamification in our blog. This is one of the email marketing trends now, by the way. Why not give it a try in the current email campaign? A tip: run a contest!
Ask some facts from George Washington's biography. Or why cherry pie is a traditional dish of this holiday :)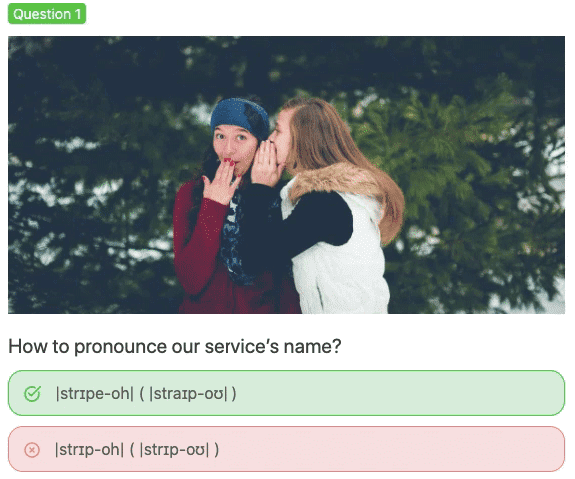 Final thoughts
No matter what political views you share, there are things all Americans respect and praise. Because they are the true basics of the US. With our Presidents' Day responsive email templates, you'll not only gain profit but also express your patriotic feelings — your audience will appreciate this.
Join over 950K users
Start for free — upgrade anytime