Braze is a popular marketing automation system. It helps clients worldwide to better engage with customers.
It offers a built-in email template editor. And that's a great one. But all editors differ. And if you, like some of the Braze users, wanna try out an editor with a set of different options and features, then you will enjoy our direct export to this ESP.
For your convenience, we've prepared a number of the free Braze newsletter templates.
Set of the features and options that distinguish us from others:
1. Work automation speed up the production of Braze newsletter templates
The Stripo users normally need 60% less time than other email marketers to create a new email for your newsletter.
How do we do it?
a. Smart elements for professional Braze email templates
Our smart-elements enable you to create a product card within just a minute. (Of course, previously you will have to design and configure them. But just once and for always — then you will only insert the link to the product item, and Stripo automatically generates the product card).
b. Ability to save Braze email templates content to the personal library
It can be contact information, map and links to social media pages, it can be a header with logo and menu. Just save this sample to your personal content library. When starting a new campaign, drag it into the new email template without the need to edit it.
This way you should also save the product cards with smart-elements. When dragging them into a new Braze HTML email template, you will only need to replace the link.
c. Countdown timer to create a sense of urgency in Braze newsletter templates
Most of us have used timers in their emails at least once. We needed to build one with a third-party tool, then insert it into email. If! Our editor offered the open HTML code.
Stripo enables its users to create and design countdown timers right in the editor.
d. Interactive elements for amazing Braze email templates
You've heard that interactivity in emails double conversions, but you also know that it's time-consuming to build and embed them in emails. Besides, quite often they do not work correctly in most email clients.
Stripo found a way.
Our image rollover effect is almost web safe and works in almost all email clients. And forget about the long codes! Build an image rollover effect in your Braze newsletter templates within a minute to entertain your most-demanding recipients.
2. Banners to brighten up your Braze HTML email template
Sophisticated banners are the base of all email newsletters. When working on the Braze email design, you do not need to worry about its beauty and uniqueness. Stripo allows editing images, add copy over them, applying any of the 42 banner fonts, inserting additional pictures to make banners more beautiful, applying filters to make emails unique.
3. Ability to use the HTML and drag-n-drop editors simultaneously for Braze email templates
Today more and more builders offer the two versions: HTML and modular editors. But you need to select which one to use at the moment. Then, once you've finished working with it, you have to save the template. Then open it to make changes by using the other version of the editor. Somewhat inconvenient.
Stripo allows working with both versions at once, no need to save anything. With a Braze email template open, you just use and then close the HTML editor, then add new blocks, etc. What is important — you can see the changes right away.
4. Responsive Braze email templates
All the Braze email templates created with Stripo are fully responsive — you do not need to worry about that.
Exception: if you have added interactive elements you designed with any third-party tool. It does depend on the embed code.
Final thoughts
Use the Braze newsletter templates we've created for you to save you a significant amount of time and to delight readers with new email design.
Frequently asked questions
How to create an HTML template in Braze?
Our interactive email design platform offers you to create an effective and eye-catching HTML template with no need for coding. By clicking the folder "Integrations", you will find almost 500 ready-made Braze templates to work with. When you find the needed template, click the button "Use Template", and start editing it after the quick signing-in procedure.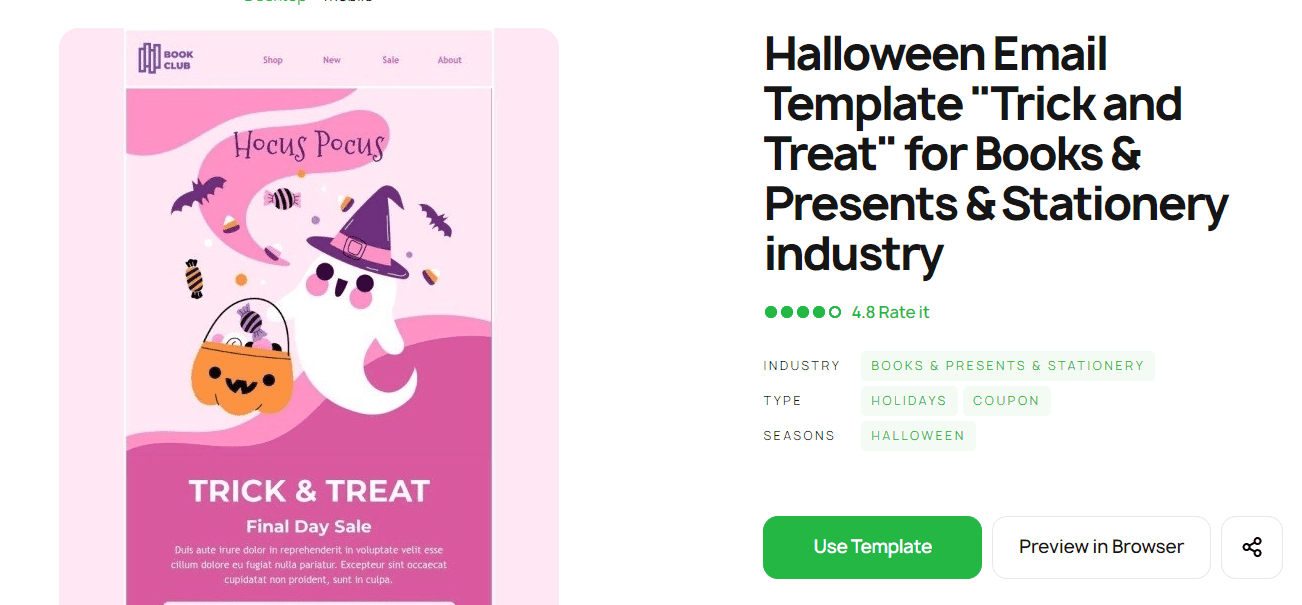 If it is your first experience working with our service, you will see an inset called "Start Designing Email Easily."
How to use Braze email templates?
Once you have found a Braze template, you will see the features and tools for getting the needed email design. There is a toolbar on the left side of your screen with all the necessary things for editing.
By clicking the "General Settings" tab, you will be offered to change the width, fonts, and background color for implementing your email design preferences.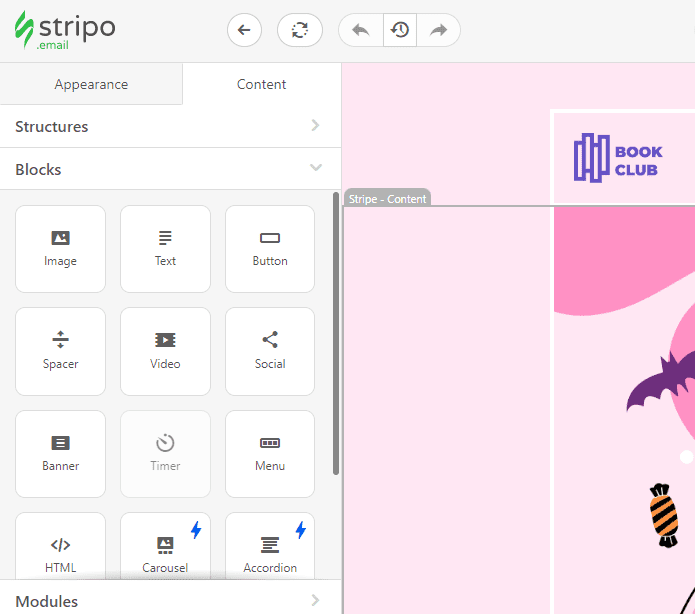 Using "Stripes" you can work with such parts of your email as header, content, text size, etc.
How to save email templates in Braze?
Once you finish building your email template, you will always have the possibility to find it in your account. Stripo also provides the export to Braze ESP. Look at a few steps for this action:
find and click the "Export" button placed above your email template, after that find the "Braze" option;
fill in the "Connector's name" and API key, and then choose your instance. Press "Export" again;
If you need to create an API key, use "Braze Dashboard", click "Developer Console", then "REST API Key", the last action is pushing "Create New API Key";
you will find your email template in the panel called "Templates & Media" in the column "Saved HTML Templates".
How to send HTML email templates with Braze?
After you made the choice among your templates, you should make a few steps to start sending them.
Compose the email. After choosing the right template, you will notice an email overview where it is possible to turn the full-screen editor quickly and also change the necessary information for sending like adding an email header;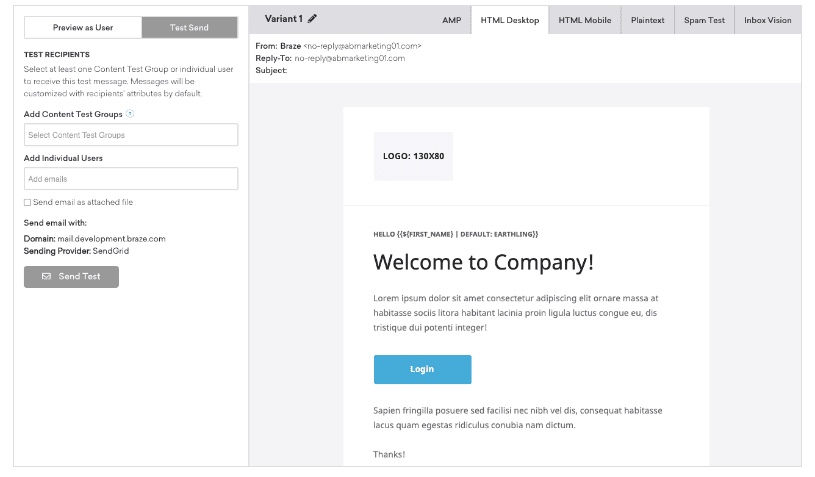 check your email for errors. Braze editor will point out any problems with your email before sending it. For instance, it focuses on Invalid From and Reply-To addresses, duplicated header keys, emails with no unsubscribe link, email content that is larger than 400kb (up to 102kb is recommended), etc.;
build the remainder of your campaign;
choose delivery schedule or trigger. Your emails can be received by a scheduled time, an action, or an API trigger. The conversion events are also available because Braze allows you to see how often people perform specific actions;
review and deploy. On the last page of this section, you will be provided with a summary of your campaign. After confirming all the necessary details, click "Launch Campaign" to start sending.
Where to find your email template in Braze?
In the navigation section that is situated on the left side of your screen, click the "Templates & Media" button near the "Engagement" panel. There you will notice the "Email Template Gallery" where it will be possible to see all the previous templates. Choose the right one to start editing.
How to add Braze email templates?
Here are a few ways how to find and work with Braze email templates in Stripo:
open the Stripo website, click the "Email Templates" section, and find ready-made Braze email templates by looking at the "Integrations" block. Select the one you want to use and hit the "Use in Editor" button. After these actions, you will be asked to create the account to build your own effective email design.
if you are already signed in to Stripo, you can easily scroll to find one of 485 Braze email templates within the editor. Switch to the "Templates" block and you will find the "Prepared templates" button to start working.

Have any other questions?
If you have more questions on our pricing and plans, contact us so we can help.
Join over 1 000 000 users
Start with free email template builder — upgrade anytime