Why use our responsive and customizable templates for your back to school email marketing campaign?
1. Responsive email design
Every email template that you assemble with Stripo is fully responsive by default. But did you know that you can set your own styles for the mobile version of your back to school templates, like fonts and font size for buttons? To work on these styles, please go to the Appearance tab, then open the Mobile Formatting section.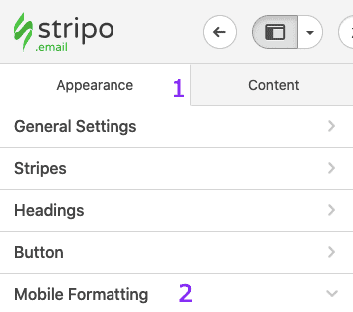 You can also choose which elements you want to display and which elements you want to hide on mobiles.

Experience the new level of mobile-friendly design
Join Stripo
2. A wide range of templates to suit every business need
Whether you need to spread the word about your new school spirit clothing collection or want to launch a massive back to school bedding sale, we are here to help. With Stripo's templates, you will design attention-grabbing and responsive emails for numerous industries and business objectives.
3. Fully editable template elements
With our module system, you can edit and customize any template elements within minutes. Headers, banners, CTA buttons, imagery, footers, logos, product cards, font styles — just pick the perfect module, drag it into your template, and make all necessary edits. It will enable you to incorporate brand-associated content and make your back to school emails stand out in crowded inboxes.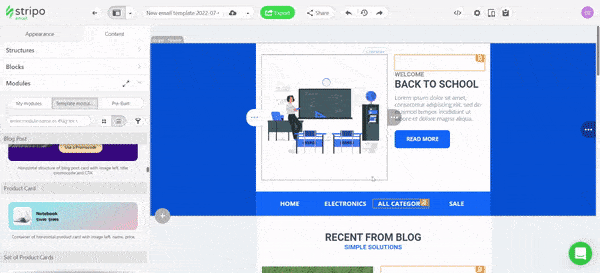 4. Easy to export to any ESP
Stripo is integrated with 70+ ESPs and email clients. Our team is constantly expanding this list so that you can export your newsletters with just a few clicks. Once you generated your back to school email in your Stripo account, take the following steps:
click the "Export" button;

select your favorite ESP or email client;

provide additional information if necessary (connector's name, auth token, API key, etc.);

hit the "Export" button.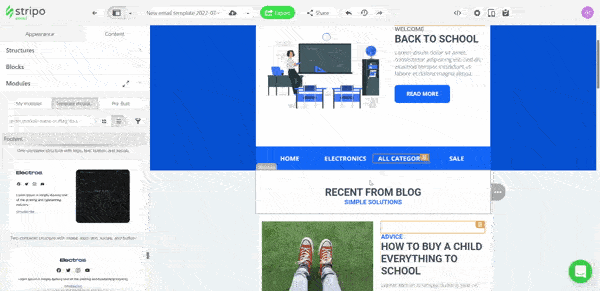 Yeah, it's that easy! You are almost ready to start reaping the benefits of your thriving back to school email marketing campaigns. But first, let's find out how you can enhance the existing templates to impress your recipients with the most engaging email content.
How to enliven your messages and the existing back to school templates?
1. Countdown timers
If you want to motivate your readers to take an action ASAP, a countdown timer is a perfect match for your requirements. With timers, you can draw users' attention to items on sale or build effective teaser emails to announce your product launch.
By using Stripo, you can equip your back to school emails with countdown timers within a few minutes. No worries, our timers are completely web-safe, so they will be displayed properly across various devices and email clients.
That's how you can add a timer to your email:
drag the "Timer" block into your template;

set the date and time when your school sale ends;

choose your favorite font and set its color and size.
2. Interactive content
Interactive back to school email will brighten up your campaign and make your messages recognizable. By using Stripo, you can enliven your emails with:
animated buttons for better engagement;

image carousel to showcase a wide range of school supplies on one screen;

accordion to make your messages more compact;

image rollover effect to demonstrate school supplies from different angles, show a close-up, or color variety;

embedded questionnaires to evaluate the outcomes of your back to school sale quickly and effectively.
3. Background image for the entire email
A thematic and attention-grabbing background image can either make your back to school email campaign a success or distract subscribers from the key purpose of your newsletter. To set the right tone for the entire email, don't forget to choose relevant background images that evoke positive feelings and support the central idea of your back to school sale.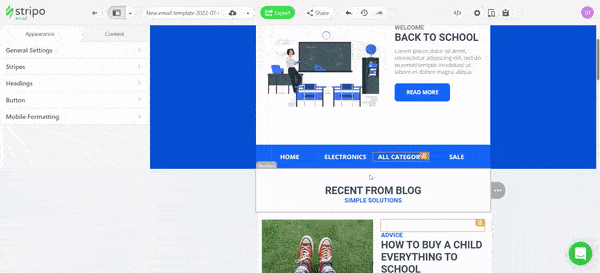 4. Video content
Videos are a perfect tool to skyrocket your CTR and motivate subscribers to interact with your company more often. By using videos, you can present new school supplies and explain how to use them, announce an event, and show off your company culture. Instead of overloading your subscribers with lengthy texts, we recommend you equip your back to school newsletters with appealing and informative videos.
Please watch the video below to embed videos to your emails with Stripo:
Make your back to school sale successful with eye-catching videos
Join Stripo
5. Gamification
Who doesn't like a good game? Whether your audience includes teens, college students, or older adults, you can still surprise readers with email gamification. A sense of competition, accomplishment, and fun will create positive associations with your company, enhance brand awareness, and motivate your recipients to wait for new messages from you.
By using email gamification, you can enrich your back to school newsletters with the following types of games:
a wheel of fortune to offer discounts for school shopping;

quizzes and quests to get prizes (discounts, certificates, etc.);

scratch cards to provide instant rewards like cash back or free shipping;

word games to motivate recipients to interact with your back to school emails longer.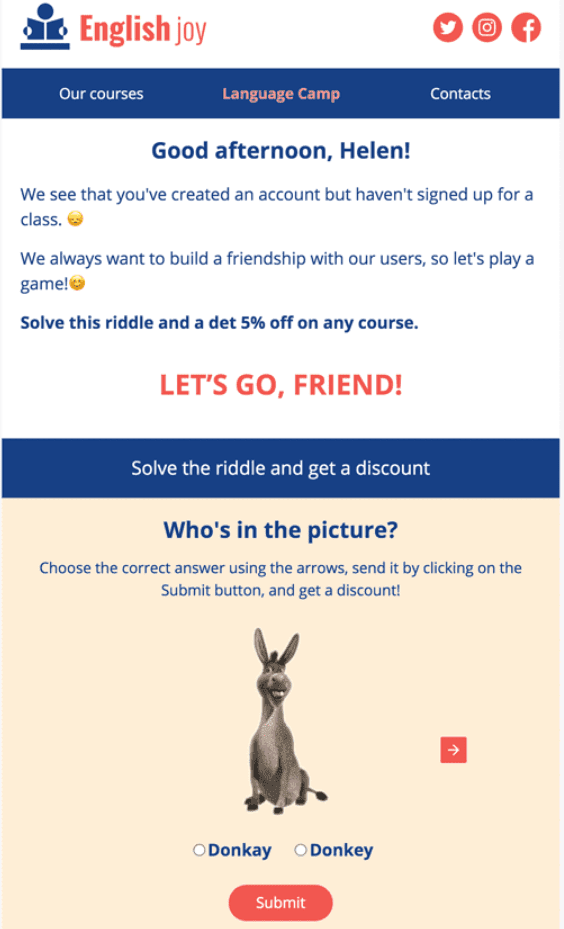 6. Custom fonts
Besides a concise subject line and a recognizable sender name, fonts are one of the central things subscribers set their eyes on. A legible and appealing font associated with your organization will make your back to school newsletters look noticeable and stylish. With our email design platform, you can wrap your message in standard web-safe fonts, non-standard fonts, and custom fonts.
You can apply various fonts to menus, text blocks, CTA buttons, headings, and banners, but don't forget to use our testing tool to ensure your fonts are displayed correctly across different email clients.
This brief video will show you how to add custom fonts to your email templates:
Use custom fonts in back to school emails with Stripo
Join Stripo
Empower your back to school email marketing campaign with Stripo's templates
Now you are all set to create engaging back to school emails within minutes. From countdown timers and games to custom fonts and videos, Stripo has everything to make your upcoming campaign a success. If you are looking for more inspiration and useful information, check out our article covering back to school email marketing tips and examples.
Join over 800K users
Start for free — upgrade anytime